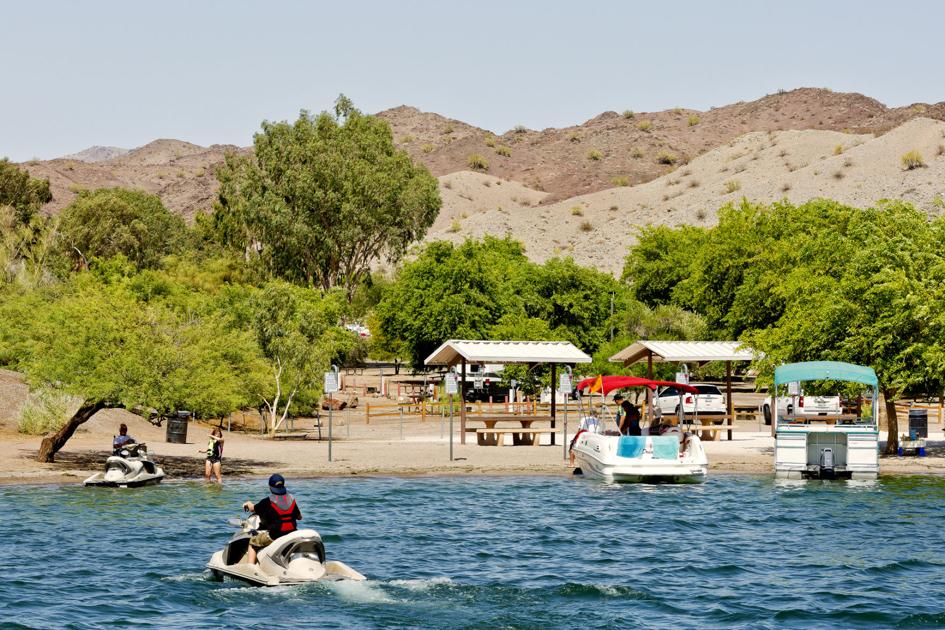 Do you believe that Arizona has beaches? Well, you have to. It is a little known that Arizona offers you more shorelines with the best views of the USA's west coast. But, I warn you not to expect white sand beaches as Arizona is a landlocked state in the Southwestern USA. Then, how are these Arizona beaches formed? 
Here's the answer. There are plenty of rivers and lakes that offer you great beaches in Arizona. So, usually, tourists and locals attract to these Arizona beaches to do recreational sports. Like boating, swimming, kayaking, fishing, water skiing, sunbathing, river rafting, and making sandcastles.
So, let's know more about the following 17 Arizona Beaches. 
Arizona Beaches 
Arizona Beaches: Buckskin Mountain State Park
Buckskin Mountain State Park provides you the best beach experience in Arizona state. And this stunning park extends for 10 miles along the Colorado River between Headgate Dam and Parker Dam.
Locating 12 miles away from Parker City, Buckskin Mountain State Park is very picturesque, mountainous, filled with wildlife and stunning river views. Therefore the park offers you plenty of adventures.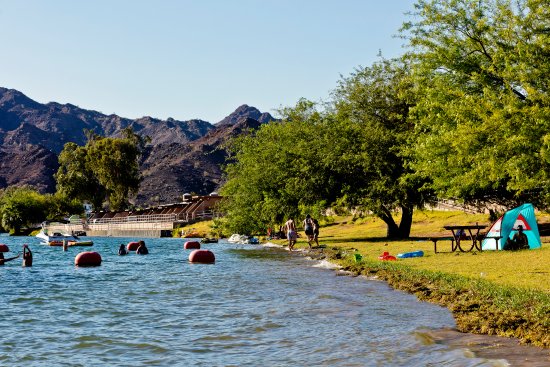 It contains wonderful hikes with scenic views of the mountains and the Colorado River. And this river shore provides a nice sandy beach to play volleyball, basketball, make sandcastles, swim, boating, and kayak. 
On the other hand, these grassy and sandy beach shores always touch by the sparkling water. And the river contains a variety of fish, like carp, catfish, large bass, and smallmouth bass. 
As swimming is allowed, you can observe those fishes in the river. But, keep in mind, no lifeguards are there. So, swim at your own risk. 
After experiencing all the adventures, you can plan (tent camping or RV camping) for a camp in this state park by the river. Do not forget to reserve the campground before you reach there. Click the above link for that.   
Arizona Beaches: London Bridge Arizona Beach
As we all know, Lake Havasu City is a place that offers many free public beaches. Out of them, Rotary Beach, Thompson Bay, and London Bridge Beach are more popular. Actually, London Bridge Beach is the most ocean looking beach in Arizona State.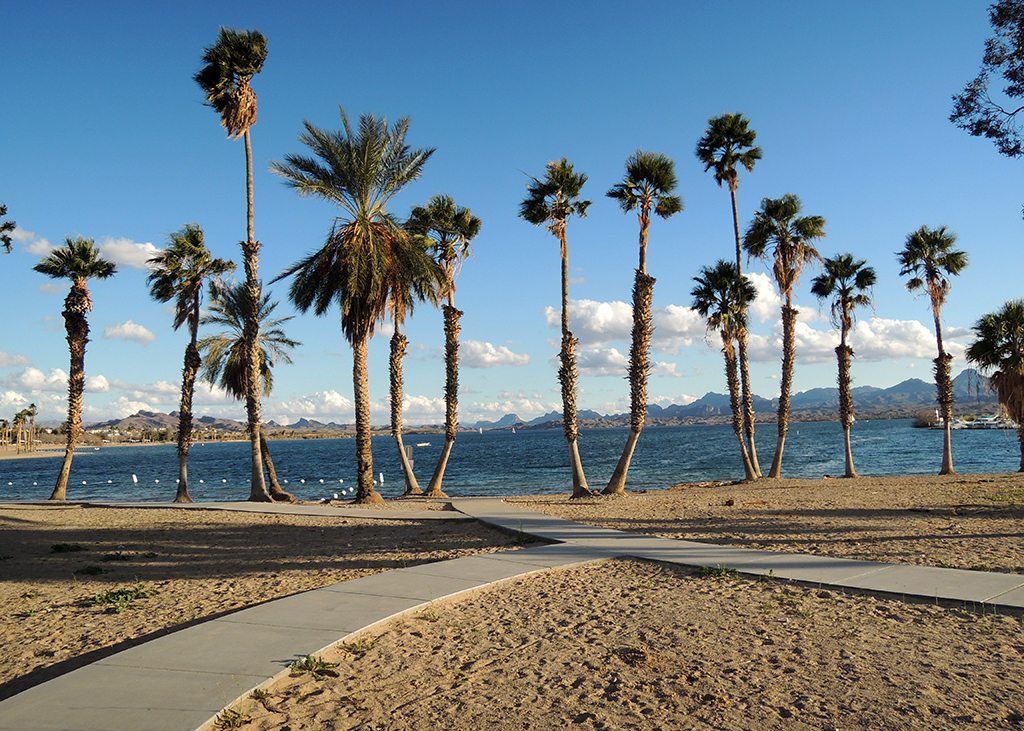 Its palm trees and seagulls flying in the sky are features to prove the above fact. And as it is located along the Bridgewater Channel, it offers stunning views of the famous bridge as well. 
Just like other Arizona beaches, it offers you nice picnic areas, playgrounds, grass parks, walking trails, and dog parks. On the other hand, it has a great swimming area with mild waves. You will feel like you are in the ocean of Arizona. 
Planning to visit Nashville?? Just read about Things to do in Nashville, Tennessee
Arizona Beaches: The Chains Beach
The Chains Arizona Beach is a rocky and sandy beach located near Glen Canyon Dam. And as it contains deep water and clear content, many marine lives can be seen. On the other hand, due to its depth, it may be dangerous for swimming.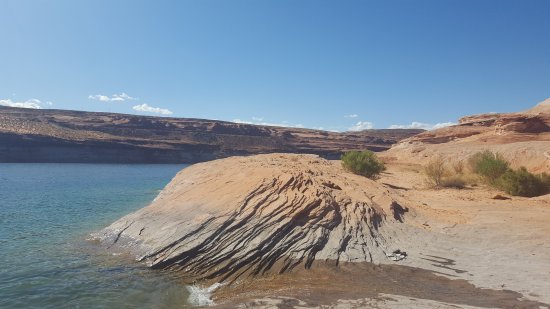 So, it is highly recommended to wear life jackets if you are going into the water. However, this place is considered a hidden gem out of all the Arizona Beaches. Do not miss it. 
Arizona Beaches: Centennial Beach in Yuma, Arizona
Before explaining about Centennial Beach, it is better to know about West Wetlands Park. It is a 110-acre urban park in the popular Arizona city, Yuma. And it contains basically two parts. They are the lower bench and upper bench.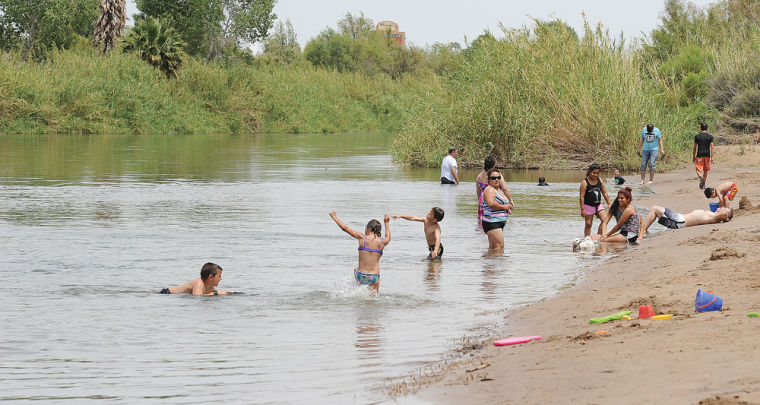 The lower Bench is filled with native grasses and trees, while the Upper Bench is filled with recreational things because Upper Bench has lake views, river views, kids' playgrounds, picnic pavilions, barbecues, and eye-catching landscapes.
Centennial Beach is located in the Lower Bench area of the park. And it is a nice sandy beach located along the Colorado River. So, you can enjoy the time on the beach, making sandcastles with kids, taking boat rides, and swimming.
Do not expect to have more waves as it is a river (not an ocean). But, you can experience soft sand in between your toes, wind, and glowing sunshine.
Looking for the best hotels to stay in Arizona?? Just check here. 


Arizona Beaches: Roper Lake State Park
Locating nearby the Gila River, Roper Lake State Park covers around 400 acres of land. And the park has a stunning lake called Roper with 32 acres. You can reach there very easily, as it is located just 6 miles away from Safford city.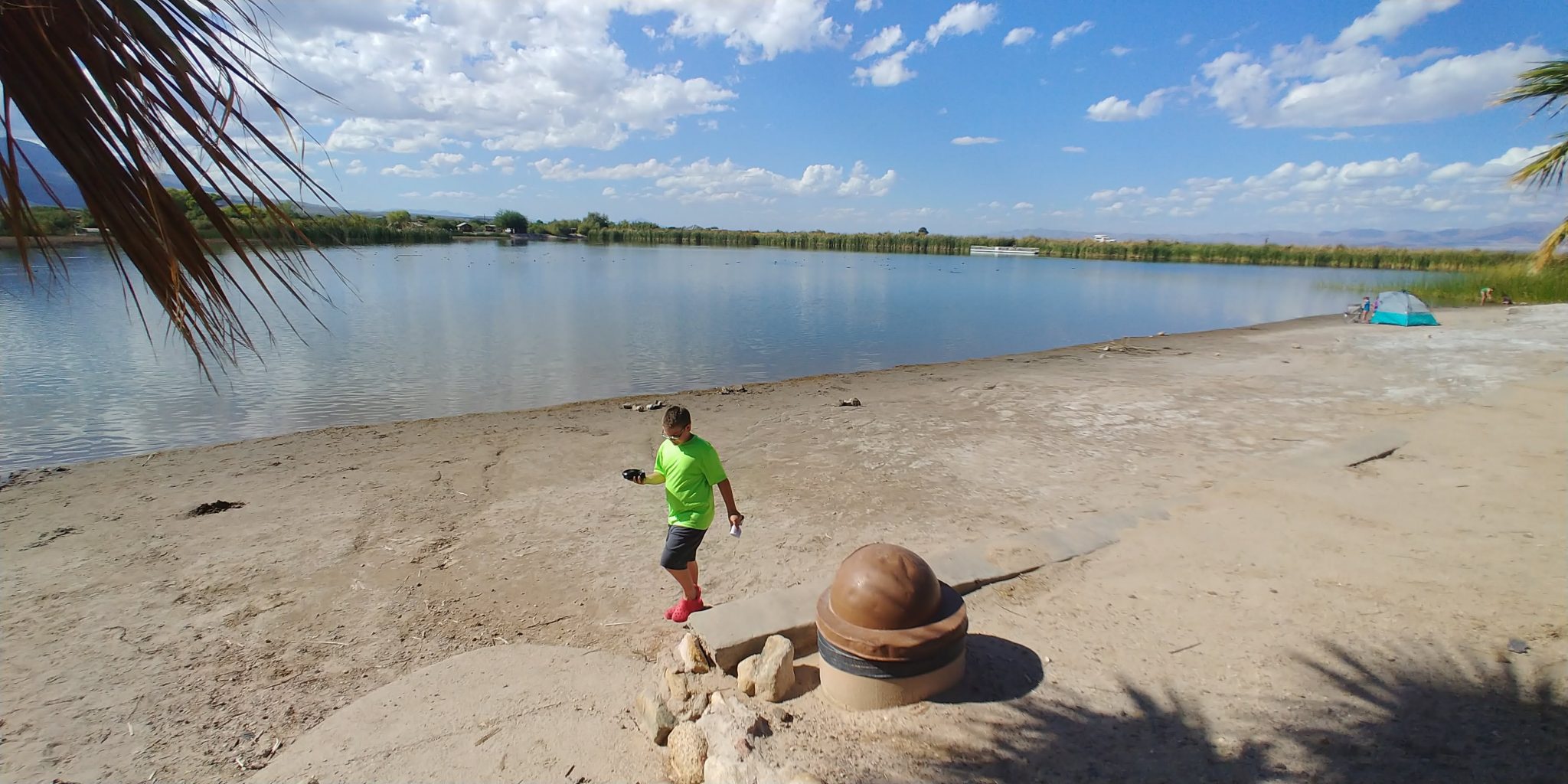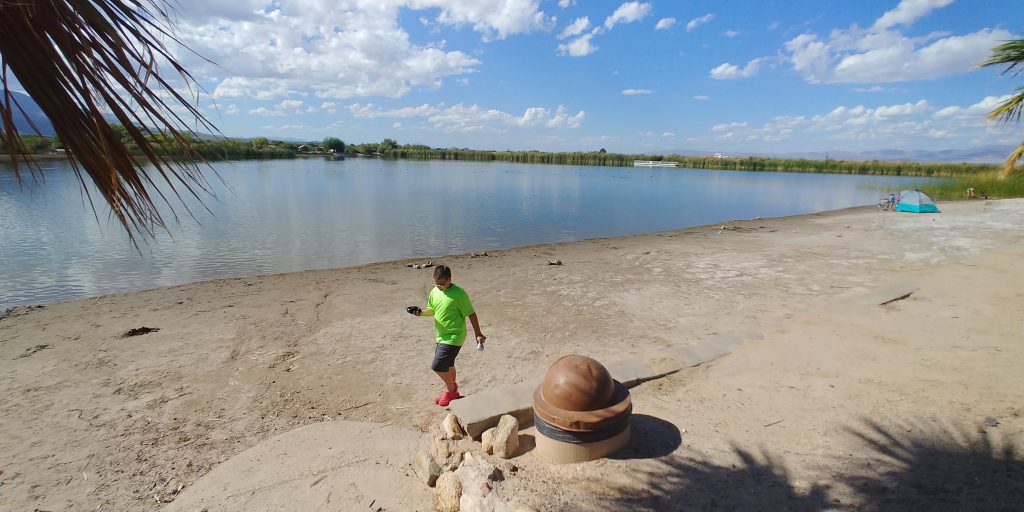 And this stunning lake has created an amazing beach in the park. Therefore it is famous for any water activity, like swimming, boating (only small motorboats), kayaking, and fishing. Also, there's a natural smooth stone tub as well. 
Other than water activities, the park is famous for hiking trails, birdwatching, and camping like adventures. So, this place is ideal for a weekend tour with your family and friends. Most importantly, you can get awesome views from any corner of this park as the park surrounds Mount Graham. 
Arizona Beaches: Cattail Cove State Park
Cattail Cove State Park is located near Lake Havasu.  And it is one of the largest parks in Arizona as it covers around 2000 acres. As it is near Havasu city, many locals attract to this park all year-round. 
And the lake stretches for 45 miles by presenting you with one of the most eye-catching Arizona beaches. So, a lot of boaters, fishers, swimmers, hikers, and campers attract this place.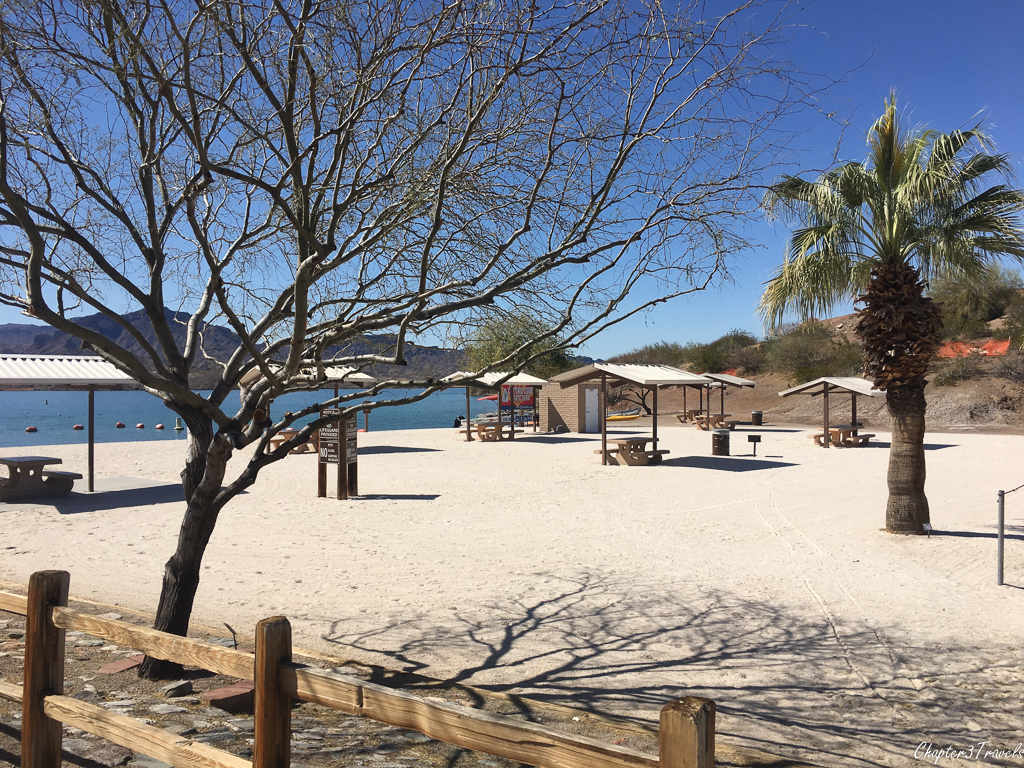 Largemouth, striped bass, flathead, bluegill, crappie, and channel catfish like marines are available in Lake Havasu. On the other hand, there are relaxing hiking trails as well. And those trails are filled with awesome wildflowers and lake views. (ideal time is March)
And also, swimmers attract to this awesome Cattail Cove beach to experience sun, sand, hidden coves of the lake, and views. If you like camping, just check their website to reserve RV campgrounds and tent campsites. 
Lake Havasu State Park Beach
Lake Havasu State Park is the largest western Arizona's park as it covers 11,000 acres. And the park contains the Lake Havasu and the Colorado River like gems. Therefore, you can easily find sandy Arizona beaches in this park for sure. 
But, I must say that most of those beaches are only accessible by boats. For example, Skier's Island beach, Bridgewater Channel, Sand Bar, Friendly Island, Steamboat Cove, and so many beautiful coves.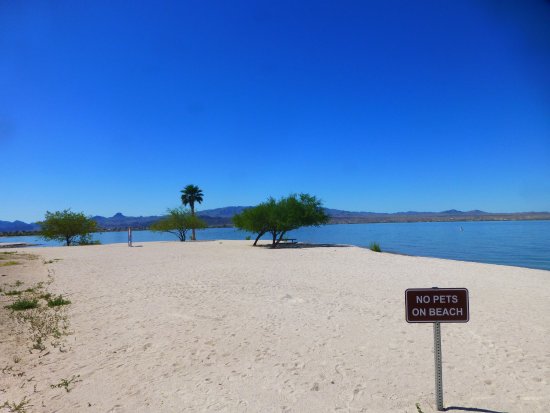 And Skier's Island natural cove (the large rock) is very popular among water skiers and wakeboarders.  On the other hand, a lot of boaters attract to the Bridgewater Channel. 
If you are looking for a family and friends gathering, Sand Bar sandy stretch is the ideal beach. And Friendly Island is also a stunning secluded Arizona beach that has easy boat access. Steamboat Cove like coves are awesome for beach walks as they are soft and sandy. 
Another important thing is, all of these beaches are famous among fishers as the lake contains more fish. 
Planning to visit Arizona?? Just read about Horse Shoe Bend in Arizona: Travel Guide
Arizona Beaches: Windsor Beach
Windsor Beach is another stunning Lake Havasu beach in Arizona. And the special feature of Windsor is, it contains white sand and offers mild wind throughout the year. On the other hand, as mentioned earlier, you can find around 12 beachfront campgrounds as well.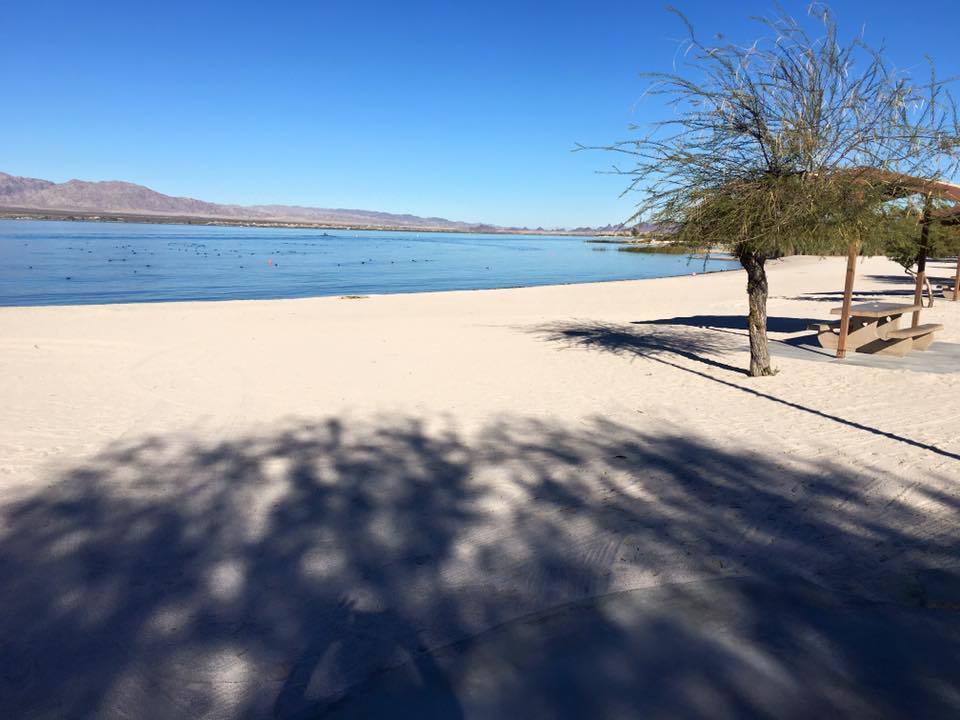 But, you have to hurry up for reservations. Otherwise, you can get another campground out of the other 35 campsites. And the special water adventures on this beach are jet ski and boating. Get them from Windsor Beach Rentals in the park. 
Rotary Beach in Arizona
Rotary Beach is also another awesome beach in Lake Havasu State Park. It is also stretching along Lake Havasu and has all the above-mentioned facilities and views. 
Arizona Beaches: Tempe Beach Park
Tempe, a city located on the eastern side of Phoenix, Arizona, is famous for its art, concerts, and dancing performances. Actually, it has a stunning nature as well. For example, Tempe Beach Park.
Locating along Tempe Lake, Tempe Beach is one of the most beautiful beaches in Arizona.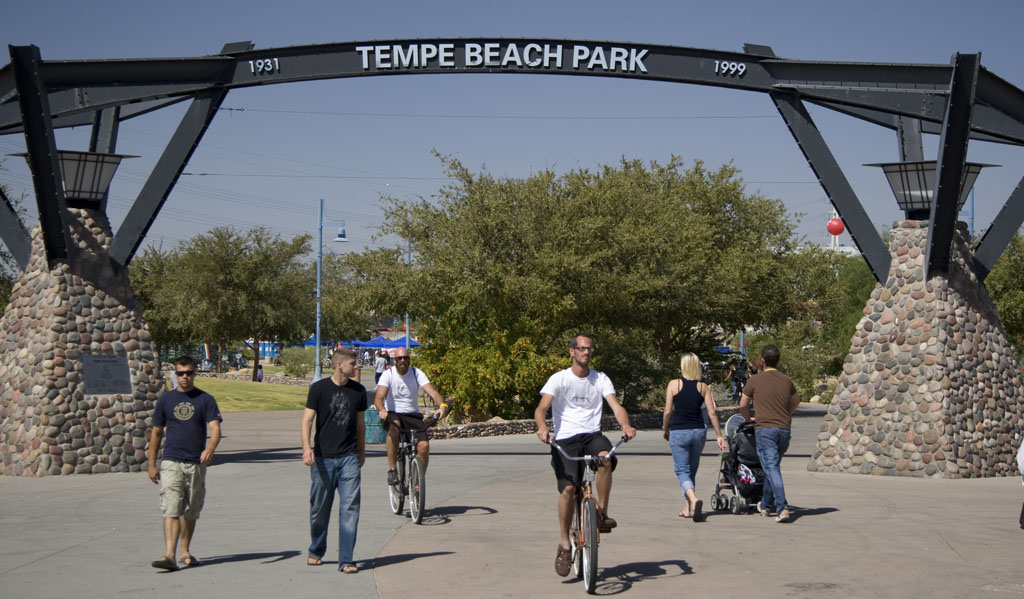 Although the lake is an artificial reservoir, it looks so natural and offers you awesome experiences. Human-powered/wind/electric powered boats, walking trails, and biking trails are some of them. 
River Island State Park
River Island State Park is also a part of the large Buckskin State Park locating on the stunning Colorado River banks. And this place is more popular for camping among visitors as it has around 40 campgrounds nearby the river.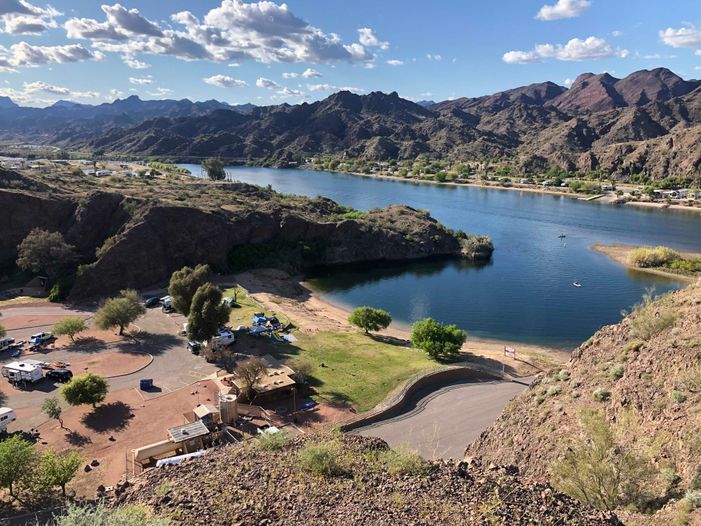 As one of the best Arizona beaches, River Island State Park offers you an unforgettable beach vacation. It has a secluded cove, boat ramp, picnic areas with a pavilion, hiking trails, mountainous views, fishing chances, and many more exciting things to do.
The Wedge Hill Trail is the most famous in the park, and it offers stunning views through rocky slopes. 
As this beach has all the amenities, you can enjoy everything comfortably. And another important thing is, you can visit River Island State Park year-round as Arizona's weather is just awesome.     
Body Beach in Arizona
Body Beach is also a scenery beach in Lake Havasu City, Western Arizona. Actually, this is a very famous place among water athletes. As the beach is placed along the Colorado River, you can see great athlete actions with awesome mountainous views in the background. 
So, do not miss this Arizona beach on your Arizona beaches tour. 
Arizona Beaches: Patagonia Lake State Park
Established in 1975, Patagonia Lake State Park is considered a shimmering oasis in Arizona's high desert. It offers great views through the rolling hills of Southern Arizona. And this area is really lacking in water. So, this lake is a man-made one with 265 acres. 
The Lake Patagonia shores offer you a great beach experience as well. While enjoying on the beach, you can observe blue herons, white-tailed deers like creatures on the shore.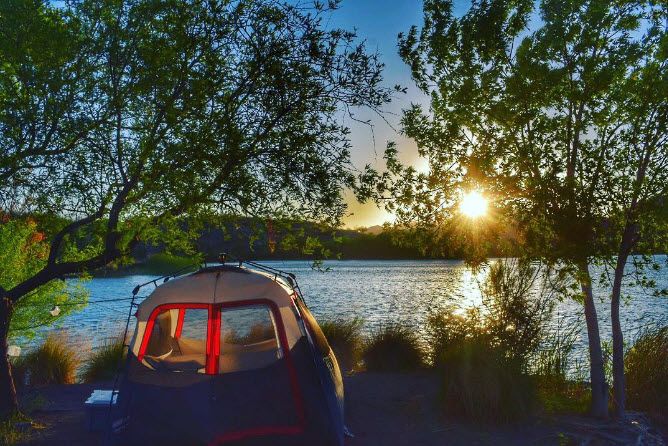 Like other parks, this one also offers you some adventure activities like boating, swimming, water skiing, camping, fishing, and creek hiking. And in the water, you will meet catch bass, bluegill, catfish, and crappie like fish.  
As I said to you earlier, Patagonia Lake State Park attracts many bird watchers as it is filled with local birds like canyon towhee, Inca Dove, vermilion flycatcher, and black vulture.   
Visit the above link to know more. 
Planning to visit Mexico?? Just read this beach guide, Cabo San Lucas Beaches in Mexico: Beach Guide
Pebble Beach in Arizona
Locating in Mesa, Central Arizona, Pebble Beach stretches along the Salt River. Here you can see tubes, rafts, and other water activities rather than swimmers. So, most of them attract to Pebble Beach to do water activities. 
(keep in mind that vehicles and motorized boats are not permitted as there's not any suitable boat dock)
Lake Powell Beach
Locating in northern Arizona, Lake Powell stretches to Southern Utah. Yes, it covers a huge area and is considered a part of the Colorado River in Glen Canyon National Recreational Area.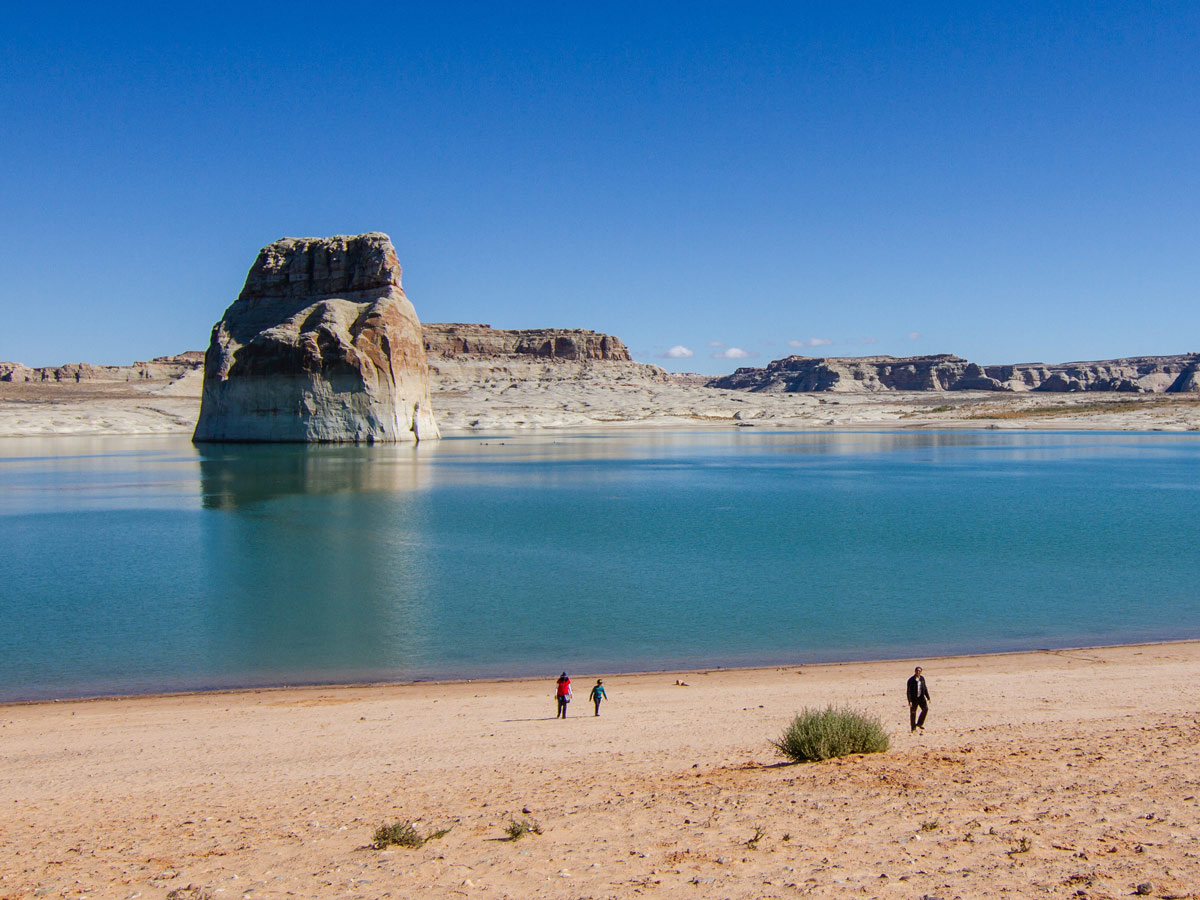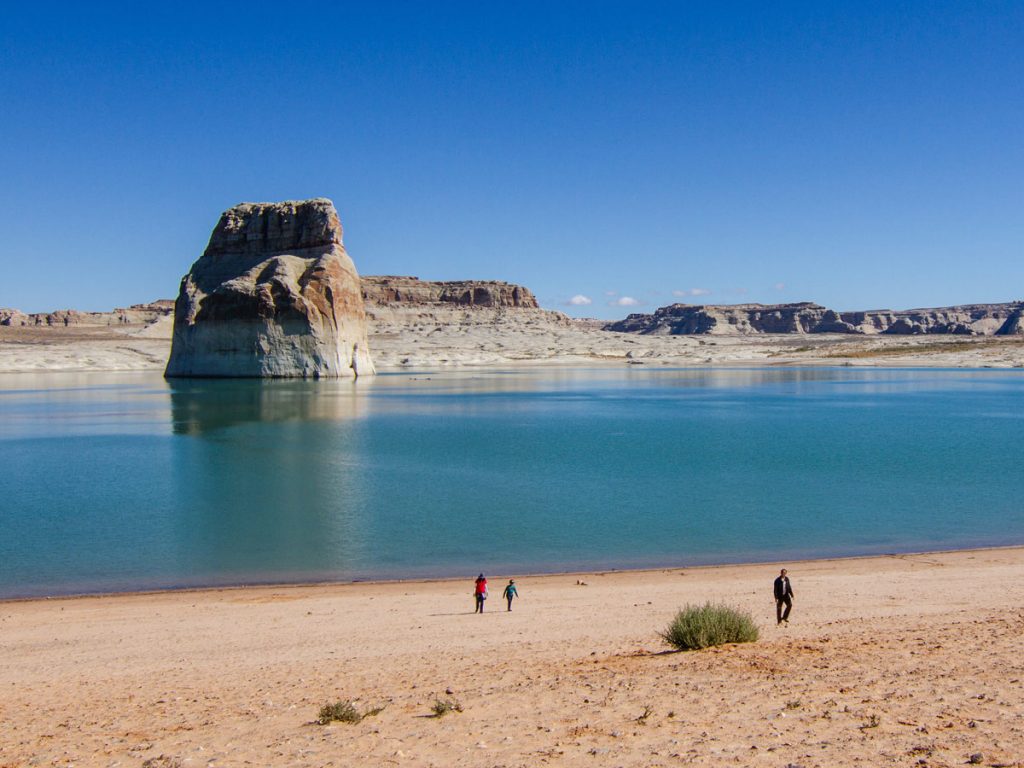 The most important part of Lake Powell is its sandy, sunny, rocky, and warm 2000 acres of beach. As this area of Arizona has the perfect weather, you can enjoy your beach time having full of fun. 
Once you reach the shoreline, you will view the stunning scenery of the west. On the other hand, you can get a boat ride as well.
Camping on this shoreline will be awesome. So, plan for a camp and reserve it in advance. 
Wahweap Beach in Arizona
Another stunning and remote beach offered by Lake Powell is Wahweap Beach. And you will meet Wahweap Bay as the first bay of Lake Powell at the south of the Stateline Launch ramp. So, you can rent the boats. 
This is the largest and the most popular bay of Lake Powell. So, you may experience more crowds on the weekends and holidays. Try to avoid those busy days. 
You can see well-maintained campgrounds and hiking trails. So, plan for a couple of days to grab all of these experiences in Wahweap Beach.  
Planning to visit Costa Rica?? Just read this beach guide, Costa Rica Beaches: The Ultimate Travel Guide
Diamond Creek Beach in Arizona
The location of Diamond Creek Beach is Peach Springs in Northwestern Arizona. And it stretches along the south side of the Grand Canyon. Well, this beach is located at the end of a secluded road. So, it may be a little difficult to find.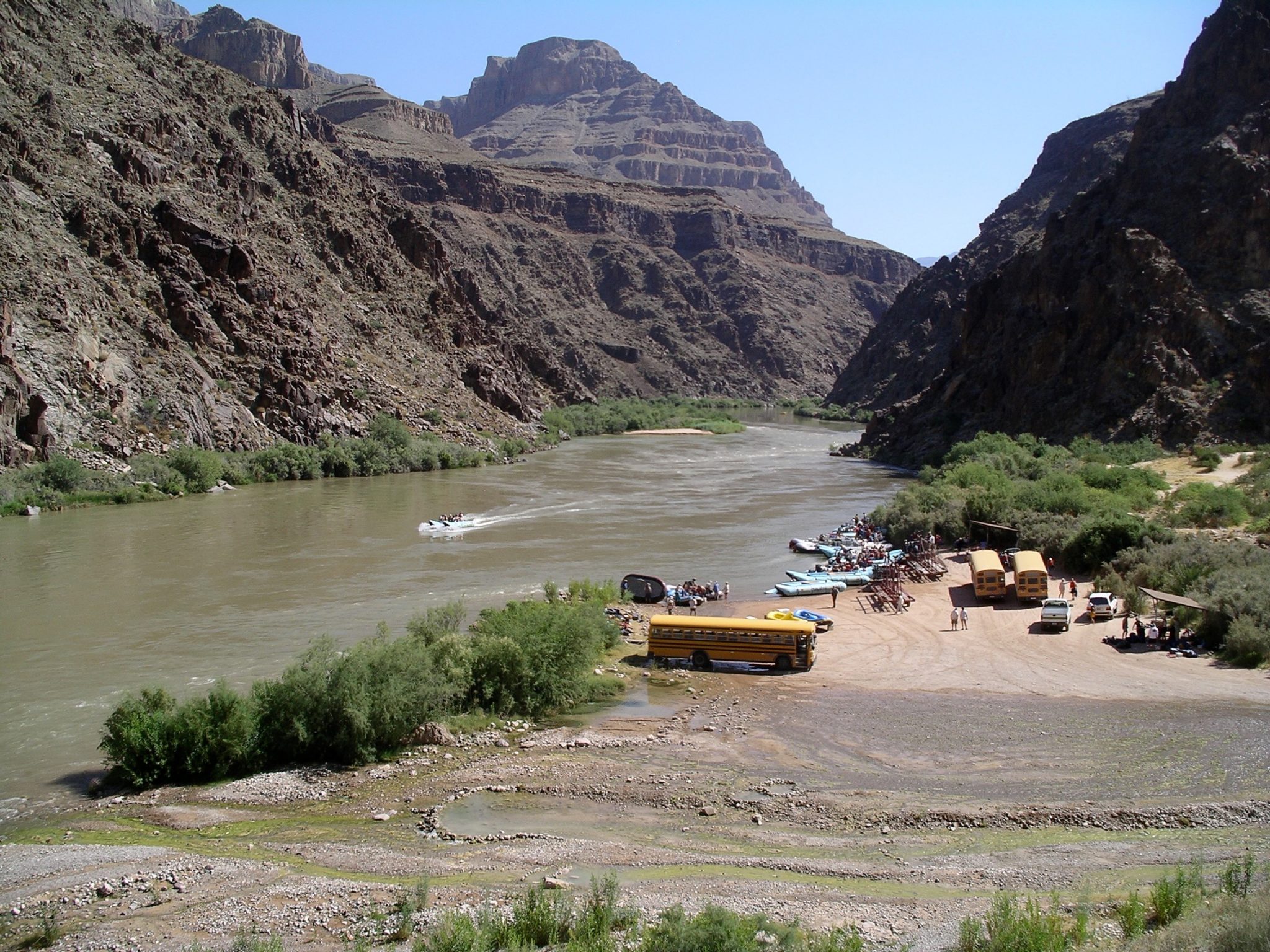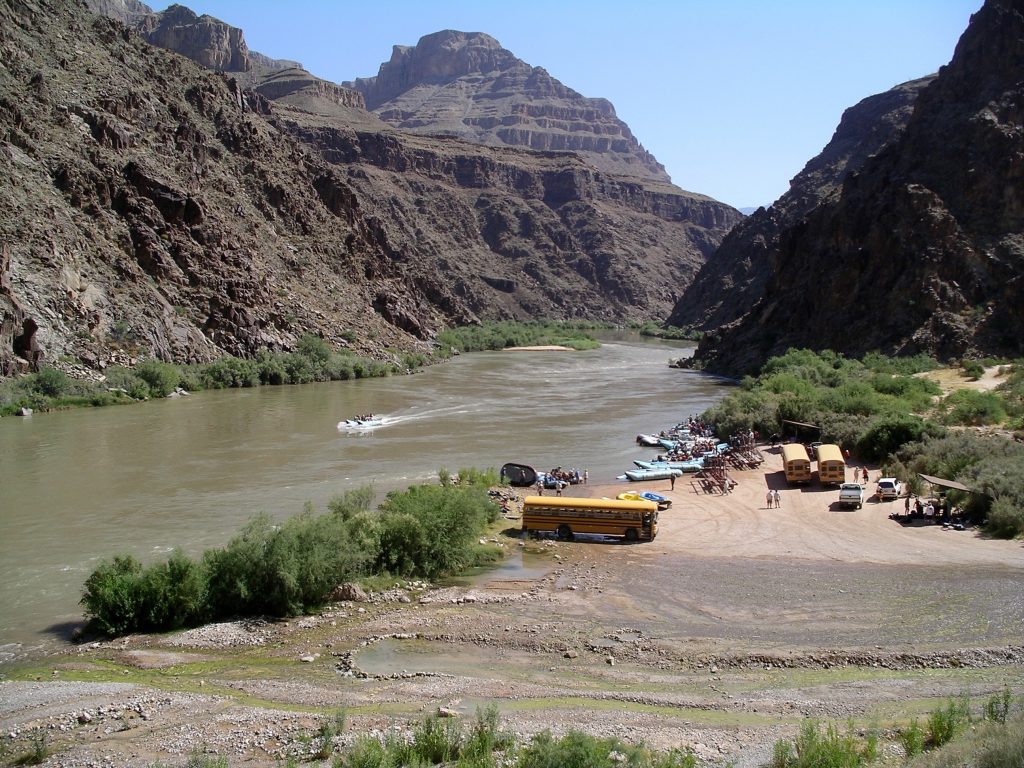 Actually, the exact location of this beach is on the Hualapai Indian Tribal Land. So, you should definitely take a permit to get access to Diamond Creek Beach. But, trust me, it is totally worth taking permission and visiting this secluded beach in Arizona. 
You can then enjoy time by swimming, white water rafting, camping, and just relaxing on the beach. 
Do you like Arizona Beaches? Just pin it for later.