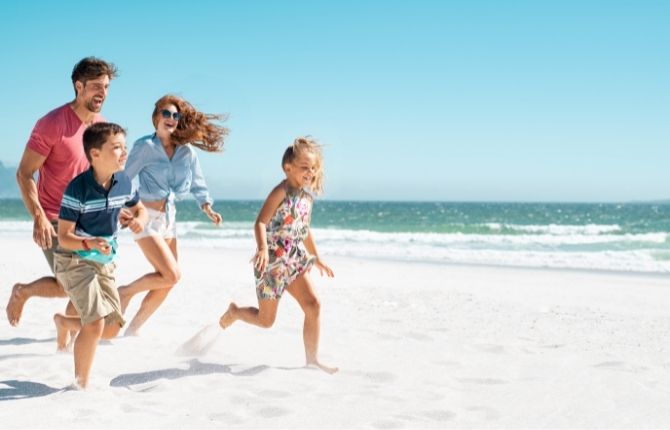 Looking for the best beaches in France?? Here's the list with all the travel information that you need to plan a family tour.
Featuring sparkling Mediterranean coastlines France has some of the most beautiful beaches in the world. Just check whether you have added the following beaches to your bucket list.
1. Beaches in France: Palombaggia Beach, Corsica
If you're looking for a relaxing and picturesque beach, visit Palombaggia Beach on the Mediterranean island of Corsica in Porto-Vecchio.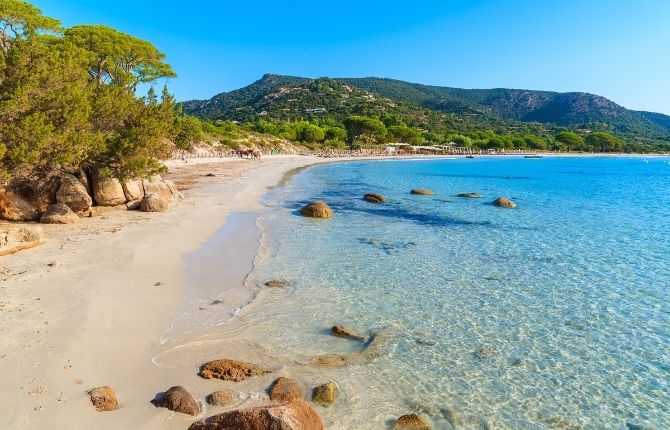 This sandy beach (1.5 km long) has turquoise, shallow waters and is a popular spot for tourists. Although crowded, this beach is well-equipped with lifeguards, water sports facilities, and beach clubs.
You can find a quaint French café or sit by the water's edge to enjoy a cool drink.
Visitors to the area should take their time when visiting Palombaggia Beach. The best time to visit is early morning or late afternoon when the low sun intensifies the colors of the rocks.
Parking is available for free at the North-East end of the beach, but the road is bumpy and confusing. While it is possible to park in this location, it's best to leave your car in the car park and walk to the beach.
During the day, the weather is pleasant enough. The water is warm and shallow, and there's no need to bring a towel. In the evening, the sand is a deep blue color.
If you like to swim, the water is warm enough for you to spend the day. The waves at Palombaggia Beach are also great for beginners. So, come along with your kids.
Address: 2 Rue Fred Scamaroni, Porto-Vecchio, Corsica, FR 20137      
Recommended Hotel near Palombaggia Beach: Les Bergeries De Palombaggia
2. Beaches in France: La Côte des Basques, Biarritz
If you're planning a trip to France, you might consider spending a few days in the small town of Biarritz.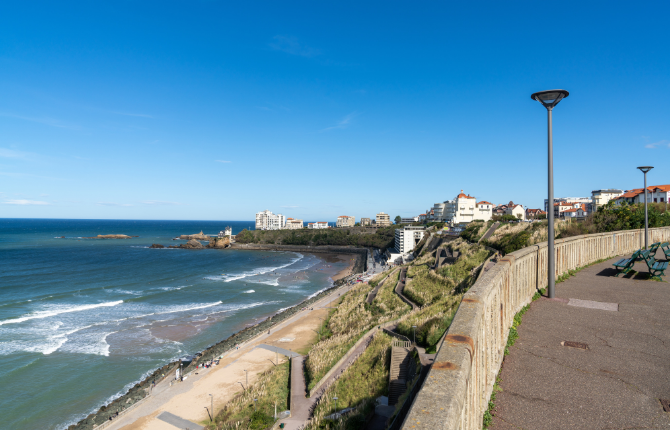 The town's first mention in the Golden Book dates back to 1186. During the Middle Ages, Biarritz was an independent municipality governed by a priest and four sworn deputies.
The Cote des Basques beach is considered one of the best beaches in Europe, and many surf enthusiasts claim it to be the birthplace of the sport.
There are cliffs surrounding the bay, but it's possible to walk down them or take a pedestrian path to the beach.
Although surfing is permitted at the Cote des Basques, swimming is dangerous due to strong currents. For those who want to learn how to surf, a Private Surf Lesson is ideal.
The instructor will provide all of the necessary equipment and instruct you on how to surf in a suitable spot.
A trip to Biarritz is incomplete without a visit to the Sea Museum. The Sea Museum is an incredible museum featuring the life of sea creatures.
In 1993, the city opened its first aquarium and the Sea Museum was built on the rock above it. Guests of the museum can watch seal feedings, whale hunts, and more. You may even be lucky enough to see a whale shark in the local aquarium.
Address: Boulevard du Prince de Galles, Biarritz, FR 64200       Phone: + 33 5 59 22 37 10
3. Beaches in France: Etretat, Normandy
Being a scenic setting, you should definitely visit Etretat Beach in Normandy, located about 2.5 hours outside of Paris.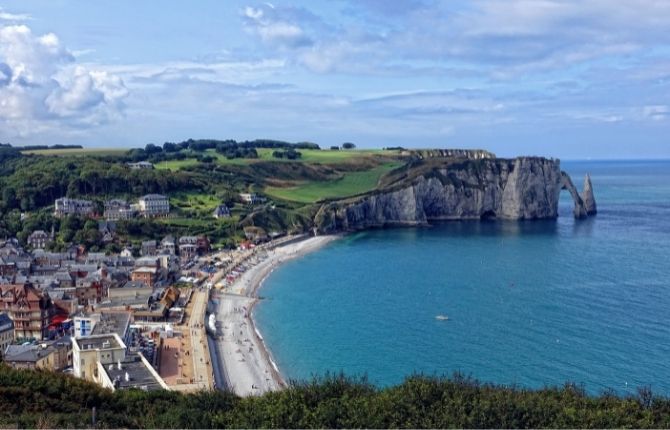 This lovely seaside resort is surrounded by picturesque white cliffs, and its pristine white sand is a sight to behold, especially at sunset.
The perfect place for a family vacation or a quiet countryside retreat, this beach has it all. You can go surfing, swimming, or simply laze in the sun. You will have plenty of time to relax on Etretat Beach. Just remember to bring your swimsuit.
Etretat Beach is one of the most popular destinations in Normandy, France. It's located on the Bay of Mont Saint-Michel, and you can reach the beach by boat from nearby villages.
Known for its dramatic cliffs, Etretat has been featured in several films and television shows. You can even rent a boat to travel from Le Havre to Etretat.
While visiting Etretat Beach, don't miss the towns of Deauville and Trouville, both popular seaside resorts in Normandy. These towns are popular with royalty and high society. King Louis-Philippe established them in 1859 as a resort town close to Paris that had a distinctive character.
The town's horse races and the world-famous Deauville American Film Festival are just two reasons to visit these two popular seaside resorts.
There is no shortage of places to enjoy the seaside in Normandy. The closest beach getaway to Paris is Deauville. The boardwalk is fascinating, and the beach is lined with umbrellas and huts.
The beach is also perfect for sunsets and is close to the famous Disneyland Paris.
Recommended Hotel near Etretat Beach: Dormy House
4. La Grande Plage, Biarritz
For families, Biarritz offers a wonderful beach, La Grande Plage, which stretches toward the town's surfing beach.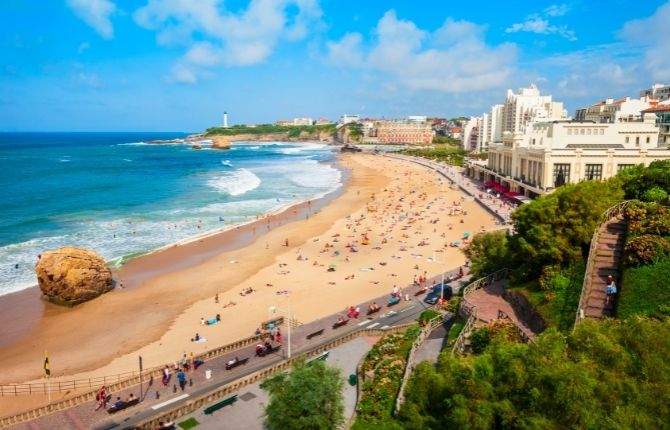 Despite its popularity, this beach is often crowded in the high season.
And you can rent retro tents to provide baby protection. This beach also hosts summer concerts, as well as other family-friendly events. For an extra special experience, try surfing at the nearby Plage du Miramar.
The beach at Biarritz is home to several world-class surf breaks, and La Grande Plage is no exception. This beach is often called the "Crazy Beach" because it has a postcard-like appearance.
A beach club, located nearby features popular activities for beach lovers. And you can also take your children to this fun spot to play and learn to surf.
You can also shop, or enjoy a meal at a nearby café or restaurant.
The beach at Grande Plage in Biarritz is popular with families, but the wilder side is also available.
You can also get stand-up paddles and surf lessons. This beach is a great spot for learning how to bodyboard and surf. A nearby surf club offers afternoon lessons and surf camps for longer periods.
Beaches in France
5. Pampelonne Beach, Saint-Tropez
The white sands of Saint-Tropez make for some of the best swimming beaches in France, and Pampelonne Beach is no exception.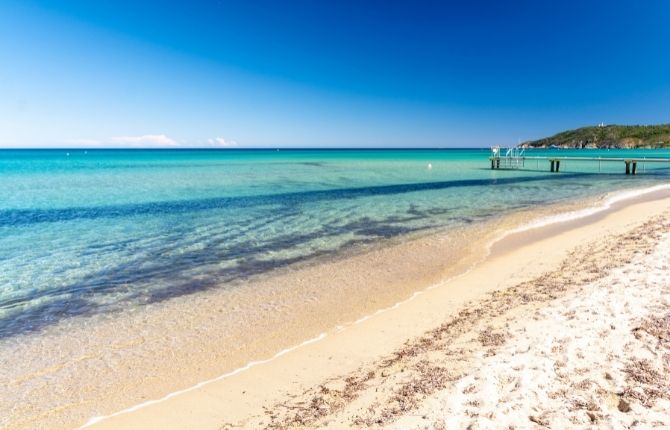 The 4.5 km of sandy shores are home to several world-famous restaurants, including Club 55, which has been in business since 1955. The cuisine here is down-to-earth and the philosophy is simple: the customer is always right.
Pampelonne Beach is the longest beach in Saint Tropez. Therefore, it is more popular among beach lovers, celebrities, and other famous characters. The end of September is the best time to visit Pampelonne Beach in Saint-Tropez. 
You can choose from a variety of seafood and meat dishes, as well as salads, desserts, and an endless supply of Cote de Provence rose.
In Saint-Tropez, the fabled Pampelonne Beach receives most of the attention, but there are many other equally beautiful beaches.
If you have more time, you can spend a day or two on Pampelonne Beach. You can spend a full day on the beach, and have some time to explore the town.
Visit the Place des Lices, the town's most famous square. It is a lively, picturesque place with many locals hanging out and playing bowls. In the evening, you can relax on benches under the shade of the large trees.
The low-key Plage des Salins is a quieter alternative with a simple beachfront restaurant and pine trees.
Alternatively, you can drive down the bumpy road to L'Escalet Beach, where the locals live. The Gigaro area is also a popular beach, especially for its small snack shops and restaurants.
Address: Ramatuelle, FR 83350       Phone: +33 4 94 97 45 21
Beaches in France
6. Plage des Canoubiers, Saint-Tropez
If you love beaches, you can't miss the Plage des Canoubiers, Saint-Tropez. This famous seaside resort is known for its beautiful sands and crystal clear waters.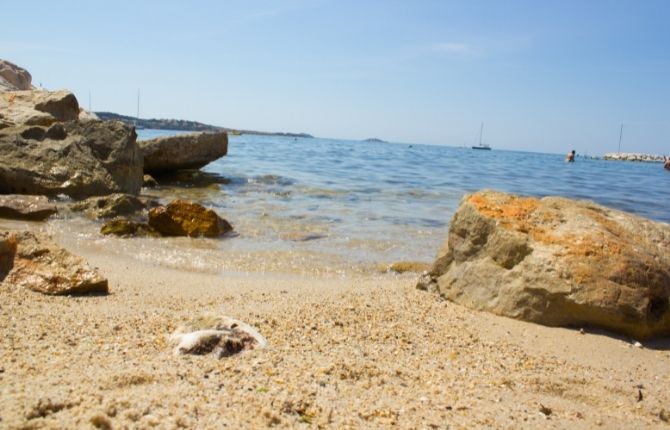 You can also visit the Plage de la Bouillabaisse and Plage des Graniers. The beaches of Saint-Tropez offer you a relaxing and rejuvenating atmosphere.
Located four kilometers from the town center, Plage des Canoubiers is a popular spot for vacationers and locals alike.
It features a wide sand beach with plenty of shaded areas under pine trees. During the summer season, there is a lifeguard on duty to keep swimmers safe, and you can rent a sailboat and try out your new sailing skills.
Another popular beach in Saint-Tropez is the enchanting Plage de la Fontanette. Surrounded by the picturesque homes of St Tropez, this small beach is the perfect spot to watch the sun go down.
The area offers a quiet lunch spot, and there is just enough sand to satisfy a few sunbathers. This is an idyllic location for a relaxing afternoon.
If you're a boater, a mooring on Plage des Canoubiers will provide you with an impressive view of the citadel and its surrounding celebrity villas.
Brigitte Bardot's home is on the Canoubiers road, and the most popular mooring at this beach is at the sailing school one hundred meters from the marine cemetery.
Address: Plage des Canoubiers, 83990, Saint-Tropez, France       
7. Beaches in Antibes, French Riviera
There are several beaches to choose from in Antibes.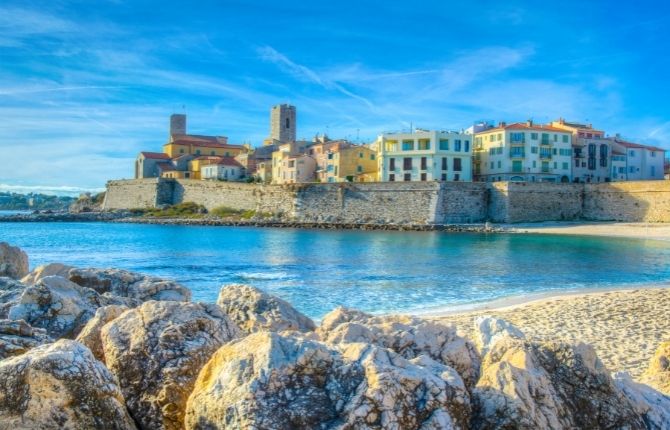 These include the Plage des Ondes Beach, Plage de la Salis Beach Plage du Ponteil Beach, which is situated near the town's old town, and the Plage de la Salis, which is a wide, sandy bay lined with palm trees.
If you're looking for a more intimate beach, try Plage de la Gallice in Antibes, which is a small, secluded beach that's less crowded.
The resort town of Antibes is a charming little place that is situated near the Alps and the Mediterranean Sea. The old town of Antibes is a charming place to wander around.
And the beaches are not quite as beautiful as those in Nice or Eze, but they're a good choice for a half-day excursion from Nice.
If you are looking for a romantic getaway, Antibes is a great choice.
The Clews House is a beautiful stone-built building whose original construction dates back to the 1300s. It underwent several reconstructions before being purchased by eccentric American artist Henry Clews Jr. in 1918.
He and his wife Marie worked for a decade to restore it. Today, the house features whimsical stone carvings, a grotto, and a swimming pool.
A beautiful, well-maintained garden boasts sculptures and topiaries by Clews. The gardens are located on four acres and have been designated a "Jardin remarquable".
For a relaxing lunch or evening meal, don't miss out on the Comptoir de la Tourraque, a cozy, traditional spot with a scrumptious menu that changes three times a week.
This upscale restaurant incorporates seasonal produce and French cheeses and dishes made in the bistro-style. It's a great location near the Picasso Museum, and you can walk to the beach below.
Address:  French Riviera, FR 06160      Phone: +33 6 32 21 07 34
8. Beaches in Cannes
There are two kinds of beaches in Cannes: public and private.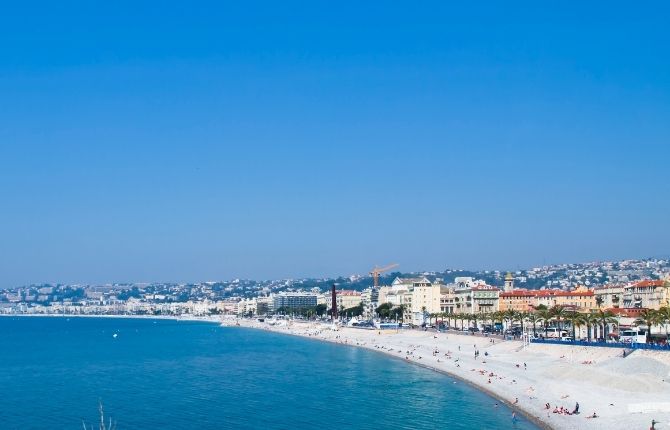 The public beaches in Cannes are crowded during July. They offer gentle slopes for swimming, and they are located close to the city center.
And the private beaches in Cannes are often rented by hotels, and they also have facilities for the public to use, like sun loungers and umbrellas.
The public beaches in Cannes are not as crowded and can be enjoyed by families and groups of friends.
Carlton Hotel in Canes makes for a great view of the sea. The vibe of the city is positive. People are dancing, eating delicious food, and generally enjoying themselves.
Whether you're looking for a romantic setting or an exciting nightlife scene, Canes is a good option for you. There are several restaurants and bars to choose from, so you're sure to find the perfect spot.
While you're in Cannes, don't forget to explore the town's other attractions.
After enjoying the beauty of Croisette Beach Cannes, you can walk along the famous boulevard Croisette, which runs from the eastern end of the city up to the center.
This area is lined with upscale shops, restaurants, and hotels. You'll be able to walk down this boulevard and browse luxury boutiques and indulge your every whim.
And also, there's a famous festival here called Marche aux Fleurs, a colorful floral festival.
Beaches in France
9. Les Calanques de Cassis, Marseille
The stunning coastline of Provence encircles the town of Cassis, which has many picturesque beaches.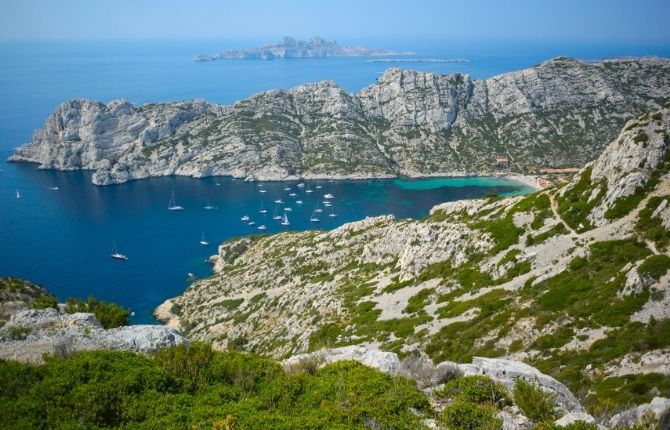 These beaches are a perfect setting for swimming and water sports including snorkeling kayaking, paddleboarding, and scuba diving. Nearby hiking trails provide a great way to see this town's charming alleyways. Rock climbing is also famous in Les Calanques de Cassis.
So, this is a paradise for nature lovers.
In addition to the beaches, the town offers a variety of other activities, including shopping and eating.
Especially, Les Calanques de Cassis beach is located between Marseille and Cassis. As it is an inlet, it can be reached from the Parc National des Calanques Marseille.
Visitors can sample local wines in the town of Cassis, which is a seaside town. Although Provence is known for its rose wine, Cassis is famous for its award-winning whites.
This town is home to 12 wine estates, most of which are open to the public, though one estate caters only to commercial sales. Cassis hosts two wine festivals: the first in mid-May and the larger in late September.
The town's cliff-top setting is reminiscent of an impressionist painting. The port of Cassis is home to yachts and restaurants and provides a magnificent view of the town's Chateau de Cassis.
There are also several pebble Mediterranean beaches in the area. Those seeking more sandy beaches should try the Calanque de Port Miou, which is located just beyond the town.
One of the best ways to enjoy the spectacular landscape of the Calanques de Cassis is by kayak. Kayakers can rent kayaks and paddles to the inlets from the town.
You can also visit the rocky beach of Calanque d'En Vau, a favorite national park site for photographers and nature enthusiasts alike. You can even hike to the top of a cliff in the area for a picnic.
Address: Vaufrèges, Marseille, FR 13260       Phone: +33 4 20 10 50 00
10. Paloma Beach, Saint-Jean-Cap-Ferrat
Paloma Beach is one of the most beautiful and top beaches in France. And also, it is safe for swimming with kids as the waves are gentle. 
You can enjoy the view of cliffs from the beach of this prestigious French restaurant, located on the southern French peninsula of Saint-Jean-Cap-Ferrant.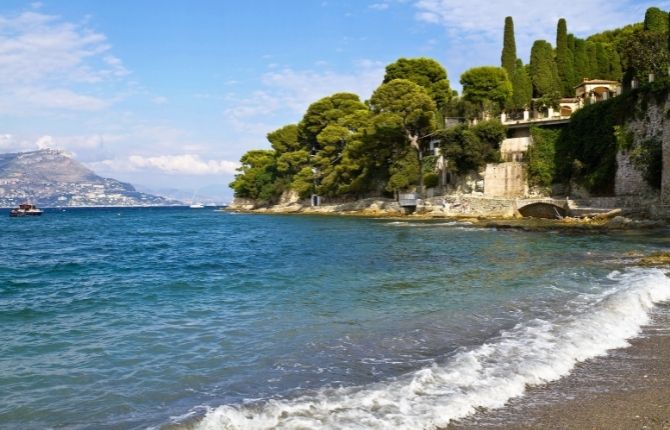 Tom Cruise and Sean Connery have both attended the renowned beachfront restaurant in Saint-Jean-Cap-Ferrat, France. While you are there, be sure to try their Mediterranean cuisine.
The beach of Saint-Jean-Cap-Ferrat is a famous destination for the jet-set and celebrities. This beautiful pebbly cove is sheltered from summer winds, making it ideal for swimming.
Unlike most other beaches in the French Riviera, Paloma Beach offers great amenities. The beach also offers showers and cabanas.
Since Paloma Beach has crystal clear waters, snorkelers can easily observe starfish, seagrass meadows, and sea bream. 
A public beach in Saint-Jean-Cap-Férat is Playa des Fosses. Located between the Cape Camarat and the town of Saint-Jean-Cap-Ferrat, this beach features a 300-meter long stretch of sand with pine trees and turquoise water.
There are also wooden ramps for jumping into the water, as well as several restaurants and bars.
The island also boasts the Notre Dame beach, which is located at the end of the main street leading to the seafront.
Getting there can be a bit tricky, but it's worth the effort. The white sand and turquoise water make it an excellent choice for swimming. Motorboats are banned within 300 meters of the beach, so the area is safe for bathers.
Address: 1 Chemin de Saint-Hospice, Saint-Jean-Cap-Ferrat, FR 06230       Phone: +33 4 93 01 64 71
11. Beaches in France: Donnant Beach, Belle-Ile-en-Mer
If you're looking for the most beautiful and calm beach in France, Donnant Beach should be on your list of must-sees.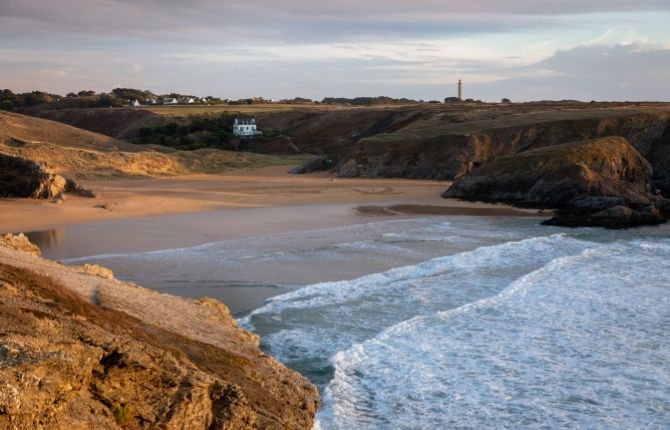 Located on the coast of the Gulf of Morbihan, its young, intense sand and rugged coast look like a film location.
Featuring coffee-colored sand, Donnant Beach is perfect for swimming as well. But, only in designated areas. You can see lifeguards on the beach during the high season (from July to August).
The beach also features dune sand with significant sand holes and toppings. While you're at it, you can take the time to walk through a cave that offers spectacular views of the reef.
The island is 17 kilometers long and nine kilometers wide and is surrounded by many scenic cliffs and rocks. You'll find many picturesque spots here, including the quaint port of Sauzon.
You can also check out the Sarah Bernhardt Museum and Pointe des Poulains. And don't forget to bring your camera – the beach is stunning. You'll have a memorable experience in this town.
The main beach in Belle-Ile-en-Meer is Plage des Grands Sables. But the island also has a variety of smaller beaches along the northeast coast.
Donnant Beach is one of the most popular beaches on the west side of the island. But, beach games and plays are not allowed on this beach.
Address: Plage du Donnant, FR 56360     
12. Porquerolles Island, Hyeres
Porquerolles Island, also known as Île de Porquerolles, is a beautiful island located in the Îles d'Hyeres, a region in the French province of Var (near Hyères).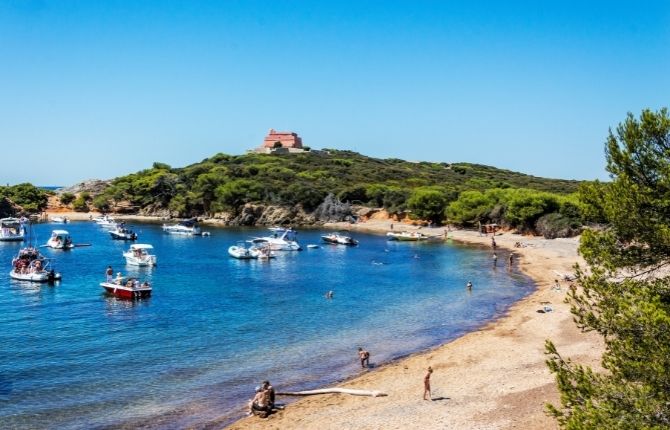 The land area of Porquerolles Island is 1,254 hectares, and the population is low. This remote island offers a tranquil setting for tourists, while the village itself is very picturesque.
There are three stunning beaches on Porquerolles Island, and the whole area is surrounded by a picturesque gorge.
The island boasts 300 days of sunshine each year and is home to several hotels. Porquerolles is also home to an annual jazz festival.
The island is one of the most beautiful locations near Hyeres, and a visit to this idyllic place is sure to make you want to come back again.
Getting there: Ferries from Marseille and Toulon serve Hyeres. In peak season, there are many ferryboats on the island, and half of the visitors arrive by private boat. The ferry ride across the water is scenic, with mountains in the background.
Porquerolles island is protected by the French state. Its lush Mediterranean forests are home to juniper trees, olive trees, and fig trees. The island's lush vegetation is also home to many species of animals, including partridge and pheasants.
The island is also part of the Parc National de Port-Cros, which preserves much of the island's flora and fauna.
Address: Porquerolles Island, Hyères, FR 83400       Phone: +33 4 94 58 33 76
13. Plage de l'Espiguette, Le Grau-du-Roi
Le Grau-du-Roi is home to the famous sandy beach, Plage de l'Espiguettes. This beach is one of the most unique in Europe, with its perfect dune system and location in the Northern Mediterranean basin.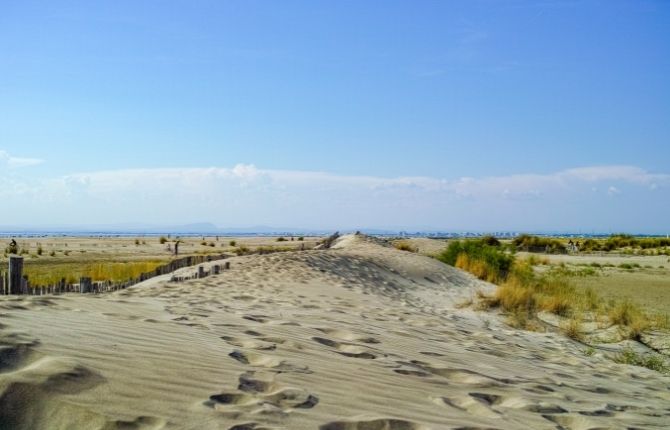 It's also a popular tourist destination, and you're sure to have a great time swimming and sunbathing here.
The town of Le Grau-du-Roi is situated in the Camargue. The town has a great deal to offer visitors, including a Seaquarium that contains more than 200 species of Mediterranean fish.
There is also an amphitheater with panoramic views of the bay. Aside from the Aquarium, the town's three sandy beaches are also well worth the visit.
The Boucanet beach stretches to the La Grande Motte, and the desert-like Plage de l'Espiguette beach is 18 km long.
If you're looking for a wild beach, the region is home to a few sand dunes. The Espiguette is one of the largest and most Sauvage in the Gard, stretching over 18 km towards Saintes Maries de la Mer.
The dunes here are up to 10 meters high. This makes it an exceptional beach to visit.
The town is also home to the famous Arena du Grau-du-Roi, which was built in 1961. There are several beaches here, including the North Beach, South Beach, and Left Bank.
The city center is home to the Church of St. Peter and some remarkable villas. The Parris Villa is an exceptional Belle Epoque-style villa. The town center features some beautiful houses, as well as a lighthouse that is 27 meters high.
Address: Plage de l'Espiguette, 30240 Le Grau-du-Roi, France    
14. Bay of Mont Saint-Michel, Normandy
If you're looking for a great day trip in France, you may want to check out the Bay of Mont Saint-Michel in Normandy. It is also a UNESCO world heritage site.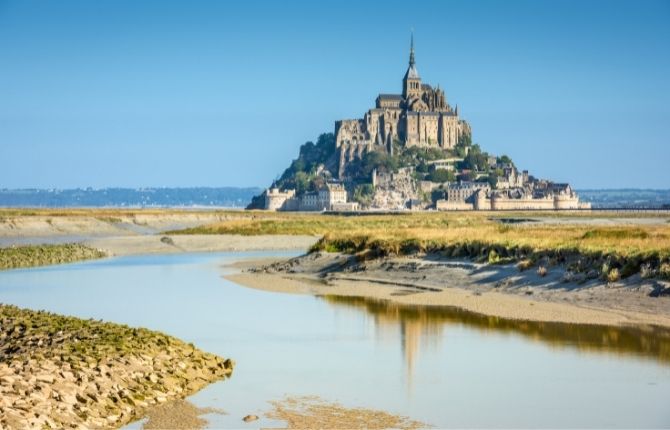 Located in the Bay of Somme, this beautiful island in Normandy is well worth the visit. The island is situated just off the coast of Normandy, so it's easy to get to. (between Cotentin and Brittany)
Several ferry lines run directly to the island. And numerous airlines fly from Britain to Normandy, making connections to Mont-Saint-Michel quick and easy.
Several changes to the access, ferry lines, and other modes of transportation have been made to improve your trip to this unique Normandy attraction.
Mont-Saint-Michel Abbey itself is a stunning place of worship. It's been a popular place of pilgrimage for centuries and has been listed as a historical monument since 1874.
The abbey boasts stunning architecture and has been a monastic establishment since the 8th century.
It has a magnificent interior with great halls, corridors, and courtyards. The abbey is located on the island itself, but there are many self-catering gites and hotels in the surrounding area as well.
The island itself is unique, as it's an island that is cut off from the mainland when the tide comes in. Historically, the island was isolated from the mainland by dangerous quicksand, disorienting fog, and mythic tides.
Pilgrims were forced to cross the island's mudflat with care. In the late 1800s, an ambitious project connected the island to the mainland to allow pilgrims to pass without wearing hip boots.
Unfortunately, the causeway was built too high, resulting in silting and erosion. A superswooping bridge was built on the other side of the island to allow water to flow freely around the island.
Address: Mont Saint-Michel, Normandy, FR 50170     
Beaches in France
15. Beaches in Nice, French Riviera
Several famous seafronts line the coast of Nice, including Cote d'Azur, and Plage Publique de l'Opera, which is pebble-strewn and close to the Opera House.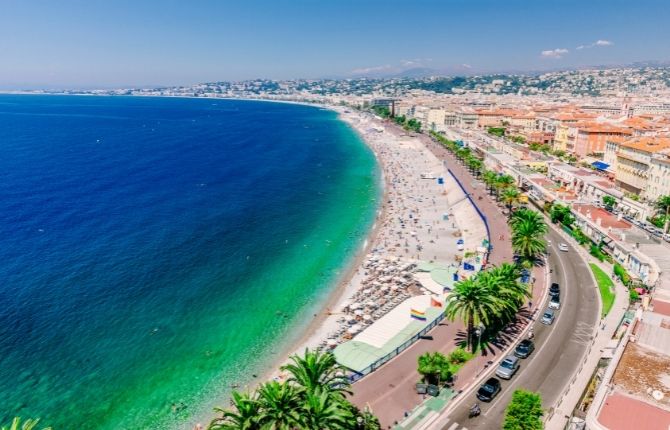 Nice features beautiful beaches located on the southeast coast of France. And Nice is more close to Monaco and the border of Italy.
The beach is open to the public and also features private beach restaurants. The area has a diverse mix of beaches, but Plage de la Reserve offers the best shellfishing. This popular beach is also a great place to escape the summer crowds.
During the summer, you'll find the beaches crowded with swimmers and sunbathers. And of course, there's no better place to relax than the seaside!
While you're in Nice, why not try out the local cuisine?
This city has a renowned produce market, Le Marche aux Fleurs, which is right next to the sea in the Old Town. You can purchase fresh produce and local artisanal foods at the market, which is open every day but Monday.
For those who are interested in art, Nice is home to the largest collection of Matisse's works. The museum is located in an old villa, which is a great place to take art lovers.
A visit to the museum is an excellent way to discover the city's artistic and cultural heritage.
Address: Nice, Alpes-Maritimes, French Riviera, FR       Phone: +33 4 92 14 46 14
Beaches in France
16. Cap Coz, Brittany
Traveling to the seaside town of Cap Coz in Brittany is a dream come true for animal and beach lovers.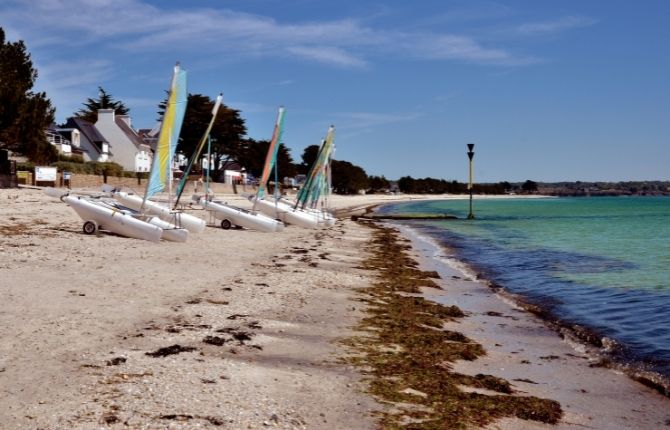 With several different types of wildlife found here, you're sure to find a species that will delight your senses.
And also, Cap Coz Beach is perfect for swimming and experiencing various water sports. Since lifeguards are available, you are safe on this beach.
There's something for everyone in this charming area of France, including the opportunity to swim with dolphins and watch the sunset over the sea.
For an unforgettable experience, try a scenic boat trip to Cap Coz. But, do not forget to check the weather as it can be unpredictable.
The Garrigae Cap Coz Hotel in Fouesnant offers quick access to the beach and is a convenient location from Concarneau. The hotel's 40 rooms boast panoramic sea views.
It's also less than two kilometers from the Aux Vivier de Penfoulic Seafood Farm and is just a 25-minute walk from the center of Fouesnant.
From here, you can enjoy a walk along the beach and visit the city's other attractions.
Address: 50-160 Avenue de la Pointe du Cap Coz, Fouesnant, FR 29170       Phone: +33 2 98 51 18 88
Beaches in France
17. Argelès Beach, Argelès-sur-Mer
If you're looking for a beautiful and calm beach in the South of France, consider the Argèles Beach in Argeles-sur-mer.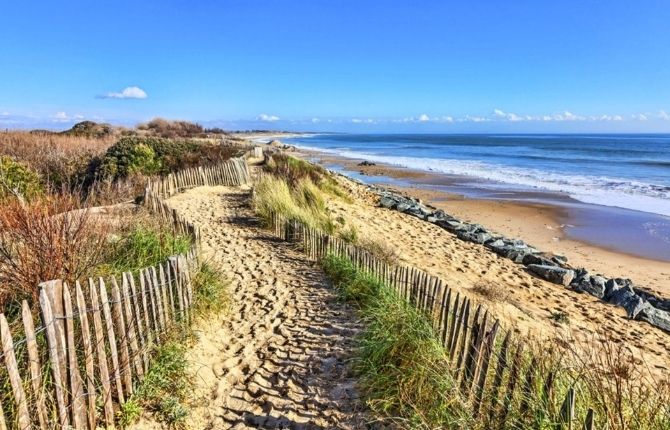 The wide bay is a great place for families, with its long, sandy expanse. The town has consistently retained its European blue flag award for clean, safe water.
Visitors will find everything they need for a fun-filled day on the beach, from water sports to children's activities.
The Argèles-sur-Mer beach is famous for its sand and crystal clear waters. Stretching for 7km, this beach features a 3km shaded promenade planted with trees. So, you can take a cool walk too.
The town is also home to a camp for Spanish refugees who fled their homes in Spain during the Second World War.
The descendants of those families still live in the area and are now French citizens. If you're planning a visit to this town, be sure to check out the history of the area too.
The nearby Chateau de Valmy is a great day trip from Argèles. This town boasts a charming 19th-century chateau, which is now a chambre d'hote. The town also has several historical sites, including the Massane tower, which was built in the 13th century.
The Chateau de Pujol, which is an imposing 12th-century castle, is another place worth seeing.
Beaches in France
18. Deauville Beach, Normandy
A trip to Deauville Beach in Calvados in Normandy should be on your to-do list if you're in the area. The beach is a vast stretch of white sand, with sun umbrellas and beach vendors.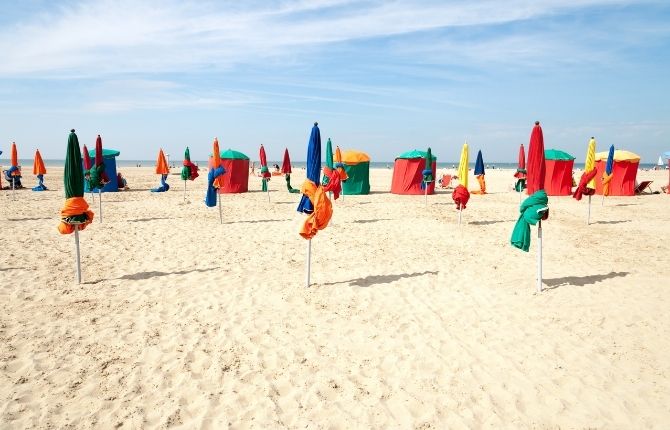 While it might not be the most luxurious place to swim, it will definitely be an unforgettable experience due to its stylish atmosphere. You can easily find luxury hotels, world-class golf courses, and plenty of dining choices near Deauville Beach.
Located in the region of Normandy, the charming town of Deauville is the epitome of French luxury. It's home to an elegant, world-famous casino and the iconic Barriere hotel.
There's also a thriving art and design scene and the Presqu'ile de la Touques district is undergoing a major transformation. The beach, meanwhile, remains wide and unspoiled and is backed by a long boardwalk and changing booths.
For the most picturesque beach near Paris, there's nothing better than Deauville Beach. Located only two hours from the city, it is accessible to all ages and interests, from the young to the elderly.
There's plenty to do on the beach, including swimming, surfing, golf lessons, pony club, and more. Whether you're a seasoned beach bum or just a newbie, you'll love this town's unique charm.
While the beach in Normandy is known for making history with the D-Day landing, it's also an idyllic seaside getaway.
You'll find nice sandy beaches here and are easily accessible from Paris. In addition, the coastline is dotted with famous seaside resorts like Deauville and Cabourg. It's easy to see why Normandy is a must-see destination for all kinds of holidaymakers.
Address: Promenade des Planches, Deauville, Normandy, FR 14800     
Beaches in France
19. Beaches in France: Narbonne Plage
The golden sands and vast expanse of Narbonne Plage Beach are sure to appeal to those seeking relaxation.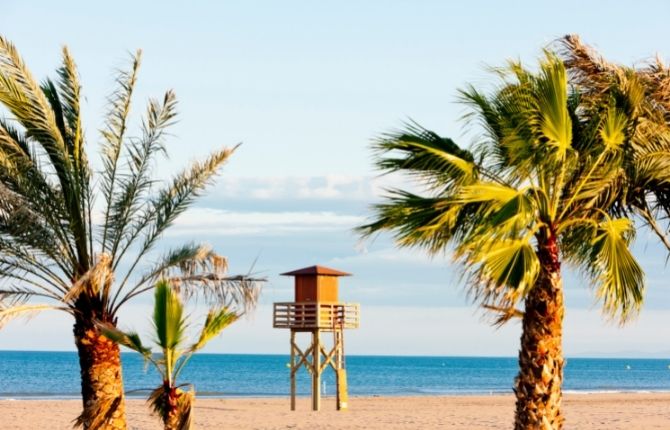 This resort town on the southern coast of France enjoys 300 days of sunshine a year. There is a beach bar and a nautical center.
And the surrounding mountains, Massif de la Clape, provide a stunning backdrop. You can enjoy a relaxing spa or a musical evening. The town is just 15km from Narbonne.
Located on the southern French coast, Narbonne Plage is part of the Aude department. The coastal resort lies at the foot of a limestone massif that separates it from the city of Narbonne.
The town is primarily dependent on the tourist trade and enjoys blue flag status for clean waters. There are many activities to keep you busy and entertained while visiting the region.
For those interested in scuba diving, you can find a specialized center with a range of equipment.
If you're looking for a great place to eat while on vacation, you can choose between several excellent restaurants. The En Face is an affordable neighborhood restaurant with a prime canal-side location.
For a more refined experience, try the Le Petit Comptoir, which serves a variety of sophisticated meat and fish dishes.
Nearby, you can visit the medieval town of Gruissan, a fishing village in the Mediterranean. The town lies on the seaward side of the Etang.
There are plenty of restaurants and apartments here. You can even check out the marina's berths, which are large enough for up to 1,300 boats. Whether you choose to dine on fresh fish or indulge in an unusual veggie dish, you'll surely enjoy a delicious meal at Le Jardin des Filoche.
Beaches in France
20. Beaches in France: Cote de Granit Rose, Brittany
If you are traveling to the region, you must see the Cote de Granit Rose. This breathtaking coastline is composed of giant pink rocks that resemble rose petals.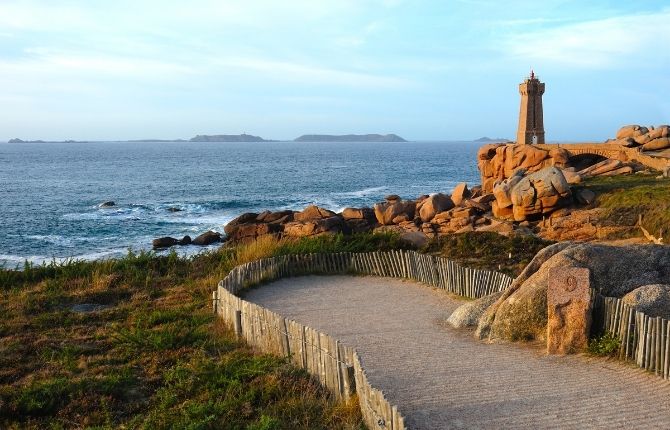 Its many pristine beaches are covered with pinkish sand and it is the perfect place to relax. Located in northwest Brittany, this stunning area is easily accessible from Trebeurden, Pleurmeur-Bodou, and Perros-Guirec.
This picture-perfect beach with rose-pink granite rocks is ideal for taking photos.
Whether you want to explore the wetlands or stroll the beautiful seaside, this area is worth visiting. You may spot some animals along the walk.
The Auray River offers a beautiful walk through its wetlands and a charming port with a four-arched stone bridge.
You can walk around the harbor and visit the local restaurants while enjoying the sweeping views. During your stay, you can also participate in activities such as snorkeling or diving.
While in the region, don't miss out on the Branfere Zoo. This animal park has over a thousand animals and 150 species of birds! Aside from animals, you'll find a restaurant and an aviary to keep the little ones entertained.
While you're there, you'll also get to experience a beautiful bird show. Whether you choose to swim or ride a bike, you'll be sure to have an unforgettable experience.
Address: Côte de Granit Rose, Côtes d'Armor, Brittany, FR   
Beaches in France
Palombaggia Beach, Corsica
La Côte des Basques, Biarritz
Etretat, Normandy
La Grande Plage, Biarritz
Pampelonne Beach, Saint-Tropez
Plage des Canoubiers, Saint-Tropez
Beaches in Antibes, French Riviera
Beaches in Cannes
Les Calanques de Cassis, Provence
Paloma Beach, Saint-Jean-Cap-Ferrat
Donnant Beach, Belle-Ile-en-Mer
Porquerolles Island, Hyeres
Plage de l'Espiguette, Le Grau-du-Roi
Bay of Mont Saint-Michel, Normandy
Beaches in Nice, French Riviera
Cap Coz, Brittany
Argelès Beach, Argelès-sur-Mer
Deauville Beach, Normandy
Narbonne Plage
Cote de Granit Rose, Brittany
Beaches in France