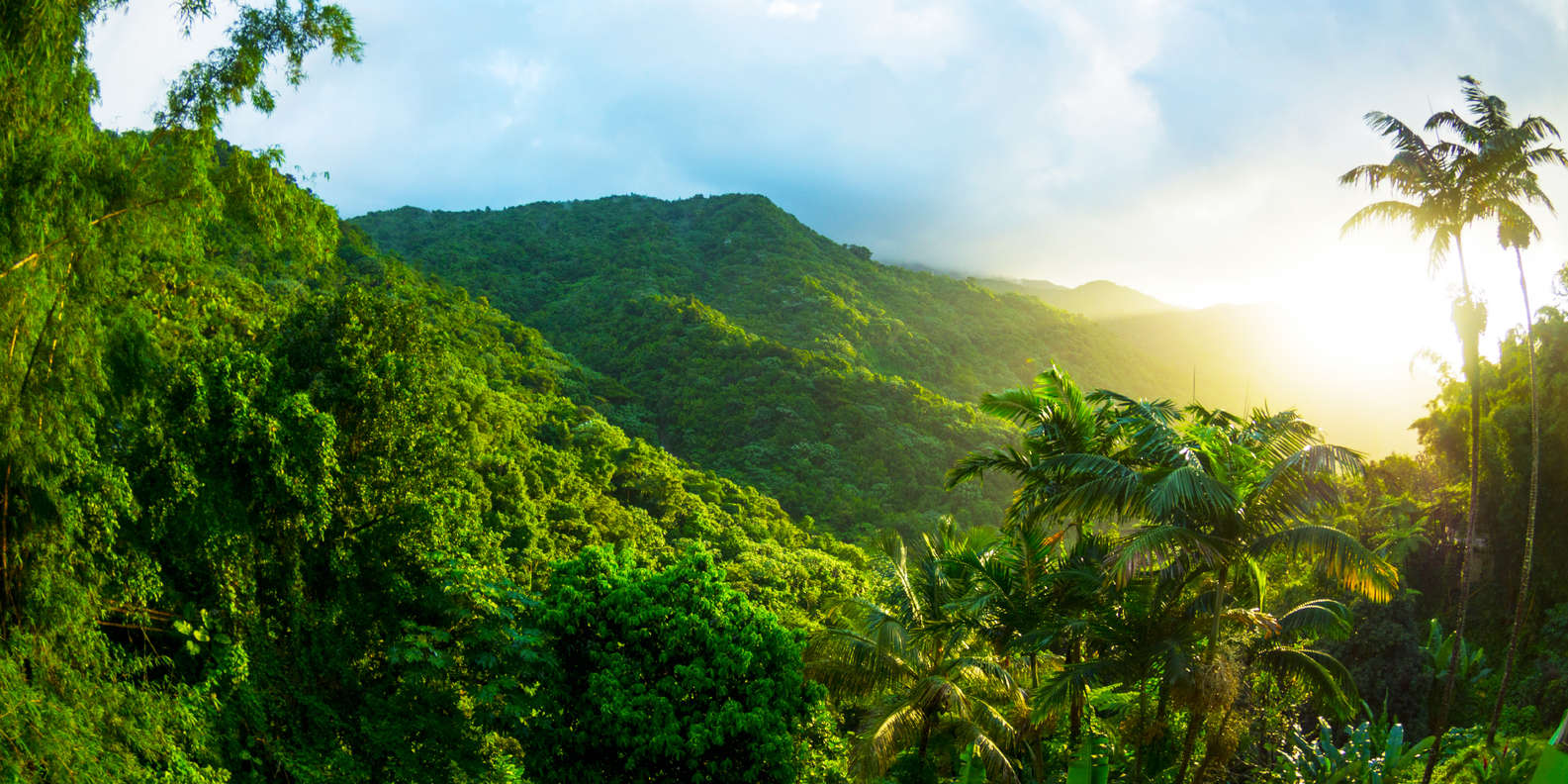 Puerto Rico rainforest, El Yunque, is an excellent natural treasure in the world. It is filled with numerous hiking trails, waterfalls, natural pools, stunning sceneries, and many more. As we all know, Puerto Rico island is an unincorporated US territory in the Caribbean Sea. The Puerto Rico rainforest (El Yunque National Park) is the only tropical rainforest under the United States National Forest Service's protection. On the other hand, since it gets around 3000mm rainfall per year, it has a diverse ecosystem with unique fauna and flora species. So, I suggest you visit there and explore more.
Puerto Rico Rainforest
Are there rainforests in Puerto Rico?
As I mentioned earlier, El Yunque is the only tropical rainforest in the US National Forest System. And also, it is the largest forest in the densely-populated Puerto Rico. There are some other nature reserves and forests in Puerto Rico. Like Guanica dry forest, La Marquesa Forest Park, Pinones, Guajataca Forest Reserve, Pterocarpus forest, Carite forest, etc. But, El Yunque is the only rainforest in Puerto Rico.
Having around 28,000 acres, Puerto Ricans have some myths about this forest. Especially, Taino Indians believed that this rainforest is the home of Yuquiyu, a god in Puerto Rico.
On the other hand, it is the home for some of the unique and rare small animal species like coqui tree frogs, pygmy anoles, and Puerto Rican parrot. Apart from that, there are 150 native ferns, 23 exclusive tree species with 240 tree species. (Puerto Rico Rainforest)
Suggested Reading: Santa Marta Colombia
Where is Puerto Rico RainForest located?
Puerto Rico rainforest, El Yunque, is located on the northeastern side of Puerto Rico. And it was formerly known as the Caribbean National Forest. Spreading through the Sierra de Luquillo mountains' slopes, this rainforest's highest mountain peak has around 3494 feet in height.
If I explain to you about Puerto Rico's location or the Common Wealth of Puerto Rico, it is located on the Caribbean Sea's northeast side. And as I mentioned in the introduction, this is an unincorporated territory of the United States. Also, Puerto Ricans consider as citizens of the US since 1917. But, the administrations and the voting system is different.
Puerto Rico archipelago is a member of the Greater Antilles located between the Dominican Republic and the US Virgin Islands. Exactly 1000 miles away from the southeast of Miami, Florida. And the capital of Puerto Rico is the world-famous city, San Juan. The other smaller islands in the archipelago are Mona, Culebra, and Vieques. (Puerto Rico Rainforest)
How far is the rainforest from San Juan?
If you are coming from San Juan, there is around 50 km to reach El Yunque. First, you have to take route 3 out of the city and then travel around an hour to route 191. Now, you are near the rainforest. Whatever the travel medium, you can reach the destination within an hour.
The address of the visitor center is PR-191 Rio Grande, PR 00745.
Is the rainforest open in Puerto Rico?
Usually, Puerto Rico Rainforest, El Yunque, is open daily from 7.30 am to 6.00 pm. And since the temperature doesn't vary throughout the year, it considers as a year-round destination.
But, sadly, in September 2017, hurricanes Irma and Maria powered through the Caribbean and Florida. Even the islands of Puerto Rico was heavily devastated. So, it took some considerable time to recover all the industries there. Especially the tourism industry. But when it came to the end of 2018, most of the sectors were recovered.
Since we are talking about El Yunque National Rainforest, I must mention that it is the single most visited area in the whole of Puerto Rico. Usually, it attracts around 600,000 tourists annually from all over the world. Unfortunately, the 2017 hurricane disaster badly caused some damages to the rainforest.
Suggested Reading: Where's Bora Bora Located?
The damages like landslides, deforestation, roads washed outs, downed trees, etc. So, most of the parts of the forest were closed to the public for a long time. Then the authority started the repairing and reopening process of the different parts of the forest separately. And still, there are some closed parts. (Puerto Rico Rainforest)
Opened Parts
After March 2019, the rainforest authority service could reopen the following parts in El Yunque. La Coca Falls and trail, Yokahu Tower, Quebrada Grande, El toro trail, Angelito trail, Puente Roto trail, Mt. Britton trail, Bano Grande, Los Picachos trail, Caimatillo trail, and Juan Diego trail. But, still, you must check and verify your safety from the Forest Service. (All these places are marked on the above map)
Also, check the official web link for more details: El Yunque.
Still Closed Parts
El Portal Visitor Center and Trail, Big Tree Trail, La Mina Trail, La Mina Falls, Bano de Oro Trail, Tradewinds Trail, Rio Sabana Trail. These parts are still under reconstruction and maintenance service.
Puerto Rico RainForest, El Yunque weather
The temperature of this rainforest doesn't vary with time. And the average temperature is between 21°C to 26°C. Also, the forest gets rainfall throughout the year. Therefore, we cannot see any seasonal changes like wet and dry. The records mention that it gets around 100 billion gallons of rainfall annually. Further, the records say that some parts of this forest get more than 200 inches of rainfall yearly. (Puerto Rico Rainforest)
Visiting El Yunque on your own
You can absolutely visit El Yunque on your own. Hire a car and reach the destination easily. Solo travelers love to visit Puerto Rico Rainforest and enjoy trails and waterfalls. If you are planning to visit El Yunque on your own, please consider the following things.
Bring some additional clothes. Since there are plenty of waterfalls, you may feel like having a natural pool bath. Apart from that, water shoes and other things relevant to hiking are needed.
If you are a solo traveler, renting a car to reach the forest is the best option you have. Because if you rent a car or hire a car, you can easily reach all the forest parts. Otherwise, you can hire an Uber to reach only one part of the forest.
I suggest you not pay for tours. Because it would be a waste of your money. When you enter the forest, there's a map that shows all the hot spots there. And also, you don't need to worry about parking, since the parks are available near most of the hot spots. If you are traveling on weekends, then expect to have some crowds as well.
If you are not sure about what you are doing, where you are going, please hire a guided tour package. Check this link to match your needs and the budget. (Puerto Rico Rainforest)
Suggested Reading: Bay of Islands New Zealand
Expect to have poor phone signals. So, prepare offline apps (like map apps and weather forecast maps).
At least plan to spend one whole day in the forest. Otherwise, you will miss some impressive places. And one more special point is, you can enter the forest for free.
Please consider the following fact as well.
What to wear to the rainforest in Puerto Rico?
When we talk about the rainforest's clothing, I recommend you wear long pants and long-sleeved shirts. Because it has a cool climate and also there are mosquitoes. On the other hand, some plants cause skin irritations when contacting your skin.
As I mentioned above, since this is a rainforest, it gets rain every day. Sometimes, it rains around 4 times per day. So, bring rain gear. A rain poncho will be easy to carry. And also, comfortable shoes that allow you to walk on mud and slippery stones are needed. (Puerto Rico Rainforest)
Suggested Reading: Tortola British Virgin Islands
Things to do in Puerto Rico RainForest
Actually, El Yunque is one of the major reasons to visit Puerto Rico by many travelers. So, these are the most highlighted things to do in Puerto Rico Rainforest.
Waterfalls in El Yunque
The following waterfalls are the most highlighted falls in El Yunque.
La Mina Falls and Trail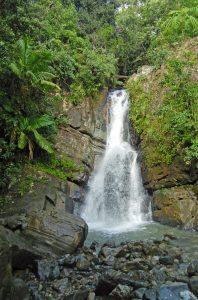 This is the most popular waterfall in the rainforest. La Mina has a well-developed short trail until the end. Finally, you can see a beautiful waterfall with a nice natural swimming pool at the bottom of the fall. Since it is the most popular one, there are always plenty of tourists. So, I suggest you be the first. Then you can find the park easily and start the trail. And this 35 feet high waterfall is surrounded by an evergreen environment.
The next nearest destination to La Mina Falls is Mt. Britton Tower.
Puerto Rico Rainforest:

Juan Diego Falls
Be alert; you will miss the trailhead when you are passing by the car. It is located by the road, and there's a signboard. Since the Juan Diego trail is short, you can easily reach there. And you can see a set of rainfalls as Juan Diego. First, you will meet a couple of little waterfalls, and then the size will increase when you go further.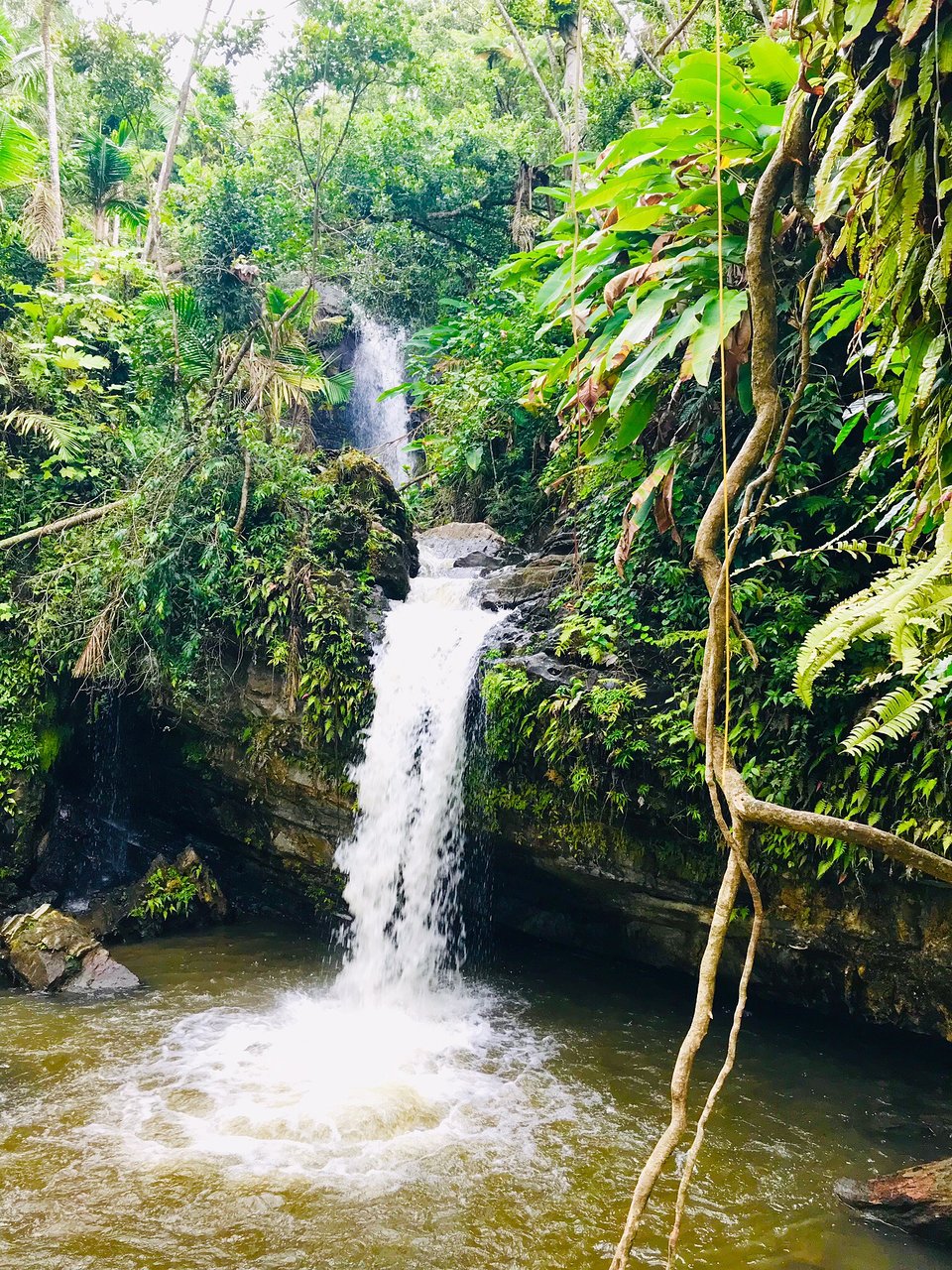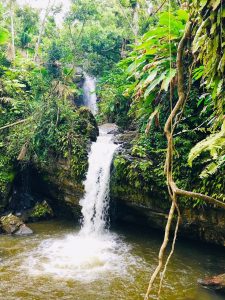 You will find a 20 feet high stunning waterfall with an enjoyable picnic area at the end of the trail. So, do not forget to plan for a small party in the picnic area. But, keep in mind not to disturb nature and pollute it. After that, if you need to continue the trail again, start it on your right-hand side. Just hike through the muddy banks, and finally, you will see 40 feet high waterfall with a natural swimming pool. (Puerto Rico Rainforest)
Suggested Reading: Victoria Falls in Zambia
Puerto Rico Rainforest:

La Coca Falls
You can easily see this waterfall's beauty since it is located 8 km off from the main road PR-151. Due to the easiness of reaching, a lot of tourists are attracting to this fall. So, try to be the first.
Looking for the best hotels near El Yunque, Puerto Rico?? Just check here. 


Hiking trails in El Yunque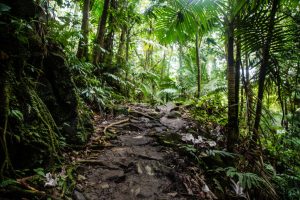 El Yunque has the best hiking trails in Puerto Rico. You already know about La Coca Trail. Another spectacular one is El Angelito. It contains rope swings, with a 4 km enjoyable and adventurous trail. Finally, you are reaching a lagoon that you can dive. (Puerto Rico Rainforest)
Puerto Rico Rainforest:

El Yunque Zipline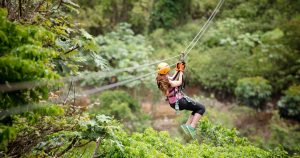 Ziplining in El Yunque is one of the most highlighted things to do. You can go fast through the stunning green canopies while looking everywhere. I suggest doing this adrenaline boosting thing with Yunque Ziplining Group. They offer a safe and trustworthy service with the best enjoyable experience.
Cloud Forest Puerto Rico
Cloud Forest is an ecosystem that is normally located on its steep mountains of rainforests. In El Yunque, the cloud forest is located 2500 feet above sea level. And it is a kind of undisturbed part of any rainforest to keep the balance of the environment. You can hike to the top of the El Yunque and see the beauty. (Puerto Rico Rainforest)
Mt. Britton Tower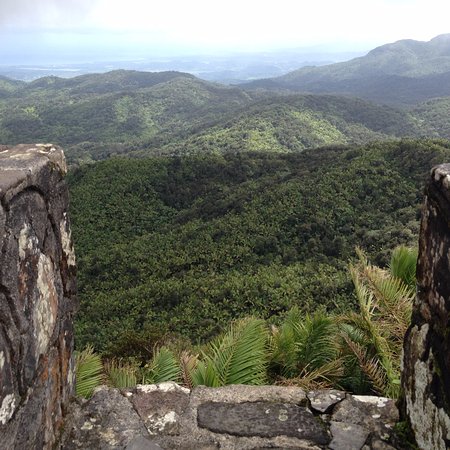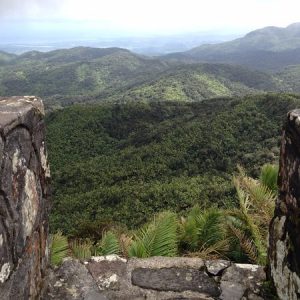 Mt. Britton Tower is a stone tower made in 1937 as the tallest Civilian Conservation Corp Towers with stone masonry. So, once you reach the top (3087 feet) through a great trail, you can see the whole view of the forest and even the Atlantic Ocean. (Only if you are lucky enough to have clear weather).
Suggested Reading: Best Hikes in Utah
Yokahu Tower
Yokahu observation tower is located at the height of 1575 feet. Since that height, it offers you great views of the whole of Puerto Rico through greeny lush mountains with the Caribbean Sea at the far corner. (Puerto Rico Rainforest)
Camping in Puerto Rico Rainforest
Suppose you are a crazy camping traveler. Then, the Puerto Rico rainforest is one of the best places for that. There are precious camping sites in which you need to get permission from the forest authority. So, plan it, get permission, and have fun. But, the most important things are to bring all the needed things and not disturb nature.
Explore wildlife in El Yunque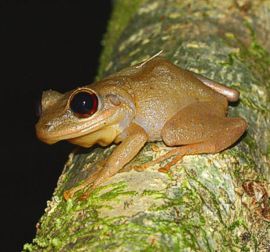 There are colorful birds like little todies and Puerto Rican Parrots. On the other hand, bats like mammals and Indian mongoose were also there. And the indigenous frog species, coqui frogs, are there. I'm not an expert on wildlife things. But, if you are a wildlife photographer or traveler, then El Yunque is one of the world's best destinations. (Puerto Rico Rainforest)
Horseback riding
Another adventure thing to do in the El Yunque is horseback riding on the foothills of the forest. The whole family can enjoy this experience. So, check this link to get a better offer. (Puerto Rico Rainforest)