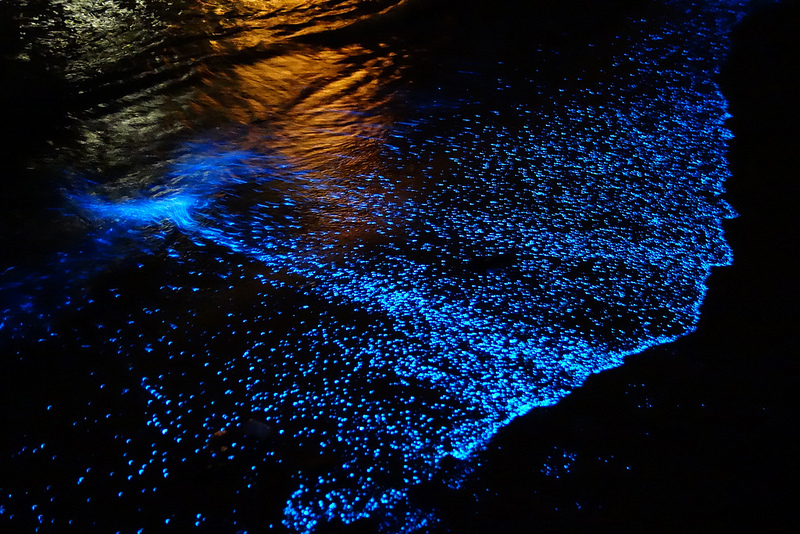 You might have seen glowing beaches in some movies and might have thought it is abnormal. Award-winning Hollywood movies like "Life of Pi," "Me Before You," and Bollywood songs like "Galliyan" in the movie "Ek Villain," you may have seen these incredible glowing beaches. It is not an artificial thing; it is a natural bioluminescent creature that produces an electric blue glow. Here are the travel details of the top 5 bioluminescent beaches in the world. 
(But keep in mind to check the moon cycle before visit because less light is better for a good view)

Bioluminescent Beaches
What makes the beach glow?
Most probably, the reason behind these glowing beaches is the algae called Noctiluca scintillans or sea sparkles. These bioluminescent (Bio is "living," and the luminescence is "emitting lights") and glowing planktons float immediately under the water surface and glow brightly when disturbed or distracted by predators. So, if you swim, boat, kayak, or shake through the water, they start to glow more.
These creatures are very tiny, and there are plenty in one drop of water. If you have a microscope or a strong magnifying glass, then you will see those creatures. Normally, these ocean glowing creatures live on the coasts of tropical and subtropical seas. That means they need a warm climate to give the glow. Just after heavy rain in tropical and subtropical seas, you may see these glowing creatures near rivers' coasts and mouths. (glowing beaches)
These creatures display this light basically to protect themselves, attract prey, and communicate with each other. Even rarely in the deep sea areas, you can see this glow as the only light ever in the deep sea. 
1. Mosquito Bay, Puerto Rico: Bioluminescent Beaches

Mosquito Bay in Puerto Rico is the most popular tourist destination for bioluminescent beaches in the world. The reason behind that is it shows a clear and beautiful view of exactly what visitors are looking for. Therefore, in 2008, this beach was recognized as the brightest bioluminescent beach by The Guinness Book of World Records.
Keep in mind there are several rules to protect the beach and visitors: Ex: no chemical applications, no swimming in the bay, etc. Therefore you need to visit there with a licensed tourist guide. (Bioluminescent Beaches)
2. Luminous Lagoon, Jamaica: Glowing beaches



When you are traveling through the Caribbean ocean, you will find this amazing Luminous Lagoon in Jamaica. This lagoon is vibrant with the most amazing bioluminescent sea creatures in the world. Here, you are free to swim, take boat rides, kayaking, and take photos with sea creatures.
Additionally, you can have food from traditional Jamaican cuisines. This place is also called Glistening Waters, Jamaica.
If you are planning to visit Costa Rica, do not miss these best of Costa Rican Foods
3. Halong Bay, Vietnam: Glowing Beaches



Halong Bay is located in the Quang Ninh province of Vietnam. This was an uncommon destination in Vietnam, But now it is more famous among travelers. And also, it is very famous among bioluminescent beach lovers. (Please check the date and moon cycle before your visit, because it should be a dark sky to be visible these amazing sea creatures)
Apart from the glowing beaches, Halong Bay has a historical value and offers a home for several tribes. And on the other hand, it offers you spectacular beach views through the mountains. So, divers, hikers, snorkelers are dying to come to this destination. Obviously, it is really worth traveling to Halong Bay when you are in Vietnam. (Bioluminescent Beaches)

Are you ready for the summer? Just check this: Summer Bucket List for Travelers.
4. Thomaya Bay, Japan: Bioluminescent Beaches



Thomaya Bay is one of the most beautiful places to see glowing beaches in the world. A special species called Firefly Squids come all the way to Thomaya Bay and lay their eggs to be matured. It is almost like an amazing light show. If you want to get a boat ride in Thomaya, you should get a boat at Namerikawa Fishing Port. Don't forget to check the time schedules before you go to Namerikawa. *(Bioluminescent Beaches)
5. Reethi Beach, Maldives: Glowing Beaches



In the Maldives, Conrad, the Rangali islands, and some other beaches offer you magnificent views of bioluminescent. Reethi Beach is more famous as a glowing beach in the Maldives. You can swim, ride boats through them here. But again, make sure the day should be a "No Moon Day." (Bioluminescent Beaches)

6. Tusan Beach, Miri, Malaysia 
The theme "Blue Tears in Tusan" is very famous among photographers. During the night, you can get a clear view of the bioluminescent in Tusan Beach. It was recognized in recent years. So, the majority is not known, and it would be the most suitable place for photographers. (Bioluminescent Beaches) 
7. Gippsland Lake, Australia
This lake is ideal for any kind of adventure water activity or to be relaxed on the beach. (Cruise, water skiing, paddle, kayak, canoe, dolphin watching, or any kind of activity). On the other hand, this place offers you the chance to see glowing algae creatures.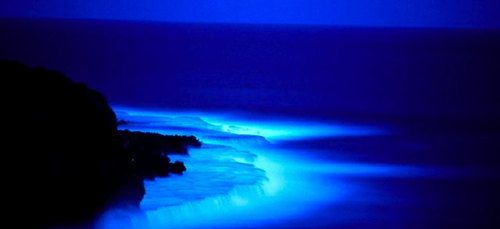 Actually, this has happened after the bushfires of 2006. From the huge bushfires, most of the organic things added to the soil, and with the huge rains after the bushfires, those organic matters washed into the lake. As a result of that incident, this bioluminescent place has been created.
But these glowing creatures disturb the organisms and plants under the lake water. Because when they start to glow like a layer on the water surface, sunlight does not go to the bottom of the lake.
That really disturbs the growth of other organisms and plants in the lake. It was recently identified that the bioluminescent creatures are fading, which is a good sign for the organisms that live in the lake. But a bad sign for glowing beach lovers. (Bioluminescent Beaches)

Suggested Reading: North Island in New Zealand: Travel Guide
8. Golfo Dulce, Costa Rica
Locating on the Pacific Coast of Costa Rica in Pavone's town, Puntarenas Province, Golfo Dulce offers you amazing chances to see the glowing beach. Actually, this is not a popular destination in Costa Rica among travelers. But, this is more famous for surfing by having the world's longest left-hand breaks.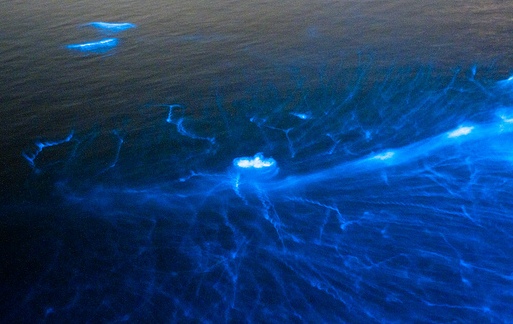 On a non-rainy, dark moonless night, you can see this glowing beach show if you visit Playa Nicuesa Rainforest Lodge. Take a boat or kayak with a guide and visit closer to them and observe well. But keep in mind, do not go far from the shore. (Bioluminescent Beaches)
9. Bioluminescent Beaches: Koh Phi Phi Island, Thailand
Koh Phi Phi Island has the loveliest bioluminescent beaches in Thailand. That's why many honeymooners visit this paradise to make their honeymoon unforgettable. Actually, Koh Phi Phi Island offers many affordable Thailand honeymoon packages as well. (Get more honeymoon packages from here: https://www.thailand-tourism.net)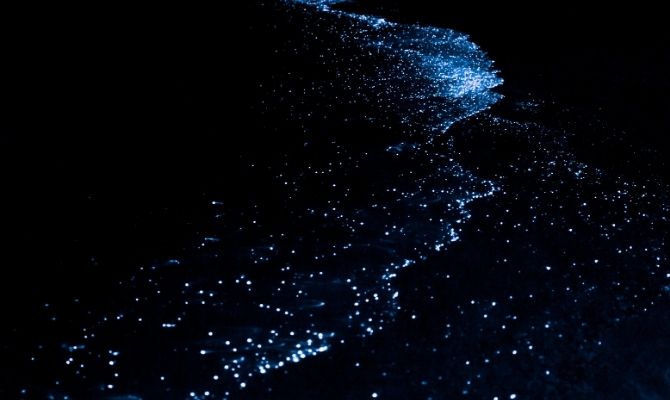 To reach Koh Phi Phi, you need to take a 45 minutes scenic speed boat ride from Krabi or Phuket. The ride is definitely mindblowing, especially when the sunsets. 
Amazingly, there are some Phi Phi shores that you can swim with glowing bioluminescent planktons. It will be an unforgettable experience to have on your honeymoon tour for sure.       
Planning to visit Seattle?? Do not miss these: 70 Things to do in Seattle, Washington