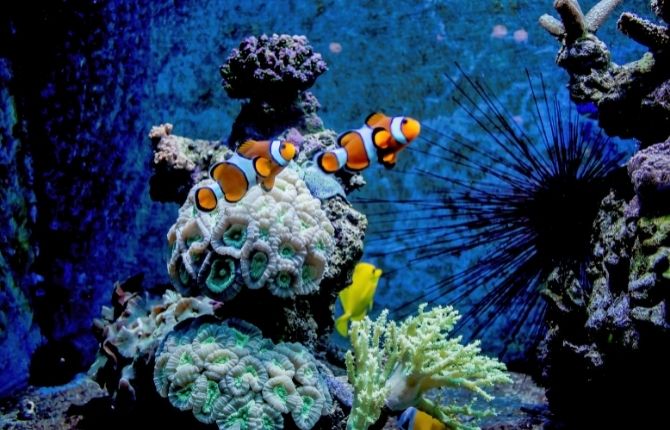 Southeast Asia's largest aquarium, houses a diverse collection of aquatic life, notably giant spider crabs, stingray sharks, and giant pacific octopus. It is also a habitat for a variety of jellyfish, and Jackass Penguins found primarily in southwestern Africa.
The Rocky Shore, Short Walk, Ocean Tunnel, and the remainder of the displays scattered over 5 million liters of water offer a wealth of experiences.
Take a ride on a glass-bottom boat for a deep-sea adventure if you want to get up close and personal with marine life in the aquarium.
You may also sign up for an Ocean Walker experience at Sea Life Bangkok Ocean Environment to become one with the deep creatures and receive a 180-degree view of the underwater world.
Sea Life Bangkok Ocean World is also a fantastic educational opportunity for children. During your visit, you can let your kids spend time interacting with some of the notable creatures like the huge Alaskan crabs, Giant Pacific Octopus, and the rarest species of seahorses and jellyfish.
Aside from that, your kids can feed the adorable small African penguins that live in this aquarium.
Attractions at Bangkok Ocean World
 When visiting Thailand, especially Bangkok, you must pay a visit to this incredible aquarium. Similar attractions can be found in other parts of the world, but Sea Life Bangkok Ocean World has something unique to offer.
Rocky Hideout
Rocky Hideout is one of the popular attractions in the Bangkok Ocean World that is home to the Spider Crab and Pacific Octopus. These are the world's largest species, and they're on display at Sea Life Bangkok.
Shark Walk
Shark Walk happens to be one of the most sought-after attractions of the Sea Life Bangkok Ocean world that acts as a home for four types of sharks including the Sand Tiger Shark, Blacktip Reef Shark, and Leopard Shark. Indulging in this activity, you will also get to know more about the facts regarding these sharks in their three-screened interactive sessions.
Coral Reef
Sea Life's coral reef is one of the most colorful coral reefs you'll ever see. The thin layer of glass that separates visitors from the exhibits creates a more realistic environment.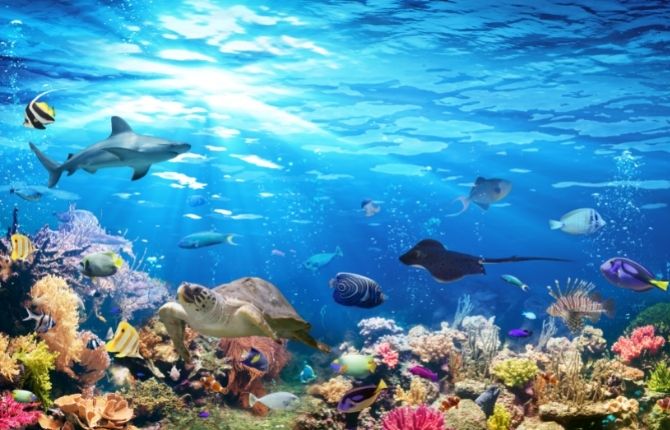 Seahorse Kingdom
You might get up close and personal with these deep-sea monsters! The Big Belly Seahorse and the Alligator Pipefish are two of the seahorses found here. 
Tropical Rainforest
The Tropical Rainforest is known for its lush green forest with cascading waterfalls in the background, as well as many exotic species like the Arapaima and Short Clawed Otter. As they walk through paths with giant fish on either side, visitors find it exciting to spot camouflaged frogs in the area.
Rockpool
Crawl Through Tank, The Pop Up Tank, and Secret Cave Tank all include a variety of sea stars and novel ways to spot them.
Rocky Shore
You'll find small penguins here who host a variety of events throughout the day. The Rocky Shore is also the aquarium's turtle habitat. The Leopard Whipray and Jackass Penguins are two of the species that can be found here.
Tropical Ocean
One of the nicest places to explore is the tropical ocean a 7-meter-high aquarium that offers guests a broad view of deep-sea features such as corals and fish. Black-Spotted Moray Eel and HumpHead Maori Wrasse are among the residents.
Ocean Tunnel
The Ocean Tunnel is the ultimate show-stopper, as its name suggests. Visitors can stroll across large areas of the water, which are home to sharks, eels, eagle rays, and other animals.
Shark Shipwreck
Shark Shipwreck happens to be a notable man-made shipwreck location where tourists may dive and experience the wonders of the deep ocean. The Tawny Nurse Shark and the Sand Tiger Shark are two sharks that can be found here.
Penguin Ice Adventure
If you happen to see these antarctic creatures in Bangkok, make no mistake. Penguin Ice Adventure at Sea Life Bangkok is home to Gentoo Penguins and Wolf Fish.
Glass Bottom Boat
The Glass Bottom Boat, as its name implies, provides visitors with a thrilling opportunity to observe marine creatures such as Sand Tiger Sharks and Giant Stingrays through the boat's glass bottom. The glass-bottom boat, on the other hand, may not be able to accommodate a large group and can be extremely frustrating.
Shopping
Despite being an aquarium, Sea Life Bangkok has a retail center at the exit where you can buy souvenirs. On the B1 floor, you'll find a Shark Shop, where you may buy gifts, toys, apparel, DVDs, and other items. Keep an eye out for special offers and discounts, since they have a number of them on a regular basis.
Marine Lifestyle at Bangkok Ocean World
Giant Spider Crabs, Stingray Sharks, Giant Pacific Octopus, Starfishes, Jackass/African Penguins, and other breeds of fish, eels, jellyfish, and frogs are among the unusual marine life species that can be found at Sea Life Bangkok. The Giant Pacific Octopus, which weighs around 71 kilos, is the world's largest octopus.
In comparison to any other anthropoid species, the Giant Spider Crab, also known as the Japanese Spider Crab, has the longest legs. Sea Life Bangkok protects the endangered Jackass Penguins, which are on the verge of extinction. Stingray Sharks are another endangered species that may be found at Sea Life Bangkok.
Things to keep in mind:
To escape the regular and enormous school crowds, go to the aquarium early in the morning.

Discounts are available when tickets are purchased in advance online.

There is only one entrance per ticket. This implies you won't be able to leave and return with the same ticket.
Address: B2 Floor, Siam Paragon Building, B1, 991 Rama I Rd, Pathum Wan, Bangkok 10330, Thailand       Phone: +66 2 687 2000