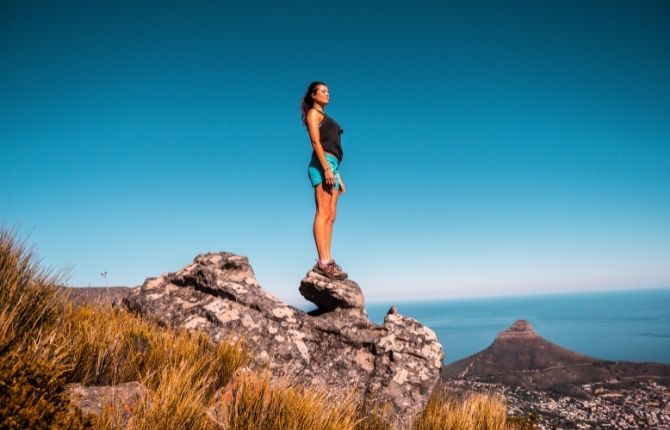 Adventure is the source that fuels the souls of many. Going out of your way to seek the thrill that pumps the blood of many adventurers is a profound yearning. Adventure-lovers are always on the lookout to try new ideas and have as much of a fun week as possible. Now that the world is coming out of the COVID pandemic, almost every person is dying to go out there and taste the excitement that we've been lacking for a while.
Fortunately, we've got just the right list of fun ideas for you, whether you are a seasoned thriller-seeker or simply looking to have a once-in-a-while adventurous week!
1. Go rock climbing
Introverts looking to go beyond the horizon of their front door can try to experience rock climbing in indoor spots. However, those looking to truly sweat it against a challenging climb should try their skills at a local mountaineering club. Rock climbing is truly an epic experience that will set the tone for a fun weekend, especially if you are used to doing full-body exercises and activities.
Remember, rock climbing is an extreme adventure, so you should go through some training and buy the right gear before jumping right in. Taking rock climbing courses to improve your skills can also be an excellent ground for a fun weekend.
2. Fly overhead on a zipline
As an adrenaline junkie, missing out on a zipline is completely out of the question! If you don't want to go for extreme body-exercising activities, ziplining is the best adventure to have this weekend. Names like Rocky Mountain, Pigeon Forge, and Big Island ziplines should definitely grace your list.
But if you want an exclusive through-the-mountain range experience, we recommend trying zipline pigeon forge, which soars you 500 feet above the ground with thrilling lines through picturesque mountains. The best thing about choosing zipline for your adventurous weekend is that the entire family can enjoy this action-packed and exhilarating experience.
3. Hike on an epic peak
Hiking is every thrill-seeker's go-to activity for an adventure-packed weekend. There's no denying that the climb is tiring, exhausting, and requires skills, but the view at the end is so worth it.
So, if you don't want to spend another weekend holed up on your couch, grab your gear, choose a popular hiking trail, and put your body to the test. Numerous hiking trails for amateurs to expert hikers are spread across the entire state, offering a unique experience. Ensure to create a hike packing list and choose the peak you want.
4. Plan a road trip with an RV
Road trips are the most refreshing type of adventure you can ask for. All you really need is a vehicle of your taste, a destination point, and people who can set the tone for the whole trip. You don't need to train or take any sort of gear along with you. Just pack up the kids in an RV, stock up on snacks, and enjoy the view.
The beauty of a road trip is that enthusiasts can venture out to enjoy the common outdoor activities along the way, such as hiking, camping, rock climbing, and even biking. So, make an itinerary, select the best route, rent an RV, and have an amazing weekend.
5. Try paddleboarding
One of the best activities to turn towards in this scorching heat is watersports. Adventurers may want to explore more exhilarating options like water rafting and speedboating. However, we recommend going for a more relaxing experience like doing stand-up paddleboarding.
It's an adventurous activity for all ages to enjoy exploring the waters, slowly paddling through calm waters. It's a great weekend plan that doesn't require much preparation or training and can easily be enjoyed with the entire family.
6. Stargazing is also an adventure
Who says a fun week is only about extreme sports and heart-pumping activities? It'll be entertaining to set up camp in the mountains or a remote site with a bonfire and then just lay down and gaze into the glory of the sky.
There are so many fun ideas you can mix together with stargazing and have a complete adventurous week. Can't find the time to head out to a good camping site? Well, you can always make a cozy setup in your backyard and enjoy the view from there.
7. Explore the sky by skydiving
If you want to test the limit of your love for thrill and adventure, we recommend trying skydiving this weekend. Nothing beats the view from hundreds of feet above the ground while you are jumping from a moving plane! Sky diving is a very known activity almost on every person's bucket list.
True daredevils wouldn't think twice before diving into the open sky, but we'd recommend that you be entirely sure before trying this activity. Don't forget to grab the entire experience on camera!
8. Go glamping instead of camping
Glamping is a word that's been specifically created for people who want to enjoy the outdoors but can't do it without all the amenities. So, if you are a big camping and nature fan but hate the bugs, plan a glamping trip to an exclusive spot and enjoy nature with all the luxury you want.
You'll be surrounded by the trees and the landscape, but you'd have all the comfort of a luxury hotel. You can fall asleep under the starry sky, observe plants and animals in their natural habitat, and avoid making your own dinner on a campfire.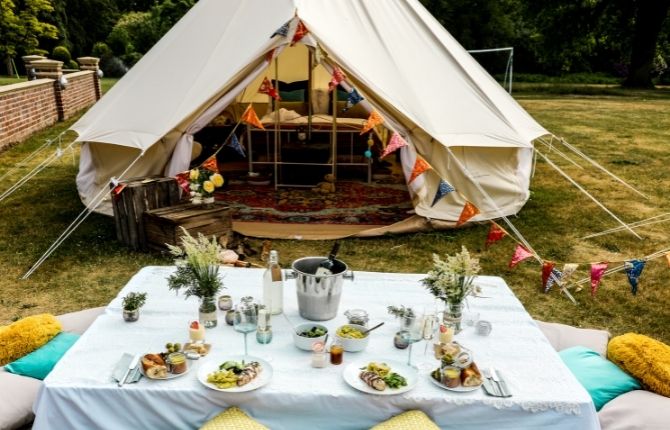 9. Bike riding in the mountains
Don't have any exciting plans for the weekend? Well, if you're looking for adventure, you should definitely try biking in the mountains. You can take on a popular trail as a seasoned rider and rush through it with the wind in your hair and the mesmerizing view stretching beside you. Biking is not only a common outdoor activity, but it's also a great way to keep your health in check. It puts your body into action, and when you've mastered all the skills, you can even switch to motorized bikes for even more thrill.
10. Travel to another country
What's a better adventure than exploring new territories? Traveling is one of the best and the most fulfilling activity one can enjoy. It can mean a lot of things for both solo travelers and those taking a family vacation. You can plan that much-needed weekend getaway to an exotic island or explore a country with a rich culture and history. The choices are endless, but if you really want to collect unforgettable memories and keep the adventure ball rolling, take a trip to somewhere exciting once in a while.
11. Explore a cave
If you've done all the typical activities that one may have on their bucket list, this one's definitely for you. You may have gone camping, waterboarding, and biking a dozen times, but exploring a cave is a whole new level of adventure and fun. You get to explore uncharted territory and get face to face with nature's most bizarre structures. There are dozens of national parks which offer wild cave exploration to visitors at their own pace. If the cave's on a hiking or a biking trail, then that's a win-win for thrill-seekers.
Conclusion
There's no age or time for adventure. You may want to get out and have a fun weekend, but you still end up on the couch watching Netflix. If you are fresh out of ideas on how to make your upcoming weekend not as bland as the rest of your week, take a look at our recommendations for incredible adventures. Let the adrenaline flow and tap into your energy reserves in your body to have a blasted weekend.