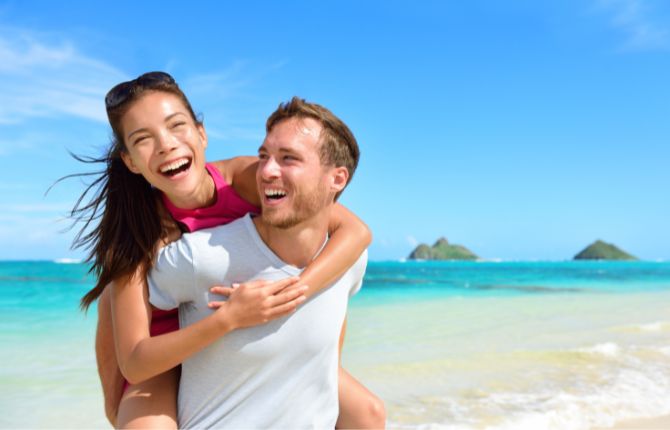 Are you planning a family tour to Albania? Do not miss these beautiful beaches in Albania. Here's the list with all the travel information.
Albania is a historically-rich country with beautiful landscapes in Southeastern Europe (neighboring Greece and Italy). Especially it has some beautiful beaches in the world. Many of them are located near the capital Tirana.
Mirror Beach, Ksamil Beach, Dhermi Beach, and Gjipe Beach are on top. These beaches are breathtakingly gorgeous and feature turquoise waters and stunning views.
Aside from pristine beaches, Albania also has a lot of archaeological sites, magnificent castles, and scenic natures to visit.
Let's discover the list of the best beaches in Albania.
1. Beaches in Albania: Mirror Beach, Sarandë
You can visit Mirror Beach in Sarande by car, but it's not advisable. Its road is made for only one car, so it's difficult to avoid potholes.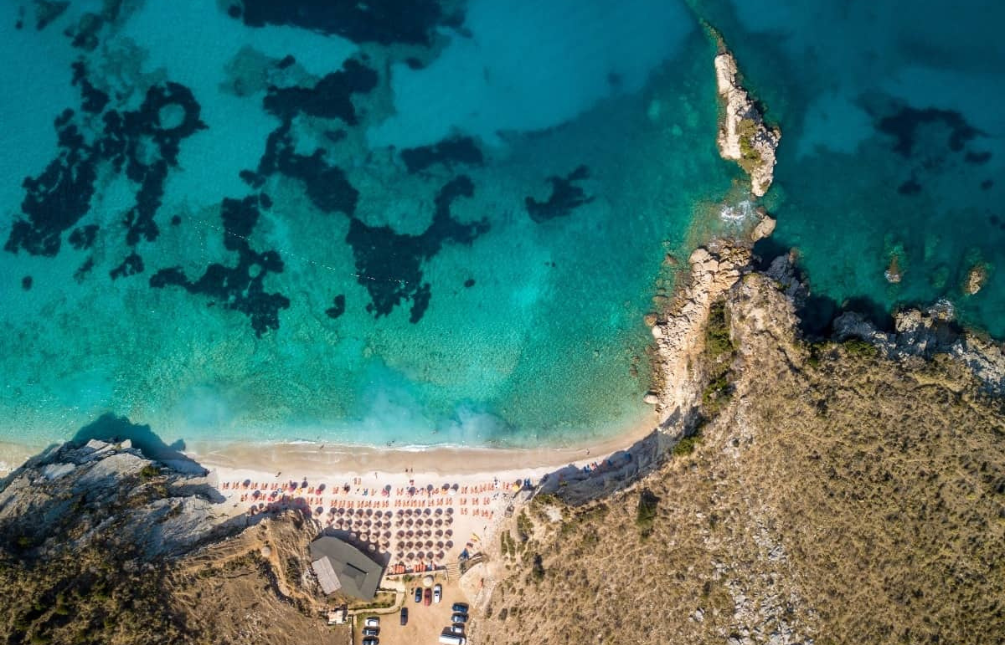 Mirror Beach is pristine, quieter, and less crowded than Ksamil. During the day, the sunlight reflects on the water, creating a magical effect that makes this a popular destination.
If you are looking for a perfect Mediterranean ambiance, Mirror Beach is the place. It features several affordable restaurants that serve delicious seafood and local cuisine. Therefore, it is a local favorite.
The view of the ocean is worth the trip, however. Mirror Beach in Saranda is considered to be one of the best beaches in Albania, but there are also other, smaller beaches that you can visit. One of the smaller ones is Pulebardha.
Being one of the best beaches in the world, Mirror Beach offers a picture-perfect backdrop for photos. So, you can collect fantastic photo memories of your tour.
With your family, you can enjoy snorkeling, swimming, sunbathing, rock climbing, and many other fun outdoor activities on Mirror Beach.
If you want to learn more about Sarand's past, you can visit the Ali Pasha Castle, surrounded by water and accessible only to local fishermen. The Castle dated back to the 17th century and was built by Ali Pasha. It has little information about its history, but the ruins are worth a visit. Once you've explored the ruins, take a stroll to Mirror Beach.
Address: SH81, Saranda, AL 9701
Beaches in Albania
2. Beaches in Albania: Ksamil Beach, Sarandë
Ksamil Beach in Saranda is one of the most beautiful beaches in Europe. Therefore, it attracts a lot of visitors annually.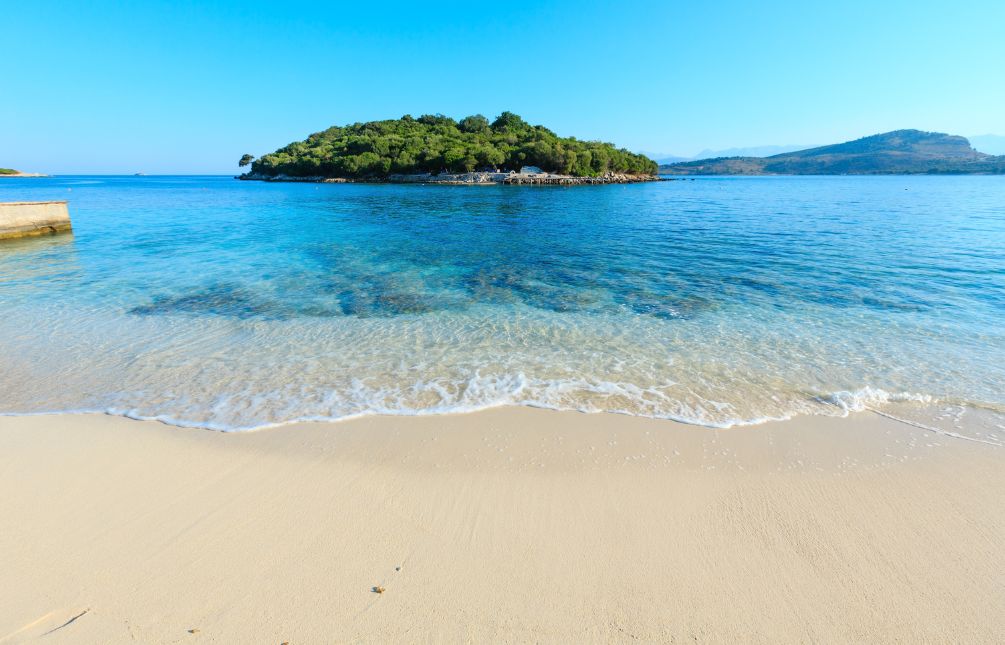 Unlike many other beaches, the Ksamil coastline is completely secluded, separated by rocks. And the surrounding mountains are a spectacular sight.
Ksamil Beach features a picturesque shoreline with soft white sands. On the other hand, its water is crystal clear and turquoise. Besides, its smooth and gentle waves make it one of the best beaches for swimming in Albania.
Therefore, visitors can enjoy unlimited water activities like swimming, snorkeling, jet-skiing, paddle boating, sea-biking, canoeing, and boating. So, surely try them with your family.
The Ksamil Beach is not a long sandy beach but a series of coves dotted around the jagged landscape. The water is shallow and does not feel overwhelmingly soft. There is a wooden jetty for small boats and a stretch of sand along the water.
If you like discovering uninhabited, Ksamil Beach has two. One can be reached by swimming while the other one needs a boat or a kayak ride. However, these islands are perfect for exploring authentic nature in Albania.
Getting to Ksamil is easy. Some buses run from Sarande to Ksamil, and it is affordable. The buses leave from the town's market, but seats fill quickly, so be sure to get on early to avoid standing around for half an hour.
Address: Ksamil Beach, Saranda, AL 9706       Phone: +355 67 200 0981
3. Beaches in Albania: The Blue Eye, Sarandë
Located in southern Albania, the Blue Eye is a water spring. It is so clear that the water is visible from more than fifty meters down.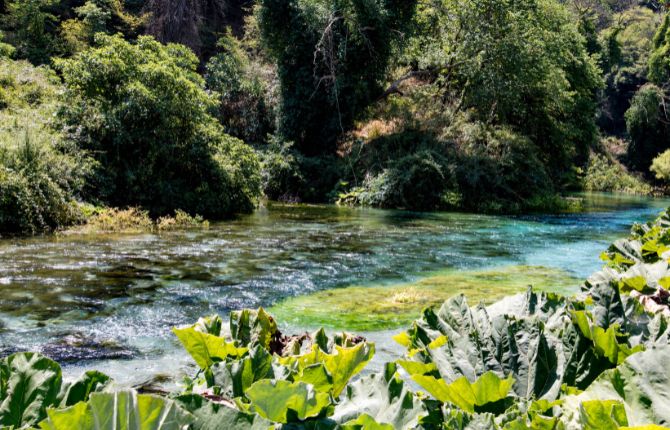 Its unique and breathtaking appearance is a favorite tourist attraction. However, its color and depth make the Blue Eye so spectacular. Its clarity is because the water is so clean that you can see the bottom from fifty meters deep.
Although the water is cold and well-conserved, it isn't easy to dip your hands in. Some visitors prefer throwing rocks in the spring's center and watching them bounce back to the surface. The sight is stunning but be prepared for the crowd.
On the other hand, the Blue Eye is also an excellent place to take pictures and observe wildlife.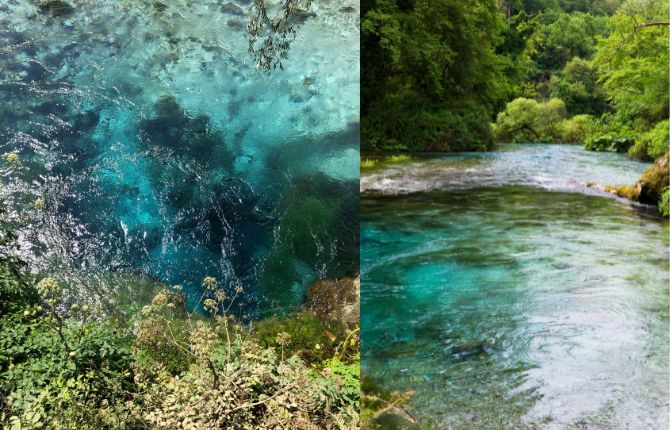 You can visit The Blue Eye spring halfway between Saranda and Gjirokastra in southern Albania. After paying a small entrance fee, you can drive up a dirt road that opens up to a natural spring.
Though the water is too cold for swimming for most of the year, you can take a swim, have a picnic, and spend a relaxing day. The Blue Eye is a beautiful sight, and you will want to return again to see it.
Beaches in Albania
4. Mango Beach, Saranda
You'll be hard-pressed to find a better place to spend your time in Saranda than at Mango Beach or Plazhi Mango.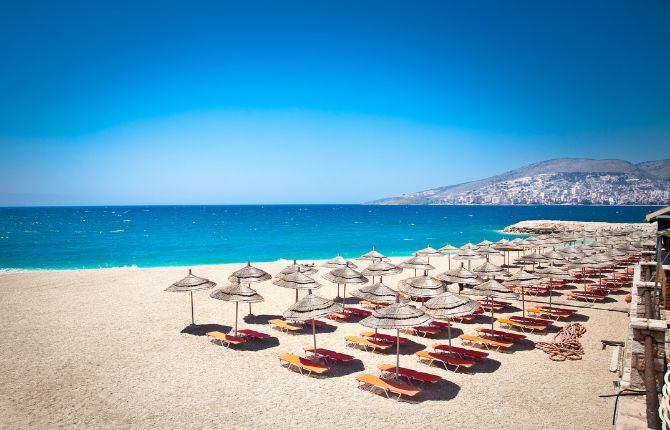 This lively beach is home to the best beach in town and an open-air nightclub that hosts up to two-thousand people.
Mango Beach is open all day, but at night it turns into a huge party area with live music, local productions, and a wide variety of food and drink options.
Besides night entertainment, Mango Beach is suitable for swimming, snorkeling, sunbathing, fishing, and many other water activities.
As mentioned above, this coastline has all the facilities, including restaurants, hotels, bars, a pier, beach loungers, and sunshades.
Located just 350 feet from the beach, the Mango Apartment offers comfortable accommodations, free WiFi, and a balcony overlooking the water. The property is furnished with a fully equipped kitchen, dishwasher, and microwave. The unit's private bathrooms include a shower, bidet, and washing machine. A la carte dining is available in the complex, which features traditional Albanian dishes as well as international fare.
Address: SH81, Saranda, AL 9703
5. Dhërmi Beach, Himarë
Dhermi Beach in Himare is a popular destination for beach lovers. The area has a variety of beautiful beaches, including Jala Beach, Potami Beach, and Prinos Beach.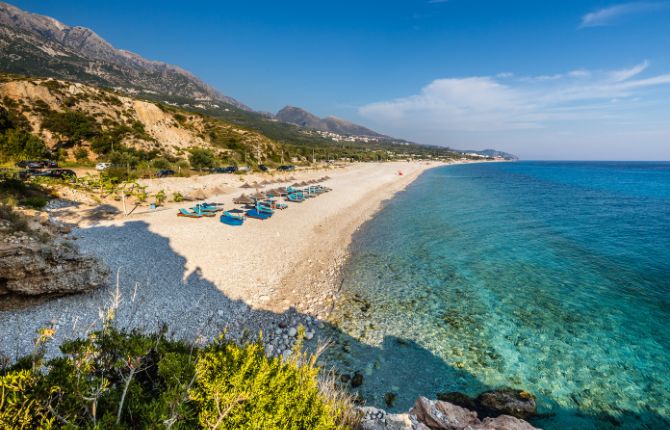 Dhermi Beach stretches for 1km and features pristine blue water and a  pebbly, charming coastline. So, it offers lovely views.
And its crystal clear and calm waters are perfect for swimming, sunbathing, boating, and snorkeling. You can even rent beach loungers to relax on this spectacular beach.
Himare has a Mediterranean climate, so that you can expect warm temperatures all year round. The temperature rarely falls below ten degrees Celsius during winter and reaches the mid-30s during the summer. You should visit Himare during June and September when the sea is warm and clear. Otherwise, the weather can be quite overcast.
To avoid crowds on Dhermi Beach, try to visit during the off seasons or weekdays.
However, if you plan to visit Dhermi, you should book your hotel a few months ahead. There are numerous hotels and guesthouses in the area. And it is advisable to check out the weather forecast before going.
You can also visit nearby towns like Vuno, which has similar beaches and is only a thirty-minute drive away.
Address: Rruga plazhit, Himarë, AL 9422       Phone: +355 04 2 273 778
6. Gjipe Beach, Himarë
It takes about 1.5 hours to drive from Saranda to Gjipe Beach. It's also just 14 km from Himare and 12 minutes from Dhermi.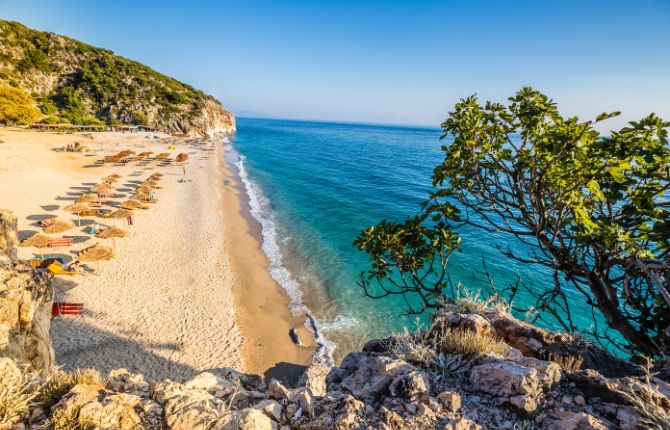 While there's no direct road to the beach, the road is well-asphalted and in good condition. There are a few bays along the way. If you're driving by car, take the time to pull over and park in a safe location.
Although Gjipe Beach is a small coastline, it features breathtakingly beautiful views. This beach is suitable for adventure seekers. They can enjoy sunbathing, swimming, kayaking, and hiking trails near the beach.
Camping at Gjipe Beach is also possible. Gjipe Eco Campground will supply you with sleeping bags and tents. For more fun, you can go horseback riding on the beach.
Night camping on Gjipe Beach will be unforgettable for stargazing fans. Night skies on Gjipe Beach feature the brilliance of millions of stars. You can observe stars while hearing the sounds of gentle sea waves.
The first step in visiting Gjipe Beach is to make your way to Himare. You'll need to get a 4×4 and drive about 2 km to the beach. There are a handful of restaurants at Gjipe.
The prices are very high, and you'll probably spend twice as much as you would in Himara or Dhermi. If you spend the day on the beach, however, you'll want to bring plenty of cash.
Once you've gotten to the beach, you can get a snack or a drink at the local bar. The beach itself is small and secluded, and there are only a few beach bars in the summer. Bringing snacks and sunscreen is a must.
Address: Vuno, Himare, AL 9417        Phone: +355 69 930 5002
Beaches in Albania
7. Borsh Beach
The longest beach in southern Albania is the 7-kilometer-long Borsh Beach, stretching along the Ionian Sea. This beach is ideal for families and is accessible to people with disabilities.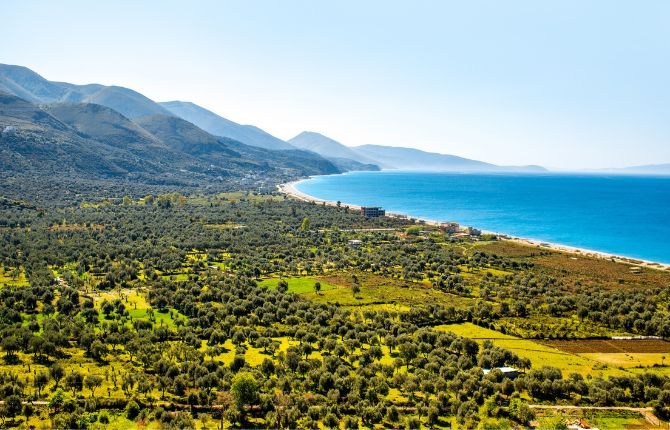 This peaceful, gorgeous beach is perfect for a relaxing swim with your family and friends. Its gentle waves are safe for everyone.
Or you can just lie on the sand and read a book or listen to your favorite songs while enjoying the breathtaking sea views. Just rent a beach chair or put down a towel.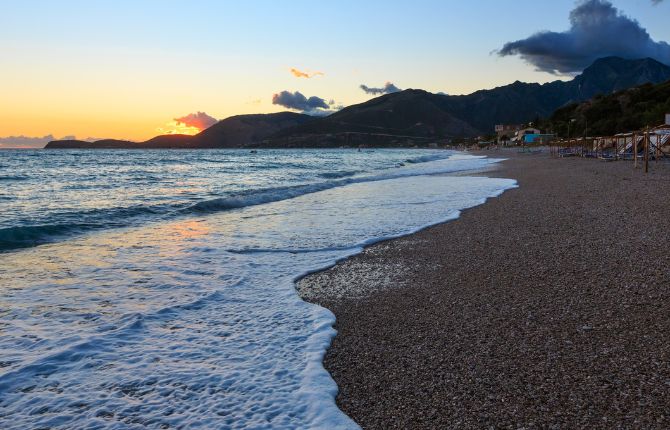 The picturesque village of Borsh is a great place to relax and enjoy the beautiful natural surroundings. The quaint village of Borsh is home to Borsh Castle, which dates back to the third and fourth centuries B.C.
The castle was initially called Sopot Castle and was first mentioned in the memoirs of Alexios I Komnenos' daughter in 1192. The 18th century brought the addition of a mosque. The mosque still stands today, despite missing one of the original minarets.
Within 3 km from the beach, you can find the ancient Borsh castle. So, do not miss it too.
There are plenty of places to eat and drink along the beach and plenty of parking. The only downside is that the area is largely undeveloped, so you should plan your trip accordingly.
After dark, Albanians dance to local music. You can join them if you wish to enjoy the culture. Dance circles are often held at local restaurants and bars. You can even join in the fun by joining one.
A couple of them, Poda Beach Bar and Grill House are popular places for dancing. The Albanian Riviera offers something for everyone. It's definitely worth the trip! If you have never visited Albania, plan your trip to experience one of its most beautiful beaches.
Address: Rruga Plazhit, Borsh, AL 9714             Phone: +355 69 728 8111
8. Buneci Beach, Himarë
If you want to spend your vacation on a quiet beach, Buneci Beach or Bunec Beach is the place to go. The water is clear, and the pebbles are light.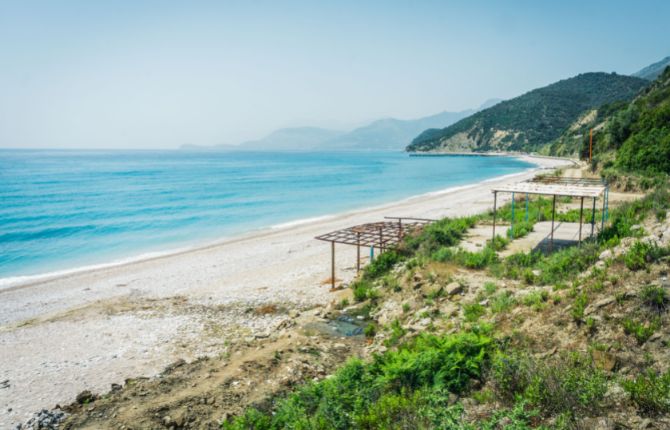 Spending a day swimming in the sand and relaxing in the sun is great. And don't forget your swimsuit!
This unspoiled coastline is perfect for escaping from the hustle and bustle. You can enjoy swimming, sunbathing, taking plenty of photos, reading a good novel, and many other mind-relaxing things on this gorgeous beach.
The entry to the beach is sharp, so people of different skill levels should head for it.
From the airport, take a taxi to the coastal road (Buneci Beach is located between Piqeras and Lukove).
You can also take a car or motorcycle. Alternatively, take the minibus, which runs along the coastal road, to Plazhi I Bencit, and walk 1.5 km to the beach.
Address: Plazhi Bunecit, Piqeras, Himarë, AL 9715           Phone: +355 69 616 5726
Beaches in Albania
9. Lukova Beach, Lukova
There are several lovely beaches in Saranda, but perhaps the most beautiful is the long stretch of sand and crystal blue waters at Lukova Beach.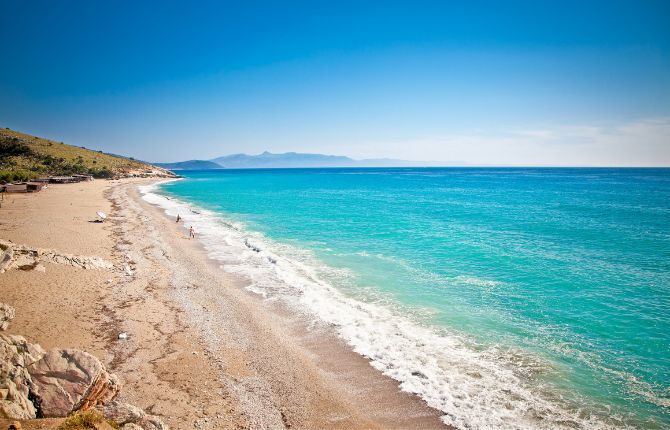 Lukova Beach is a perfect choice if you love swimming, as it is one of the few places to bring your own beach towels.
Or, if you want a unique experience, you can head up to the rocks on the beach's high point, known as High Beach Lukova. The views here are beautiful, and this is also the perfect place to watch the sunset.
The upper town of Livno does not directly border the beach. You'll have to drive about four kilometers downhill to get to it. The road is well-maintained and asphalted. Once you reach the beach, you'll be greeted by a vast expanse of turquoise water.
While there aren't many water sports at Lukova Beach, you'll find this quiet, serene spot to relax and enjoy the scenery. The beach is partly crowded during the high season but is still worth visiting.
Sea kayaking is also popular on these turquoise waters. Aside from that, Lukova Beach is perfect for fishing, boating, and playing beach volleyball with friends and family.
Parking is right on the beach. And the other facilities include clean restrooms, showers, a beach bar, and several snack bars.
There are several ways to reach Lukova Beach from Tirana. If you're looking for an unforgettable vacation in the Ionian, Albania, this is the spot for you! It's located about 21 kilometers from Saranda and is a convenient drive or short flight from Tirana.
The town is located on higher ground, so that you can get a great beach view. In addition to the beach, there's shopping, nightlife, and plenty of seafood restaurants.
Address: Lukovë – Shpellë, Lukove, AL 9400        Phone: +355 69 312 1191
10. Golem Beach
Golem is a beautiful coastal village and is a strategic base for exploring the region. And it is the second-largest coastline in Albania.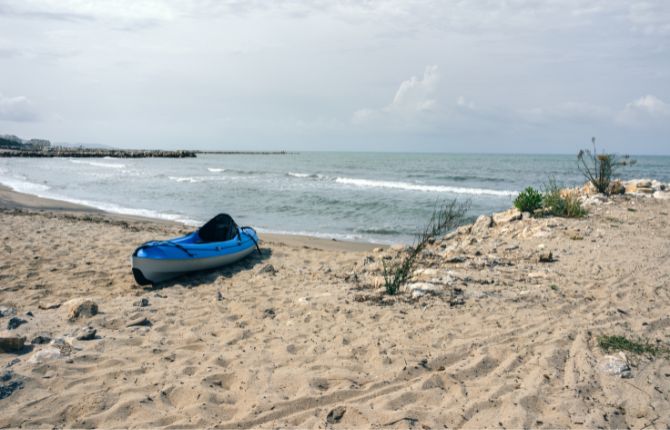 Its pristine shoreline and crystal-clear water attract hundreds of thousands of visitors annually.
This crescent shape beach features white sands, breathtaking backdrops, and stunning sunset views.
Since Golem Beach is safe and well-maintained, you can bring your kids without any doubt. It always has shallow and calm waters. And also, there are attentive lifeguards everywhere. Most importantly, there are no sudden drops in the water. That's why it is considered a kid-friendly beach.
On the other hand, there are amenities like spacious parking, clean showers, restrooms, a playground, plenty of nearby eateries, and many other things.
You can explore the area on foot, take a bicycle tour, or enjoy a romantic sunset in front of the sea. During your stay, you can relax on the beach or enjoy the nightlife in the nearby town.
The Sandy Beach Resort has two outdoor pools and free WiFi in Golem. All rooms have cable TV and air conditioning. Rooms are equipped with a private bathroom, cable TV, and a sitting area.
You can dine at the on-site restaurant, which serves international and local cuisine. Golem has several festivals throughout the year. For a family getaway, it's a great place to bring the kids for a fun day of water activities.
Address: Plazhi i Golemit, Golem, AL 2504
Beaches in Albania
11. Palasa Beach, Himarë
If you love the ocean and spend your free time in the sun, you will love visiting Palasa Beach or Palase Beach in Himare.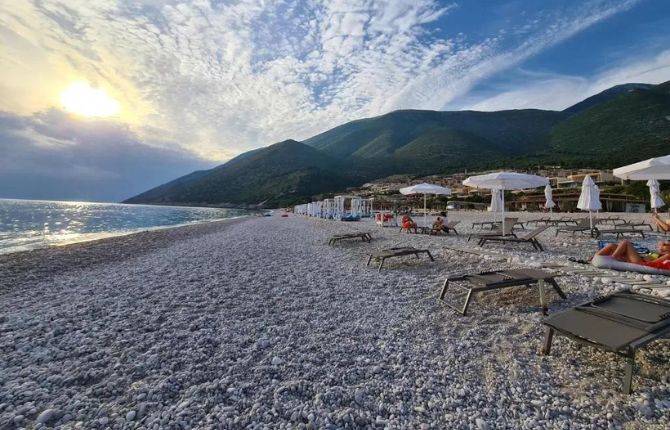 The beach is a popular summer destination, attracting many visitors to the town of Himare. There are many hotels and holiday houses in the area, but the beaches are most popular during the summer when locals and tourists flock to the region.
The pristine and spacious Palasa Beach is located south of the Llogara Pass. And also, it is close to Llogara National Park, a natural paradise in Albania.
This small, secluded beach has some family-run restaurants and is close to Dhermi, another cool party beach.
Palasa Beach is more famous for sunbathing. You can easily find beach loungers and umbrellas.
On the other hand, it is also perfect for snorkeling and swimming as it features crystal clear, shallow waters. And do not miss the mesmerizing sunset at Palasa Beach.
Address: Palasa Beach, Dhërmi, AL 9700     Phone: +355 69 616 5726
12. Livadhi Beach, Himarë
If you are looking for a beach near Himare, you should definitely consider visiting Livadhi Beach.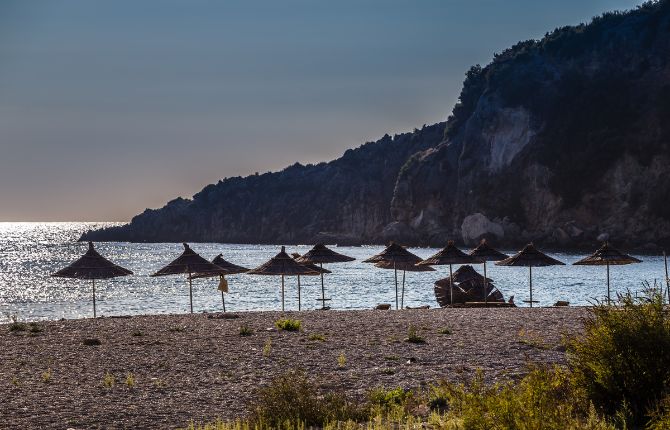 Located just a few miles away from Himare, Livadhi Beach offers a cool and quiet outlook and is an excellent option for families and groups of friends. It is an accessible beach, but if you're interested in a more adventurous activity, you can hike to Livadhi Beach.
The largest stretch of beach in Himare is Livadhi. Located just north of Himara, it is very popular with locals and tourists alike.
It has plenty of sun loungers, umbrellas to rent, and a good selection of restaurants and beach bars. Though the beach has been criticized for being undeveloped, many people visit Livadhi to relax and enjoy the authentic atmosphere.
This white stone beach features a stunning mountainous backdrop. And the water is as clear as a pool. Therefore, anyone can enjoy endless water activities like paddle boating, kayaking, boating, canoeing, and jet-skiing. And also, you can play beach volleyball with family and friends.
Livadhi Beach has two rock formations on its Gonia side if you like rock climbing. On the other side, there's a famous rock called Apelistra.
While visiting Livadhi Beach, make sure to visit the Himare Castle, the ruins of a large castle in Albania. It is located near the beach (just 3 km away).
If you're looking for cheaper accommodation in Himare, you can also stay at Himare Castle Hotel, which features free parking and daily breakfast. It also has a fitness center and two outdoor lagoon pools. And you can enjoy a complimentary buffet breakfast in the restaurant, which serves Mediterranean and Italian cuisine.
Address: Livadh Rd, Himarë, AL 9425             Phone: +355 69 616 5726
13. Orikum Beach
Orikum Beach in Albania is a popular destination for a day trip from Tirana's capital. The road from Tirana to Orikum stretches along the coast for approximately 10 km and features stunning views.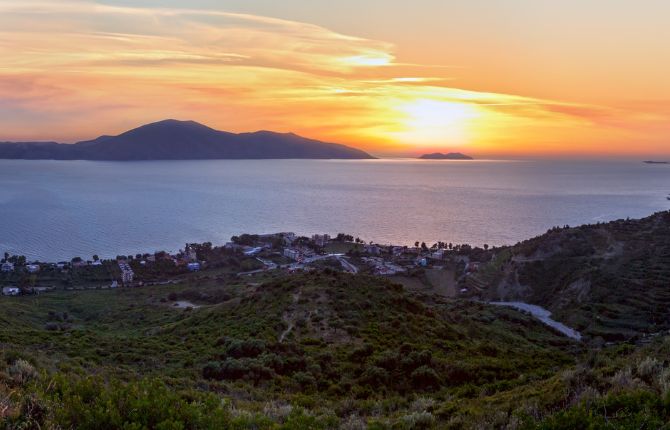 Once used by Julius Caesar, the bay is now the second-largest port in Albania. Orikum is a sleepy town with low-rise apartment blocks and a quaint harbor. The beach here is a wide pebbly beach with clear blue Adriatic water and a pleasant backdrop.
Camping and partying are popular options at this beach, as is hiking in the area. There is no better way to enjoy the pristine water than by foot! And don't forget to bring your camera – you will have a blast.
The Albanian Riviera is known for its warm climate all year round. Many cruise lines anchor at the Port of Sarande. You can explore the surrounding caves and natural beauty or enjoy a day on the water.
Its water is crystal clear and has a gravel shoreline. The water clearance in Orikum Beach makes it a perfect swimming beach in Albania. But, surely wear aqua shoes as there are gravel and small pebbles.
Boating is also a famous activity in the area to discover nearby caves.
This charming coastline features amenities, including well-trained lifeguards, deckchairs, umbrellas, well-maintained restrooms, and showers.
There are many cafes and restaurants along the beach. While Orikum isn't known for its entertainment and other amenities, the town's natural charm and unspoiled atmosphere make it a popular destination.
If you want to see more of the country, you can head to Vlore, the largest city in the Albanian Riviera.
Address: Plazhi Orikum 3, Vlore, AL 4401
Beaches in Albania
14. Jale Beach, Himarë
If you are looking for a peaceful and quiet beach, Jale Beach or Jala Beach in Himare is the place for you. Jale Beach is one of the most beautiful beaches in Albania. Therefore, it attracts a lot of beach lovers from everywhere.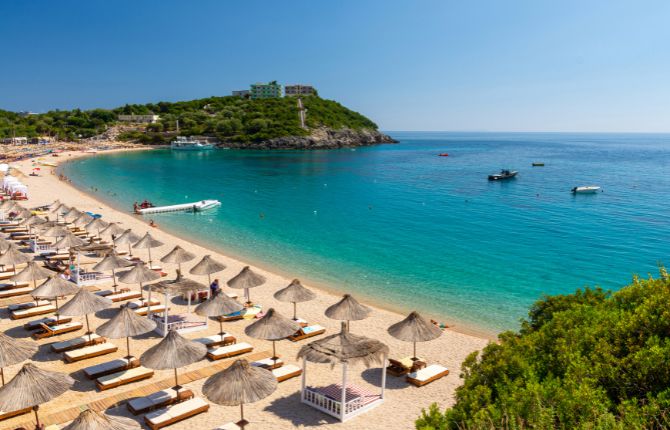 It's a five-kilometer walk from Vuno and lies between Himare beach and Gjipe beach. The best part is, you can go swimming here too!
This picture-perfect beach is ideal for wedding photoshoots. Besides, there are plenty of other things to do when you are on Jale Beach. For example, sunbathing, swimming, kayaking, snorkeling, boating, and exploring nearby caves.
For example, it is worth visiting the Pirates' Cave. This is one of Albania's most famous touristic attractions. You can access this cave by boat from Jale Beach or kayak. The turquoise water is lit up from above, and it's a thrilling experience for those who dare! The cave is also famous for its diving holes, where you can go for a dip. The cave also features a huge hole that filters sunlight through the limestone rocks.
Camping is also possible at Jali Beach Campground. While camping, you can play beach volleyball, water polo, ping-pong, and mini-football.
Make sure you plan to visit the Aquarium Bay, which is about a 20-minute walk away. In addition, there are plenty of activities to keep you entertained during your stay.
If you're looking for a quick snack or meal, you can grab something at the nearby Big Market. The store has a decent selection of items, a deli counter, and a fruit stand outside.
Nearby, there's a small bakery. Jale Beach is an excellent choice for a weekend getaway if you're interested in exploring the village. However, the price can be steep, so be sure to plan your stay accordingly.
Address: Rruga Bregdet Jal SH8, Himare, AL 9425       Phone: +355 69 616 5726
15. Narta Beach, Vlore
If you're planning a trip to Albania, you might consider visiting Narta Beach, located near the Albanian city of Vlore.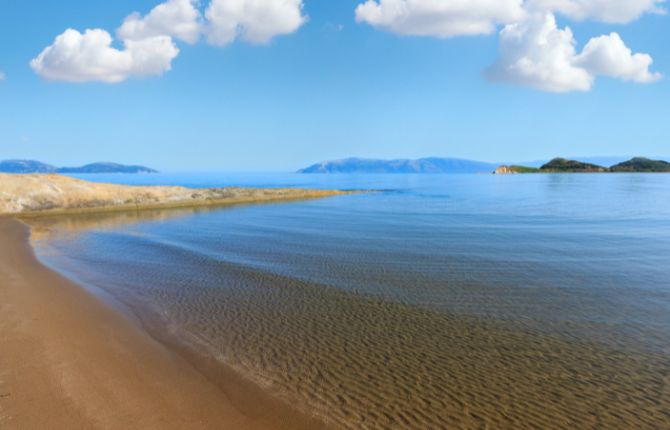 It is located within the Lagoon of Narta. Therefore, it features calm and gentle waves. Obviously, it is a kid-friendly beach. Since it is a lagoon, kids can safely swim and play in the water.
The amenities on Narta Beach include lifeguards, a children's playground, and many restaurants.
This beach is a few kilometers long and up to 100 meters wide. With a gentle incline, the water is suitable for small children, and the sandy coastline offers various beach services. You can rent parasols or bring your own and enjoy the beach.
The area features restaurants, beach bars, and other forms of catering. In addition to being a popular beach destination, you can also find accommodation in the area.
You'll be delighted to know that you can find hotels and other accommodations in Vlore and Narta. The area is also home to a number of renowned museums and art galleries. While there, be sure to enjoy the local cuisine and culture as much as possible.
And do not miss the historic site, the Orthodox monastery in Zvërnec, Albania.
Address: Unnamed Road, Zvërnec, AL 9401
16. Beaches in Albania: Llamani Beach, Himarë
Located a few kilometers south of Himare, Llamani Beach is a small pebble beach with a bay surrounded by rocks and mountains.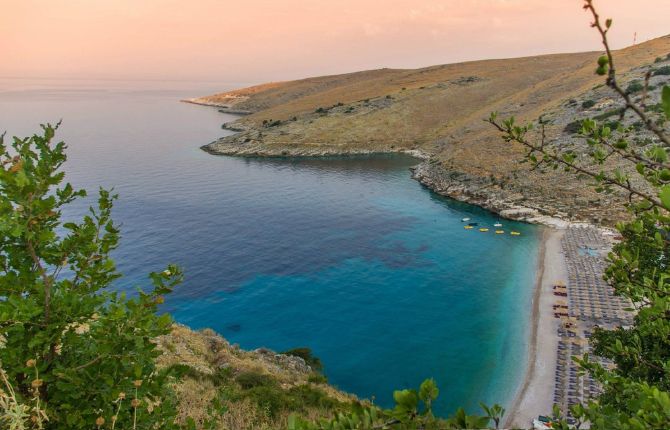 Its peaceful, remote setting and close proximity to nature make it a famous beach for tourists. Llamani Beach is a good choice for families and couples looking for a peaceful, uncrowded beach.
Actually, Llamani Beach is a hidden treasure in Albania. Boating, kayaking, and jet-skiing are the most popular activities here.
But, be careful when swimming since its water is deeper than other beaches in Albania. However, the water is crystal clear. Therefore, anyone can easily see the deep areas. Amenities on the beach include sunbeds, umbrellas, onsite restaurants, and bars.
Beaches in Albania
17. Beaches in Albania: Drymades Beach, Himarë
If you want an unforgettable beach vacation, visit Drymades Beach in Himare, Albania.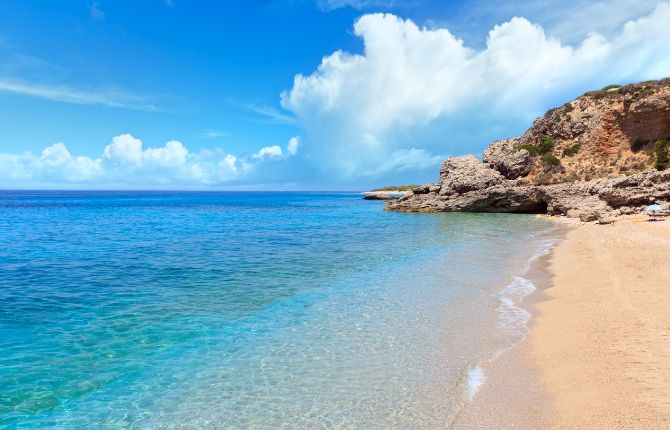 The town of Dhermi is located 42 km south of Vlore and the same distance north of Sarande. Drymades is known for its white sandy beach. The town is also home to a number of fascinating museums and parks, including the Drymades National Park.
Drymades is a smaller, quieter beach with a distant rock arch. Mountain peaks, olive groves, and large rock formations surround the main beach. The dramatic sunsets here make it a top spot for a beach vacation.
It's also easily accessible from Fier, Durres, and Tirana. But you need to be aware that the road to Drymades is narrow, has sharp turns, and is unsafe to drive at night.
If you're looking for a romantic getaway or a family vacation, Drymades Beach in Himare is a great choice. The town has several hostels and restaurants. And it is the best option for backpackers too.
Drymades Beach is perfect for families with youngsters, as it is ideal for picnicking and making sandcastles. And also, its turquoise water is suitable for swimming. On the other hand, the stunning backdrop will offer you opportunities to take amazing photos.
The town also has its castle, known as the Kastro, which sits on top of an ancient castle. (Apart from lovely beaches, Himara is home to numerous Orthodox churches and several churches and archaeological sites).
Dhermi is a beautiful beach town located between the party towns of Dhermi and Himare. Both towns offer boat tours to different beaches. Some beaches have no official names, but craggy mountainsides surround them. The main street here has a long walkway lined with cafes and restaurants. The beach is dotted with sun umbrellas and water taxis. You can spend the day lounging in the sun and sipping Tirana beer.
Address: Rruga Perivolo, Dhermi, Himare, AL 9415          Phone: +355 68 200 2216
18. Beaches in Albania: Potami Beach, Himarë
A trip to the Mediterranean Sea is not complete without relaxing on a white sandy beach like Potami Beach in Albania.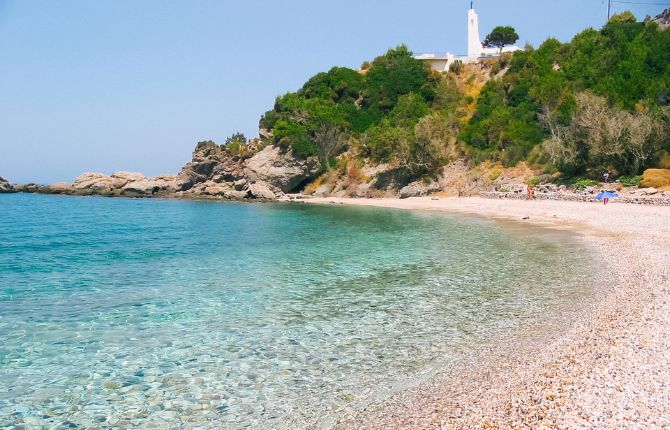 A visit to Potami Beach in Himare offers a unique blend of Greek and Albanian culture. It is located in a picturesque setting under the clear blue sky and features sun-kissed sand.
The name Potami means "river" in Greek and the crisp, cool water springs from a series of underwater springs.
Located on the northern end of Himarë Bay, Potami Beach is one of the largest beaches in Himare. It is ideal for spending a relaxing beach day and swimming. On the other hand, the beach has crystal clear waters which you can even see the bottom of the sea.
Aside from sunbathing and swimming, Potami Beach is perfect for hiking. Several hiking trails lead you to breathtaking viewpoints.
If you like to taste Greek and Albanian cuisines, Potami Beach has plenty of restaurants that serve delicious food.
Potami Beach is accessible by car, and the car park is a short walk from the main town. You can also take a bus from Himare. Bus timetables are often unreliable in Albania, so it is best to ask locals what time the next bus leaves. This will save you a lot of time and effort!
The town of Himare is a small fishing village located on the Albanian Riviera. The town boasts three beaches – Potami Beach, Prinos Beach, and Spile Beach. The latter is the most popular but is often crowded during summer. The coastal path from Himare to Dhermi is not fully paved, but it is still pleasant to walk along. Visiting these three beaches is a must if you visit Himare.
Address: Rruga Qëndrore SH8, Paotm, Himarë, AL 9425
Beaches in Albania
Mirror Beach, Sarandë
Ksamil Beach, Sarandë
The Blue Eye, Sarandë
Mango Beach, Saranda
Dhërmi Beach, Himarë
Gjipe Beach, Himarë
Borsh Beach
Buneci Beach, Himarë
Lukova Beach, Lukova
Golem Beach
Palasa Beach, Himarë
Livadhi Beach, Himarë
Orikum Beach
Jale Beach, Himarë
Orikum Beach, Vlore
Narta Beach, Vlore
Llamani Beach, Himarë
Drymades Beach, Himarë
Potami Beach, Himarë
Beaches in Albania