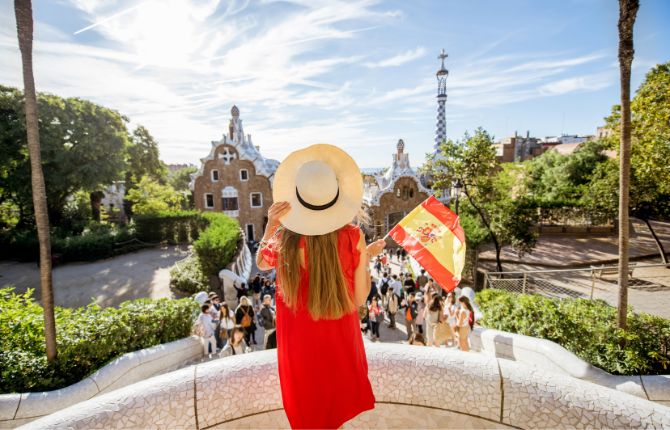 Are you planning a family tour to Barcelona, Spain?? Here's the list of the best things to do in Barcelona.
When it comes to sightseeing in Barcelona, the options are endless. The city's Tourist Office offers a diverse program of themed, guided, bicycle, and Segway tours. The city's skyline fills up with lively bars at midnight.
There are endless ways to explore the city, from old-school taverns with 19th-century murals to chic cava bars. Whether you prefer to spend your evenings drinking or dancing, you'll find a nightlife experience that's right for you.
The city's ostentatious modernist buildings are also worth a visit. One such building is the Sagrada Familia, designed by Antoni Gaudi and built by Eusebi Guell, a patron of the arts.
And the other top attractions in Barcelona are La Rambla, Park Guell, Gothic Quarter, and Bogatell Beach.
Let's discover the following list with all the travel information.
1. Things to Do in Barcelona: La Rambla
The tree-lined boulevard La Rambla is filled with sights and sounds that will delight tourists and locals alike. It stretches from Placa de Catalunya to the Christopher Columbus statue (12 km). And it is the most famous street in Barcelona.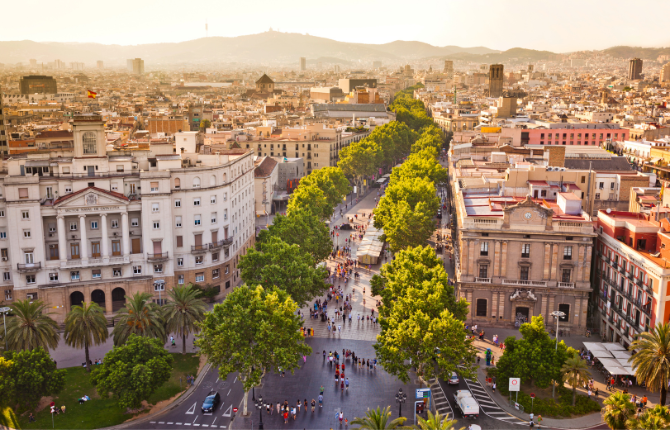 It is also home to the mosaic tile art of Joan Miro, a famous artist who spent his youth in the city. The foundation is worth visiting, and the Rambla dels Estudis features colorful birds and small animal cages. The Rambla de les Flors is another popular spot, with its many flower stands.
The Pla de l'Os mosaic is located at 71 La Rambla. Miro, the famous Spanish painter, designed this pavement in 1976 as a gift for the city.
The mosaic was installed in December 1976 and inspired controversy, with some locals complaining that the tiles were placed in a way that was unappealing. Miro laughed ironically when people began complaining about the placement of the tiles. This makes the Pla de l'Os an intriguing piece of architecture.
Among the many bars and cafes along La Rambla, you can try Cafe de l'Opera, which is located opposite the famous Liceu Theatre. Here you can sip on a delicious sangria.
You can also find tasty dishes at Escriba, which serves delicious European breakfast and brunch. Shopping is also popular along the Rambla, and you will find many unique places to purchase souvenirs.
Also, you may see fun street performers along La Rambla.
You can take self-guided tours throughout the day or hire a guide. Tours are usually under an hour long and can be very helpful for those who want to explore the city on their own.
2. Things to Do in Barcelona: La Sagrada Familia
If you plan a trip to Barcelona, you must visit La Sagrada Familia. It is located in the Eixample neighborhood and is the largest unfinished Roman Catholic church.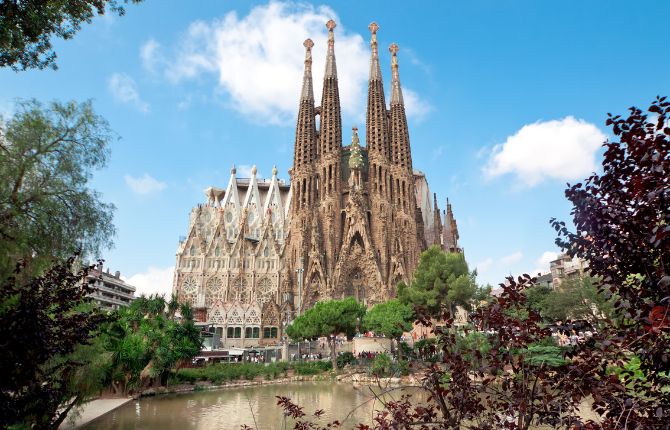 It is considered to be one of the seven wonders of the modern world. Its soaring design and massive proportions make it a must-see attraction.
The Basilica de la Sagrada Familia in Barcelona is an architectural masterpiece designed by Antoni Gaudi. Despite the controversial history of the building, it is still considered one of the most stunning structures in the world.
Getting a guided tour of this UNESCO-listed building is a wonderful way to learn more about Gaudi's style and process. There's even an elevator to the tower!
Whether planning a holiday in Barcelona or planning a religious pilgrimage, make sure you visit La Sagrada Familia if possible. Spain's most popular tourist attraction attracts almost 5 million visitors a year, although 20 million people come just to look.
Peak tourist season is the most popular time to visit, and it is very likely to be crowded. While the Passion Facade and the Towers on the Nativity Facade are open year-round, you will be better off acquiring an audio guide beforehand.
When visiting La Sagrada Familia in Barcelona, take a guided tour with a local guide. Your guide will explain the building's history and highlight the interior's interesting details.
For even more impressive views of Barcelona, climb the 19-story Torre de la Pasion tower. The views are amazing! Make sure you bring a camera! If you're in Barcelona on a budget, be sure to plan your trip with a guide!
Address: Carrer de Mallorca, 401, 08013 Barcelona, Spain           Phone: (34) 932 08-04-14   
Things to Do in Barcelona
3. Things to Do in Barcelona: Park Guell
If you've ever wanted to visit the famous Park Guell, you've come to the right place. The park is renowned worldwide and can easily be your favorite day-trip destination in Barcelona.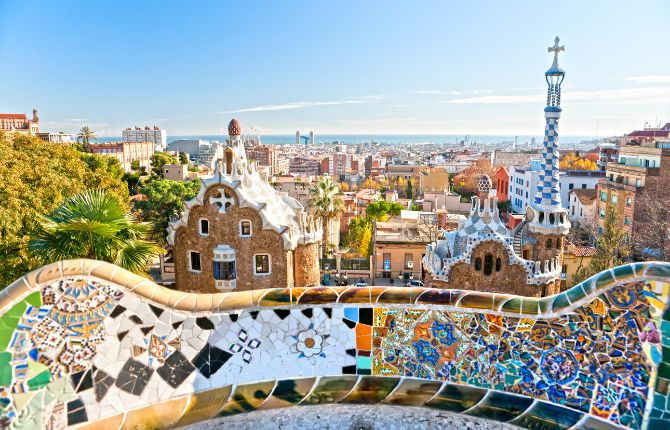 You must get a ticket ahead of time to enter, and there are only 400 people allowed inside each hour. The queues can get long, especially in high season, so be prepared. Here are some tips to make your visit to the park as enjoyable as possible.
The main entrance to the park is at the south end. The park is adorned with a stunning iron gate and two large porter's lodges. Both are covered in typical mosaic work. The right lodge is home to a small exhibit from the MUHBA museum.
Visitors can also admire the spectacular views from the double dragon staircase, one of the park's highlights. The double dragon, which measures 12 feet long and is covered in tiling, is one of the most photogenic parts of the park.
Apart from that, its kaleidoscopic mosaics, scenic pathways, and spiral towers are Instagram-worthy.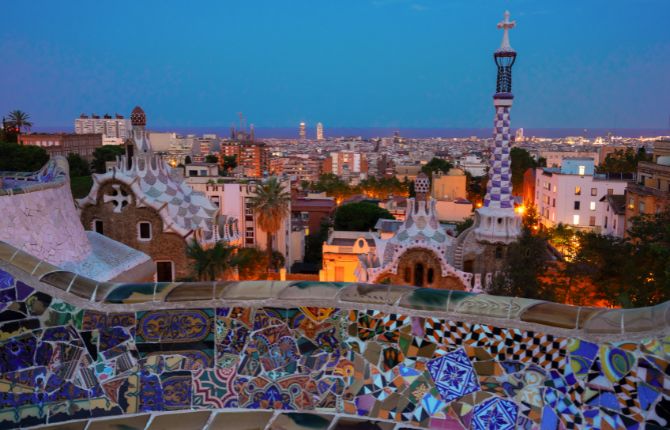 Park Guell was opened in 1926, and it is simply a modernist showpiece. You'll need to spend a lot of time there! It is a popular tourist destination, and many people don't realize just how stunning it is. It is well worth the visit if you want to experience the best of the city.
This iconic park in Barcelona has a stunning location and a lot to offer visitors.
Address: Carrer d'Olot, 5, 08024 Barcelona, Spain    Phone: (34) 934 09-18-31
4. Gothic Quarter
The Gothic Quarter in Barcelona is a busy neighborhood with tons of history and fascinating architecture.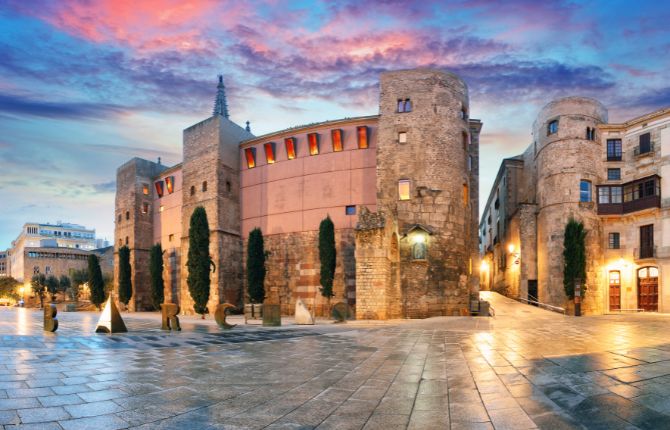 You can never go wrong if you wander through the enchanting district, Ciutat Vella district. No matter where you walk, you're bound to stumble upon a square full of statues, narrow medieval streets, historic structures, serene squares, and alleys.
One of the best places to see the architecture of Barcelona's Gothic Quarter is the Cathedral. While not as famous as the Sagrada Familia, the Cathedral has many stunning features.
The Gothic Quarter also contains Spain's oldest synagogue, Sinagoga Major, which was built in the third or fourth century. This beautiful building was abandoned during the Spanish Inquisition and was closed for more than a century.
While hiring a tour guide in the Gothic Quarter is possible, it's best to do it yourself. You can take a walking tour of the area or go exploring independently. One of the city's most stunning examples of Gothic architecture is the majestic Cathedral of La Seu.
It's worth visiting during nighttime when its illumination illuminates the surrounding buildings. Locals have plenty of suggestions on what to see and do but don't be surprised if you get lost. It's worth it, though.
Do not miss the Placa de Felip Neri, a small square in the Gothic Quarter which shows a lot of history.
A visit to the Museum of History of Barcelona is a must if you're in the area. The museum houses around 5,000 works of art, most of which are Catalan and Spanish, with a few international pieces. It's also a great place to learn more about the history of Barcelona and the surrounding area.
Address: Mediterranean Seafront to Ronda de Sant Pere, Ciutat Vella, 08002 Barcelona, Spain, Phone: (34) 634 53-43-33
5. Mercado de La Boqueria
When you visit Barcelona, it is almost impossible to miss the Mercado de La Boqueria, a famous public market. Please do not miss the city's oldest market.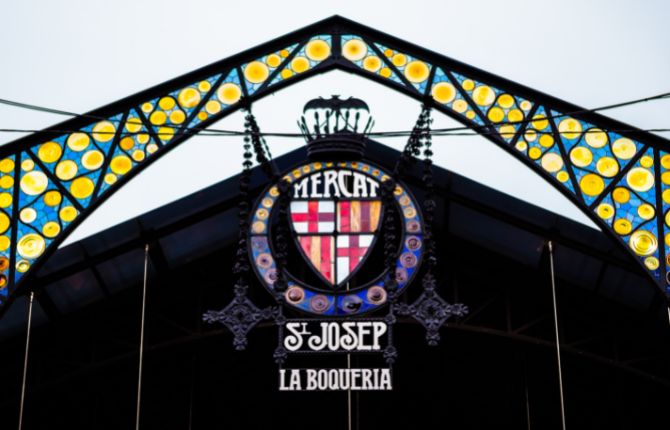 Located in the city's Ciutat Vella district (at La Rambla Avenue), this market has a great selection of fresh produce and food and a huge variety of other foods. La Rambla, the main thoroughfare that runs through the center of the market, is also worth a visit.
The best time to visit La Boqueria is in the early morning, as the market is at its busiest before lunchtime. If you want to stay for lunch, you can also find bars that serve food and drinks. La Boqueria is a great place to grab a light lunch.
Mercado de La Boqueria has been around for centuries, but only recently has it been reopened to the public. This open-air market was once a mobile market. In fact, it was so popular that it had to be destroyed by a fire in 1835.
Today, visitors can enjoy a range of food items at this market, including seafood, cured meat, and fresh vegetables. As you wander around the market, take time to appreciate the architecture of the place and try some of the tasty local delicacies.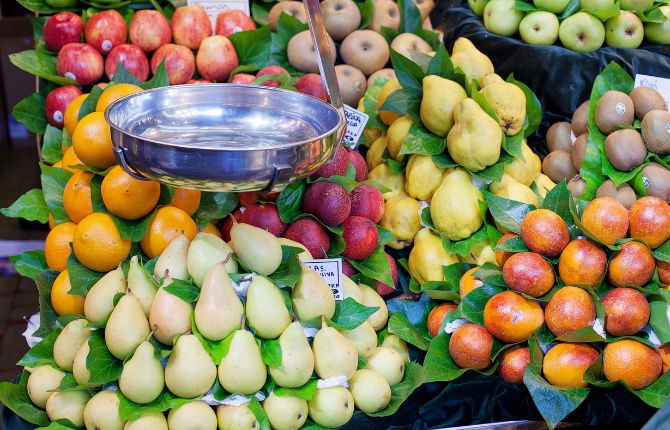 Although the Mercado de La Boqueria is a bit touristy, it is bursting with delicious food. The fresher the produce, the better! This is a must-visit location while strolling the famous Las Ramblas street.
It is full of sights and smells, so come hungry! There are plenty of options for all foodies, but if you're a skeptic, it's a great place to try local dishes.
Address: La Rambla, 91, 08001 Barcelona, Spain     Phone: +34 934 13 23 03
6. Casa Milà (La Pedrera)
Among Barcelona's most fascinating Modernista buildings is Casa Mila, also known as La Pedrera.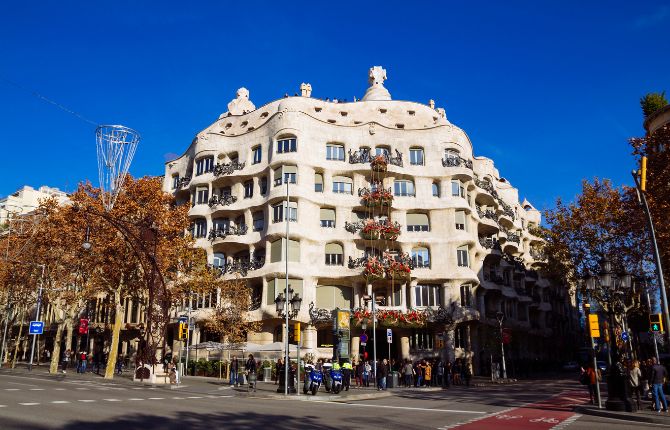 Built between 1906 and 1912, this building was the last private residence of architect Antoni Gaud. It was also the site of some of Gaud's most memorable works.
You'll be impressed by its sculptural design and the artistic details it contains. Its unconventional design has earned it a place on many travel lists and is worth visiting.
If you're interested in architecture, Casa Mila is a must-see. One of the last buildings designed by the famous Catalan architect Antoni Gaudi, this modernist apartment complex is an unforgettable experience.
The building is located on a chamfered corner in the Eixample neighborhood of Barcelona. It's also home to summer jazz concerts and is featured in the popular novel Origin by Dan Brown.
If you're in the area, consider taking the Essential La Pedrera tour to learn more about the building's interior design. While the tour is largely the same, the apartment tour allows you to see the building from two perspectives.
This is particularly fascinating, as it recreates the home of a bourgeois Barcelona family in the early 20th century. You'll see Gaudi's work in a completely different light.
The courtyard of the Casa Mila is decorated with murals that show the lifestyle of the bourgeois in the early twentieth century. It has an audiovisual production as well as a large, colorful courtyard.
The courtyard gets its ventilation from a roof terrace. Several lines run near the apartment complex on the Passeig de Gracia, where the building is located.
Address: Passeig de Gracia, 92, 08008 Barcelona, Spain     Phone: (34) 932 14-25-76
Things to Do in Barcelona
7. El Bogatell Beach
If you're looking for a family-friendly Barcelona beach, El Bogatell Beach is a great option.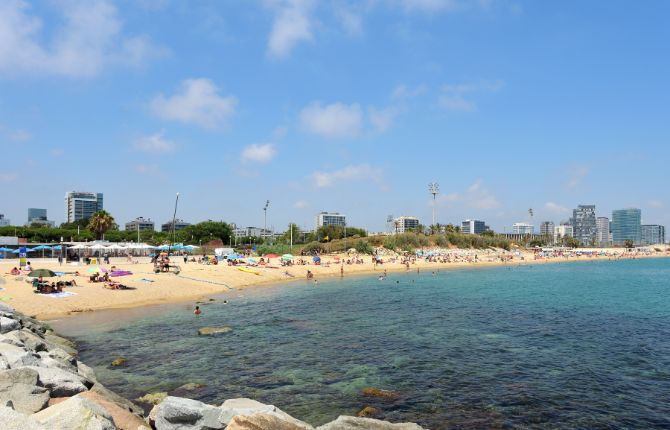 El Bogatell Beach is 30 meters wide and 375 meters long and offers lifeguards and changing rooms for your convenience. The beach also features umbrellas and sun loungers, and shops with drinks and the best of Barcelona cuisine.
With a great local atmosphere and plenty of activities for kids, Bogatell Beach is an ideal destination for an enjoyable Barcelona family vacation.
Consider staying at a hotel near Bogatell Beach when planning your trip to Barcelona. This neighborhood is popular, but it's far less crowded than Barceloneta. You'll find that only thirty percent of the city's visitors visit this beach on a day-to-day basis.
A quieter area than the central Barcelona beaches, Bogatell Beach is perfect for families, rollerbladers, and joggers. Although it doesn't have as many bars and restaurants as Nova Icaria, Bogatell is ideal for families and is just 20 minutes walk from the nearest metro station.
In addition to being quieter, Bogatell also has all the facilities that make a family-friendly beach more enjoyable.
You'll be able to enjoy a slower atmosphere, and you'll enjoy the proximity to the up-and-coming Poblenou neighborhood. You'll also be able to take advantage of the boardwalk, which features close-up views of the Port Olympic and Frank Gehry's El Peix d'Or buildings.
There's also a local police presence and plenty of parking for your bicycle.
Address: Playa de Bogatell, Barcelona, Spain
Looking for more fun beaches in Barcelona, Spain?? Just check this list. 
8. Camp Nou Stadium
You've probably heard of the Camp Nou Stadium in Barcelona – but have you ever visited it? If not, you may be missing out on a great experience.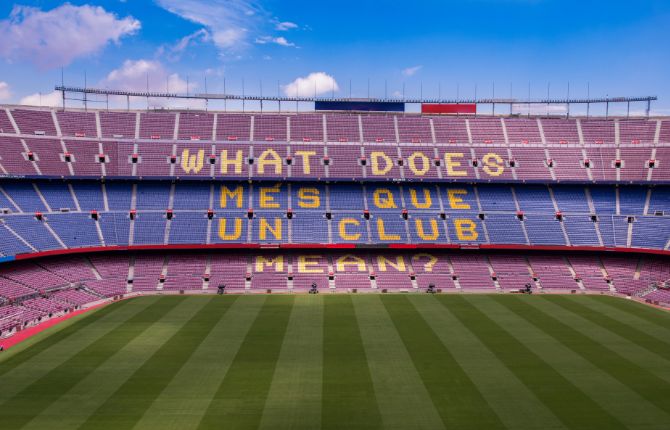 This football stadium was completed in 1957 and has been the home of FC Barcelona ever since. Its unique design has helped make it one of the most beautiful stadiums in the world, and the atmosphere inside it is second to none.
Camp Nou Stadium is also home to one of the world's most impressive museums. The Museum of Camp Nou features the history of the club, its players, and its stadium.
Visitors can also learn about the stadium's many trophies and award-winning players. The museum uses the latest technological equipment and displays to tell the story of the club.
The tour is sure to be an unforgettable experience. If you are looking for a unique way to see the famous stadium, then the Barcelona Experience is the tour for you.
You can book a tour of the Camp Nou Stadium in Barcelona online before your visit. The tour will give you a glimpse of how a real player would feel while wearing the famous kit.
You can also see the legendary FC Barcelona team's changing rooms, players' tunnel, commentary box, stands, and the Messi Area. This tour will take around 1.5 to two hours and is a must-see for all fans of the sport.
Book your tour through the official tourism website or through Get Your Guide.
Address: C. d'Aristides Maillol, 12, 08028 Barcelona, Spain         Phone: (34) 902 18-99-00
9. Palace of Catalan Music (Palau de la Música Catalana)
The Palace of Catalan Music is one of the most important buildings in Barcelona. Known for its ornate interiors, it is a premier venue for music concerts.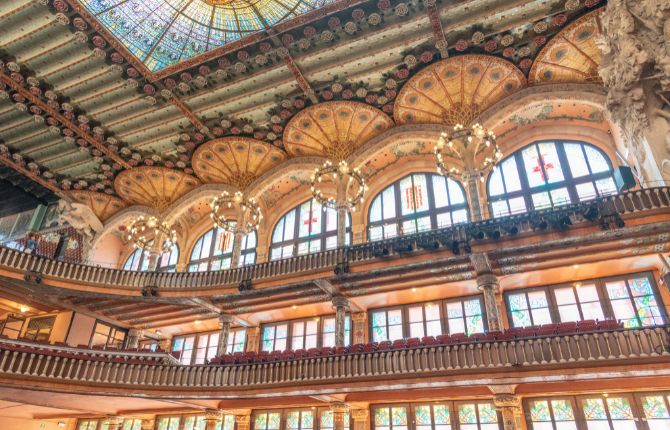 Designed by Catalan art nouveau architect Lluis Domenech I Montaner, it is one of the city's top attractions. Visitors can enjoy concerts featuring traditional Catalan folk music in this magnificent building.
Visitors can enjoy guided tours of the palace and its impressive interior. Guided tours are popular and can be booked in advance. Visitors can also sample the atmosphere and modernist details of the foyer bar.
The Palace also hosts concerts, including classical, jazz, and ethnic music. The sound and lighting systems are top-notch, making the entire venue intimate. Whether you're traveling on business or for pleasure, you're sure to find a concert that suits your tastes.
The Palau de la Musica is Barcelona's premiere concert hall. Its striking architecture is one of the finest examples of Catalan modernism. Located in the heart of the city, it offers a quiet oasis amidst the hustle and bustle.
UNESCO has designated the building as a World Heritage Site. Palau is a must-see in Barcelona! The Barcelona Symphony Orchestra performs there every month.
Address: C/ Palau de la Música, 4-6, 08003 Barcelona, Spain    Phone: +34 932 95 72 00
10. Casa Batllo
If you're planning a visit to Barcelona, you'll likely want to consider staying at Casa Batllo.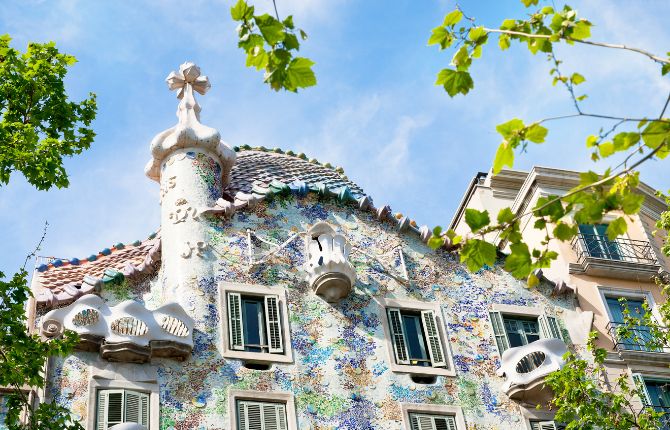 This 1904 building was designed by Antoni Gaud and is considered one of his greatest masterpieces. It has been remodeled and restored several times since its original construction in 1892.
Regardless of your reasons for staying there, you'll be sure to have a memorable experience.
The façade of Casa Batllo is framed by sculptures depicting animals' faces. The dragon and the trencadis mosaic chimneys are stunning and give a glimpse into the history of the Pedrera.
However, this building lacks the wow factor of Casa Batllo, so you should be careful not to overcrowd it when you visit. The best time to visit is at least 1.5 hours before closing time.
One of the most striking features of Casa Batllo is the spiral staircase that leads to the upper floor. The flowers represent the balcony on which the princess stood in the legend.
On the lower floors, the columns on the rostrum are shaped like skulls. The staircase in the private entrance hall is designed to resemble an animal's spine, possibly a dragon's tail. However, the most interesting detail of the Casa Batllo is how it relates to Barcelona's history.
Like Casa Pedrera, Casa Batllo was commissioned by Gaudi in the 1870s but is not 100 percent Gaudi. Although it is not a 100 percent Gaudi masterpiece, the building does have many of the same characteristics. The facade has a curvy reptile roof, eye-catching tiles, and glazed tiled walls. The design is also reminiscent of the bones of a shark.
Address: Passeig de Gracia, 43, 08007 Barcelona, Spain        Phone: (34) 932 16-03-06
Things to Do in Barcelona
11. Cathedral of Barcelona (Catedral de Barcelona)
The Cathedral of Barcelona is located in the Gothic quarter and is well worth a visit. You can visit the cathedral during mass on Sunday when there is less crowd.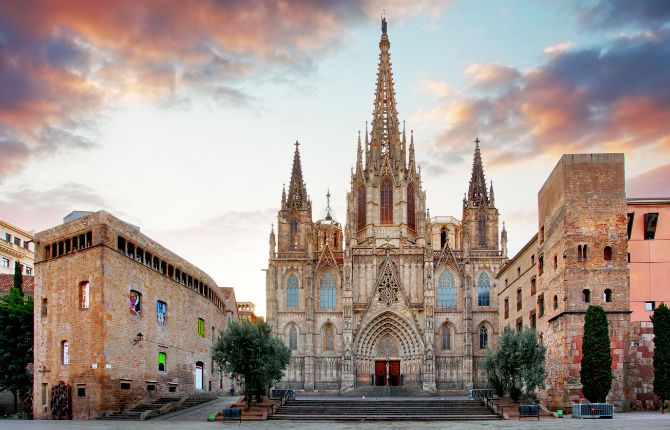 Otherwise, you will need to purchase tickets. While the inside of the cathedral is nothing special, its facade is worth checking out. You can even spend some time relaxing on the steps leading to the patio.
After the mass, you can take a break with a cup of coffee or a book.
There are many ways to explore the Cathedral of Barcelona. The Gothic cathedral is located in El Born and took 55 years to complete, partly paid for by parishioners. The cathedral is an excellent example of pure Catalan Gothic architecture, whereas most churches have a blend of styles.
While visiting the cathedral, be sure to take advantage of the rooftop tour, which includes a beautiful view of the Old City. You'll feel as if you're part of the city.
Address: Pla de la Seu, s/n, 08002 Barcelona, Spain     Phone: +34 933 15 15 54
12. Montjuic, Barcelona
Montjuic is a hill in central Barcelona that translates to Jewish Mountain in medieval Latin. The site of the ancient Jewish cemetery sits atop the hill.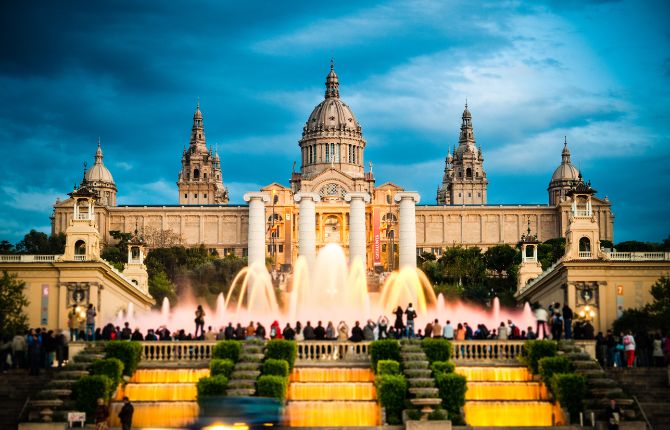 This hill is only 607 feet high, making it perfect for city defenses. However, if you're not in the mood to take in the view from atop the hill, there are other things you can do instead.
If you're interested in architecture, don't miss the Font de Canaletes. A fountain at the foot of Montjuic is a unique sight, especially if you're a fan of the Barcelona football club.
It is said that drinking from the fountain will guarantee your return to Barcelona! Also, there are many ice cream stands nearby. You can pair your climb up Montjuic with another activity to make the most of your time in the city.
The Montjuic hill offers some of the best views of Barcelona. The castle on top of the hill dates back to 1751 and has served many purposes during its history. It was used for a variety of purposes, including the Spanish Civil War.
Today, it houses a military museum. Huge guns line the walls of the castle. There are also several museums and exhibits within the castle that are worth seeing. While the Montjuic castle itself is not particularly spectacular, it is a great place to spend an afternoon.
Address: Montjuïc, 08038 Barcelona, Spain
13. Picasso Museum (Museu Picasso de Barcelona)
The Picasso Museum in Barcelona is an art museum in Catalonia that features an extensive collection of the works of Pablo Picasso.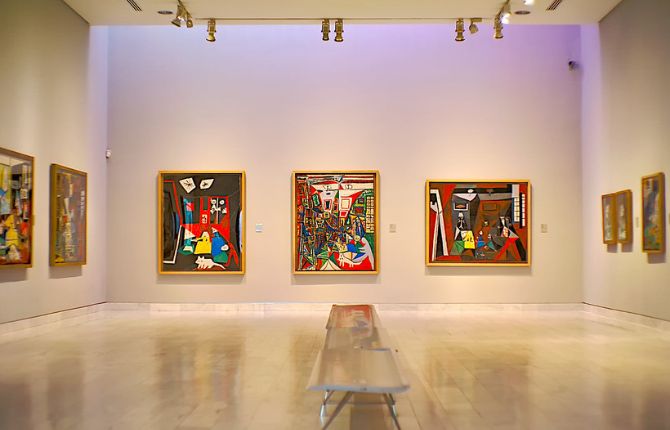 You can view more than four-thousand works in this museum. You will also enjoy a tour of the Picasso Museum in Barcelona. You will learn about the artist's life and the works that he produced.
After you finish your tour of the museum, make sure you visit the Picasso House. Located on the edge of the city, this historic building offers breathtaking views of the Mediterranean coastline.
The Picasso Museum is free to visit, but you should consider buying skip-the-line tickets before you arrive. Buying tickets in advance is highly recommended since lines are often long, especially during peak times.
You can also get free admission on Thursday evenings and the first Sunday of each month. You can explore more than three thousand works at this museum, which are arranged chronologically. Moreover, you can learn about Picasso's relationship to Barcelona as you browse the museum's exhibitions.
When you visit Barcelona, make sure to pay a visit to the Picasso Museum. The museum is housed in five palaces, each of which contains a unique collection of Picasso's art.
Visitors will find a collection of his most famous works, chronologically tracing his career from the 1890s until his death in 1917. You can also enjoy several temporary exhibitions about the artist's life and works. A Barcelona Card can save you money on tickets.
Address: Carrer de Montcada, 15-23, 08003 Barcelona, Spain        Phone: (34) 932 56-30-00
14. Gràcia, Barcelona
When planning a trip to Barcelona, make sure to take in a couple of the many attractions Garcia offers.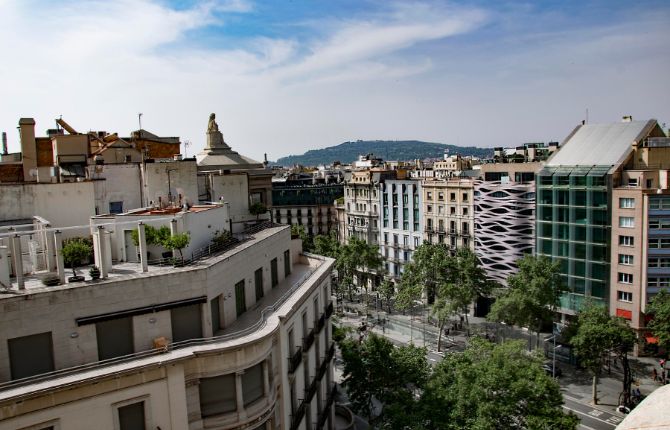 This neighborhood is a must-see, from boulevards and art galleries to independent stores and cinemas. You'll also want to check out the cool Catalan bistros around the landmark clock tower at Plaça de la Vila de Gràcia.
The elegant art nouveau architecture in the area is the work of local architect Antoni Gaud, and there are some beautiful mosaic-covered estates as well.
Whether you want to go for a relaxing walk or try some delicious tapas, Gracia has something for everyone. You can find everything from eco/bio/vegan boutiques to swing dance lessons and even sustainable clothing stores and art galleries.
Gracia has low traffic and plenty of large, leafy squares. There are also many opportunities to watch live concerts and theaters. You'll find a vibrant nightlife scene in Gracia, even if you're not into art.
Whether you're a city slicker or a rambling bachelor, Gracia has a neighborhood for you. Gracia's narrow streets and alleys offer the best of both worlds – high-quality shopping, top-rated restaurants, and lively plazas.
However, the downside to living in Gracia is that it can be incredibly expensive. Many of the apartments in the neighborhood are old and small, and you'll have to pay a hefty price to get a renovated one.
Address: Gràcia, Barcelona, Spain
Things to Do in Barcelona
15. Placa del Rei, Barcelona
When visiting Barcelona, don't miss the Placa del Rei. This central pedestrian area is a flurry of flavor, with pastel-colored houses stacked over bars and cafes.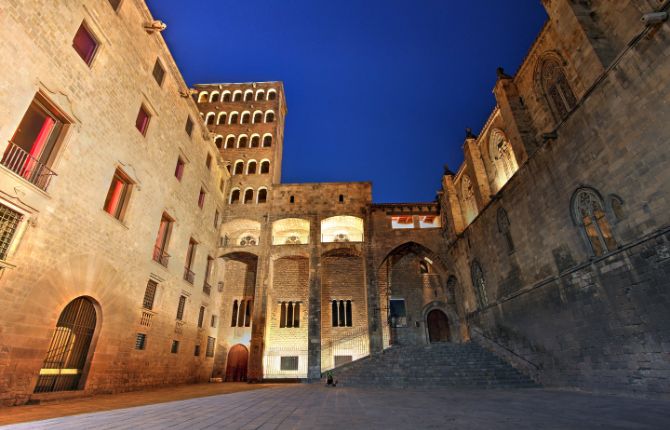 While choosing a Placa for your campsite, you should visit them all if you want to taste Barcelona's culture. Here are a few other things to do in the Placa.
The Conjunt Monumental de la Placa del Rei is a prime example of medieval Barcelona. Its royal palace, the Palau Reial Major, and surrounding buildings make the square great for history and architecture lovers.
Although the area is surrounded by modern buildings, the Placa del Rei is still quite peaceful. You can take a guided tour to learn more about this important part of Barcelona's history.
Placa del Rei is located right next to the famous La Rambla. This plaza is known for its uniform architecture and nightlife. The plaza itself was built in the XIX century in the place of a monastery, which was expelled by the Mendizabal law.
Afterward, the monks were replaced with a new plaza that featured palm trees and fountains. Antoni Gaudi also designed the streetlights.
Another interesting feature of the Placa del Rei is its proximity to the Cathedral. The cathedral is the city's most prominent landmark, so it's important to see it.
From there, you can visit the Palau Reial Major, which features the Salo del Tinell, the Mirador del Rei Marti, and the Capella Reial de Santa Agata, a 15th-century royal chapel. While you're here, be sure to visit the Museu d'Historia de la Ciutat de Barcelona to discover its history.
Address: Plaça del Rei, s/n, 08002 Barcelona, Spain       
16. Barceloneta Beach
If you are planning a trip to Barcelona, one of the best beaches you can visit is Barceloneta Beach.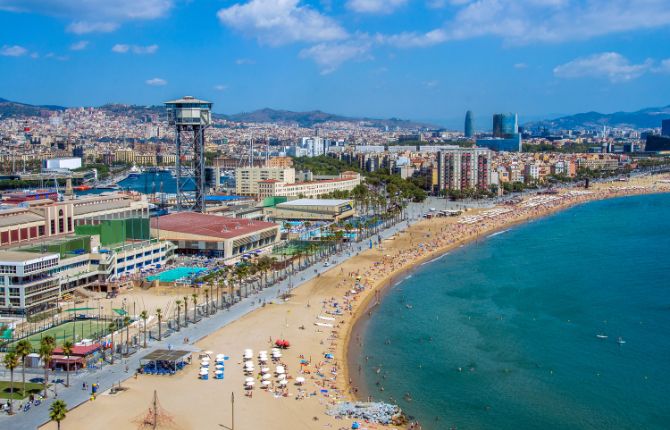 This beach is famous for its blue waters and sandy white sand. The city also boasts great nightlife, food, and a wide range of activities. There is something for everyone in Barcelona. Discover some of the best things to do in this popular Spanish city. Here are some things you must do while visiting Barceloneta Beach.
One of the best things about Barcelona's beach is that it is near the city center. You will find shops, cafes, and restaurants along the boardwalk, as well as bars and restaurants.
Even though this beach is packed in the summer, it is still quiet in the winter. If you're looking for a quieter beach, you should plan a trip during the winter months. But if you're looking for a party atmosphere, Barceloneta's boardwalk is a great option.
Although the beach is convenient, you may want to visit other beaches nearby instead. Barceloneta is home to numerous beach clubs and a public outdoor gym. Yoga classes are also available on the boardwalk, which stretches from the landmark W hotel to the Port Olimpic.
The beach is also popular for running, and you can hire sporting equipment from the Box Surf Shop. The beach is also home to many restaurants, so you can try different food and drink there.
Address: Paseo Marítimo Barceloneta, 14, 08003 Barcelona, Spain
17. Parc del Laberint d'Horta
If you plan a trip to Barcelona, you should spend some time in the Park del Laberint d'Horga.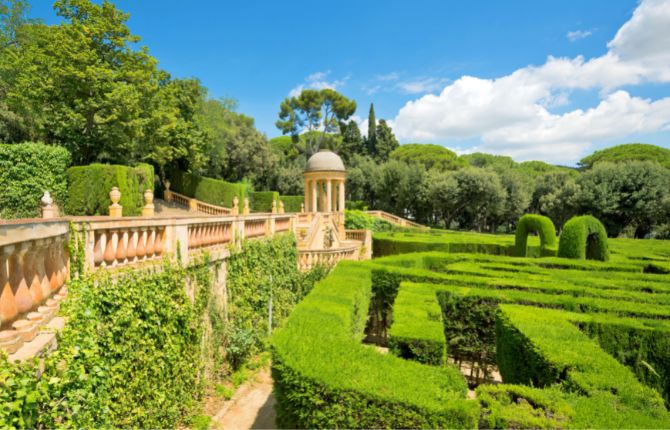 This 9-hectare park is located in Barcelona. The park is accessible via metro station Mundet. The Velodrom d'Horta is also close by. The park has three terraces and sculptures that represent various folk motives.
The park is home to the famous labyrinth. The labyrinth was a filming location in the film "Perfume: The Story of a Murderer," and the city of Barcelona accepts filming in their gardens in return for money.
Unfortunately, the house that was built in the park has fallen into disrepair, and the city is not sure what to do with it. The park is one of the ruins of a former theme park, and visitors can still see a monument that commemorates the king's nephew and an afternoon spent in the park.
The Park del Laberint d'Horga has many different sections. The central area features gardens, fountains, and a natural pine forest. Water is a central element in the garden and flows throughout.
Water is also used to water the pine forest that borders the park. This garden also includes Moorish arches and grottos of Greek gods. This park has a lot of history, and the architecture is beautiful and intriguing.
Visitors can wander around the Italian Garden, which is the oldest section of the labyrinth. There are several terraces and sculptures that represent mythological scenes, including the Rape of Europa, which depicts Zeus abducting a princess from her in bull form.
Another section of the labyrinth is the Grotto of Egeria. This section has several levels and circular pools with staircases on both sides. In the middle, a marble statue of a nymph is located. The monument is also surrounded by statues of Greek gods, including Eros.
Address: Passeig dels Castanyers, 1, 08035 Barcelona, Spain          Phone: (34) 931 53-70-10
Things to Do in Barcelona
18. Things to Do in Barcelona: Museu Nacional d'Art de Catalunya
You should not miss the Museu Nacional d'art de Catalunya when visiting Barcelona. This museum is home to more than 10,000 works of art and is an excellent place to explore Catalan culture.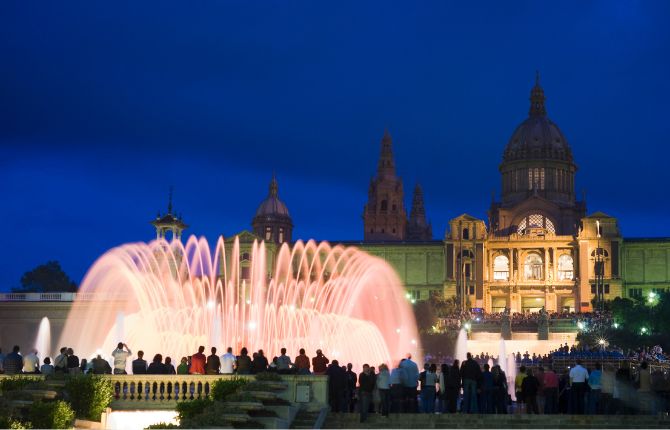 MNAC is an abbreviation for the Museum of National Art of Catalunya. If you are visiting Barcelona for the first time, it is well worth a visit.
The National Art Museum of Catalonia (MNAC) is one of the most important museums in Catalonia. It is home to impressive collections ranging from the Romanesque period to the 20th century and the avant-garde movement.
Visitors will be inspired by medieval paintings, modern art, and works by Dali. The museum is located in the historic Palau Nacional, which was completed in 1929. Its curved glass facade allows visitors to enjoy sweeping views of the city.
The MNAC is free to visit on Saturdays. The most popular day to visit the museum is the weekend when the museum is busiest. Once you've seen the artwork on display, you'll be able to view the city from a rooftop viewpoint.
There are numerous exhibitions and workshops here that are worth checking out. If you're interested in learning more about the history of Catalan art, this is a must-see.
Modernisme is a key artistic movement in Catalonia, which is represented in many of the galleries. Works by Ramon Casas, Josep Llimona, and Santiago Rusinol are among the most notable Modernista artists.
The Museum also includes works by Pablo Picasso, Ramon Casas Abarca, Maria Pidelaserra, and Ricard Canals.
Address: Palau Nacional, Parc de Montjuic, s/n, 08038 Barcelona, Spain        Phone: (34) 936 22-03-60
19. Things to Do in Barcelona: Ciutadella Park
Ciutadella Park in Barcelona will definitely delight you whether you want to spend your afternoon jogging or just strolling.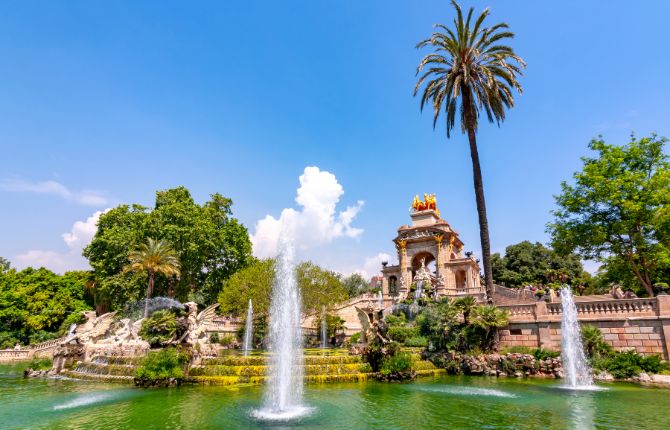 Its trees are a mix of indigenous and European species and are included in a catalog of local interest. These include the orange tree from Louisiana, acacia from Constantinople, the Australian pine, and Quercus polymorpha.
These were all planted in the late nineteenth century. And, if you are interested in history, you can visit the Catalunya de Parliament, which was once a military arsenal.
The children can have fun playing in two separate playgrounds: the one on the side and the one behind the museum. There's an older playground right across from it with a large slide, while the toddler playground is just a 30-second walk away.
While you're at the Barcelona Zoo, don't forget to take advantage of the free Barcelona Family Card. This card will help you save money on museums and attractions and allow you to enjoy the city's culture with the family.
The Three Dragons Museum is located in the Three Dragons Castle. The museum houses a collection of skeletons, taxidermy animals, and works of art and science. This is one of the most impressive monuments in Ciutadella Park.
Despite being a museum, it is also a secondary school, so visitors should make time to visit this landmark and the surrounding area. It is a great place for a picnic!
Address: Passeig de Picasso, 21, 08003 Barcelona, Spain     Phone: +34 638 23 71 15
Things to Do in Barcelona
20. Things to Do in Barcelona: Tibidabo Amusement Park (Parque de atracciones Tibidabo)
If you have never visited an amusement park, you are in for a treat! Designed by Salvador Andreu, the Tibidabo Amusement Park opened in 1905 and is one of the world's oldest.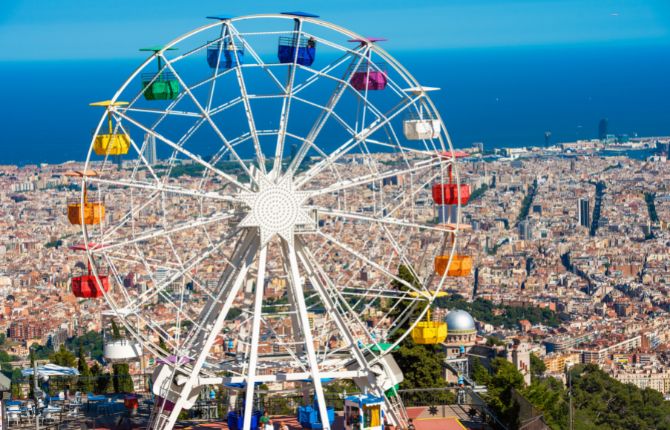 It is also Spain's oldest and the third-oldest in Europe. It is a must-see for any traveler to the city! But where can you find the most exciting rides in Barcelona?
Located in the city center, Tibidabo is the oldest amusement park in Spain. The park was originally built in 1899 and was opened six years later. Originally, there were only a handful of rides, but later, more were added.
The park has undergone several renovations, including the oldest in operation, "Witches and Wizards Den." Another popular ride is "Avio," a mini replica of the first flight from Madrid to Barcelona.
The park offers a number of rides, including a Ferris wheel and a house of mirrors. There's even a robot museum! Getting it is simple with a cable car that starts on the side of the hill.
Once you're there, you'll be amazed by the park's unique attractions! And don't worry about getting wet! Taking the cable car up to the park is an unforgettable experience.
If you're looking for a fun day out, visit Tibidabo Amusement Park in Barcelona! It's open on weekends and bank holidays. It is also open from 10 AM to 9 pm on weekends and most holidays.
Just be sure to plan your visit for a weekday! The park is open year-round from 1100 AM to 6 PM and closes at 9:00 PM on Sundays. But remember to bring some cash with you so that you can buy rides and ride for hours that fit into your schedule!
Address: Placa del Tibidabo, 3, 4, 08035 Barcelona, Spain        Phone: (34) 932 11-79-42
Things to Do in Barcelona
La Rambla

Park Guell

Gothic Quarter

Mercado de La Boqueria

Casa Milà (La Pedrera)

Bogatell Beach

Camp Nou Stadium

Palace of Catalan Music (Palau de la Música Catalana)

Casa Batllo

Cathedral of Barcelona (Catedral de Barcelona)

Montjuic, Barcelona

Picasso Museum (Museu Picasso de Barcelona)

Gràcia, Barcelona

Placa del Rei, Barcelona

Barceloneta Beach

Parc del Laberint d'Horta

Museu Nacional d'Art de Catalunya

Ciutadella Park

Tibidabo Amusement Park (Parque de atracciones Tibidabo)
Things to Do in Barcelona