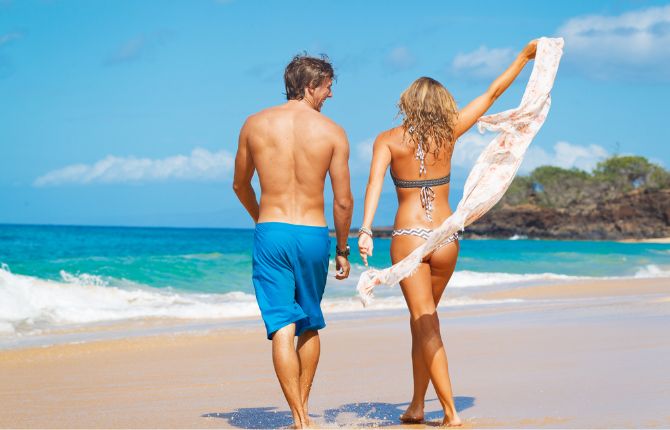 Are you looking for the best beaches in Costa Rica? Here's the list with all the travel information you need to know before planning a family tour.
The beaches are among the most popular aspects of vacationing in Costa Rica. The country boasts more than 1300 miles of coastline, with some of these beaches being pristine and white with crystal-clear waters.
However, you should know that these beaches are not all alike. Some are wild and rocky, while others have powder-soft sand and turquoise water. No matter what you're looking for in a beach, Costa Rica will surely have it.
The country's beaches are shaded by palm trees and miles of farmland. Most locals here are engaged in farming and fishing, but the tourism industry is not fully developed. A few small projects have been started to develop tourism infrastructure.
Whether looking for pristine white-sand beaches or fishing in crystal-clear waters, Costa Rica has something to offer everyone. The nation's beaches are perfect for swimming, snorkeling, diving, fishing, or enjoying a day at the beach.
The most beautiful beaches in Costa Rica are Manuel Antonio Beach, Santa Teresa, and Tamarindo Beach. But all the others are undoubtedly attractive too.
Let's discover the complete list.
1. Beaches in Costa Rica: Santa Teresa Beach/ Playa Santa Teresa
If you're looking for a laidback beach town in the middle of the country, consider spending a day in the sleepy village of Santa Teresa, Costa Rica.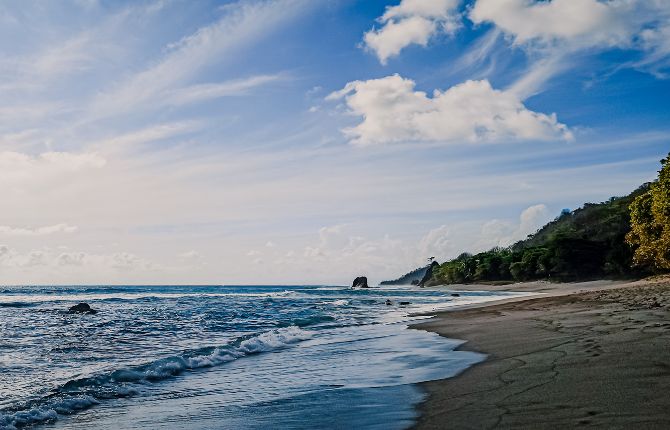 Situated on the southern tip of the Nicoya Peninsula, Santa Teresa is a popular destination for honeymooners and nature lovers. Surrounded by lush forests, this beach is genuinely panoramic.
While the area is becoming increasingly popular, it's still challenging to reach. For this reason, the town offers a unique experience: a freewheeling, adventure-filled day on nature's playground.
In addition to being a great place to relax on a sunny day, Santa Teresa's beaches are also an excellent place for surfing beginners and advanced surfers alike. Both beginners and advanced surfers can enjoy consistently good waves.
ATV tours can be taken in the nearby jungle to explore wildlife. With so many options for outdoor activities, Santa Teresa is a destination that should be on your list.
Although Santa Teresa has many beaches, none of them are known for their swimming capabilities. Playa Santa Teresa is the most popular, and it is a wide, soft white beach surrounded by jungle on one side.
If you're a surfer, make sure to check out La Lora Amarilla, a local dive bar that hosts fun dance events throughout the year. The locals and surfers alike will appreciate the atmosphere here.
For those who like to swim, just take a short drive to Montezuma waterfalls.
If you're traveling by car, renting a car can save you a lot of money on transport. A car is not expensive in Costa Rica, so you'll save money traveling between towns.
And it will be more convenient! Moreover, renting a car will ensure you'll be able to explore the surrounding countryside without worrying about the cost of public transportation.
Address: Santa Teresa Beach, Puntarenas Province, Costa Rica
Beaches in Costa Rica
2. Beaches in Costa Rica: Manuel Antonio Beach
There are many reasons to visit Manuel Antonio Beach in Costa Rica, but a few are listed below.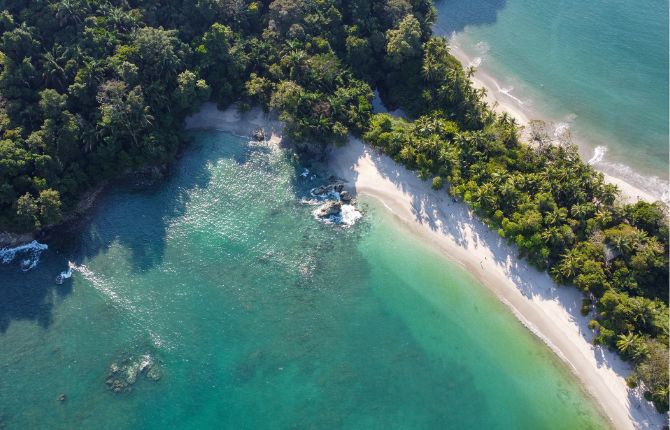 This beautiful beach was named one of the world's top twelve parks by Forbes and was featured on TripAdvisor. And it is an excellent base for rafting, sport fishing, ziplining, and yoga.
The best time to visit depends on the activities you'd like to do while in the area.
If you plan to visit Manuel Antonio in the high season, you'll want to plan your trip accordingly. The weather is usually sunny in the morning and rainy during the afternoon, so plan your trip for early morning.
You can take a bus from Quepos to Manuel Antonio for less than $1. If you're visiting during the off-season, you can often get cheaper prices and fewer tourists. If you're traveling during the holiday, make sure to book your tour before visiting.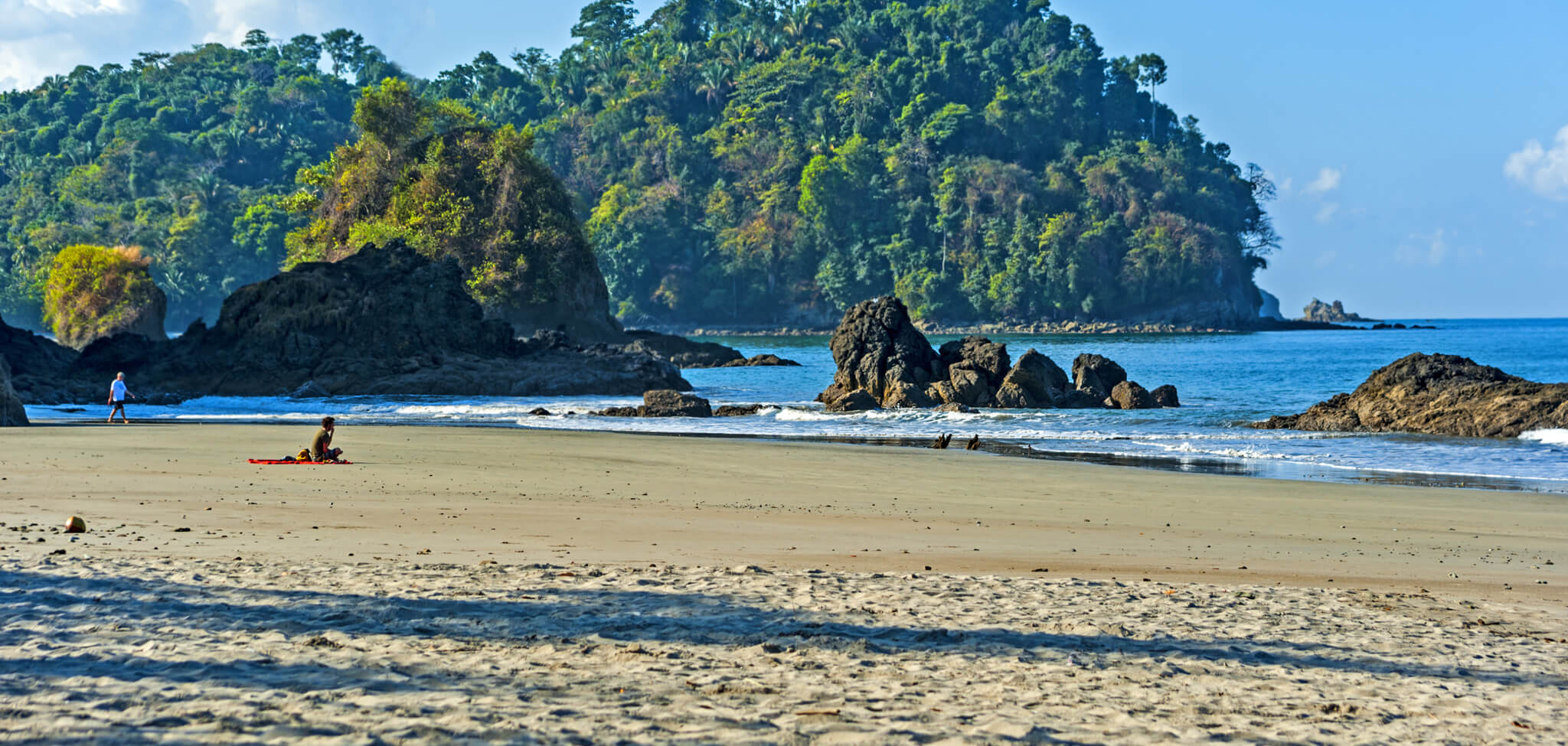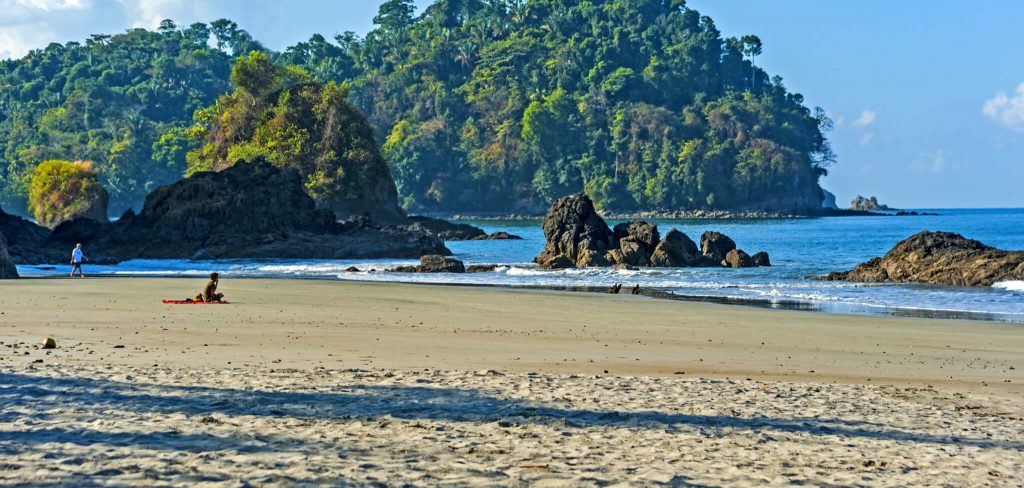 When planning a vacation in Manuel Antonio, remember that this is a famous beach town.
Named the second-best beach destination in Central America, Manuel Antonio Beach features a scenic backdrop, warm waters, and gentle waves. Therefore, it is perfect for swimming and snorkeling.
The area's national park is home to humpback whales, which breed there from August to October. The Ballena National Marine Park is located south of Dominical. While mid-December to April is the busiest time of year for Manuel Antonio, early mornings are the most scenic hours for seeing wildlife.
The rainy season is less crowded and cheaper, from May to November.
Address: Puntarenas, Quepos, Costa Rica
Beaches in Costa Rica
3. Beaches in Costa Rica: Tamarindo Beach
There are many reasons to visit Tamarindo Beach in Costa Rica. It is a popular surf destination and was the location of the classic surf movie Endless Summer.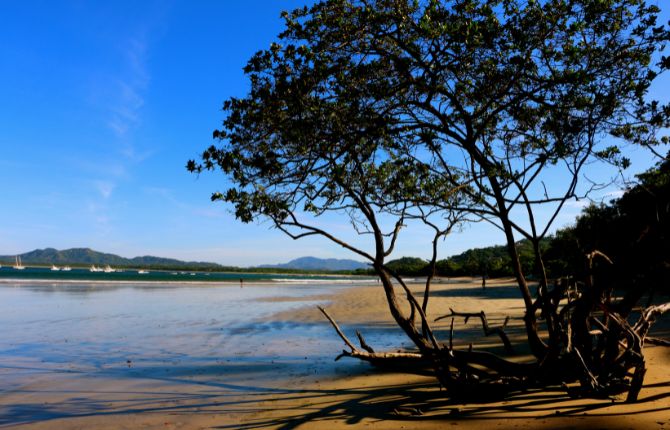 This beach has excellent surfing conditions, especially near the mouth of the estuary. Swimmers should be careful around strong currents, but professional surfers can be found at Pico Peque-o, a beach break near Hotel Tamarindo Diria.
Beginners can take surfing lessons at El Estero, opposite the Cabinas Tsunami.
Tamarindo Beach is a great choice if you're looking for a place to go sport fishing in Costa Rica. The oceans around Tamarindo are home to many different kinds of fish, including wahoo, marlin, tuna, and sailfish.
A visit to Tamarindo is not complete without some adventure. So, surely try snorkeling, diving, and ATV tours. There are many other activities to enjoy in Tamarindo.
For example, the town also has plenty of exciting activities for visitors to engage in, including horseback riding, zip-lining, canopy zip-lining, horseback riding, and more.
The town is packed with restaurants, bars, and discos. The locals offer beach chairs for visitors to use.
If you're looking for a little more excitement, you can also visit the nearby town of Liberia.
Getting to Tamarindo is relatively easy. Taxis are plentiful and yellow. You can hail a cab at the main taxi stand in Plaza Conchal. These taxis are metered and cost you around $4-$6 per trip.
You can also take the public bus or rent a car to explore the surrounding area. This way, you'll have more time to spend at the beach or on other activities.
Address: Guanacaste, Tamarindo, Costa Rica
4. Uvita Beach (Whale Tail Beach)
There are many reasons to visit Uvita Beach in Costa Rica, including its gorgeous views of the Pacific Ocean and plethora of diving opportunities.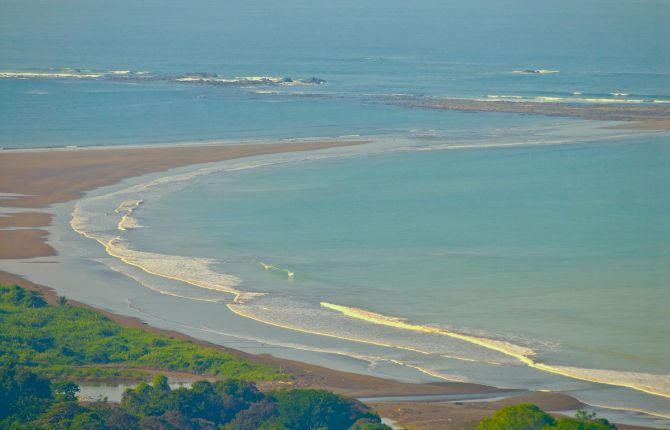 This resort, located about two miles from downtown Uvita, has been called "the most romantic destination in Costa Rica" by Forbes Magazine.
Uvita is an ideal choice for a romantic getaway with its many secluded beaches, adults-only hotels, and spas. Getting to Uvita Beach is simple, thanks to the new Autopista del Sol highway from San Jose.
Aside from the beautiful beaches, Uvita is also home to Manuel Antonio National Park. This park is home to diverse wildlife and scenic landscapes. Make reservations ahead of time for the most exciting wildlife encounters and take a guided tour.
If you'd prefer to learn about the animals in a more relaxed atmosphere, consider a trip to Manuel Antonio National Park instead. In the region, the Manuel Antonio National Park is an incredible place to view wildlife, so plan your vacation around a visit there.
There are many places to stay in Uvita, including quaint cabins, guest houses, and boutique hotels. The area also has plenty of restaurants and bars, so you can try local food and drink there.
You can find affordable accommodations and good restaurants in Uvita, but if you're looking to splurge, consider buying a home in the area. With land prices rising, choosing a place where you can live comfortably is essential.
Uvita is also home to the Moon Costa Rica Wellness Retreat and Whale's Tail National Park, among other attractions.
5. Conchal Beach
Playa Conchal is a magnificent stretch of sand located in the Guanacaste province of Costa Rica.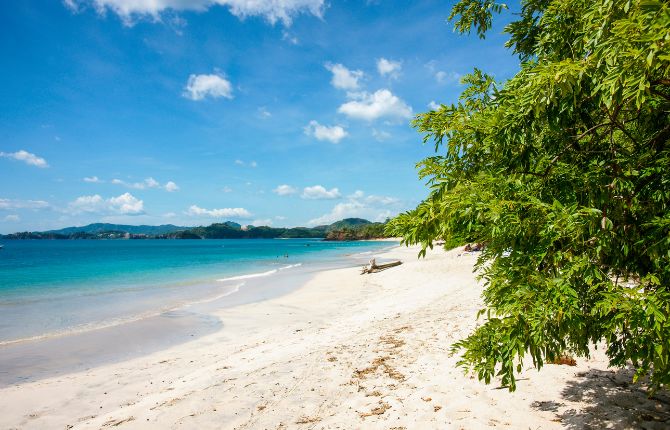 The beach's name comes from the millions of shells that wash up with the high tide. The warm water, crystalline sand, and turquoise shallows are all stunning.
The area is also home to some of Costa Rica's best surf breaks. So, many hotels, motels, and resorts offer a range of services and amenities.
In addition to surfing and body boarding, there are many activities to enjoy at Conchal Beach. You can go open sea fishing or snorkeling, try the local seafood, and enjoy the cold coconut water straight from a coconut.
The beach is also famous for restaurants with mixed drinks, beer, and local fruit. Whether you seek a relaxing day on the beach or a thrill-seeking adventure, you will find something you love on Conchal Beach.
The weather in Guanacaste province is typically sunny, with temperatures reaching the mid-90s during the dry and rainy seasons. It gets hot and humid during October and November but is relatively dry throughout the year.
During the dry season, the sea is yellow-green. During the rainy season, the water turns deep green. There are plenty of opportunities to enjoy Costa Rica's beautiful tropical climate in the shade of palm trees.
The nearby Garra de Leon golf course has a traditional layout combined with touches from the Costa Rican environment. The greens are dotted with native plants and wildlife.
If you don't have enough time to play golf, you can try a little bit of snorkeling. Many tour operators offer short trips and a chance to swim with stingrays. You can even go horseback riding on the beach if you wish.
Address: Playa Conchal, Guanacaste, Costa Rica
6. Samara Beach
If you're looking for a relaxing beach vacation, you've probably heard of Samara Beach in Costa Rica.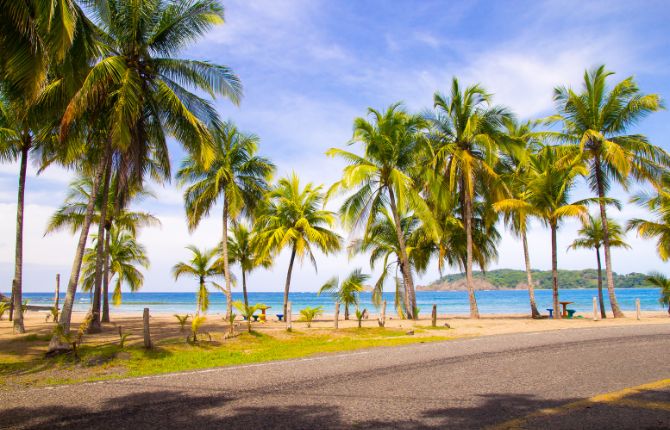 This famous coastal town is about four hours north of San Jose and is a popular destination for vacationers. Its white sand beaches and turquoise water offer a refreshing getaway from the city.
Samara is also great for learning Spanish and trying out new activities. You can take surfing or Spanish lessons if you're interested in exploring the local culture.
The beaches around Samara are sheltered from the surf and rip currents due to an offshore coral reef. Its clean, shallow, and warm waters are safe for swimming and other water sports. Still, if you're looking to try something new, you can try stand-up paddleboarding (SUP), which is becoming increasingly popular among surfing beginners.
While Samara's beach is quiet and serene, the town itself offers a vibrant local scene. If you're looking for a relaxing beach vacation, you'll find plenty to enjoy in Samara, including some great restaurants and trendy boutiques.
The clean, clear water is the perfect backdrop for snorkeling, diving, and other water sports. Samara has plenty to offer, even if you're looking for fun nightlife.
However, if you'd like to experience a more adventurous experience, you can take a boat trip to the nearby Isla Chora.
Address: Playa Samara, Guanacaste, Costa Rica
7. Beaches in Costa Rica: Flamingo Beach
Flamingo Beach is the perfect destination if you are looking for a stunning beach in Costa Rica.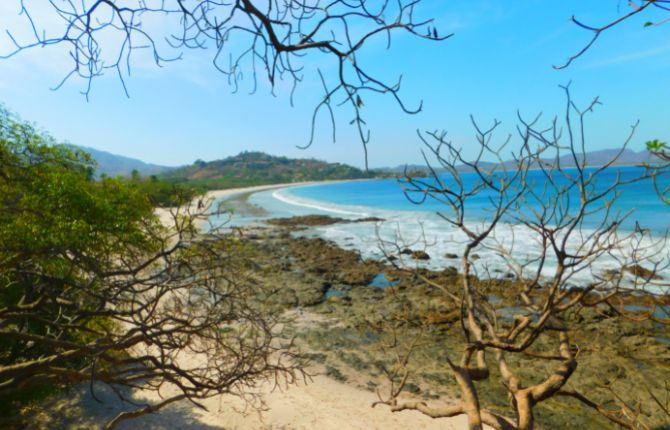 This Costa Rica beach offers the chance to see beautiful tropical landscapes and enjoy a relaxing swim. It is a great place to take the family for a relaxing vacation and is close to some of the best luxury hotels in the country.
There are many different things to do while visiting Flamingo Beach. For example, the local fishing community hosts a sailfish tournament each July, and you can go scuba diving or on a sailing expedition.
Flamingo is a peaceful, relaxing beach and has ample parking right by the beach. If you want to surf, you should know that it has big waves and strong currents and is not a place for beginners.
The best time to visit Flamingo Beach is during the dry season, from mid-December to early April. This is the best time to visit Flamingo because the beach has less rainfall than other parts of Costa Rica.
There are also afternoon rainstorms that arrive around 2 pm and last only a couple of hours.
Fortunately, Flamingo is close to many beautiful beaches, including Brasilito, Potrero, and Las Catalinas. You can also get to Tamarindo within 30 minutes.
When planning a vacation to Flamingo Beach, be sure to take the proper precautions to keep your belongings safe. Costa Rica is known for being very safe, but you should still exercise caution when you are in an unfamiliar area.
Address: Playa Flamingo, Guanacaste, Costa Rica
8. Montezuma Beach
If you are looking for a quiet beach on the Costa Rican coast, consider visiting Montezuma Beach.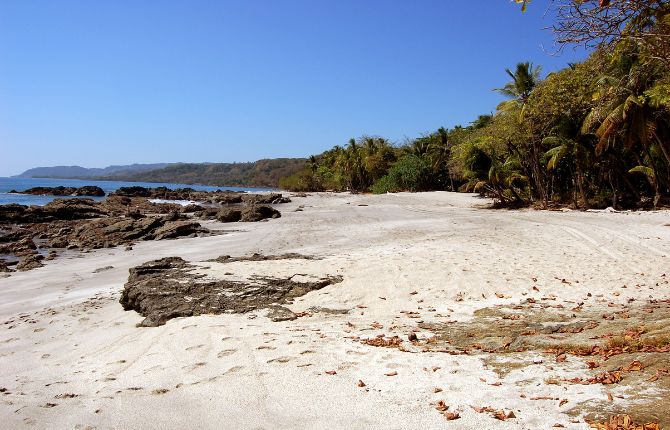 The town of Montezuma is located on the southern Nicoya Peninsula (the southernmost tip). It is famous for its long white sand beach. If you're into surfing, you can hike the trail from Montezuma to Playa Grande.
Nearby, you'll find the turtle hatchery and sanctuary of the Romelia Wildlife Reserve. In addition, you can visit the Montezuma Waterfall, which is a series of cascades and natural pools.
Montezuma Beach is the perfect place to spend the day if you love nature and have an active lifestyle. You can also hike the nearby Montezuma Waterfalls or try your hand at zip-lining.
If you like the water, you can also take a day trip to the nearby Turtle Island. The island has fantastic snorkeling, and the local conservation group ASVO releases baby sea turtles daily. The area also has several reefs and sensational marine life.
Although this small town doesn't have much to offer in the way of nightlife, Montezuma is home to an active community and an annual film festival. Artists, eco-tourists, and eco-tourists are also frequent visitors.
Despite being surrounded by lush tropical forests, Montezuma has ample activities to keep you occupied. Some of these include waterfall tours, snorkeling in the Tortuga Islands, surfing, hiking, fishing, yoga, and other fun activities.
The town also hosts a thriving ex-pat community.
Address: Playa Montezuma, Puntarenas, Costa Rica
9. Nosara Beach
If you're traveling to Costa Rica, there are many ways to experience the beauty of Nosara Beach in Guanacaste province, west of San Jose.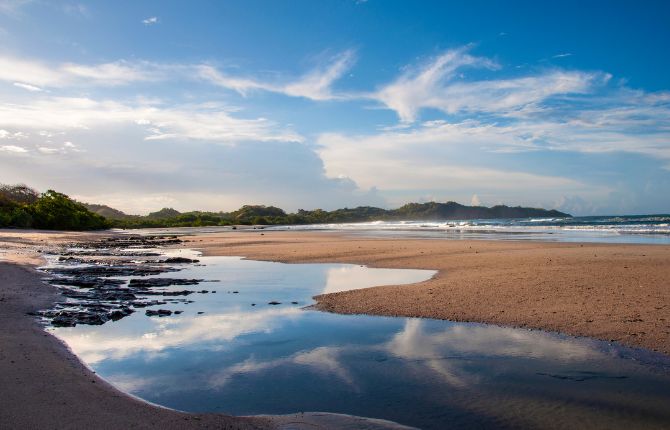 This tropical paradise includes several beaches: Playa Guiones, which is known for its waves; Playa Pelada, which is the country's best surfing spot and ideal for swimming; and Playa Garza, which is a serene stretch of gentle waters and also suitable for surfing.
Nosara is an ideal destination for families. Kids will love the many activities available at the Nosara Day Camp, which offers fun activities and an excellent atmosphere for families.
If you're not a yoga or surf enthusiast, you'll be happy to know that there are many local and international restaurants to choose from, as well as fusion cuisine from Costa Rica.
The weather in Nosara is warm and sunny year-round, so don't forget to pack a swimsuit and a towel! And don't worry about the cost of real estate – Nosara Beach has some of the best real estates in all of Costa Rica.
Nosara is accessible via country roads and has fewer tourists than Samara. The village is between the Pacific Ocean and the Papagayo Gulf, making it less touristy than Samara. You can also visit Nosara's sister town, Samara, a little north of Nosara.
The town of Nosara is also home to several eco-friendly hotels, including the La Luna Hotel. Paddleboard rentals are available at Coconut Harry's. Stand-up paddleboarding retreats are held in Nosara on a limited basis but are well worth the time.
There's even a yoga studio, Nosara SUP Yoga, which offers tours and rentals of the equipment. Afterward, you can learn the 5 Rhythms meditation, a Costa Rican technique for healing the mind and body.
Address: Playa Nosara, Nicoya Peninsula, Guanacaste, Costa Rica
10. Carrillo Beach
If you're looking to visit Costa Rica, Carrillo Beach is one of the best choices. This tropical beach is perfect for a beach vacation year-round, thanks to its temperate climate.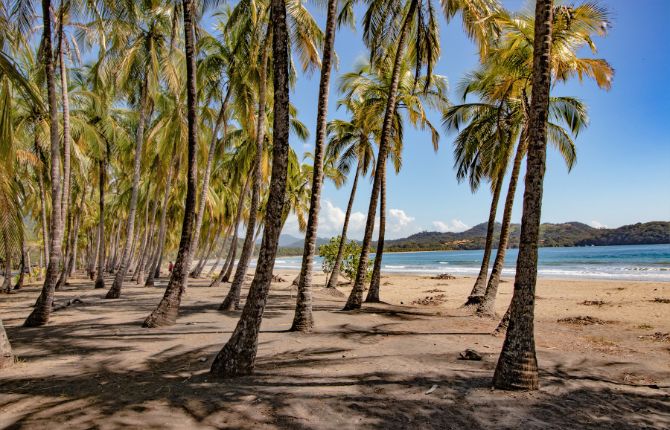 During the dry season, temperatures average between the mid-80s F and low-90s F and are most pleasant in March and April.
In the rainy season, temperatures may reach the mid-80s F during the day and cool to the mid-70s F at night. Rainy weather is more common in May and June, and temperatures can be as high as 84 F during these months.
The beach's eastern end has more rocky terrain and less clear water than the southern end.
Playa Carrillo has softer sand and a calmer surf. The water is ideal for swimming and snorkeling, and the area is home to several rocky outcrops that are worth exploring.
During high tide, the beach is ideal for snorkeling. It is also well-known for being one of the cleanest beaches in Costa Rica.
While Playa Samara is the most popular of the two beaches, Carrillo is a quieter, smaller beach. You'll find more natural, peaceful, and undeveloped in this area.
In addition to the white sand beach and clear water, Carrillo offers a protected harbor for private and charter boats. Despite its proximity to Samara, Carrillo is relatively untouched, which means it's a good place for those who seek a relaxing and restful vacation.
11. Playa Nacascolo
A few days in the Caribbean is not enough to appreciate the beauty of Costa Rica's Playa Nacascolo.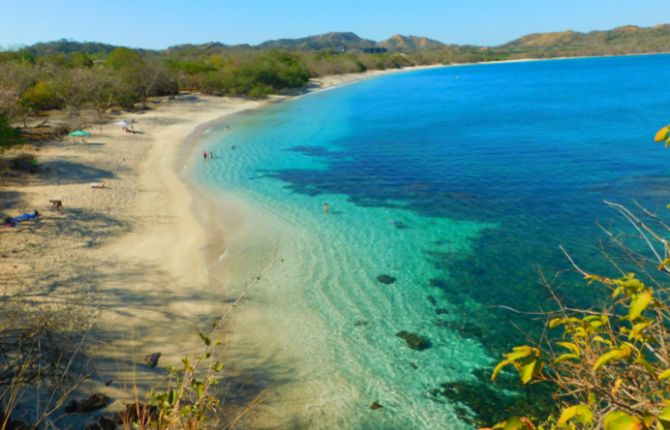 A thin strip of soft white sand is backed by tropical dry forest and palm trees and is protected by the Bahia Culebra headlands.
The beach itself is within the Four Seasons Resort. While the beach is usually calm, it can change quickly during high-tide periods.
This small beach town is one of the most exclusive places in Costa Rica, with multi-million dollar villas and world-famous resorts. A trip to this part of the country is not complete without a visit to Playa Nacascolo.
A hidden beach in Costa Rica, Playa Nacascolo is located on the Papagayo Peninsula. Accessible via shuttle service from the Four Seasons Resort, this beach is a hidden gem.
It is home to an abundance of wildlife, including brazen monkeys. Although the beach teems with wildlife, it is still perfect for young children due to its warm water and gentle waves.
You can also enjoy white-sand beach sands and crystal-clear waters in this hidden paradise in the Nicoya Peninsula. A visit to this beautiful beach will surely leave you with a lifetime of memories.
Address: Liberia, Papagayo Peninsula, Guanacaste, Costa Rica
12. Playa Punta Uva
The Southern Caribbean coast of Costa Rica is a tropical wonderland lined with swaying palm trees and clear turquoise water.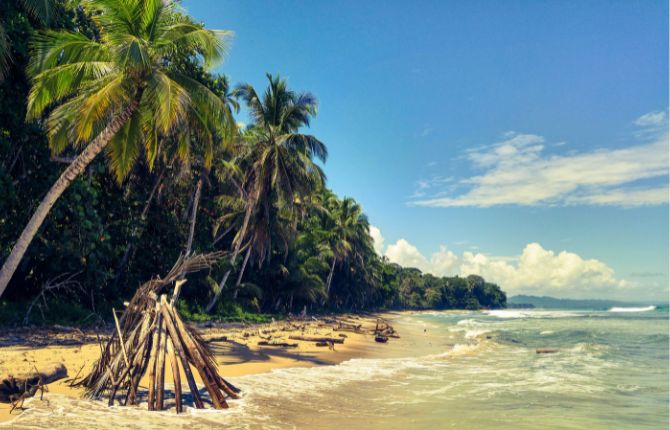 The Southern Caribbean Coast hasn't seen the overpopulation of the rest of Costa Rica and remains a lush, off-the-beaten-path destination. However, it is not only the beautiful beaches and natural beauty that make this area so enticing.
It is also a great place to spot wildlife, such as humpback whales and turtles.
While not the prettiest beach on the coast, Playa Punta Uva is a lovely spot for a picnic or a dip. There's also a small restaurant and a few lodging options here.
It's a little remote, but the view is well worth it. The only downside is that it's located at the end of a dirt road.
Punta Uva is a perfect place to relax. The beach is white and has a coral reef offshore. A snorkeling trip to this coral reef will give you a glimpse of the wildlife that lives here.
You'll even get a chance to see sloths, monkeys, and other tropical birds. And while you're here, don't forget to go on a bike ride to the Caribbean South and Playa Chiquita, where you can find more information.
If you're traveling from Puerto Viejo, you can take a shuttle from there to Punta Uva. Generally, these vans don't have air conditioning, but the one in Punta Uva includes eight or ten passengers.
It's important to note that roads in Costa Rica can be bumpy and full of potholes, so that a rental car can cause an accident. The cost of the service will vary, depending on the amount of luggage you'll be carrying.
13. Beaches in Costa Rica: Jaco Beach
If you're visiting Costa Rica, you may be interested in taking a trip to Jaco Beach. Jaco is approximately two hours away from the San Jose airport.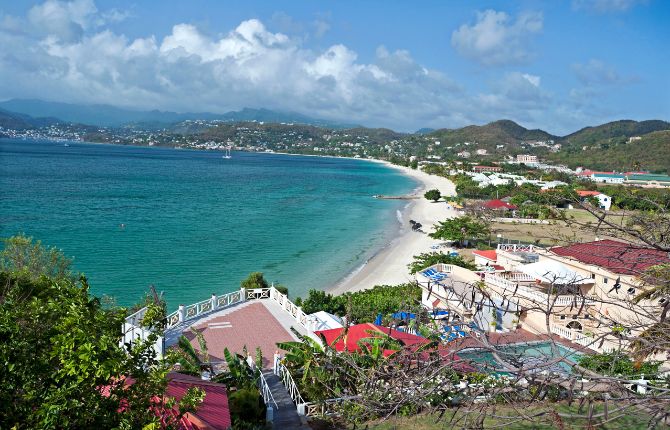 You can hire a car or take a shuttle for around $5, depending on how many people you're traveling with. The bus ride will take about an hour, and the ticket price will be around $5.
Once you arrive in Jaco, you'll find plenty of activities to participate in.
Whether you're a beginner or an expert surfer, you're sure to find a great activity in Jaco. Surfing is a popular activity in the area, and the atmosphere here is heavily influenced by the sport.
However, if you want a less extreme experience, stand-up paddleboarding is a great alternative to surfing. This activity allows you to get up close and personal with nature without having to brave the harsh waves.
There are also many hotels and condominium complexes near Jaco. The town itself is relatively modern and has boutique shops and restaurants. The skyline is a stunning backdrop of mountains, making the town very picturesque.
Although many people choose Jaco for its nightclubs and adult-only parties, the tourism authorities have made it a family-friendly destination. A new kids' menu and a kids' beach activity center have made the town more family-friendly.
When visiting Costa Rica, don't just rely on Jaco Beach. There are other great beaches nearby, which are less crowded and have cleaner water. If you love surfing, you should visit one of them!
However, you'll never forget the experience you had in Jaco! There are plenty of activities for surfers at Jaco Beach, and you can choose to take a surfing lesson here. Just make sure to book your hotel in advance to guarantee you a spot on the beach.
Beaches in Costa Rica
14. Beaches in Costa Rica: Playa Hermosa
If you want to relax in the sun and enjoy the beach life of Costa Rica, you'll want to head to Playa Hermosa.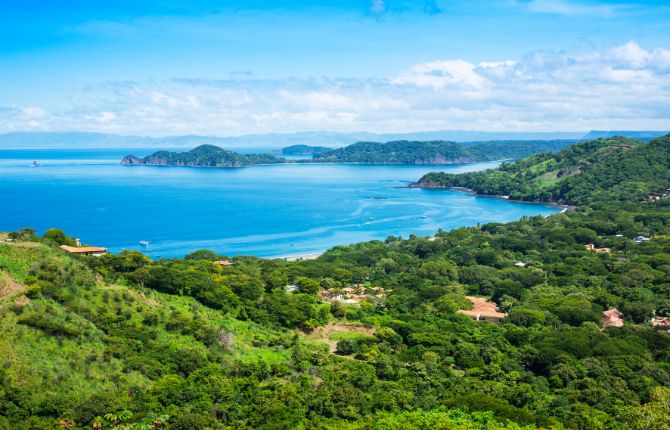 This beach-front town is popular among visitors. It's known as the "beach capital" of the country. Aside from its beautiful beach, Playa Hermosa offers a number of other things to do, including golfing and whale-watching. Here's what to expect.
While the waves at Playa Hermosa are relatively small, they can still be very challenging. You can also try your hand at surf fishing on the peaks in front of the buildings.
Aside from the beautiful beach, Playa Hermosa is home to some fantastic surfing beaches and a number of bars and restaurants.
There are several national parks nearby if you're looking for a more energetic beach vacation. For example, the Barra Honda National Park is close to the town, and its pristine beaches and hot springs are worth a visit.
In addition, if you love nature, you'll be able to go hiking, biking, or exploring national parks within a day's drive.
You can also visit Tico Pod Art House & Gifts to purchase Costa Rican art, handicrafts, and jewelry. The art-house also offers local Indian Masks. Despite its proximity to Jaco, you can still find plenty of souvenirs at local shops.
You can watch the sun go down in the evening at Playa Hermosa, Costa Rica. It's not as crowded as other beaches in the country, and you'll be able to find plenty of space to relax and take in the breathtaking sunset.
You'll find that the area is home to iguanas, monkeys, and colorful hummingbirds. The beach is only a few minutes away from the main town and restaurants so that you can take advantage of the area's natural beauty and charm.
Address: Guanacaste, Costa Rica
15. Dominical Beach
A visit to Dominical Beach is not complete without taking a stroll through the town. Known for its laid-back vibe, Dominical offers many attractions.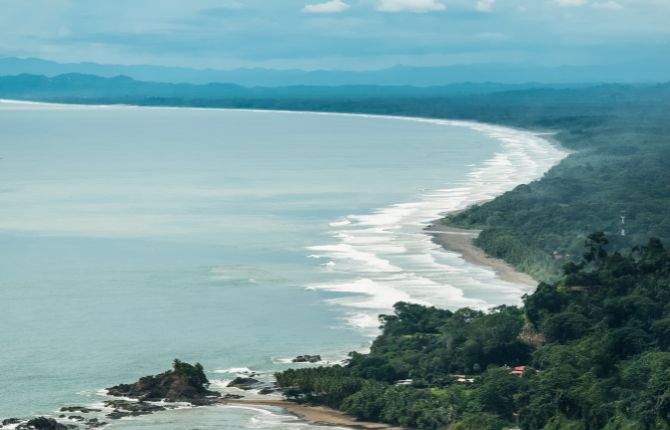 You can catch a surf early in the morning or relax with a yoga class. Just take daily yoga classes or join a yoga retreat to learn more about the benefits of yoga. You will find plenty of options in Dominical, from rum bars to daily yoga classes.
The town of Dominical is a pleasant place to spend your day, especially for surfers. The beach is very accessible and is lined with hammocks and makeshift tents.
It is also known for its pristine, deep blue water. The surf is so good that you can swim in it year-round. The waves are very consistent in Dominical, so it is not difficult to find a good spot for a surf session.
Nature lovers will enjoy Dominical's various birds and beautiful sunsets. The town's estuary attracts a number of rare species of birds. The beach also offers the chance to observe dolphins and whales.
If you like to get wet, diving schools are located in Dominical. The local Isla del Cano is home to a variety of marine life. Dominical is an excellent beach for diving.
16. Tortuga Island
If you want to experience some of the world's best scuba diving and snorkeling conditions, you should visit the tiny island of Tortuga in Costa Rica.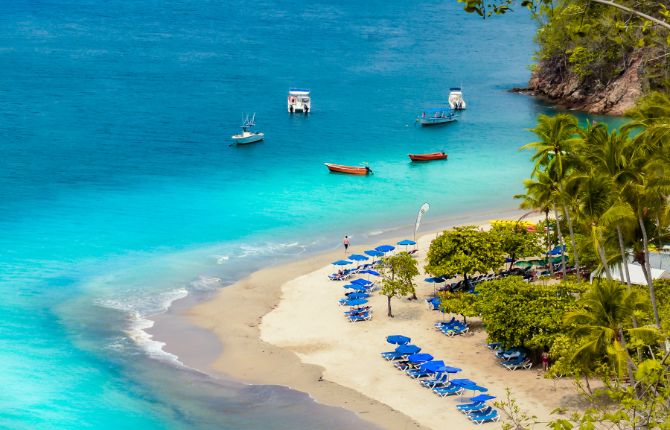 Located off the Nicoya Peninsula, the island is only accessible by boat, so tourists often take day tours from nearby Jaco and Puntarenas. The boat ride is about one and a half hours long and includes a trip to see marine life.
The island is home to the world's last population of scarlet macaws. These birds can often be seen in groups, and you'll likely see them while you're there.
Whether you're a birdwatcher or are just looking for a relaxing and secluded beach, there's plenty to do on Tortuga Island. The island is also a sanctuary for various wildlife, including capuchin monkeys, giant blue crabs, and many types of birds.
During the dry season, you'll find the water at Tortuga Island is clear and pristine. You'll see turtles nesting on the beach from May to November. During this time, the island is less crowded and more affordable.
This is the perfect time to visit if you're planning on snorkeling or diving on the island. There are plenty of different activities to choose from on Tortuga Island, so plan your trip according to your favorite activity.
During the day, you can explore the island's attractions and eat delicious local food. Some restaurants serve seafood, vegetarian delights, and Costa Rican favorites.
Besides delicious food, you can sample Costa Rican coffee and plantains. There are also vendors selling handcrafted curios and souvenirs. Depending on your budget, you can choose the cheaper option and enjoy the luxury without breaking the bank.
Address: Puntarenas, Costa Rica
17. Playa Chiquita
If you're planning a beach vacation in the Caribbean region, you should visit Playa Chiquita in Costa Rica.
Located only 5 km south of Puerto Viejo, Playa Chiquita is a hidden gem – and entirely under the radar. Access is relatively easy, as the beach is located directly adjacent to Bar/Restaurant Paradise.
You can pay $5 to park your vehicle here and enjoy some tasty food and drinks at their open-air bar. Once you've finished eating, you can simply stroll the beach under the shade of palm trees.
If you're traveling with kids, you can rent a car to explore the area. If you don't want to drive, you can take a minibus to Playa Chiquita instead. A minibus is more comfortable and will skip all the transfers and take you directly to the beach.
When visiting Playa Chiquita, don't forget to bring your snorkeling gear. The water here is transparent and shallow. Although you're unlikely to find any tropical fish in the ocean, you can still see some from the shore.
Bring a pair of goggles to see the fish in the natural pools. If you're traveling with kids, consider renting a motorized beach buggy to make the trip easier.
Address: Limon, Costa Rica
Beaches in Costa Rica
18. Esterillos Oeste
If you're a surfer, you've probably heard of Esterillos Oeste. This small beach town is the perfect destination for a day of surfing.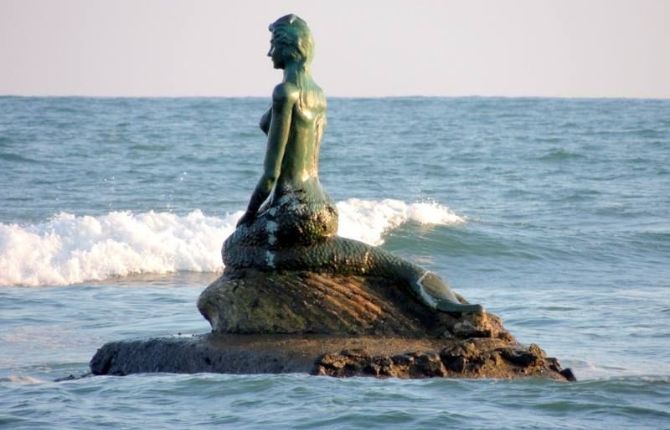 Esterillos Oeste is a little town just south of Jaco, so it isn't a crowded tourist destination, but it has a gorgeous beach and plenty of great restaurants within walking distance of the sand.
Even though Esterillos Oeste is not on everyone's itinerary, it's close enough to include as a day trip from AmaTierra.
Locals consider it the best beach in the country, and it's also a great place to go surfing if you're into that sort of thing.
The waves are a combination of beach breaks and a rock shelf.
A statue of a mermaid sits on the rocks on the north end, providing a great take-off point for surfers. During high tide, the sculpture is completely covered by the ocean, and it looks like she is bursting out of the water. just visit during low tide to take a selfie with her.
The statue was built by sculptor Albino Valverde, who hails from Puriscal in San Jose. The statue is not very well-known among the locals, but it is popular with surfers.
You'll also find plenty of activities near Esterillos Oeste. Nearby attractions include the Rainmaker Nature Reserve, a lush rainforest that is home to a waterfall and hanging bridge.
You can also explore the nearby boomin' beach town of Jaco. From here, you can visit some secluded coves and check out the local farmer's market. There's plenty of cultures to be found in this small town.
19. Beaches in Costa Rica: Playa Biesanz
Looking for a place to spend the afternoon in Costa Rica? Just check out Playa Biesanz in Costa Rica.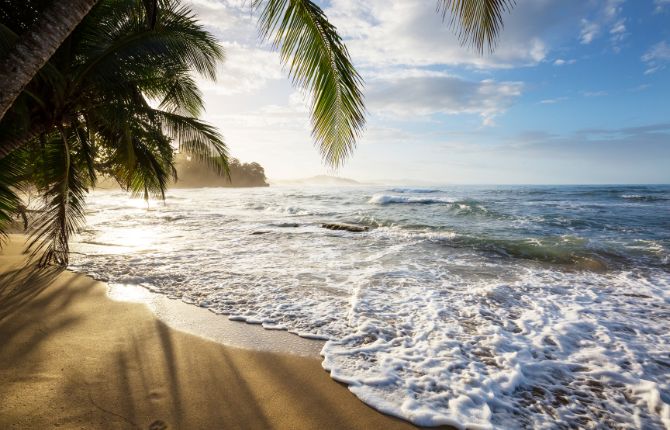 This quiet corner of Costa Rica is tucked between Manuel Antonio National Park and Quepos. And this tropical paradise has a pristine white sand beach, lush rainforest, and abundant wildlife.
You can reach the beach by following a jungle trail that begins by the side of a road by Hotel Parador. The trail winds down a steep hill that are lined with loose pebbles.
Public transportation is widely available in Costa Rica and is reliable. You can catch a public bus from the Tracopa terminal in San Jose for about $10. There are no reservations for these buses, but you should make sure to arrive at least half an hour before your departure time.
Playa Biesanz is surrounded by lush wilderness. Therefore, you can catch birds, monkeys, lizards, sloths, snakes, and much other wildlife. And visitors can experience fine white sands and crystal clear waters.
If you'd prefer a slower pace, you can take a colectivo. The ride is slower, but you'll get to see a bit more of the country as you travel.
Although Playa Biesanz is a hidden treasure, it's not the only beach in Costa Rica. Manuel Antonio National Park is nearby, and many other beaches are easily accessible by car.
A shuttle is available from the airport to Playa Biesanz. If you don't have a rental car, you can also rent one. This is a convenient and economical way to explore this wonderful region of Costa Rica.
Address: Quepos, Costa Rica
20. Beaches in Costa Rica: Playa Manzanillo
If you're thinking of going on an unforgettable Costa Rica vacation, try visiting Playa Manzanillo.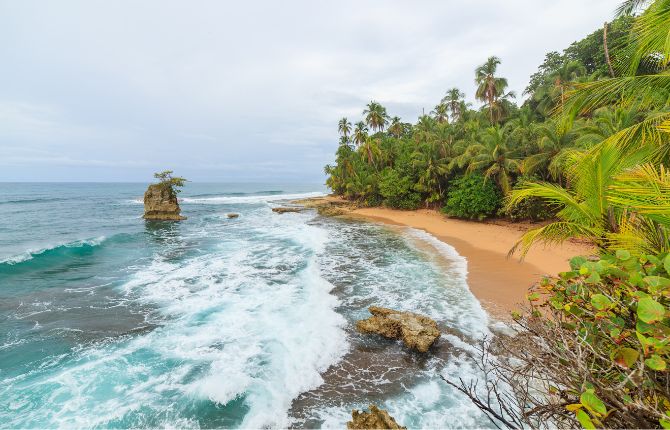 If you love to walk and enjoy nature, this coastal town is a great choice. While this place has many attractions, it's also a popular vacation spot.
You can even enjoy a romantic beach getaway by booking a villa here. Despite its small size, this beach town is packed with activities and sights.
You can enjoy the local wildlife on the beach as well. The nearby Cahuita National Park and the Gandoca-Manzanillo Wildlife Refuge are great places to observe the animals.
In addition to a number of birds, you may also spot the famous poison dart frog. If you want to see some iguanas, you may wish to make your visit to the area to the Finca La Isla Botanical Garden.
Are you looking for a tranquil beach in Costa Rica? you'll love the secluded Playa Manzanillo. The beach is surrounded by tropical palm trees, and the sand is soft and compact.
And also it is a great spot for snorkeling and is also popular with families. However, this beach remains a hidden gem in the heart of Costa Rica.
The southern Caribbean is full of native culture, and the Bribri, Kekoldi, and Cabecar tribes are among the largest. You can learn about the rich history of cocoa, learn about the healing properties of herbal plants, and get a glimpse of modern indigenous life. Many tour agencies and hotels arrange local trips with artisan fishermen.
Address: Puntarenas Province, Costa Rica
Beaches in Costa Rica
Santa Teresa Beach

Manuel Antonio Beach

Tamarindo Beach

Uvita Beach (Whale Tail Beach)

Conchal Beach

Tamarindo Beach

Samara Beach

Flamingo Beach

Montezuma Beach

Nosara Beach

Carrillo Beach

Playa Nacascolo

Playa Punta Uva

Jaco Beach

Playa Hermosa

Playa Santa Teresa

Dominical Beach

Tortuga Island

Playa Chiquita

Esterillos Oeste Beach

Playa Biesanz

Playa Manzanillo