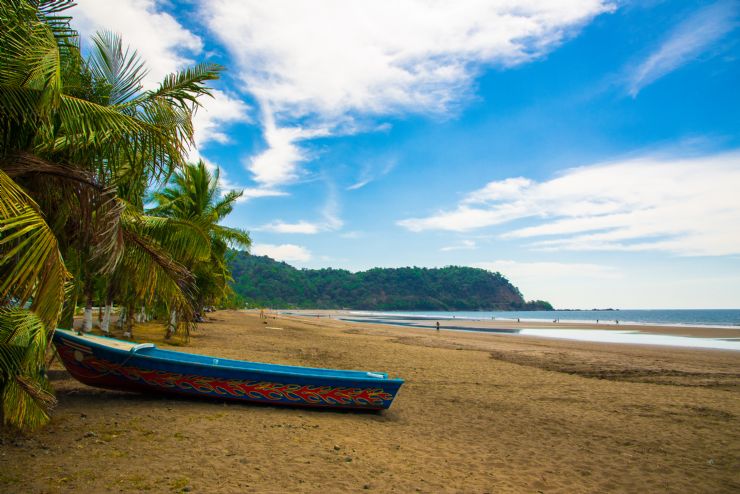 Jaco Costa Rica is a beautiful city located on the Pacific Coast of Costa Rica. And also, it is near to Costa Rica Capital San Jose. We all know that Costa Rica is located in a special location with both coastlines of the Caribbean Sea and the Pacific Ocean.
Well, Jaco offers you the chance to experience the Central Pacific coast with its stunning mountainous shorelines. On the other hand, it is famous among surfers for having the best waves. Not only that, but it is also famous for lush jungles. Ok, let's discover everything you need to know about this popular beach town Jaco, Costa Rica.
Jaco Costa Rica
What is Jaco Costa Rica Known for?
Actually, Jaco was not that famous earlier. But, currently, it is one of the most emerging beach travel destinations in Costa Rica. Surfing, beaches, nightlife, and lush jungles are the ideal words to explain about Jaco. Especially, Jaco has the advantage of the best Pacific surfing waves. Therefore, it is known among surfers as one of the best-surfing destinations in Costa Rica.
Planning to visit Hawaii?? Just read this: Things to do in North Shore Oahu, Hawaii.
Most tourists come to Costa Rica just to relax and feel the 100% natural, undisturbed nature. Then, I think Jaco has all of them within a small land area. Apart from surfing, the best beach walks, snorkeling, diving, fishing, cruising, visiting jungles, mountains, and a partying climate are the things that made Jaco so popular in Costa Rica. Also, since it is located just 1.5 hours away from Juan Santamaria International Airport (SJO), you can easily reach it.
When I wrote the article about Costa Rica Capital San Jose, I have mentioned that Jaco is the nearest major coastline (around 100 km away from San Jose) to the capital. Yes, it is another reason for the current popularity of Jaco.
Jaco Costa Rica Facts
As one of the most developed beach towns in Costa Rica, it has many boutique shops, surfside hotels, restaurants, bars, and a condo complex. Still, the layer of palm trees and the green mountainous background over the coastline offers you a jungle beach feeling.
The term "night parties" is the most frequent in Jaco after surfing. And it is famous for the adult-only night parties and activities. Currently, Costa Rica's tourism authorities promote this stunning destination as a family beach destination by excluding the most inappropriate bar party things. The newly added items are playful parks, kid-friendly food menus, beach activity centers, and many more. Since that, both locals and foreign tourists are attracting here.
Suggested Reading: Mexican Fast Food that You should Try
Jaca Costa Rica Population
There are around 13,000 residents in Jaco within 140 km².
Weather in Jaco Costa Rica
Jaco has a typical Central Pacific tropical climate with three seasons. We can name them the Dry Season (from December to April), Green Season (May to November), and Wet Season (from September to October). There's a lack of rain in the dry season, and in the wet season, the rain is frequent (8 inches monthly rainfall). But, in the green season, the rain pattern is irregular. The best thing I see in the wet season of Costa Rica is the best sunset views.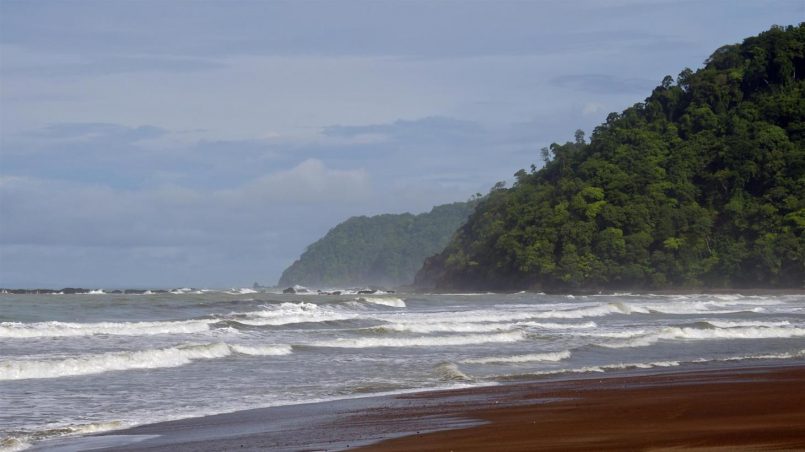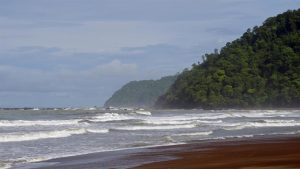 And since Jaco is located near the coastline, it has high relative humidity (especially in June). Even the temperature is also high and varies between 24ºC to 32ºC in the day time. But at night, it stays around 24ºC to 26°C.
So, I recommend you visit Jaco in the dry season as the best time to visit there. That means from late December to early April. Then, the temperature high with bright sunny days, and the humidity is low. They call it summer. Exactly at this time period, North America is experiencing the wintertime. So, Costa Rica is the best option for them to escape from their winter climate. (Jaco Costa Rica)
Is Jaco Costa Rica Safe?
According to my personal experience, Jaco is a very safe place to travel in Costa Rica. And also, the whole of Costa Rica is a safe place to travel. Even in most of the travelers' reviews, they have mentioned that Jaco is a safe place and had no problem while touring around.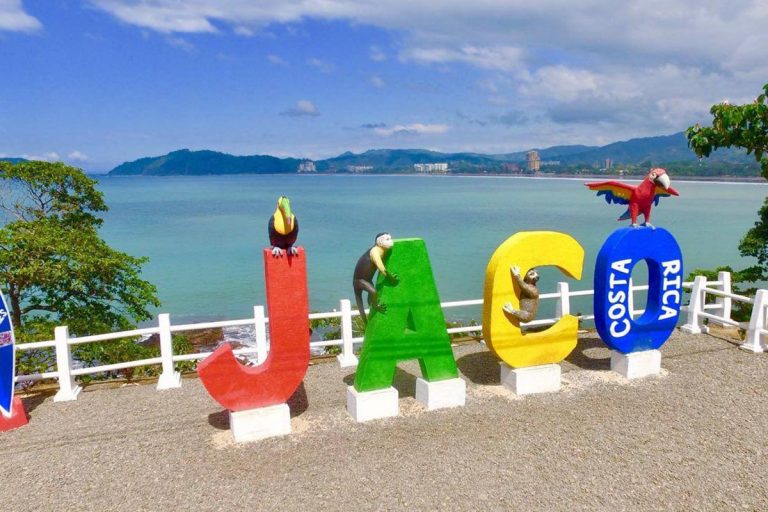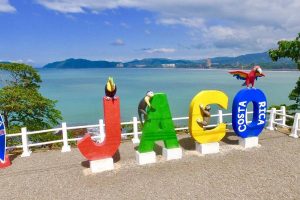 But, every traveler who is coming to Costa Rica concerns more about safety. Because they may surely have heard a lot about crimes and violence in every Central American country. But, trust me, this one is different from all the adjacents. Costa Rica neither had any war in its whole history nor the present. So obviously, the country doesn't have an army. But don't worry, they have a good security system. Also, there's a tourists police service all over the country to protect the tourists from any danger. (Jaco Costa Rica)
If I tell you a summary of the usual crimes in Costa Rica, petty thefts are the most frequent ones. But, serious crimes like armed robberies are less frequent. However, you must always concern some general precautions or safety tips to avoid them while you are anywhere in Costa Rica.
Safety Tips
When you are renting a car, always be careful since they are mostly targets of thieves. Check all the conditions of the vehicle, even the tires. For example: sometimes they put nails in tires and let you drive a short distance, and attack you once the vehicle stops. And also, do not leave any valuable items inside the vehicle when you travel around.
It is definitely not a healthy sign to carry valuable things when you travel around Jaco, Costa Rica. Wallets, jewelry, watches, credit cards, passports, phones, and tabs like tech items. Also, when you are using public transport, be alert on your valuable items. A special fact is, when you are using taxi services in Costa Rica, always use only official taxis that are authorized by the government. And the easiest way to identify them is, the taxis are in totally red or orange color with airport taxi symbol and yellow triangular medallion on the doors. (Jaco Costa Rica)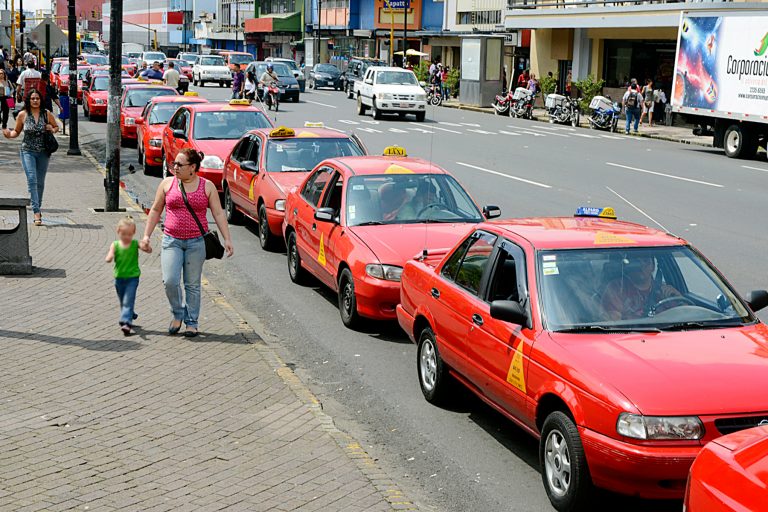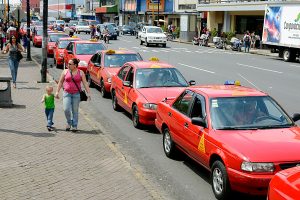 The next thing you should keep in mind, especially when you are hanging out on Jaco beach, is not to leave your bags on the beach. Whether you are going on swimming, diving, cruising, surfing, walking, or whatever, do not leave the things alone. Because thieves are everywhere, so bring only what you essentially need.
When you travel in the night time, always hire a known taxi or authorizes a taxi. Do not go for randoms.
Please click this link to know the emergency numbers in Jaco, Costa Rica, in any emergency.
Suggested Reading: Great Blue Hole in Belize
Is Jaco, Costa Rica Expensive?
Well, a little bit. Here're the expenses that I spent in Jaco Costa Rica. The minimum daily cost will be around $70 per person. So, for one week, it will be around $490 per person. You can have sufficient meals for the whole day for around $14 there. Even alcohol is cheaper here. And a hotel room for a one-person will charge around $45 per day. (Tip: always use Costa Rican currency, Costa Rican Colon)
Is Jaco Costa Rica Worth Visiting?
Of course. It is totally worth visiting Jaco in Costa Rica. Keep reading the article to know the things to do in Jaco, Costa Rica. Then, you will realize the value of visiting there. Now, I will tell you how to reach Jaco from San Jose. Well, you have three options. They are taking a bus, shuttle, or drive yourself.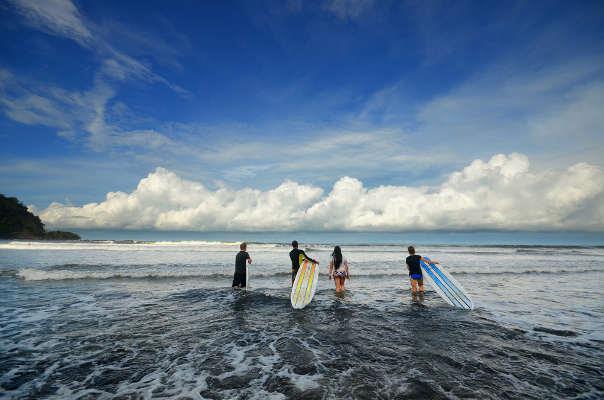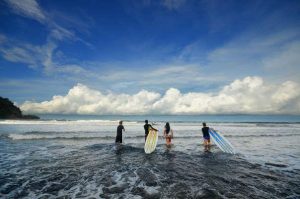 After landing at SJO International Airport, you have to catch a bus from 7-10 bus station in downtown San Jose. As you know, it will take around 1.5 to 2 hours and charge around $5.
If you are going in a shuttle, you can choose either a private one or a shared one. A shared shuttle will be around $50 per person, while a private shuttle will cost around $150.
If your choice is to drive to Jaco, then first you should take Route 27 and exit to Route 34 at Jaco exit. The tolls are always under $2. Always keep Costa Rican colon for that payments.
Once you reach there, you can travel around Jaco by walking, bike riding, by taxi, or whatever. Since the area is tiny and you can even walk from one end to another end within 20 minutes. (Jaco Costa Rica)
What to do in Jaco, Costa Rica
The surfing mecca of Costa Rica, Jaco has the best surfing spots. But, it has a lot more than surfing in this little Central Pacific Coastal Town. Let's discover all of them.
Waterfall Tour in Jaco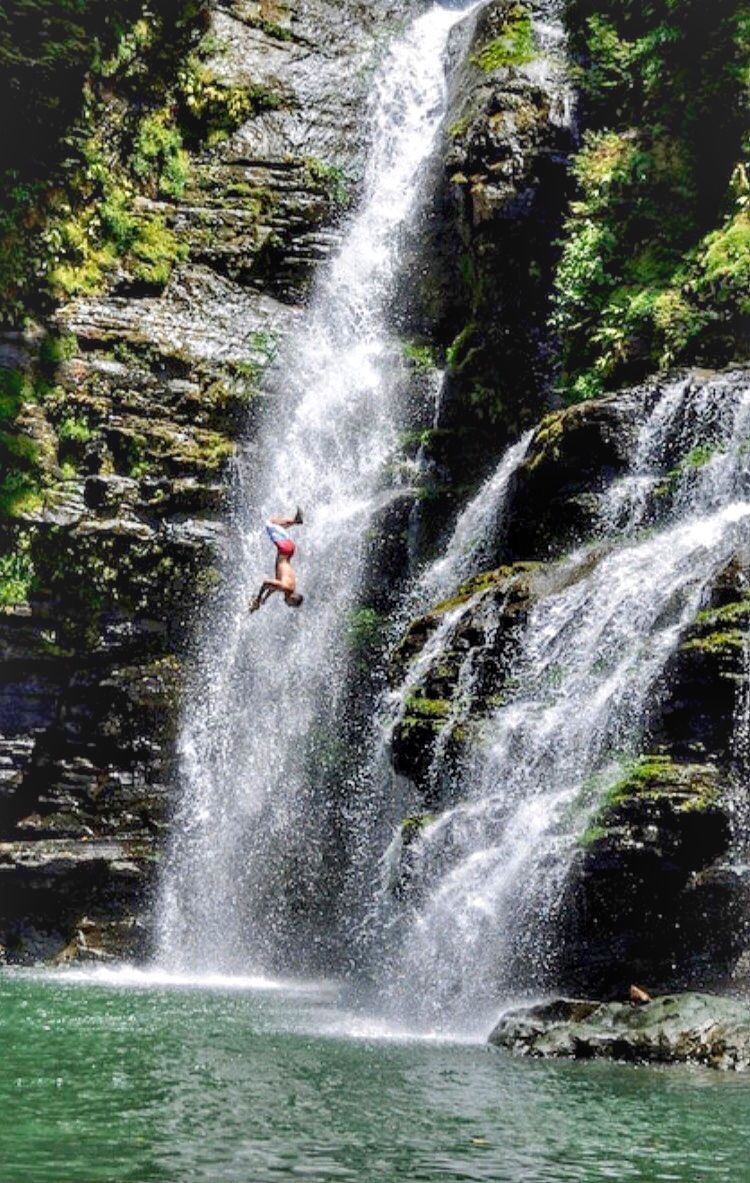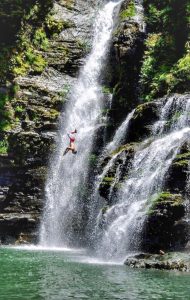 Since I love waterfalls in Costa Rica, I put it on the top of the list. There are incredible tour packages that start from Jaco into the nearby rainforests. For example, Costa Rica Waterfall Tours offers you a great tour guide to discover the hidden waterfalls inside the lush jungles near Jaco. Actually, their office is located in Jaco. So, you can join them easily. Those tours include full adventure experiences with hikes through mountains in rainforests. So, do not miss it.
Specially Catarata Bijagual Waterfall is the most spectacular one near Jaco.
Nauyaca Waterfall is also another stunner located near Jaco. And this is also one of the most beautiful waterfalls in Costa Rica. As a bonus, you get a hike of 4 km through an adventurous jungle. Finally, you will reach a stunning fall with a natural pool at its bottom. Just take one hour and 45 minutes of ride from Jaco to reach here. Trust me; it totally worths it. (Jaco Costa Rica)
Jaco Beach Costa Rica
The grey sand Jaco beach in Costa Rica is all about this small city. The background of the beach decors with lush mountains, forests, and palm trees. The best time to watch its beauty is sunset time. And I suggest you have a cocktail while watching the sunset. Also, the following beaches nearby Jaco are specified for different activities. Let's discover all of them.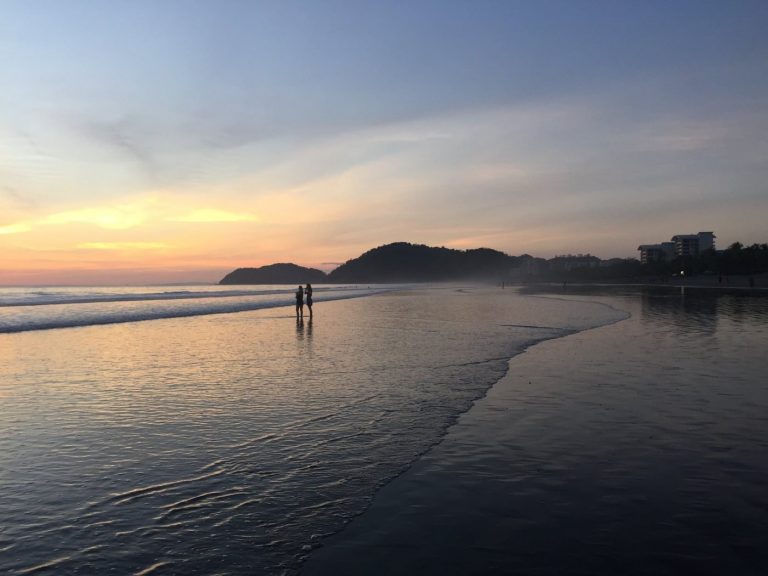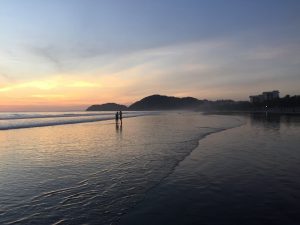 Playa Herradura
Playa Herradura is located just 5 miles away to the north side of Jaco Costa Rica. It is an ideal beach for family activities. There's a playground for kids, and even the waves are calm and soft. So, you can swim with your family. Not only that, but also all the facilities like parking, restaurants, and enjoyable items are available on this beach. (Jaco Costa Rica)
Playa Hermosa
And locating on the south side of Jaco, Playa Hermosa is just 5 miles away. It is a very famous surfing beach in the world. If you are not a beginner, then Hermosa is the beach for you in Jaco. Here, the waves are a little rough compared with Jaco Beach. The beach is 4 miles long, and it is free from urban development items. So, it is almost secluded where you can enjoy your surf or walk freely. (Jaco Costa Rica)
Playa Blanca and Playa Mantas
Playa Blanca and Playa Mantas are also nice beaches near Jaco Costa Rica. These beaches are famous among locals and not attracted by tourists. The reason behind that is, the exact location is not mentioned on the maps. But, it is not difficult to find. Once you reach Playa Herradura, these beaches are located on the north side of it. (Jaco Costa Rica)
Just Drive to the north from Herradura on the Costanera Highway and turn left before you pass the Hotel Punta Leona. You must drive on alert to find this small narrow road. Then just turn into it and drive to the end. Now you will see Playa Mantas. It is a stunningly viewing beach with grey sand.
But, Playa Blanca is a pure white sand beach. The thing is that you can enter this beach only at lower tides. Just keep walking to the south side from Playa Mantas by crossing some rocks. Then, you will find a point to enter this stunning beach. (Jaco Costa Rica)
I must say that this is one of the clearest, beautiful and white sand beaches in whole Costa Rica. So, do not miss it. But, my tip is to visit as early as possible in the morning. Because most of the locals attract here, do not expect any facility on this beach. So, bring whatever you need.
Suggested Reading: Black Sand Beaches on the Big Island Hawaii
Playa Esterillos Oeste
Playa Esterillo Oeste is a stunning secluded beach near Jaco. When you keep riding to the south side of Playa Hermosa for around 9 miles, you will find this beach. It has nice waves, surfing, and a swimming climate with calm surroundings.
Surfing in Jaco
As I mentioned throughout the article, surfing is the most popular thing to do here. Since there are long, consistent waves, Jaco is even ideal for beginners. On the other hand, there are surf training sessions as well. If you are a complete beginner, first follow a training session for sure. I highly recommend a surfing camp like Surfer Factory on the Jaco beach.  They charge around $50 per person for a 2 hours training session. (Jaco Costa Rica)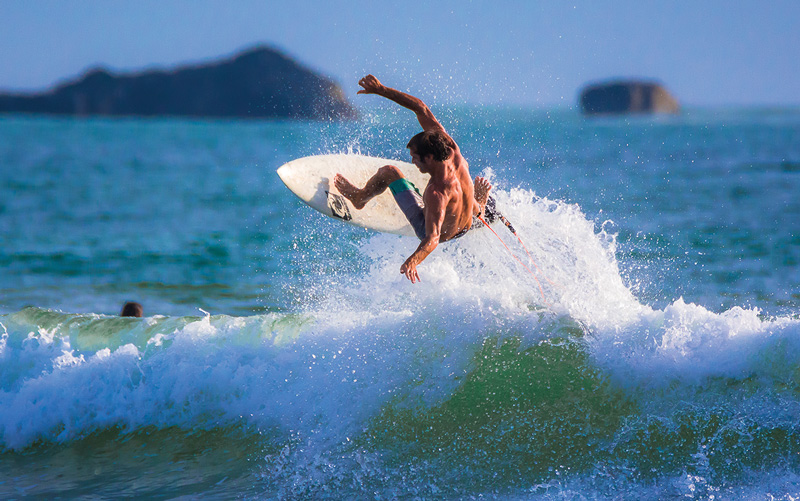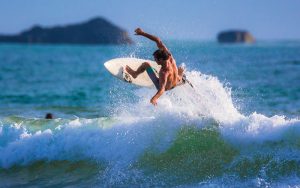 You can also try SUP (Stand up paddle boarding) since it is currently one of Jaco's most emerging activities. If you are not interested in surfing, just try this one. Not only Jaco but also Playa Mantas and Playa Blanca are also the ideal beaches to do this.
Kayaking or Canoeing with Snorkeling and Scuba Diving in Jaco
Jaco is one of the best places for kayaking in the Pacific Ocean. And also, Hawaiian style outriggers are there for you for canoeing in Jaco. Not only that, but you can also combine the above two activities with fishing, snorkeling, and scuba diving as well.
The underwater world in Jaco is just awesome with a lot of tropical marine lives. Soft corals, pelagic fish, and blowfish are some examples.
You can also plan for a cruise to Tortuga Island from Jaco to view plenty of sea turtles and dolphins. Then, you will need a whole day for sure. It is a white sand beach with lots of fun activities. (Jaco Costa Rica)
Fishing in Jaco
There are incredible sportfishing opportunities in Jaco Costa Rica. The reason behind that is, the sea area near Jaco is world-famous for catching dorado, tuna, billfish, and wahoo like big ones. There are so many fishing charters that take you for full-day or half-day fishing tours with guidance. They also take you for deep sea fishing as well. However, if you are planning for fishing in Jaco, just plan it from December to April since it is the peak season. (Jaco Costa Rica)
Visit Carara National Park
As I've always mentioned, there are lush jungles in Jaco. You just have to take a short ride (around 22km) to Jaco's north side to reach Carara National Park. It is a supernatural forest with a different kind of fauna and flora. Especially, it is famous for a variety of bird species and easy hiking trails.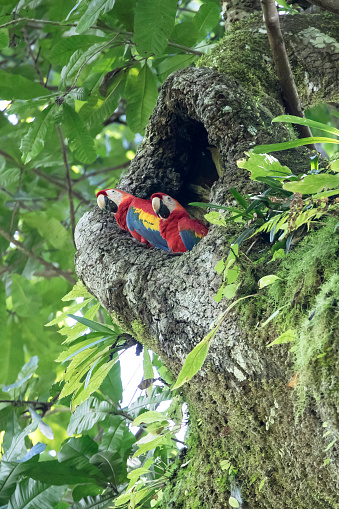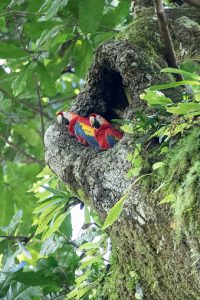 Carara is considered the best bird-watching destination in the country since nearly 400 bird species live. And also, it is not difficult to catch them to your eyes. Because the land area is not so big (12,953 acres), and the birds are frequent. And the biologists call this area a transition zone since it is located in a place where tropical dry forest climate meets a tropical rainforest climate. Therefore, the fauna and flora variation is high.
If you want to identify every species and the features, just hire a guided tour for less than $100 per person. (Jaco Costa Rica)
Suggested Reading: Puerto Rico Rainforest El Yunque
Hiking Mount Miros
Mount Miros is a place that you must when you come to Jaco. But, this is a kind of secret place where most of the tourists do not know much. And there's around 3 km to the whole hike. While you reach the top, you will get different views of Jaco Beach and Playa Hermosa. On the way, you will also see different animal species like lizards, birds, and monkeys. So, the trail is full of adventure and fun.
Horseback Riding, Ziplining, ATV Tours, and Canyoning
Are you an adventure traveler? Ok. Then, Jaco offers you many wild, adventurous things like ziplining, canyoning, and horseback riding. For example, Ocean Ranch Park in Jaco offers you the chance to do all of these things in one place. Do not worry about the security as they offer these packages for a long time, and no accidents were recorded.
Jaco has mountains with muddy trails. Most of them are so muddy, and even you cannot walk. So, make a different move with an ATV (All-terrain vehicle) Tour. Jaco has some of the best ATV providers in the country, like Ocean Ranch Park.
Do not worry about the security as they offer these packages for a long time, and no accidents were recorded. (Jaco Costa Rica)
Suggested Reading: Best Hikes in Utah
Jaco Costa Rica Night Life
Well, Jaco has all the features ideal for night parties. So, there is a lot of things to do at night in Jaco Costa Rica. Like gambling, entertain at bars, eat Costa Rican foods, and walk along the beach at night.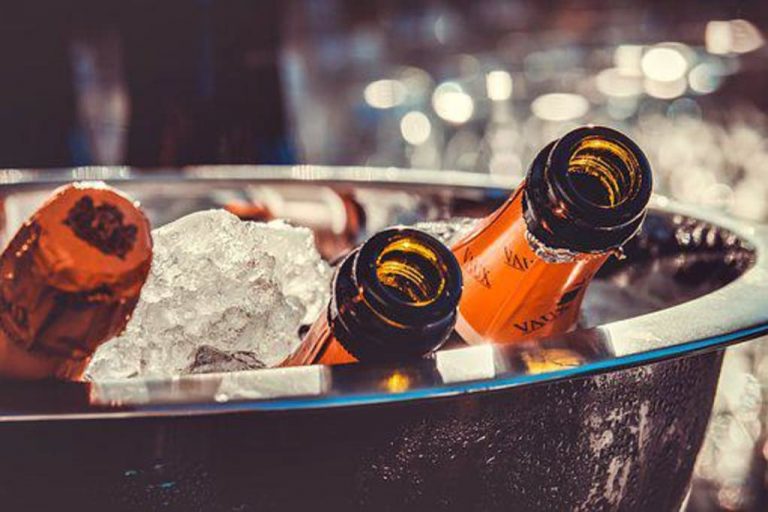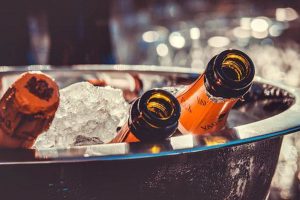 Las Vegas-style gambling bars are there in Jaco. For example, Croc's Casino Hotel. Even the food is delicious. So, most of the players are attracted to here.
On the other hand, there are so many bars and clubs that you can have drinks and entertainment.
Do not miss having a delicious dinner in Costa Rica in a restaurant like Lemon Zest as they offer the best Costa Rican foods ever.
The next best thing to do at night in Jaco is walking along the beach. It is a little bit scary since there are thieves and dangerous people. So, do not try this alone. (Jaco Costa Rica)
Jaco, Costa Rica Map
Jaco is situated in a wide cove with rocky mountain points on each end. Since it is in the middle of several mountains, you can see green rolling hills overs the beach. And in the case of the coastal edges, on the north side, you can see Herradura Bay, and on the south, it is bordered with Playa Hermosa on the south side. Within around 50 km of distance, you can find national parks, ecotourism parks, and rainforests.
The administrative division or the canton of Jaco is Garabito in Puntarenas Province.
As I mentioned earlier, Jaco is just 100 km away from San Jose, and you can reach it via Route 34. And if you are directly coming from the SJO Airport then, take Route 34 or Route 27.
Jaco Costa Rica Hotels
Looking for the best hotels in Jaco Costa Rica?? Just search here. 


Did you enjoy the video? Just pin it for later.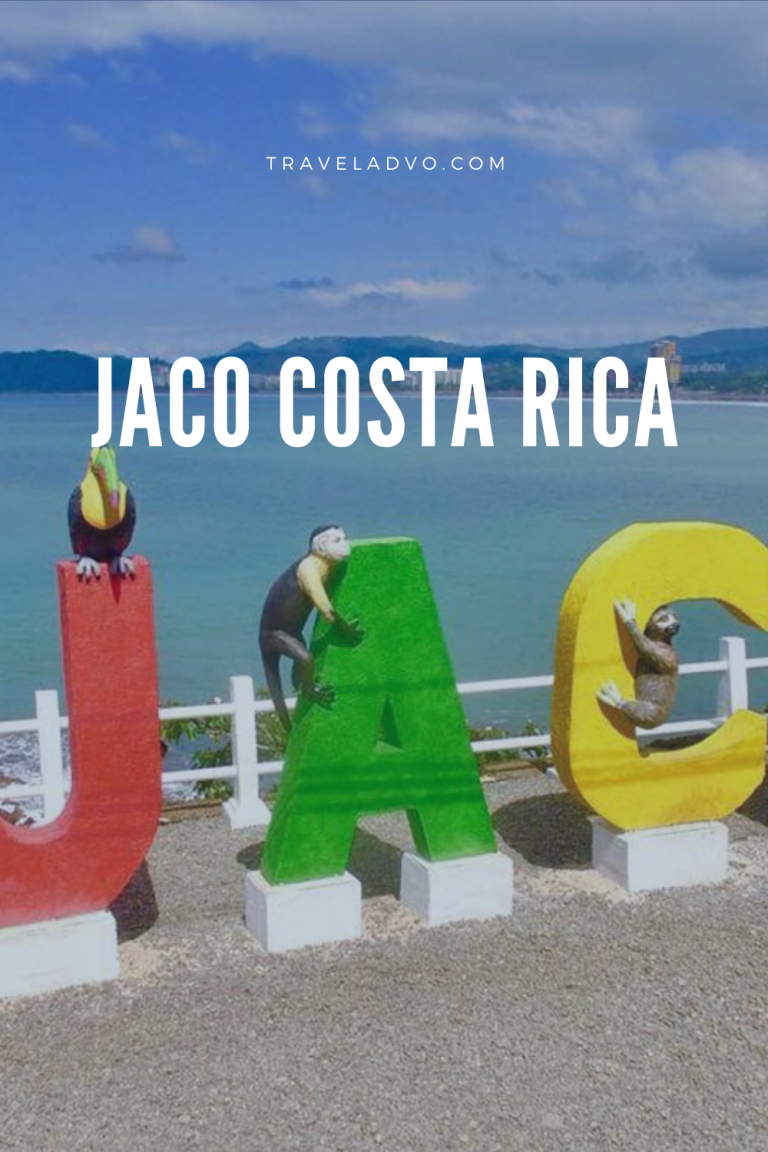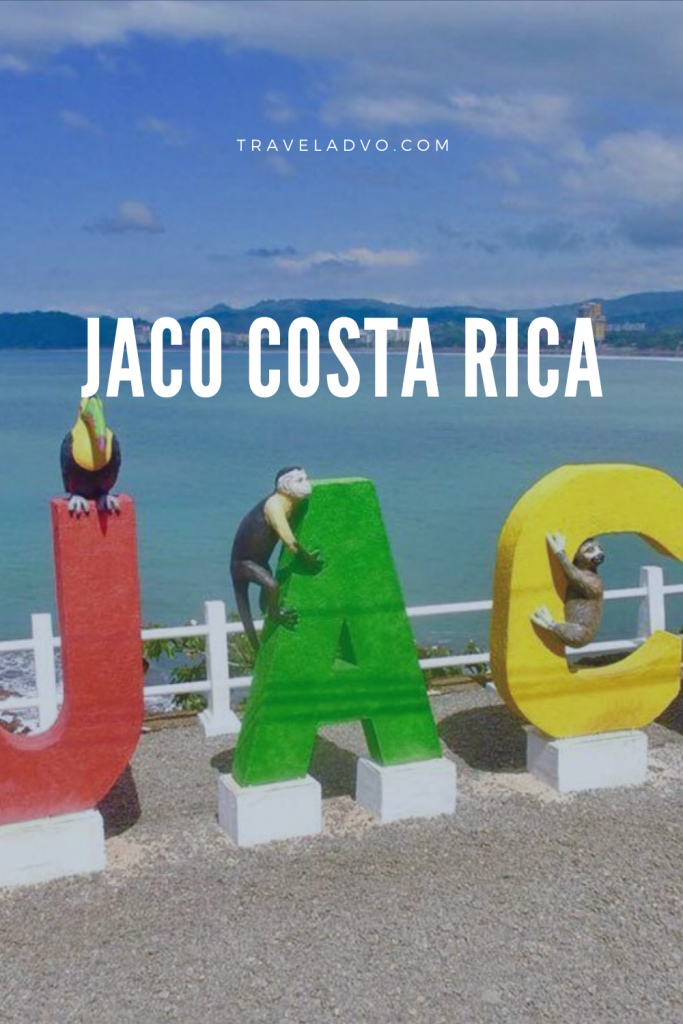 Watch this video