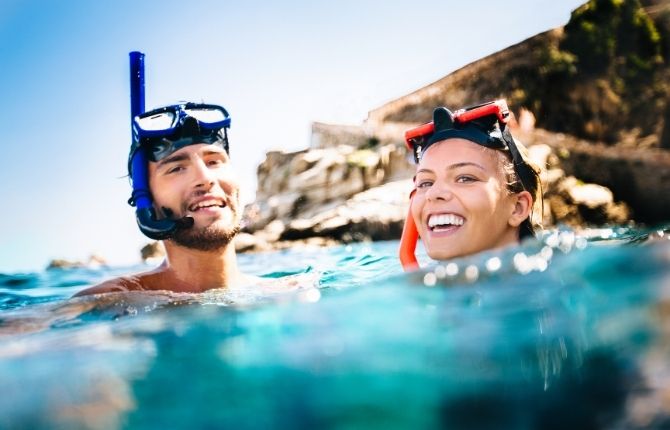 Looking for the best beaches in Spain?? Here's the list with all the travel information that you need to plan a family tour.
Spain is a beautiful country that features beautiful weather, diverse culture, and most importantly attractive beaches. It has more than 3,000 miles of coastline along the Atlantic and Mediterranean Oceans.
Some of the most popular beaches in Spain include beautiful beaches like La Concha, Tossa de Mar, Bogatell Beach, and Canary Island beaches.
Let's discover the complete list of the best and most fun beaches in Spain. Just check the list and add them to your bucket list.
1. Beaches in Spain: La Concha Beach, Donostia-San Sebastian
The city of San Sebastián is located in the Bay of La Concha and it features the beautiful crescent-shaped beach, La Concha.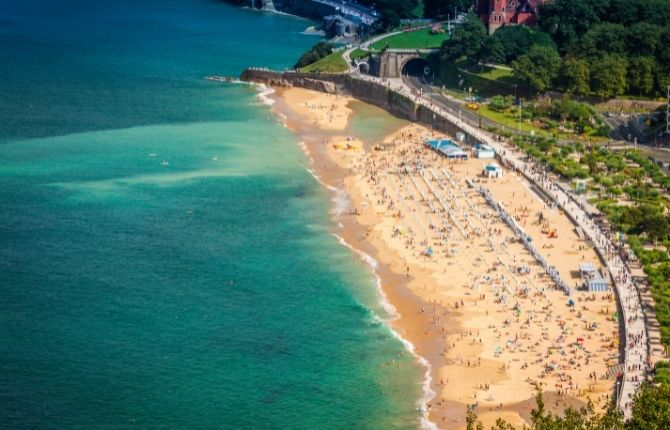 This beach town is not crowded, so you can spend a relaxing vacation with your family. Moreover, it's one of the safest places to stay in Spain, especially during the night.
Regardless of your budget, you'll find a comfortable place to stay at La Concha.
You'll also have plenty of time to relax. The beautiful La Concha beachfront offers an excellent terrace with around 40 shaded seating in the summer, and 40 heated seats in the winter.
You can visit the beach for dinner on Wednesday, Saturday, or Sunday, and enjoy a relaxing afternoon at one of the most beautiful beaches in Europe. The town is also home to a magnificent sculpture, Comb of the Wind, and Mount Urgull. So, you can visit them too.
This crescent-shaped urban seaboard is located in the Basque Country and is located in San Sebastián. Because of its regular shape, the beach earned its name.
Moreover, it has an excellent climate and it is also a popular tourist destination for many Spanish tourists. You can enjoy your vacation on this beach in any season!
If you are a beach lover, then you will love the golden sand at the La Concha beach. As the beach is located between forested mountains, you can enjoy a calm time here and enjoy the gentle waves.
During your vacation in Spain, don't miss out on the local festivals! You will be surprised by the cultural experience that awaits you at La Concha.
You can book affordable vacation villas in the La Concha area. The beach is popular with families, so you can easily find a family-friendly villa to rent. If you're traveling with young children, the wide shore is perfect for playing.
In addition, there are playgrounds and even a small amusement park. If you're traveling with a large family, La Concha Beach in Spain might be a perfect choice.
Address: La Concha Beach, Sebastian, Guipuzcoa 20007, Spain    
Recommended Hotel Near La Concha Beach: Hotel Maria Cristina, a Luxury Collection Hotel, San Sebastian
Beaches in Spain
2. Beaches in Spain: Tossa de Mar, Costa Brava
If you're thinking of going on a beach vacation in Catalonia, you've probably thought of Tossa de Mar.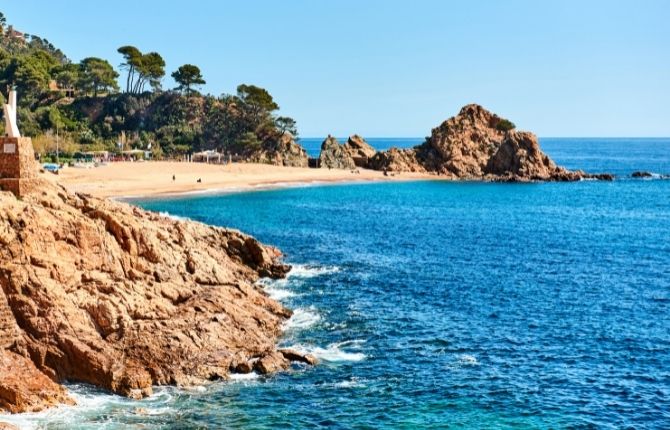 It's located on the coastal Costa Brava, about 100 kilometers north of Barcelona and about 103 kilometers from the French border.
The nearest airport is Girona, a major hub that serves the entire region. Once you've made the trip, you'll want to check out the many attractions that Tossa de Mar has to offer.
The town center is lively and bustling and offers a warm welcome to visitors. If you can drag yourself away from the golden beaches, the town center is a great place to enjoy the lively atmosphere and friendly locals.
Tossa de Mar is a thriving holiday destination and has all the amenities a beach-goer could need. In 1989, it declared itself a bullfighting-free zone.
Tossa de Mar boasts some internationally renowned beaches. These include Gran beach, which stretches 400 meters, and Mar Menuda beach, which is slightly smaller and more secluded.
You can visit both for a perfect beach day. The town has plenty of other amenities for a relaxing stay, including an amusement park and restaurants.
Tossa de Mar has a rich history, with an ancient population dating back to at least four thousand years before Christ. Prehistoric remains can be found in Tossa de Mar, including dolmens and menhirs.
The town's history only really became relevant in Roman times. It was known as Turissia by the Iberians. As a result, Tossa de Mar still has plenty of interesting Roman remains, including a church. So, you can visit them too.
Beaches in Spain
3. Beaches in Spain: Bogatell Beach, Barcelona
If you're looking for a family-friendly beach in Barcelona, a trip to Bogatell Beach may be in order.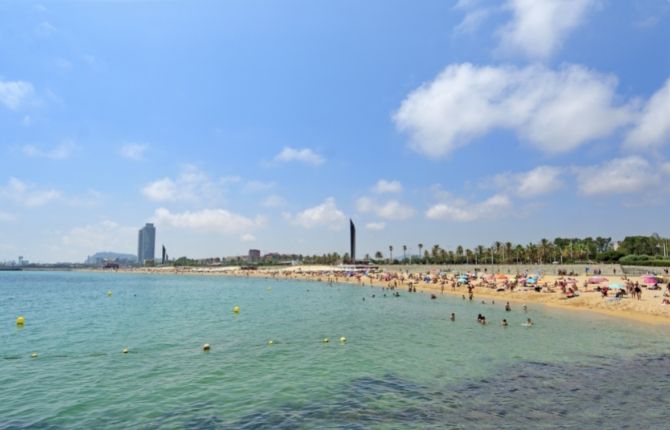 This Blue Flag beach is located between the popular Nova Icaria and Mar Bella beaches, and it caters to a slightly older crowd.
The beach's wide shoreline and volleyball courts make it a perfect place for children and families to hang out, and there are many water sports on offer.
There are two popular beaches to choose from in Barcelona: Forum Beach and Bogatell. The Forum Beach is 375 meters long and 30 meters wide, and it is a popular spot for families with small children.
Bogatell Beach is quieter and less crowded than its sister beaches in central Barcelona. It is also about a 20-minute walk from the Bogatell metro station. And because of the beach's central location, it's often the best option for families with young children.
During the summer, the beach is open daily, and lifeguards are on duty. The latter is only present on weekends, so make sure to book a spot well in advance. You'll find restrooms, changing rooms, and water ski facilities here, but they don't have the sandy beach that Bogatell offers.
Another beach in Barcelona is Nova Icaria, which is a popular spot for watersports. There are several watersports available at this beach, and the nearby Icaria shopping center features a large English-language cinema.
Recommended Hotel Near Bogatell Beach: W Barcelona  
Beaches in Spain
4. Es Pujols Beach, Formentera
If you're looking for a small, social beach on the island of Formentera, then Es Pujols is the place for you.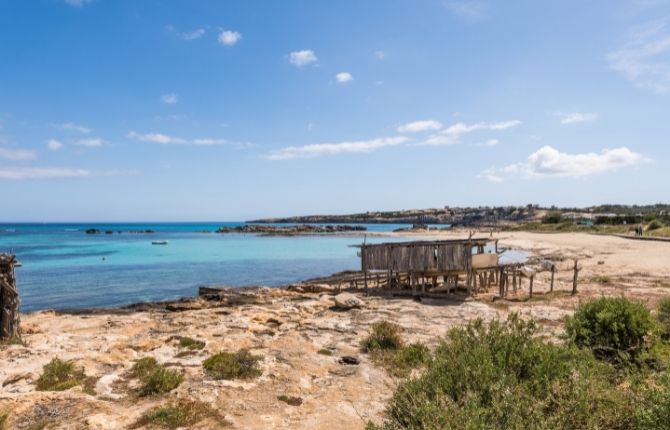 This beach is littered with Chiringuitos and sun loungers and is backed by dunes and shrubs. The sand is white and the water is crystal-clear. After sundown, this area heats up and becomes a bustling hub of activity. So, it is perfect for swimming.
There are numerous restaurants and bars in Es Pujols. This beach is near many local attractions, including shopping centers and restaurants. Also, there are all beach rentals.
Shopping in Es Pujols is another must-do while on Formentera. This town is full of small shops with local souvenirs, hippy market stalls, and cafes.
You'll find a range of souvenirs, from local crafts to traditional handicrafts. A charming pedestrian promenade separates the town's urban nucleus from the beach. While there are many places to eat, the town also hosts a popular hippy market every afternoon.
Es Pujols also has great nightlife, with a wide selection of bars, restaurants, and pubs. The town also has a wide range of accommodation options, so you can enjoy everything you want to do in your spare time.
Address: Balearic Islands, Spain    
Beaches in Spain
5. Playa de la Victoria, Cádiz
If you're looking for a place to relax and unwind, Playa de la Victoria in Cadiz is a good choice.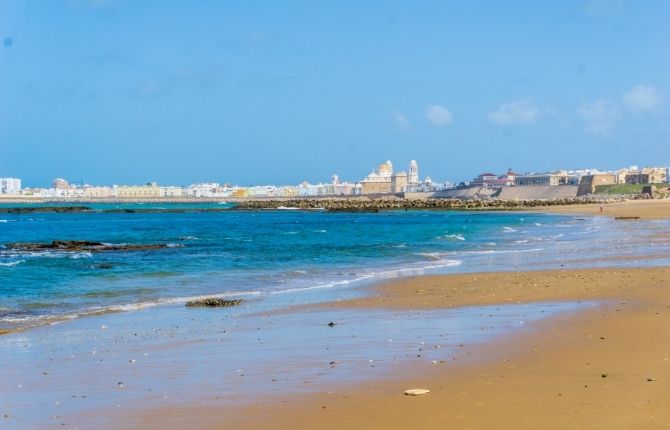 Its sandy shores stretch for nearly 3km and boast a lively promenade with lots of facilities. And if you're looking to party, there are several clubs and bars along the beachfront promenade, so you can enjoy yourself to the fullest.
The best beach in Cadiz is the popular Playa de la Victoria. Located in the new part of the city, this beautiful beach features an expansive promenade with stalls and restaurants.
You can relax here by the ocean or jog on the wide beach. The promenade provides easy access to public facilities, like showers. Playa de la Victoria is also wide enough to allow you to play a variety of water sports.
Cadiz's beaches are well worth the visit. Victoria Beach is one of the most beautiful and peaceful. It is separated from the road by sand dunes and is popular with naturists.
Occidental Cadiz is in a new part of town, around 15 minutes' walk from the historic center. A converted convent, the Hotel Convento Cadiz, is an excellent choice for those looking for a unique stay. The hotel boasts a beautiful interior courtyard. And it is conveniently located near the cathedral and the streets of the old city.
Another great beach in Cadiz is Playa de la Cortadura. This beach is often offered as a shore excursion by cruise lines.
Located just 6 km south of the city, Playa de la Cortadura is a great place to spend a day relaxing on the beach. There are lots of facilities and restaurants around the beach for your convenience, as well as toilets and bars.
Address: Jerez de la Frontera, Cadiz 11406, Spain        
6. Playa del Ingles, Canary Islands
If you want to experience the sun, sand, and surf on the Canary Islands, you must visit the city of Maspalomas and the beach resort of Playa del Ingles.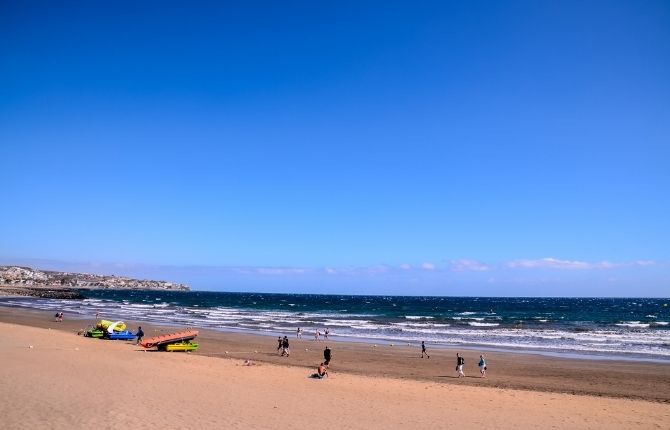 Located on the southern coast of Gran Canaria, this is a popular destination for holidaymakers.
The nightlife in Playa del Ingles is legendary, and the town's beach promenade and Yumbo shopping complex attract gay and lesbian tourists too.
The Yumbo shopping center has a plethora of shops and restaurants, and the town's largest gay pride festival is held in May.
Another popular attraction in Playa del Ingles is the sand dunes. This mini-Sahara has camel rides, hammocks, and other amenities.
It also has a Blue Flag, ensuring that it is a safe, clean beach. The dunes are an ideal place to enjoy a romantic sunset. You can even swim with dolphins and watch the sunset at this beautiful beach.
While on holiday, you should try to enjoy the beautiful beaches in the area. Gran Canaria is home to many beaches, including Playa del Ingles. Located in southern Gran Canaria, Playa del Ingles is a popular destination for European holidaymakers.
The area used to be a vast expanse of farmland, primarily used for growing wheat and later tomatoes.
Beaches in Spain
7. Playa Las Arenas, Puntarenas
Puntarenas is known for its beautiful beaches and the town itself is a shopper's paradise.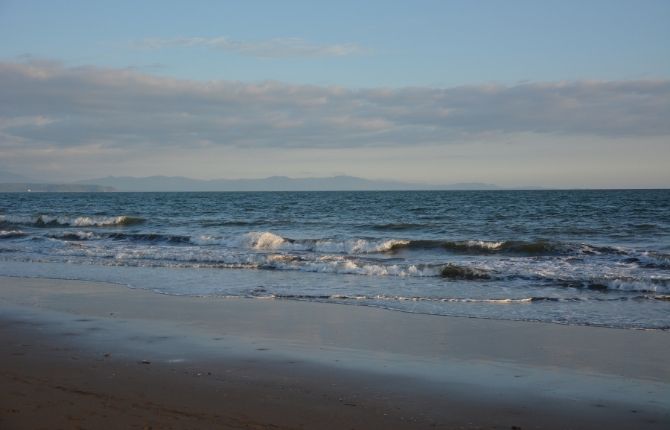 There are many good hotels in Puntarenas, but the best ones are a few kilometers away from the main beach. The Puerto Azul Marino and Resort, Michael's Surfside Hotel, and Cabinas Madeleine are all excellent choices.
Puntarenas is also home to the local football team. The stadium is called Estadio Migue "Lito" Perez.
The town has several beaches that are great for swimming. The main beach, Playa Puntarenas, has excellent shoreline and sunset views. The town is home to the Puntarenas Futbol Club S.A.D., which was founded in 2004.
Playa Dona Ana beach is a more extreme option and is popular among thrill-seekers. On the southern end of Puntarenas, you'll find the Capitan Moreno's nightclub, known for its huge dance floor.
The Provincia de Puntarenas has many recognizable breaks. Some of the best are located in the north of the province. During the dry season, there are more people than waves.
However, if you'd like to experience some serenity, you should take the time to explore the region's many art galleries. This region also has several pottery shops, so you can try your hand at ceramics.
As a tourist destination, Puntarenas is also a perfect place to retire for many baby boomers. With its tropical climate, sandy beaches, and blue Pacific waters, it's no surprise that many retirees and baby boomers are choosing this area as a second home.
In addition to retirees, Puntarenas' housing options are relatively affordable compared to other major cities. In comparison to other major cities, the cost of renting or buying a second home in Puntarenas is about half the price of buying a vacation home in Cancun.
Address: Valencia, Puntarenas 60101, Spain               Phone: +34 961-530-229  
Recommended Hotel Near Playa Las Arenas: Las Arenas Balneario Resort
8. Cala Mesquida, Mallorca
If you are looking for a beach holiday with your family in Mallorca, Cala Mesquida is a great choice.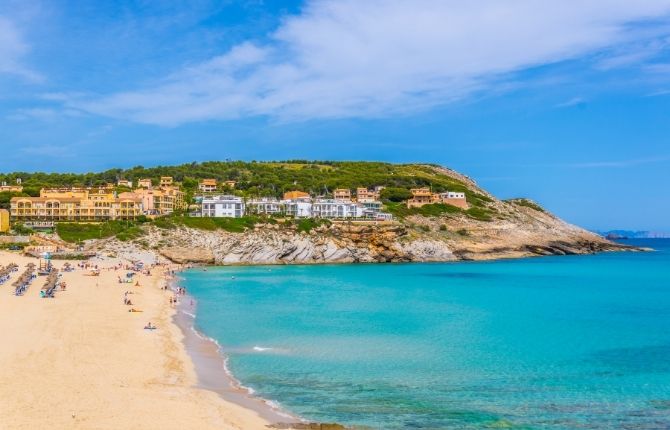 This long, sandy beach is lined with facilities for an exciting day at the beach. A beach bar and kiosk provide refreshments while you relax on the sand.
The diving school nearby offers speedboat trips. There are also hotels and restaurants nearby, including a small supermarket. While there are no facilities for changing clothes, you can rent a paddleboat and snorkel.
The picturesque resort of Cala Mesquida in Mallorca is an oasis of white sand surrounded by turquoise waters. This beach is particularly popular with photographers as it offers excellent photo opportunities.
A 350-meter-long stretch of fine sand and crystal-clear water makes for a perfect family day in Cala Mesquida. The small, picturesque town of Capdepera is located close to the town.
Although Cala Mesquida is not a particularly safe beach for children, it is a great place for a swim. The beach slopes gently into the sea. A strong current can make it unsafe for small children, and boats rarely anchor here.
This is another reason why you should be prepared to hire a kayak to get to the beach.
The natural beauty of this place is reflected in the number of surfers that hang tenaciously off the shore.
Surrounded by nature, Cala Mesquida is a beautiful beach with beautiful sand dunes. The area has several hotels. Most tourists come here to spend family holidays.
Families can enjoy the sun, and the shoreline is largely sandy. Cala Mesquida has a car park located only 100 meters away from the beach, and parking is often difficult. Since it is a popular spot for swimming and surfing there are beach equipment rentals (boats, kayaks, surfboards, paddleboards, etc).
Address: 07589 Capdepera, Balearic Islands, Spain    
9. Playa de La Ribera, Barcelona
If you're looking for a beach that's both historical and beautiful, Playa de La Ribera is the place for you.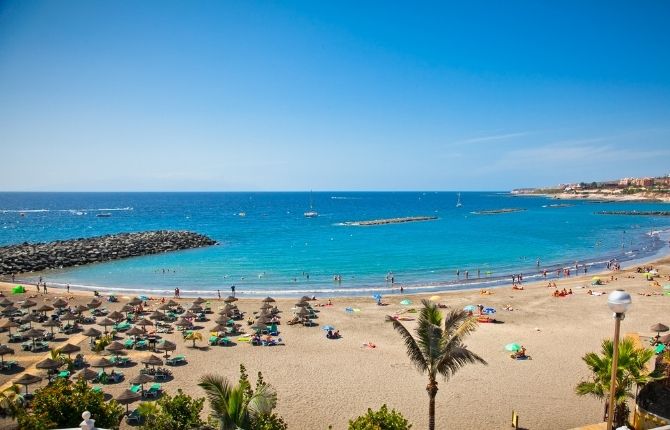 With its medieval streets, famous shops, and beach area, this neighborhood represents the ancient wealth of the borough.
Whether you're looking for a romantic setting, a relaxing beach, or a fun night out, you'll find it here. Just make sure to take a map with you when you visit!
The beachfront in this UNESCO World Heritage Site is perfect for a family holiday or a day of relaxing. It's also one of the most beautiful beaches in the city.
The surrounding area is home to the Park Guell, which features fanciful details and manmade walls. If you visit the park, be sure to buy a ticket to enter the park. It's well worth the visit.
While you're in the area, be sure to check out the Liceu theatre. It has over 170 stores. The Liceu is Barcelona's main theatre and houses ballet and opera shows. The Liceu also hosts local musicians and popular culture artists.
The Liceu was home to Montserrat Caballe, who became one of the greatest opera singers of all time. The Liceu has a variety of shows that are sure to delight any crowd.
The Gothic Quarter is another must-see in Barcelona. It features some of the city's most stunning and iconic buildings, including the Gothic cathedral.
The Gothic quarter also contains the old city center, Barri Gotic, and a medieval quarter called La Roca. There are countless museums, including the Barcelona Science Center, which has been remodeled in recent years.
Address: Playa de la Ribera, Sitges, Barcelona 08003, Spain    
Beaches in Spain
10. Almunecar Beach, Costa Tropical
If you're looking for a beautiful beach in Spain, consider Almunecar Beach. This cove has a unique natural feature, three rocky formations separated by a narrow spit of land.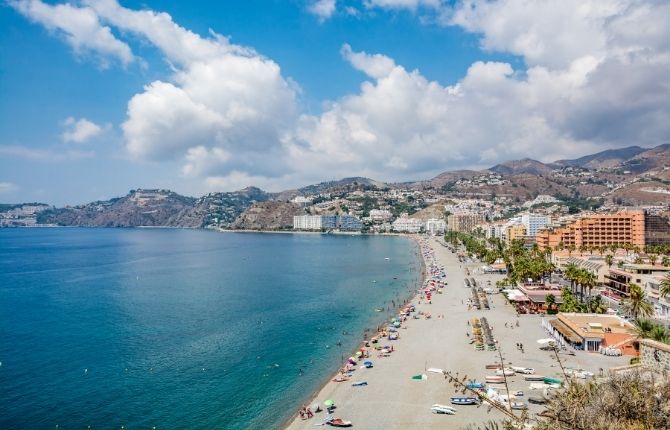 The tallest formation, El Penon del Santo, stands 30 meters high and is crowned with a statue of a saint on a cross. So, the views are spectacular and the sun sets over the sand below.
The longest beach in Almunecar is Playa Velilla. This is a beautiful stretch of sand and gravel and is very well maintained. The area also contains the remains of Phoenician and Roman civilizations.
There is a fascinating seafront promenade that leads past small sandy coves and rocky headlines. There is a good selection of food stalls and restaurants, and free tapa is standard in the Granada region.
The beach of Almunecar is 19 kilometers long and offers a range of different kinds of beaches. Its pebbles and sandy shores make it an ideal beach for families.
There are plenty of places to go for a delicious meal, and Almunecar also has a Michelin-listed restaurant and quality "Meson" Bistro-style restaurants. There are plenty of restaurants offering traditional Spanish food and international cuisine.
The town also has a museum. Visitors can check out pieces of history, including an ancient Egyptian amphora that belonged to the Pharaoh Apophis I in the sixteenth century BC.
These remains are displayed in the Almunecar Museum, which has glass floors. The museum also has videos that tell of the colorful past of Almunecar. It is also a great place to visit if you're interested in learning about Spanish culture and history.
Address: P.º de la Caletilla, 10, 18690 Almuñécar, Granada, Spain     Phone: +34958631567
11. El Playazo, Almería
The sandy beaches of El Playazo are popular with both locals and tourists alike. If you are looking for a pristine beach, this is it.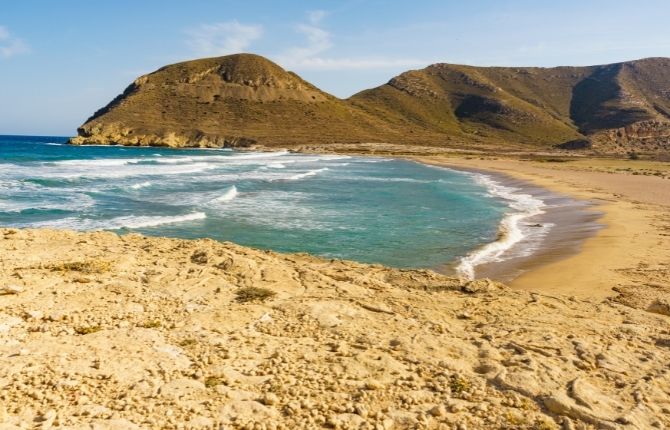 During the summer, this beach is a hotspot for holidaymakers from all over the world. However, it can also become quite busy during the fiestas in the area, especially during San Juan, which takes place on June 23/24.
The beach is surrounded by hills that provide a beautiful backdrop.
The road to El Playazo is in good condition and easily passable for cars. The beach is well-signposted, so getting there isn't a problem.
If you're traveling with young children, this is the best place for you. El Playazo is also a popular spot for diving and snorkeling, so you can easily do both from the beach.
Also, if you are a hiker, El Playazo is close to two excellent hiking trails, the first of which will take you to Cala Bergantin, a beautiful and secluded cove. It's also the perfect place for a picnic.
El Playazo is a small sandy beach, 3km from Rodalquilar. The beach features fine gold sand and is protected by the castle of San Ramon, a nearby fossil dune.
Its shallow waters and slope-free entry to the water make it ideal for families with children. The beach also offers a stunning view of the La Molata cliffs. Nudists also frequent the beach, which makes it a popular spot for those who love the sun and sand.
Address: El Playazo Beach, Nijar, Almeria 04115, Spain     Phone: +34 952-126-272 
12. Laredo, Cantabria
If you're thinking of traveling to Spain, you might be wondering what to do in Laredo. The city is located in Cantabria province, between Santander and Bilbao.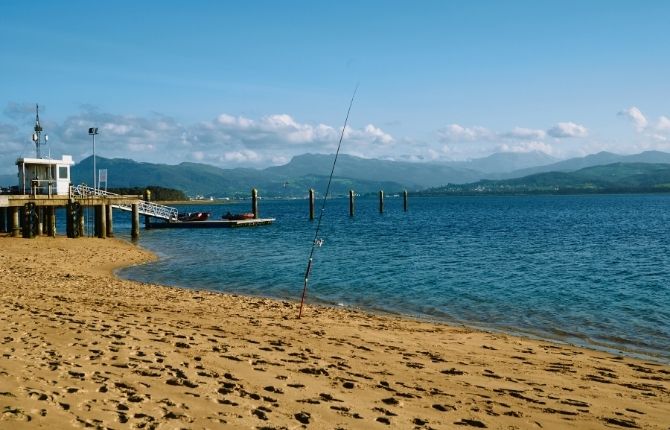 Its beaches are popular among tourists, and Laredo has the longest one in the region. Stretching along the beautiful Atlantic coastline, Cantabria features more than 60 attractive beaches.
And these beaches are ideal for all watersports including water surfing, windsurfing, jet-skiing, and kitesurfing.
La Salve, which stretches five kilometers, is located just outside the town. Laredo is divided into three zones, a traditional neighborhood, a newer suburb, and an extension of the town to the north, towards the seaside village of El Puntal.
There are several historic buildings in Laredo worth visiting. The historic Constable of Castile's House, built in 1520, once served as a residence for the royal family on their way to the Yuste Monastery.
The Constable's House now houses the Historical Archives of Cantabria. Another historic building is the Alvarado Mansion, built by Francisco Pizarro's right-hand man.
This port city had a large population at the beginning of the 17th century. In 1768, the city was elevated to town status by the Commissioner of Texas. From 1810-to 1820, the town was plagued by Indian raids, and it suffered under neglect from the central government.
By 1840, the city was the capital of the newly-formed Republic of the Rio Grande.
The first settlers in Laredo were Spanish and named it after Laredo in Cantabria. The area was a part of Nuevo Santander, which was taken over by the Mexican government.
The city was captured by Texas Rangers in the Mexican-American War but was eventually ceded to the US by treaty. By 1850, Laredo became part of the United States.
Address: P.º Marítimo, 39770 Laredo, Cantabria, Spain      Phone: +34942605100
Beaches in Spain
13. Platja de Ses Illetes, Sant Francesc Xavier
There are several beaches in the region of Sant Francesc Xavier and the one we're focusing on today is Platja de Ses Illetes.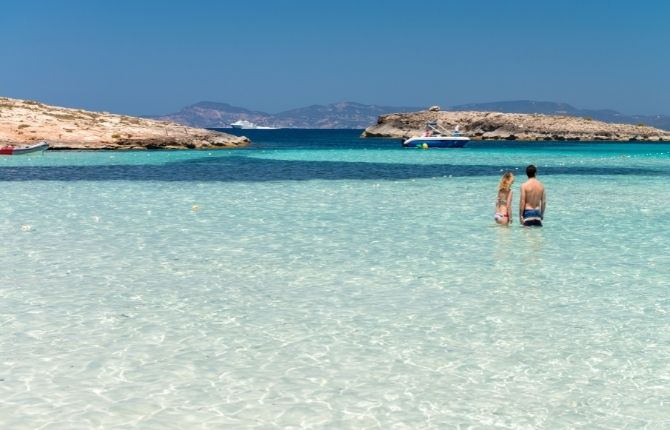 This is a secluded, undeveloped beach in a natural reserve with soft white sand and pristine waters.
While there are no facilities, it is a beautiful place to relax after a day's worth of sightseeing and frolicking in the sea.
The beach is located on the island's northernmost tip. The water is crystal clear and the sand is coral.
The beach is also popular for its pink color, which is the result of the union of coral dust with fine white sand. Platja de Ses Illetes is a popular tourist destination on Formentera.
The town of Sant Francesc Xavier is the largest in Formentera and has some interesting sights. There's the Iglesia de San Francisco, a 1726 church, an ethnographic museum, and the first chapel on the island, the Capilla de Sa Tanca Vella.
There's also a picturesque village called Sant Ferran de Ses Roques, where you can eat the typical local cuisine at La Fonda Pepe, a restaurant famous among island residents.
A trip to the seaside is a must when you visit this island. Platja de Ses Illetes is a stunning long, sandy beach that extends into the ocean.
It is big enough to find a secluded beach spot, while the southern shore of the island is popular for its small fishing village.
Platja de Ses Illetes is one of the most popular beaches on the island and is a beautiful place to spend the day.
Beaches in Spain
14. Playa de Torimbia, Asturias
There are several beaches in Asturias, but only one is considered wild. Playa de Torimbia is one of the best beaches in the region and has a clean and pristine white sand beach.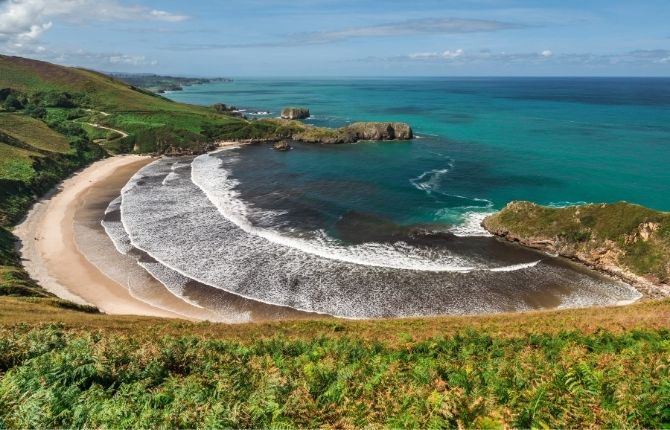 It is about 500 meters long, has only a few facilities, and can only be accessed on foot.
Even in the high season, this beach is fairly untouched. Despite being a popular destination for tourists, you can still find it virtually deserted at low tide.
The franja of guijarros and stones protects the beach from rocks and erosion. Because the water is shallow, it's an ideal beach for families with kids. And you can enjoy the views from the Mirador. The area is also safe for swimming.
While you're there, make sure to check the weather conditions, as temperatures can vary widely during the summer. It's also possible to find a nearby chiringuito in the high season.
Niembro is a small town in western Asturias with a gorgeous beach. The area is lush, and the beach is surrounded by ferns and soft mounts.
The waters are calm, and you can enjoy the sounds of seagulls as you soak up the rays on this stunning beach. There are many places to stay in Niembro, so you'll want to find something that fits your budget.
The playa is situated in Niembro, near Cabo Prieto. It can be accessed by two different routes, one along paved roads and the other via a trail through the Campestre.
Both of these routes are well marked and very well maintained.
Beaches in Spain
15. Playa de ses Salines, Ibiza
A popular Ibiza beach, Playa de ses Salines is famous for its hip and chill atmosphere.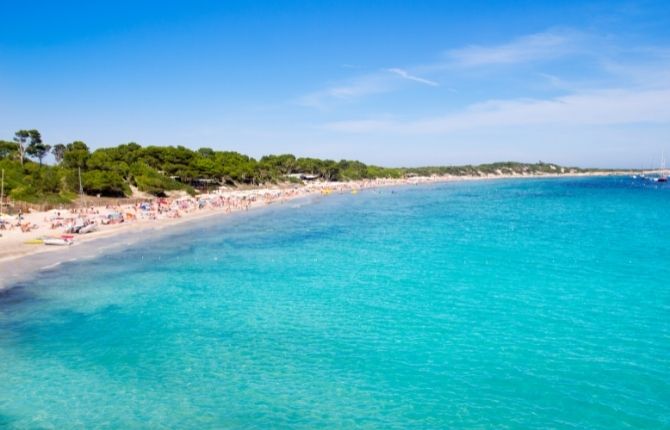 You'll find super-funky beach bars lining the shore, as well as delicious seafood and typical Ibizan beats.
You'll also find plenty of places to rent a boat or relax under an umbrella. The water is shallow and the beach is lined with lifeguards during the summer season.
There are many restaurants along the shore of Playa de ses Salines. The island's typical Mediterranean cuisine is served in many of the restaurants along the shore.
You'll also find live music in chiringuitos throughout the island. You'll often hear live music while you enjoy dinner at these venues.
If you don't feel like spending all night at the beach, you can relax in your hotel room and listen to the sounds of local musicians at night.
There's also a great yoga studio at the beach. Many Ibiza yoga companies offer one-on-one and group classes. Those who aren't sure how to exercise can also practice yoga on the sand.
While the beach is very popular, it's often underrated. However, many people find it difficult to get out of the hotel's spacious lobby. So, if you're not a fan of crowds, try practicing yoga in the beautiful seclusion of the Ses Salines.
In Ibiza, a natural park known as the Ses Salines is home to several salt-producing lakes. This salt is used to preserve food and export it to different parts of the world.
The first exploitation of the salt flats began in Phoenician times and was later carried on by the Romans and Carthaginians. The salt derived from these lakes has become a major economic hub and a prized natural product.
Address: Playa de ses Salines, Ibiza 07800, Spain     
16. Carboneras, Almeria
If you are interested in a place where you can enjoy the Mediterranean sea breeze while enjoying your holiday in Spain, the town of Carboneras in Almeria is the right place for you.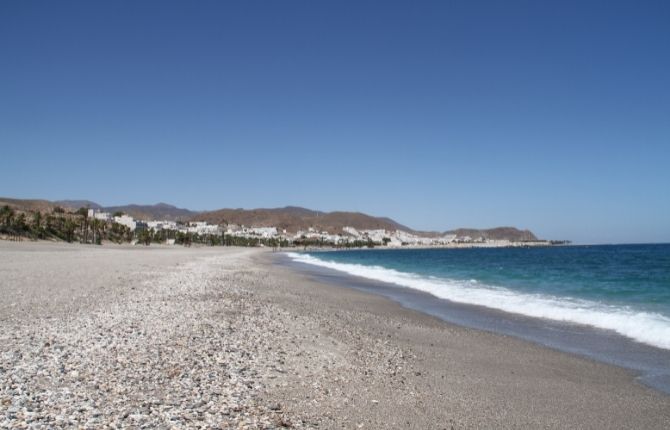 This town has been around for centuries but only recently became a tourist attraction. As a former mining town, it was a major industrial center and the town is surrounded by steep slopes that were once a thriving forest of holm oak and other Mediterranean species.
Unfortunately, the introduction of industrialization in the 16th century destroyed this diversity of plants.
There are several ways to get to Carboneras in Almeria. The 62-km drive from Almeria to Carboneras will take about 45 minutes. The A-7 will take you to Venta del Pobre and the N-341 will take you to Carboneras.
Buses are also available to reach Carboneras. Buses run three to four times a day, but they can take over an hour to get you to Carboneras.
When packing for your trip to Carboneras, take into consideration the climate. While weather is not directly visible on a temperature graph, it is important to bring items that will work in all types of climates.
Carboneras features nice beaches which are surrounded by a huge nature preserve. These beaches are also famous for fresh seafood.
Since the beaches feature all beach rentals like umbrellas, chairs, and boats you don't need to worry.
On the other hand, the water is warm allowing you to experience any kind of water activity. Also, the coastline is blessed with palm trees and raised dunes you can enjoy the time with your family.
Address: 04140, Almería, Spain     
Beaches in Spain
17. Es Trenc Beach, Palma
If you're planning a vacation to Mallorca, you've probably heard of Es Trenc Beach, but where is it?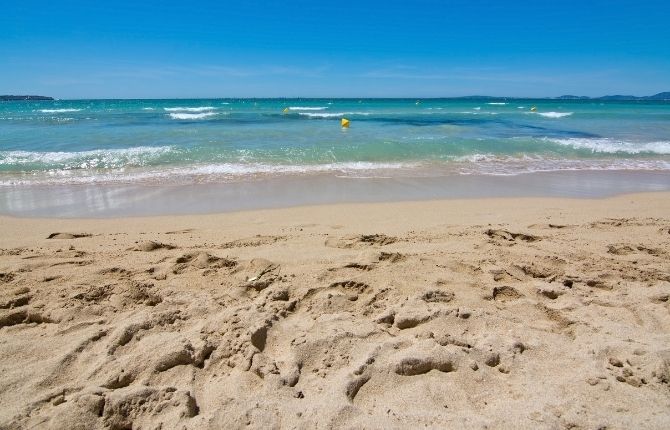 It's located near Campos, is 10 km long, and runs from Sa Ràpita to Colonia de Sant Jordi.
Because it's so shallow, it's a popular choice for families. The perfect blend of sun, sand, and water temperatures makes this Palma beach an ideal spot for families.
There are many reasons to love Es Trenc, but its natural enclave is the main reason to visit.
It's protected for a few reasons. It's home to migratory birds, and it's not far from the Salobrar de Campos wetlands, which are also home to a plethora of bird species.
In addition to its stunning scenery, Es Trenc's protected status means that there are no beach bars here.
Because of its virgin nature, Es Trenc attracts a largely younger crowd. While it's a popular destination for families and tourists, this beach isn't home to many water sports, though there are a few chiringuitos that serve casual food.
The only facilities are toilets, but there are no showers or charging stations. There's enough space to sit and relax. It's also possible to rent lounge chairs and umbrellas. Just make sure to bring an umbrella as the surrounding is very sunny, so it's best to bring a sunshade with you.
Es Trenc Beach is the last natural paradise on Mallorca. It's a fine sand beach that has managed to remain unspoiled by hotel and apartment complexes.
You'll be glad you found it. Just make sure you take a few days to enjoy it. The beautiful white sands of Es Trenc are well worth the trip. This Mallorca beach is a definite must-see for those vacationing on the island.
Address: Es Trenc Beach, Mallorca 07639, Spain   
18. Beaches in Spain: Benicassim, Costa del Azahar
If you're looking for an incredible holiday in Spain, look no further than Benicassim. This resort town has six kilometers of fine sandy beaches, a stunning sea view, and excellent hiking trails.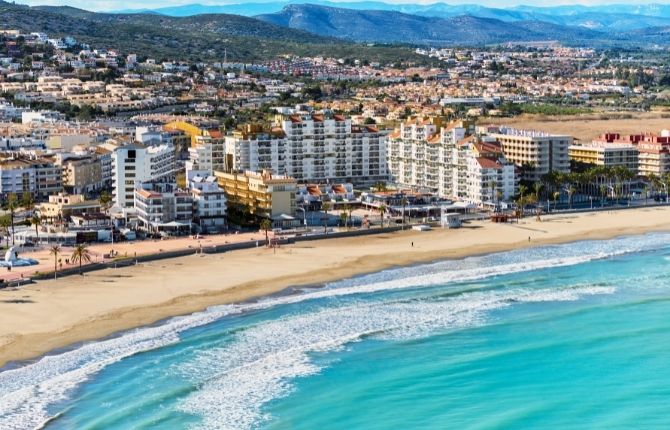 There are also historic sites like the 18th-century Neoclassical parish church and the Vicente watchtower.
Benicassim is also known for its medieval Montornes Castle, which is a popular tourist attraction. Visitors will love the International Indyrock Festival, held here each year in July.
In addition to its stunning beaches, Benicassim hosts an annual international festival in the summer.
With a waterpark and a Carmelite monastery nearby, this town is also a great destination for families.
The city is located 92km from Valencia airport and is only a 12-minute coach ride away. The town's beaches are fantastic – five have Blue Flag quality certification.
The waters on Benicassim beaches are clean and safe. Therefore, you can enjoy all the water activities.
The climate in Costa del Azahar is moderate and pleasant year-round. Its climate is dry and warm during the summer and cool and wet in the winter.
The best time to visit the area is in the spring or autumn when the rays of the sun are at their peak. The area's beautiful landscape makes it the ideal location for outdoor activities such as hiking, horseback riding, and mountain biking.
Address: 12560 Benicàssim, Castellón, Spain     
19. Beaches in Spain: Cala Macarella and Cala Macarelleta, Mahón
A visit to Mahón's two best beaches is essential on your Spanish tour. Cala Macarella is home to some of the best snorkeling on the island, thanks to its clean, clear waters and diverse marine fauna.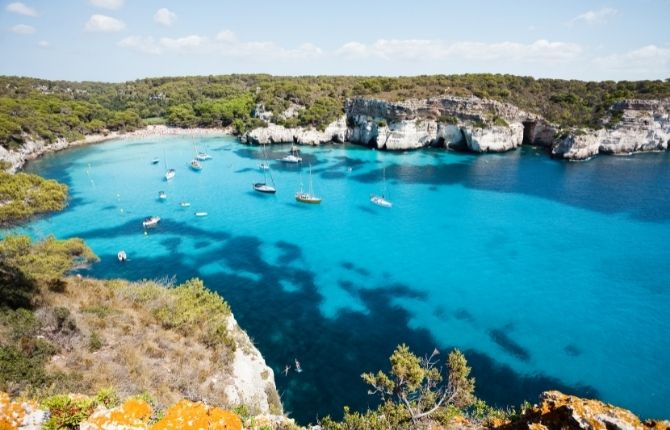 Whether you enjoy swimming or snorkeling, you can opt for a self-guided tour or book a boat trip to the area. Both of these options will provide you with snorkeling equipment.
The easiest way to reach Cala Macarella and its sister beach, Cala Macarelleta, is to take the 69 bus from Ciutadella. The bus will take you to a car park in Santa Anna, which is about a 15-minute walk from the beach.
Although Cala Macarella is more family-friendly, it is difficult to reach without a car – all trails and transport links lead to it.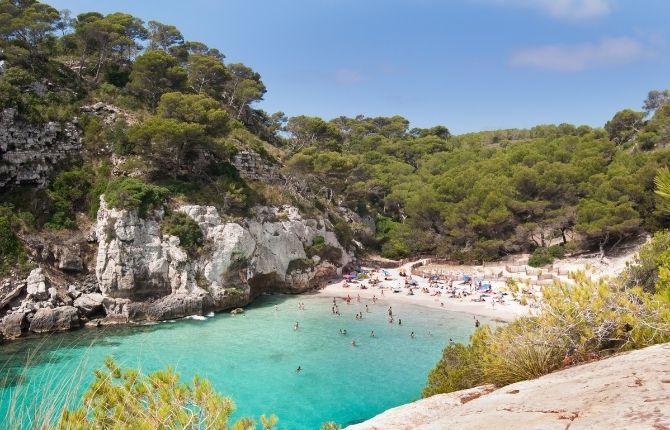 If you are traveling with children, you may want to consider a hotel on the other side of the island.
Cala Macarella is the largest beach and has a lifeguard on duty. There is only one restaurant-bar on the island, Cafeteria Susy. The menu is simple but delicious.
If you want to get to Cala Macarella by car, it's an hour's drive from Mahon. You can park your car at Macarella parking, or you can walk from Fornells or Port D'Addia.
The trail starts from a wooden staircase and is slightly uphill for the first five minutes. Then it is relatively flat.
Address: Cala Macarella and Cala Macarelleta, Menorca 7760, Spain       
Beaches in Spain
20. Beaches in Spain: Playa de As Catedrais, Galicia
If you're looking for an idyllic beach in Spain, you can't go wrong with the Playa de As Catedrais in Galicia.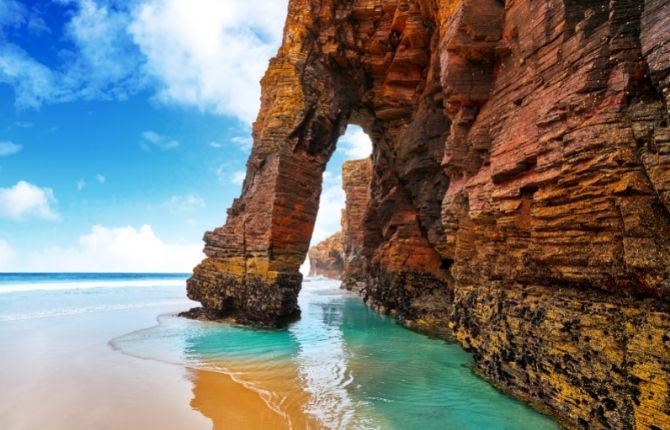 This beach, also known as Praia de Augas Santas, is located on the Cantabric coast and about ten kilometers west of Ribadeo.
It is well worth the trip! But how can you get to this beach? Read on to find out.
This spectacular beach in Galicia is situated near Ribadeo and is home to one of Spain's top natural monuments.
The arches, created by the erosion of the coastal cliffs, are up to thirty meters high. Despite being one of the most beautiful beaches in Spain, be sure not to wander too far during high tide as the rushing water can cut off your path.
But if you do, you will be rewarded with a view that will leave you speechless.
If you want to have a more relaxing experience, head a little further north to the Bay of Biscay.
At As Catedrais, you can get a glimpse of the stunning cliffs of Ribadeo. You can also enjoy a barbecue or seafood meal at Restaurante Parrilla O Piano, which is rated as one of the best restaurants in Ribadeo on TripAdvisor.
Another popular option is Galipizza, which is just half a mile from the beach.
Another beach worth visiting in Galicia is Cathedrals Beach, also known as La Playa de Las Catedrales in Spanish. This beach is famous for its amazing arched rock formations, which you can only reach at low tide.
While the beach is not particularly large, it is still a popular destination for both Spanish and Portuguese tourists. The surrounding landscapes are stunning and there are plenty of parks and protected natural areas in Galicia.
Beaches in Spain