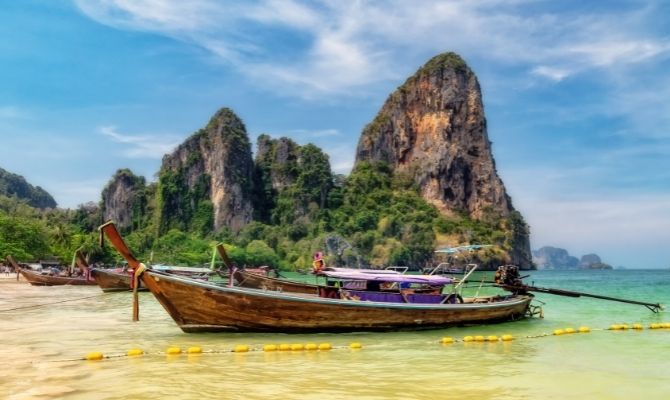 Looking for the best beaches in Thailand? Southern Thailand has plenty of attractive and stunning beaches. High limestone monoliths, caves, green water, lush and tropical surroundings are Thailand beaches' unique features. Especially, Railay Beach, Nui Beach, Ao Yai Beach, Nai Harn Beach, Mai Khao Beach, and beaches in Phuket are more famous among tourists. 
However, once you visit the beaches on the southern tip of Thailand, you'll see some of the most beautiful beaches in the world. So, here's the list of the top beaches in Thailand. Check whether you have added the following beaches to your bucket list.  
Beaches in Thailand
1. Railay Beach, Krabi
Krabi, a province in Thailand, has many stunning beaches. For example, Railay Beach is one of the most beautiful beaches in the world.
Located on a small peninsula in Krabi, it is accessible only by boats. So, reaching Railay Beach is an unforgettable adventurous journey.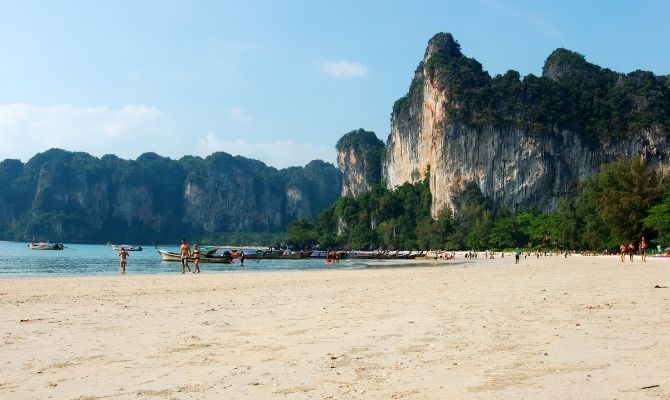 Once you reach the beach, you will feel like you are in heaven. White soft sand, lush tropical surroundings, lush limestone monoliths, green water, and lagoon-like swimming areas define the stunning Railay Beach.      
There are several small beaches along the Railay coast. 
If you are looking for a traditional Thai beach vacation, Railay Beach is perfect. Sunbathing, swimming, snorkeling, diving, and boating are fun activities you can do on Railay Beach.   
Bhu Nga Thani Resort & Spa and Railay Bay Resort & Spa are good resorts that help you to get the best experience.      
2. Beaches in Thailand: Nui Beach
Nui Beach is a small, serene beach in Thailand. When you head towards Phuket's southernmost tip, you will find this stunning beach with a shallow bay. 
If you are looking for a nude beach in Thailand, Nui is ideal. It is a beautiful private cove with soft sand, shallow water, and a colorful underwater world.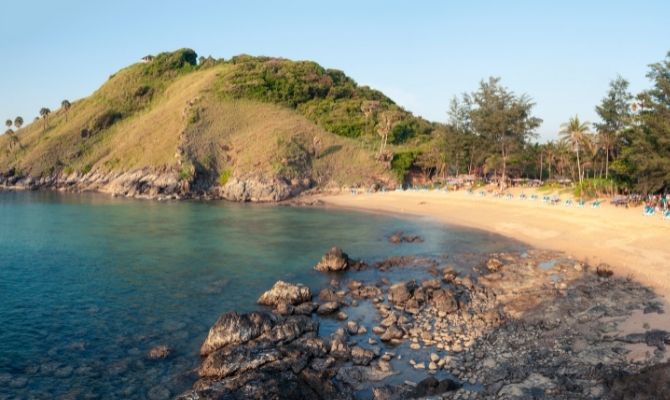 So, people visit Nui Beach for nude sunbathing, snorkeling, swimming, kayaking, boating, surfing, and many other water activities. Yeah, you can do them all topless or completely nude. Therefore, Nui is famous as one of the best nude beaches in Phuket. 
Located away from the hustle and bustle city, you have to hire a 4 wheel drive or a quad bike to reach this beach. (Nui Beach is located 51 km away from Phuket Airport)
Address: Karon, Mueang Phuket District, Phuket 83100, Thailand
3. Ao Yai Beach, Koh Phayam 
Are you a beach yoga lover? There are so many yoga retreats in Thailand.
Ao Yai Beach is one of the best places for yoga lovers. Relaxing surroundings, pristine beach, less crowd, no big resorts, and no parties-like features make perfect for yoga lovers.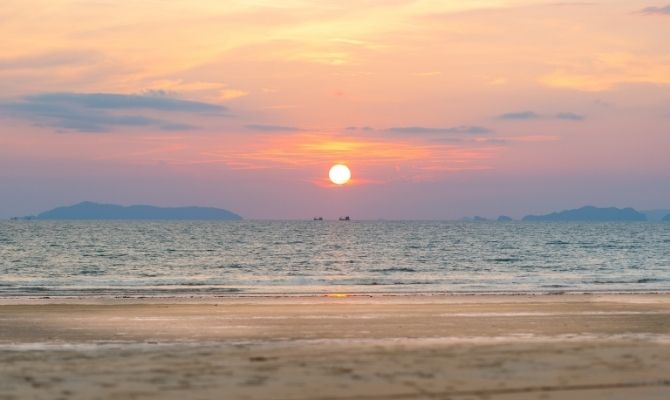 Koh Phayam, the second-largest island in the Andaman Sea, contains plenty of stunning beaches. But, it is so underrated—for example, Ao Yai. 
Ao Yai is a 2 km long beach with soft, white sand. Since there are very few tourists, you can freely enjoy the sunset and color changes in the sky while lying on the beach. 
How to reach Ao Yai? First, you have to take a boat ride from the pier of Ranong to reach there.
4. Beaches in Thailand: Sairee Beach
Sairee Beach is a one-mile-long beach located on the west side of the stunning Ko Tao island in Thailand. 
Sometimes, Sairee Beach is referred to as Turtle Beach because it attracts sea turtles. So, if you like to see sea turtles, just head to Sairee. 
Apart from that, Sairee Beach offers you wonderful scuba diving, snorkeling, and swimming opportunities. And the soft sandy beach is ideal for playful kids.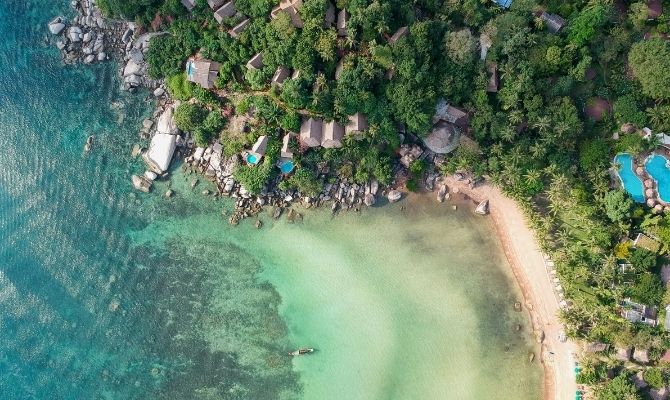 On the other hand, the beach boasts several restaurants, bars, and nightclubs for entertainers. 
How to reach Sairee Beach? Well, you have to hire a ferry or reach via plane. However, it is easily accessible and the most famous beach on Ko Tao island. So, do not miss it when you are in Thailand.   
5. Beaches in Thailand: Patong Beach, Phuket
Patong or Pa Tong is an entertaining beach town in Phuket Island, Thailand. And Patong Beach is the largest beach on Phuket Island. Therefore, it is one of the most popular beaches in the country as well.
Having a wide coastline with soft and white sand, this is really an attractive beach. Moreover, since the water is clear and warm, visitors enjoy swimming in the sea.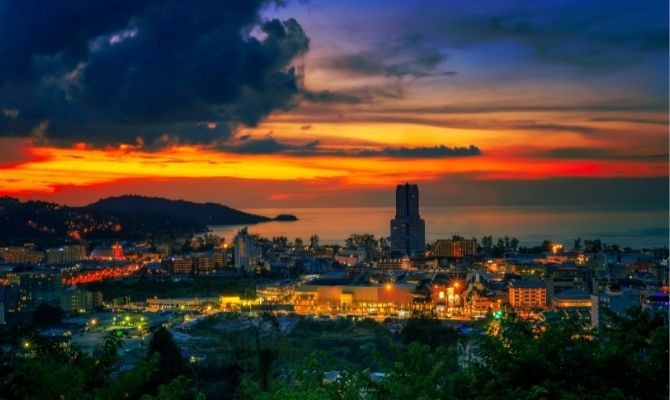 Apart from swimming, visitors can experience any water activity on this beach. Ex: Jet skiing, kayaking, boating, standup paddleboarding, etc. 
There are plenty of resorts, restaurants, nightclubs, spas, bars, and shopping centers within walking distance. So, Patong Beach is more famous for its fun nightlife.
Beach parties, social gatherings, live music, and other entertaining events are frequent in Patong. Are you ready to party?   
Address: Patong Beach, Pa Tong, Kathu District, Phuket 83150, Thailand
6. Nai Harn Beach, Phuket
Nai Harn is a popular beach neighborhood in Phuket, Thailand. Although it is quite crowded, it is totally worth visiting Nai Harn. 
The unique features of Nai Harn beach are crystal clear water, calm waves, safe for swimming, white and soft sand, easily reachable, and perfect tropical climate.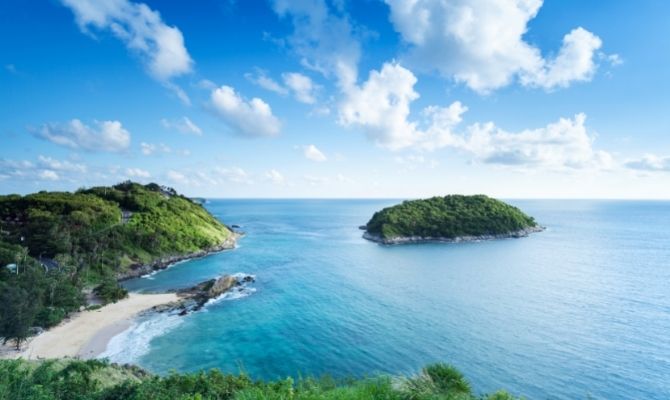 Especially, its consistent tropical climate attracts thousands of visitors throughout the year. Therefore, this beach has many comfortable resorts and all the other facilities.  
The Nai Harn and Sunsuri Phuket are some of the finest resorts near Nai Harn beach.  
7. Mai Khao Beach, Phuket
Are you looking for a peaceful nude beach in Thailand? Mai Khao Beach is such a beach.
Located on the northwestern tip of Phuket Island, Mai Khao is a gorgeous nude beach. And also, stretching for over 5 miles, this is one of the longest nude beaches in Thailand.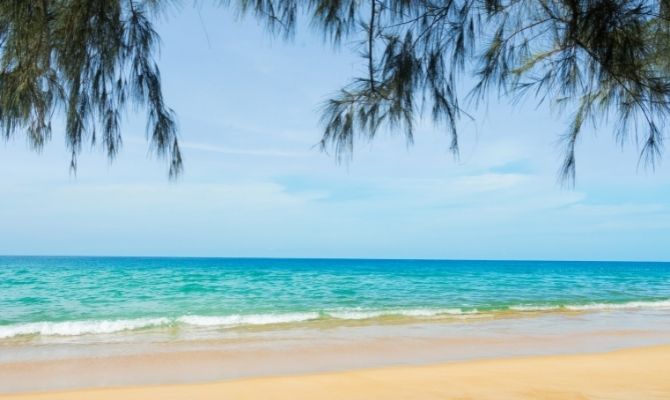 Although it is easily accessible (just 7 km away from Phuket airport), Mai Khao is an untouched beach. Therefore you can see authentic natural features.
This beach is ideal for nude sunbathing, swimming, snorkeling, and kayaking. 
There are several restaurants and resorts to stay. Ex: Maikhao Home Garden Bungalow and Micky Monkey Beach Hotel. 
8. Beaches in Thailand: Koh Tarutao Beach
Let's bike, hike, and walk through mangroves. Koh Tarutao is a kind of beach that has both adventure and deserted features. 
Koh Tarutao is located just about an hour away from Koh Lipe. That means Koh Tarutao is exactly located on the Satun Islands close to Malaysia. So, obviously, it isn't easy to get there. But, it is totally worth taking a boat ride and visit this peaceful destination when you are in Thailand.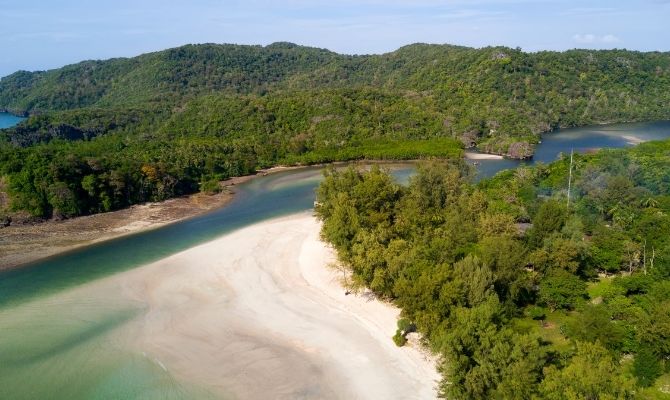 What are the things to do in Koh Tarutao?   
It offers you plenty of outdoor activities with an attractive beach. Especially if you are looking for a perfect beach camping destination in Thailand, Koh Tarutao is wonderful. 
And as mentioned above, biking, hiking, swimming, kayaking, boating, snorkeling, discovering nature, and observing various wildlife in Thailand are fun things to do while camping in Koh Tarutao.  
9. Beaches in Thailand: Phra Nang Cave Beach 
Phra Nang Cave Beach is another stunning beach located on the southern tip of Railay. (It is a stunning peninsula on the Andaman Coast)
Having all the Thai beach features, Phra Nang considered one of the most beautiful beaches in Thailand. Clear emerald water, stunning limestone cliffs, white sands, and beautiful tropical surroundings make this beach unique and attractive.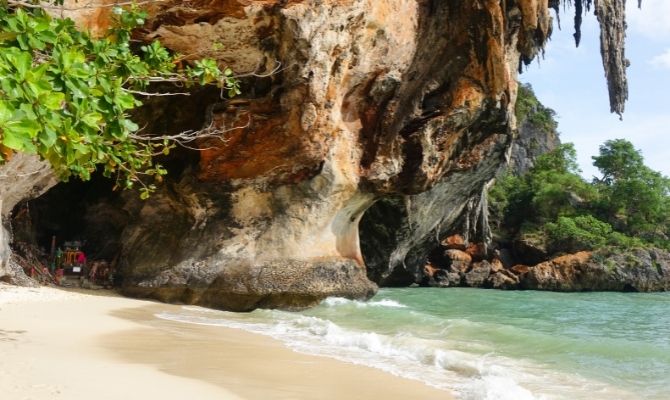 If you are looking to scale these Railay's massive limestone rocks, Phra Nang offers you great opportunities with breathtaking views. You can easily find local guides as well. 
All you need to do is take a long tail boat from Ao Nang and reach this paradise beach.  
10. Long Beach, Koh Lanta
Yes, it is a long beach. Located on the island, Koh Lanta Long Beach is obviously one of Thailand's widest and longest beaches.
But, keep in mind, there are only a few safe places to swim because this beach has sharp rocks and sea urchins-like hazards.
Don't worry; there are some dreamy swimming spots as well. They have soft sand bottoms and ideal for swimming in the daytime and nighttime.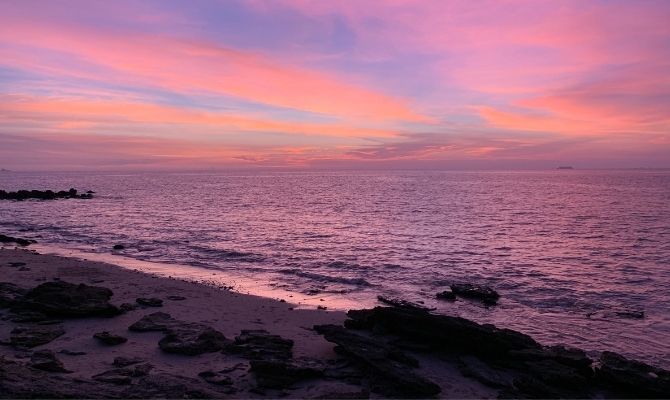 You can mostly see backpackers on Long Beach as there are plenty of budget-friendly resorts near the beach. But, now even families are visiting this beach as it is stunning. 
Although Koh Lanta is not so developed as Phuket, you can experience the authentic, traditional lifestyle and natural beauty everywhere.  
Warning: Long Beach usually closes in May and June due to storm effects. So, try to avoid those months. 
Address: Tambon Sala Dan, Amphoe Ko Lanta, Chang Wat Krabi 81150, Thailand