When you hear the name "Oahu" you may remember the amazing surfing and beach activities in Waikiki. But I suggest you not spend the whole days in Waikiki, take a drive towards the North Shore since there are many things to do in North Shore.
Actually, it has many various things to do around even with your kids. So, just take a look at:
what are the best things to do in North Shore
The way and the best time to go there
And the best places to eat in North Shore.
How do you get to the North Shore, Oahu
Here we go to the surfing capital of the world, North Shore, Oahu. The shore spans from La'ie to Ka'ena's point of Oahu. When I explain the way to North Shore, you may get boring since it is very long. But trust me this is one of the best and kind of lesser-known beauties of Oahu. Because most of the travelers limit only to Waikiki or some other beach. But, once you visit there, you will realize attractiveness.
Of course, you can take a bus ride to the North Shore. But it is a very long journey and the buses are going at a very low speed. So, I prefer you to drive your own vehicle and reach there without any worry. And I'll show you the path.
I'm going to explain to you two major roads to reach the North Shore. The first way which I'm going to explain is getting the H1. You can take the Likelike Highway or the Pali Highway to reach towards Oahu's Windward Coast nearby Kaneohe and Kailua.
take the Pali Highway #61
Suppose you have selected the Pali Highway #61, then drive ahead searching for the sign of #83 which is Kamehameha Highway. Or suppose you take H3 (one of the scenic roads in the world), continue driving until you meet the exit for Likelike Highway #63 on your left. Take that left turn and continue on Likelike and again turn right at the second stoplight on to Kahekili Highway. While driving on Kahekili Highway, you will soon turn into Kamehameha Highway #83.
However, when you come to Kamehameha Highway, you will have to drive for about 23 miles along the road. I must say something about this road. This is also one of the scenic roads in the world which are located along Oahu's coasts. While driving, you will pass Mokoli'i Island (Chinaman's Hat), Ka'a'awa Valley, Kahana Bay, and then La'ie (the starting border of North Shore).
Take the Likelike Highway
Suppose, you are riding driving through the Koolau mountains, and down the other side, turn at the first right-side exit Kahekili Highway. Then, you will soon meet the Kamehameha Highway #83 and drive for about 23 miles. (Just like mentioned above).
Driving via central Oahu
Suppose you are taking H1 to go west side from Waikiki, you should turn to the north to get the H2. And at the end of H2 (at Wahiawa), drive for searching the signs of Kamehameha Highway #99. This road will also take you to the North Shore community of Haleiwa Town.
Once you get there, still you need a vehicle to travel around. You also can rent a car through Uber. But, still, I suggest you have a vehicle with you to be flexible with your needs.
Suggested Reading: Best Beaches in Sicily
Best time to visit North Shore, Oahu
I know most of the travelers are attracting the North Shore since this is the surfing capital of the world. To break the epic surfing waves, you should come here during the correct season. Actually, it starts in October and runs till April. But if you ask this from professional surfers, they would say that the best waves occur from December to February. So, that is the ideal time to visit the North Shore by any kind of surf lover.
But if you are not here to surf, but just to swim, dive and snorkeling, then you need calm waves. Am I correct?. The summer months in North Shore like May to August offer you a very calm sea to do all of the preferred activities.
On the other hand, if you do not like to do water activities and just want to see and feel the natural beauty of the North Shore, then I suggest you visit in the wintertime. Then, you can even see some pro surfers who do adventure surfing activities.
Now, you know the possible ways to reach the North Shore and the ideal time to visit there. As I mentioned earlier, the journey is a little longer and takes time than you expect. So, get ready with some more snacks as well.
Best Things to Do in North Shore, Oahu
Try to visit here and get all of these experiences in your journey of Oahu.
Surf in North Shore
Of course, surfing in the North Shore should be at the top of your to-do list in North Shore. To me, this is the heaven of surfing. I hope you will also feel like in that way if you visit once. Since you can find the biggest breaks in the world, major surfing functions are held here. And the followings are the best surfing activities you should do in North Shore.
Surf at Chun's Reef
As a fact, Oahu is a destination for any level of surfer. Whether you are a beginner or an expert in surfing, Oahu has the ideal waves for everyone in any surfing skill level. But in the case of North shore, you are not offered that kind of pleasant climate for the beginners. You must be a well trained and experienced surfer to surf in North Shore.
Namely, Pipeline, Waimea Bay, and Pipeline have more dangerous breaks. So, the middle-skilled ones and beginners should not try to surf in these places at all.
But, the middle-skilled surfers have good news. You can surf Chun's Reef. The name Chun's Reef means that "it is a one reef break". But still, the danger is there. So, You should be sure before starting to surf whether you can surf through reef break or not.
Watch pro surfers  
Since there are big breaks in the North Shore sea, you can see free surfing shows of pro surfers and athletes. Actually, most of the famous surfing competitions in the world take place here. Banzai Pipeline is more popular out of all the other places. It offers the most epic and dangerous waves and even amazing photographs of those waves.
But, I suggest that you should not even think to surf there. It is only ideal for the pro surfers. Not for the other level skill holders. So, it is better to see and feel the adventure by staying on the shore. Because the waves are sharp and almost like blades. But do not miss the chance of watching the colors of pro surfers since you can not see them anywhere else.
Explore Haleiwa surf town and learn how to surf
If you want to buy or rent surfing items like surfboards and gears in North Shore, then Haleiwa is the place. Actually, this is the real place to say as the capital of surfing in the world. It has everything for you related to surfing. The development of this town was started with sugar cane production, but now it has totally converted into surfing as a business.
Not only surfing but also this place is suitable for beach picnics as well. Since there's amazingly crystal blue water, you can walk along the beach even with your family. Then, visit Haleiwa Beach Park and have some Hawaiian food by watching at the sea.
By seeing at the surfers, most of the travelers get inspired and give a try to learn surfing. Of course, it worths trying. But I suggest you hire an instructor or to join a surfing school to select the ideal beach for you and learn the techniques.
Basically, the beaches of Chun's Reef, Kawela Bay, and Puaena Point at Haleiwa Beach Park are the ideal ones to learn surfing. Yet, you should check for surf forecasting reports and other conditions before starting to surf since the waves are dangerous. And try do stay close to the coast as long as you can.
Body Surf and jump off the rock at Waimea Bay
First I must say Waimea Bay is dangerous. Therefore, lifeguards are staying everywhere on the beach. There are some seasons that offer you a very calm wave surface in Waimea Bay which is more ideal for body surfing. Still, I warn you to try only if you can do body surfing and well experienced in that. Otherwise, do not try for it.
But you can jump off the rocks into the water near the shore like a kid. It will be an amazing experience. (Warning: Especially, when you travel there with kids, always keep eye on them to protect from unexpected waves)
One more important thing about Waimea Bay is "The Eddie", the best and unique swimming competition in the world. This happens when the optimum climate comes to the bay with 30 to 40 foot high waves. The Eddie Aikau Big Wave Surf Competition has mostly targeted the adventurous surfing community and selects the best.
The reason behind the name of this competition was the real-life story of a brave lifeguard who lived here. His name was Eddie Aikau. Actually, he was a fearless man to jump into any kind of situation to save people. According to the facts, he has saved more than 500 lives from massive conditions. People say he never hesitated to surf in very high waves.
Cage Diving with Sharks in North Shore
Cage diving with sharks is a kind of adventurous, cool, and amazing feeling to get by any kind of traveler in North Shore, Oahu. And even most of the travelers rate this as one of the best experiences to have in North Shore.
The shark diving agents here guarantee you to see sharks without any harm or danger to you. Actually the sharks here know that we are coming to see them. So, do not fear at all.
The methodology is, crabbing boats are taking you to the targeted areas and put some dead fish to attract the sharks. Once they come near your boat, you can wear the goggles and snorkels and dive into the cage to see the sharks and dive with them.
Actually, in North Shore, the Galapagos and Sandbar sharks are more frequent which are considered as totally harmless. But sometimes, if you are lucky enough, Hammerhead sharks or Tigers are attracting these cages as well.
Watch and Save Sea Turtles
Hawaiian people call these innocent creatures "Honu". As we all know these creature has a very long history and it runs to the era of dinosaurs. And the Islands of Hawaii are providing homes to seven threatened and endangered types of sea turtle species in the world.
So, my first advice is not to disturb or bother them. Be ethical and try to save the sea turtles. (If you caught when hurting or disturbing sea turtles, you will be fined for over $20,000)
In North Shore, Laniakea Beach is very popular to see sea turtles (Also called Turtle Beach). You can surely see one or two big ones on the beach if you visit between 11.00 am to 1.00 pm. Therefore the way to Turtle Beach is tough due to heavy traffic.
Most of the travelers are coming here and searching for parking space. Due to existing a one-lane highway and limited parking space, there's huge traffic.
Eat Matsumoto's Shave Ice
You cannot return from Oahu without eating this magical shave ice at Matsumoto's place. This can be considered as the best shave ice in Hawaii. It proves by the long lines of people who wait to purchase this rainbow shaved ice from Matsumoto.
Trust me, it is worth to wait for it. It is yummy and colorful. And it will make you cool in the hot climate of Hawaii. If you are traveling with kids, they would love to eat this rainbow-colored shave ice for sure.
The shop was started in 1951 by Mamoru and Helen Matsumoto as a small shop. They just tried this recipe at home and now it is famous throughout the world.
Swim under a waterfall in Waimea Valley, North Shore
Wailele Waterfall offers you the chance to swim under it. This amazingly beautiful waterfall is situated in the tropical rainforest in Waimea Valley of North Shore. When you walk around one mile through this greeny rainforest, you will find this 45 feet high waterfall.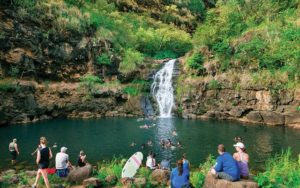 The most important thing about this waterfall is that this is not aggressive and not having a very deep end at the bottom of it. But you should wear a life vest when swimming here.
On the way to the Wailele waterfall, you may find some places to discover the Hawaiian culture and traditional things. On the other hand, Waimea Valley Park is also famous for preserving native Hawaiian plants (endangered ones). So, you can study them as well.
Except on Thanksgiving and Christmas day, Waimea Valley is open always from 9.00 am to 5.00 pm. Before coming here, please check whether there's any notice of prohibiting swimming under the waterfall due to the worst situations. (Waimea Valley Web)
Suggested Reading: Campgrounds in Acadia National Park
Sky Diving in North Shore Sky
This adventure is not second to any other adventures in North Shore like surfing at high waves and diving with sharks. Trust me North Shore offers you one of the best sky diving experiences out of other few places in the world.
Book one of the sky diving providers in North Shore (Pacific Skydiving, Skydive Hawaii, and Oahu Parachute Center). I mentioned this since all of them are equally good and provide a very secure service. All of these providers are located and provide the service in Dillingham Airfield, Waialua.
They will take you up the height which you can jump without any oxygen supplement. You will be more thrilled from the moment you jump. And make sure to book your time earlier and check the wind weather.
Hiking to Ka'ena point or Do Beach Camping
Ka'ena Point is a very calm place where you can feel natural beauty in your own way. It may be a camp on the beach or a hike, you will feel that you are more close to nature. You must know the fact that you can not do camping on Oahu beaches. But, you can fish in the sea all night by using cheap fishing equipment. That means you are not literary camping but fishing.  That will be the best camping experience for your life.
And on the other hand, do not forget to hike up to Ka'ena Point.
Suggested Reading: Best Hikes in Utah USA
Visit and Explore the Polynesian Cultural center
The Polynesian Cultural Center is one of the best tourists attracting place in the whole USA. Visiting here is one of the best things to do in North Shore with kids. Because the place is more enjoyable and filled with cultural activities of 8 Polynesian islands with a lot more fun.
Specifically, I suggest you go with kids since they have different events for them. Even they offer free gifts for them. Not only kids but also any kind of person have many items to enjoy here. You can visit all of these islands to enjoy their activities and learn about their enjoyable lifestyle.
Fly over the Tropical Rainforest in North Shore
Another adventure that you can try on North shore is flying over the tropical rain forest. If you scared of sky diving and still want to get a view of North shore beaches from the sky, this is the chance. Take a zipline tour. There are different kinds of tours. The longest one lasts for about 3 hours. It includes many activities and things to see. So, I suggest you travel with your family even with kids over 7.
Try Horseback Riding on North Shore beach
Trust me, you will feel like acting in an ancient romantic movie while riding a horse on the North Shore. I know it is a little bit scary and adventurous for travelers who do not have a practice. Don't worry the owners of horses will guide you. And it will be more when you cross through the sea breeze while riding a horse. It worths trying. This is more enjoyable than horse riding in deserts.
Finally do not forget to spend your time in the evening to see the sunset of North Shore. It is a totally free gift from mother nature. You can spend that time with your loved ones or photograph the whole phases.
Best Places to Eat in North Shore
I suggest the following places as the best places to eat in North Shore. And you will surely find the pure Hawaiian flavors mixed with modern flavors in a different way. I just love to eat seafood in North Shore. You also should try.
Lei Lei's Bar and Grill
Giovanni's Shrimp Truck
Haleiwa Bowls
Seven Brothers
Kono's
Uncle Bo's Bar and Grill
Delice Crepes
Haleiwa Joe's
Dat Cajun Guy
Did you enjoy the article? Just pin it for later
Just watch this video