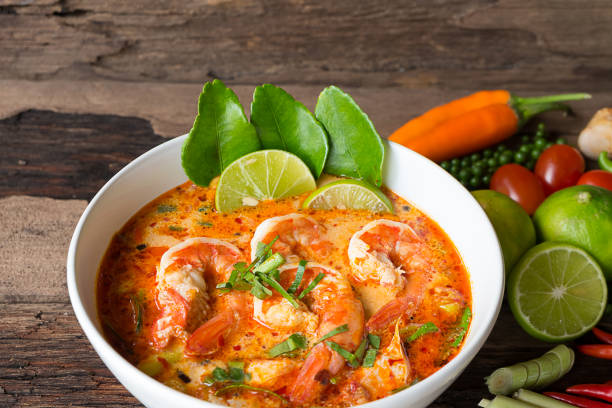 I know it is mouthwatering when you hear "The best Thai food." This amazing food became known worldwide after the 1980s with the boom of tourism in Thailand. And currently, it is on the list of the top most popular food types globally. So, here I'm going to share with you the following information about this tasty food.
Is Thai food tasty?
What is the best Thai food to order?
What is the most popular Thai food?
Thai cuisine information
Famous Thai street food and tip to eat

Just scroll down to read more.
The Best Thai Food
Is Thai food tasty?
The top four food types in the world may include Italian, Chinese, French, and Mexican. I hope you would agree with me. But where's Thai food?. Yes, it should contain the list of the top five food types in the world.
Yes, it is delicious. Every people in Thailand are so lucky since they can eat this delicious food every day. No matter how harder the day is, in the end, they get this heavenly feel food to vanish to tiredness. I identified four major features of Thai food. They are spicy, flavorful, fresh, and colorful. 
Sitting at a street food stall and Eating a freshly cooked Thai meal was my best experience in Thailand. Yes, I know the environment is a little bit dirty, but once you eat the first spoon, you will forget the negative facts and start to feel the taste.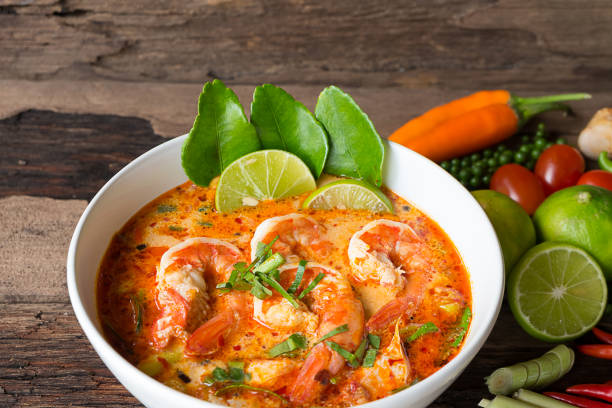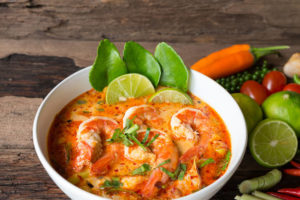 Blend of major flavors in The Best Thai Food



People don't like to feel more garlic, ginger, lemongrass, and chili flavors. But, people like to feel the taste of a mix of all of those things in the correct amounts. Thai people have that gene to do that. Their native culinary flavors, fresh food, and native cooking methods perfectly blend the sweet, spicy, salty, and sour flavors. They proved to the whole food world that anyone could mix strong flavors and create mouthwatering food.
I believe that there are 2 major reasons for the success of the tourism industry in Thailand. They are the great Thai hospitality by all Thai people and the best Thai food.
What is the best Thai food to order?
Thailand's four regions offer you different flavors of Thai food. Northern, Central, Southern, and Northeastern have different climates and cultures. Due to the climatic differences, each region produces different flavored culinary items. And due to the cultural differences, each region practices different cooking methods. So, you will get different tastes, but delicious and quality food for sure.
And also, each region is specialized for some food type. For example, mountain vegetables and herbs in the North, seafood and fresh coconut in South, sticky rice and spicy chilies in Northeastern, and a great mixture of all the things in the center.
Due to these variations of deliciousness, most of the countries demand Thai food. So, here you can read about what are the best Thai food to order and also what are the most popular Thai food.
Guay Tiew Reua (Thai Noodle Soup): The Best Thai Food
Guay soup is surely one of the most popular and best Thai food, especially in street restaurants. This is not the main course type of food, and you can find this frequently from the floating markets in Thailand. This one is suitable to eat at any time of the day, but I prefer to have it as a night snack.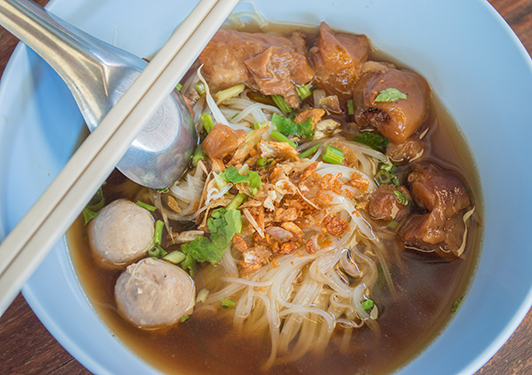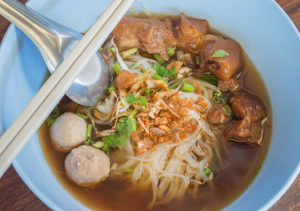 The ingredients of this soup are noodles and meat. Vegan Guay is very rare to find. What they do is cook noodles in a meat broth mixed with different kinds of Thai culinary items and cereals. And the meats are included as your preference (beef, pork, chicken, or seafood). Also, you can ask to customize and make rice noodles, egg noodles, or add meatballs.
They season it by adding sugar, chili powder, pepper, lemon, and fish sauce. And garnish it with some green leaves. Trust me; this one is just amazing and soft. And one of my favorite dishes in Thailand.
Tom Yum Goong (Spicy Shrimp Soup)
You may think why I'm mentioning soups at the top because I love Thai soups. They are like really match my taste. I hope you as well. Tom Yum is a world-famous Thai food. It has a high demand due to its combination of unique Thai ingredients. Those high-flavored ingredients (kaffir lime leaves, lemongrass, shallots, fish sauce, and chili paste)  are mixed with fresh prawns.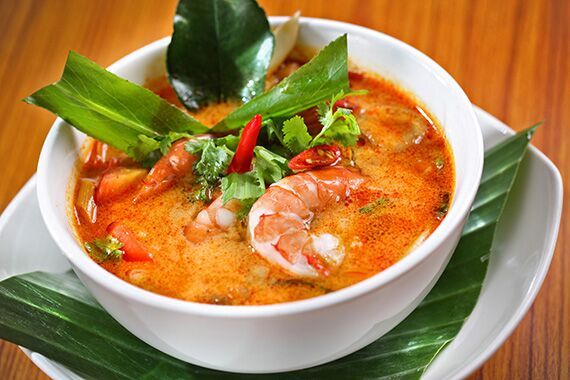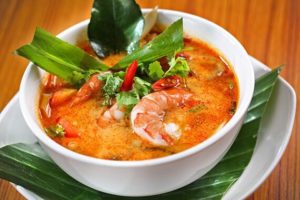 When you hear about the ingredients, you may think that this would be sour flavored. But trust me, I felt neither sour nor spicy edges. It was a beautiful combined flavor. This dish also you can ask for customized versions like adding mushroom and make more thicky with coconut cream.
Khao Kluk Kapit (Shrimp Fried Rice)
This is a bowl of fried rice that is suitable for family dining. But do not underestimate or thinks the same as the other fried rice dishes. This is special since it is tossed with fermented shrimps until the shrimp paste gets coated with whole rice.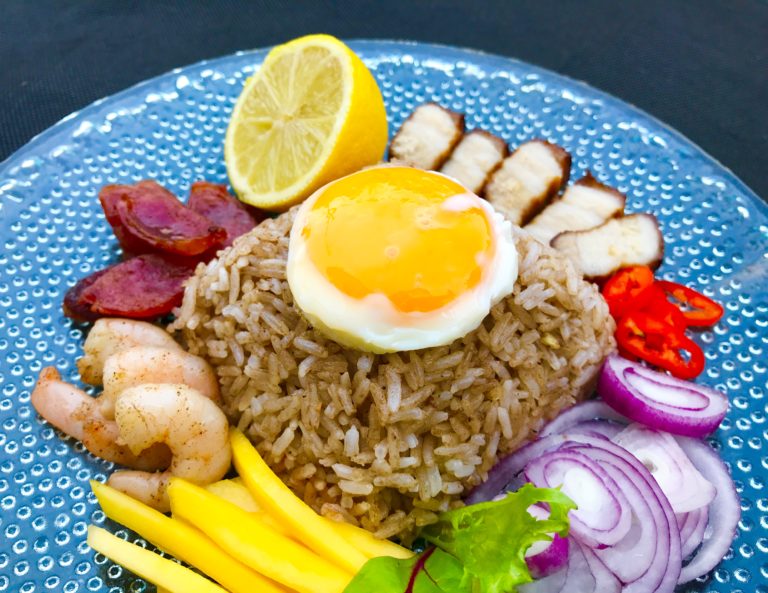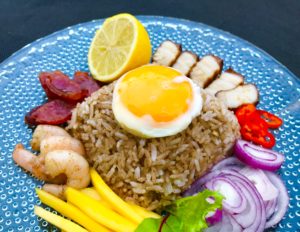 This is also not mixed and fried together like typical fried rice dishes with meat, eggs, and vegetables. But serve them all-around your plate in a colorful way to offer different flavors at each bite. Unripe mango, shallots, chili, sweet Chinese sausage, omelet, marinated pork, and dried shrimp are added to cook this unique dish more favorable. (the best Thai Food)
Tom Kha Kai (Thai Chicken in Coconut Soup)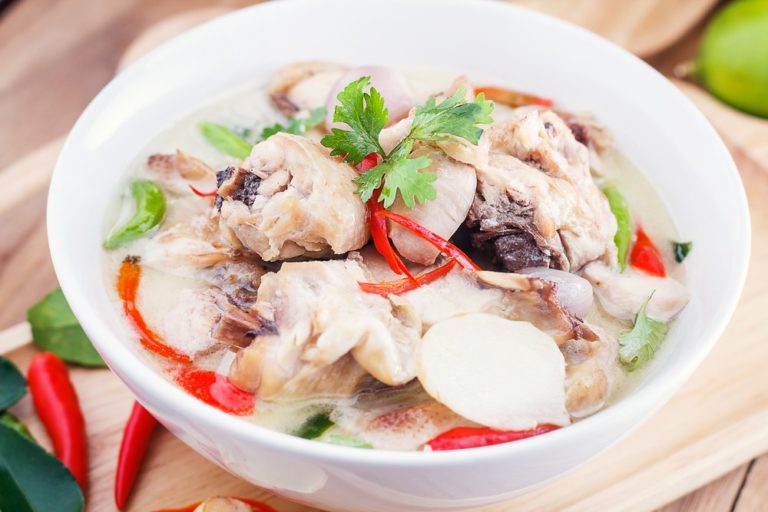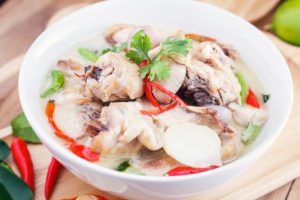 This is almost like To Yum Goong. kaffir lime leaves, lemongrass, shallots, and galangal are added with Asian mushrooms and coconut milk. This dish is well suited to travelers who are not interested in chili flavored food. Since this is a kind of sweet soup rich in coconut milk, anyone can taste it.
Som Tam Phu Pala (Spicy Green Papaya Salad)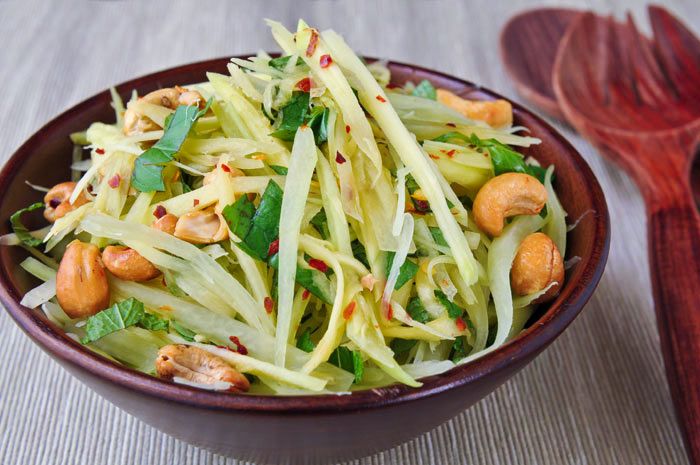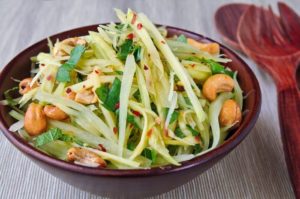 Som Tam is one of the most popular dishes in Thailand. So, you can find this at any restaurant. This papaya salad typically contains shredded green papaya (unripe), carrot, crunchy peanuts, tomato, shrimp, crabs, palm sugar, runner beans, tamarind, lime juice, garlic, fish sauce, and chilies. You can now understand that this food offers you a combination of sweet, sour, and spicy flavors in the best way. (the best Thai Food)
Yam Pla Dook Foo (Green Mango salad with fried catfish)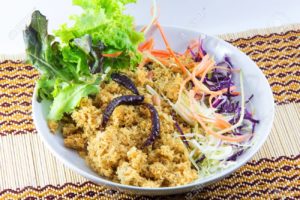 This is almost like Som Tam, but here they use catfish and mango instead. The fluffy and crispy flavored fried catfish pieces are blended with greeny, sweet, sour, and spicy mango slices. This one is more suitable as a beer snack or an appetizer.
Laab (Spicy Salad)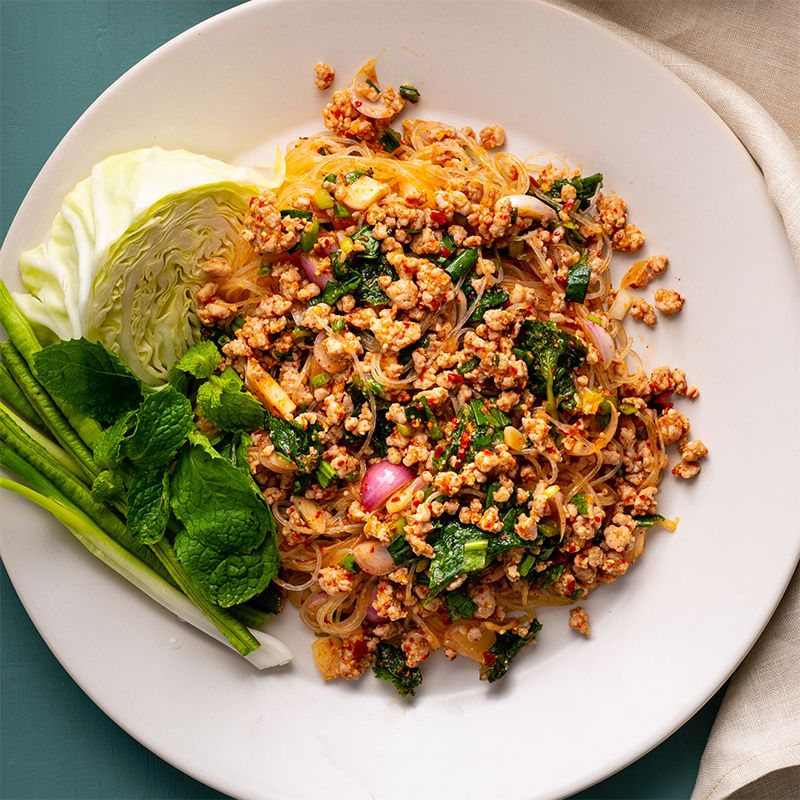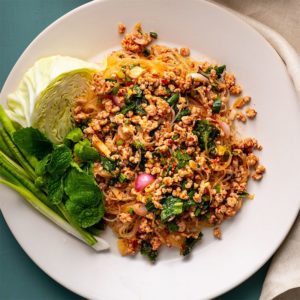 Here comes the spicy king of Thai food. My first warning is that if you do not like and tolerate more spiciness, do not try it. This is made with chicken, pork, mushroom, and different greeny leaves mixed with unique Thai culinary magic. And this dish has originated in the Northeastern region of Thailand. Now, it cooks in many ways rather than the typical method. (the best Thai Food)
Pad Thai (Thai-Styled Fried Noodles)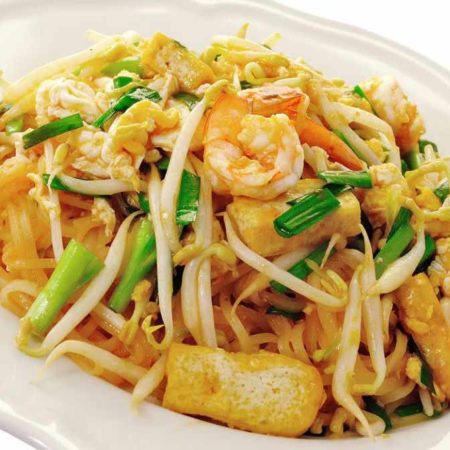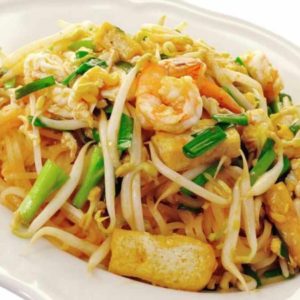 I should mention this dish in the top ranks since it is Thailand's signature dish. And also, this is the most famous street food in Bangkok. This dish is made with fried rice noodles, fresh prawns or chicken, eggs, tasty tofu cubes, crunchy bean sprouts, grated peanuts, onions, and lime juice. And this is one of the cheapest dishes in every street in Thailand. So try and feel the taste. (the best Thai Food)
Tod Mun Pla (Thai Fish Cake)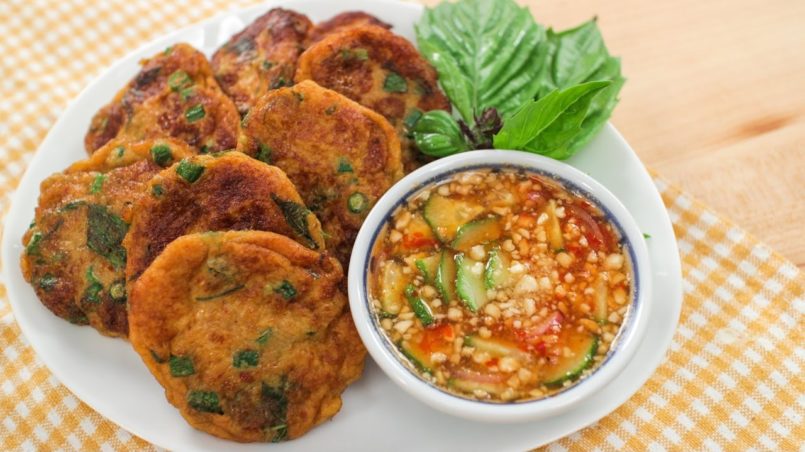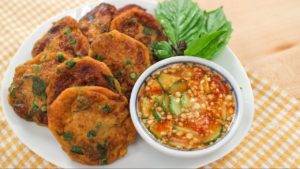 I know how you are excited to read about this dish since it sounds unique. And trust me, it feels unique as well. You can find this as an appetizer on any Thai table. This is made with fish paste and long beans mixing with kaffir lime leaves, Thai basils, and red curry paste.
And served with a sweet dipping sauce called nam jim, which is made with chopped cucumber, shallot, peanuts, and chilis dipped with sugar syrup, fish sauce, and vinegar. On the other hand, the lime leaves provide you fragrance and sour flavor to arouse your appetite. And finally offers you one of the best Thai food dishes.
Kana Moo Krob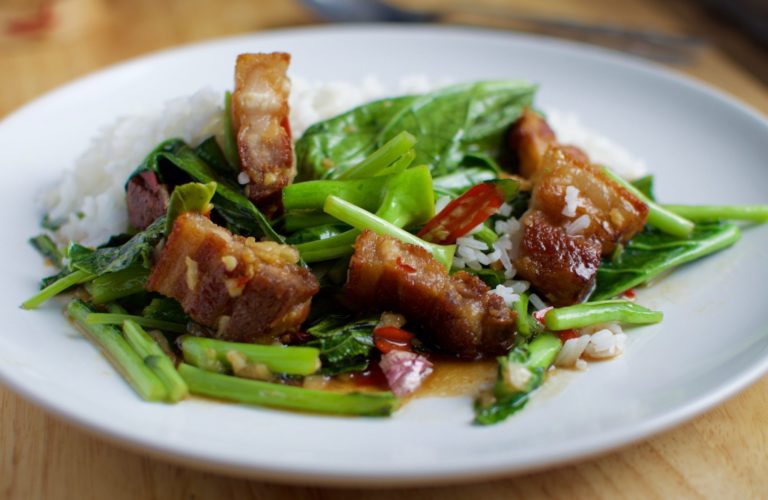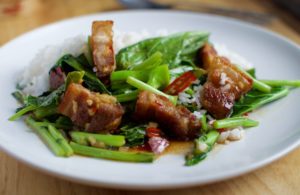 Kana Moo Krob is a healthy and tasty Thai dish. This is composed of fried Chinese broccoli over high heat with several elements: garlic, crispy pork belly, and chili. And then toss with oyster sauce, gravy, and soya bean to add some salty and sweet flavors. Kana Moo Krob usually serves with steamed jasmine rice which I think ideal for it. (the best Thai Food)
Nam Prik Noom (Spicy veggie dip)
This is a tasty Thai dish that came from the Northern region. It contains fresh veggies dipped in a young chilis dip. And that chili dip is composed of garlic, cilantro, shallot, fish sauce, lime juice, and green chilis.
Do not worry; although the ingredients are more strong, the dish has the correct combination of all things. You can go with sticky rice, eggs, and pork rinds to enhance the taste.
Kai jeow moo sab or nam (Thai wok-fried omelet)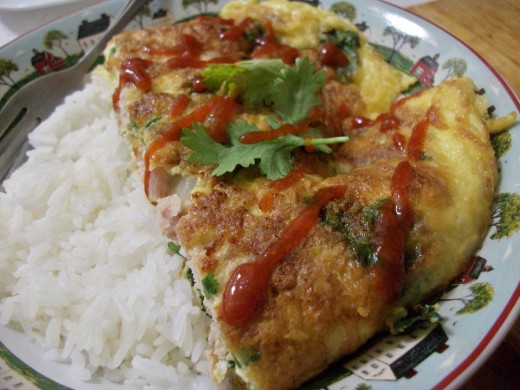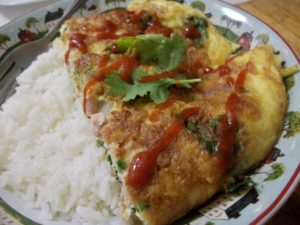 This is a kind of unfamous Thai food between tourists. But, Thai people eat this as breakfast and mostly feed their kids as breakfast. The dish is a wok-fried omelet spice up with different kinds of ingredients. The first one is Kai Jew Moo which included garlic and pork (ground with pepper). And Kai Jeow Nam is made with sour flavors and fermented Thai sausages.
What the special trick they do is, add all of this stuff into the omelet and fry at high heat for few minutes. Then results in a crispy outside layer with a fluffy inside.
Suea Rong Hai (crying tiger)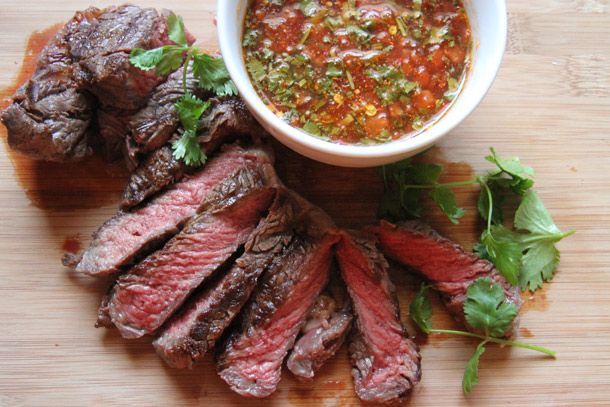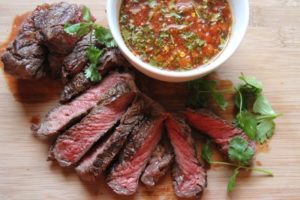 You can understand by its name that this dish is very, very hot. So, I warn you, if you cannot eat more spicy then do not try this. It will make you cry with the hot flavors. Since this originated from the Northeastern region, you should expect this kind of strong flavor.
Actually, the real crying tiger is the spicy sauce called nam jim jao. The grilled beef slices are dipped in this sauce and served with sticky rice and salad leaves. I'm sure you would love this. (the best Thai Food)
Ruam mit (Sweet Thai dessert)
The meaning of Ruam mit is "a gathering of friends." This one comprises coconut milk broth, sliced jack fruit, toddy palm seeds, coconut jelly, pandan, and chestnuts coated in tapioca flour. And finally topped with ice. So, I suggest this to have after a spicy meal to recover it.
I prefer this more than Kao Niew Ma Muang, a dessert with mango and sticky rice. Ruam mit is much tastier than Kao Niew.
What is the most popular Thai food?
Out of the above list of the best Thai food, these five food dishes are very frequent anywhere in Thailand and the world.
Tom Yum Goong
Som Tam Phu Pala
Tom Kha Kai
Guay Tiew Reua
Pad Thai
Khao Pad
Thai cuisine information
In ancient times, many people had emigrated from Southern Chinese provinces to Thailand. Therefore, we can see a huge influence of Sichuan cuisines in Thai food. And also, many centuries ago, a Buddhist monk had come to Thailand to spread Buddhism and wellanduch of Indian food flavors. Later, southern Thailand has influenced by the adjacent Muslim states as well.
In recent times, again Thai food was influenced by some European flavors like Portuguese, Dutch, and Japanese. But now, we cannot see any influence. It has unique flavors combined with sour, sweet, bitter, salty, and spicy. (the best Thai Food)
Famous Thai street food
When you visit Thailand, you will realize that street food in Thailand is just amazing. I mean, the taste is different from stall to stall, and also, the experience keeps changing from stall to stall. The food in street stalls is tasty as well as cheap. So, why are you spending more money at five-star hotels to eat the same thing for expensive? Just feel the street food feeling. I'm sure you would love it. Well, these are the famous Thai street food. (Just as mentioned above)
Som Tam, Khao Pad, Pad Thai, Khao Mun Gai, Khao Pad (fried rice)
But one of the major reasons, if I'm not highly recommending Thai street food, is its less hygiene. Simultaneously, when I compare with other developed countries' street food stalls, Thailand is far better than them. So, according to my personal experience, I recommend Thai street food to anyone.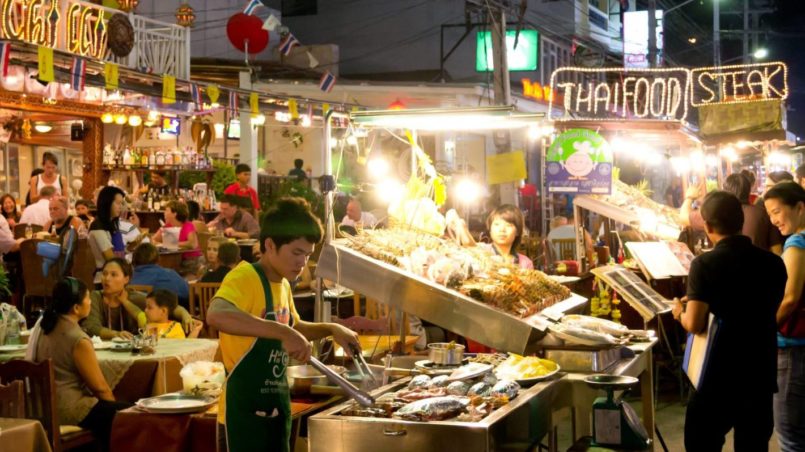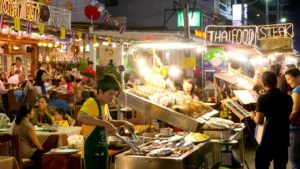 Actually, the reason is, we can see how they cook. They are very transparent with their ingredients, and even they have a high turnover of food. That means we always transparently get fresh food. So, I love that experience. At the same time, keep in mind these tips as well.
Tip for Eating Thai street food
Watch whether your food is cooked or not. Make sure it is not raw or half raw.

Make sure the correct vendor asks for food and pays money. For that, just observe well who's the person served for other customers at the stall. And then order and pay to the same person.

Try the stall, which has a long line, especially with more locals.

Try to visit the street stalls at regular local meal times. You will get fresh food for sure.

Be careful with drinks. Especially water, including drinks and ice cubes. Since the sellers use unhealthy water for those purposes.

As mentioned throughout the post, beware of the spice levels of your ordered dish. (some dishes may be extremely spicy)

If you have any allergies, learn how to communicate them to the vendors and customize your dishes. Even you can ask for customizing the dishes with spice levels.

A favor for the vendors who specialize in one or two dishes

If it is your first time, then eat a small amount. Do not try more food. (the best Thai Food)