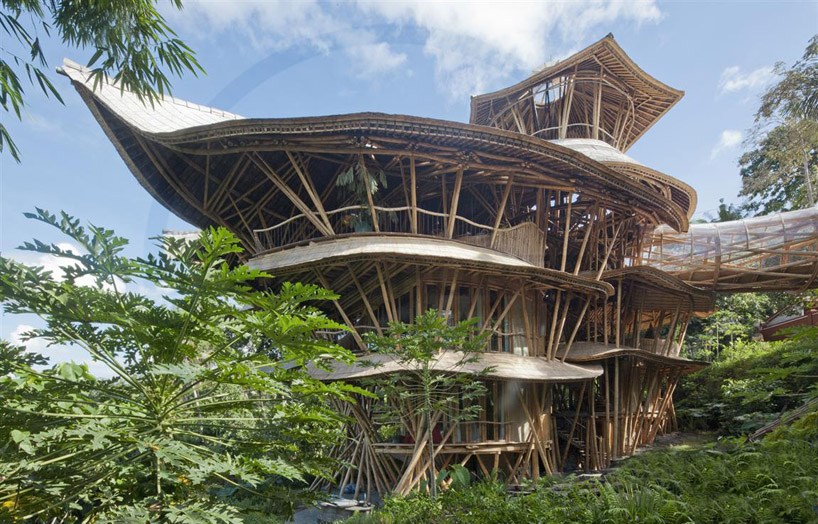 Do you like to spend a busy city life for your whole life? I hope not. I'll give you an option to discover yourself and leave the noisy city life for a while. Have you heard about the best treehouse hotels? Well, they exist. For me, spending my holiday in a treehouse hotel alone was the best chance to relieve mental stress. I stayed in Sarai Village in Sri Lanka. It was just awesome. But, you have so many other options for sure. Keep reading.
Green Village, Bali
It is just like a childhood dream coming true to sleep in a 6-story tall bamboo treehouse. The Green Village in Bali is eco-friendly which is totally made with bamboo and green materials.  There's a total jungle view through the
full opened walls. If you are fed up with living in an urban area, then this is the best place to breathe pure air and feel the natural air conditioning system around with bamboo trees. The activity package of Green Village includes chilling with monkeys, tour to their bamboo factory, workshops on bamboo home building, investigating secret uses of the coconut tree, and playing a bamboo xylophone called the Jegog.  And this heavenly feeling treehouse is not far from the Southern beaches of Bali.
The Londolozi Tree camp, South Africa
Londolozi is one of the finest game lodges in Africa.  With luxurious accommodation, you can experience watching large elephant herds while taking your morning bath and rare leopards in the afternoon safari. And at the end of the day, you can stay in the coolest treehouse with the finest furniture in the world. 
TreeHouse Lodge, Costa Rica
Do you want to spend time in a rainforest nearby a beach? TreeHouse Lodge is the best place for you where it is a 10-acre property with both jungle access and beachfront with the almost perfect Punta Uva Beach nearby. Throughout the treehouse hotels in the world, Treehouse Lodge is the exact picture you dreamed of in childhood. 
Saraii Village, Sri

Lanka
Sarai Village is a beautiful paradise in Sri Lanka. You will feel your holiday like living in a bird's nest on top of a tree. Many more experiences like cooking local food, pottery, cycling tours, making curd, and bird watching in Bundala will add to your memory.
Free Spirit Spheres, Canada
This treehouse is built without disturbing nature. So, if you are a nature lover, this is the best place for you. The Spheres are totally safe with anchor points on at least 3 trees each which mute how much you actually sway.  The curved interiors help the inside feel much bigger than they are and make room for a bed, table, and chairs inside the small space.