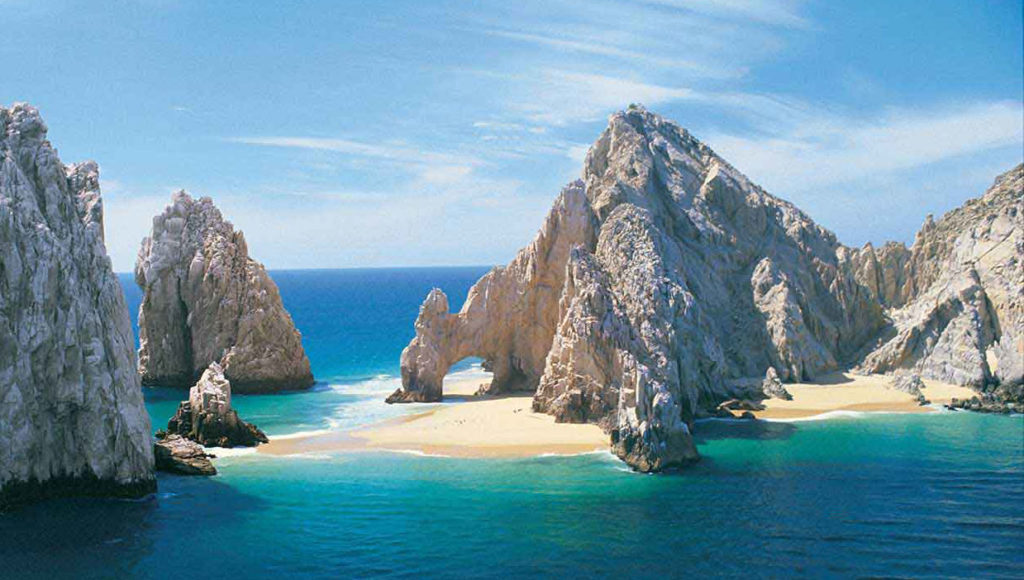 Cabo San Lucas Beaches are blessed to have the Pacific Ocean with a great sunny climate in Mexico. Since the ocean resource is rich with fish, the world's biggest fishing tournament is held here. And on the other hand, there are plenty of swimmable stunning beaches, snorkeling areas, surf breaks, and many more experiences. Here's everything you need to know about Cabo San Lucas Beaches in Mexico.
Cabo San Lucas Beaches
Where is Cabo San Lucas located?
Cabo San Lucas or Saint Luke Cape is located on the Southern tip of the Baja California Peninsula, Mexico. It is very easy to reach from the USA and Canada. The area both Cabo San Lucas (CSL) and San Jose del Cabo are called "Los Cabos" or "The Corridor." And this Los Cabos extends for around 800 miles along the Baja California Peninsula.
You can see on the map the west side of Cabo San Lucas has the Pacific Ocean. And on the eastern, you can see the Gulf of California. It is also known as the Sea of Cortez that considers the world's most biologically diverse and youngest sea.
There's a famous icon of this area to identify anyone who reaches CSL. It is "The Arch" or "El Arco," which is a natural stone arch. And it is a symbol of Los Cabos and adds great natural beauty to it.
Thomas Ritchie first discovered this area in 1828. And, then the Spanish explorer Sebastian Vizcaino named this place as Cape (Cabo). Currently, this is a sophisticated and modern tourist destination that attracts many tourists to Mexico. Especially, Cabo San Lucas Beaches are famous among Hollywood celebrities as well.
Suggested Reading: Best Beaches in Mexico
Since the Mexican government has done a great job of improving the city's infrastructure, no need to worry about facilities, you can directly fly to San Jose del Cabo International Airport and reach any beach. (Cabo San Lucas Beaches)
Does Cabo San Lucas have nice beaches?
Of course, Cabo San Lucas is more famous for its enjoyable beach life. For example, beaches like Playa del Amor or Lover's Beach are the most photographed beaches in CSL. Yes, its environment looks beautiful and romantic with the unique granite rock formation.
Playa El Medano is also a nice beach that attracts thousands of tourists annually.
Most of the nice beaches are located along "The Corridor" or "Los Cabos." For example, Santa Maria, Chileno, and Palmilla consider the most popular beaches in the corridor. Those beaches have also received recognition for high quality and sustainability from the Foundation for Environmental Education with Blue Flags.
On the Cortes side, beaches like Playa las Viudas or Widow's Beach offers you great beach views with unique volcanic rock formations. Also, Costa Azul like beaches has surf breaks and an enjoyable beach climate.
Like that, there are plenty of nice beaches in Cabo San Lucas; just scroll down to discover more. (Cabo San Lucas Beaches)
Best Hotels in Cabo San Lucas



Looking for the best hotels in Cabo San Lucas, Mexico?? Just search here. 


Are there Swimmable Beaches in Cabo?
Yes, of course. There are swimmable beaches in Cabo San Lucas. Knowing exactly what they are will avoid the dangerous beaches. Actually, the following swimmable beaches are the major reason for me to travel there. Because I love to swim in the sea. And to be honest, after the Maldives, Cabo San Lucas is my favorite swimming place.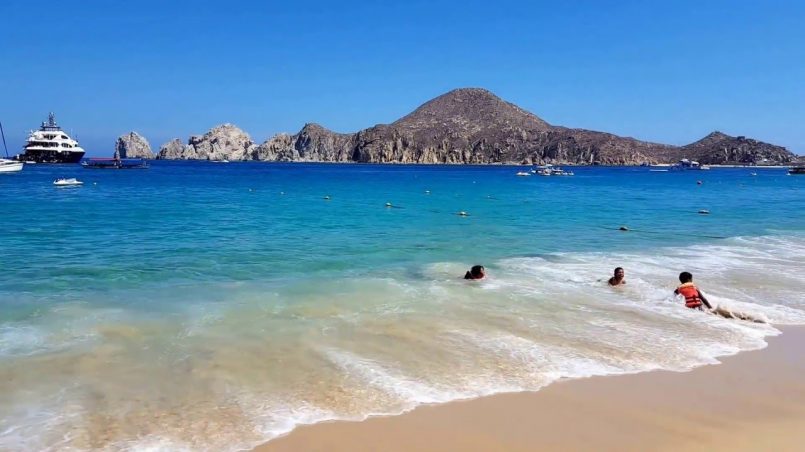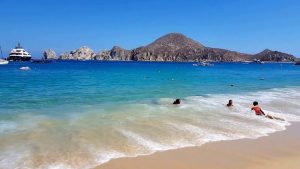 Here are the best swimmable beaches in Cabo. (Cabo San Lucas Beaches)
Lover's Beach: Cabo San Lucas Beaches
Lover's Beach or Playa del Amor is one of the most beautiful beaches in the world. Although it is safe to swim, you have to access there by boat. But, I love it since it is more adventurous. Once you reach the beach, you can see the iconic symbol Arch at Land's End. There are so many water taxi boat services to get you to the beach.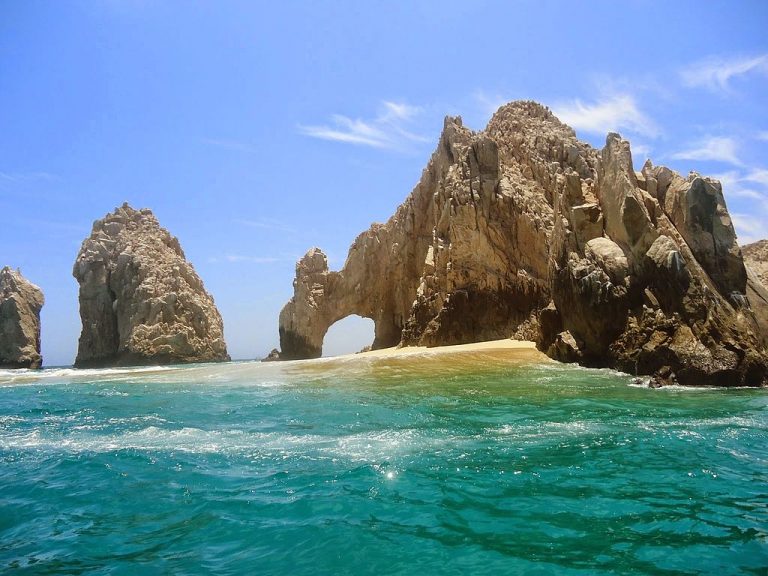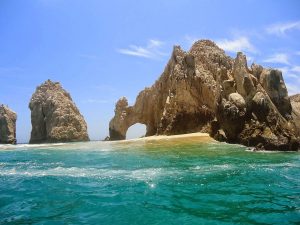 Snorkeling, swimming, and feel the beauty in the climate is more exciting and unforgettable. And the most important feature than beauty is its calm and relaxing environment. (Cabo San Lucas Beaches)
Medano Beach Cabo: Cabo San Lucas Beaches

If someone said, Medano is the best beach in Cabo. I agree with it. Locating the downtown, this is the longest beach with 2 miles of expansion. Since the beach has golden sand, clear water, and soft waves, it has become the most popular beach in Cabo San Lucas.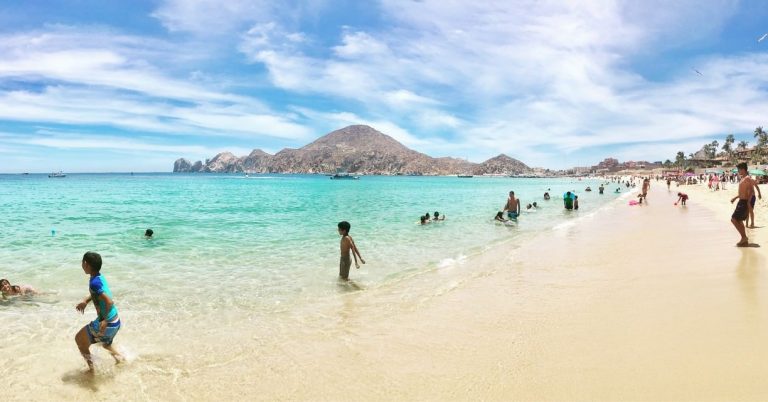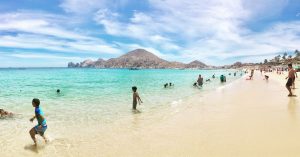 Therefore, it is filled with restaurants, bars, and beach resorts. When I visit there, it reminded me of the old "Baywatch" as all the features of a traditional beach area. Like: swimmers, lifeguards on duty, people lying on the beach, and playing on the beach.
Apart from swimming, you can do parasailing, boogie boarding, jet-ski, and kayaking. You can also do beach shopping for colorful Mexican blankets, hats, silver jewelry, and many more. (Cabo San Lucas Beaches)
Suggested Reading: Best Beaches in Sicily
Playa Acapulquito
Most of the swimmable beaches in Cabo are owned by private resorts or hotels. But, Playa Acapulquito does not own by a private resort. It is clean, safe, and well maintained. If you are not affordable to stay in a luxury hotel then, visit Playa Acapulquito. But, keep in mind that the beach gets busy with tourists during busy travel times.
Palmilla Beach Cabo
Located in San Jose del Cabo, it is just a short drive away from Cabo San Lucas. But, it is totally worth to visit and take a swim. I suggest you plan a beach picnic here. Pack your all needs since there are no shops near the beach.
Playa Palmilla is another Blue Flag certified beach that extends for one mile. Swimming, paddle boarding, kayaking are the things you can do here. (Cabo San Lucas Beaches)
Chileno Beach
Chileno Beach is another swimmable beach in Cabo San Lucas. As I mentioned earlier, this beach was recognized as clean water containing beach (with a "Blue Flag") by the Foundation for Environmental Education in 2015.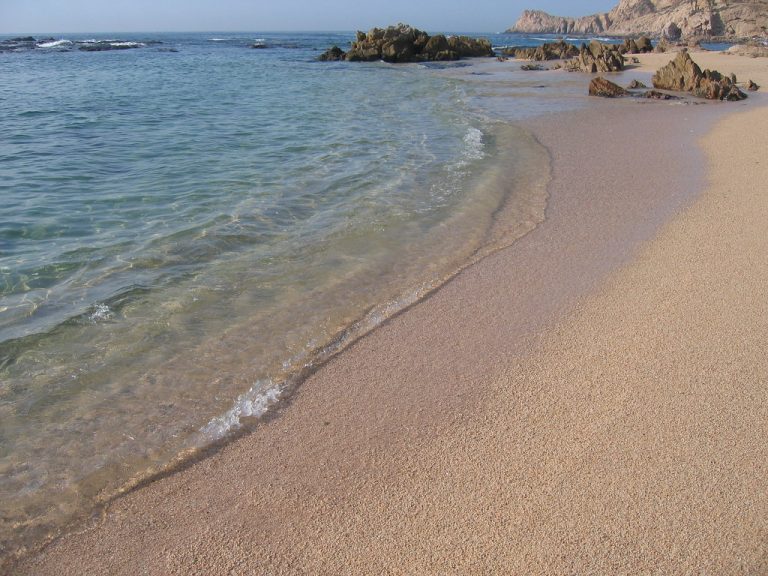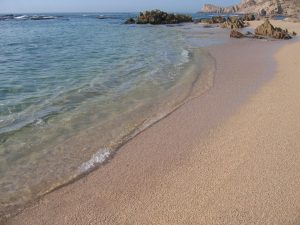 As a safe beach to swim, the area is marked by roped off from boats. And since there is clean water, this is a great place for snorkeling as well. Even children can do snorkeling in this area.
Since this is a public beach, most of the locals and tourists attract here. So, I recommend you travel in the mornings on weekdays, there are not many visitors, and you can enjoy yourself well. (Cabo San Lucas Beaches)
Cabo San Lucas Beaches:

Cabo Pulmo
Out of all Cabo San Lucas beaches, Cabo Pulmo is one of the top snorkeling spots. It contains colorful corals and tropical sea fish varieties. And this beach is protected by the Cabo Pulmo National Park. Therefore, you may not see many beach vendors. This is a great opportunity to feel the real natural beauty of Cabo.
Cannery Beaches
This beach attracts a very small amount of tourists compared with other beaches. So, there are not many vendors as well. But the water is great for both swimming and snorkeling.
Why are the beaches in Cabo not swimmable?
As a prime vacation spot in the world, Cabo San Lucas beaches are rich with natural beauty. But, all of the beaches in Cabo are not safe. We all know, Pacific beaches are blue and beautiful, but they are most dangerous. Apart from the above-explained beaches, there are certain dangerous beaches to be avoided by swimming in Cabo. (Cabo San Lucas Beaches)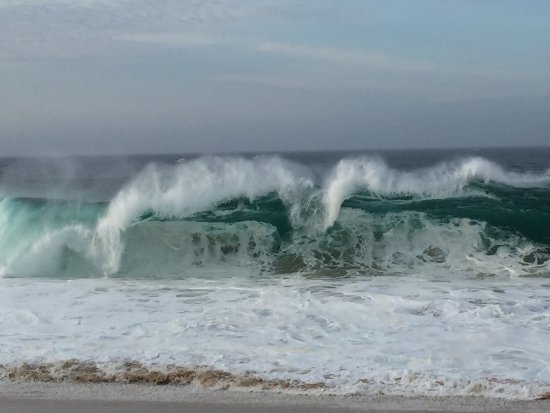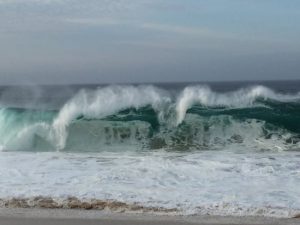 There are riptides on some beaches that catch the swimmers by a strong current. Even strong swimmers were drowned regularly due to these currents. So, do not play with your life by swimming on unsafe beaches.
If you decided to take the risk, try to swim parallel to the beach to avoid the current effect. And also, always follow the guidelines offered by the beach authorities. Unfortunately, there are no lifeguards on every beach in Cabo San Lucas. Therefore, it is better to identify the signs mentioned on the beaches before entering.
Especially, do not try to enter the closed beaches. And there are red flags displayed on some beaches. Always try to avoid them because your life is valuable than anything else.
And another thing you should avoid or protect from is jellyfish's existing beaches. Just check before you visit there. (Cabo San Lucas Beaches)
Suggested Reading: Costa Rica Beaches
Best Cabo San Lucas Beaches
Santa Maria Beach Cabo
Santa Maria Beach Cabo is also a "Blue Flag Certified Beach" since it has clean water. And also, it is a protected marine sanctuary situated on the corridor. Even the water is crystal blue and has soft yellow color sand. The beach is the shape of a horseshoe and exists in a calm environment.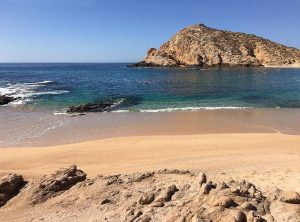 But, yet I recommend you to check the weather before you travel there. Try to come early in the morning to avoid the hustle.
Suggested Reading: Monaco France Travel Guide
Playa del Divorcio
Even I wanted to find the reason why this beach named "Divorce Beach." But I couldn't find it. If you know, please comment below.
Whatever the name, this one is just beautiful, like Lover's Beach. Having calm and safe water offers you ideal sunbathing and relaxing opportunities. But, strictly keep in mind not to swim on this beach since the waves are rough and extremely dangerous. (Cabo San Lucas Beaches)
Playa Costa Azul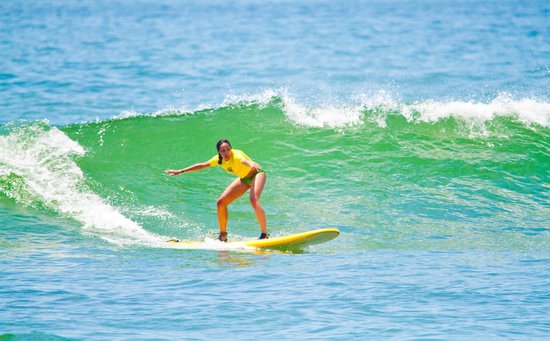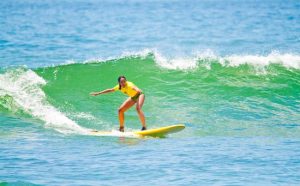 Playa Costa Azul is a signature beach in San Jose del Cabo area. This is an ideal beach for surfing during the summer. Some surfing tournaments are also held at Zipper's point here since it has the best surf breaks. It is suitable even for beginners as well. And this one is good for swimming and snorkeling. On the other hand, Costa Azul offers the best Mexican foods as well.
Cabo San Lucas Beaches:

Playa Los Cerritos
Located on the north side of Los Cabos, this is a year-round surfing destination. And there are surf trainers for beginners as well. It will take around 45 minutes to reach this beach from Cabo San Lucas.
Playa Solmar
Playa Solmar is a public beach that can access easily. I suggest you visit this beach to see the sunset. If you visit in the winter months, you are getting the chance to watch whales. But, it is not a good idea to swim in the sea here since the dangerous currents are there. Just view the beauty, do not try to get closer to water.
Suggested Reading: Best Places for Humpback Whales Watching
Playa Monumentos
Monumentos beach is there only for the surf experts. So, it is not safe to try by the surf beginners. Therefore, normal people can experience great beach walks with sunset views on Playa Monumentos. (Cabo San Lucas Beaches)
Cabo San Lucas Beaches: Playa Bledito
Playa Bledito is a gorgeous beach in Cabo. Due to a man-made wave break, this beach is a safe one for swimming. Do not ever try to pass the break.
Beaches Resort Cabo San Lucas
I will mention first the beach resorts in Medano since it is the most popular one in San Lucas. Cabo Villas Beach Resort and Spa, ME Cabo, Pueblo Bonito Los Cabos, and Club cascades de Baja are the places I recommend you. (You can book these resorts from the above Booking.com map)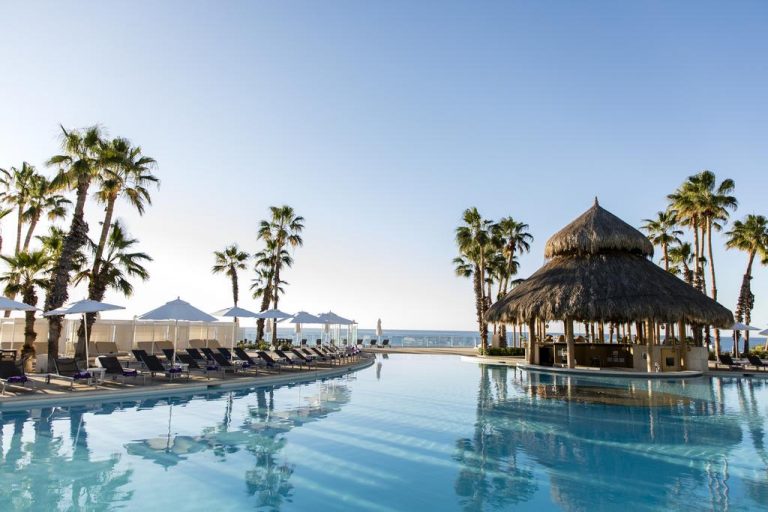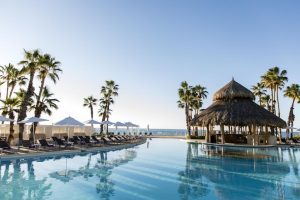 And also, some ideal beach resorts offer you body surfing experiences. Villa La Estancia, Villa del Arco Beach Resort and Spa, and Villa del Palmar Beach Resort.
The best San Jose del Cabo beach resorts that I recommend are Hotel El Ganzo, One and Only Palmilla, and Cabo Surf Hotel. 
Cabo San Lucas Beaches
Did you enjoy the post?? Just pin it for later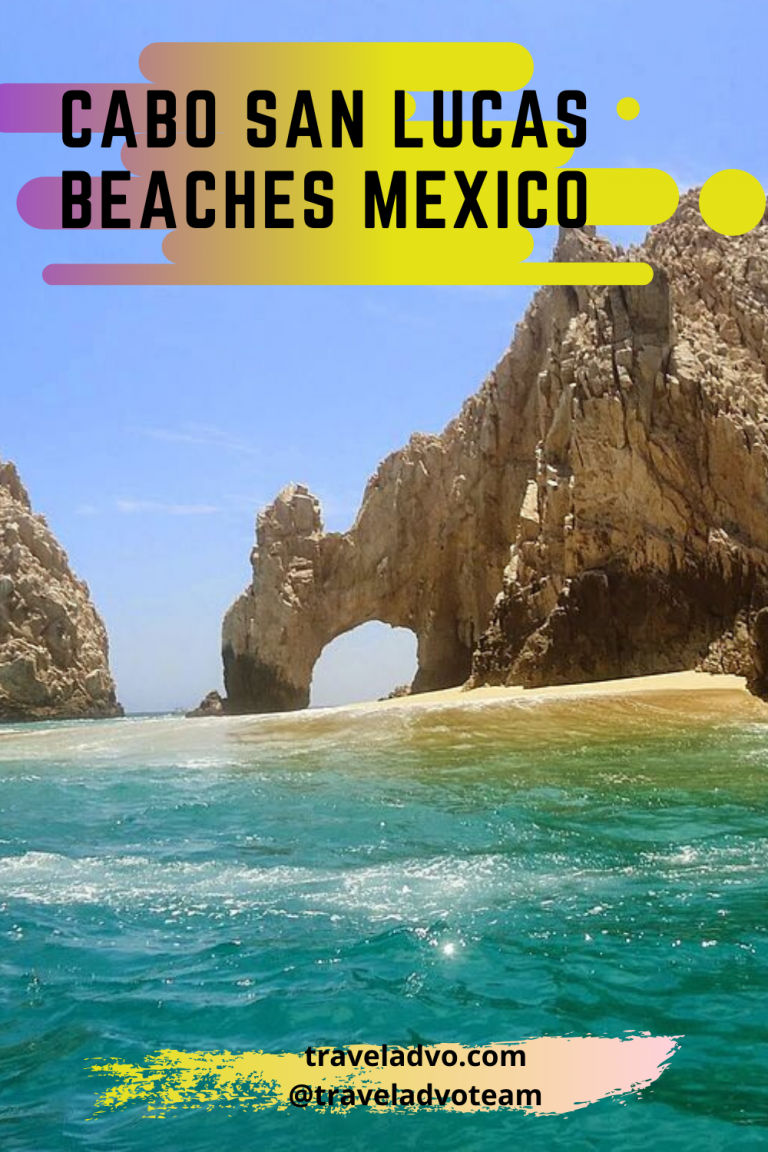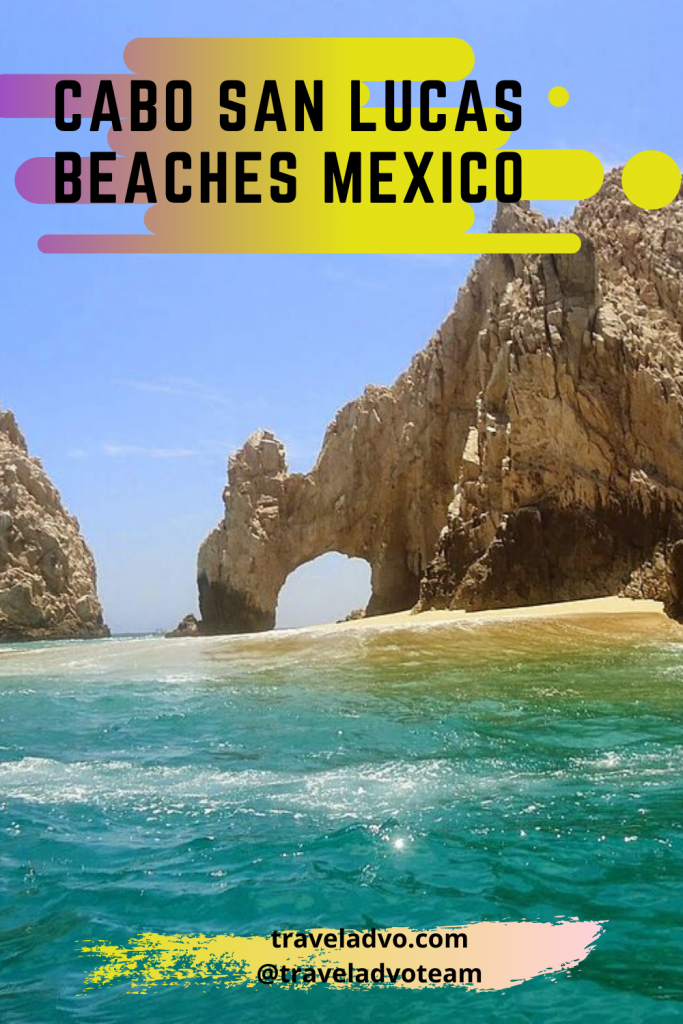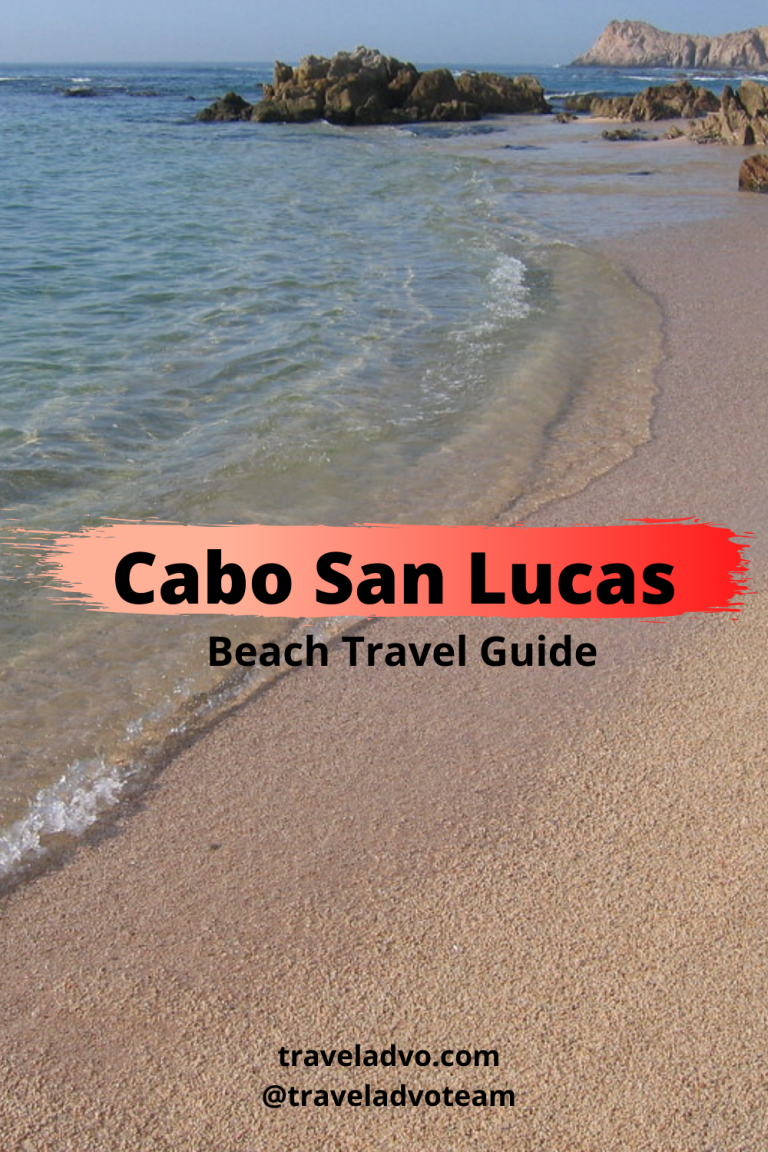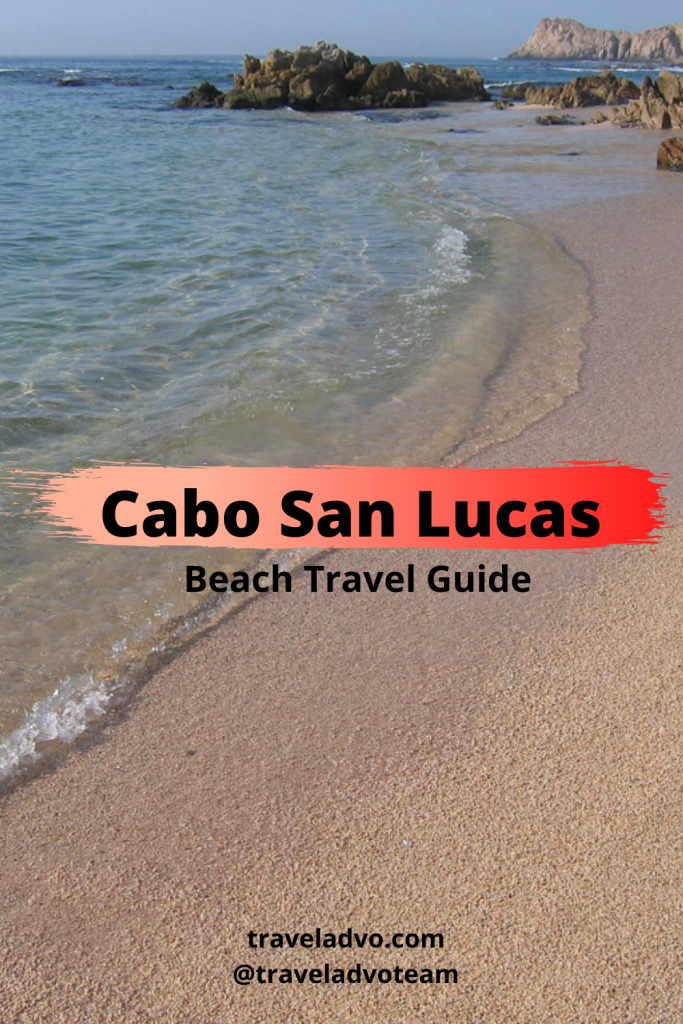 Watch this video