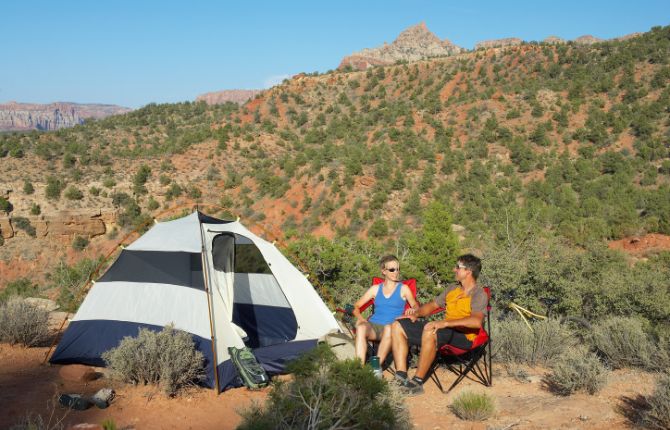 Are you looking for the best campgrounds near Zion National Park?? This article will help you to get more information to plan your family camping tour.
Zion National Park is famous for camping because of its lower elevation, warm temperatures, and scenic surroundings. For example, South Campground, Watchman Campground, Zion Canyon Campground, and Zion River RV Resort & Campground are the most famous campgrounds.
Here's the list of campgrounds near Zion National Park with all the information. `
1. Campgrounds near Zion National Park: South Campground
If you're interested in camping in Zion National Park, the South Campground is one of the best options.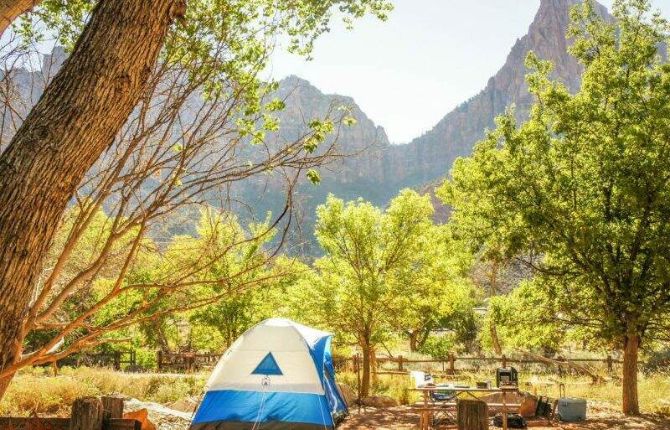 This campground is close to the official shuttle service and visitor center. It also has large cottonwood trees near the Virgin River, which help to provide some shade from the blazing sun.
While the South Campground is not the most luxurious of campsites, it offers ample amenities and is near several hiking trails.
Located in the southwestern portion of Zion, this campground provides easy access and a little elevation. Hiking in the area is a popular activity for families, and you can even go on a day hike that takes about an hour or two.
South Campground in Zion National Park features a scenic background with large, spaced campsites. Located very close to the south entrance, this campground is open from March to November. Therefore, reservations are recommended at least 14 days before the visit.
Facilities in the South Campground include 117 campsites for tents/RVs/trailers, a dump station, flush toilets, and potable water. But there're no hookups.
A Camelbak is also recommended, and you can always refill your water bottle at the park's visitor center. If you're hiking in the area, it's a good idea to pack a Camelbak and bring some sun protection.
The South Campground is located on State Route 9, about 13 miles west of Zion National Park. You'll find a kiosk where you can check in and get directions to your campsite. Tree Tents are not permitted in South Campground, but they are allowed on shaded/tree sites.
Powered generators are allowed from 8 a.m. to 8 p.m. Check your campsite before bringing your generator.
Address: 1 Zion Park Blvd, Springdale, UT 84767, United States    Phone: +1 435-772-3256
2. Campgrounds near Zion National Park: Watchman Campground
If you're looking for a fun camping spot in Utah, you may want to check out Watchman Campground.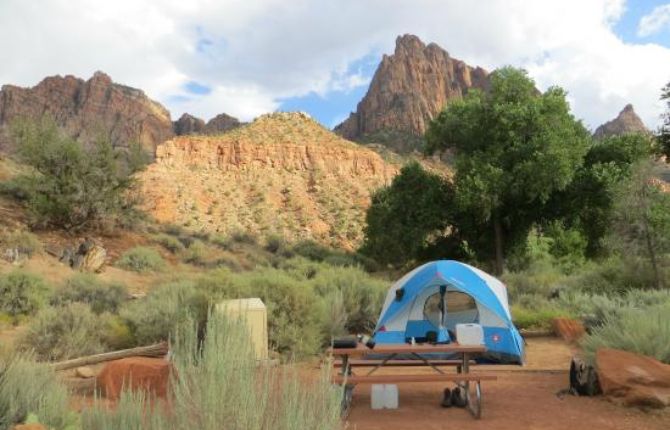 The popular campground features more than 175 campsites, restrooms, and shaded areas. These campsites are for tents and RVs. And also, there are 95 electric hookups. You can even bring your pet to relax at this campground.
Another great reason to stay at Watchman Campground in Utah is the beautiful scenery. The surroundings of Zion National Park are stunning.
Located close to the South Campground, Watchman Campground has less shade compared to South Campground. But, it is not lacking in stunning nature views.
Although the campground is open year-round, try to make reservations six months in advance.
Those who like nature should check out the Canyon Overlook Trail. Hiking and biking are just a few more ways to enjoy the area. While there, check out Obert C Tanner Amphitheater, which hosts concerts.
If you're looking for a campground in Utah close to the National Park, Watchman is the perfect place to stay.
Researchers at the University of Montana analyzed data from 23,000 reservations at the Watchman Campground in Zion National Park.
They found that factors such as the number of neighboring campsites, river access, and electricity were not as important as the price or the view. The researchers also found that proximity to the Virgin River was a significant motivating factor for campers.
Address: UT-9, Springdale, UT 84767, United States    Phone: +1 877-444-6777
3. Campgrounds near Zion National Park: Zion Canyon Campground and RV Resort
The Zion Canyon Campground and RV Resort offer 131 fully serviced RV sites and 15 tent sites. The amenities include water, restrooms, showers, and laundry facilities.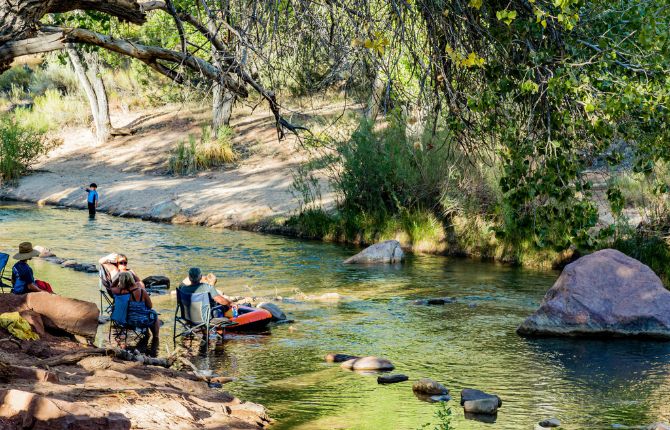 The campground has a swimming pool and a playground for the kids. The resort also has a private shuttle service to the South Entrance of Zion National Park.
The shuttle service is included in the price of your stay. You can spend your entire trip at the campground or take advantage of the resort's amenities.
Located on a ridge, Zion Canyon Campground and RV Resort offer a picturesque setting with stunning views of the park. The campground is fully serviced and offers a dump station and potable water.
Generators are allowed in designated areas between 8 am and 10 pm. The site is also accessible by car. It is an ideal spot for tent and RV camping. It offers a unique view of the southwestern part of the park.
Zion Canyon Campground is located just outside Zion National Park but offers full hookups and a shuttle to the park entrance. This park features paved parking pads, lawns, and fire rings.
Located in Virgin, Utah, Zion Canyon Campground and RV Resort offer large pull-through sites, WiFi, and showers. The campground is also pet friendly. It is located just 25 minutes from the South Entrance.
The weather in Zion Canyon can vary. During the summer months, temperatures can soar to 100 degrees. From July through September, the park is in full monsoon season, so expect thunderstorms, lightning, heavy rain, and flash floods.
Wear layers if possible. You may need them if you plan to hike through the park. Depending on the weather, the Virgin River can become very fast.
Address: 479 Zion Park Blvd, Springdale, UT 84767, United States    Phone: +1 435-772-3237
4. Zion River Resort RV Park & Campground
Whether you are traveling with a small RV or a large recreational vehicle, the Zion River RV Resort & Campground has something to offer.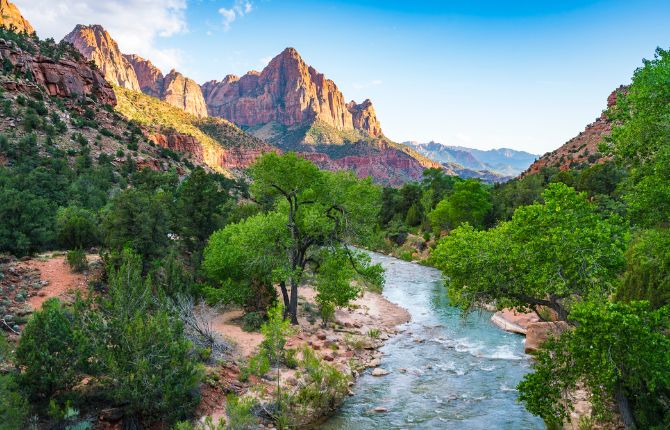 The campground features full hookups, shade trees, and gravel. In addition, some sites are pull-through, while others are back-up.
Guests can also reserve rental cabins, which can be rented in advance. Zion River Resort is a great location to explore the many attractions of the area (just 20 minutes from Zion National Park)
This campground is near Zion National Park and the Virgin River. It has full hookup RV sites, barbeques, and swimming pools. The resort also has a convenience store and a free shuttle service to Zion National Park.
There are many amenities to choose from, including Wi-Fi and laundry facilities. Guests can take advantage of the on-site activities, including hiking and mountain biking.
This campground is located right outside the park's east entrance. It features pull-through sites with full hookups and tent spots. It has basic facilities and a small store across the street.
Full hookups and a jacuzzi are provided. If you are traveling in a motorhome, make sure you bring a portable generator or another generator to power your equipment. Camping at Zion is easy! Just be sure to pack a water filter, sunscreen, and plenty of sun protection.
Zion River Resort RV Park & Campcamp is a lovely, well-maintained campground. The campground offers pull-through RV sites, cabins, tent sites, and RV camp spots.
The campground also offers a shuttle service to Zion National Park. Pets are permitted, but there are restrictions. There are 50 amp electric hookups available for campers. The campground offers Wi-Fi and laundry facilities.
Address: 551 E State Route 9, Virgin, UT 84779, United States   Phone: +1 435-635-8594
5. Lava Point Campground
You'll find a primitive campsite at Lava Point Campground in Zion National Park, about an hour's drive from Zion Canyon.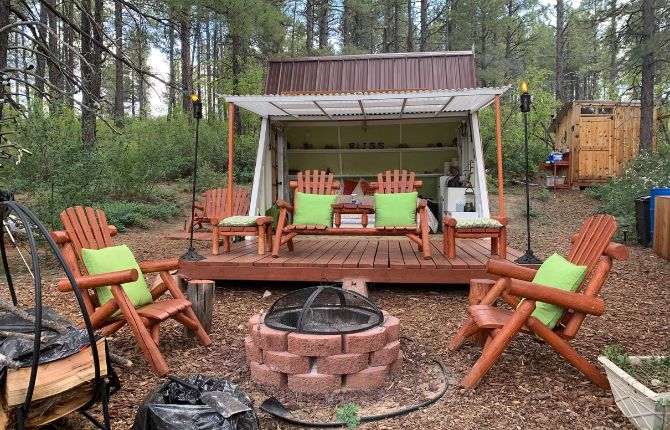 While it's not ideal for large RVs, it's a convenient location that serves as a base camp for more remote excursions into Zion National Park. There are no restrooms or showers, but the campground offers pit toilets and trash cans.
To experience the unique natural environment of Zion National Park, you'll want to stay at one of the campgrounds. There are two, and you can make reservations as far in advance as six months.
For a more remote experience, you can also consider a private campground outside of the park. For more privacy, consider staying in a campground on the park's east side. However, plan ahead if you want to stay at Lava Point Campground.
The Lava Point Campground is a great place to get away from the rat race. It has six rustic campsites, which you'll find in a secluded, scenic location.
It is 90 minutes from the South Entrance to Zion National Park. Because it's so remote, Lava Point offers plenty of solitude and incredible views. While the campground is primitive, it has a few amenities that will make your stay comfortable.
The climate is much cooler because it is around 4,000 feet higher than South Campground.
Another campground option is the South Campground, which is a half-mile from the South entrance. The large sites have picnic tables, fire pits, and drinking water access. This campground is ideal for families and couples.
To get an exceptional view of the park's famous sunset, arrive 30 minutes before the sun sets. You can reserve a campsite at South Campground two weeks before arrival.
6. Coral Pink Sand Dunes State Park
If you love dunes, you should definitely visit the Coral Pink Sand Dunes State Park, located near Zion National Park (only a 35-minute drive from the east gate). And also, it is a six-mile drive north of Kanab, Utah, and it's well-signposted.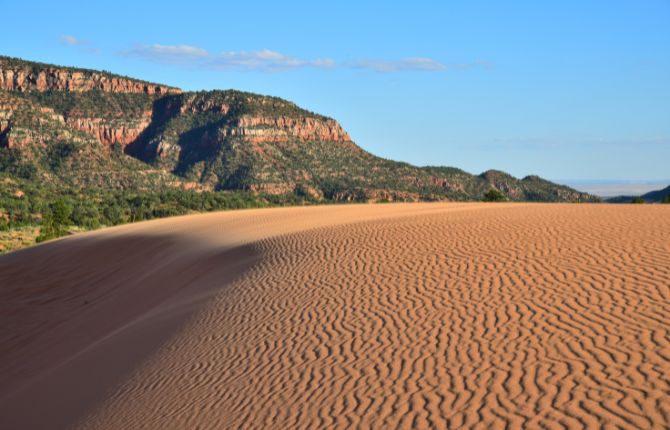 From Kanab, you can take Highway 89 south for about 30 minutes. Otherwise, you'll have to drive 40 miles south and take several detours to get to the park.
This sandy paradise is located about 22 miles from Kanab, Utah, and is an easy side trip from Zion National Park. The park is open year-round, but spring and fall are the best times to visit.
There are 34 campsites with parking facilities, picnic tables, grills, and many others. Expect to have a windy climate and cool evenings even during the summer.
June is the peak of wildflower season here, and summer is sultry and very hot. However, winter is cold, with snow thrown in occasionally. If you're unsure of the weather, consider visiting during the day.
When visiting the park, choosing a time that will not be overrun with vehicles is important. For instance, you'll want to avoid the weekend and holidays, when more people will be in the area. For a quieter experience, go on weekdays.
Additionally, there are BLM trails that go through the area. And if you're traveling on a budget, it's best to visit during the week.
You'll want to visit the Coral Pink Sand Dunes State Park if you love the outdoors. The park is surrounded by red cliffs and juniper and pinion pine trees. It's an ideal base camp for exploring the surrounding areas of the state.
There are over twelve thousand visitors each year. And, as a bonus, you'll see various animals, including endangered species.
7. Hi-Road Basecamp
If you are considering a road trip to the beautiful state of Utah, you may be wondering where the best place to stay in. Hi-Road Campground, located just outside the East Gate, is a good option for you.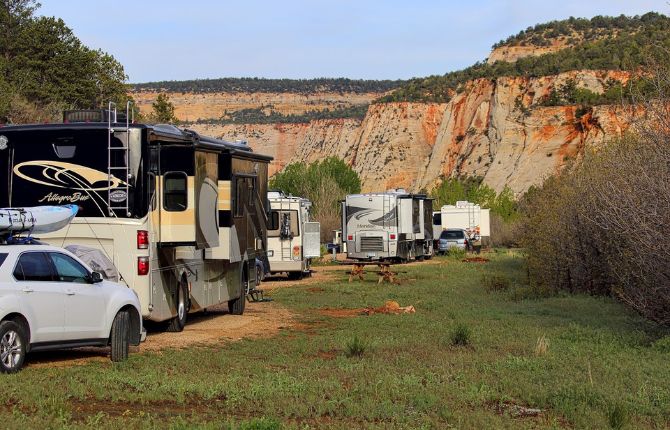 There are many options available, but the Hi-Road Basecamp in Utah is a good choice if you are looking for the ultimate road trip experience. Especially this campground is famous for East Rim hikes. 
This Utah camping resort offers luxurious accommodations with breathtaking views of the red rocks and is convenient to the airport, downtown attractions, and the TRAX light rail.
If you want to camp near the park, the Hi-Road Basecamp Campground is a private site with pull-through spots for trailers. It has full hookups, but there are plenty of places to pitch a tent as well. Although the facilities are very basic, the prices are high. 
Zion Crest Campground, meanwhile, is a private campground on the plateau above the park. T tent and trailer sites are available, but you should make reservations in advance.
If you want to experience the outdoors, you can visit one of the state's most picturesque locations – Zion National Park. Zion National Park is also nearby. The base camp features a heated Olympic-sized swimming pool, shooting ranges, mountain biking trails, and restrooms.
The staff is ready to help you get to the top of the canyon. In addition to the beautiful setting, Hi-Road Basecamp is close to Bryce Canyon National Park.
Another great place to camp in Utah is MBC. This base camp is 6 miles from Highway 313 and is located near the popular Crips Hole/Four Arch Canyon area. It is known as MBC Central and is home to check-in/check-out, food service, and a medical office.
There are also morning flag ceremonies and a medical office. During this trip, make sure to get plenty of rest, and don't forget to visit the base camp.
Address: UT-9, Mt Carmel, UT 84755, United States     Phone: +1 877-290-5756
8. Campgrounds near Zion National Park: North Creek Dispersed Camping Area
The North Creek Dispersed Camping Area near Zion National Park is perfect for unwinding after a long day exploring the park.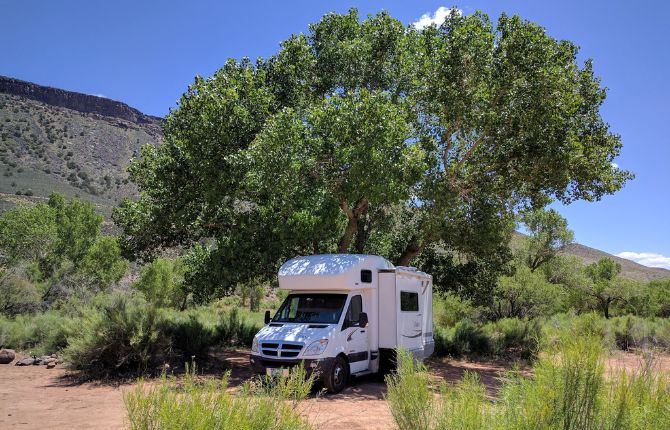 North Creek Dispersed Camping Area is located off the Kolob Terrace Road (over 16 miles from the park's gate). And there are around 48 marked campsites.
This BLM campground is situated 16 miles from the main entrance to the park. It is undeveloped and completely dispersed.
Campers are welcome to bring their tents and cook their meals at one of the campfire pits. Free firewood and a 360-degree view of the park are available.
The area around Zion National Park is home to several campgrounds. The most popular campground is near the South Entrance, but park regulars swear by the East Entrance for its less-crowded scenery and more convenient access to amenities.
The Hi-Road Campground is close by and has laundry facilities, wifi, and hot showers. In addition, the campground has a small store and laundry facilities. The camping area is also at a higher elevation than the South Entrance, which helps make the hot summer days bearable.
Campgrounds near Zion National Park
Watchman Campground
Zion Canyon Campground and RV Resort
Lava Point Campground
Coral Pink Sand Dunes State Park
Hi-Road Basecamp
North Creek Dispersed Camping Area