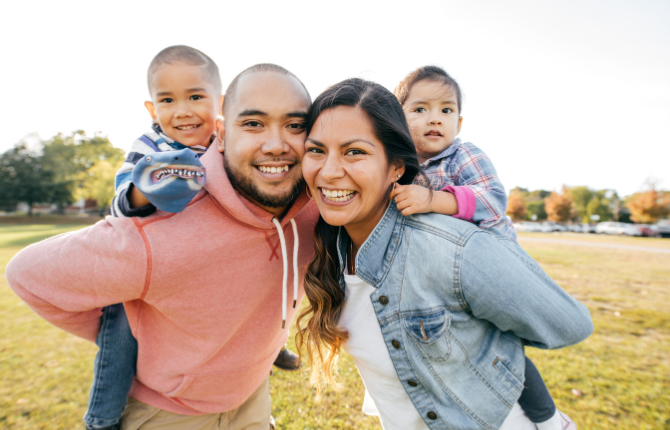 Are you looking for the best things to do in Anaheim, CA?? Here's the list with all the travel information you need to plan a family tour to Anaheim.
Disneyland Resort, Flightdeck Flight Simulation Center, Anaheim Packing District, and Adventure City are always top on any travel list.
Anaheim is a magical city in California filled with amusement parks, shopping malls, nature parks, world-class museums, entertainment venues, and many more.
Let's discover the complete list. Just check and add them to your bucket list.
1. Things to Do in Anaheim: Disneyland Resort
There are a variety of reasons to visit the Disneyland Resort or "The Happiest Place On Earth" in Anaheim, California. This entertainment resort is the most popular place for families to spend the day.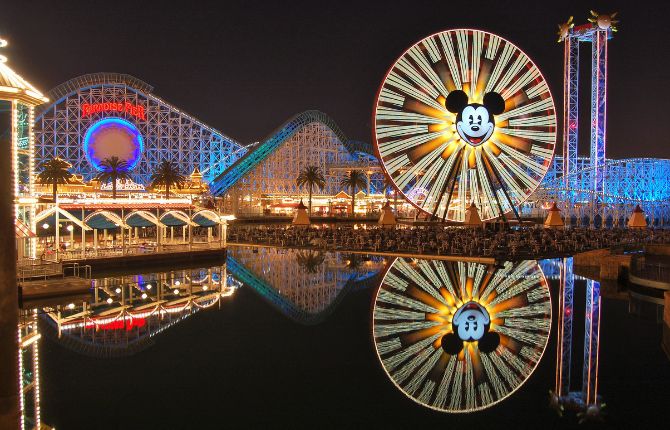 The Disneyland Resort in Anaheim is a complex of three parks. The original theme park is called Disneyland Park, and the adjacent hotels are known as Disneyland Hotel. In 2000, Disney acquired the Pan Pacific Hotel and the Wrather Company, and in 2003, these became the Paradise Pier Hotel.
This Anaheim attraction attracts millions of visitors annually. It features tons of fun activities for the whole family. Ex: fun water rides, roller coasters, haunted mansions, carousels, colossal playhouses, river cruises, and many more.
And also, the Disneyland Resort in Anaheim offers you a chance to take photos with Disney characters. On the other hand, you can watch spectacular fireworks shows and parades, eat delicious snacks, buy amazing souvenirs, and many other things.
In recent years, the Disneyland Resort has expanded with new theme parks, including Disney California Adventure and Downtown Disney. If you're planning on visiting Disneyland, you may want to start planning your trip now.
With over 40 different theme parks and attractions, there is something for everyone. However, one of the best reasons to visit Disneyland is for its theme parks. Enjoy the many shows and attractions among the best things to do while you're there. Here are some great things to do at the Disneyland Resort:
The Disneyland Resort has three official hotels. The Disneyland Hotel, the California Adventure Hotel, and the Walt Disney Hotel are all owned by Disney. The Disney hotels are located within walking distance of the Disney theme parks.
The official hotels at the Disneyland Resort will likely cost a little more than the unofficial hotels, but they will be close to the parks. The benefits of staying at Disney-owned hotels are the exclusive Disney amenities and convenience.
Address: Disneyland Dr, Anaheim, CA 92802, United States     Phone: +1 714-781-4636
2. Things to Do in Anaheim: Flightdeck Flight Simulation Center
You can try flying a plane at the Flightdeck Flight Simulation Center in Anaheim. How about that experience??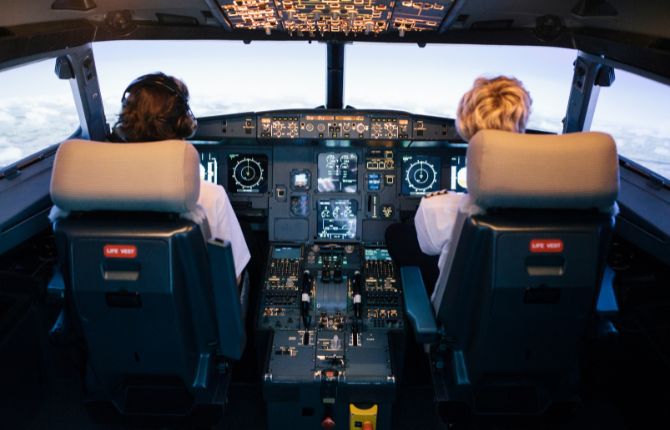 The Flightdeck Flight Simulation Center offers a virtual cockpit experience that will have your youngster imagining that they are the pilot. Children can take turns flying a simulated plane. They'll love it.
The flight simulator is perfect for ages 11 and up. For an unforgettable experience, book a tour of the Anaheim location. The staff at the center is ready to assist you with any questions you may have.
You'll have the chance to fly a Boeing 757 or a Boeing 737 at the Flightdeck Flight Simulation Center in Anaheim. This facility features experienced flight instructors and aircraft simulators.
Depending on the airplane you choose, the flight simulation can cost anywhere from $59 to $199. If you are staying in Anaheim, make sure to check out the flight simulator experience offered by the company. You'll love the feeling of controlling an aircraft.
The flight simulators at the Flightdeck Flight Simulation Center in Anaheim are one of the most realistic in the world, and you can learn all about them at this Anaheim location.
There's even a Korean War dogfight simulator that you can experience, and you'll feel as though you are in the cockpit yourself. The entire experience will give you a better sense of perspective on how to pilot a fighter jet.
Address: 400 West Disney Way, Anaheim, CA 92802, United States   Phone: +1 714-937-1511
Looking for more fun things to do in California?? Here's the complete list. 
3. Things to Do in Anaheim: Anaheim Packing District
The downtown Anaheim Packing District is a popular dining destination in California. The area is home to upscale eateries, a local farmers' market, and many historic buildings.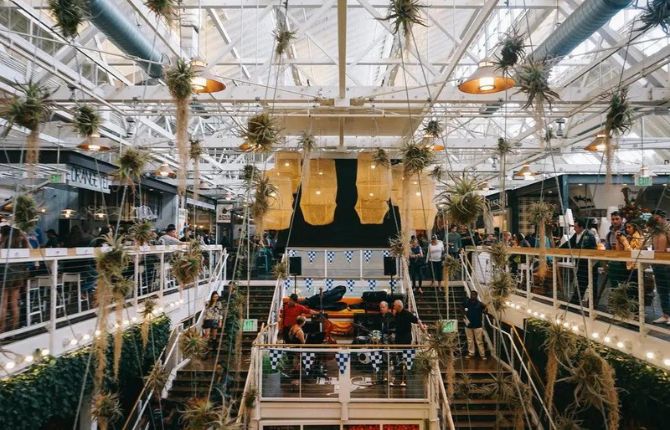 It was once a citrus-packing house and that's how its name was created. You can enjoy an upscale food court and drink in one of the many bars. Also, enjoy some of the local cuisines at the Upscale Market.
Do not forget to check out the restored historic 1919 citrus packing house, which is now a restaurant. Whether you're in the mood for Mexican or Asian cuisine, you're sure to find a variety of dining options.
You'll find a variety of restaurants and food-centric shops here. Try the Umami Burger and the Anaheim Brewery, which is a re-imagining of a Prohibition-era brewery. If you're thirsty, try the Hammer Bar, which has a bar salvaged from an old saloon.
While you're strolling the streets of the Anaheim Packing District, you'll be surrounded by delicious food. The Packing House Food Hall is a modern food hall with several stalls serving specialties and stylish seating areas.
The atmosphere is airy and atrium-like, and the food is truly delicious. There's something for every taste. For an upscale meal, you can stop by one of the numerous restaurants that offer fresh and healthy dishes.
You can also find some shopping at the nearby Farmers Park. The area has an outdoor movie screen and yoga studios. There's even a barbershop on site.
Address: 440 S Anaheim Blvd, Anaheim, CA 92805, United States    Phone: +1 714-533-7225
4. Things to Do in Anaheim: Angel Stadium of Anaheim
The Angel Stadium of Anaheim is an iconic venue for baseball games in California. Previously known as Anaheim Stadium, this stadium was later renamed the Edison International Field of Los Angeles.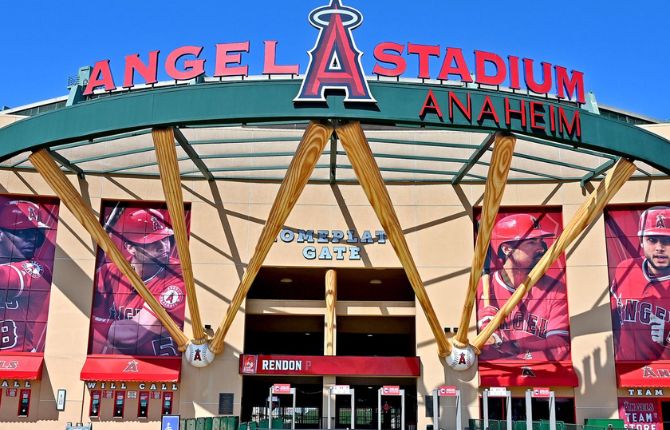 It was built in 1962 and is a popular destination for fans of all ages. It is also home to the Orange County Ducks and the LA Angels. Here are some fun facts about the stadium and the team.
While it is currently owned by the Los Angeles Dodgers, it was previously a minor-league baseball stadium.
A great way to see the game is during a fireworks show. During the July 4th fireworks display, fans can watch a spectacular mountainside scene complete with real trees and geysers. The show is a must-see and a popular nighttime activity in the area.
The team's mascot is the 'Angels'. The team won a World Series title in 2002 and has been playing in the same stadium since.
Angel Stadium is the home of the Los Angeles Angels and is the fourth oldest Major League Baseball stadium in the world. The ballpark has hosted three Major League Baseball All-Star Games and has a famous 230-foot halo sign that lights up with every win.
The Angels can draw as many as 45,000 fans for a game. The Los Angeles Dodgers and LA Angels share the same home field, and both teams are known as 'The Mighty.
Address: 2000 E Gene Autry Way, Anaheim, CA 92806, United States      Phone: +1 714-940-2000
5. Adventure City
If you're looking for a small, family-friendly amusement park, try Adventure City in Anaheim.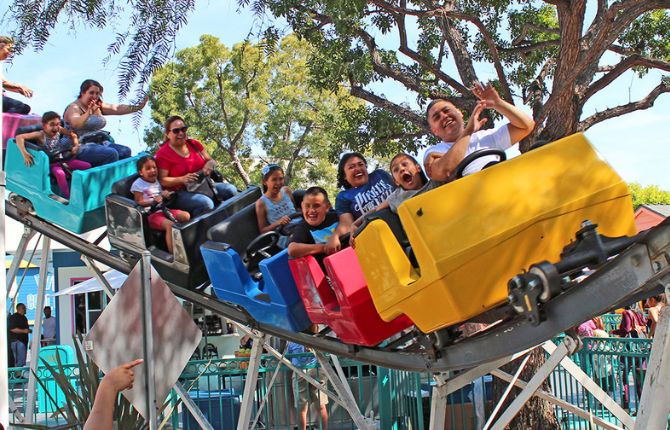 The amusement park has only two acres and attracts between 200,000 and 400,000 visitors a year. The Coca-Cola Company is the only major sponsor, but it's a lot of fun!
There are plenty of thrill rides for families to enjoy, including the popular "Splash Mountain" ride.
The rides at Adventure City are designed to be both safe and thrilling for kids. The most popular attractions are the Balloon Race and Drop Zone. Many are rated for children and even adults with specific weight ranges. But the thrills don't stop there.
For younger children, the Adventure City petting zoo and rides are the most fun. The park also has a petting zoo and dance parties, so even the youngest children can have a great time.
If you're looking for a smaller theme park in Anaheim, consider a day at Adventure City. This theme park is a great choice for families that don't have a big budget. There are 10 roller coasters at Adventure City, as well as a petting zoo.
There's also an arcade, a kids' rock climbing wall, and kid-friendly restaurants and bars. There's plenty to keep your family happy, and it's a lot cheaper than visiting the major parks.
Address: 1238 S Beach Blvd, Anaheim, CA 90680, United States      Phone: +1 714-236-9300
6. Yorba Regional Park
If you want to see some of Anaheim's most beautiful sights, a day trip to Yorba Regional Park is a good idea.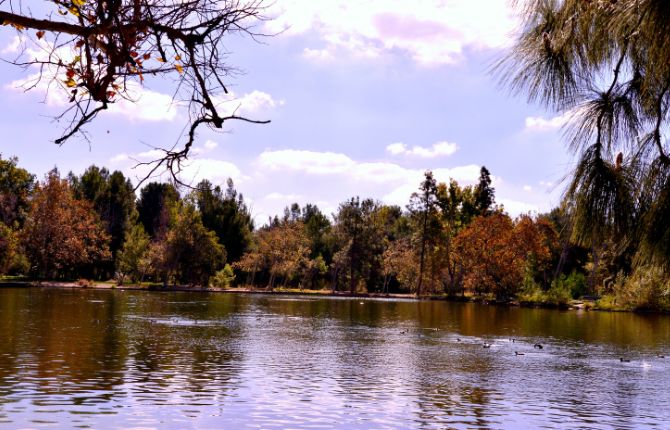 If you're a fan of nature, Yorba Regional Park is the place to go in Anaheim. It's a mile-wide park that's next to the Santa Anita River. The water features a swimming pool, and the park is home to a physical fitness course and baseball diamonds.
It's not just a scenic park, either. You can also take advantage of the park's hiking trails to get in shape.
Its mile-wide Santa Ana River Park boasts more than 140 acres of trails, picnic tables, lakes, and fishing ponds. You can also take a hike or bike ride around the park. The trails meander through a forest and are ideal for families.
There are several activities to enjoy during your visit to Yorba Regional Park in Anaheim. The park is home to a dozen lakes and streams, as well as 400 picnic tables and barbecue grills.
Yorba Regional Park features restrooms and bicycle rentals, so you can explore the area easily. You can also bike or walk down the 20-mile Santa Anita River Trail to the Pacific Ocean. During warmer months, you can rent bicycles to enjoy the fresh air.
Address: 7600 E La Palma Ave, Anaheim, CA 92807, United States      Phone: +1 714-973-6615
7. Things to Do in Anaheim: SwingIt Trapeze
The SwingIt Trapeze in Anaheim, California is a popular destination for people who are interested in the art of acrobatics.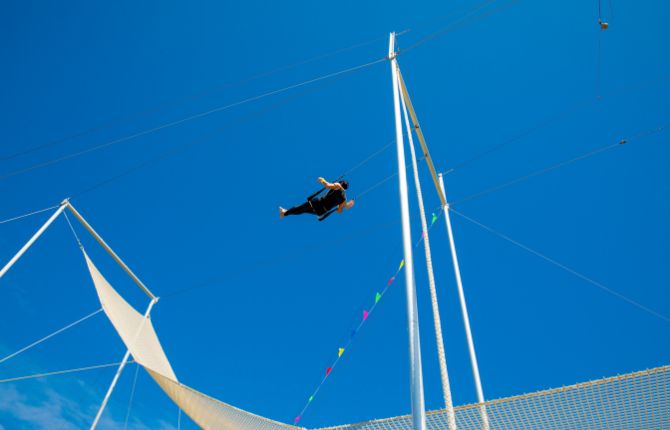 The school, which opened in 2006, specializes in the sport of trapezing. You can take a two-hour lesson to learn how to fly in the air or choose to take a private lesson. Both options are thrilling, and they are a great way to experience the thrill of acrobatic flight.
One of the best ways to experience aerial yoga is to take a class at SwingIt Trapeze. There are hammocks that support you as you sway above the ground, giving you the sensation of flying high above the earth.
You can even find parking nearby.
For those who want to try this fun activity but are apprehensive about heights, there are many safety precautions you need to take before climbing on the rig. Despite the risks, SwingIt Trapeze in Anaheim offers a safe, fun way to experience acrobatics.
So, just give it a try.
Address: 900 N Maple St, Anaheim, CA 92801, United States       Phone: +1 877-979-4644 
8. Muzeo Museum and Cultural Center
The Muzeo Museum and Cultural Center is a must-see if you're in Anaheim. It is the only Carnegie Library building in the entire city, and it deals with the rich cultural history of Anaheim.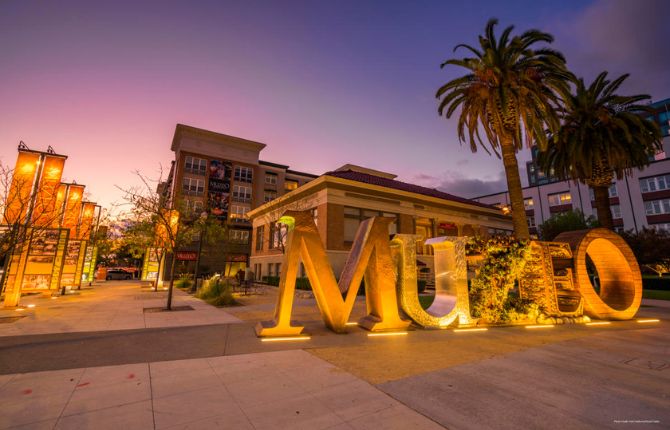 The Muzeo Museum and Cultural Center is a contemporary art museum that is part of a complex that spans 25,000 square feet. It features a historic building, Anaheim's original Carnegie Library, and a modern, state-of-the-art Main Gallery.
The Historic Carnegie Library is listed on the United States National Register of Historic Places, and it was originally built by Andrew Carnegie, a businessman. It served as a city library until 1963 when it became the home of the Anaheim Museum.
In 1987, Muzeo opened and took over the museum. Today, the Anaheim Carnegie Library is the site of exhibition satellites, as it provides a beautiful location for outdoor events and other celebrations.
It features galleries that display history and culture. This center is located in the historic Carnegie Library, which was built in 1908. The historic building was transformed into a museum in the late 1960s and became a part of the Muzeo experience in 1999.
The museum's Main Gallery has over 25,000 square feet of space, and it features rotating exhibitions and special events.
The museum's volunteers are passionate about education and want to share that passion with the community. You can see a rotating exhibit in the Muzeo Gallery, or learn more about the history of this beautiful building.
Address: 241 S Anaheim Blvd, Anaheim, CA 92805, United States    Phone: +1 714-956-8936
9. Anaheim GardenWalk
The Anaheim GardenWalk is a shopping and outdoor entertainment center located east of the Disneyland Resort.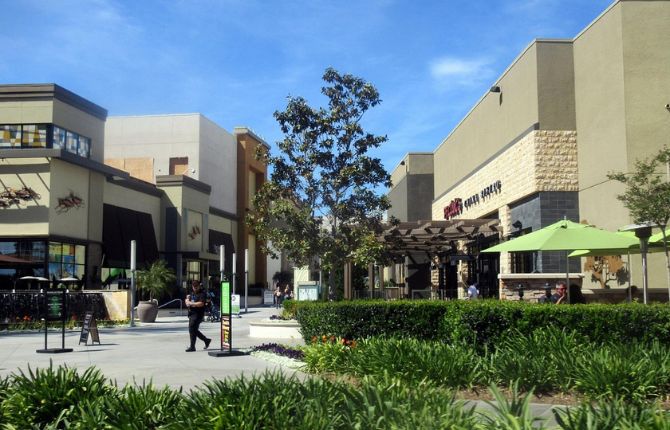 It's an outdoor shopping district that includes restaurants, galleries, and museums. During the day, the Anaheim GardenWalk is a great place to shop and dine. However, at night, the area is filled with people shopping for souvenirs.
This is the perfect spot for people to enjoy a night out too. The neighborhood is a great place to see fireworks.
It opened in June 2008, but the Great Recession affected the economy, making GardenWalk struggle to keep up with its competition.
Its occupancy rate in 2011 was only 55%, which led to a decline in its popularity. It's unclear if these issues are affecting GardenWalk's future.
The first thing you should do when visiting the GardenWalk is checking out the fountain. It's a great place to enjoy the show. The curved rock structure is a beautiful piece of architecture.
There are 8 jets that shoot water upward and down. Once the water reaches the top basin, it overflows and cascades down the rough outer surface of the rock into a small trench below. You can admire this waterfall and take a picture of it in a frame.
Address: 400 Disney Way, Anaheim, CA 92802, United States      Phone: +1 562-695-1513
10. Great Moments with Mr. Lincoln
The stage show "Great Moments with Mr. Lincoln" at Disneyland features an Audio-Animatronic representation of Abraham Lincoln.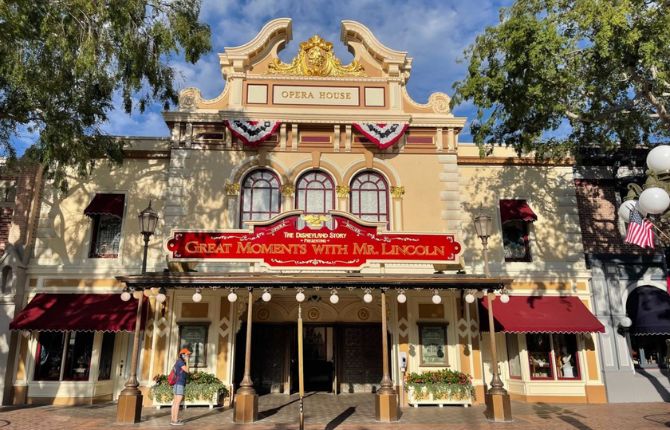 The show has been around since 1965. It premiered at the 1964 New York World's Fair, where it was one of the centerpieces of the State of Illinois Pavilion. The stage show is also a popular attraction in Walt Disney World.
The animatronic representation of U.S. President Abraham Lincoln was one of the most difficult parts of the attraction, and Imagineer Wathel Rogers worked tirelessly for years to perfect the performance. He spent hours in a harness, recording his body movements, and rehearsing them in front of an audience.
The result was "Great Moments with Mr. Lincoln." The show is now one of the most popular attractions at Disneyland.
It was originally supposed to be operated by a human, but it has been reprogrammed to be controlled by a computer. The Animatron was also programmed to react to the sounds of the park.
Despite the difficulties with the animation, this ride is one of the best-known attractions at Disneyland. The show lasts 15 minutes and usually doesn't have a wait.
Address: 1313 Disneyland Railroad, Anaheim, CA 92802, United States      +1 714-781-4636
11. Things to Do in Anaheim: Oak Canyon Nature Center
The Oak Canyon Nature Center is a nature preserve in Anaheim, California. This nature reserve is owned by the city of Anaheim and spans 58 acres and three adjoining canyons in the Santa Anita foothills.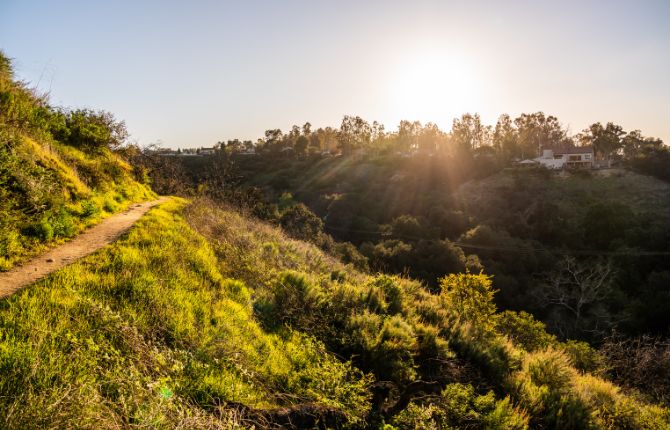 It has more than 100 species of plants, including countless species of birds and reptiles. You can enjoy walking and hiking trails, and birdwatching in this preserve. The center has a butterfly garden and a gift shop with a large selection of local wildlife.
The Oak Canyon Nature Center is free to visit and features a beautiful landscape and four miles of hiking trails. This nature center is located in the Anaheim Hills, so it can be a little chilly in the winter, but the climate is quite mild during most of the year.
Visitors can enjoy the beautiful setting and participate in several programs, including night hikes and Archery classes. Children can also enjoy outdoor activities and play in the park's ponds and streams.
A beautiful and unique location for a wedding, Oak Canyon Nature Center is surrounded by majestic coastal live oaks. The center combines natural elements with sophistication to create an atmosphere of pure bliss.
The peaceful, babbling brook, birds singing, and the wind whispering through the trees add to the ambiance. It's a place where you can feel completely at peace.
Aside from the beauty of nature, this venue will also make your special day even more memorable.
A popular event for families is Cinema Under the Stars, a free movie event that takes place at the Oak Canyon Nature Center in Anaheim. For only $6, you can enjoy the movie and a snack pack filled with popcorn and fruit gummies!
And you can watch the movie while your kids enjoy their activities. The film begins at dusk and lasts about an hour and a half.
Address: 6700 E Walnut Canyon Rd, Anaheim, CA 92807, United States      Phone: +1 714-998-8380
12. City National Grove
The City National Grove in Anaheim is an indoor music venue. It is owned and operated by Nederlander Concerts in Los Angeles.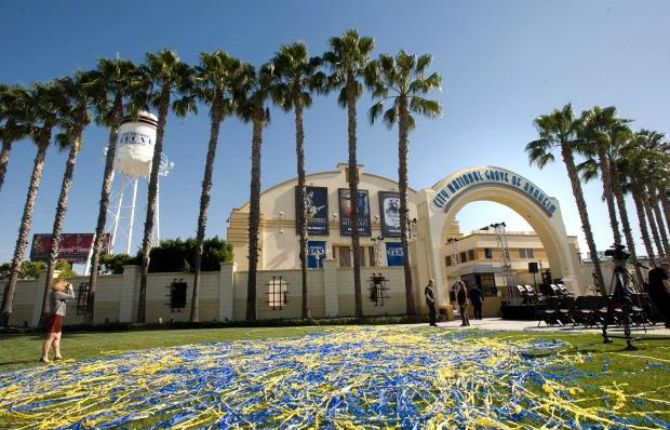 The City National Grove in Anaheim is home to the hottest acts in music. The venue attracts music lovers from L.A. More than 250 events are held here each year, including concerts, comedy shows, corporate events, and private parties.
The Grove is the perfect venue for corporate and private events too. It provides full-service catering and state-of-the-art audiovisual equipment. The Nederlander Concerts staff can create unique events for groups of up to five thousand people.
It can accommodate 1,700 patrons. A variety of performances are held here, including classical concerts, rock shows, and country concerts. The venue hosts many popular concerts and events, including the Grammy Awards.
The event schedule is updated regularly. Interested in attending a concert?
Address:  2200 E Katella Ave, Anaheim, CA 92806, United States     Phone: +1 714-712-2700
13. Anaheim Convention Center
The Anaheim Convention Center is a major convention and exhibition center in Anaheim, California.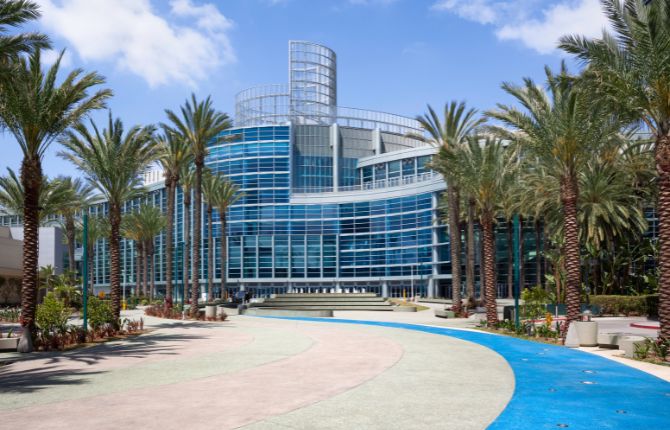 It is the largest facility on the west coast and is located across the street from the Disneyland Resort. It has over 2 million square feet of exhibit space and is easily accessible by car.
The Anaheim Convention Center is one of the best places to visit in the area. It is also home to the annual Orange County Fair. This venue is often the location of a big show or convention and offers many options for guests and exhibitors.
There are many reasons to visit the Anaheim Convention Center. For example, there are multiple themed events every year, including the annual Star Wars Celebration Arizona.
This center also hosts the NAMM Show, one of the largest music product trade shows in the world. If you have never visited the Anaheim Convention and Exhibition Center before, there is no better time to do so than now. The center is a great venue for both big and small events.
It is home to the Anaheim Amigos. Until 1967, this arena was home to the city's American Basketball Association team, the Anaheim Amigos. After the club closed, the building was renovated into a convention center.
It is the perfect place to attend conventions and trade shows. If you're in the mood for a big event, this is the place to be.
Address: Convention Center, Anaheim, CA 92802, USA
14. Honda Center
If you love hockey, then you will love the Honda Center in Anaheim. This indoor arena is home to the Anaheim Ducks of the National Hockey League.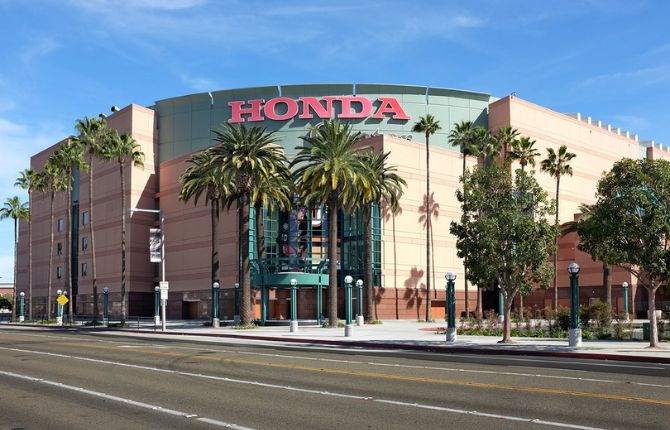 If you like to watch games, you will have to make sure you visit the Honda Center. Its main purpose is to provide the best atmosphere for fans of hockey.
In addition to hosting games, the arena also hosts concerts and events. However, if you are interested in seeing a live show, you will need to buy tickets well in advance to avoid disappointment.
The Honda Center in Anaheim is easy to find. It is located near the Orange Freeway and Katella Avenue, a major east-west street. The center is part of the Platinum Triangle, which includes Disneyland, the Angel Stadium of Anaheim, and the Anaheim Convention Center.
You can also find it near Interstate 5, which merges with Route 57. This is what locals call the "Orange Crush".
The Honda Center in Anaheim is home to the Anaheim Ducks. They played their last playoff game in 2011 and have been in rebuilding mode ever since. They average 16,000 per game, which is lower than the average of other NHL stadiums.
As a visitor, you should dress up in team colors and bring the whole family.
Address: 2695 E Katella Ave, Anaheim, CA 92806, United States      Phone: +1 714-704-2400
15. Bruery Terreux
Located at 1174 N. Grove Street, Bruery Terreux in Anaheim serves unique craft beer with farmhouse-style ingredients.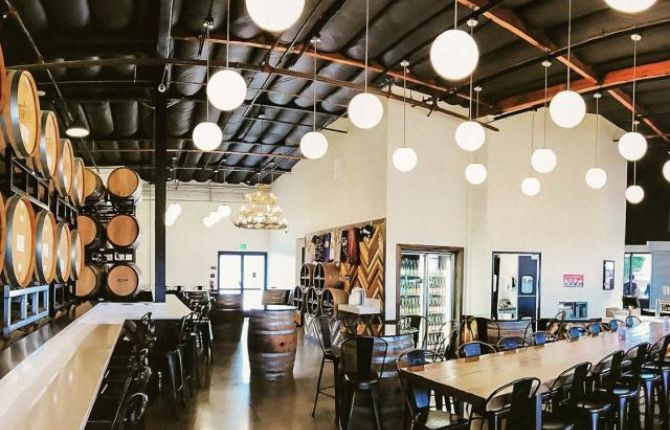 The tasting room features more than 40 beers on tap. You can also take advantage of the outdoor patio for a great view of the Anaheim skyline. The Bruery has a large, diverse tap list with many fruited and sour beers.
It also offers a beer school and free, in-house brewing classes.
Founded by Patrick McGuire, Bruery Terreux is a petri dish for wild ales and ciders. Located in the middle of Orange County, the restaurant features both an indoor and outdoor space with climate-controlled conditions.
The Bruery first opened in Placentia in June 2014 but was delayed due to cross-contamination issues at their Anaheim location. However, the brewers quickly realized that a shady outdoor space was a necessity for this venture.
Unlike most breweries, Bruery Terreux focuses on wild and sour ales. The brewery maintains separate production spaces for the brews to avoid cross-contamination.
Since sour and wild beers have such different ingredients, it is not possible to cross-contaminate, resulting in a foul mash of flavors.
Moreover, these brewers are also committed to the quality of their beers.
Address: 1174 N Grove St, Anaheim, CA 92806, United States       Phone: +1 714-905-7361
16. Anaheim Ice
One of the most famous ice skating rinks in the world is Anaheim Ice. Formerly called Disney Ice, this rink was one of Frank Gehry's major works.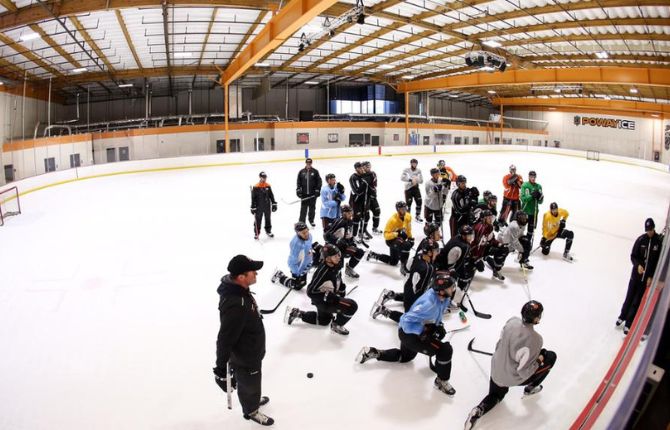 The Rinks in Anaheim is an indoor ice skating rink with two sheets. The rink was opened in 1995 and offers skating sessions for all ages. These sessions are a fun way to stay fit while exercising.
It was also the practice pond for the Anaheim Ducks of the National Hockey League until the organization moved operations to Great Park, which is more suited to hockey fans.
The ice rink is used by the Anaheim Ducks and offers ice skating lessons and open sessions for those who want to try it. If you don't want to spend money on skating lessons, you can watch one of the local hockey teams play at Anaheim Ice.
Address: 300 W Lincoln Ave, Anaheim, CA 92805, United States      Phone: +1 714-535-7465
17. Disney California Adventure Park
Disneyland's Disneyland Resort is home to a unique theme park known as Disney California Adventure Park, otherwise known as DCA or California Adventure.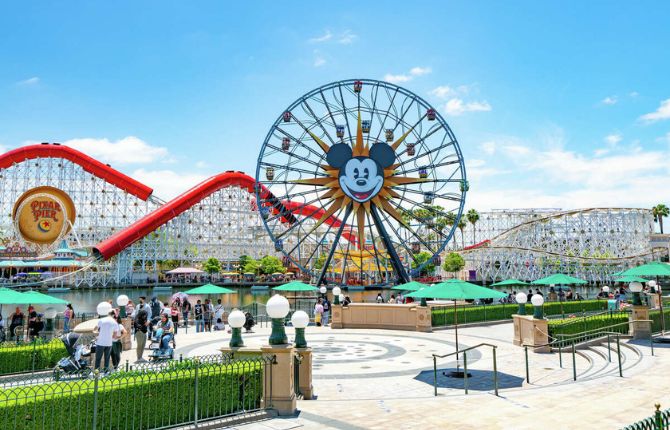 This popular theme area is located on the grounds of the Disneyland Resort in Anaheim, California. The park is operated by The Walt Disney Company and is owned by the Walt family. It is one of the top attractions for families.
The main attraction at DCA is the Big Thunder Mountain Railroad.
The Park is also home to Pixar characters and rides. The Incredicoaster, themed after Disney's most famous superhero family, is located in Pixar Pier. Another attraction on the Pixar Pier is Toy Story Midway Mania!, an interactive ride similar to Buzz Lightyear Astro Blasters.
The entire area is dedicated to the films created by Pixar. The park is home to many of Disney's iconic characters, including Buzz Lightyear and Woody.
The first ride will be called "Andy's Toys," and you'll see the green army man and various Pixar characters riding on the jeep. This show is a must-see for families. The Pixar pals, Woody, Bo Peep, Mr. Incredible, and Elastigirl will be following him.
And also, Golden Zephyr, the spinner and the thrilling water ride, the Grizzly River Run are the some other fun attractions in the park.
Do not miss these most-visited theme parks on earth.
Address: 1313 Disneyland Dr, Anaheim, CA 92802, United States      Phone: +1 714-781-4636
18. Bowers Museum
The Bowers Museum is a fine arts museum located in Santa Ana, California. Its permanent collection consists of over a million pieces, with strong areas of emphasis on Native American, Asian, and African art.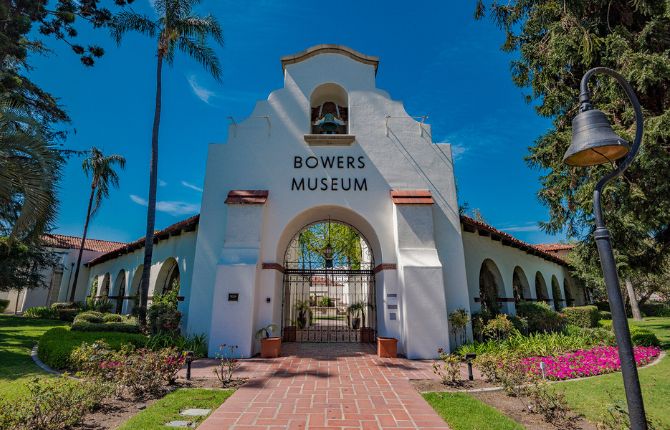 The Bowers Museum was founded in 1936 as a bequest from Charles and Ada and is one of the finest art museums in the state. Its facilities and collections are perfect for world-class exhibitions, and its collections are particularly strong in Native American and South Pacific art.
Current exhibitions include Ancient Arts of China, Popul Vuh: Diego Rivera watercolors, and the exhibition of African and South Pacific art.
Plein-air painting, and pre-Columbian Mesoamerican and Native American art are also strong points of the museum. The Bowers Museum's permanent collection is well worth a visit, and it is well worth a day trip from Los Angeles.
The Bowers Museum's permanent collection includes over 100,000 pieces and is constantly changing with special exhibitions and lectures.
If you are interested in studying, the museum offers art education programs for children, music classes for adults, and various community events. The museum is home to more than 100 different special exhibitions a year, and also hosts a kids' art education program.
The permanent collection includes items from many countries, including African, European, and Asian art. In addition to a vast permanent collection, the museum also features special exhibitions.
Bowers Museum has a collaboration with the Smithsonian Institution, the Nanjing Museum, the Shanghai Institute of Arts, and the Smithsonian.
Address: 2002 N Main St, Santa Ana, CA 92706, United States      Phone: +1 714-567-3600
19. Pearson Park in Anaheim
There are many things to do in Pearson Park in Anaheim, California. It's a family-friendly park with trails and ponds perfect for kids and adults.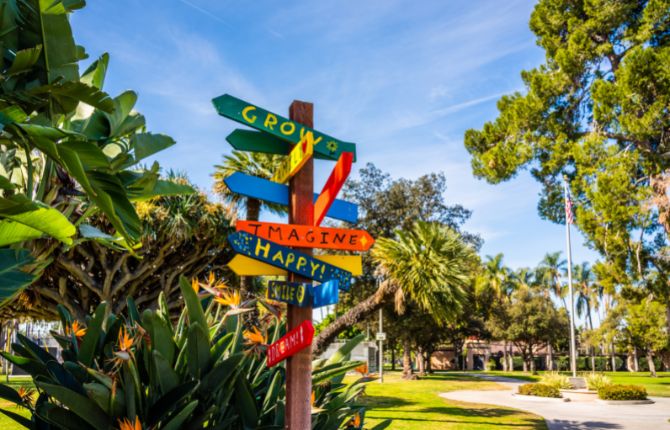 The kids can play in the playground and spend quality time with the family. Families can enjoy a picnic lunch and a day out in the sun. You can even take the entire family swimming in the park's pond! You'll have a great time!
The main attraction at Pearson Park is a 19-acre outdoor park with beautifully landscaped areas and children's play areas. There are also a number of other fun activities for families, including a family movie in the park. You can watch a movie and get a great workout in the park at the same time!
This urban park features a playground, picnic tables, a swimming pool, sports courts, a stadium, an amphitheater, and many other facilities. Therefore, anyone can enjoy fun outdoor activities like swimming, picnicking, and playing group sports (volleyball and soccer).
On the other hand, Pearson Park also features movies, live concerts, and other special events. Come along with your family and friends.
Address: 400 N Harbor Blvd, Anaheim, CA 92805, United States      Phone: +1 714-765-5155
20. Medieval Times in Anaheim
Visitors can experience the ambiance of the Middle Ages in the castle-like setting of Medieval Times in Anaheim.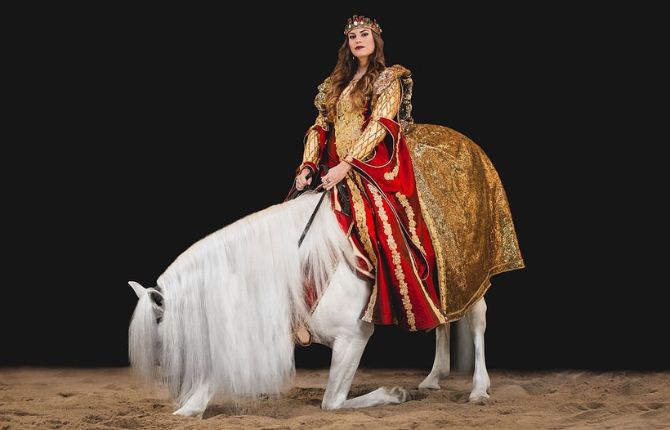 Families can take the entire family to Medieval Times in Anaheim. There are four shows for kids of all ages and even the youngest of those attending the show. The show lasts about two hours and includes a Pleasure Feast with a buffet and countless courses of fine cuisine.
If you're planning on bringing your whole family to the event, consider purchasing a package of tickets.
There's a Jousting arena and falconry, horsemanship, and more. The event is followed by a four-course meal. Guests can also participate in jousting or horsemanship. The show also features a full-scale reproduction of the time period.
The event is held at an enclosed arena and features live horses. The performance is complete with swordplay, pageantry, and falconry. You can even try eating like the knights did, without using utensils.
The show is available daily from 9 a.m. to 11 p.m. Guests can purchase tickets at the park or use a paper voucher. Also, electronic and paper vouchers are available.
The event is fun for the whole family, and it's an excellent place to make family memories. Guests are invited to dress in medieval clothing and enjoy a four-course meal.
The meal features a variety of dishes, including garlic bread, tomato bisque soup, roasted chicken, and sweet buttered corn. The dessert of castle is a delicious choice for dessert, and guests are offered two rounds of drinks and coffee.
Address: 7662 Beach Blvd, Buena Park, CA 90620, United States      Phone: +1 714-523-1100
21. Things to Do in Anaheim: Camelot GolfLand
The Camelot GolfLand amusement park chain has several different locations throughout the world, but the one in Anaheim is the most popular, featuring mini golf courses, arcades, and water slides.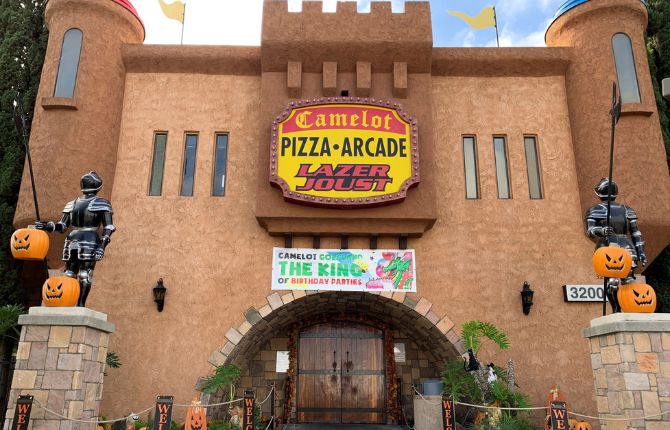 Some branches also feature laser tag, and there are water slides for the kids. For an all-day adventure, you should definitely visit Camelot GolfLand in Anaheim.
The Camelot GolfLand in Anaheim is not just a golf course. It also features a video arcade, bumper boats, and a miniature golf campus.
Visitors can enjoy a day of mini-golf and games in a relaxing and fun-filled environment. In addition to the golf course, there are also bumper boats, go-karts, and batting cages. There is also an indoor water park and two arcades. You can choose between the three.
The family laser tag package is perfect for kids four and older. The pack includes arcade tokens and an adult laser tag rifle. While playing laser tag, your children will have a blast running around and hitting targets. The price includes an unlimited amount of fun.
You can watch the games together in the park's community room, too. The family laser tag experience is a great way to spend a day with the whole family, and it will keep the little ones busy for a long time.
Address: 3200 E Carpenter Ave, Anaheim, CA 92806, United States      Phone: +1 714-630-3340
23. Things to Do in Anaheim: Anaheim White House
The Anaheim White House is a high-end Italian restaurant located in a historical landmark constructed in 1909. It features a great family-friendly menu. If you are a foodie, here's the ideal place for you.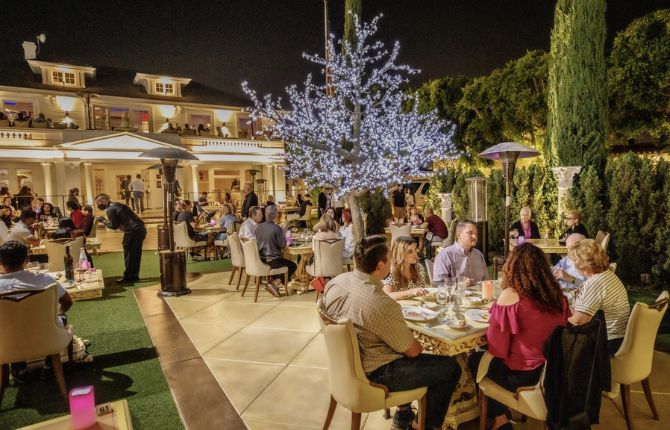 Located in a 1909 home, the Anaheim White House offers a classy Italian meal for dinner or brunch. The restaurant features an extensive kids' menu and a children's menu.
Even families will feel comfortable in the cozy, family-friendly atmosphere. The menu is delicious, and the service is friendly. And with so many great options for families, the food is fantastic. A visit to the Whitehouse is sure to be a family highlight!
After the fire, the Anaheim White House Restaurant has a new chef. World-renowned Italian chef Bruno Serato is the new executive chef. His cuisine is inspired by the cuisine of the original mansion.
Its menu features dishes inspired by the menu of Presidents. The Anaheim White's restaurant is located in the old Presidential Mansion and was restored in 2009.
After a $2.5 million makeover, chef Bruno Serato has rebuilt the restaurant. The new menu combines French and Northern Italian cuisines. Since the restaurant's start, the owners have remained consistent and focused on quality.
The ambiance is the same and the food is as authentic and delicious as the original. The West Wing ballroom offers elegance and intimacy, while the intimate dining room is filled with modern American cuisine.
Address: 887 S Anaheim Blvd, Anaheim, CA 92805, United States      Phone: +1 714-772-1381
Things to Do in Anaheim
Disneyland Resort
Flightdeck Flight Simulation Center
Anaheim Packing District
Angel Stadium of Anaheim
Adventure City
Yorba Regional Park
SwingIt Trapeze
Muzeo Museum and Cultural Center
Anaheim GardenWalk
Great Moments with Mr. Lincoln
Oak Canyon Nature Center
City National Grove
Anaheim Convention Center
Honda Center
Bruery Terreux
The Rinks
Disney California Adventure Park
Bowers Museum
Pearson Park
Medieval Times
Adventure City
Camelot GolfLand
Anaheim White House
Things to Do in Anaheim