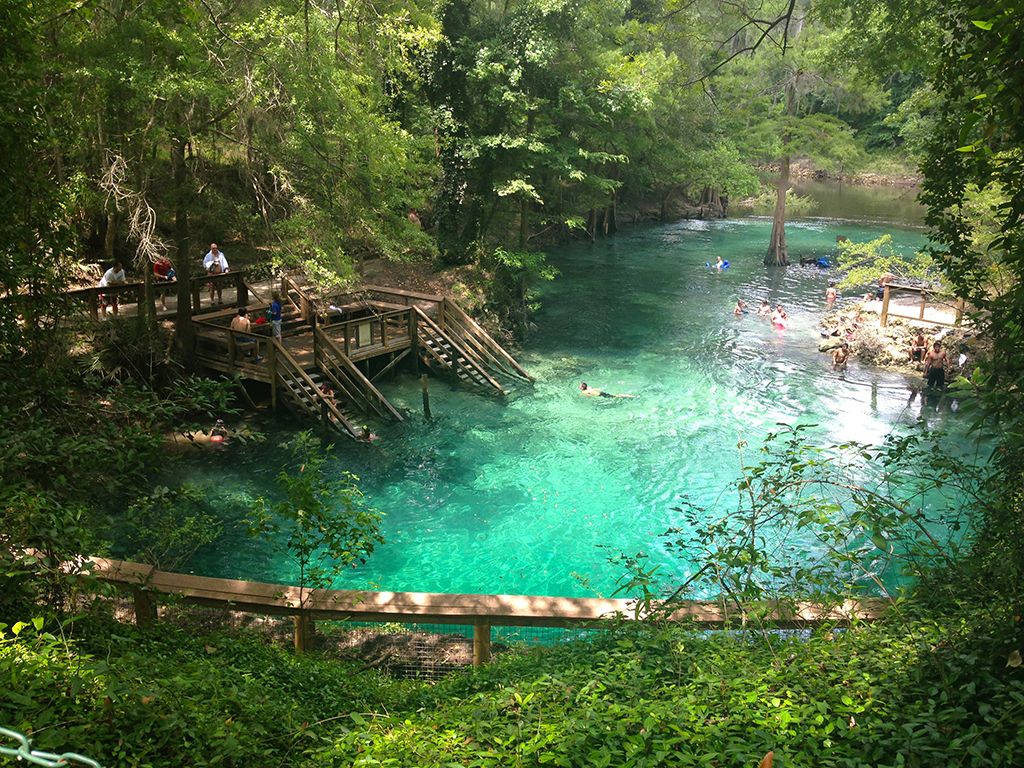 Florida Springs Camping
About Florida Springs Camping
When you hear the name "Florida," you may remember the Disney theme parks with more crowds, lights, and a party climate. But, apart from that celebrating climate, you can spend you and your family or friends in a Florida springs Camping because the springs in Florida are just awesome. And there are around 700 natural springs.
You might get surprised by that number. But that's true. It uniquely has its own natural beauty. Florida is always on the top of the best places to travel in December, the best partying destination, and many more. But, I suggest that instead of spending your holiday in a crowded and common theme park, try an adventure experience with Florida springs camping.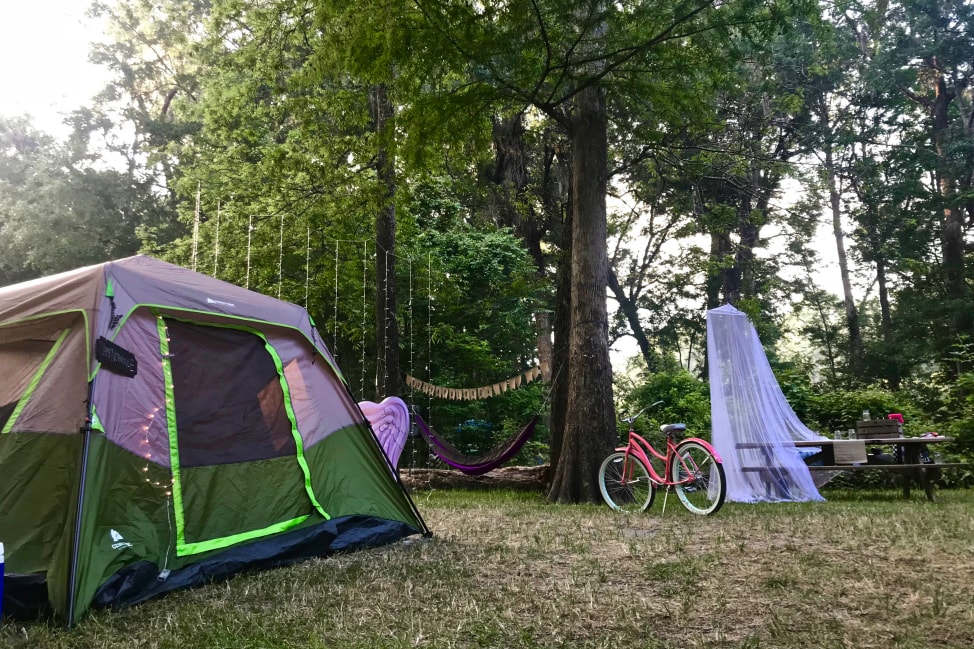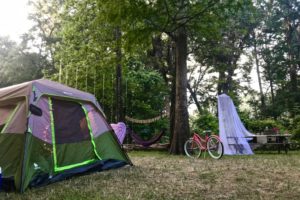 These places are safe and easily accessible, even with your kids. It will be a different experience for kids to explore nature by spending days in an amazing Florida camp rather than playing in a theme park. If you are a person who likes scuba diving, snorkeling, and observing manatees (sea cows), these are ideal for you.
I recommend you to Florida springs camping in the summer since the summers are just awesome for dipping in springs in a hot and humid climate. And also, if you are planning or dreaming about an RV (Recreational Vehicle) camping, Florida springs are ideal and accessible. Here's the ultimate guide for the best Florida springs camping destinations, which has a supernatural environment with electricity and water. 
Florida Springs Camping: Weeki Waachi Springs State Park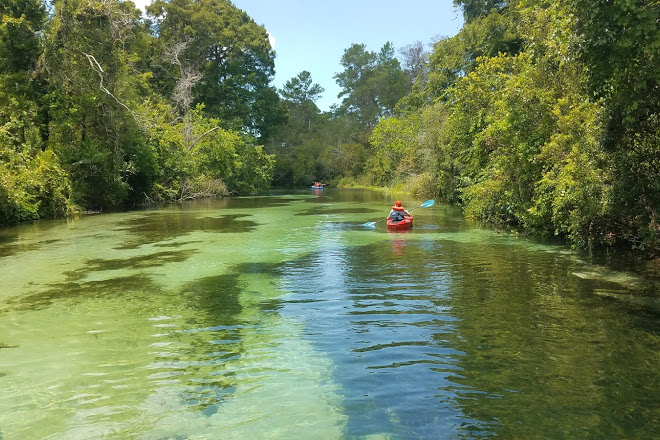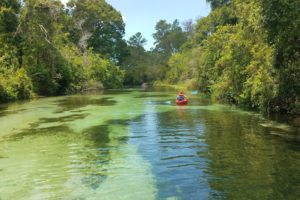 When you hear the name of "Weeki Waachi Springs," the real-life mermaids will come to your mind. Actually, here you can see enchanting mermaids' performance shows in the underwater theater. Most people do not recommend this for campings since it doesn't offer camps on site. But still, I recommend this since you can make your spring camp in near options like Cody's RV park, Cam-A-Wyle lake resort, and Hawks Nest RV park and campground.
Kayaking, swimming, river cruising, snorkeling, and observing manatees highlighted more adventurous experiences while camping. Actually, Weeki Wachee Spring and the River offer you crystal clear water to easily see the underwater world.
And also, you can kayak or canoe downstream to observe the variety of birds. Even you can go with your kids for water activities in Buccaneer Bay and spring as the water is shallow and clear.
The Weeki Wachee was identified as a state park in 1947 and exactly on the Gulf Coast of Florida and in the north of Tampa. Keep in mind that the place is extremely busy from April to early August. So the springtime is awesome since there are few people in spring as well as the river. (Florida Springs Camping)
Planning to visit Texas?? Just click here to know the best things to do in Fort Worth, Texas. 
Florida Springs Camping: Otter Springs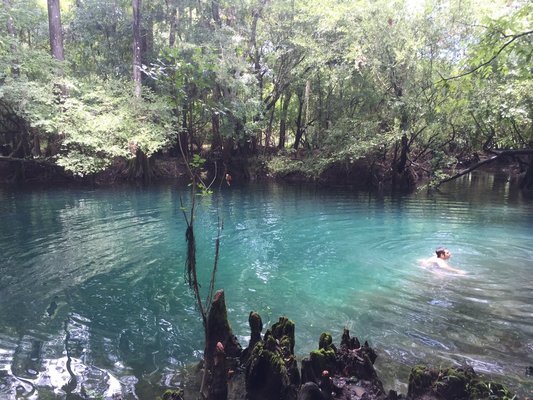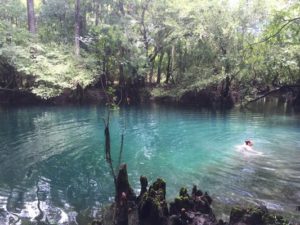 When you drive nearly two and a half hours from Orlando, you will find this amazing campground near Otter Springs' natural beauty. This spring exists around 636 acres flows into the Suwannee River. The specialty of camping near this spring is that it is free of heavy crowds. You can feel a natural beauty silently by sitting on the camp couch or doing water activities in the spring.
There's a short walk to the Otter spring from the campground. And then you can do swim, fish and many water activities. Even there are some small mountains around which you can get hiking experiences as well.
Even you can plan for an RV camping in the campground. If you are looking for more amenities, there's an enclosed pool with air-conditioned cabins which you can rent. (Florida Springs Camping)
Madison Blue Springs State Park, Florida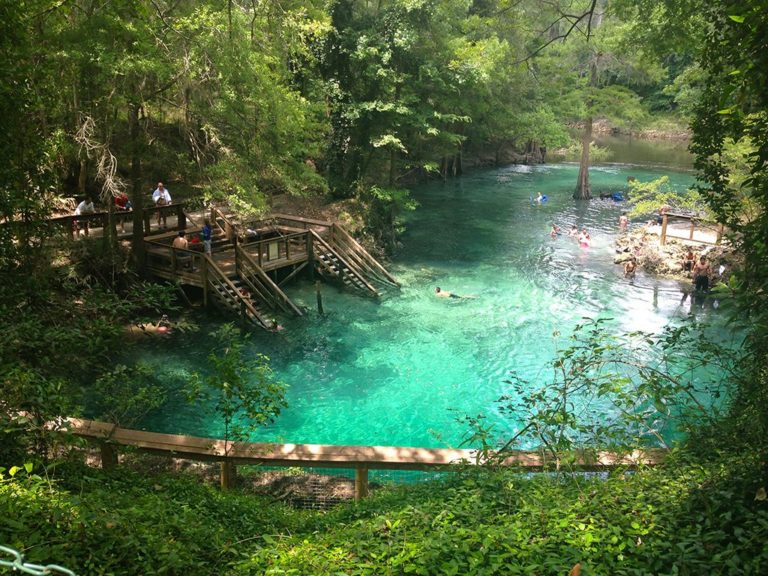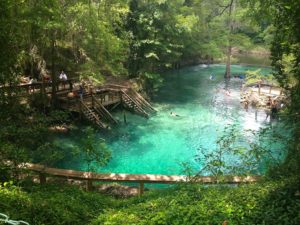 Located in between Jacksonville and Tallahassee, Madison Blue Springs State Park is one of Florida's newest spring parks. Withlacoochee River is there immediately west side of the spring, and a rocky path with shallow water flow will lead you to this river. The most important part is that you have enough area for camping picnicking. Even you can take an RV there for camping.
In 2015, this was rated as the best swimming hole in the United States by USA Today Ten Best. I agree since the water is super transparent and cool. Even you can do freediving, snorkeling, and swimming while camping. Do not forget to bring goggles and flippers around you.
Address: 8300 FL-6, Lee, FL 32059, United States. 
Gilchrist Blue Springs State Park, High Springs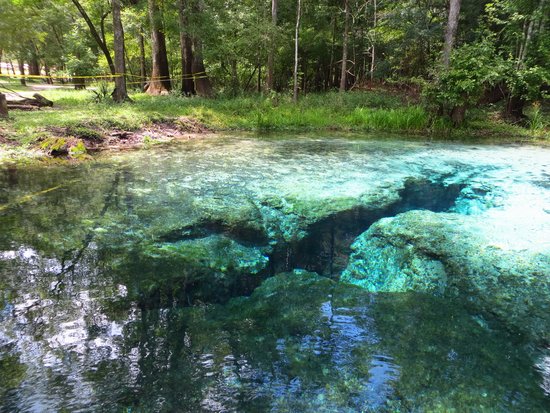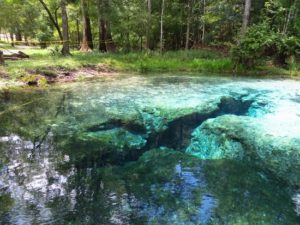 Previously known as the Gilchrest Blue. After Florida state was bought this beautiful property and named the Gilchrist Blue Spring State Park, believe me, this is a place where you should not miss Florida springs camping (even RV camping). As the spring is super gorgeous and the camping ground is also near the spring, this will be an unforgettable experience for you.
Like other places, you can also go swimming, kayaking, canoeing, jumping to the crystalline water from wooden steps. Additionally, since this place is supernatural, you can do outdoor adventures like wildlife watching, paddling, and snorkeling as well. (Florida Springs Camping)
Address: 7450 NE 60th St, High Springs, Florida 32643, United States. 
Wekiwa Springs State Park, Apopka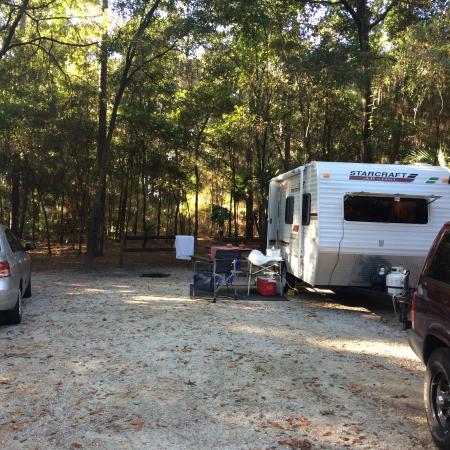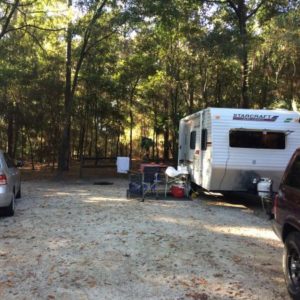 Wekiwa Springs State Park is an amazing opportunity for your camping. With a view of beautiful Wekiwa springs, you can spend in camp while doing many outdoor adventures. Visit you and your family (with kids) here for swimming, hiking, kayaking, and viewing the beautiful nature with old trees. And you have to take a short drive from Orlando to reach this amazing campground. You can even come in an RV at your wish.
Address: 1800 Wekiwa Cir, Apopka, FL 32712, United States. 
Ginnie

Springs Florida Camping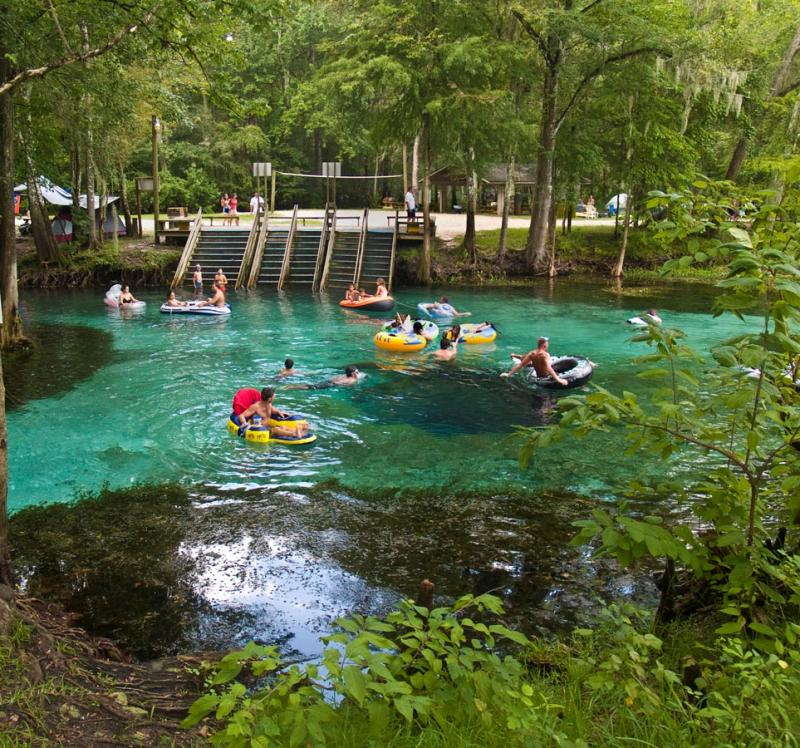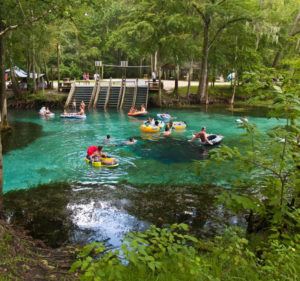 Ginnie Springs Park in High Springs is more famous as a camping and a partying destination for college students. But everyone can enjoy this natural beauty while on a camp or an RV. And this is one of the cleanest springs in the country, with an amazing natural environment.
Snorkeling to see colorful fish, canoeing, tubing, paddling, and watching wild lives are the most exciting things you can do while on this Florida Springs Camping with your family. You can go downstream in the Santa Fe River while seeing the beauty of its banks as well. And dive through the springs to discover more underwater. (Florida Springs Camping)
Address: 7300 Ginnie Springs Rd, High Springs, Florida 32643, United States. 
Manatee Springs State Park, Florida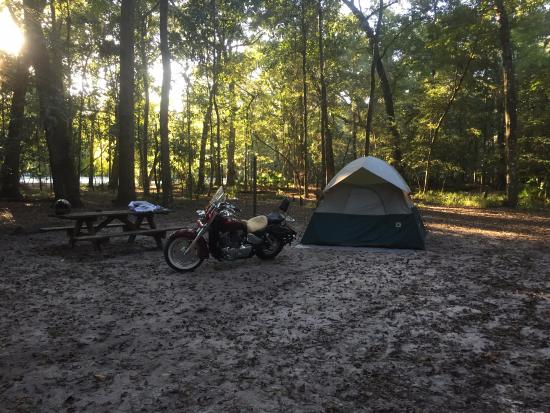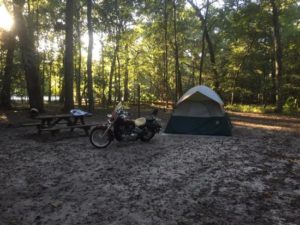 Manatee Springs State Park is a year-round camping ground for camp lovers. The most special feature of this camp is to see the manatees in the springs. And there are two easy ways to enter this park. The first one is to hike the trail system's entirety to walk under cypress trees, while the next way is to kayak or canoe to get there. Then you can dive, swim, and discover the natural beauty there. So, a plan a camping vacation to Manatee Springs.
Rainbow Springs State Park, Dunnellon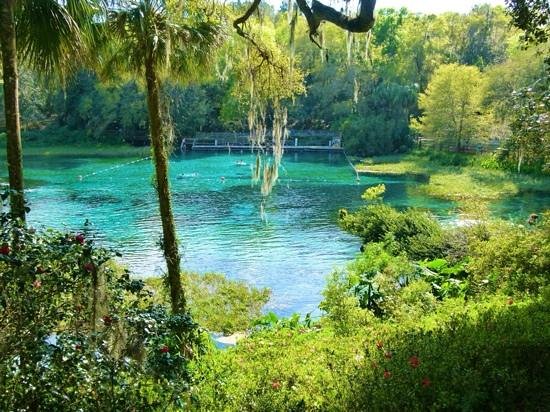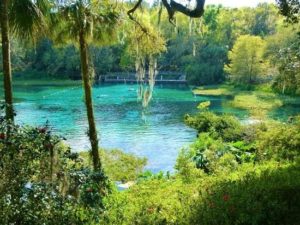 I can give a five-star review (out of 5) for Rainbow Springs State Park's campground. Located near the springs, it offers you a chance to feel the spring's natural beauty while you are camping. Having all the facilities for a camp will make it easy to get adventures.
Hiking through the moss-covered hiking trails, swimming in the natural swimming pool, which is fertile with the water of 5 natural springs, kayaking, canoeing, and watching mind-blowing waterfalls. And even you can paddle through the Rainbow Rivers.
Apart from the above camping springs, Florida offers the following unforgettable spring experiences as well.  
Florida Springs Camping: Three Sisters Springs, Crystal River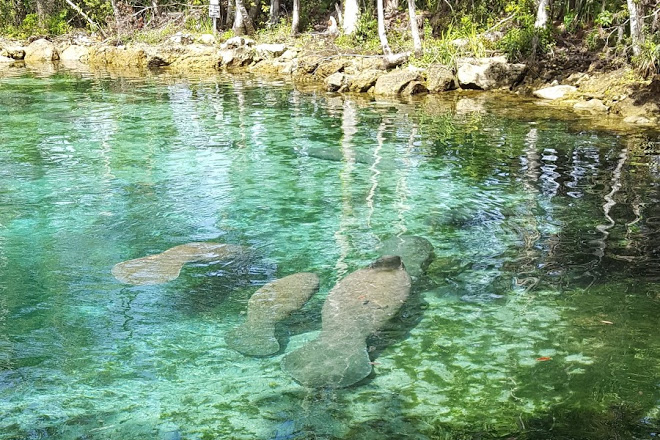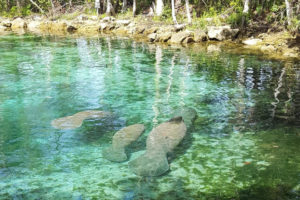 Three Sisters Springs in Crystal River is an incredible place to see manatees in large quantities. The only way to access this spring is via a kayak or a canoe. Plenty of manatees are coming to these springs to feel the warm water. So, you can observe them very closely. But, sometimes, the authority does not allow you to access there since they offer the manatees to spend freely in the springs.
However, this is heaven for manatee fans, and even there's a manatee celebration festival called the "Florida Manatee Festival" in January. So, the best time to visit this spring is from January to early March. Another important thing to visit the Three Sisters Springs is its crystal clear water coming from Kings Bay. (Florida Springs Camping)
Address: 601 Three Sisters Springs Trail, Crystal River, FL 34429, United States.   
Ichetucknee Springs State Park, Fort White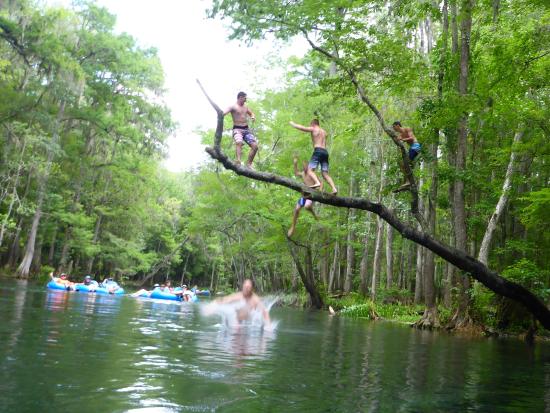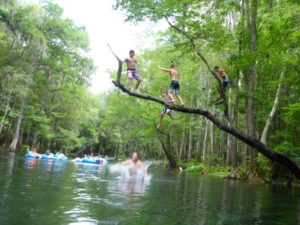 Doing adventure things with your kids will improve their practical knowledge as well as their thinking capacity. So, I suggest you take your kids along with you to Ichetucknee Springs State Park in Fort White. Try to visit there early in the mornings of weekdays in the summertime to avoid the crowd.
And have fun with your family by swimming, snorkeling, and canoeing in the superb clear water. You can also hike while seeing to see the wildlife like great blue herons, white tailored deer, and many more unique creatures.
Florida Springs Camping: Rum Island Spring Country Park, Florida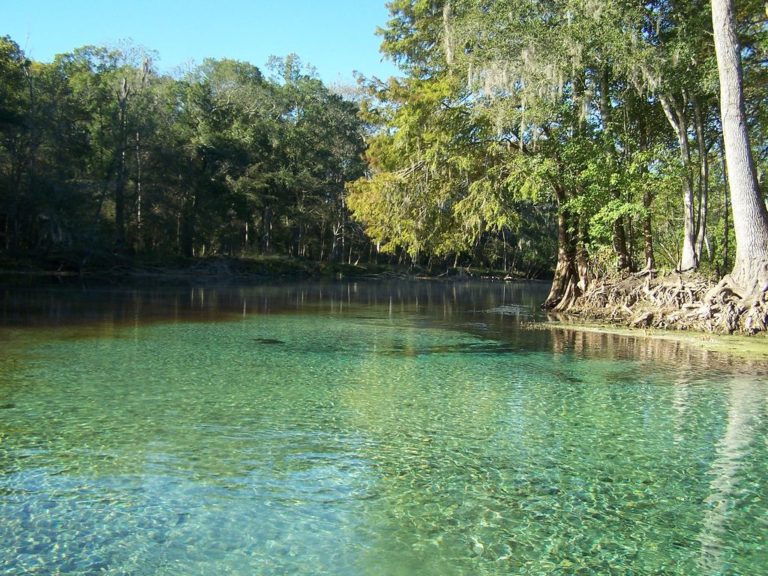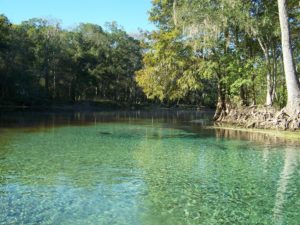 Now I'm going to tell you about a secret spring in Florida. Actually, this is not a famous and crowded place like other springs. So, you can enjoy it calmly. If I say the mapping direction for this place, it would be like this: 1447 Southwest Rum Island Terrace, Fort White, Florida 32038. Although this is a lesser-known place, it has so much natural beauty.
You can swim, float, fish, boat, snorkel, and explore the hidden beauties around.  And the springs' water is shallow, so anyone can swim and see the base of springs easily. Actually, Rum Island itself is a hidden natural beauty in Florida which you must visit once in your life. (Florida Springs Camping)
Silver Glen Springs, Ocala National Forest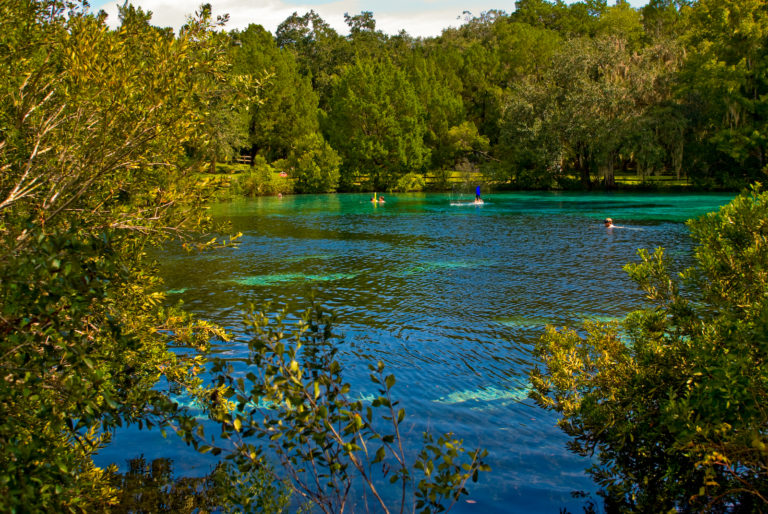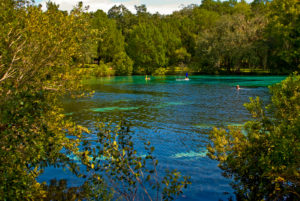 Silver Glen Springs has a history. So, it is an archeological site which means you are probably not allowed to go camping. But, you can visit and feel the natural beauty here. Ocala National Forest is itself a noble nature gift, and the Silver Glen Springs are the jewels of it. You swim and snorkel to see the shallow sandy bottom and also kayak, boat, or canoe through the amazing forest surrounding.
Plan your Florida Springs Camping today. Have fun.
Did you enjoy the article?? Just pin it for later.