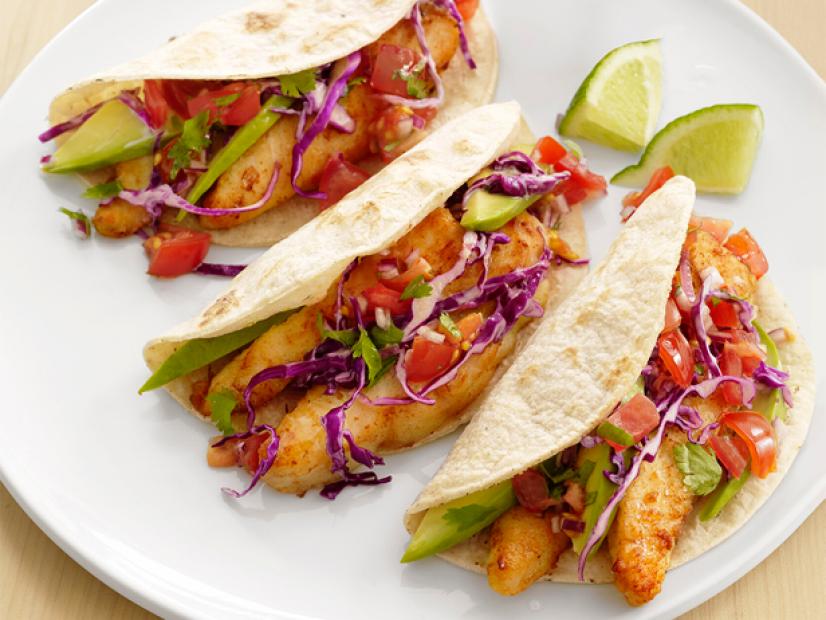 Food takes a top special place in almost all the activities in Mexico. Especially, Mexican fast food is everywhere in Mexico. Most tourists attract Mexican fast food since it is ready in minutes, cheap, tasty, and has a big variation. Mexican cuisines (UNESCO Cultural Heritage) vary from region to region. But, there are some common and famous items as well. So, this Latin American cuisine hotspot should always on your bucket list. So, here is all the information you need to know about Mexican fast food. 
Mexican Fast Food
Why is Mexican Food is so good?



Tasters always admire Mexican food all over the world for its authentic, delicious, and vibrant taste. Moreover, since it has various vegetarian and non-vegetarian dishes, all travelers love crazily to eat them.
Here are the major reasons why Mexican food/Mexican fast food is so good and popular worldwide.
Mexican food has a uniquely hot and spicy taste.
Many people in the world love to eat hot and spicy food. Mexcian food has crazily spicy flavors. Mexican spices do a great job in all of their food recipes. The hot and spicy features are coming from their authentic methods of seasoning.
Mexican food is healthy.
There is a variety of delicious food in the world. But we cannot say that all of them are healthy since most of them are unhealthy with evidence. But, Latin American food is famous in the world as healthy with taste. So, Mexican food is also as healthy as its taste. The secret behind that is the Mexican cuisines are filled with healthy ingredients like fresh vegetables, meat, and culinary. That means you can have a balanced diet when you are eating Mexican food. (Mexican Fast Food)
Suggested Reading: The Best Thai Food
The most loved drink, Margarita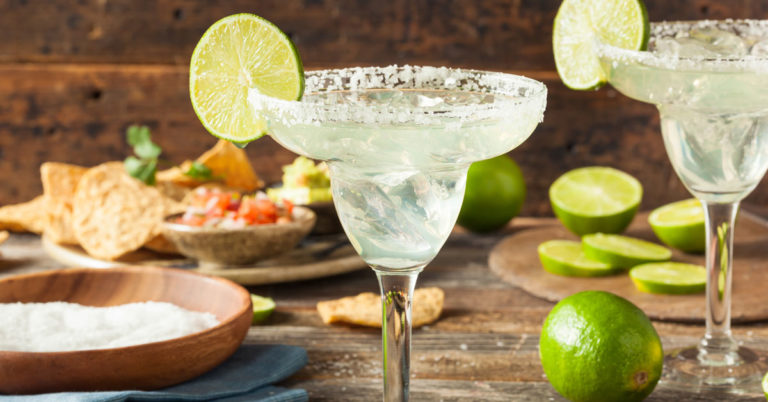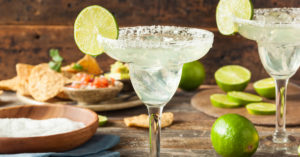 Margarita is one of the symbols of Mexican food. Any diet is not complete without a glass of margarita in any Mexican restaurant. It is a drink containing lime and lemon juice, tequila, soaked fruits with sugar and salt. When Margarita pairs with Mexican food, it is just awesome. (Mexican Fast Food)
Filled full of flavors with Mexican culinary
Mexican culinary does an amazing job by offering you flavorful dishes. It includes whatever you want, like chicken, fresh vegetables, and juicy beef with a fresh and pungent taste. And when Mexican culinary mixes with the food, it happens magic. The culinary include garlic, onion, cumin, coriander, chili powder, and oregano-like spicy things.
Suggested Reading: Best of Costa Rican Foods
What is Mexico's National Dish?
Mo-Lay or Mole is the national dish in Mexico. Although you may have seen chiles en nogada commonly all over the country, Mole is the national dish there. Since most of the dishes in Mexico are including rice, Mole also has it. Mole includes a thick and rich sauce with a ball of rice and meat. They serve in various colorful and attractive forms. (Mexican Fast Food)
When we talk about the national Mexican dish's history, the name Mole comes from a Mexican historical language called Nahuatl (Aztec). It means a "rich sauce" with colorful variations like black, red, yellow, and evergreen. On the other hand, different people prepare it differently and according to its ingredients, name them almendrado, pipian, huaxmole, etc.
The recipe of Mole has changed gradually with time. But, essentially, it includes the combination of fruit, nut, and chili. As mentioned earlier, Mole is normally serving rice and meat. But nowadays, it also uses as a filling for tamales, topping for enchiladas (enolates).
More about National Dish
Mole is a more time-consuming food to prepare since the ingredients needed to be roasted and ground before mixed with the seasoning stock. And then, it needs to make the paste. After that, it needs to cook under low heat for a long time while continuously adding the stock until it gets the correct texture. Therefore, normally it prepares only on special occasions.
On the other hand, Mole preparation is not easy. For example, Mole, which is originated from Oaxaca, adds more than 30 ingredients. But, in this modern world, the seasoning stock of Mole is there as a pre-made powder to buy from shops. That means the preparation process becomes easier and quicker.
Oaxaca and Puebla are the two major regions that are known for the best Moles. But, Tlaxcala is the place where Mole was born.
The most popular one out of everything is Mole from Puebla called "Poblano." And also, Puebla organizes the country's largest Mole festival called Puebla's Mole Festival. It is the dish which you may see in most of the picture of National Dish in Mexico. And on the other side, Oaxaca's most famous Mole is "mole negro".
Apart from them, the other Mole producing region is San Pedro Atocpan in Milpa Alta. More than 90% of San Pedro people live by producing and selling Mole throughout the country. And also, the town hosts some Mole festivals as well. Just like the Annual Mole Fair each October. (Mexican Fast Food)
Suggested Reading: Top 7 Swiss Foods
What should I avoid in Mexico?
Mexico is a huge and beautiful country that has very warm-hearted and welcoming people. However, you have to be careful and stay out of the following things when you are in Mexico.
Since we are talking about Mexican fast food and authentic food, let's look at food-related things first.
Do not reach more for Mexican hot sauce. Since I mentioned earlier, Mexican foods are too spicy. You may like that spicy flavor. But yet there are some sauces that you have no idea how hot those are. So, it is better to go easy with Mexican hot sauces. Try it if you only can handle the heat.
Be careful when drinking water because most Mexican restaurants do not offer bottled fresh water. Instead, most of them offer you tap water, which may cause you many health problems. Therefore, take more water when you travel and do not drink different water serve from different places, especially when you eat from rural or remote places.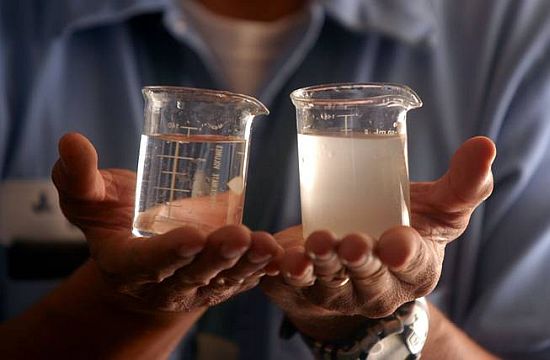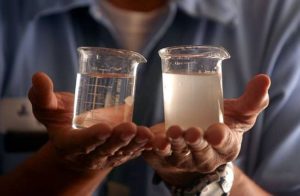 Do not forget to keep the tip. Tipping is a very popular culture in Mexico, which implies courtesy. Especially when you are in hotels, restaurants, or bars, the waiters expect to have around 5-10% tip from your total bill value.
Do not underestimate or criticize Mexican food. In 2010 Mexican cuisines were added to the UNESCO cultural heritage list. That means Mexicans should be really proud of their food recipes. And, of course, they do. Each region of Mexico has a variety of flavors, and they are proud of the heritage. So, be quiet even though the food is not tasty for you.
Hotels in Mexico
Planning to visit Mexico?? Just click here to book the best hotels that match your budget. (zoom out the map to see more hotels)


Mexican Fast Food list



Mexican fast food is way more than just Burger King and McDonald's, spread around the cities. As mentioned earlier, food plays a major role in Mexico, and Mexican fast food is addictive.
Literally, anything you want can be found very easily. Like: tacos, soups, fried meat, and any family-style foods are preparing within few minutes and offer you the lowest prices ever.
If you are heading to a fast food stall run by a Mexican family in a small scale way, then do not forget to bring cash. Although the big fast-food chains have the facility of payments via credit and debit cards, small ones do not have it. On the other hand, always keep the change cash since most sellers won't give you change when you give big Peso notes. Always keep 20, 50, and 100 Peso notes as change with you. (Mexican Fast Food)
Here is the list of Mexican fast food with the best chains.
Mexican Fast Food: Fried Chicken
I personally like Mexican rotisserie chickens at any fast food store. The big fast-food chains like El Pechugon, Pollo Feliz, and El Polo Pepp sell fantastic fried chicken. But, I recommend you to try from a small shop.
Pozoles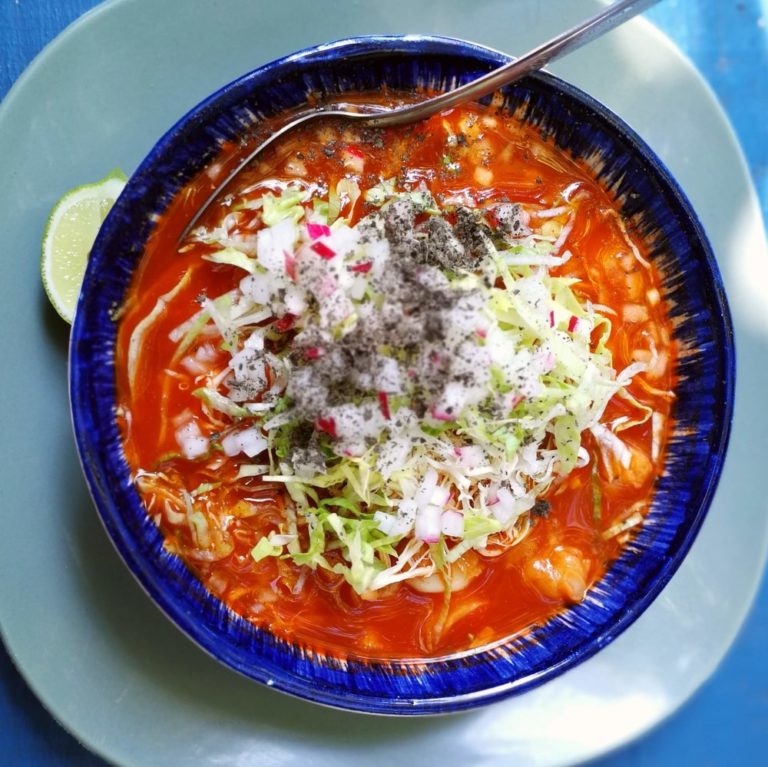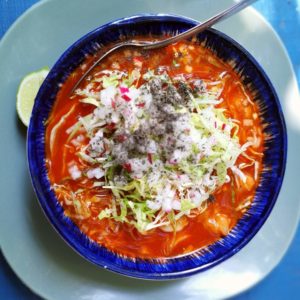 Pozoles, also called hominy, is tasty soups. You can find this fast food in Mexico City as well as other cities around the country. Especially, Casa de Tono is more famous for its delicious pozoles. (Mexican Fast Food)
Mexican Fast Food: Comida corrida
Comida Corrida is the healthiest fast food in Mexico. Because it contains a starter of soup, rice as the main meal, a meat dish, tortillas, and rice pudding as the dessert, isn't it the most perfect and balanced diet as a fast food item?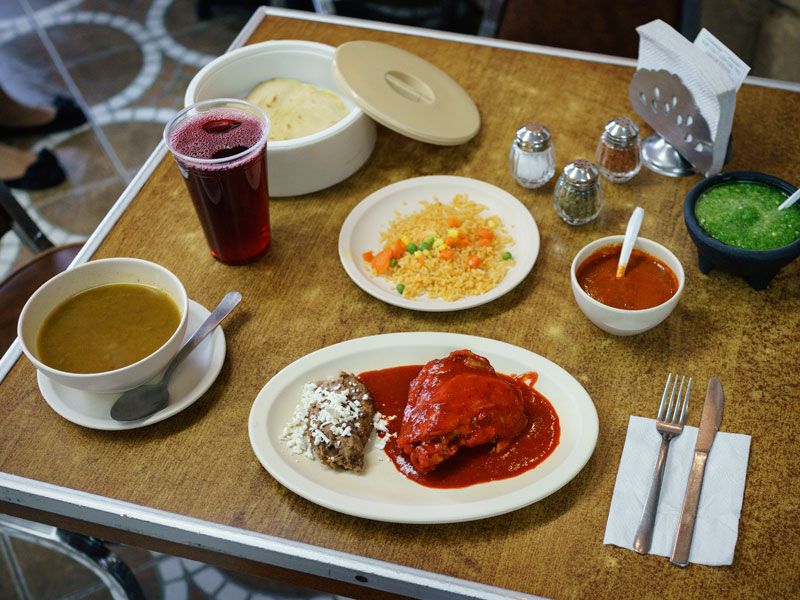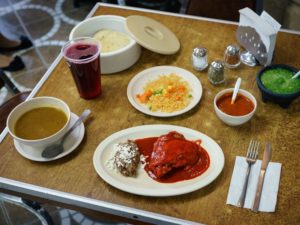 If you are a vegetarian, you can even select the whole Comida Corrida package as vegan content.
Fish Tacos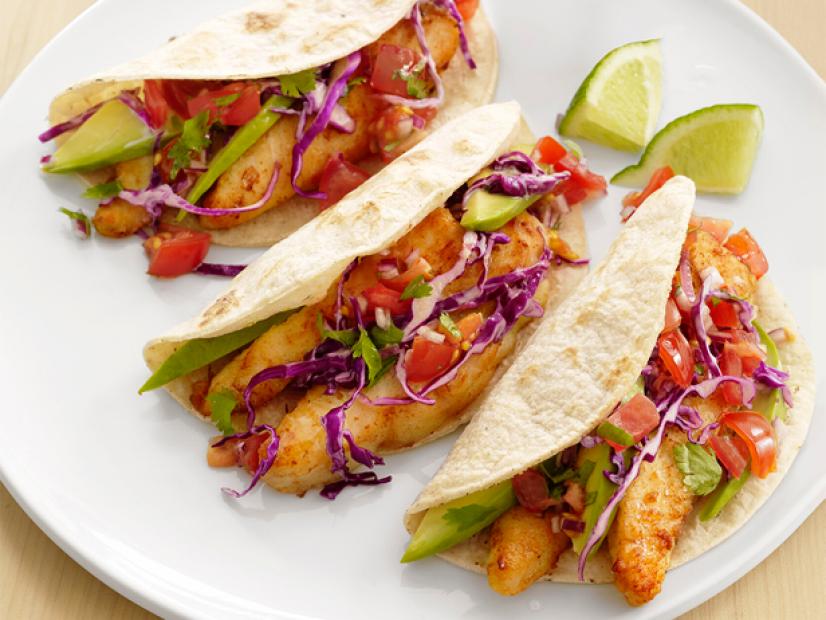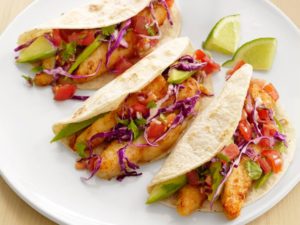 Mexico is famous for its fresh and the best seafood in the world. Tacos are also a kind of symbol in Mexican cuisines. So, the combination of both tacos and seafood offers you a mouthwatering taste.
Coleslaw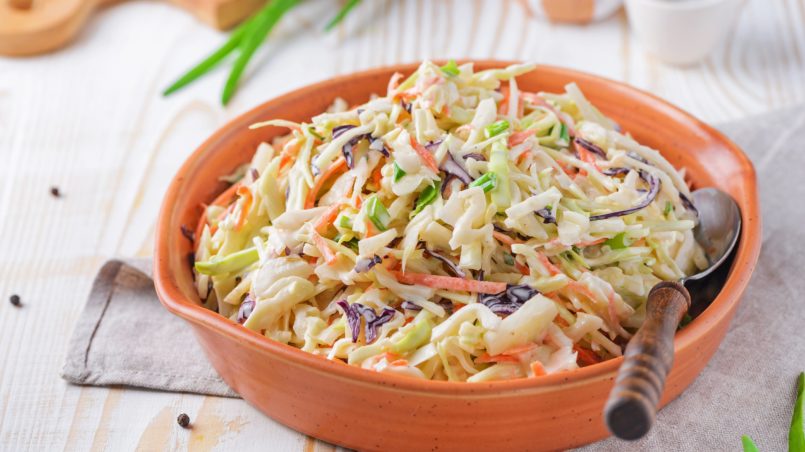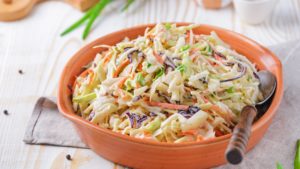 Throughout junk fast food, Coleslaw is a healthy vegetable salad. When mixed with spicy sauce, lime, and cheese, the salad makes it so yummy. (Mexican Fast Food)
Antojitos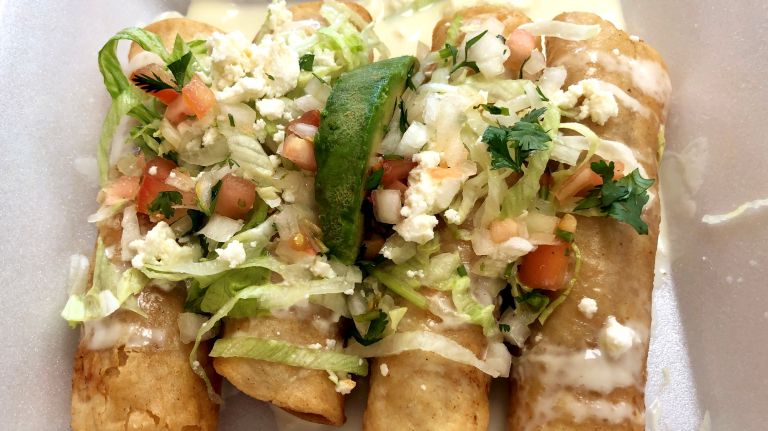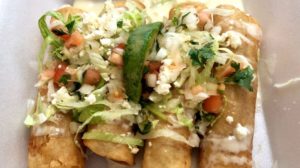 The name Antojitos includes all the major food types in Mexico, like gorditas, tostadas, tlayudas, queadillas, and flautas (explained well below). Mostly they are in street food stalls.
Mexican Fast Food: Meat wings
If you love meat wings, then Mexico is the best place. Especially, Las Alitas, Wings Star, Wings Army are more famous fast-food chains for meat wings.
What are Fast Food Restaurants in Mexico?
Here is the list of the best fast-food restaurants in Mexico.
Arby's in Centro, Del Valle
Hot Mamma's Hot Chicken, Juarez
El Burrito Chido, Juarez
El Pescadito, Condesa
El Pechugon
Carl's Junior
Mr. Morro
Wings Factory Polanco
Easy Frank
Mexican Street Food
When it comes to junk food, Mexico is just like heaven. Normally, the majority of Mexicans eat street food, at least on weekends. Locals love to eat street food more. That means they are safe for tourists as well. As one of the best street foods in the world, Mexican street food varies with the region. But following street foods can be seen everywhere in this Latin American hot spot. (Mexican Fast Food)
Mexican Fast Food: Tamales
Tamales are a trendy treat in the Mexican street food world. It normally serves in the mornings and evenings. These are made with corn dough and wrap with a banana leaf wrapper or corn husk. And the meaning of "tamales" is wrapped in the Aztecs or Nahuatl language.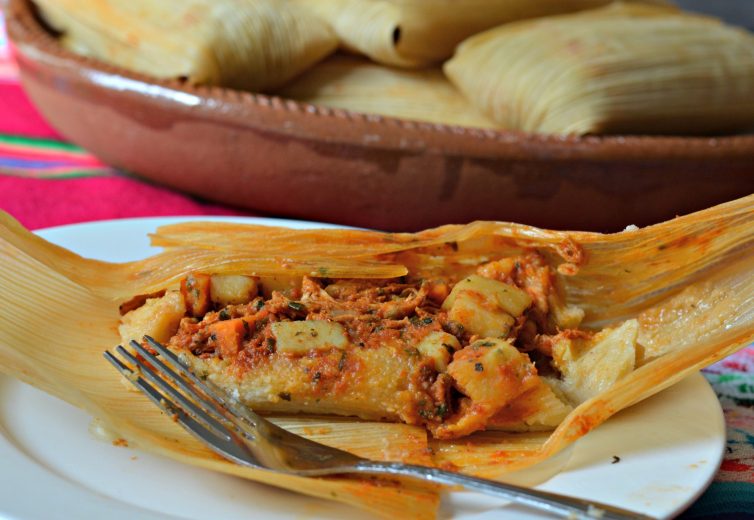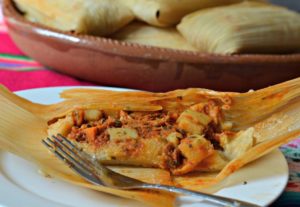 The wrap's content is mostly Mole, rajas, salsa with chicken along with poblano chiles, onion, and tomato. Sometimes tamales make in sweet form as well. It will contain sugar, raisins, cinnamon, and pineapple to the dough. Remove the wrap and eat the yummy things inside.
Tamales are very famous throughout the street food store in Mexico. Sometimes, it serves with a bolillo bun (call as torta de tamal or guajolota) at street stalls.
Suggested Reading: Top 10 Italian Food Restaurants
Tacos
Tacos play a huge role in the Mexican street food industry. Simply tacos are anything filled into a tortilla (a thin flatbread layer made with wheat flour or cornflour). But the real ingredients may include meat, mushrooms, beans, potatoes, cheese, etc. By adding the Mexican magical culinary and items like spicy salsa, cilantro toppings, garlic, fresh onions, guacamole, etc. (Mexican Fast Food)
Tortas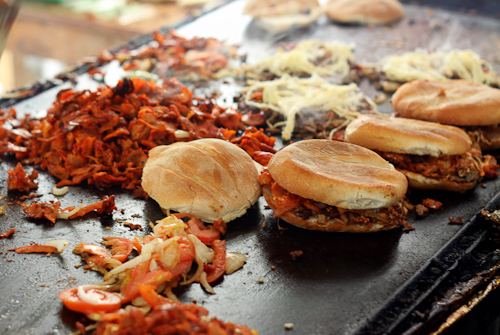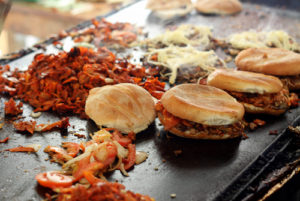 Tortas can be considered as large or supersized sandwiches. Because it is served in a squishy bread mix with meats, salad, sauces, and cheeses. The sandwich bun is normally called bolillo. And you are not allowed to call them sandwiches.
The filling includes avocado, tomato, pickled jalapenos, and various meat types. But in different areas, people use different ingredients. For example: in Guadalajara, one of the most representative dishes is "torta ahogado" which contains meat filling and spicy sauce. (Mexican Fast Food)
Mexican Fast Food: Gorditas and Sopes 
Sopes and Gorditas contain the same ingredients but prepare them in different ways. Commonly it is corn-based food. But the fillings and the toppings are different from each other. So let's take one by one.
Gorditas are corn flatbread, which is thicker than a tortilla. And contains beans, cheese, and pork rinds like things inside the corn flour dough. Then, the whole package is grilled until it gets the correct look. Finally, it tops with salsa and cream.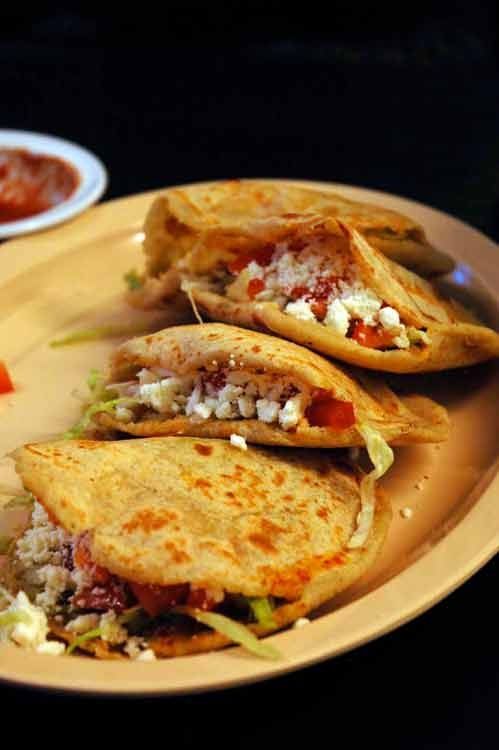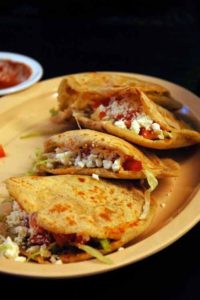 On the other hand, Sope is also a corn flour flatbread (disk-like). The topping ingredients are not inserted inside the disk, but they are placed on the disk, just like a small pizza. In Oaxaca, these Sopes are called "memela."
All of these things are there in street stalls. But, they make it by using different ingredients and different cooking methods.
Tlayudas
Oaxaca can be considered the Mexican street food hub since most of the foods originated from that region. Tlayudas is also famous, and tasty street food comes from Oaxaca.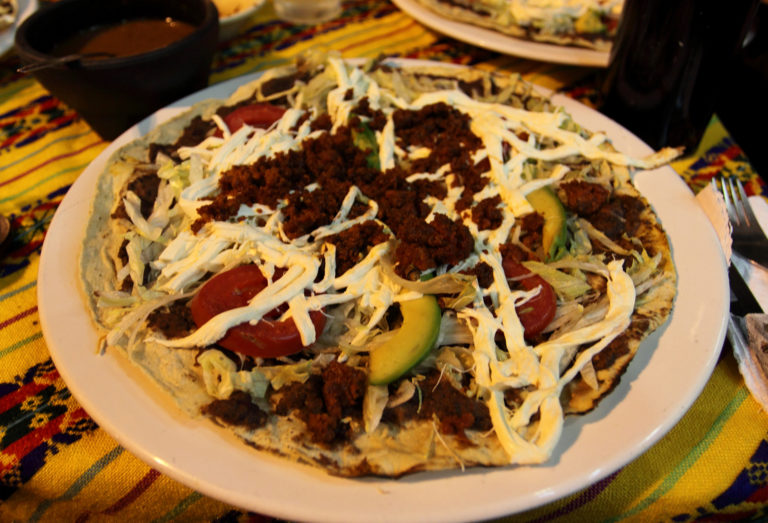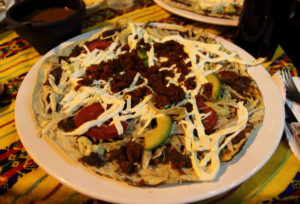 Tlayudas is a crispy, baked, and toasted food topped with mole sauce, salad, meat, and iconic Oaxaca cheese. It is almost like a big pizza and is often referred to as Mexican Pizza. (Mexican Fast Food)
Quesadillas
Quesadillas are folded tortillas containing melted cheese inside. Preparing the tortilla with corn or wheat flour, insert any kind of cheese (especially the iconic Oaxaca cheese), and then deep fry or grill. By the way, Oaxaca cheese is also called quesillo, and it is almost like mozzarella cheese.
Apart from the typical way of making Quesadillas, some street stall adds more ingredients with cheese. Like: vegetables and mushrooms. And also, the deep friend Quesadillas are normally topped with salsa and beans paste. (Mexican Fast Food)
Mexican Fast Food: Tostadas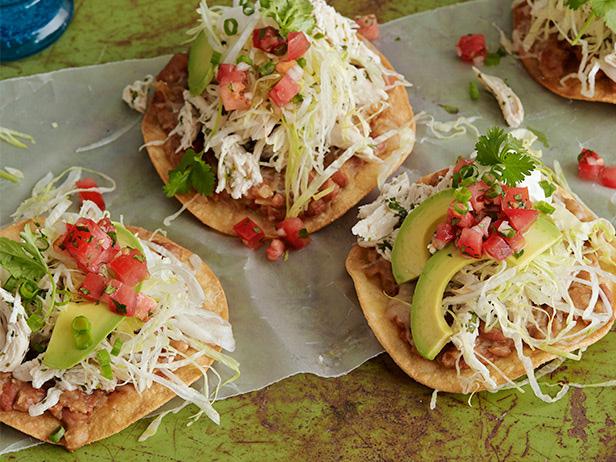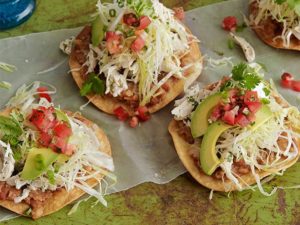 Here, Mexicans use a crispy tortilla, which is making by frying or baking. Then, crispy tostadas are topping with the best seafood, meat, cheese, fruits like avocados, vegetable salad, and salsa. Especially, meat and seafood lovers will love tostadas. Mexico City is more famous for that.
Elotes and Esquites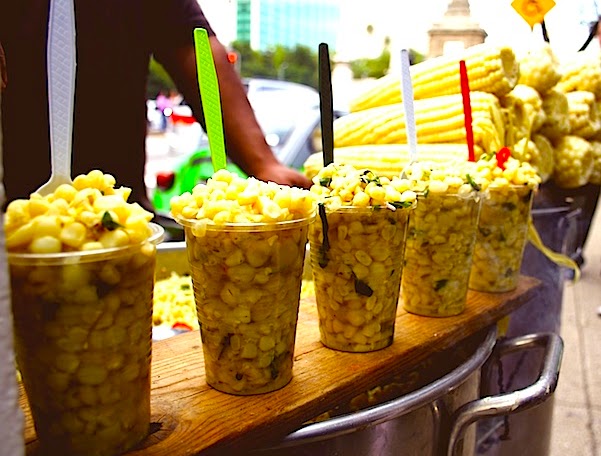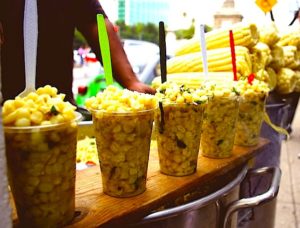 Most of the base of Mexican foods is corn. This one also contains corn. Elotes and Esquites are also referred to as the corn on the cob and sweetcorn accordingly. Since it is very difficult to eat, now the sellers serve it in plastic cups by shearing from its cobs. And also, it is added cream, mayonnaise, lime juice, and chili. Trust me; it is yummy.
Mexican Fast Food