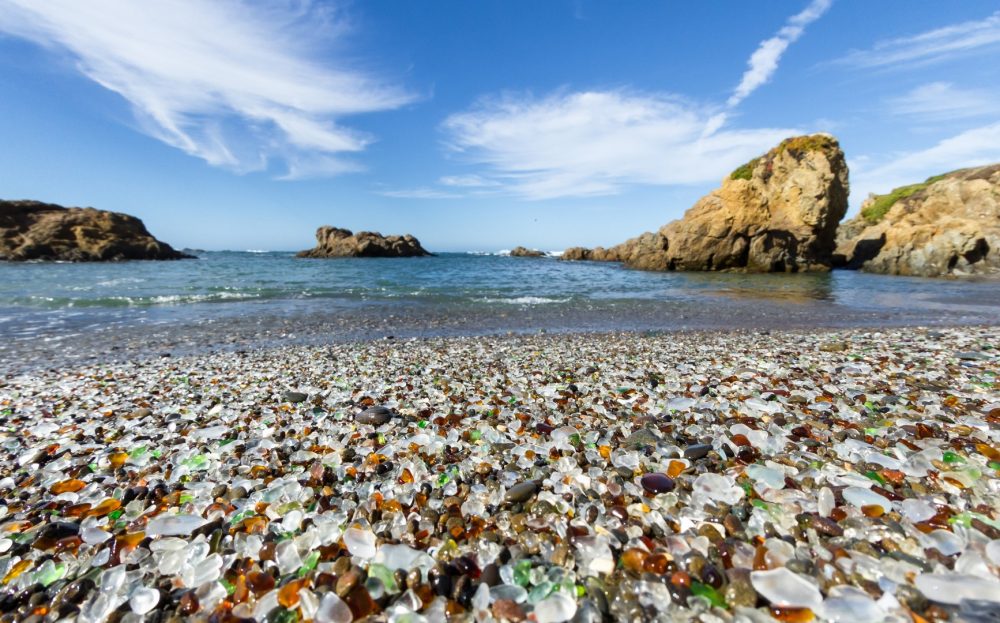 I have loved to collect different kinds of stones and glasses since my childhood. As a hobby, I did collect differently shaped and colored pebbles and sea glasses when I travel with my parents. Yes, Sea Glass Beach California is one of the best beaches where I always loved to travel to see the beautiful and colorful glass pieces on the beach. Although I know that I can't take them home, still I satisfied by seeing and touching them. Of course, it is worth knowing everything about this amazing sea glass beach in California.
Sea Glass Beach California
Where is it located? 
It is exactly located on McKerricher State Park's southern side in Fort Bragg, California, Central America. That means the northern coastal line of California. Actually, getting access to this beach is very easy for this Glass Beach. What you have to do is to park your vehicle in the Glass Beach vehicle park and walk down to the beach to see the free supernatural and colorful Glass Beach in California. (Exactly a few blocks west of Highway 1 off of West Elm Street.
Suggested Reading: Black Sand Beaches on the Big Island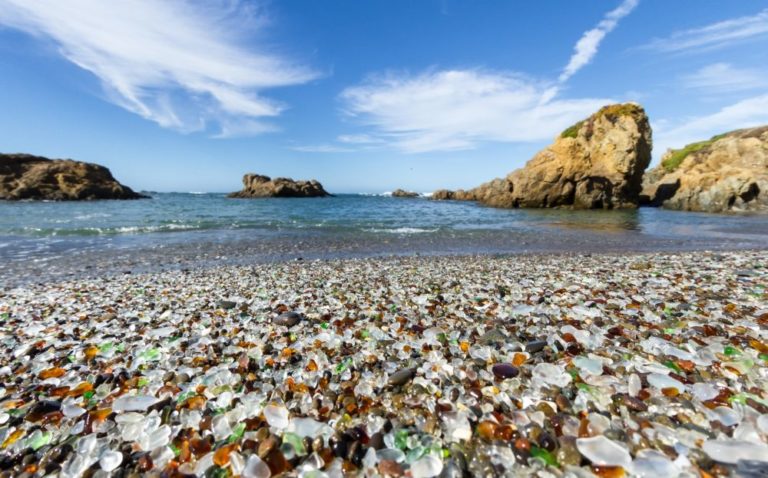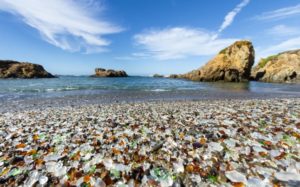 Remember to wear suitable shoes to reach the beach by climbing through rocks and glassy stones. The glassy places are scattered along the beach. So, you will have to walk along the beach through rocks to find all the amazing sea glass beached around. (Sea Glass Beach California)
History of the Sea Glass Beach California
From 1906 to 1967, this place was used as a dumping place of cars, bottles, appliances, batteries, pottery, old glass windows, mirrors, and most non-decomposing pieces. You may get a problem in your mind, where did this particular beach get this amount of stuff to create this miracle.
It had happened due to the huge earthquake that occurred in San Fransisco in 1906. It had hit a lot to Fort Bragg, California as well. So, after the earthquake, people wanted such a huge place to dump their broken things. Most of the people left those burned, broken things in a large quantity into the beaches, which were expected to be disappeared with the sea waves. Sea Glass Beach California is such a place that was dumped a huge amount of glasses and eventually turned into an amazing spot of colors.
The dumped things may be mixed with saltwater and may be dipped in saltwater for a long time and again came back to the beach with waves. This is not an artificial incident; it is a supernatural creation done by the dumped mirrors and glasses with the sea waves. But after 1960, when the nation rose and developed, people identified a need to conserve the beaches. Then, the government identified this amazing creation of sea Glass Beach California.
Suggested Reading: Best Beaches in Mexico
The Mermaid Story on sea glass
That is the scientific and true explanation about the formation of Glass Beach. But, I have heard a story of a mermaid connected with the formation of this Glass beach. It says that this was formed with a beautiful mermaid's tears who fell in love with a sailor in the deep sea as a nice folk story. I think it is a very creative and lovely story made for this amazing place to add some value. (Sea Glass Beach California)
Formation of sea glass on the glass beach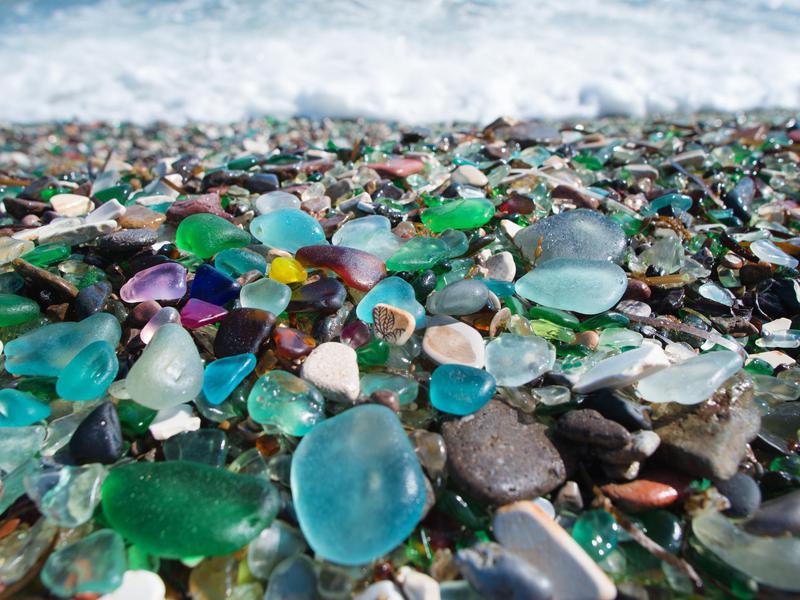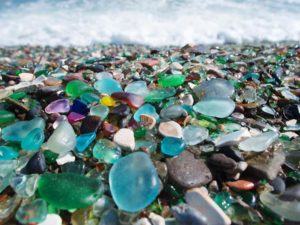 Now you may have a brief idea about the formation of these sea glasses. Some call this "Beach Glass" since it was formed on the beach. But some people call this "Sea Glass" since it was mixed with saltwater and dipped in salt water for a long time and then came to the beach with sea waves.
I go with the second name. "Sea Glass" is the correct name since the reasons explain it well. But I have another question which bothers to mind always. It is "why all the dumped glasses from different places in the world came exactly to this place?". I didn't get a justifiable answer for that to mention here. So, if you know that, please comment below.
Now, you should understand that this whole process takes many years. Interacting with chemicals in different pH levels, weathering processes, the hydration process, and finally, the crystal formation process is total chemical magic that happened with time. Since this is a natural process, you will feel a very different and soft feeling when you touch those glasses. It does not feel like an artificially made glass with lime and soda. (Sea Glass Beach California)
How different colors come to sea glass
We already know that sea glass is made with soda bottles, glass food containers, medicine bottles, liquor bottles (wine, beer, and others), old milk bottles, and many more glass items. Researchers highlight that these different colors occur due to different reasons. Let's figure out those reasons.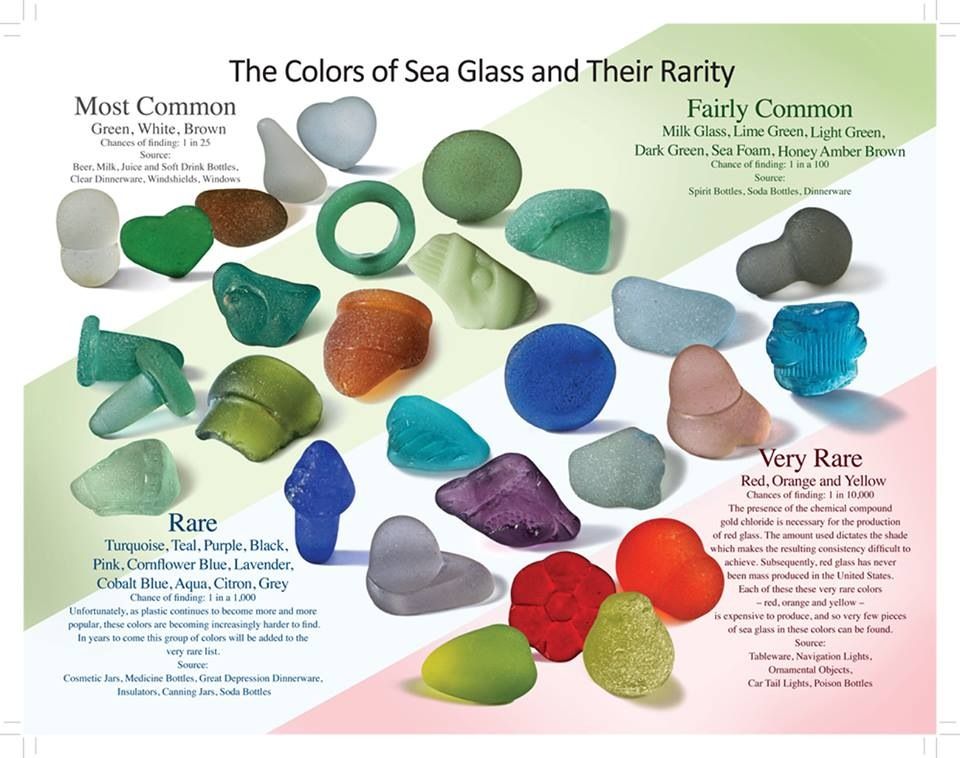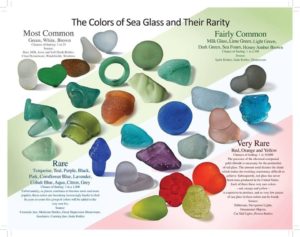 Commonly, you can see pure white sea glasses on Sea Glass Beach California. Those are expected to be originated from the above-mentioned bottles (soda, Mason, and Bali canning jars, old milk bottles, and medicine bottles). And the brown color may come from the beer, root beer, and whiskey bottles. Another important color is Kelly's green color, which may come from lemon-lime flavored soda like 7-up, Mountain Dew, Sprite, and Heineken.
Suggested Reading: The Atacama Desert in Chile
Rare colors of sea glass
Seafoam green color also gives gorgeous sea glasses and reasons for that color highlights as the old seltzer mineral water bottles, baking soda, fruit jars, and ink bottles like stuff. On the other hand, amber color sea glasses are also more famous and probably made up of old Clorox and Lysol bottles, tobacco jars, brown mason jars, beer bottles, and medicinal bottles.
And some rare glass like pink sea glass is made with Depression Glass. Also, cobalt blue sea glass is guessed to be made with the milk of magnesia bottles, Vicks vapor rub, Bromo Setlzer, vintage Noxzema jars, ink bottles, and like stuff.  Those are only some colors, and you can even research more rare types of Sea Glass as well. (Sea Glass Beach California)
Best time to visit the Sea Glass Beach California
Most people who visited there specifically mention that you must visit Sea Glass Beach after a high tide or a full moon during the spring or fall. Then you can see most of the colorful glass pieces, even some rare glasses as well. Strickly keep in mind that you cannot take anything home or remove anything from the beach.
Since many travelers are coming to see those glasses, it is not ethical to take them home. So, touch them, take photographs and feel the beauty. Do not disturb the natural way of those sea glass beaches in coves.
But the sad part is, although the authority doesn't allow and prohibit taking the glass with you, they can't control it. People take those homes by hiding in their pockets. As a true nature lover, I suggest you protect them and be ethical.
In low tide, the beach reveals more than sea glass. When you beach comb with your family, you will find more sea glass as well as crabs, mollusks, anemones, seaweeds, and other aquatic plants. But keep in mind to take care of kids and dogs since the waves are a bit rough in Fort Bragg.
Is there still glass at the glass beach?



Of course. There is Sea Glass at Glass Beach, California. And also there are some other beaches as well where you can visit wherever you are. Those are mentioned below. As mentioned earlier, Sea Glass's existence depends on the way you behave when you visit there. If you and your whole family take the most beautiful and rare ones home, then within a decade, everything will disappear.
Also, there's a good chance for you to learn more and see more about sea glass at the International Sea Glass Museum in Fort Bragg. Retired sea captain Cass Farrington opened this in 2009. He owns this and proudly presents his collection of rare and beautiful sea glass to you. He was collecting all of these throughout his career life and finally gave them good value.
Nearly 150 000 different pieces are available, which is a large amount in one place. If you need a souvenir of the tour, do not try to steal from the beach; buy one from this museum. It is how the way a nature lover should behave. (Sea Glass Beach California)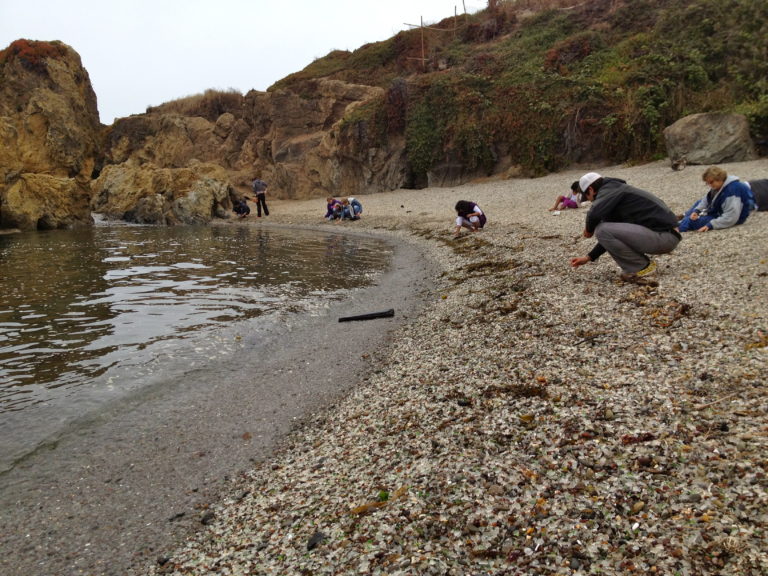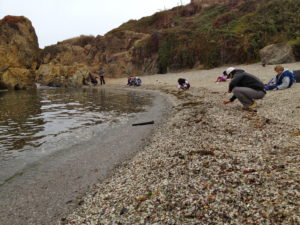 Best Sea glass beaches around the world



Like Sea Glass Beach, California, there are some other beaches as well. Just take a look at them and check whether they are near to you.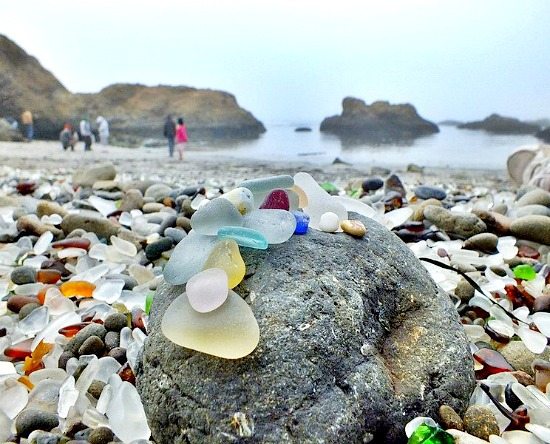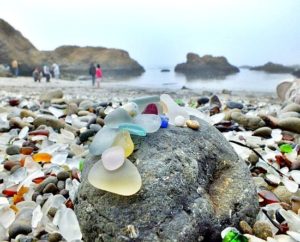 Hanapepe Bay Sea Glass Beach, Kauai, Hawaii
At the southern end of the Kuai island Hawaii near Port Allen, there's a marvelous beach with sea glass. A few decades earlier, the area of Hanapepe Bay was an industrial zone, and unwanted things have dumped to this beach. So, after a considerable time, it gave the result with this amazing colorful glass on the beach. (Sea Glass Beach California)
Suggested Reading: Best Beaches in Sicily
Black Bay Beach and Sea Glass Beach, Bermuda
Most sea glasses come and save on Bermuda beaches (I don't know why). But the best-looking beaches are situated at the western end of Bermuda. They are Black Bay Beach and Sea Glass Beach. And also another hidden one is located in St. George called Building Bay Beach.
Steklykasha Beach, Vladivostok, Russia
Since Steklykasha beach is bordering the sea of japan,  we can expect mostly these as Japanese dumped glasses. However, this is amazingly beautiful and better to visit in the sunny to feel sea glasses' exact brightness.
Even in Okinawa, Japan, there's a Glass Beach with many rare sea glasses.
Spectacle Island, Massachusetts
Spectacle Island in the coastal line of Boston was obviously a dumpsite many decades earlier. Therefore, this has converted into an amazing glass beach. Most of the beachcombers are coming here to see that sea glass and research on them. (Sea Glass Beach California)
Summerland Beach, Santa Barbara, California
Just like the above-mentioned Glass Beach California, there's another famous one as well. It is the Summerland beach in Santa Barbara. It is an unpopulated beach with so many sea glasses. I suggest you visit there on the second weekend of September since there's Sea Glass and Ocean Arts Festival to see Sea Glass artists' art worldwide.
Abaco Islands, Bahamas
Although this is a secret place for all travelers, the Abaco Islands, Bahamas, have beautiful sea glasses. Situating in the Northern Bahamas, you can visit and beach comb for the rare and yet crystal sea glasses.
Glass Beach, Port Townsend, Washington
As a result of dumping glasses to McCurdy Point many decades earlier, this eye-catching Glass Beach is formed. Many researchers are coming to research on some rare sea glasses and basalt, quartz, and jasper. (Sea Glass Beach California)