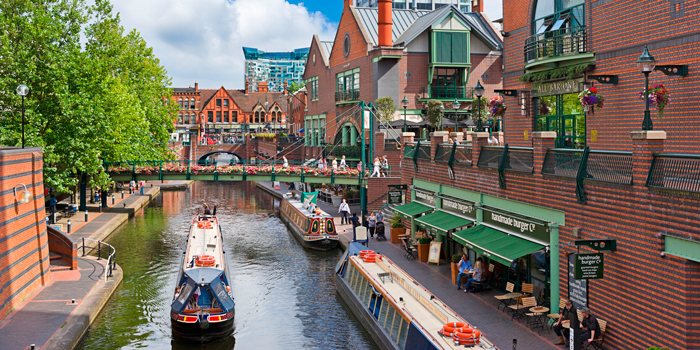 Since there are numerous amazing things to do in Birmingham, UK, it is better to know the most exciting things. Birmingham is mostly known as the second-largest city in England locating in the West Midlands. Yes, it is big, and also it has more canals through the city than Venice, Italy.
On the other hand, Birmingham offers you valuable museum experiences, preserved historic buildings, cathedrals, cultural activities, fun things, and as well as festivals. Currently, it is more famous for its tasty food and stunning jewelry. Well, here are the things to do in Birmingham with the travel guide.
Things to do in Birmingham
Is Birmingham worth visiting?
Birmingham is locating just 90 minutes away from London by train. And it is filled with a lot of unique experiences as well. So, the answer is "yes." It is well worth visiting Birmingham. Here are the reasons for that.
Birmingham is considering the top city, which is relocating from London. As Europe's younger city and as a creative city, it is fair to move Londoners to Birmingham.
One of Birmingham's favorite features is that the city has more space for people and even quieter than any other city. Maybe due to the, it is huge. That means you don't have to wait in long queues and feel bad with heavy crowds. Even when you are shopping, you have more space as well.
The next feature to feel worth visiting Birmingham is its transportation facility. Although there is no tube, you can use the cheap public transport system. For example, a monthly travel pass is around 60 Euros, and it is very cheap compared with London charges. And on the other hand, if you don't like to travel by bus, just try boat travels through canals all over Birmingham. 
Birmingham has drinks like beer for very low prices. Ex: the average cost of a pint is around 3 Euros. Yes, this is a very cheap city to live, stay and travel to.
Birmingham was the home city of Lord of the Ring writer J.R.R. Tolkein. So, it is believed that he was inspired more by the environment of Birmingham for his creations.
And as the ultimate feature, Birmingham has more to see and tasty food to eat for low prices. (things to do in Birmingham)
Suggested Reading: Travel Tower Bridge, London
Birmingham Museum and Art Gallery
Visiting Birmingham Museum and Art Gallery is the best thing to do there. Suppose it is raining while traveling around Birmingham, then just run to see this is the best option.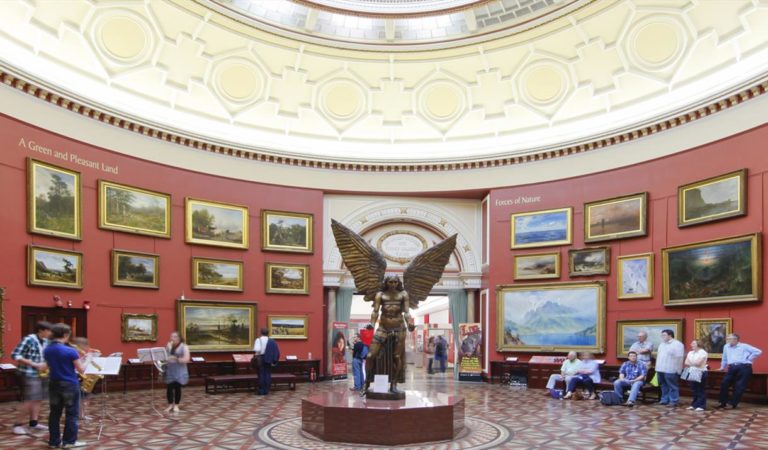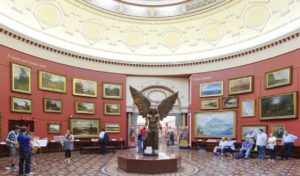 This one was opened in 1885 and included Pre-Raphaelite painters, sculptures made by Rodina and James Tower, and artwork from the 17th and 19th centuries.
On the other hand, the archeological findings in Stone Age and an interesting Pinto Collection with toys and wooden items are displayed here.
Don't forget to pay a visit to The Ikon Gallery located in an old heritage building. (things to do in Birmingham)
Birmingham City center and Victoria Square
When you walk through Birmingham City Center, you will reach Victoria Square. It is considered the heart of Birmingham. And on the way, you may find the attractive Town Hall built by using Victorian architecture in 1832. Town Hall is very famous for the city's music show since the first performance in 1847 by Mendelssohn's Elijah.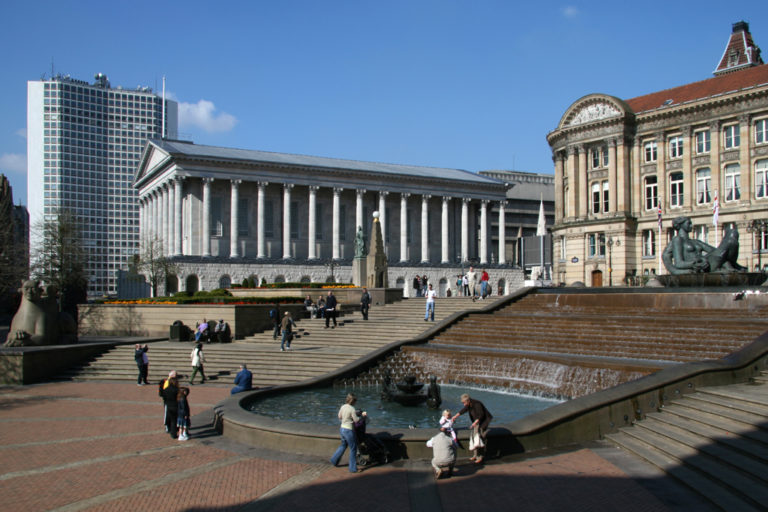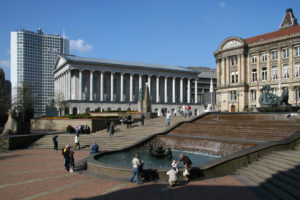 The Central Library and Chamberlain Square are also worth visiting since it has the largest Shakespeare collection outside of the USA with 90 languages and 50,000 volumes.
There's Coffin Museum, just northeast from the City Center, which shows the history and tradition of funerals and making coffins.
On the other hand, Big Brum (Birmingham clock) and Council House, built-in 1874 by using the Renaissance style, are there to visit. (things to do in Birmingham)
Planning to visit Birmingham??? Looking for the best hotels that match your budget?? Just check here. 


Jewelry Quarter, Birmingham
As I mentioned earlier, Birmingham is very famous for jewelry. It is surprising to know that this Quarter is producing more than 40% of the whole UK's jewelry needs by the 200 jeweler's silversmiths and workshops.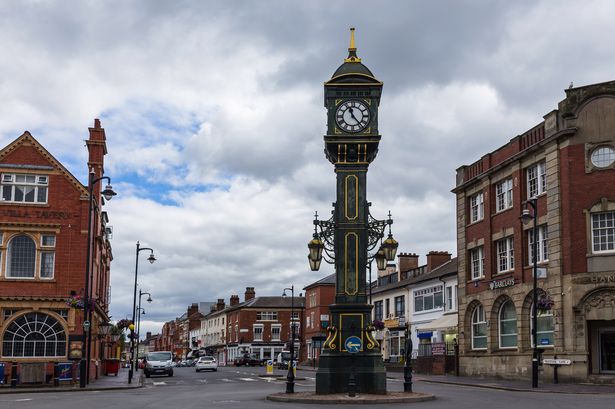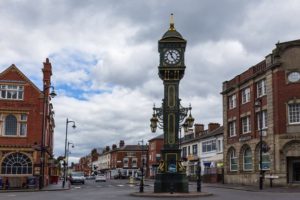 Do not forget to visit the Jewelry Quarter museum, which displays the inside look of the Smith and Pepper factory.
As nearby to this, you can visit St. Paul's Square with its impressive church and Baskerville House, which reminds the loss of people in WWI.
If you have more time, take a visit to the Pen Museum, located in the old pen factory of the Jewelry Quarter, Hockley. (things to do in Birmingham)
St. Philip's Cathedral Birmingham
St. Philip has some special and unbeatable features. They are:
One of the smallest cathedrals (third smallest) in the country.

One of the few architectural wonders with English Baroque style
Locating nearby the Jewelry Quarter, you can visit here after buying stuff there. The most important thing is, do not forget to bring a camera.
The cathedral has a long history, which runs to 1715. If you want to join a special event in the church, check the website before the visit. (things to do in Birmingham)
Things to do in Birmingham:

Aston Hall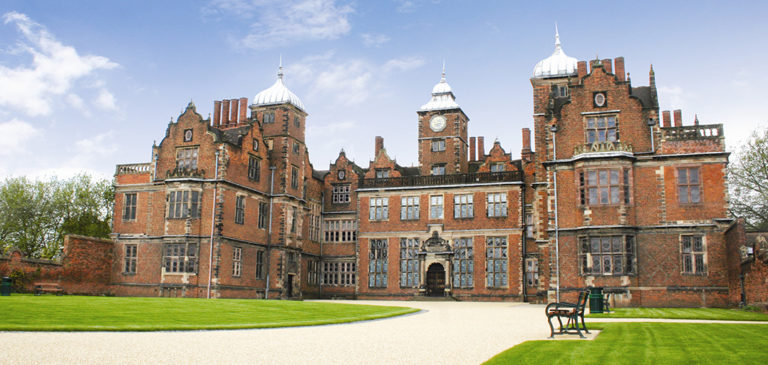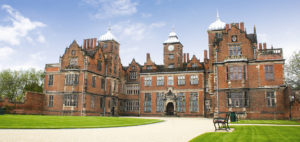 Aston Hall is one of the final Jacobean houses to explore in Birmingham. It has a great history to explore. Once you visit there, you can see the display rooms which were used in the civil war. And also there are symmetrical gardens which you can explore as well.
Suggested Reading: Big Ben in London
Birmingham Symphony Hall
As one of the finest musical shows and concert halls in England, it has stunning architecture. This is a place full of entertaining things. It also contains jazz music concerts with jazz musicians, renowned orchestras, rock concerts, and comedy shows.
I suggest this place to end your day in Birmingham.
Black Country Living Museum
On the west side of Birmingham, in Dudley, you can see this Black Country Living Museum. Existing for around 26 acres, it has a history of mining. Therefore, the name "Black' came to call. Authentic buildings, vehicles, and boats used in that coal era are still there for you to explore. The canals' network was used for the transportation purposes of coal to other parts of the city, country, and the world. (things to do in Birmingham)
National Motorcycle museum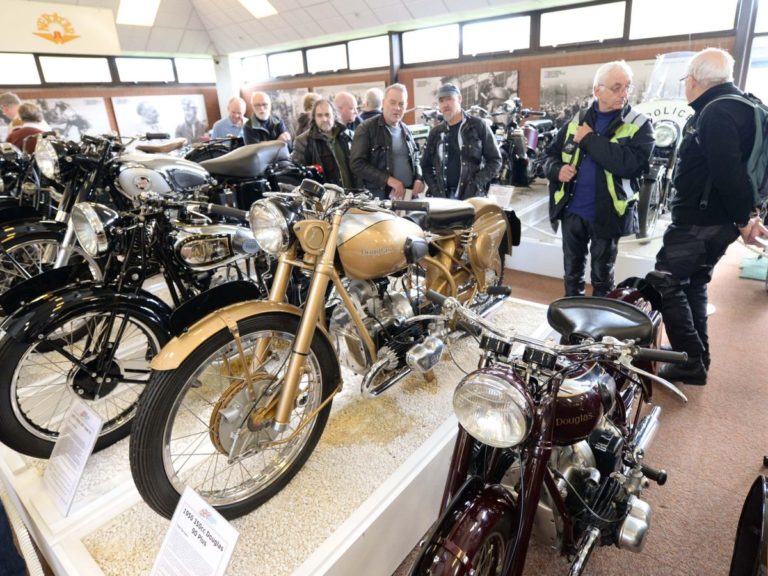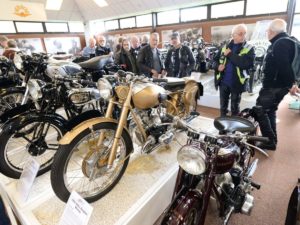 Are you mad at different types of motorcycles like me? Then, this is the place for you. Actually, it features more than 1000 motorcycles that existed around the world and preserved with their original versions. Starting from 1898 to modern time, there is any kind of motorbike here. It sounds crazy, isn't it?.
Catch the Shakespear Express
Starting from Birmingham to Stratford through Avon, very few numbers of trains run. Therefore you should book it earlier. Actually, this helps travelers to travel to the past and feel the beauty of the countryside.
Visit Winterbourne House
Winterbourne House is the best place to learn about history in Birmingham, UK. Old art and crafts, antiques, and even the house garden have over 6000 species of plants to travel around and discover. If you are a garden lover, then this is one of the best. (things to do in Birmingham)
Things to do in Birmingham:

Birmingham Royal ballet
This company is running great ballet performances in the country. And also the company has a great history as well. If you are a fan of ballet or have never seen such a show, then here's the chance. Please check the link for reservations.
Birmingham Botanical Gardens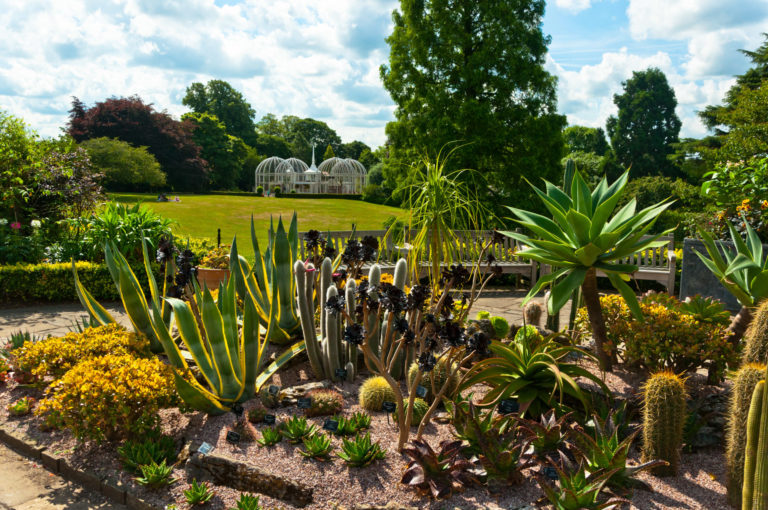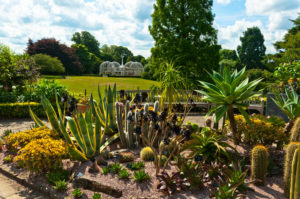 Chilling out in the Botanical Gardens is one of the fun things to do in Birmingham. These gardens have buildings dating back to the 1800s. Some have bonsai trees as well. Locating on Westbourne Road, Birmingham, it is worth visiting. (things to do in Birmingham)
Coventry Cathedral
As one of the largest parish churches in the UK, it has a huge history, which runs to 1373. This church is also called St. Michael Cathedral, and it has redeveloped a few times. But, still, there's its old look and the value.
Old cathedral ruins, a huge cross, two charred beams, poignant symbol, and a tall canopied porch that links the old cathedral ruins with modern St. Micheal Cathedral are more highlighted.
Sir Basil Spence designed that canopied porch with the modern cathedral in 1962. And there is a lot more to discover in this cathedral by all the travelers. (things to do in Birmingham)
Coventry Transport Museum
If you visit the Coventry Transport Museum, you can have a clear idea about the history of transportation in Great Britain. It has an impressive collection of 120 motorcycles, more than 250 cars, commercial vehicles, and around 300 cycles. All of them are representing the history of Britain's vehicle manufacturing and Coventry's past.
The cars dated from 1940 to 1960 even royal cars are available here. If you visit in the winter or Christmas time, you will have the chance to get a ride on an antique car.
Things to do in Birmingham with kids
National Sea Life center



Visiting National Sea Life Center is the best thing to do there with your kids. Since this home to over 2000 creatures, it is worth visiting too. Located in the middle of Brindleyplace District, it even has sharks, penguins, and turtles as well. (things to do in Birmingham)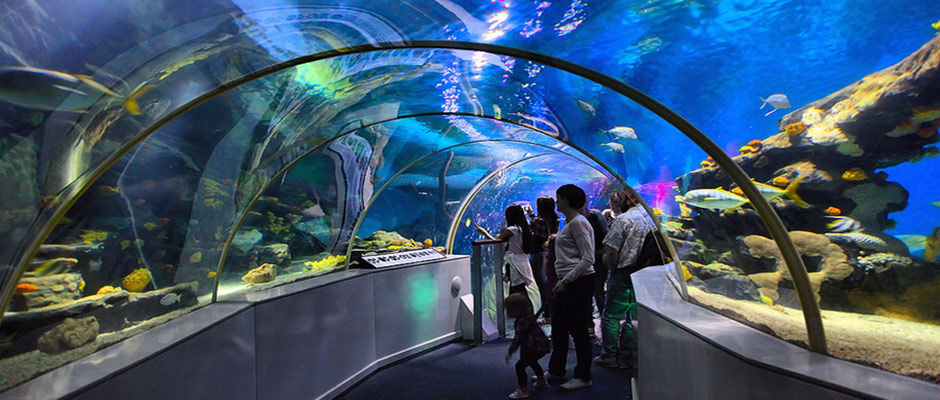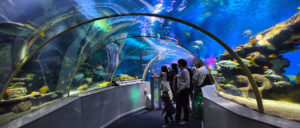 In the case of marine lives, there are more than 60 marine lives. That aquarium has an impressive underwater tunnel. Reef sharks, giant turtles, giant octopi, rare sea horses, crabs, lobsters, and stingrays are waiting for your kids to impress.
On the other hand, you can see the stars in the center. They are the penguins. You can observe them feeding and talking with them. And also there is a 4-D cinema which shows educational programs. (things to do in Birmingham) 
Cadbury World, Bournville
Cadbury world is a very famous tourist destination in the world since 1990. And it is surely a destination to go with kids. Not only kids, everyone likes chocolate. So, this is the chance to get a clear idea about the world-famous brand Cadbury through visiting its home.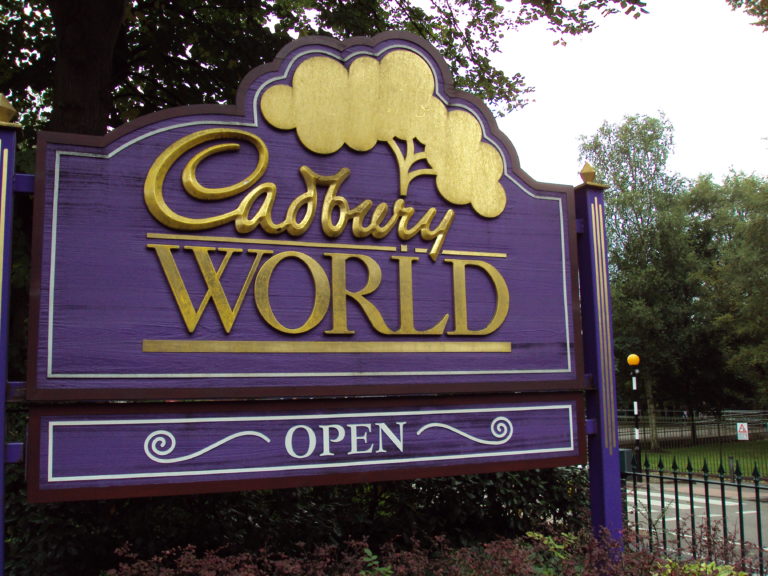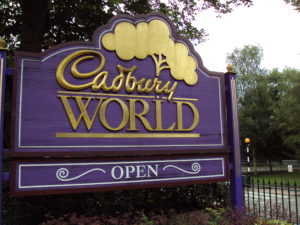 Annually this place attracts more than 500,000 visitors, which means it is very famous. They are all attracted to know about the history of chocolate, the manufacturing process, and taste the best chocolate in the world.
On the other hand, there's a theme park-like place with all the attractions where the whole family can enjoy.
Suggested Reading: Things to do in Nashville, USA
Birmingham wildlife conservation park
Earlier, this park was called the Nature Center. But, now it calls as Wildlife Conservation Park, which is located near Cannon Hill Park. It has various types of animals, including lynx, monkey, red pandas, and also wallabies.
Things to do in Birmingham:

Ackers Adventure
Ackers is also a park. But, it is not just a park. It is an adventure park located in Sparkbrook. It offers adventures like skiing, tobogganing, snowboarding, water sports, climbing, and much more outdoor fun and adventurous activities.
Thinktanks Science Museum
Thinktank Science Museum is also another best place for your family and kids. We all have to accept that nowadays kids love science more. Thinktank is located in the City Center, and it has won awards as the best museum to celebrate all the scientific things in a local context.
The impressive science-related exhibits like a steamed powered machine, industrial machinery, from the locomotive to tractors, and many more, are there. Actually, this is like a sign to highlight that Birmingham was a kind of industrial center over the centuries.
There are some fun things, like a Chocolate packaging machine, a big hamster wheel including Science Garden, Thinktank Planetarium, and Spitfire Galleryincludingde WWWII time aircraft (even locally produced aircraft are there).
So, this is a must to visit with your kids, which is located in Curzon Street. (things to do in Birmingham)
Cocks Moors Woods Leisure Center
As a large leisure center in the world, Cocks Moors Woods is one of the best things to make your kids happier. Baby pools and pools with wave machines like things are there for little ones. And for young people and adults, there are many things to do as well.
Things to do in Birmingham:

Lickey Hills Country Park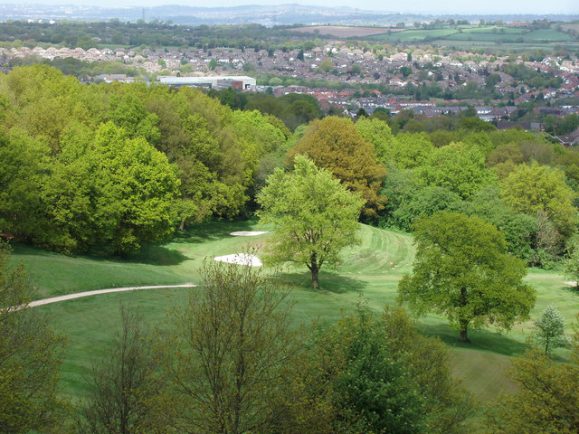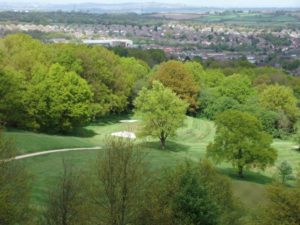 Locating in the Rednal (south side of Birmingham), Lickey Hills is the best place for the family's explorers. Spreading through 524 acres, it is a certified country park. Lizards, grass snakes, birds, robins, and Warblers are there.
What can you do in Birmingham for free?
As mentioned earlier, visiting the Birmingham Museum and Art Gallery is totally free.
You can enter the Birmingham Library and read books for free.
As explained earlier (about the author of Lord of the Ring), touring the Tolkein Trail at Moseley Bog is totally free.
Walking along the canals.
Touring around the gardens in Birmingham.
Visiting to get the stunning view of Lickey Hills is also free.
Also, you can do street art shopping in Digbeth. (things to do in Birmingham)
Suggested Reading: How to Travel the World for free