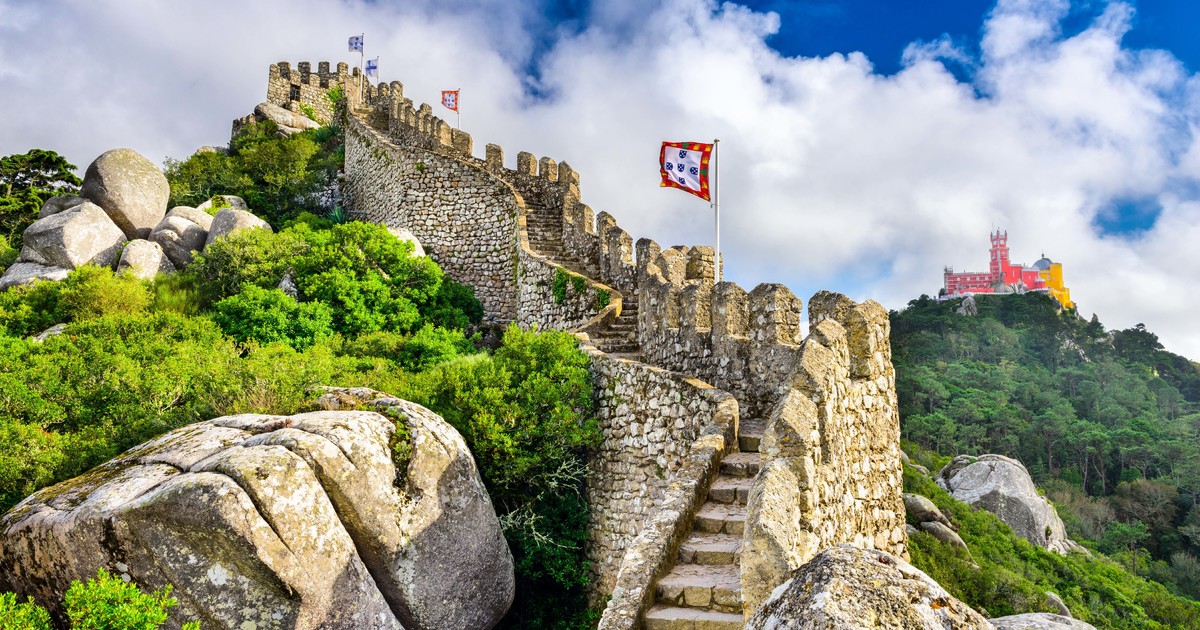 Touring in Sintra Portugal is like living in a fairy tale. Since it is filled with fairytale-like castles, villas, mountains, forests, roads, and the environment, Sintra attracts more travelers annually. If you search for travel Lisbon, Portugal, on Google, Sintra will come to the top of all the bucket lists. So, I highly recommend you travel to Sintra on your tour in Portugal. Here's the ultimate travel guide for it.
Sintra Portugal
Is Sintra Portugal worth visiting?
Sintra is considered a gem in Portugal. So, of course, it is totally worth visiting Sintra Portugal. Actually, Sintra has more UNESCO World Heritage Sites. Sintra itself is a UNESCO site. That means you have surprisingly beautiful and valuable things everywhere in Sintra.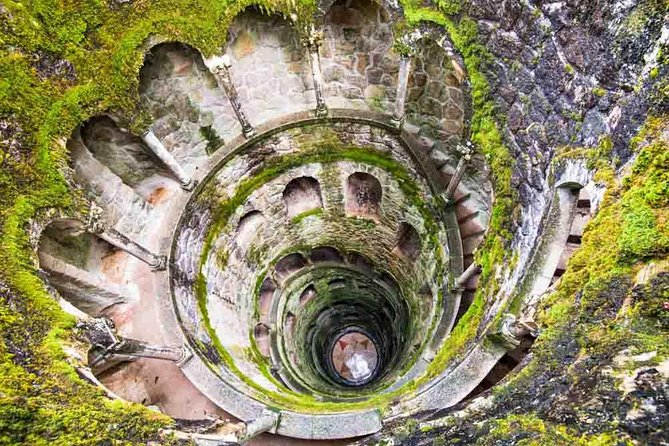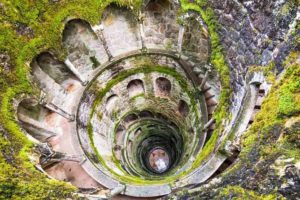 The palaces and castles play a huge role in Sintra Portugal. Especially, Monserrate Palace, Pena Palace, and Moorish Castle are more highlighted things there. My favorite one is Moorish Castle or Castelo dos Mouros in Sintra. Walking along the castle walls was one of my favorite things in the whole of Lisbon.
Also, for beach lovers, Sintra offers stunning beaches as well. For example, a beach like Praia da Ursa is an addictive place. And also, forests and lakes in Sintra are just like pictures in fairy-tale books. So, you can get picturesque photos there.
On the other hand, villages in Sintra are the typical symbols of Portuguese lives. So, walking around these villages can get a good idea about their living style and watch their own romanticism style of architecture.
Trust me, Sintra is more color but yet simple Portugues town filled with many eye-catching things. So, I believe your tour to Lisbon is not complete without visiting Sintra. (Sintra Portugal)
Suggested Reading: Best Beaches in Sicily
How Far is from Lisbon to Syntra?
As most travelers, I also recommend you plan a day trip to Sintra from Lisbon. But, if you have only one day, keep in mind catching a train to reach Sintra rather than driving your own vehicle because it is tough to find parking lots near the major tourist hot spots. So, it is better to travel by train.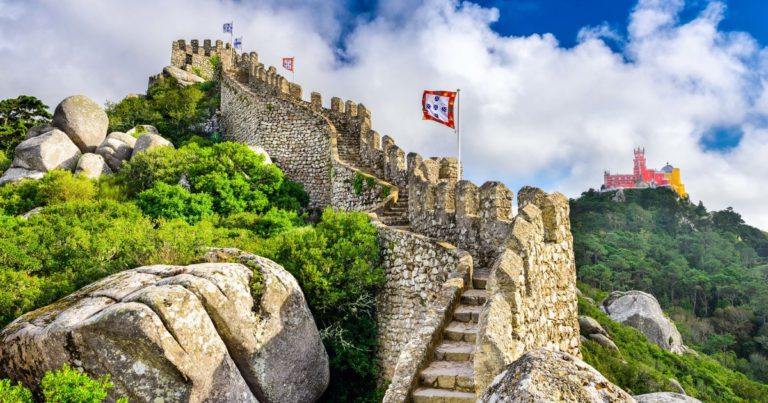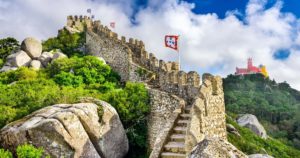 There is 25 km between Lisbon and Sintra. Trains are running regularly from Lisbon around 6 times per hour in the peak seasons. To check the available trains from Lisboa Rossio to Sintra Station, go to this link. The whole tour will last around 40 minutes, and the charge is around 5 Euro.
Although trains are not overcrowded, I strictly suggest you catch a train early in the morning (at least before 9 am) to avoid the crowd effects in travel destinations and save time to discover all.
On the other hand, there's another option. Taking a tourist bus is the most affordable way to reach Sintra. And even it is the best way to reach the top attractions in Sintra at a minimal cost. The bus route numbers 434 and 435 offer you the chance to reach all the below mentioned locations.
Especially in the summer, 434 route buses start their journeys from 9.15 am and runs till 7.50 pm. Even in the winter, it runs till 6.20 pm. Normally the buses run 4 times per hour. After getting off the train, go to the bus stop and get a 434 bus. Do not use tuk-tuk or taxi service since they charge unfairly high prices. The whole day bus ticket pass is around 15 Euro. And hop on hop off ticket is around 7 Euro. (Sintra Portugal)
Sintra Portugal Map
As mentioned earlier, Sintra is located in the Greater Lisbon region of Portugal. Locating in the Portuguese Riviera, the total land area is around 320 square kilometers. Since this is a major tourism destination in Portugal, it is one of its wealthiest municipalities.
Sintra is also known as a romantic destination with its romantic architecture, gardens, castles, palaces, parks, and many more. Here's the map, which shows the exact location of Sintra. Check the link for more. (Sintra Portugal)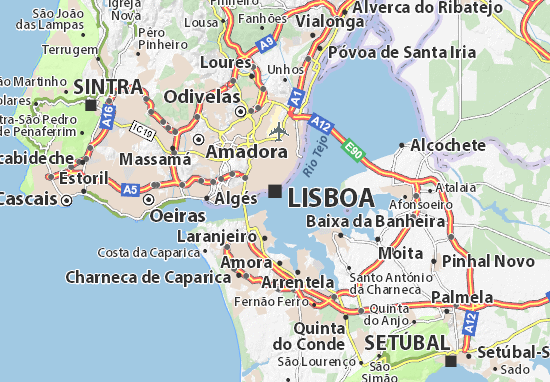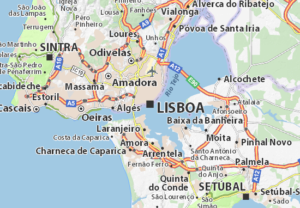 Hotels in Sintra Portugal
Planning to visit Sintra?? Just check here for the best hotels in Sintra Portugal to match your budget.


 
Things to do in Sintra Portugal
As I said earlier, the whole of Sintra is dedicated as a UNESCO World Heritage Site. Therefore, there are many day travelers, backpackers, and other travelers, especially in the summer. On the other hand, although your bus ticket allows you to hop on and hop off, you can only ride it once. So, do not miss out on any destination once you start to tour.
Travel Sintra Castle: Moorish Castle (Castelo dos Mouros)
This was my favorite in Sintra. Actually, this castle was used to view Moors' whole region and sea in the 9th century. This fortified observatory point was especially used as their protective place from Christian Crusaders since it is located on Sintra Portugal's hills.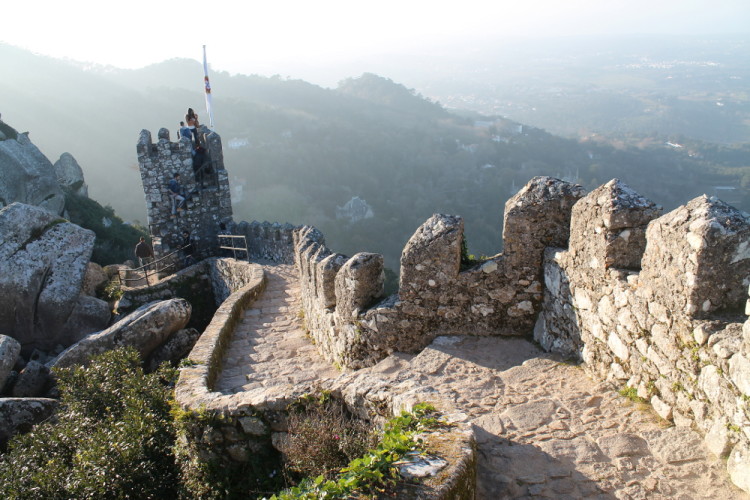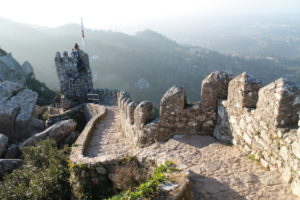 However, this castle was destroyed after the earthquakes and fire lightning in the 17th century. But, in the 19th century, this fortress was again conserved and redeveloped by king Ferdinand 2. Now, most of the travelers visit Moorish Castle and Pena Palace together since they are close. Normally travelers visit Pena Palace first to avoid the heavy crowd effect.
The entrance fee for this castle is around 8 Euro. But its panoramic view of the whole Sintra is more worth it. Actually, this is just like a mini Great Wall, which you can travel easily by the 434 bus route. After visiting the Pana Palace, save your strength and climb all the steps to get a great view from the castle of Sintra. (Sintra Portugal)
Suggested Reading: Best Hikes in Utah
Tour the Pena Palace (Palacio da Pena)
Situating on the opposite side of Moorish Castle, most travelers visit the Pena Palace first on their Sintra tour. Actually, it is a top tourist attraction in the whole of Portugal. For me, this palace was like the real version of Disneyland, inspired by German Romantic architecture. Its brightly painted walls are more famous in the whole of Europe.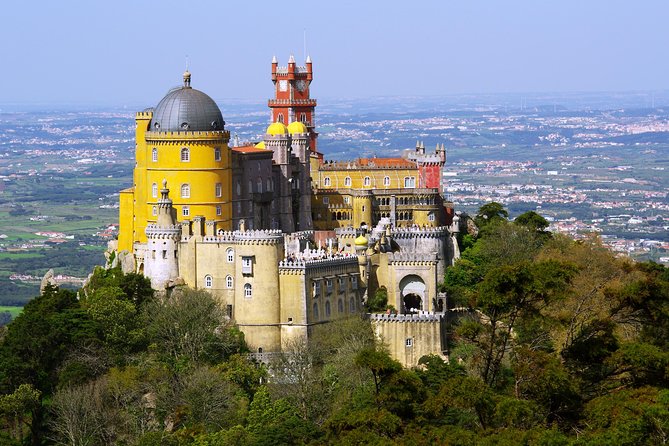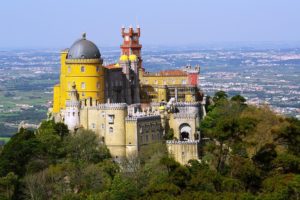 When you travel in the bus 434 route, skip Sintra's historic center and visit straightly to Pena Palace. And this palace was commissioned by the artistic King Ferdinand 2 in 1842. He was just tried to build a mirror image of a scene from an opera. And it was used Medieval Gothic and North African styles.
The most interesting part is the palace's interior. For example, during the revolution era, Queen Amelia was lived in this Pena Palace and then has moved to Brazil. The bedroom of her last night in the palace is restored well as it was back in 1910.
Since the palace gets more crowd in the summer, try to visit as early as possible. The charge for the palace and the park is around 14 Euro. And the whole tour will take around 2 hours. (Sintra Portugal)
Visit the Pena Park (Parque de Pena)
Pena Park is a bonus for those who visit the palace. It is shady, beautiful, colorful, and filled with flowers in the spring. Cruz Alta or the High Cross is more famous in the park, and it will take around 30 minutes to reach the highest point of Serra de Sintra through the trail. The path is marked well. So, follow the directions. Once you reach the top, you can see Sintra green mountains, Pena Palace's whole view, and some other towers.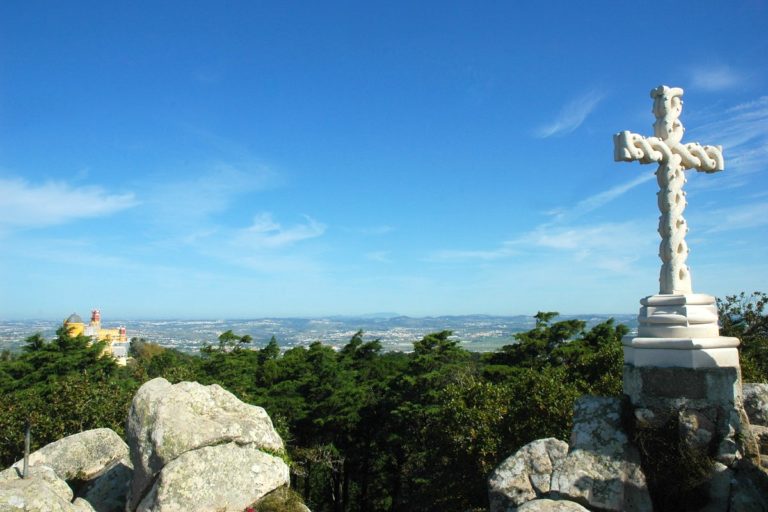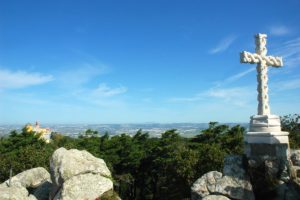 The park surely offers you epic photos. And you don't need to pay again once you paid 14 Euro when entering the palace. (Sintra Portugal)
Walk along the stunning beach Praia de Ursa
Praia De Ursa is a stunning beach located in the Atlantic West Coast to Cabo da Roca. You have to walk through the cliffs to reach the golden sand beach. Although this is not a bikini weather beach, it is worth visiting and feel the beauty and sea breeze while staying above sea level.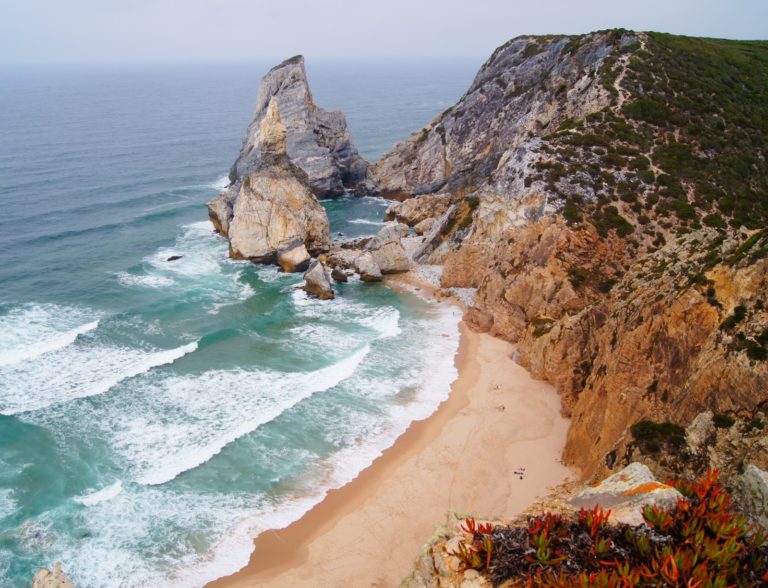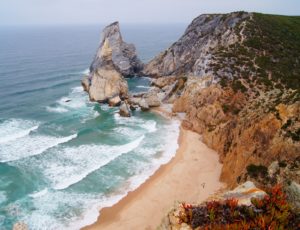 Since the beach is not easily accessible, it is considered a hidden gem in Sintra Portugal. The hiking trail takes around one hour to reach the beach from Cabo da Roca.
Most importantly, this beach is stunning year-round. Especially in the spring and autumn, it is enjoyable and stunning. During the spring, the hiking trail is filled with flowers. So, try the springtime. But, in the winter, the trail is slippery. But yet, it is stunning. (Sintra Portugal)
Suggested Reading: Best Beaches in Mexico
Visit Sintra National Palace
You can easily identify the Sintra Palace from the two huge conical chimneys. Although this palace is not as stunning and colorful as Pena Palace, this is the most used royal residence in Portugal during the 15th and 19th centuries.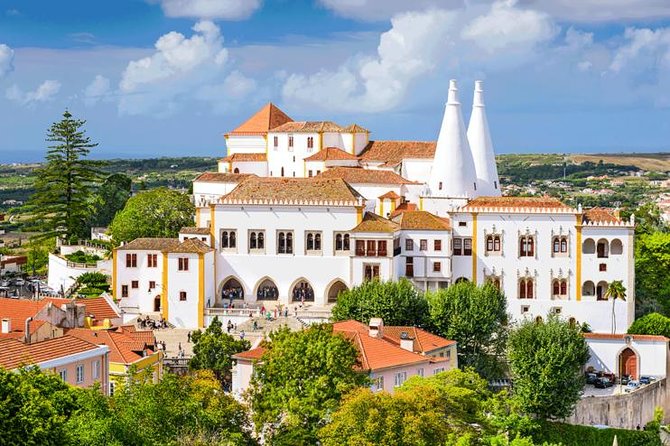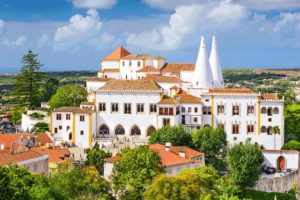 But the real version of the Sintra National Palace was heavily damaged in the Lisbon earthquake in 1755. Now you can see the restored palace. The interior of the palace is stunning, while the exterior has used the minimal of Gothic architecture. The tile work, ceiling, rooms (Swan, Magpie, Arab, Coat of Arms) are highlighted.
The entrance fee is around 10 Euro, and it attracts more crowds during the summer. (Sintra Portugal)
Explore Quinta da Regaleira
Quinta da Regaleira is a gothic mansion surrounded by lovely gardens.  They are contained with religious symbols, nice fortifications, secret passages, and caves. Since the gardens are large and have a lot more to discover, the crowd is scattered, and there is no overcrowding issue.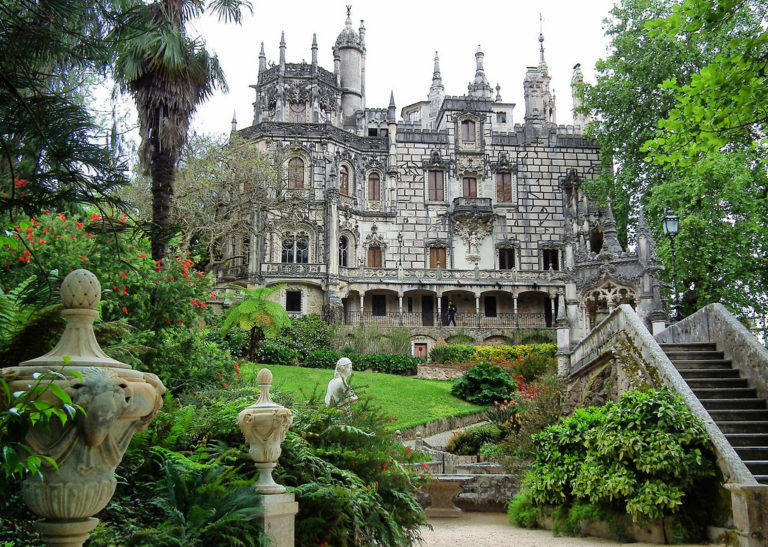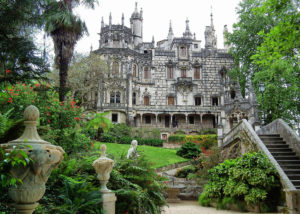 The entrance fee is around 6 Euro, and it will take around 2 hours to complete the whole journey. This grand gothic house and the extensive gardens are privately owned properties. You can reach here via a bus on the 435 bus route or walk from Sintra Town since it is very close to the town (15 minutes walk).
You can visit the 5 story mansion and walk anywhere in the 9 acres of gardens. The spiral staircase inside the mansion and exit via a secrete tunnel was fascinating. And apart from the flowers and all that, the gardens contain towers, fountains, grottoes, Roman Catholic Chapel, and many more. (Sintra Portugal)
Suggested Reading: Cat Ba Island Vietnam
Travel Monserrate Palace (Palacio de Monserrate)
Locating outside of central Sintra, Monserrate Palace is easily accessible by a bus or taxi through the 435 route. This villa is almost like a palace built in 1863 as a summer home for Sir Francis Cook.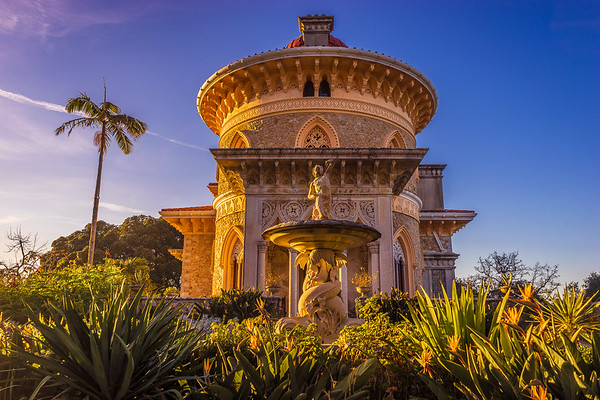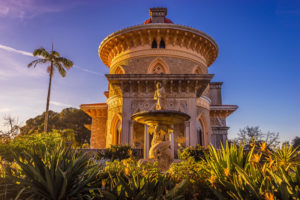 The architecture of the villa is a mix of Neo-Gothic and Moorish. And the gardens are stunning and contains exotic plants of Francis Cook's private collection. This is considered the best example of Islamic influence in the architecture of Sintra Portugal. One more unique feature of this palace is it is the quietest palace in the whole Sintra. (Sintra Portugal)
The entrance fee is around 8 Euros, and the whole journey will take around 2 hours.
Visit Peninha (Santuario da Peninha)
Santuario da Peninha offers you a great view of the coastal line of Sintra by locating on the top of a massive rock. Without any entrance fee, you can visit this place. On top of the rock, you can see a small mansion as well.
Watch the sunset in the Cabo da Roca
Cabo da Roca is the best place to watch the sunset in Sintra. And also, this point is Sintra's boundary on the western side of the European continent. This 140 feet high granite cliff is the place where Serra de Sintra sinks into the ocean.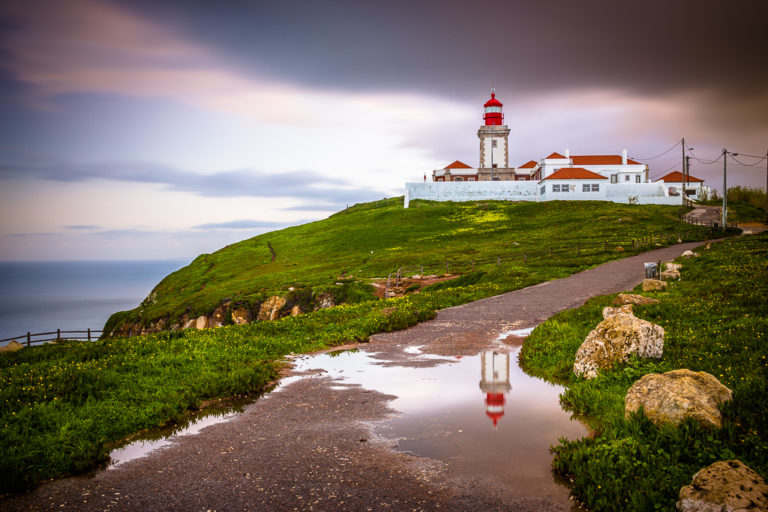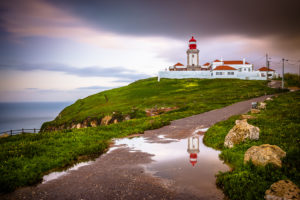 And also, there's a lighthouse on the top, which you may have seen in most of the famous photos of Sintra. This point is a famous sea mark since Roman times. On the other hand, there's one more important thing on that cliff. There are invasive plants native to South Africa and green carpet of ice plants. (Sintra Portugal)
Suggested Reading: Best Things to do in North Shore Oahu Hawaii
Visiting Old Center of Sintra
I suggest you travel to Sintra as early as possible in the morning to avoid the heavy crowd and first visit Old Center. You can get a good idea of how things are going on in Sintra. Walking along the cobblestone streets, churches, narrow stairways, beautiful mansions, valleys, museums, and townhouses are the best things to do in the Old Center of Sintra.
Convento dos Capuchos
This is a remnant from the 16th century. The Franciscan monks had lived here by spending extraordinary austere lives. Actually, they had spent a very simple life by staying in small rock cells and eating things grown in the garden. Actually, this is completely a contrast living style from the luxury living style of Sintra. (Sintra Portugal)
Taste tasty Sintra food
Small circular shape cake ingredients with cheese, sugar, eggs, and milk are the unique welcome treat in Sintra Portugal. And also, a cylindrical puff pastry filled with almond and egg cream is delicious with coffee.
On the other hand, seafood is more famous. Especially, spicy giant shrimps are tastier and demanded by many tourists.
Suggested Reading: Best of Costa Rican Food
Visit Museu do Ar
This is an aviation museum of Portugal Air Force at Sintra Air Base. Helicopters, navigation equipment, instrument panels, and other things are displaying. If you have any interest, you can visit the museum. (Sintra Portugal)