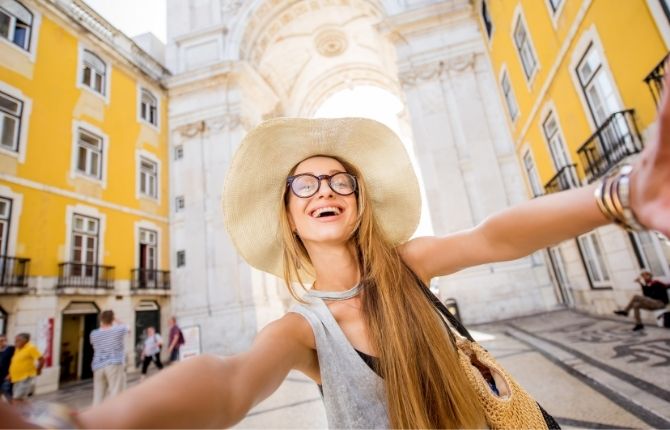 Looking for the best things to do in Lisbon, Portugal?? Here's the list with all the travel information you need to plan a family tour.
Belem Tower, Saint George's Castle, Lisbon's Tram 28, Alfama District, and Lisbon Oceanarium are obviously the top attractions in Lisbon.
Lisbon, the capital of Portugal, considers one of the most attractive cities in Europe. It has plenty of historical monuments, natural attractions, world-class museums, beautiful castles, and many other things to do.
This colorful and vibrant destination also features warm and sunny weather. Just check out the list below and add it to your bucket list.
1. Things to Do in Lisbon: Belém Tower (The Tower of Saint Vincent)
The Belem Tower, or the Tower of Saint Vincent in Lisbon, Portugal, is a fascinating historical structure built in the 16th century. Its design is based on the Renaissance style, and its architecture is highly ornamented with nautical themes.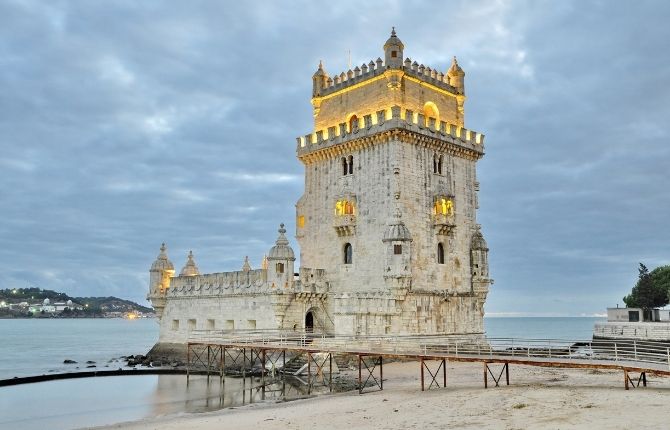 The first-floor interior houses the Governor's Hall and opens onto a cistern. The second-floor Sala dos Reis features King's Chamber, a loggia, and a corner fireplace, and the third-floor Sala das Audiencias features a small corner fireplace.
The ceilings of all three floors are covered with hollow concrete slabs, and the tower is 30 meters tall. If you climb to the top of the tower, you can get breathtaking views of the city and the Tagus River.
The Belem Tower is one of the most iconic monuments in Lisbon and is considered a UNESCO World Heritage Site. It is depicted as a symbol of the European age of discovery.
This fortress was initially built on a small island near the mouth of the River Tagus, but its location changed over the centuries, and it is now almost on the shoreline. Today, it is considered one of Portugal's Seven Wonders.
The tower is located in the free district of Belem, a section of Lisbon that lies to the city's west, east of Alcantara and Ajuda.
The Belem Tower, also known as St. Vincent's Tower, was built during the Portuguese Renaissance and is made from lion limestone. Its four-story tower and chapel are both beautiful examples of Portuguese art. The monument commemorates the first airplane crossing the Tagus River.
Address: Av. Brasília, 1400-038 Lisboa, Portugal         Phone: +351 21 362 0034
2. Things to Do in Lisbon: Castelo de S. Jorge (Saint George's Castle)
If you are in Lisbon, you'll want to visit Saint George's Castle. It is a beautiful, historic castle that has been a Portuguese symbol for over two centuries.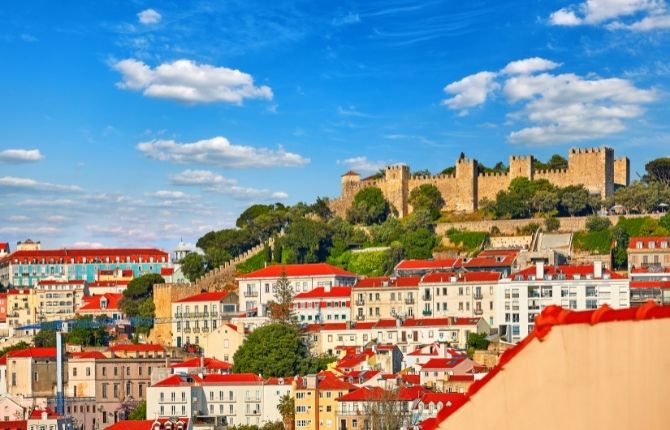 The castle is now a museum, but you can also enjoy guided tours and combine visits with other places in Lisbon.
The castle is located at Via de Santa Cruz do Castelo, 1100-129. It is accessible by metro, tram, and bus. Bus 737 stops in Castelo.
If you're in town on a weekday, you can take a guided tour of the castle. Guided tours are available on weekdays, but you should book ahead to avoid disappointment.
You can also take photographs and record videos. Photography and videography are allowed, but dogs need to be on a leash and are not allowed in the archaeological site or the permanent exhibition.
Fortunately, the chateau Saint-Georges has made the museum accessible for people with disabilities. Guests can take advantage of two lifts to get around.
Saint George's Castle or Castelo de S.Jorge is one of the major attractions in Lisbon. It is located on a hill near Alfama overlooking Lisbon. Your kids will love to see its battlements, museum, and other fascinating things.
Also, do not miss the panoramic views of the city, Atlantic Ocean, and Tagus River from the observation terrace in the castle.
Address: R. de Santa Cruz do Castelo, 1100-129 Lisboa, Portugal        Phone: +351 21 880 0620
3. Things to Do in Lisbon: Tram 28
If you want an authentic taste of Lisbon, take Tram 28. This historic tram travels through the city's downtown areas and all the tourist attractions.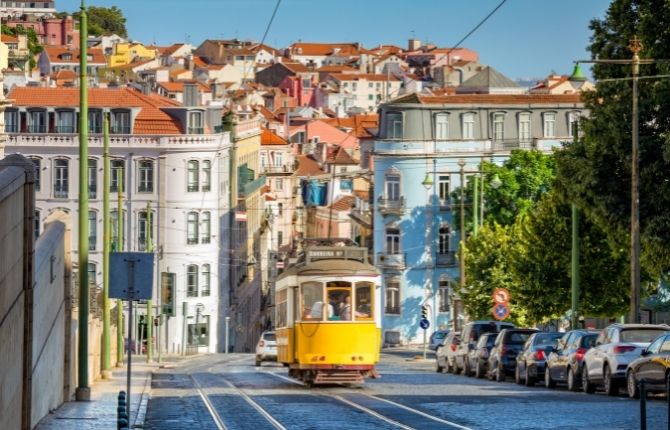 The Tram 28 in Lisbon is a beautiful vintage yellow tram plies different routes throughout the city. It crosses many tourist attractions and navigates narrow streets.
It also goes to the town up above sea level. Once you're inside, you can relax and enjoy the ride. It's a great way to get around the city and explore the neighborhoods of Lisbon.
And you can buy a ticket on board. If you're visiting Lisbon for the first time, you should consider purchasing a tourist pass that allows unlimited travel.
With a capacity of up to twenty standing passengers and 38 sittings, it is an excellent way to explore the city. You can get aboard at any stop along the way, and the trip should last anywhere from 48 minutes to an hour.
The length of the trip depends on traffic and double-parked cars. Digital information boards will tell you when the next tram is due, but they may be inaccurate.
If you'd like to get off the tram and explore a neighborhood, you can get off at Martim Moniz, a square named after the 12th-century knight who hid in the door of St. George's Castle and died when the army reclaimed it from the Moors.
Another stop is the Mercado de Campo de Ourique, a popular neighborhood market and food hall. This is an excellent place to have a coffee, or a glass of wine, before continuing your tour through the city.
Hurry up to grab a window seat.
4. Jerónimos Monastery
If you're looking for a unique, historical sight during your stay in Lisbon, consider visiting Jerónimos Monastery, a 16th-century monastery.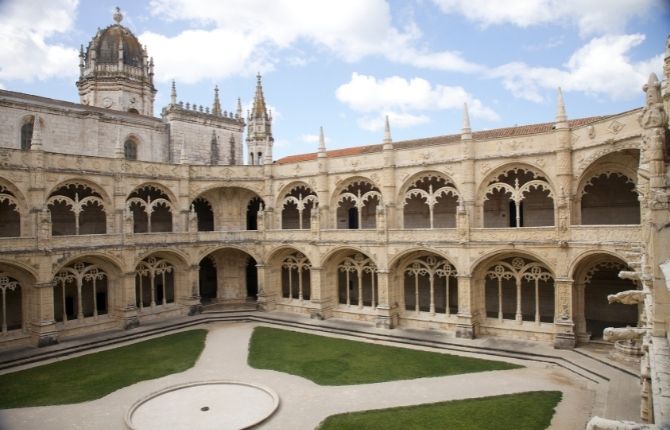 It's a stunningly beautiful structure, and the building is a UNESCO World Heritage Site. Originally a Benedictine monastery, Jernimos is home to many beautiful paintings and carved stone sculptures.
The Jeronimos Monastery is located in the Belem district and is linked to the Monument of Discovery. This UNESCO World Heritage site is considered one of the best examples of Manueline-style architecture.
Located near the Tagus river in Belém, Jerónimos Monastery considers a symbol of the wealth of "The Age of Exploration."
You can visit the monastery for free on the first Sunday of each month or pay a slightly higher entrance fee if you want to see the Belem Tower and Archaeological Museum, which will cost you an additional euros.
The monastery is located approximately six miles from Lisbon, but if you're feeling adventurous, you can ride Tram #15 to reach it in about 25 minutes.
For a delicious meal, head to Casa de Pasteis de Belem, a famous pastry shop located near the Jeronimos Monastery. There's no shortage of delicious pastries in Lisbon, but they're best eaten in the late afternoon.
The National Car Museum in Lisbon is another fantastic location to visit and has some interesting displays. It's also close to the center of Lisbon, so you won't have to worry about missing out on the delicious Pasteis de Belem.
Address: Praça do Império 1400-206 Lisboa, Portugal       Phone: +351 21 362 0034
5. Alfama District
For a great photo opportunity, visit the Alfama district in Lisbon. This historic district has narrow cobblestone streets, quaint cafes, and attractive historical buildings.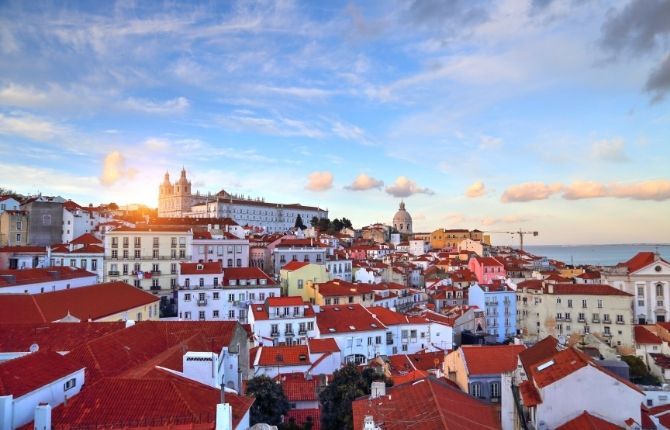 A must-see attraction in Alfama is the Miradouro da Senhora do Monte, a terrace with panoramic views of Lisbon. It is free to enter. If you're planning a trip to Lisbon, include some time to explore the Alfama District.
Fado music is also popular in the Alfama. So, don't skip a stop at a casa de Fado. The locals sing this traditional Portuguese music with passion and love. You must take time to experience a Fado performance while visiting Lisbon.
Don't forget to sample the famous pastel de nata, a traditional Portuguese custard tart. There are plenty of good places to eat this sweet dessert in the Alfama, including many excellent bars and restaurants.
Also, Alfama is known for its lively nightlife, and there are many great spots where you can listen to live music. A live music venue called Tasca do Chico is popular among visitors.
Here, you can enjoy a glass of wine or snack on delicious petiscos, a Portuguese version of tapas. And as you listen to the live music, you'll hear haunting melodies from local and international artists.
If you're looking for a unique place to visit while in Lisbon, the Alfama district is the right place for you. The city's oldest district has numerous fado bars and cafes.
There is something for history buffs and those seeking an authentic Portuguese scene. You can even try traditional Portuguese food at local restaurants. After a long day of sightseeing, grab a bite to eat in one of the numerous outdoor markets and cafés.
While in the Alfama District, check out the Sunday flea market, or "Feira da Ladra." This flea market is held in the Campo do Santa Clara, a former factory complex. You can buy handmade goods, souvenirs, second-hand items, and even collectibles from the past.
There's also a charming Sunday market held in the LX Factory, a complex of former industrial units. You can also check out an impressive bookstore, Ler Devagar.
6. Lisbon Oceanarium (Oceanário de Lisboa)
You can visit the Lisbon Oceanarium on your Lisbon tour. Kids will love it.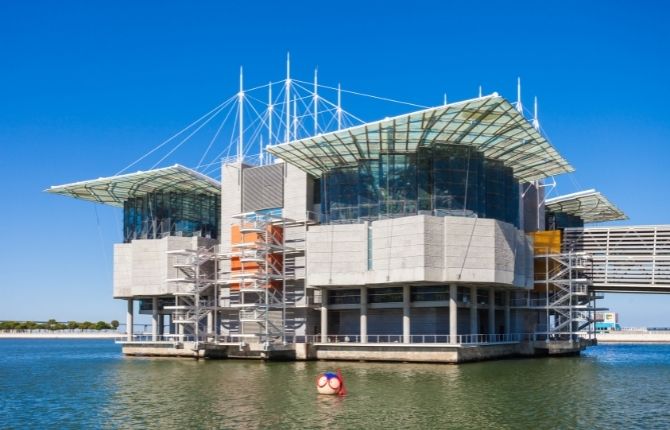 This is one of the largest aquariums in the world, and it even allows you to go underwater without wetting your feet.
Here, you can see sharks and rays up close and meet clownfishes, the inspiration for the movie Nemo. There are also penguins swimming together, and you can even watch them kiss.
The main attraction of the Lisbon Oceanarium is the giant central tank, which is kept at a perfect temperature to allow temperate fish to live there. The central tank features more than 100 species of fish from around the world, including sharks, rays, and tuna.
The Lisbon Oceanarium is 7 meters deep, allowing you to see pelagic fish swimming above bottom dwellers. This gives the illusion of being in an open ocean.
Another highlight of the aquarium is the sunfish, which have unique care requirements. You can even spend a night in a shark tank while learning all about the animal's lifestyle!
The Lisbon Oceanarium is also home to two giant spider crabs and two sea otters named after a famous soccer player and fado singer. Unfortunately, both of these creatures died in 2013 and 2020, respectively, but new ones have been brought in from Rotterdam.
If you visit Lisbon in the summer or winter, you'll be glad to know that the aquarium is open all year round.
This aquarium is located in the waters of the Tagus Estuary. And it continuously promotes the conservation of ocean lives and the oceans in the world.
Address: Esplanada Dom Carlos I s/nº, 1990-005 Lisboa, Portugal     Phone: +351 21 891 7000
7. Sintra, Portugal
If you are looking for a posh place to spend the day, plan a day-trip from Lisbon to Sintra. This hilltop town is famous for its Quinta da Regaleira, an initiation well for Freemasons.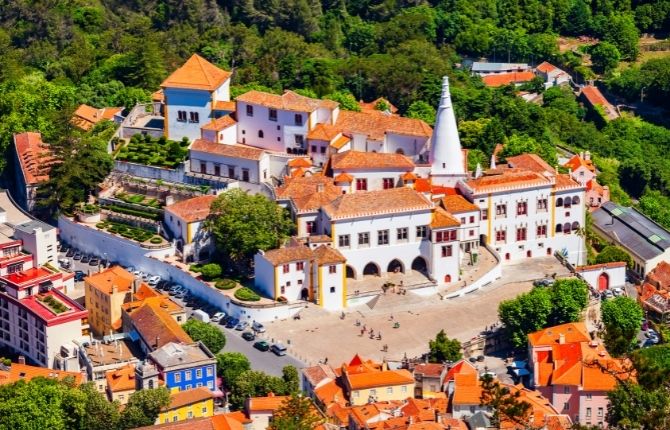 It's more than just an Instagram-worthy spot and offers a fascinating insight into the city's history. If you love architecture, there are several other places to visit in Sintra. For example, Sintra National Palace and the stunning Pena National Palace.
Aside from that, you can enjoy the Serra de Sintra or Sintra Mountains, Sintra-Vila or the historic old town, and many other places. Therefore, Sintra is listed as a UNESCO World Heritage Site.
If you like to walk, you can also visit the beautiful castle of Sintra. You can go to the castle by walking through its gardens. However, be sure to wear comfortable shoes and give yourself at least an hour the climb to the top.
To get to Sintra from the train station, you can take a bus or a tuk-tuk from the station. It will cost you about 5EUR round-trip. Make sure to pay in cash. You can also pay for private tuk-tuks, but young children should avoid these.
For a snack, the Portuguese are famous for their sardines, which you can find in any shop, even at a car and bike rental shops. Sardines are also available on every street corner in Lisbon. Sardines are an excellent salty snack.
8. Calouste Gulbenkian Museum
A visit to the Calouste Gulbenkian Museum is a must-do when in Lisbon. Calouste Gulbenkian, or "Mr. Five percent," is a British-Armenian businessman and an oil magnate.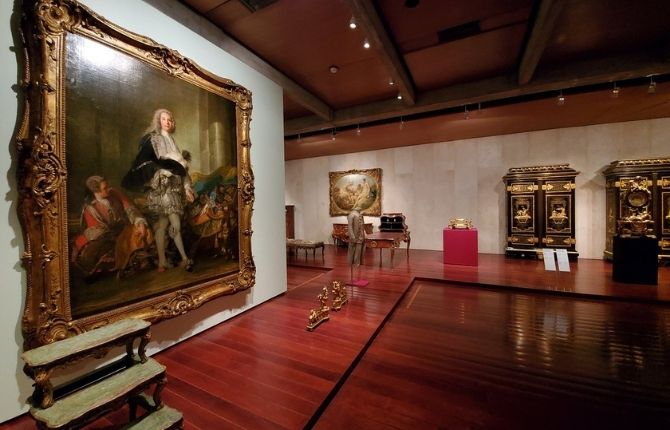 His private collection covers art history from ancient Egypt to modern-day Portugal.
Visitors will find examples of works from Egypt, Greece, Japan, and Portugal. The collection is remarkably diverse, spanning all time periods. The museum is also known for its frequent concerts held in the library.
The museum's collection is expansive, and you can browse through its permanent exhibition galleries in chronological or geographical order.
There are two main routes through the museum, with separate exhibition rooms dedicated to European Art, Painting, Sculpture, and Decorative Arts. Each route leads to different galleries within the museum.
A visit to the Gulbenkian Museum in Lisbon will leave you with a lasting impression.
The Calouste Gulbenkian Foundation consists of charitable, educational, artistic, and scientific endeavors. The foundation also supports Armenian causes.
The Gulbenkian Museum in Lisbon is home to one of Portugal's premier orchestras. Visitors can also take in regular concerts by the orchestra. The museum was opened in 1969, and since then, it has become one of Lisbon's most popular destinations.
In addition to the Calouste Gulbenkian Museum in Lisbon, you'll find several other excellent museums throughout the city. There is a thriving nightlife, beautiful scenery, and fantastic food.
And, of course, the museums! Lisbon is an art lover's paradise and is definitely worth a trip! When you're in Lisbon, you can visit the National Museum network.
Address:  Av. de Berna 45A, 1067-001 Lisboa, Portugal     Phone: +351 21 782 3000
9. National Tile Museum (Museu Nacional do Azulejo)
If you're a fan of tiles, you may want to visit the National Tile Museum in Lisbon. It's a great place to learn more about the history of this craft, and you'll be glad you took the time to visit.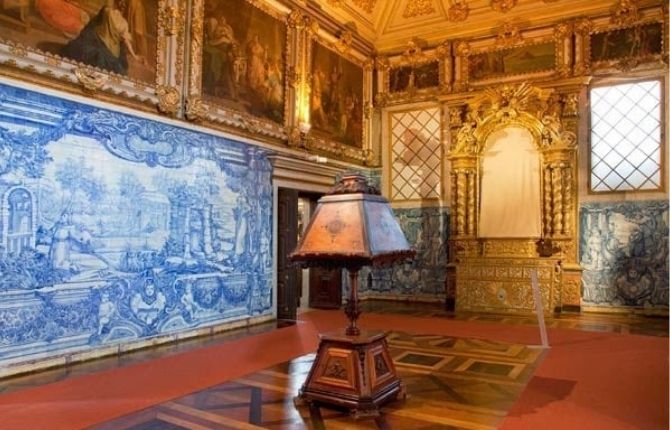 Many exhibits show how tiles are created, from raw clay to glazing and cutting.
While the process of making tiles has changed over the years, the exhibit's focus was on combining tiles to create works of art.
And if you're not a fan of the Portuguese language, don't worry – some exhibits give English descriptions of what you can see.
The Museum also houses several pieces of ancient tile. While the collection at the National Tile Museum spans from the XVth century to the XIXth century, there are pieces from the 1400s that are truly spectacular.
The church of Madre de Deus attached to the museum contains several stunning tile panels and gilded wood. The museum is at R. Me. Deus 4 in Lisbon, near Resturadores Square. You can also visit the museum for free with a Lisboa Card.
Azulejos are another popular subject in Portuguese art. This museum is an incredible place to explore the history of this craft.
You can also see works from the Ottoman Empire and Goa, India. You'll find a bookshop inside the museum, and you can also visit the museum's recommended cafe/restaurant.
There are buses available to take you to the Museum. The museum is an excellent stop for a day trip to Lisbon.
Address: R. Me. Deus 4, 1900-312 Lisboa, Portugal      Phone: +351 21 810 0340
10. The National Museum of Ancient Art (Museu Nacional de Arte Antiga)
If you are traveling to Lisbon, the National Museum of Ancient Art is a must-see. This museum houses a fantastic collection of ancient art, including sculptures, paintings, and more.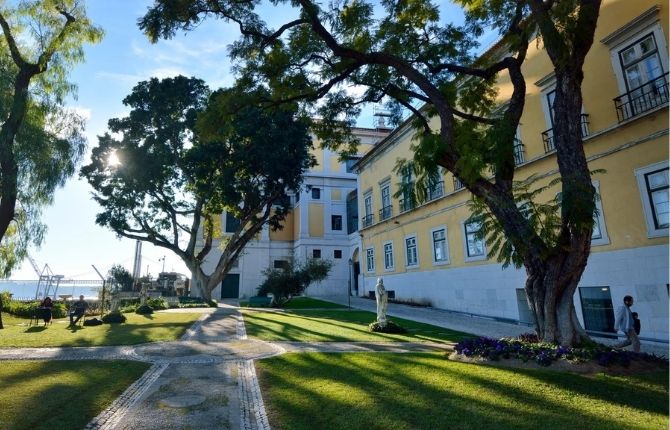 Initially, the museum was designed to host temporary exhibitions. In 1882, an exhibition on Iberian ornamental art was planned at London's South Kensington Museum. This exhibition came to Lisbon. In the meantime, the museum was constructed.
The National Museum of Ancient Art is situated in a 17th-century building. Its collections include ancient art and the remains of ancient civilizations.
Visitors are also able to view artifacts from Portugal's past. Those interested in art can also visit the nearby Palace of the King of Portugal.
The National Museum of Ancient Art is open every day except Monday. However, you must be sure to visit it early in the morning to avoid the crowds.
You should also consider visiting the Lisbon Museum of Art during a visit to Lisbon. This museum is considered to be the city's top museum. It is housed in a 17th-century palace and features valuable Portuguese and religious art paintings.
It was founded in 1884 and has become one of Lisbon's most famous art museums. Apart from the European art collection, it also houses a small jewelry collection and a sculpture garden overlooking the Tagus River. There is also a cafe that serves delicious pastries.
Address: R. das Janelas Verdes, 1249-017 Lisboa, Portugal      Phone: +351 21 391 2800
11. Museum of the Orient (Museu do Oriente)
The Museum of the Orient in Lisbon is an amazing museum that features impressive Asian art.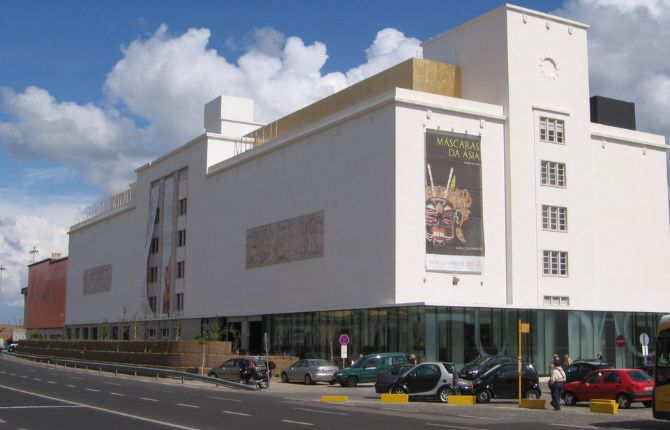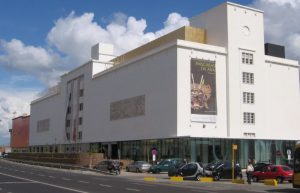 We all know that Portugal's great Renaissance Empire stretched among several Asian countries like Sri Lanka and India. The Museum of the Orient represents many things about Asian art and culture.
Also, it features enjoyable stories about Chinese rituals. This museum is located in a former fish processing factory on the Alcântara waterfront, Lisbon.
If you are interested in Asian art, do not miss the Museum of the Orient on your Lisbon tour. 
Address: Doca de Alcantara Norte, Av. Brasília, 1350-352 Lisboa, Portugal     Phone: +351 21 358 5200
12. Berardo Collection Museum (Museu Coleção Berardo)
The Berardo Collection Museum in Lisbon is a popular attraction among tourists who visit the Portuguese capital.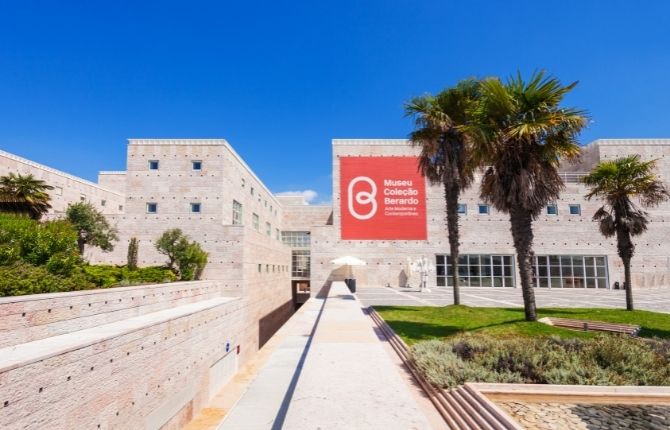 It was founded in 2007 and featured colorful works from some of the world's most famous artists. You'll be able to see Picasso, Dali, and Mondrian, as well as works by Francis Bacon and advertising artists.
Besides modern art, the museum also showcases vintage pieces from Portugal's past.
As a point of pride for the museum, the Berardo Collection Museum in Lisbon is an important place to see contemporary art. Its famous Portuguese artist, Miro's paintings, are among the most prized works in the museum.
Miro is one of the most influential artists of the 20th century, and the Berardo Collection Museum has eighty-five of his works on display. These pieces represent the museum's pride in the museum and are a source of great pride.
Therefore, the Berardo Collection Museum attracts 2.5 million visitors each year. So, surely add it to your list.
Address: Praça do Império, 1449-003 Lisboa, Portugal      Phone: +351 21 361 2878
13. Santa Justa Lift (Carmo Lift)
The Santa Justa Lift or Carmo Lift is a famous tourist attraction in Lisbon. It is 147 feet high and was built in Gustave Eiffel's famous tower style.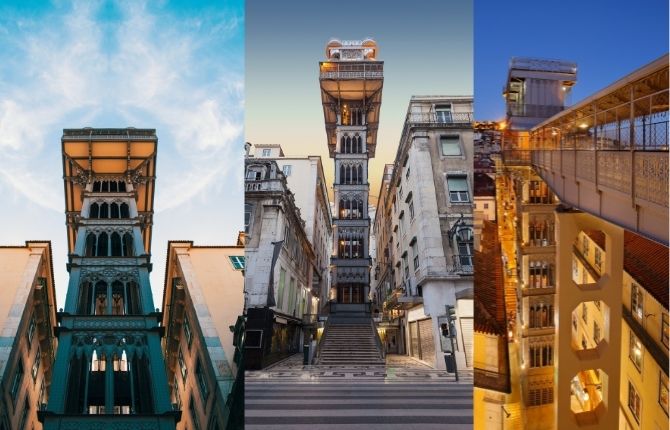 Initially, the lift was powered by steam but later converted to electricity. The Eiffel Tower inspires the design, and the materials used are reminiscent of those used in the Parisian structure.
Actually, there's a connection. The Santa Justa Lift was designed by a French architect named Raoul Mésnier du Ponsard, who was an apprentice of Gustave Eiffel. He created it in 1901.
A terrace offers fantastic views of the city and the castle. Moreover, the lift has two lift cages with accommodation for 20 passengers.
Located at the end of Rua de Santa Justa, this lift connects the lower streets of the Baixa with the higher Largo do Carmo in the Bairro Alto neighborhood.
This neo-Gothic elevator offers you incredible views of the surrounding. You can see picturesque squares, pedestrianized streets, River Tagus, historic buildings, and many other attractions in Lisbon.
Once you've visited the Santa Justa Lift, you can spend some time wandering the narrow alleyways.
Getting around the city is easy. You can easily reach other parts of Lisbon via the metro. Baixa, Rossio, Chiado, and the Alfama districts are the most popular neighborhoods in Lisbon.
The iconic Castle of Sao Jorge is another must-see landmark in Lisbon. It is perched on the top of Sao Jorge hill, which overlooks the postcard-perfect Alfama district. This is one of the most popular landmarks in Lisbon, and a gazebo and an iron structure surround it. Once a seedy area, this area has become a popular tourist attraction.
Address: R. do Ouro, 1150-060 Lisboa, Portugal       Phone: +351 21 413 8679
14. Caxias Beach, Lisbon
When you visit Lisbon, be sure to check out the beautiful beaches of Caxias. Whether you're looking for an idyllic place to relax or a more active adventure, Caxias will surely provide you with a memorable experience.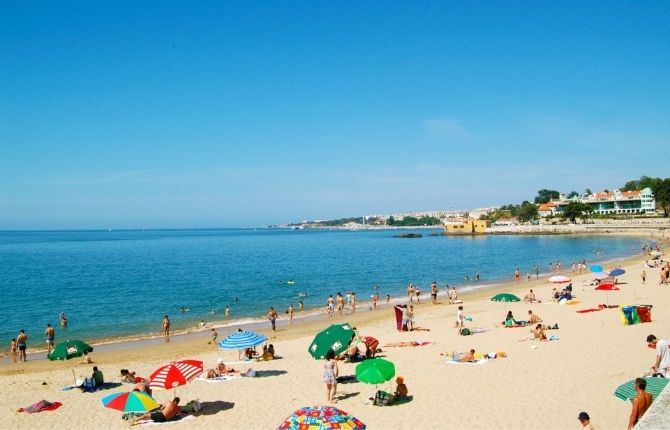 This small neighborhood is outside the hustle and bustle of the city center but still has the appeal of a large city. Caxias' sheltered beach is perfect for cooling off in the ocean, although good swells can send waves into the bay.
Locals and ex-pats flock to Caxias, and the area isn't yet fully developed for the coworking scene.
Another charming beach in Lisbon is Praia da Torre, a star-shaped fortress located just 15 minutes from the city center. This fort was constructed in the 17th century to protect the entrance to Lisbon's harbor.
It is now closed for public tours, but visitors can still walk around its ramparts and see the impressive ruins of the city. A walk through the fort is an exciting and informative way to learn more about the history of Lisbon.
Portugal's beaches are famous during the summer months. The proximity to the Tagus Estuary can make the water here somewhat suspect, but this doesn't stop many people from enjoying the water.
The closest beaches, though, are located about a kilometer away, and you can also catch a train from the city center to reach them in a short period.
For those visiting Lisbon for the first time, it's worth making a memorable trip to Caxias.
15. Padrão dos Descobrimentos
The Padrao dos Desscobrimentos in Lisbon is a monument dedicated to Portugal's Age of Discovery.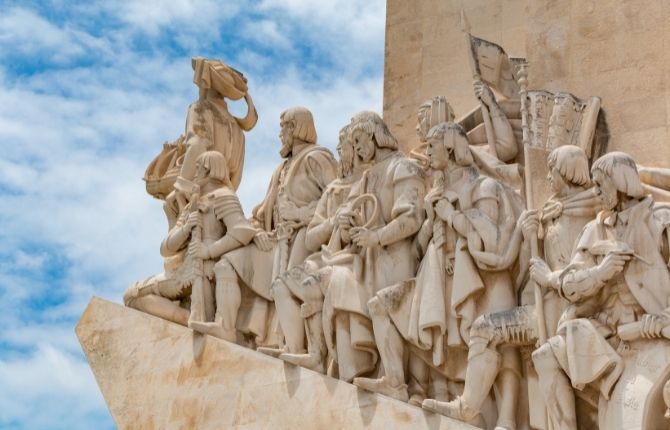 This landmark is located in Belem, Lisbon's old elite district. It was here that many voyages of discovery began and ended.
The monument features 30 statues of important historical figures, including Vasco da Gama, Pedro Alvares Cabral, and Ferdinand Magellan. There is also a giant marble map of the world called the Mappa Mundi.
This monument was initially constructed as a temporary centerpiece for the Portuguese World Expo in 1940, and it is topped by a caravel, which floats over the river.
It is designed to celebrate the 500th anniversary of Enrique el Navegante's first voyage. The monument also contains a number of sculptures of other notable Portuguese explorers.
The sculptures on the top of the monument were made to be admired from the top, as they are all worth climbing to see.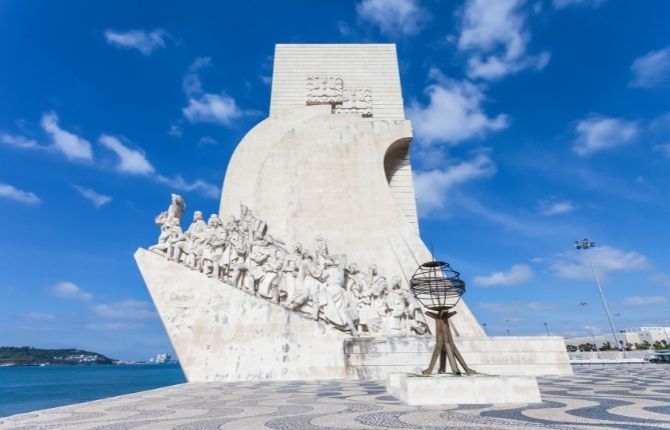 The Padrao dos Desscobrimentos is a landmark that towers over the marina in Belem. It stands over 160 feet tall, with a 52-meter rooftop. It was originally built as a temporary monument during the Portuguese World Exhibition but was rebuilt by the Ministry of Public Works in 1958.
The monument's three-tiered rooftop is a striking centerpiece, and the three-tiered structure is a perfect spot to enjoy a drink and a meal.
The Padrao dos Desscobrimentos has a nautical theme. Its design is reminiscent of the prow of a caravel, which is what Henry the Navigator was holding in 1488.
His ship resembles a caravel because of the stone pillars' shape. Interestingly, the pillars were made of Lioz limestone, only found in the Sintra region.
Taking a photo in front of this monument will be unforgettable for any visitor to Lisbon.
Address: Av. Brasília, 1400-038 Lisboa, Portugal      Phone: +351 21 303 1950
16. Rua Augusta Arch
If you're looking for a unique way to view the city, Rua Augusta Arch is the place to visit.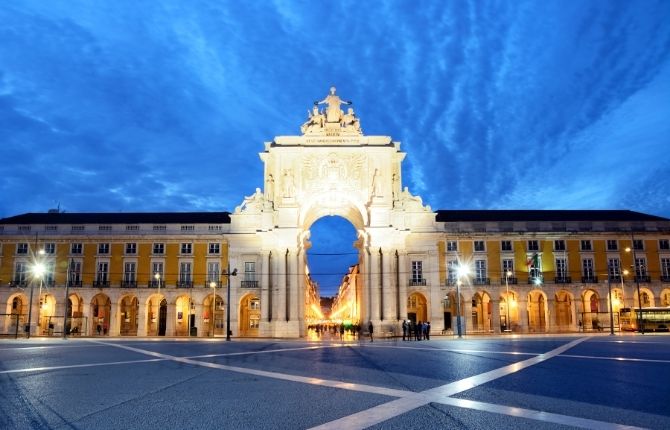 Initially, this monumental structure was built as a bell tower, but after the 1755 earthquake, the arch's construction was not considered a top priority.
In fact, construction began and stopped over 120 years. Then, it has become a popular tourist destination.
This monument was originally intended to be a bell tower but was altered into an arch in 1873. It is situated in Praca do Comercio, Lisbon's largest square, which used to be the site of a royal palace.
Visitors can take a tour of the area through the arch. While there, pay attention to the Latin inscription on the arch: "Virtus Maioram."
Portuguese architect Santos de Carvalho designed this huge riverfront square and the 19th-century arch.
You can reach the terrace and view the south over the river. And on the north, you may see Lisbon's entire Baixa district.
And also, there's a historic mechanical clock built in 1941.
If you're looking for a hotel near Rua Augusta Arch, Hotwire has your back. Their Hot Rates feature up to 60% off last-minute Lisbon District hotels. Simply select the amenities you want, date of stay, and price range, and Hotwire will choose the best hotel for you.
17. Fronteira Palace (Palace of the Marquesses of Fronteira)
The Marques de Fronteira live in the 17th-century palace, which blends the influence of Italian Renaissance architecture with Portuguese blue-and-white tiles.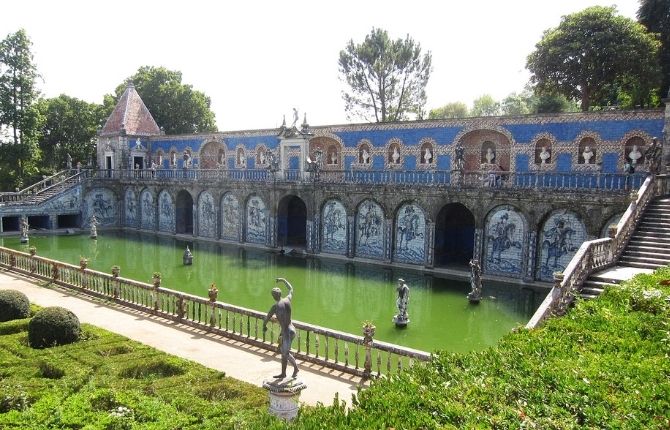 It is considered one of Lisbon's most beautiful examples of baroque architecture. It is home to several unique features, such as 17th-century antiques, Persian carpets, and globes from the 18th century.
The interiors of this palace are equally impressive, with stunning tile work and 17th-century paintings.
The Palace of the Marquess of Fronteira is located northwest of Lisbon's city center, in the neighborhood of Benfica. Inside, you'll find exquisite rooms decorated with tile murals, frescoes, and oil paintings.
The garden, meanwhile, is perhaps Fronteira Palace's most striking feature. Its formal garden, complete with statues and tiles, is a calming oasis of greenery.
For a more immersive experience, take a guided tour of the palace. The Palace's interiors are well preserved, and its rooms display scenes from the Restoration War.
You'll also find beautiful Dutch tile-adorned dining rooms, sweeping gardens, and horse-drawn coaches. This is an ideal place to escape the city's bustle and soak in a palace's beauty.
A tour of Fronteira Palace will leave you refreshed and inspired.
Azulejos are panels of tiles that depict various subjects, such as mythological creatures and animals. They reflect the role of the nobility in supporting the king and contribute to the richness of the decorative program.
These tiles, which depict landscapes and animals, are particularly striking. In addition, they evoke a sense of the nobility in Portugal, as they are decorated with images of war and peace. While they may be a small detail, they impact the building's overall beauty.
Address: Largo São Domingos de Benfica 01, 1500-554 Lisboa, Portugal        Phone: +351 21 778 2023
18. Things to Do in Lisbon: Lisboa Story Centre
The Lisboa Story Centre is a fun place to learn about Lisbon's history and includes several multimedia exhibits.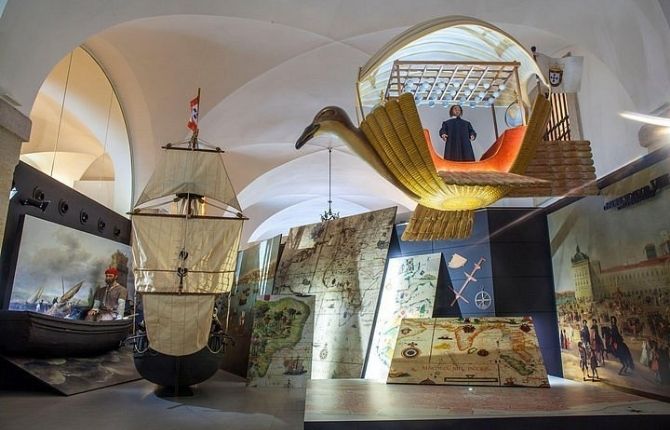 There are also dramatic sets that allow visitors to learn more about the city's past. The Lisbon Museum of History also contains an excellent collection of Portuguese art.
In addition, the museum is well worth a visit, as it features some of the oldest paintings and sculptures. And there's always a live show on some days!
The Lisboa Story Centre in Lisbon is unlike your ordinary museum. Instead of displaying artworks and displays, you walk through an interactive space based on history.
The audio guide tells the story of Lisbon through various sections of the exhibit. The audio guide can detect your location and tell the story of different historical events and dramatic scenes during different eras.
You'll hear about Lisbon's turbulent past events, including the 1755 earthquake.
If you're interested in learning more about Lisbon's past, you might want to visit the Lisboa Story Centre. This multimedia museum explores the history of Lisbon and its people.
Admission is 3 EUR, and kids under five enter for free. You'll want to visit this attraction during a day or nighttime stroll in the Baixa district.
If you're visiting Lisbon for the first time, the Lisboa Story Centre is a great place to start with your kids.
Address: Praça do Comércio 78, 1100-148 Lisboa, Portugal       Phone: +351 21 194 1099
19. Things to Do in Lisbon: Museu de São Roque
To get the most out of your visit to Lisbon, you must check out the Museu de So Roque in Bairro Alto.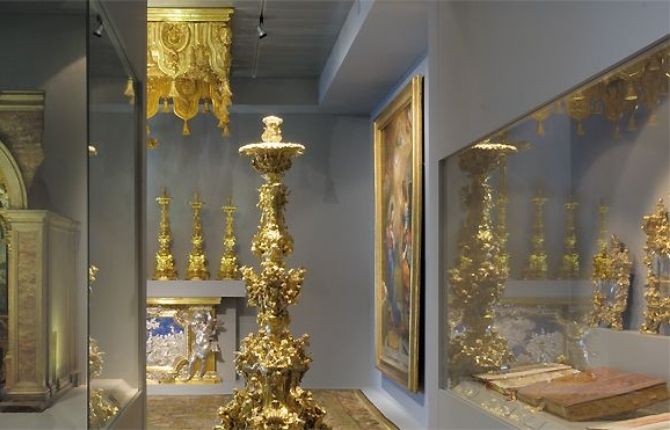 This 17th-century cloister is home to an extensive collection of Portuguese sacred art. While there, you must also check out the Museum of Modern Art in Lisbon.
The museum comprises six zones, each dedicated to a specific period of Lisbon's history. Many multimedia applications are used throughout the museum.
You can view film sets in some zones, while others look like real-life settings. You can even see a 4D earthquake movie! A room even shakes during the quake that hit Lisbon in 1755!
As you explore this museum, you will feel like you're in the middle of a historical event.
On the other hand, Museu de So Roque features one of the city's most beautiful bookstores. In its past life, it was a printing factory. This museum is one of the most visited museums in the city.
Address: Igreja de São Roque, Largo Trindade Coelho, 1200-470 Lisboa, Portugal      Phone: +351 21 323 5065
20. Things to Do in Lisbon: National Coach Museum (Museu Nacional dos Coches)
The National Coach Museum in Lisbon has a diverse collection of early vehicles and other memorabilia.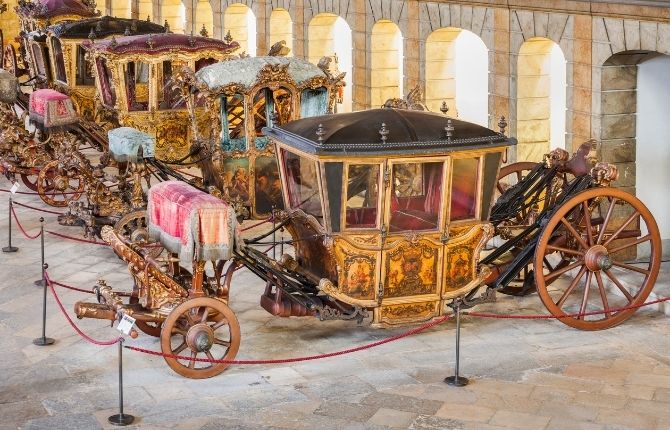 Queen D. Amelia of Braganca first established the museum to preserve the collection of vehicles belonging to the Royal House.
Now, you can see some of the unique collections in the world, including cars, sedan chairs, carriages, and more. Visit the National Coach Museum and enjoy a unique experience of Portugal's past.
Located in the former royal riding school, the National Coach Museum in Lisbon has an extensive collection of historic carriages.
The oldest coach in the collection dated back to the early 17th century and was once the property of King Philip III of Spain. The museum was initially located in the Royal Riding School but recently moved to a new building.
It has also restored some of the older carriages that had not been displayed before. For those who love carriages, this museum is a must-see in Lisbon.
The museum's design emphasizes the importance of connecting with nature. Narrow, horizontal openings create visual connections to the Tagus River. The auditorium, meanwhile, is an enclosed box with a water pool on its roof.
The top tier contains two glazed spaces: one for offices and the other for a restaurant. The combination of the two makes for an unrivaled visual connection to the river and surrounding area.
Address: Av. da Índia 136, 1300-300 Lisboa, Portugal      Phone: +351 21 049 2400
Things to Do in Lisbon
Belém Tower (The Tower of Saint Vincent)

Castelo de S. Jorge (Saint George's Castle)

Tram 28

Jerónimos Monastery

Alfama District

Lisbon Oceanarium (Oceanário de Lisboa)

Sintra, Portugal

Calouste Gulbenkian Museum

National Tile Museum (Museu Nacional do Azulejo)

The National Museum of Ancient Art (Museu Nacional de Arte Antiga)

Museum of the Orient (Museu do Oriente)

Berardo Collection Museum (Museu Coleção Berardo)

Santa Justa Lift (Carmo Lift)

Caxias Beach

Padrão dos Descobrimentos

Rua Augusta Arch

Fronteira palace (Palace of the Marquesses of Fronteira)

Lisboa Story Centre

Museu de São Roque

National Coach Museum (Museu Nacional dos Coches)
Things to Do in Lisbon