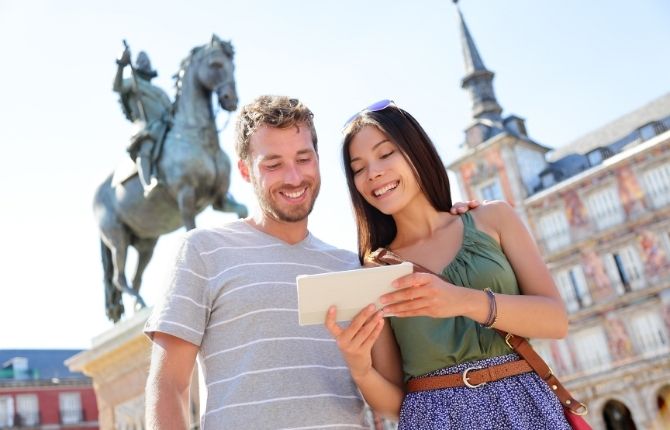 Looking for the best things to do in Madrid, Spain?? Here's the list with all the travel information you need to plan a family tour.
After all, you don't want to spend your entire trip in a museum! Madrid is a vibrant city with many things to see and do.
The top attractions in Madrid are El Retiro Park, Museo National del Prado, Royal Palace of Madrid, Puerta del Sol, and Temple of Debod.
Add the following things to your bucket list and enjoy your Madrid tour.
1. Things to Do in Madrid: El Retiro Park
There are many things to do in El Retiro Park or Buen Retiro Park in Madrid, Spain. As a historic-artistic garden, it has been declared a UNESCO World Heritage Site along with Paseo del Prado in 2021.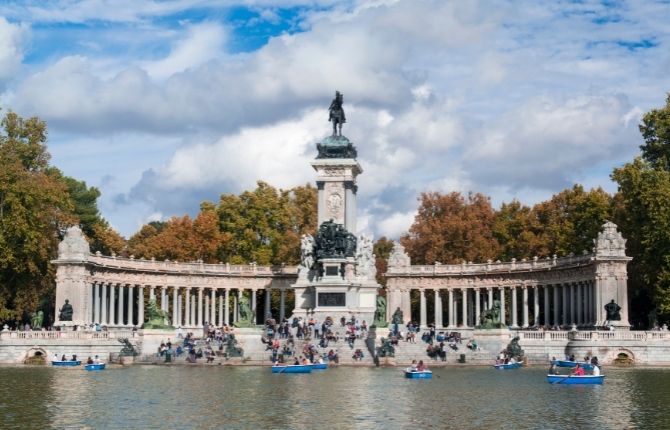 It is home to many beautiful buildings, statues, and natural spaces. Visitors can walk through the park or view a statue representing Beethoven or the city of Berlin.
It has also hosted official events and international exhibitions.
A day trip to this park is recommended for those staying in Madrid for an extended period. This green space is free to visit and is located in the city's heart. It has a large seating capacity of over 81,000 people.
A popular attraction in El Retiro Park is the fountain of the Fallen Angel. Designed by Ricardo Bellver and Francisco Jareno, this sculpture and the fountain are the only piece of art entirely original to the park.
Originally, it stood on a Chinese porcelain pedestal, which was destroyed during the Spanish Independence War. The sculpture is one of the park's most important works of art and a must-see for visitors.
Buen Retiro Park is 125 hectares of a beautiful and lush park that is ideal for an escape from the hustle and bustle of the city. There are more than 15,000 trees in this park.
This park was built for the Count-Duke of Olivares during the 17th century. Then, it belonged to the Spanish royal family until the 19th century. After that, it was recognized as a public park.
After entering the park, you can see a pool in the center. And also, there are rose garden called La Rosaleda, Jardines de Cecilio Rodríguez, a crystal palace called Palacio de Cristal, and Jardín de Don Cecilio.
Palacio de Cristal, or the crystal palace, was built in 1887, and it is a beautiful glass pavilion that exhibits impressive contemporary art. It is located in front of a reflecting pool and a fountain.
Aside from that, El Retiro Park features some other fountains, an observatory for stargazers, a lake where anyone can boat, and plenty of relaxing places. So, do not miss this wonderful place.
Address: Plaza de la Independencia, 7, 28001 Madrid, Spain        Phone: +34 914 00 87 40
2. Things to Do in Madrid: Museo Nacional del Prado
The Museo National del Prado or Prado Museum in Madrid was established in 1819 in a former meadow or market area.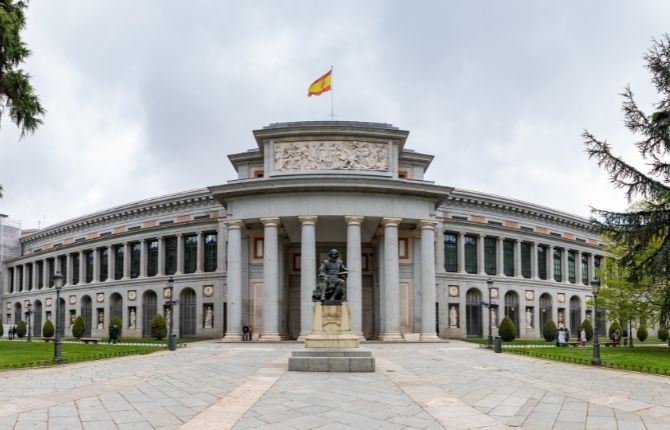 Its founder, Spanish queen Isabella I, was so impressed with the Louvre in Paris that she decided to recreate the same effect in her country. The Prado today has several thousand works of art and was recently expanded.
The Prado is an important museum in Madrid, so don't miss it!
It's worth mentioning that there is no entrance fee for the Prado Museum. Several days a week, it's free to enter.
However, it can get crowded. So, the best time to visit is early in the morning. The museum typically starts bustling at 11:00 AM and quiets in the afternoon during lunchtime. By arriving early in the morning, you can take your time in the museum during this lull.
The Prado Museum is Spain's premier art museum. It contains the world's most extensive collection of classical European art, spanning the sixth century BC to the nineteenth century.
This place is where you'll find some of the greatest Spanish painters' artwork: Rubens, Bosch, and Raphael. In addition to the masterpieces of Francisco de Goya, you'll find paintings by several of Spain's best-known artists from the 12th century to the early 19th century.
It features over 8,000 paintings and 700 sculptures. E.g., The Annunciation by El Greco, The Third of May by Goya, Jacob's Dream by José de Ribera, Christ Embracing Saint Bernard by Francisco Ribalta, The Immaculate Conception by Murillo, and The Virgin and Child by Luis de Morales.
If you're visiting Madrid, make time for the Prado. It's a museum worth visiting again. You'll be rewarded with various works that will make you fall in love with the Spanish art of the 17th century.
So, take your time and get to know the history of the Prado. You'll be glad you did. And don't forget to take pictures, because this is a great way to capture memories of your trip.
Address: C. de Ruiz de Alarcón, 23, 28014 Madrid, Spain      Phone: +34 913 30 28 00
Things to Do in Madrid
3. Royal Palace of Madrid
The Royal Palace of Madrid is the official residence of the Spanish royal family. It was built in the 18th century (1751).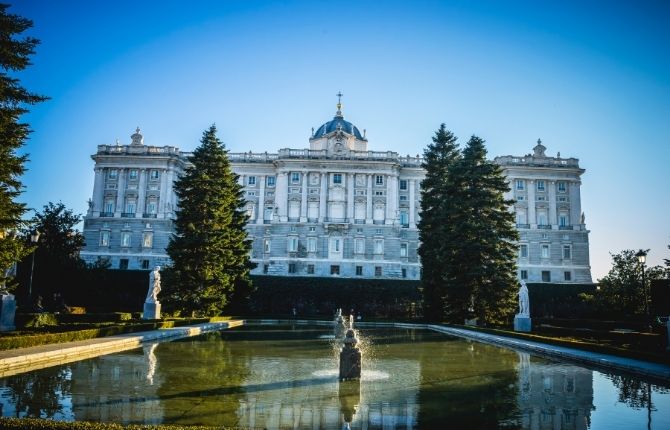 It is now only used for state ceremonies. During a visit, you'll learn about its history and how it is used today. Read on to find out more about this beautiful building!
The famous architects Filippo Juvarra,  Giovanni Battista Sacchetti, José Segundo de Lema, and Francesco Sabatini are the designers of this palace.
The façade of the palace is made from Colmenar stone and granite. It features Ionic columns based on Bernini's drawings for the Louvre in Paris.
The balustrade features statues of Spanish kings. Inside, the imposing staircase is decorated with a fresco, The Triumph of Religion and the Church. The walls are covered in works of art by Goya and Velazquez.
Flemish tapestries and other pieces of art are also on display.
The Royal Palace of Madrid is one of the most popular places in Madrid to visit, so make sure to plan your trip accordingly.
It is a vast complex, spanning one million square feet and containing more than three thousand rooms. The royal family lived here from the mid-1700s to the early 1900s.
Many Tiepolo paintings are displayed within the palace, making it a truly magnificent place to visit. While here, don't miss the beautiful Sabatini gardens, a part of the Royal Palace.
Also, a fresco of The Triumph of Religion and the Church, King Charles III rooms, and the Royal Armory with more than 3,000 historical exhibits are other highlights of the Royal Palace of Madrid.
Address: C. de Bailén, s/n, 28071 Madrid, Spain      Phone: +34 914 54 87 00
Things to Do in Madrid
4. Puerta del Sol
The Puerta del Sol in Madrid is one of the city's most emblematic locations. It is also the center of Spanish and Madridian life, with a "kilometer-zero" slab and a bear and strawberry tree statue.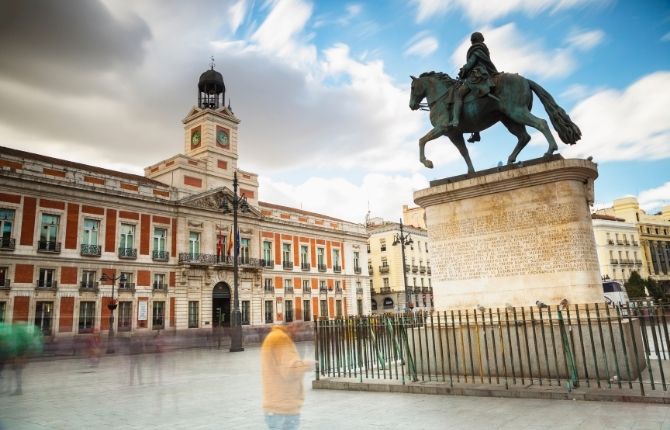 The name of Madrid is derived from the Latin word Ursaria, which means 'land of bears' and refers to the city's forests.
Centuries ago, people believed that the bears on the statues held arms and symbolized the dispute resolution between the municipal office and the Council of Priests and Beneficiaries.
In today's society, the bear statues erected centuries ago represent the symbols of freedom and liberty.
Being the hub of public transportation, Puerta del Sol considers the heart of the city. Also, this place has many historical memories. E.g. the Second Republic was proclaimed in this place, and the resistance to Napoleon on 2nd May 1808 and 1931 happened here.
Still, Puerta del Sol is one of the most happening squares in Madrid. There are plenty of shops, cafes, restaurants, and boutiques.
Among Puerta del Sol sights is a historic building where you can buy souvenirs, gifts, and other items. Inside the building is the Mercado de San Miguel, a must-visit for all epicureans.
Foodies will delight in the never-ending variety of local fare, including goose barnacles, three types of paella, and an extensive selection of olives, chocolates, and pastries.
If you are interested in history and art, there are many museums in Madrid. Are you a history buff? Consider visiting the National Museum of Romanticism.
The art collection includes paintings and graphic works by some of Spain's most famous artists. You can also check out the Geomineral Museum, which houses a wide variety of minerals worldwide. The museum itself is a palace-like structure and is free to enter.
Address: Sol, Centro, Madrid, Spain
5. Museo Nacional Centro de Arte Reina Sofía
The Museo Nacional Centro de Arte Reina Sofia is Spain's national museum for 20th-century art.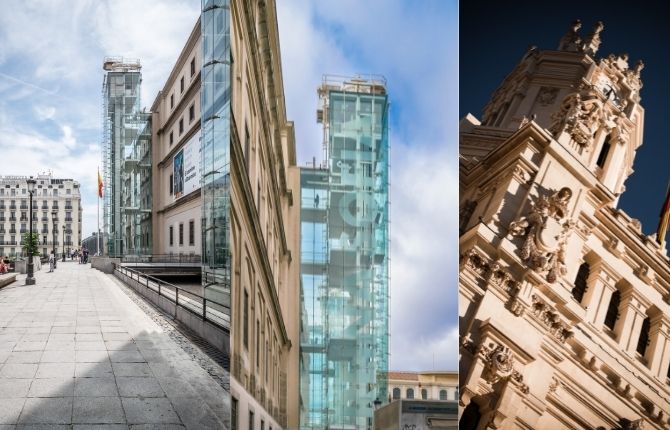 It was opened on September 10, 1990, and named after Queen Sofia. It is located near Atocha train station and is part of the Golden Triangle of Art.
Despite its small size, the museum contains a variety of important works of art. Its collections span many different periods of Spanish history and are worth seeing.
This modern art museum in Madrid has a room devoted to Pablo Picasso's famous Guernica mural. Other notable works on display here include work by Dali and Juan Gris.
It also showcases Russian avant-garde art. The museum's paintings are well displayed and well-exhibited, and an audio guide is available to provide more information.
One of the most important works on display at the museum is Pablo Picasso's "Guernica," one of the earliest political statements in Spain.
This museum is the perfect way to explore Madrid's art. Its collection includes over 20,000 artworks spread across eight thousand square meters. Highlights include works by Francis Bacon, Dali, and Miro.
There are also numerous other works by notable artists, including Salvador Dali and Joan Miro.
Its modern architecture is reminiscent of the Pompidou Center in Paris. The interior of the museum is charming and features imaginative sculptures. It's also the perfect place to watch a ballet or a play.
A single admission ticket to all three galleries offers access to more than 6,000 works. It's also worth taking the time to visit the nearby gardens.
Amenities in Museo Nacional Centro de Arte Reina Sofia include audioguides, a bookstore, a trendy café-restaurant with DJ nights, and a gift shop.
Address: C. de Sta. Isabel, 52, 28012 Madrid, Spain       Phone: +34 917 74 10 00
Things to Do in Madrid
6. Temple of Debod
You can visit the ancient Egyptian Temple of Debod in Madrid. This 200 BC temple was dismantled and rebuilt in Madrid between 1970-1972.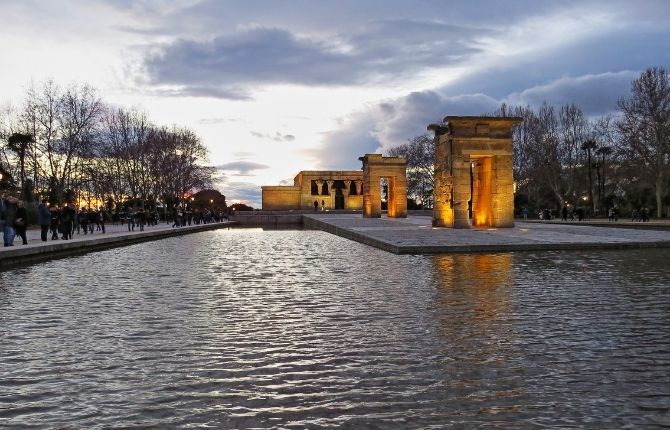 It is located in the Parque de la Montaa, 21-25 Calle de Irn, Madrid. You can visit this unique temple to learn about ancient Egyptian culture and history.
It was built for King Adikhalamani and is dedicated to Amun and Isis, the Egyptian God and Goddess.
Also, you can explore its ruins, which are made of ancient Egyptian stones. Whether you're interested in history, art, or even architecture, visiting the Temple of Debod in Madrid will be one of the most memorable experiences you'll ever have.
You can visit the Temple of Debod in Madrid for free, thanks to the Spanish government's decision to save the archaeological site.
This complex comprises two levels: the ground floor has audio-visual displays explaining the importance of the temple. And the central area has countless carvings, and information boards explain the meaning behind each one.
You can even take a picture of yourself posing in front of these magnificent relics.
While visiting the Temple of Debod in Madrid, don't be afraid to visit the city's central park. You'll find it beautiful from the outside, with its symmetrical sarcophagus reflecting in a shallow pool.
The entrance to the temple is free, and you can walk to it from the Plaza de Espana or the park in less than ten minutes. It's also located in the heart of Madrid, making it easy to visit while exploring the city.
Address: C. de Ferraz, 1, 28008 Madrid, Spain      Phone: +34 913 66 74 15
Things to Do in Madrid
7. Cybele Fountain
You've probably heard of the famed 18th-century Cybele Fountain in Madrid, but have you ever seen it?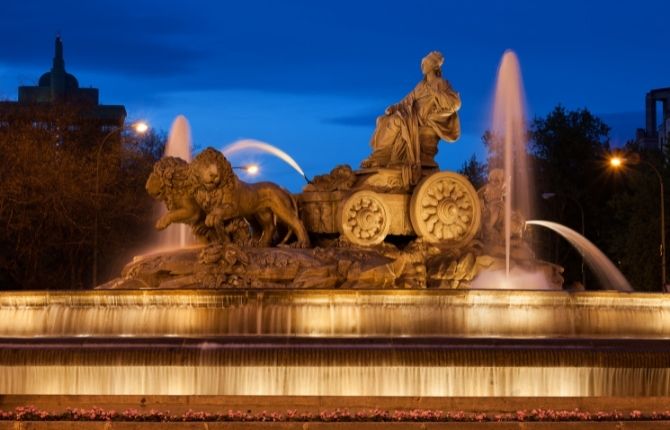 This beautiful fountain is a perfect example of neoclassical art, and it features a statue of the goddess Cybele, pulled by two lions. The Cybele Fountain is a popular tourist destination, and it's well worth a visit.
It was built by Francisco Gutiérrez and Roberto Michel in 1782.
Regardless of your reasons for visiting Madrid, there are plenty of reasons to take in the beautiful monument.
The Plaza de Cibeles is a bustling central district in Madrid. The beautiful fountain is surrounded by landmark buildings from the early nineteenth and late-eighteenth centuries.
It depicts the Greek goddess Cybele riding a chariot pulled by two lions. In the past, the fountain was a water source for Madrid's citizens but was moved in 1782 and used as a decorative element.
The Cybele Fountain is one of the most famous sights in Madrid, and it's no wonder. This eight-meter-high monument is located just before City Hall and features two mythological animals that represent the gods Cybele and Aphrodite.
The mythological couple, who married in Athens in ancient Greece, are represented by lions and horses. In the myth, Atalanta boasted about her speed and said she'd marry the fastest man who could catch her.
Hippomenes, however, won the race and earned Atalanta's love. Unfortunately, this earned Zeus' wrath and turned them into lions.
Things to Do in Madrid
8. Gran Vía
You've probably heard about Gran Via, a central Madrid street that runs from the Calle de Alcalá to the Plaza de Espaa.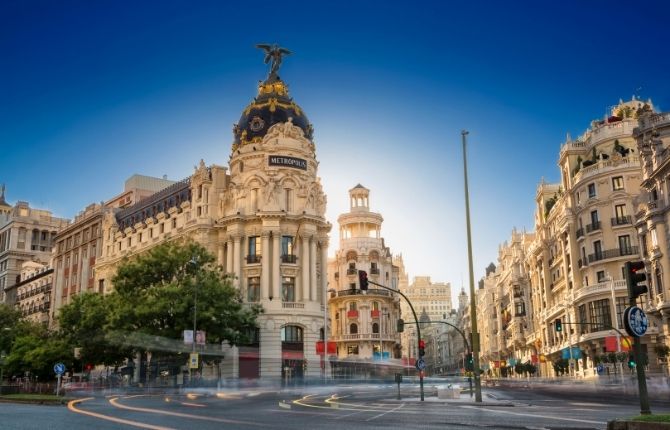 If you've ever been to Madrid, you might have also seen a billboard or two on Gran Va. But what exactly is Gran Via? Let's find out.
This Madrid street is home to many shops, restaurants, and other attractions. It's a lively street with a rich history, making it an ideal place for a family day out.
The streets of Gran Via have enjoyable nightlife and are nicknamed the "Street of Nightlife."
You can also see some of the most famous buildings in the city here, such as the Schweppes sign at the Carrion building. And Gran Va is also a central shopping area with many luxury brands.
In fact, Primark has its second-largest store here, as well as Zara, H&M, and Pull and Bear.
For foodies, there is the famous Mercado de San Miguel. This is Madrid's answer to La Boqueria, and it's conveniently located near Plaza Mayor. Unfortunately, it has overpriced food due to its commercialized appearance, but the atmosphere is still worth it.
But, there are plenty of budget-friendly places.
And if you're looking for a souvenir, don't miss out on the statues along the way! It's a unique way to experience the history of the city.
The Plaza de Benavente is also home to a beautiful statue called the Sweeper, one of Madrid's most famous and photographed works of art. It depicts a person working and has pop art stained-glass windows.
It is also home to a giant statue of Pio Baroja, a key member of the Generation of '98, a literary movement active during the Spanish-American War.
Things to Do in Madrid
9. Ermita de San Antonio de la Florida
The Ermita de San Antonio de la Florida, or Royal Chapel of St. Anthony of La Florida, is the oldest convent in Spain. Its impressive masonry and reclaimed bricks are a beautiful sight, especially at sunset.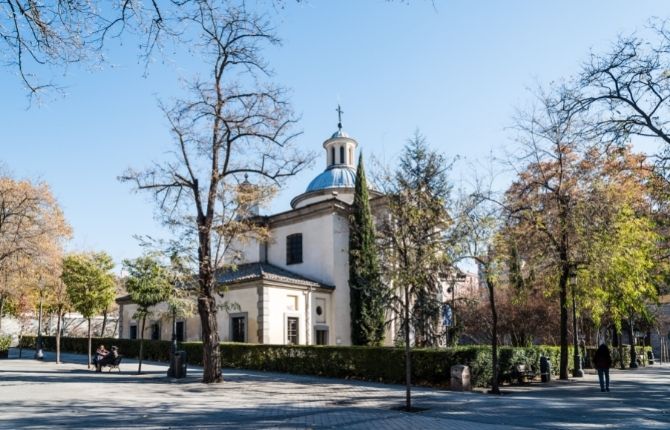 For the best photo ops, plan to visit the area during the holiday season. Its surroundings make it a prime location to visit. But, it is less popular.
Being a significant art treasure in the city, this place features artworks done by Francesco Goya. He painted its stunning frescoes. Therefore, its interior is impressive. If you are an art lover, you should not miss this place.
It is recognized as a National Monument to protect the beautiful frescoes. So, do not expect to have any religious service. This place also housed Goya's final burial place.
Ermita de San Antonio de la Florida is a little 18th-century chapel along the Manzanares River banks. As it is located behind the Royal Palace, anyone can easily find it.
This Neoclassical chapel hosts an annual festival on June 13th in honor of Saint Anthony of Padua.
Near the Royal Palace, you can visit the Manzanares River Chapel, where a festival is held every July to celebrate Saint Anthony of Padua.
Goya's finest paintings are on display inside the chapel. The frescoes illustrate the theme of Saint Anthony's miracle and depict everyday life in Madrid.
Whether you're visiting the chapel for religious or non-religious purposes, the frescoes show the artist's boldness of style and revolutionary painting techniques.
If you're traveling with kids, visit the open-air sculpture museum in La Tabacalera. This former tobacco factory now hosts ballet performances, classical music concerts, and zarzuela (a satirical opera).
The building is home to the Temple of Debod; an ancient Egyptian temple brought to Madrid in 1968. The main staircase is a highlight of this site.
Address: Gta. San Antonio de la Florida, 5, 28008 Madrid, Spain      
10. Thyssen-Bornemisza Museum
The Thyssen-Bornemisza Museum is the perfect companion to the Prado or Reina Sofia museums.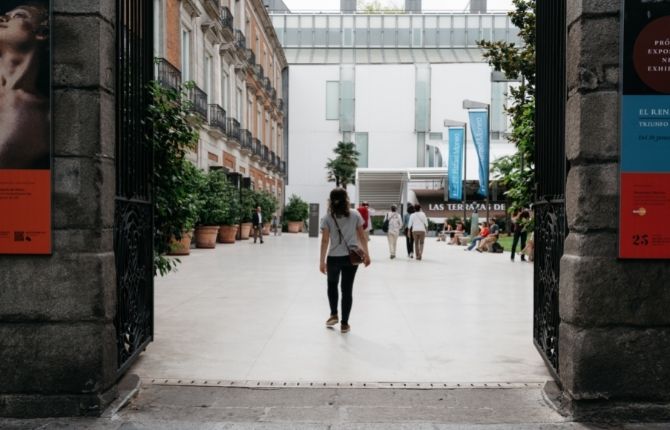 Its collection of early European and Flemish painters includes works by Jan Van Eyck, Albrecht Durer, and Hans Holbein.
The museum also includes highlights from 17th-century Dutch painting and other styles, including impressionism, Russian constructivism, and pop art.
Unlike the Prado Museum, the Thyssen-Bornemisza is less visited. Visitors can enjoy the museum without the crowds. The museum includes ancient, modern, and contemporary art.
A passionate historian conducts a museum tour and includes viewing artists' works. Visitors will also learn about the different periods and movements that shaped the history of art.
Thyssen-Bornemisza Museum is located at Paseo del Prado 8, which makes it easy to reach by metro. On your way to the Thyssen-Bornemisza Museum, don't forget to take some time to enjoy the city's street art.
Before the death of Heinrich Thyssen-Bornemisza, the industrialist and art collector had already accumulated more than five hundred works of art.
He had collected works from his relatives, and his son Hans Heinrich took up the family business and continued his father's tradition. Though war intervened, the bulk of the collection remained intact. He had to make sacrifices for wartime compensation. As a result, his collection now boasts more than 500 works of art.
During your stay in Madrid, you can visit the Prado Museum for free after 6 pm. If you are looking for other art museums, consider visiting the Artistic Center of Matadero or the Real Academia de Bellas Arts de San Fernando.
Those looking for a great time should also visit the Plaza Mayor. This walled square is a favorite for tourists.
Address: P.º del Prado, 8, 28014 Madrid, Spain      Phone: +34 917 91 13 70
Things to Do in Madrid
11. Santiago Bernabéu Stadium
The Santiago Bernabeu Stadium is a football stadium in Madrid. With a current capacity of 81 044 fans, the stadium has been the home of Real Madrid since 1947.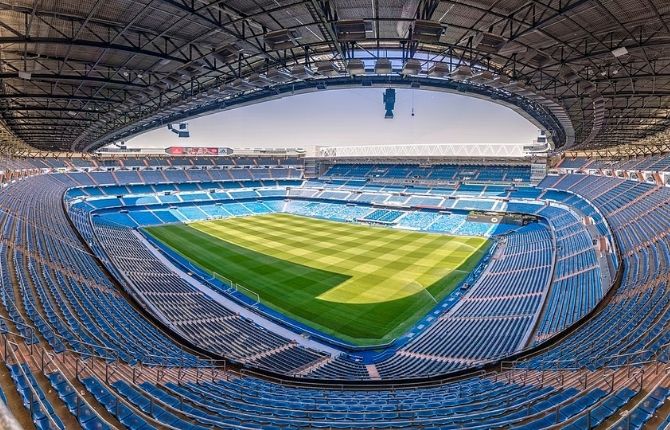 It is the second-largest stadium in Spain and the third largest for a top-flight European club. Here, you can take a virtual tour of the Santiago Bernabeu Stadium. It is worth a visit if you love football!
The Santiago Bernabeu Stadium is located on the Paseo de la Castellana in Madrid. Previously known as the Chamartin Stadium, the Santiago Bernabeu was inaugurated sixty years ago.
Today, the stadium is considered one of the world's elite soccer stadiums by Uefa. The stadium is home to Real Madrid football, and tickets are often sold out. If you're a fan, don't miss the opportunity to visit the Santiago Bernabeu Stadium in Madrid.
Construction began in 1924 and continued until the stadium was finished in 1992. The project was initially completed near Muoz Monasterio and lasted 16 months.
In the end, Madrid paid 704 million pesetas for the construction. The stadium was also renovated for the 1982 World Cup, reducing its seating capacity and redesigning the facade.
The stadium is now fully accessible for fans. The Santiago Bernabeu Stadium is a must-visit if you're in Madrid.
The Santiago Bernabeu Stadium is one of the largest soccer stadiums in the world. Home to Real Madrid, it is like a temple for soccer fans. The stadium has many different areas, including behind-the-scenes tours.
Seats in the stadium are incredibly tight, so the more expensive seats are closer to the front row.
Address: Av. de Concha Espina, 1, 28036 Madrid, Spain       Phone: +34 913 98 43 00
Things to Do in Madrid
12. Things to Do in Madrid: Sorolla Museum
The Sorolla Museum in Madrid is one of the finest examples of an art museum in Europe. You can see all the impressive artwork done by Joaquín Sorolla in this museum.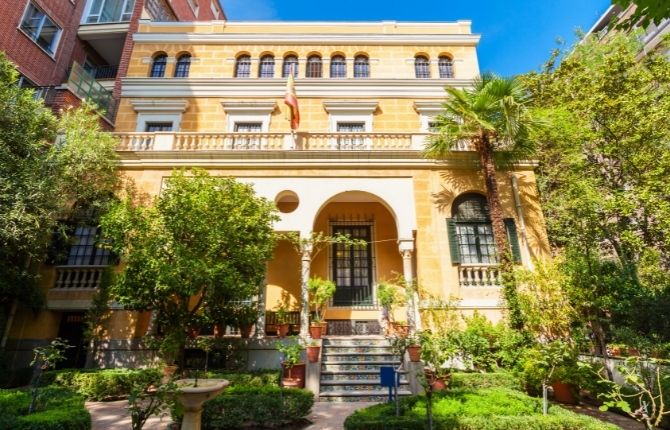 The artist's former home was renovated into a museum and is a stately home. His wife, Ana Sorolla, helped him design the museum, which contains three studios from which the artist worked.
Sorolla also designed the gardens, which are beautiful oases in the city. If you want to experience art like an artist, you should visit the Sorolla Museum in Madrid.
The museum is located in Sorolla's villa and features seven rooms, including the artist's studio and workspace. There are also small plaques that explain the artist's style and his love for light.
The Sorolla Museum includes his studio, house, and garden. It is peaceful and beautiful year-round. You can also visit the adjacent Royal Tapestry Factory, established in the 18th century and restores old tapestries.
A guide is required, so check their hours and admission prices before going. This Madrid art museum is a must-see when you're visiting the city.
Visitors are advised to spend as much time as possible in the museum. The museum is free on Saturdays and Sundays. It is also open late on Mondays and is open every day except Thursday.
Address: P.º del Gral. Martínez Campos, 37, 28010 Madrid, Spain     Phone: +34 913 10 15 84
13. Royal Basilica of Saint Francis the Great
If you're a fan of religion, you should definitely check out the Royal Basilica of Saint Francis the Great in central Madrid.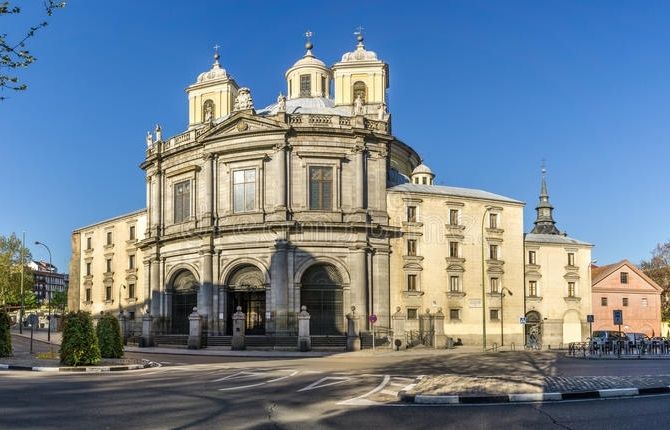 It's a magnificent monument that rises on land offered to Saint Francis of Assisi in 1214.
There have been three temples on the site before the current one was constructed. Architects Francisco Gutierrez and Roberto Michel completed this work in the 18th century.
Another must-see attraction in Madrid is the Plaza de Isabel II, which has tons of history and is a pleasant place to walk around.
Visitors can also spend time admiring the intricate details of the church's interior and exterior. You can spend an hour or so exploring this magnificent building located in the heart of Madrid.
Next to the Royal Basilica of Saint Francisco the Great, you can also take in the Almudena Cathedral. This beautiful, modern building contrasts the medieval structure that stands just next to it.
Nearby, you'll find the striking Reina Sofia Museum, a modern, avant-garde center for contemporary art. Built-in 1986 by Queen Sofia, the museum features three glass elevator towers that remind one of the Pompidou Center in Paris.
Inside, there's a charming inner courtyard and a café with fixed-price lunches. The museum also hosts world-class shows of photography and multimedia.
Don't forget to take the time to visit the main shopping street, Gran Via, and browse through the countless boutiques and shops that line the streets.
If you want a bit of green space, head to Juan Carlos I Park, which is full of exciting sculptures and has a flowing river.
Address: C. San Buenaventura, 1, 28005 Madrid, Spain      Phone: +34 913 65 38 00
Things to Do in Madrid
14. National Archaeological Museum
The National Archaeological Museum in Madrid is home to a vast collection of antiquities found throughout the Iberian Peninsula.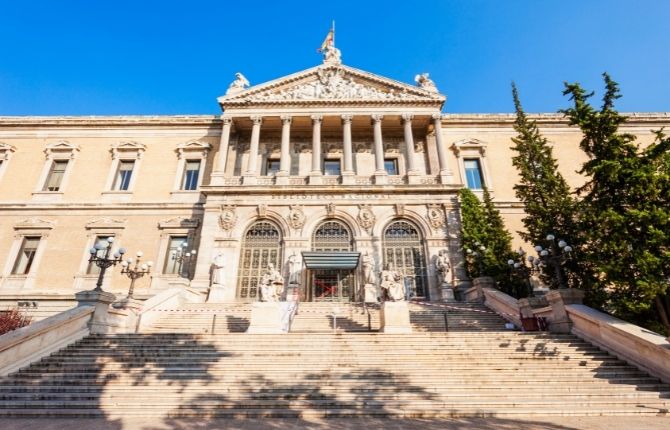 Items on display here range from Greek, Roman, and Egyptian antiquities. Highlights include the Lady of Elche, the Mausoleum of Pozo Moro, and the Statue of Livia and Harsomtus-Em-Hat.
To learn more about the history of this region, surely visit this museum.
In the museum, visitors can explore a range of archaeological treasures and discover new things about the history of civilization. In fact, the Museum has a permanent collection of over 4 million objects from all periods of Spanish history.
A visit to the museum is a must-see experience for history buffs. The museum also has a magnificent Ancient Egyptian temple. These temple stones were given to Spain by Egypt in 1969, and several trucks were used to transport them to Madrid.
There are several exhibits to see, including the Treasure of Guarrazar, Egyptian mummies, Hispano-Roman and Islamic archaeological finds, a collection of twenty votive crowns, and gold crosses donated to the Roman Catholic Church in the 7th century.
There's also a beautiful ivory cross made in 1063 that is the earliest known cross to bear the body of Christ. Another highlight is a replica of the Cave of Altamira, the first cave where paintings were found.
The MAN is a historic building that needed modernizing. Despite its status as a building of exceptional cultural interest, its facades could not be altered. In 2006, the city council commissioned ACCIONA to complete an integral building reform to make it more suitable for permanent collections.
The museum's modernization is an excellent example of a culturally significant landmark in the city. If you're in Madrid, don't miss the opportunity to explore this historic site.
Address: Calle de Serrano, 13, 28001 Madrid, Spain      Phone: +34 915 77 79 12
Things to Do in Madrid
15. Puerta de Alcalá
If you're visiting Madrid, you'll want to see the Puerta de Alcal, a Neo-classical gate located in Plaza de la Independencia.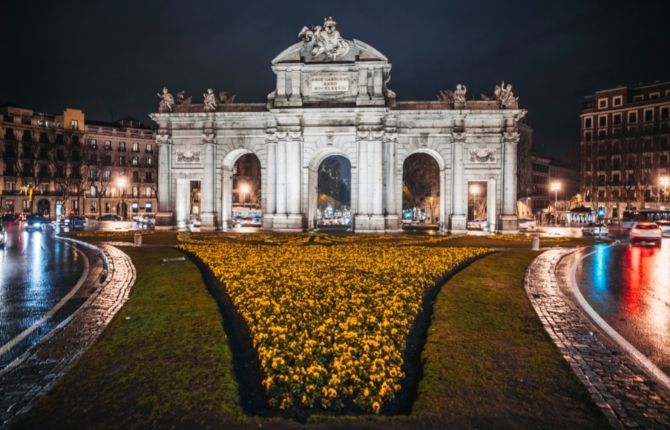 The building dates back to the early 1700s, so you should definitely take the time to explore this site.
This Neo-classical gate is located near the city center and only a few meters away from the Parque del Buen Retiro. King Charles III built this arch between 1769 and 1778 to welcome the monarchs to Spain's capital city. It was designed by Francesco Sabatini.
Its height is around 30 meters and features an impressive facade with capitals, sculptures, and decorative reliefs.
Royal Palace – The royal palace in Madrid is a must-see. It is the official residence of the Spanish Royal Family and is over 1,500,000 square feet. Even today, it is the site of state ceremonies.
You can tour the Royal Palace, and you can even skip the line if you want to! There are also gardens, courtyards, and reflection pools, so you'll have plenty of time to see them all.
Gran Via – The Gran Via is Madrid's main commercial street, lined with beautifully preserved Art Nouveau and Deco buildings. Nearby, you'll find the famous gay neighborhood of Chueca, where the Pride fiesta takes place every year.
Alternatively, you can head to the 17th-century Plaza Mayor, where you'll find the city's tourist office. It's a great place to enjoy a meal and take in the city's famous sights.
The Madrid Gate – Located near the main entrance of Buen Retiro Park, the Alcala Gate is one of the city's most beautiful monuments. The 1889 masterpiece was designed by Italian architect Francesco Sabatini and was erected as a triumphal arch.
At 19.5 meters tall, it is a stunning monument and a must-see for visitors to Madrid.
Address: Pl. de la Independencia, s/n, 28001 Madrid, Spain     
16. Lázaro Galdiano Museum
The Lazaro Galdiano Museum in Madrid has a collection of more than twelve thousand pieces of art, dating from the 6th century B.C. to the early twentieth century.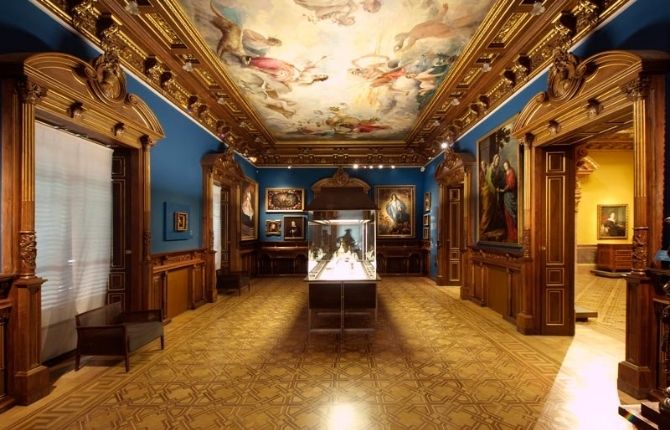 The art pieces on display span various European schools and are sure to inspire any art lover. Highlights of the collection include Gothic and Renaissance panels and essential series of paintings by Goya.
This museum is a great place to see the history of art in Spain.
The Lazaro Galdiano Museum in Madrid was founded by the former director of the National Museum of Romanticism in 1951. She was responsible for reopening this museum in 2009.
Lazaro acquired many works in Barcelona in his youth and continued to do so until the late 1800s. Further, the collection includes works by Goya, Murillo, Velazquez, El Greco, and Bosco and primitives from Spain.
It is housed in the former home of the 20th-century writer Jose Lazaro Galdiano and exhibits work by Spanish masters and many British artists.
In addition to Spanish artists, the museum has works by Gilbert Charles Stuart. Aside from the art displayed, the museum has a garden and five acres of land.
The museum has a collection of more than a thousand pieces by this famous artist. If you visit Madrid, see the Lazaro Galdiano Museum and learn more about this fascinating Spanish artist.
Address: C. de Serrano, 122, 28006 Madrid, Spain      Phone: +34 915 61 60 84
Things to Do in Madrid
17. National Museum of Romanticism
The National Museum of Romanticism in Madrid recreates the atmosphere of bourgeois life in the Isabelline period.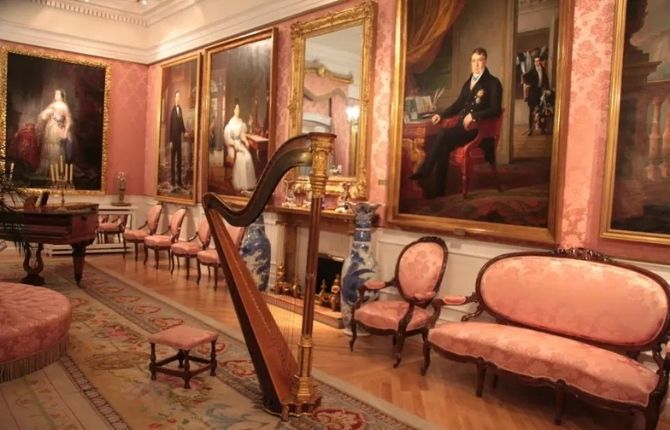 Its exhibits focus on the themes of beauty and the human condition. Visitors can explore the museum's 26 rooms, divided into two main routes.
The first route explores the spaces of the affluent bourgeoisie in nineteenth-century Spain. In contrast, the second route focuses on the topics and contents of Romanticism as an artistic and cultural movement.
Founded in 1924, this museum features unique 19th-century decor and furnishings. It also includes jewelry, furniture, ceramics, and porcelain dolls. Also, there are some impressive paintings done by famous artists like Goya.
Aside from that, the National Museum of Romanticism has a splendid 18th-century Magnolia Garden.
The National Museum of Decorative Arts is another popular place in Madrid. Located on the Calle de Santa Isabel, 52, the Sorolla Museum is a charming museum where you can see paintings by the most outstanding Spanish artists of the Romanticism era.
Admission is free on Saturdays and Sundays. For an introduction to Romanticism, the museum has some beautiful paintings by Francisco Goya, a modernist and a classicalist.
Address: C. de San Mateo, 13, 28004 Madrid, Spain        Phone: +34 914 48 10 45
18. Matadero Madrid
If you're planning a visit to Madrid, you might wonder what you should expect from Matadero Madrid, a contemporary arts center.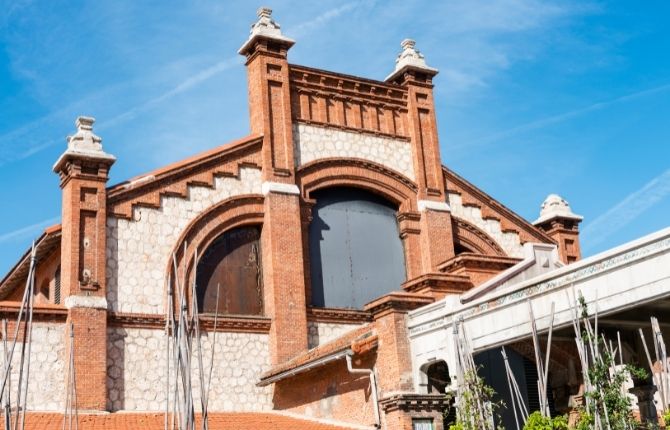 This 700,000-square-foot cultural complex is a former slaughterhouse and now serves as a cultural center. You can explore the museum throughout the day and into the night.
You can view photography, video games, literature, and modern art exhibitions.
When it was built in the early twentieth century, the Matadero was the city's primary poultry market and slaughterhouse. The complex was a model of new Madrid architecture.
It is located near Madrid Rio. The Matadero is one of the most important cultural attractions in Madrid. You can learn more about its history and architecture by reading our Matadero Madrid review.
While visiting, you can enjoy the exhibitions and the site's art and architecture.
Regarding culture, Matadero Madrid offers a wide variety of events for children. It hosts many events and activities to engage children and encourage them to explore the city and its various ways of life.
These include community festivals, dances, digital culture, and critical technologies. The park is wheelchair accessible and offers free events. It's open from 9 a.m. to 10 p.m.
And most evening activities are free.
While visiting Madrid's art district, don't miss Matadero Madrid. This former livestock market has been converted into an important cultural center. A diverse lineup of exhibitions and performances aims to explore global issues.
The museum also offers a cafe and restaurant. Because it's outside central sights, Matadero Madrid attracts a local crowd. You can take a guided tour for free to learn about the different arts and crafts on display.
Address: Pl. de Legazpi, 8, 28045 Madrid, Spain      Phone: +34 913 18 46 70
Things to Do in Madrid
19. Things to Do in Madrid: Casa de Campo Park
If you're visiting Madrid, don't miss the opportunity to visit Casa de Campo Park.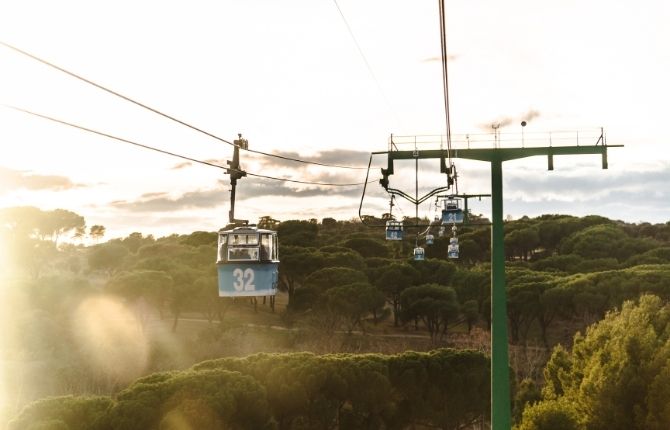 This large public park is located west of the city and was once a royal hunting estate, just west of the Royal Palace. Its vast grounds are perfect for relaxing and observing the sights and sounds of the city.
If you love animals, you will have a great time exploring the different areas of the park.
You can enjoy a fun day at the Casa de Campo Park in Madrid. The park was originally built in 1969 but has recently undergone a major remodel.
There are rides for all ages and even a Walking Dead attraction! You can even download the Parque Reunidos app for an interactive map. If you're traveling with your children, don't miss out on the Zoo Aquarium.
If you love animals, you'll love the Zoo Aquarium de Madrid. The Madrid Zoo has over six thousand animals, including rare giant pandas. The zoo also has a dolphin show and an amusement park. Try the amusement park if you're in the mood for adventure.
There are many picnic tables and playgrounds on the park's eastern side, where families often gather to enjoy a picnic. You can even have a wedding reception there! While there, make sure to bring a picnic lunch with you.
Address: P.º de la Prta del Ángel, 1, 28011 Madrid, Spain     Phone: +34 915 29 82 10
Things to Do in Madrid
20. Things to Do in Madrid: El Rastro de Madrid
If you're looking for a cheap way to see the best of Madrid, a day trip to El Rastro de Madrid is a good option.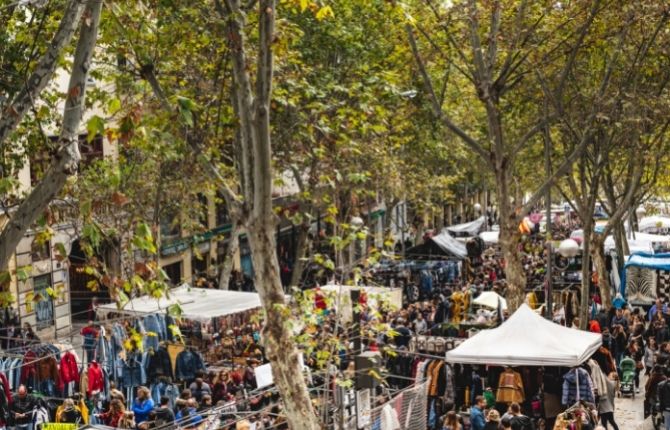 This famous flea market attracts thousands of people each Sunday and on public holidays. Antique shops line the streets, and you can buy anything from souvenirs to Spanish items at a low price.
Even the characters from Perez Galdos novels hang out here! And because of its popularity, you're guaranteed to find a bargain here.
Located along Plaza de Cascorro and Ribera de Curtidores, El Rastro de Madrid is the place to buy anything you want in Madrid. Many local sellers sell clothes, jewelry, handicrafts, artworks, and many other things.
Address: Pl. de Cascorro, 13, 28005 Madrid, Spain     
Things to Do in Madrid
Museo Nacional del Prado
Royal Palace of Madrid
Puerta del Sol
Temple of Debod
Cybele Fountain
Gran Vía
Ermita de San Antonio de la Florida
Thyssen-Bornemisza Museum
Santiago Bernabéu Stadium
Royal Basilica of Saint Francis the Great
Puerta de Alcalá
Lázaro Galdiano Museum
National Museum of Romanticism
Matadero Madrid
Casa de Campo Park
El Rastro de Madrid
Things to Do in Madrid