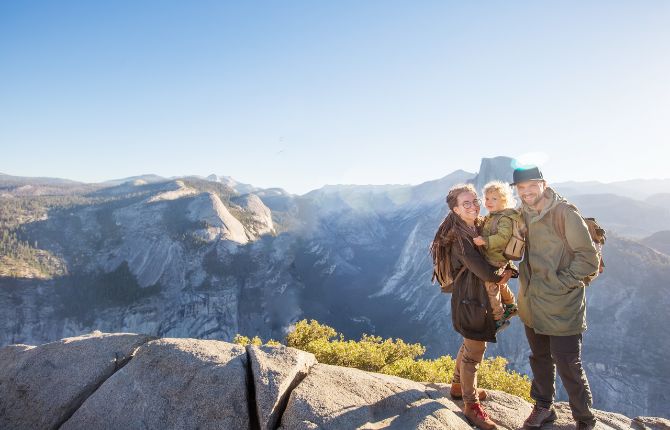 Looking for the best things to do in Yosemite National Park?? Here's the list with all the travel information you need to plan a family tour.
You can easily reach the park from Los Angeles or San Francisco by car. The park has four major entrances, including the Big Oak Flat and the Southern. If you're driving to Yosemite, plan to arrive early because it can get crowded during peak hours.
Half Dome is an iconic rock formation with a dome-like shape. Among the best hikes in the country, it's fourteen miles round-trip with a nearly 5,000-foot elevation gain. Once inaccessible to hikers, the Half Dome hike offers some of the most breathtaking views of Yosemite Valley.
Various activities are available in the park, from hiking through the high Sierra Nevada mountains to rafting in the river. You can also walk to the base of Bridalveil Fall, the park's tallest waterfall.
Aside from that, visiting Yosemite Falls, El Capitan, Glacier Point, and Tunnel View are the other most popular things to do in Yosemite National Park.
Just read the following list and add them to your bucket list.
1. Things to Do in Yosemite National Park: Half Dome
Visiting Half Dome in Yosemite National Park is a must-do for all outdoor adventurers. The famous landmark is a world-renowned destination for climbers and hikers.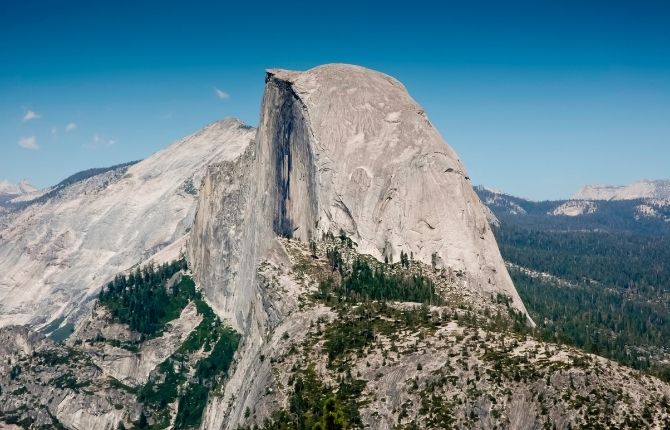 There are many ways to experience Half Dome, including cable-supported hiking, rock climbing, and BASE jumping.
Half Dome is an 8858-foot granite peak in Yosemite National Park. Its top seems rounded and cuts in halves like a raptor's claw or beak. Many hikers dream of acclimatizing on this famous granite peak.
Getting to Half Dome is not easy, however, so be prepared to spend some time on the trail. You will need to be patient while climbing Half Dome is a challenging climb.
Hike up Half Dome to see the iconic view of Yosemite Valley. This hike includes cabled steps and passes under the Half Dome face. This famous route winds through a dense Sequoia forest, requiring some climbing cables to get to the summit.
The reward for the effort is the most stunning views of Yosemite Valley. But if you are not quite a hiker, there are other ways to view the Half Dome.
For example, you can hike Mirror Lake to get the best views of the Half Dome.
Keep in mind that the Half Dome hiking trail is not for everyone. It considers one of the most challenging and best hikes in Yosemite National Park.
The most famous viewpoint is Glacier Point, which sits over the Curry Village. Sunsets are breathtaking, with the mountain glistening in the colors of the sky.
While in the area, don't miss the Mariposa Grove, where a family of giant Sequoia trees lives.
2. Things to Do in Yosemite National Park: Yosemite Falls
Visiting the waterfall is one of the highlights of any trip to Yosemite National Park.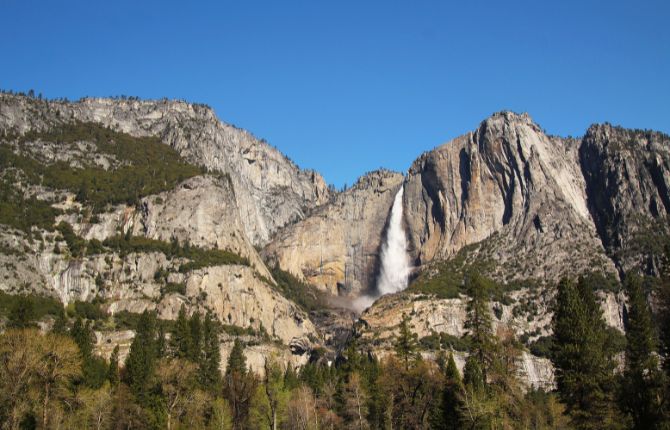 The 2,425-foot tumbler is the highest waterfall in North America and the fifth-highest in the world. It's larger than Niagara Falls and twice as tall as the Empire State Building.
It's equivalent to the height of a 200-story building. The Lower Yosemite Falls is about 320 feet high. The entire park is worth a visit to witness the power of Yosemite Falls.
Although the Yosemite Falls trail is open all year, its conditions vary considerably. The falls are most impressive in the spring and summer when the water is at its highest.
And the trail can get wet and slippery in the spring and summer, but the falls' webcam can show current water levels. While the lower portion of the trail receives direct sunlight, the rest of the trail may be snow-covered or icy.
Flowing over a granite wall, Yosemite Falls offers different views from every angle.
If you have the time, try zip-lining in Mariposa, California. This activity includes a zip line that travels through the forest to get sweeping views of the city.
Aside from the stunning scenery and the abundance of wildlife, Yosemite also features more than 400 species of invertebrates. While there, don't miss a chance to climb El Capitan, the highest granite monolith in the world.
3. Things to Do in Yosemite National Park: El Capitan
Visiting El Capitan in Yosemite National Park requires extreme physical stamina. It is the highest granite monolith in the world (3,000 ft high).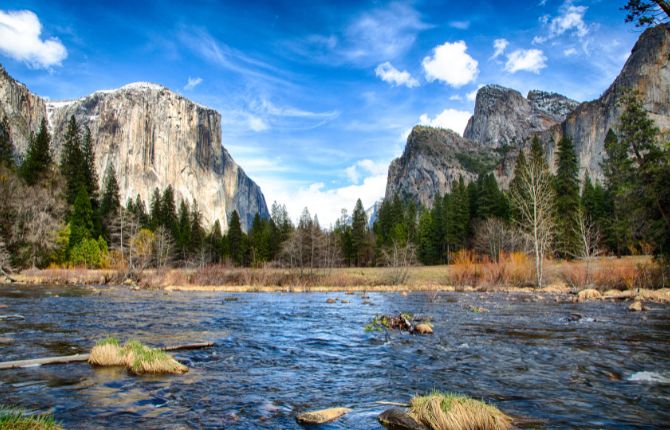 If you've never been to Yosemite National Park, you're missing out on one of the most iconic views in the world. So, El Capitan is a paradise for rock climbers.
Alex Honnold was the first person that climbed El Capitan without ropes in 2017.
The granite wall rises more than three thousand feet, making it 2.5 times higher than the Empire State Building and three times taller than the Eiffel Tower. And it is 1,000 ft more elevated than the face of Half Dome.
This rock formation is an imposing beacon to visitors, a muse for photographers, and the ultimate challenge for climbers. It's a stunning sight reflected in so many iconic scenes of Yosemite Valley.
Visitors to Yosemite National Park should plan their visit around the peak's seasonal changes. The most dramatic light can be seen during stormy winter days. Winter is also the best time photographing the rock's heart-shaped granite features.
Visiting El Capitan in Yosemite National Park is an adventure that will be cherished for a lifetime. There's something for every climbing level, and the cliffs are popular year-round.
El Capitan Meadow is the best place to view these granite walls and take photographs.
While there are many places to see El Capitan in Yosemiti National Park, you can't miss the Tunnel View, one of the best vantage points in the park.
This viewpoint is near Glacier Point and Wawona and offers excellent views of Half Dome, Bridalveil Fall, and El Capitan.
4. Glacier Point in Yosemite 
If you're planning to visit Yosemite National Park, Glacier Point is a great place to begin your trip. It will take around an hour to drive Glacier Point from Yosemite Village.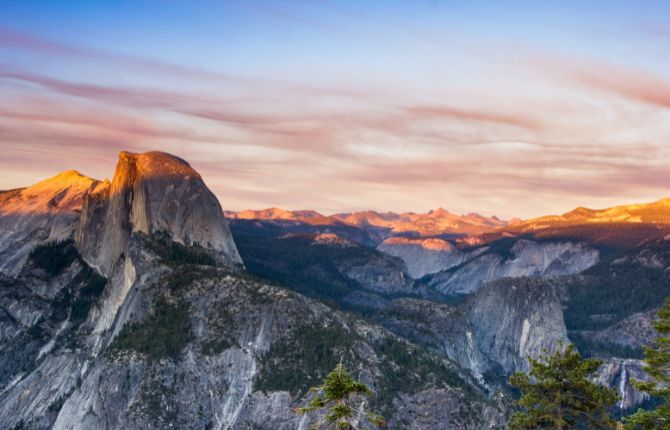 This famous viewpoint provides a fantastic view of Half Dome.
The best time to visit Glacier Point in Yosemite is in late May through October or November, depending on how much snow falls. You can get there by bus or by your car.
The road up to a point is 16 miles long and closed during the winter months.
It's recommended to plan your trip accordingly; check the National Park Service's website to determine the current road conditions. Visiting Glacier Point in Yosemite National Park is an excellent activity for anyone's bucket list!
You'll want to plan your trip around sunrise and sunset if you're a hiker. It's much more scenic to walk up the steep, slippery path to Glacier Point than the valley, and there's also a gift shop and snack area nearby.
You can also see North Dome and Half Dome from Glacier Point and the Merced River canyon. It's also worth checking out the viewpoint at sunset, perhaps the best time to see it.
Visiting Glacier Point in Yosemite National Park will provide you with one of the park's best views. The point is over 3,000 feet above Yosemite Valley, arguably one of the prettiest locations on Earth.
However, you should be prepared for the crowds! The road is open from late May to early June and closes in November.
5. Tunnel View
When you visit Yosemite National Park, you'll want to see Tunnel View, the scenic overlook on State Route 41.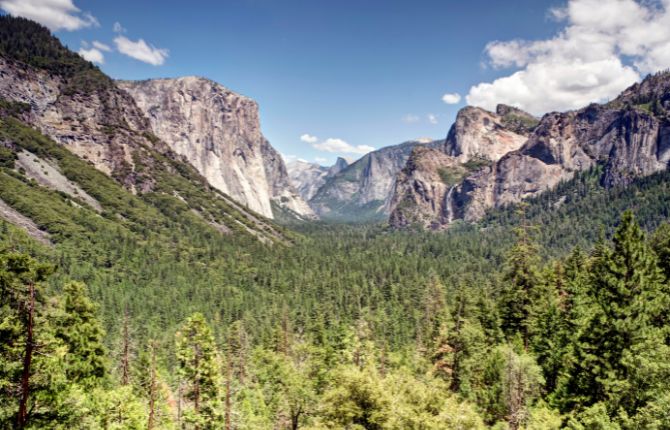 This viewpoint opened in 1933 and has a stunning view of the park's iconic El Capitan,  Bridalveil Fall, and Cathedral Rocks. However, there's more to Tunnel View than meets the eye. Read on to learn about the history of the scenic overlook and the best time to visit.
The Wawona Tunnel was created in 1935, but it was not until 1933 that the park celebrated its opening with a spectacular ceremony. Known as the Pageant of Progress, the event included a parade, historical reenactments, and speeches from park employees.
The Tunnel View scenic overlook is another historical site that offers spectacular views of Yosemite Valley. In addition to being historical, the tunnel was constructed at the height of a development and design boom.
Tunnel View also helped start the "rustic" design style within the National Park Service.
The view of Tunnel Point provides an unmatched panoramic view of Yosemite Valley. The 3,000-foot rock faces El Capitan, and the famous Half Dome are visible in the distance. The afternoon is the best time to visit Tunnel View.
The view is so spectacular that it is featured in postcards and early black and white photographs. Tunnel View is an itinerary in itself. It is a must-see for all Yosemite National Park visitors.
6. Bridalveil Fall
Visiting Bridalveil Falls in Yosemite National Park is not a rush job; it is a relaxing and worthwhile activity. (located on the south side of Yosemite Valley)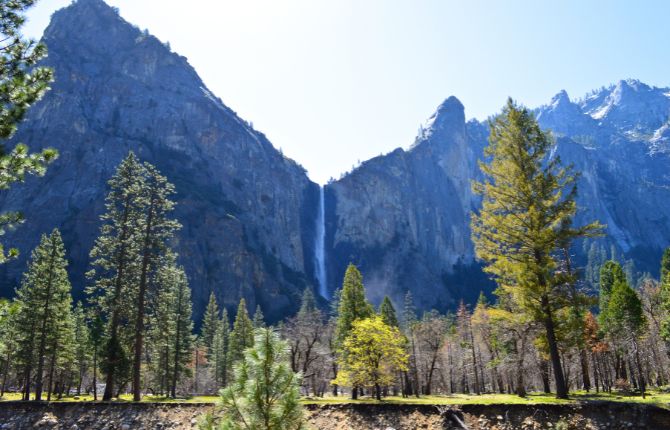 You can visit Bridalveil Fall all year long, but the fall is most popular in May and June. To avoid crowds, visit early or late in the day.
The hike starts at the Bridalveil Falls parking lot. The trail is paved, and it's easy to follow. The fall is spectacular year-round, so bring a camera to capture the stunning view.
You'll be surrounded by fantastic nature and have the chance to take pictures of the beautiful fall. There's even a real-life phone booth in the parking lot. It's a truly unique experience.
Visiting Bridalveil Fall in the park is popular, but parking can be challenging. You may need to park along the road, so be prepared to wait for a little.
Once there, you can admire different views of the waterfall as you walk through the meadows. Visiting Bridalveil Fall in Yosemite National Park may require you to hike the Valley Loop Trail, which passes by the waterfall.
You can also visit Tunnel View to take in the vista from afar. Bridalveil Fall is one of the most photographed waterfalls in Yosemite. You can see it from Tunnel View or hike down the trail to the base. Tunnel View is the best vantage point to take pictures.
7. Hikes in Yosemite National Park
There are over 800 miles of hiking trails in Yosemite National Park, and they range from easy, family-friendly strolls to long, remote backpacking trips.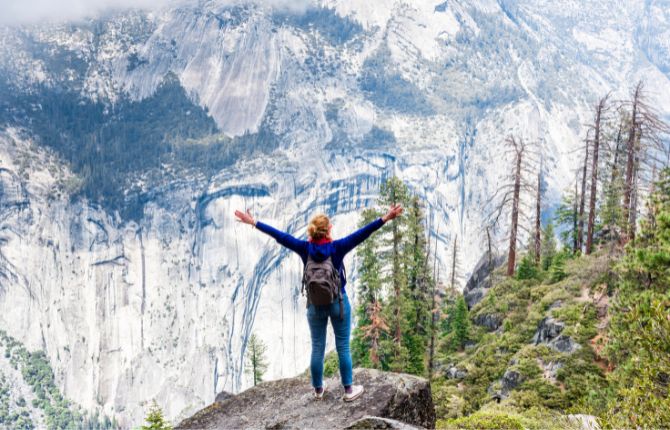 You can also hike just for the beauty of the landscape from roadside viewpoints. The National Geographic Trails Illustrated map of Yosemite National Park will help you navigate the park.
The map highlights different sections and includes photos and descriptions of each trail. Make sure to consult the map before going on your hike to determine if it's appropriate for your fitness level.
The Four Mile Trail, for example, is the most popular and challenging trail in the park. It takes approximately three to five hours to complete and climbs about 1,101 feet. While the trail is beautiful, it's also challenging, so make sure you are prepared to do some heavy-duty walking.
A moderate route is the Three Mile Trail, which is less than a mile long and has a steady incline. It passes through marshy and mosquito-filled areas.
There are some wheelchair-accessible paths in Yosemite National Park.
Half Dome hike, Mirror Lakes Trail, Mist Trail, Taft Point, and Sentinal Dome are popular hikes in the park.
8. Rock Climbing in Yosemite National Park
If you are looking for a new challenge, try Rock Climbing in Yosemite National Park. The park is world-renowned for big walls and granite climbing.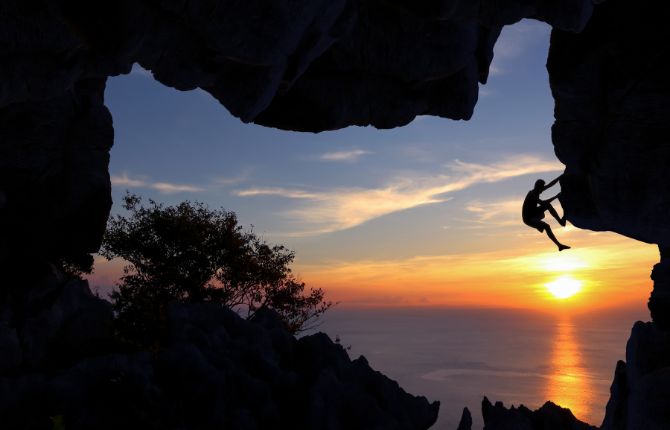 There are huge granite slabs over three thousand feet and 33-34 pitches of climbing with numerous traverses. If you love climbing and hiking, this place is for you. It is the perfect combination of natural beauty and outdoor recreation.
The climbing culture is friendly and international. Climbers from all over the world spend weeks in Yosemite. There are thousands of bouldering routes to challenge your strength.
You can also search for climbing partners on the bulletin board. Yosemite is the birthplace of rock climbing, and you can expect a world-class climbing experience while here. You can find other rock climbers looking for a climbing partner.
You can book a guide to help you climb in Yosemite National Park. This is the only authorized climbing guide service in Yosemite National Park. They provide rock climbing lessons, guided climbs, and special skills workshops.
If you are new to rock climbing, Yosemite Mountaineering School can teach you how to be a safe climber, learn how to lead climb, practice self-rescue techniques, and prepare your first big wall.
Camp 4 campground has been a famous camping site for climbers in the parks since the 1950s.
Yosemite offers many beautiful options for climbing, and you will be amazed by the beauty of this national park. Yosemite is home to numerous bouldering routes that allow you to get the best of both worlds.
Half Dome and El Capitan are the park's most famous rock climbing spots.
9. Things to Do in Yosemite National Park: Tioga Road
If you're planning a road trip to Yosemite National Park, then you'll want to plan your trip around the road's speed limits and weather conditions.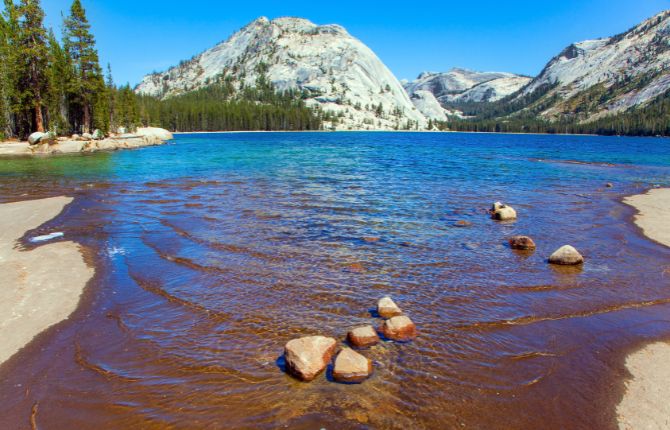 The speed limit is 35 mph, but you'll need to adjust your speed if the temperature drops, as the road has many steep drop-offs.
The best route to travel along Tioga Road in Yosemite National Park is to enter the park through the eastern entrance (Tioga Pass). The dirt parking lot is 6 miles from the park's eastern entrance and makes a nice, short hike in the woods.
You can take two short hikes in the high country from this parking area. The first is Dog Lake, while the second is Lembert Dome.
Tioga Road offers you stunning alpine scenery with pristine lakes, campgrounds, hiking trails, blooming wildflowers, mountain peaks, and beautiful open meadows.
For example, you will meet beautiful Tenaya Lake, Olmsted Point, and Tuolumne Meadows.
When traveling through the park, wear layers and bring a lightweight jacket. Long pants are also recommended. Hiking shoes are essential, as well as sunscreen and bug repellent.
Cell phone reception along Tioga Road may be spotty or nonexistent, so you'll need to download trail maps and other information in advance.
10. Campgrounds at Yosemite National Park
There are several advantages to camping in Yosemite National Park. You can avoid dealing with crowds and snow and enjoy the park's beauty without spending a fortune.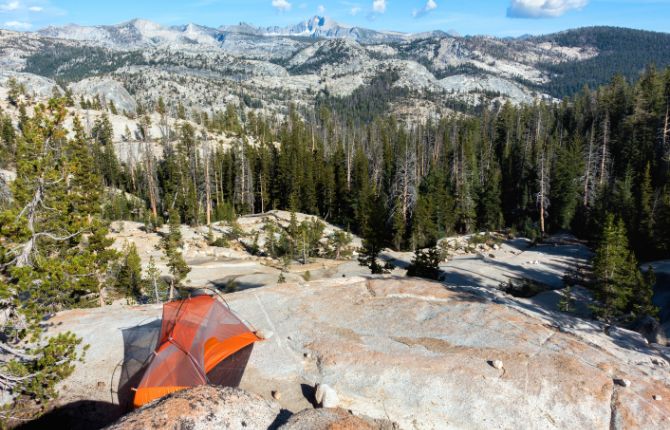 Whether you are looking to spend a night or a week, there are several things you should consider. You can find several camp places, but the Yosemite Valley is the most scenic and pristine location.
Yosemite's campgrounds are popular and fill up quickly. Check the website months early to make reservations. Some campgrounds have rules on campfires, including that they must be put out before 10 pm.
The most popular campgrounds in Yosemite National Park are Upper Pines, Lower Pines, North Pines, Camp 4, and Curry Village Campgrounds.
Reservations are required for most campgrounds in Yosemite. You should make reservations well in advance, as many campers do not show up to claim their reservations.
11. Yosemite Museum and Indian Village
Visiting the museum and the Indian village is a must-do while visiting Yosemite National Park.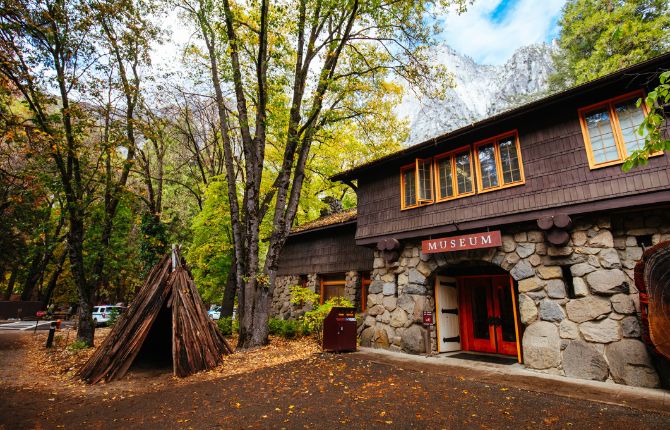 Ansel Franklin Hall founded the museum in 1926. It houses artifacts from the Ahwahnechee people and displays Ahwahnechee culture. You can also get a closer look at the park's natural history.
The museum's primary collection, donated by a man who loved the park, is arranged chronologically. Exhibits start with geological exhibits about the formation of the valley and move on to the early days of visitors.
It features Native American baskets, sketches, photographs, and artifacts from the area's Indians. The museum is open year-round and hosts special exhibitions.
The museum houses a cross-section of a giant sequoia tree, a replica of a Miwok cedar bark dwelling, and an Indian village that depicts a traditional Ahwahnee life. It is free to visit.
Interpretive rangers provide information on Native American culture and history. There are also periodic art exhibitions at the museum's gallery, open daily from 9 am to 5 pm.
The museum was designed by Herbert Maier and was the first museum in the national park system. It features exhibits on the history of the park's wildlife and its environment.
Visitors can learn about the Miwok culture by walking through the Ahwahnee Miwok Village. The museum is also home to a replica of an Ahwahnee Miwok village in the Valley in the late 1870s.
It contained 200-300 people. And also includes bark teepees, acorn silos, and a sweat lodge. The museum has markers on each structure, and seasonal staff presents cultural activities.
Things to Do in Yosemite National Park
Half Dome
Yosemite Falls
El Capitan
Glacier Point
Tunnel View
Bridalveil Fall
Hiking Trails in Yosemite National Park
Rock Climbing in Yosemite National Park
Tioga Road
Camping in Yosemite National Park
Yosemite Museum and Indian Village
Things to Do in Yosemite National Park