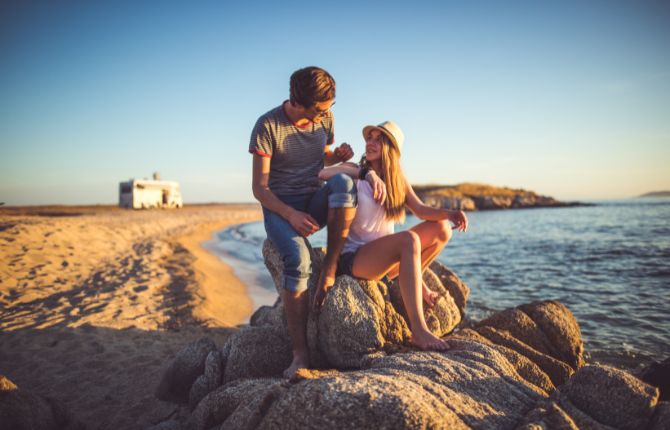 Looking for the best beaches in Barcelona, Spain?? Here's the list with all the travel information that you need to plan a family tour.
Whether it is in the summer or the winter, the beaches in Barcelona are a must-see. Whether you're looking for a quiet, secluded beach, a lively promenade, or a spot to swim and sunbathe, this Spanish city has a beach to suit your needs.
For example, Barceloneta Beach, Sant Sebastia, Bogatell Beach, and Nova Icaria Beach are some of the most popular beaches in the city.
Listed below are some of the best beaches in Barcelona.
1. Beaches in Barcelona: Barceloneta Beach
Barceloneta Beach in Barcelona is a beautiful sandy beach. It is even mentioned in the novel "Don Quixote" by Miguel de Cervantes!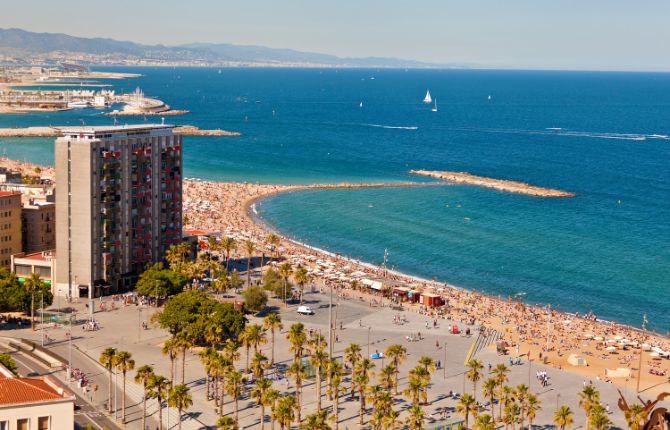 You can find restaurants, shops, nightclubs, and endless entertaining opportunities along its boardwalk.
In addition to the beach, you can enjoy water sports in this vibrant neighborhood. There are windsurfing, kitesurfing, beach volleyball, and football playing chances.
Amenities on Barceloneta Beach include showers, lifeguards, restrooms, and playgrounds.
There are also beachside cafes where you can enjoy a drink or eat delicious seafood. You can even enjoy Barcelona's famous paella! With so many activities available, you're sure to find the perfect way to spend your day on the beach!
You'll love Barcelona's beaches! These sunny spots are full of life – from fun beach games to fun parties! You'll find everything from fantastic seafood restaurants to tasty paella.
If you want to enjoy the local nightlife, you can also find a wide range of chiringuito – or seaside huts – along the beach. If you're looking for a relaxing, fun place to spend an afternoon or evening, Barceloneta Beach is definitely worth a visit!
The Barceloneta district was once a blighted area, but it was cleaned up and revitalized for the 1992 Olympic Games. Currently, the area has a lively village vibe that makes the beach even more inviting to visitors.
Barceloneta Beach can be quite crowded on holiday weekends, so you may want to try Icaria Beach instead. The latter offers a smaller, less crowded beach with lots of sports and leisure activities.
Barceloneta Beach is also home to the W Barcelona Hotel, which has won awards and been scandalized for environmental issues.
Although the beach is beautiful, the quality of the sand has been an issue for several years. In February 2008, the World Health Organization began an investigation to see if the sand meets WHO standards for safety.
2. Beaches in Barcelona: Bogatell Beach
For a relaxed beach experience, head to Bogatell Beach in Barcelona. This 702-meter-long beach has been upgraded as part of Barcelona's seafront redevelopment in the 1990s.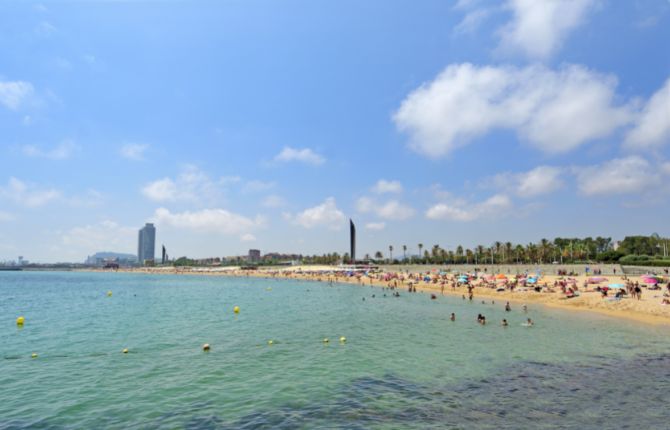 Besides the beach itself, this location has several sports facilities including volleyball courts, ping-pong tables, and football pitches.
You can play a game of football while lying on the beach or enjoy a quiet afternoon relaxing in the sun.
There are many facilities that are designed for a great family day out, including municipal volleyball courts, basketball hoops, and beach football pitches.
Bogatell's beaches are equipped with wheelchair and pushchair ramps for those who need assistance to enter and exit the water.
There are also adapted toilets, accessible restrooms, and wooden walkways leading down to the water. Accessibility is also made easy with public transport. The beach is well-known for being accessible to all ages, sexes, and abilities.
In addition to its beautiful sand and picturesque surroundings, Bogatell Beach is located a few kilometers north of Barcelona. (located between Mar Bella and Nova Icària)
Visitors should head to this long, wide, and quiet beach to enjoy a relaxing day. It has plenty of space for activities and is also much more peaceful than the inner city beaches. Ex: kayaking, playing beach volleyball, windsurfing, and kitesurfing.
The water here is clean and calm. Therefore, it is a designated Blue Flag Beach. And there are plenty of beach bars along the coast.
Recommended hotel near Bogatell Beach: H10 Marina Barcelona
3. Nova Icària Beach (Platja de la Nova Icària)
For those looking for a tranquil beach, Nova Icaria in Barcelona is the perfect option. This beautiful beach features golden sand, live music, and many other entertainment opportunities.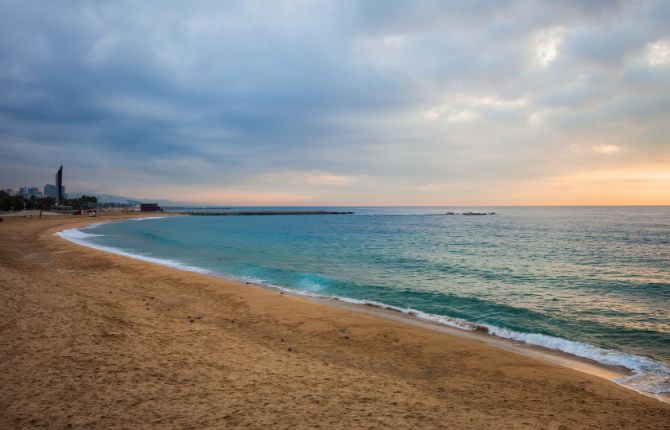 Plus, it's conveniently located right next to the Olympic Marina, observatory, shopping center, and English cinema. If you're looking for a beach with water sports, look no further! There's plenty to do and see at Nova Icaria.
Those looking for a family-friendly beach in Barcelona should visit Nova Icaria Beach. Located near Bogatell Beach, this 400-meter-long beach offers plenty of facilities and amenities.
It's a great place to spend the day with your family, or even with a partner. Aside from its sandy shores, it also features restrooms and umbrella rentals for those who need them. It's also close to several of the city's best nightlife, so you're sure to have a great time!
Another option for a relaxing beach in Barcelona is Sitges, a town located about half an hour's drive from the city. This gay-friendly town offers unbeatable nightlife and is a popular destination for tourists and locals alike. During the summer, the central beaches can be overcrowded with tourists, so consider going further north to find a quieter spot. Sitges' northern beaches are sheltered from the wind, but close enough to enjoy the beach.
For families and kids, there's a large beach with plenty of seating and restaurants. This is a great place to picnic in the sun, and it's lined with cafes, restaurants, and ice cream kiosks.
Families and young people will enjoy this beach because it has a lifeguard service and other facilities. There's even a designated play area for children.
So, Nova Icaria Beach is a great beach for everyone in Barcelona. It is a designated Blue Flag beach.
Recommended hotel near Nova Icaria Beach: Hotel SB Icaria Barcelona
4. Mar Bella Beach (Platja de la Mar Bella)
One of the best beaches in the world has a nudist section, and Mar Bella Beach in Barcelona is no different.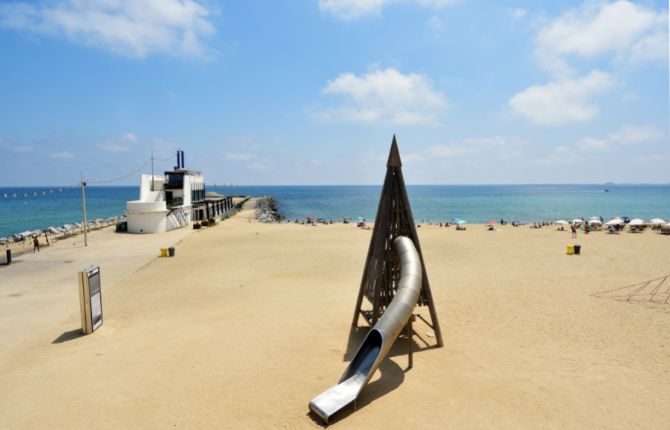 This beach has been a popular hangout for gays and is a popular destination for weekend raves. It is located northeast of the city center, but is still close enough to the cosmopolitan area of Barceloneta.
Accessible via the metro, the beach is easily reached by the Bogatell station. With its laid-back atmosphere, Mar Bella Beach is well worth a visit.
Mar Bella Beach has accessible toilets and showers, as well as an information point and a lifeguard station.
You can find amenities such as vending machines and umbrella rentals, Barcelona WiFi, and parking for your vehicle. The beach itself offers many amenities, including a volleyball court and playground.
You can even rent a beach umbrella or lounge chair to enjoy the day's activities. It is also home to several popular Barcelona hotels.
The promenade along the seafront is lined with high-rise apartments that overlook the beach. Although there is some development along the promenade, the beach still retains its local charm.
The beach is also home to a small nudist strip. Other attractions include water sports and a skate park. If you're interested in the history of the beach and the city, make sure to take the time to explore the surrounding area.
Recommended hotel near Mar Bella Beach: Hilton Diagonal Mar Barcelona
5. Nova Mar Bella Beach (Platja de la Nova Mar Bella)
You may be wondering whether it's safe to swim in Nova Mar Bella Beach in Barcelona. If so, then you've come to the right place.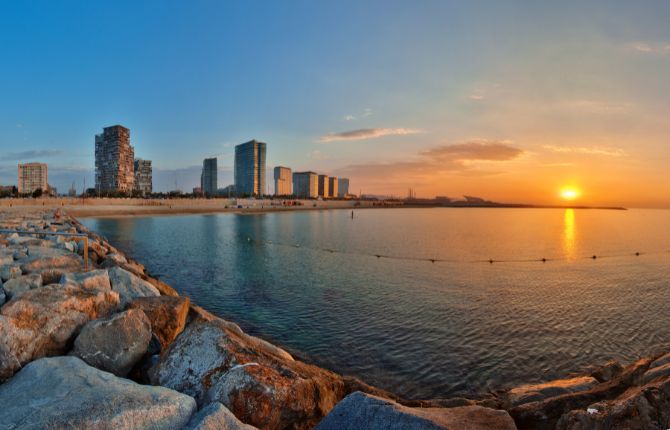 The beach has been designated as a nudist beach in Barcelona. However, you'll find many facilities including public restrooms, showers, and lifeguards.
There are also kiosks and ice cream stands to keep you refreshed. The beach is also perfect for water sports, such as windsurfing.
The 420-meter-long Nova Mar Bella beach is backed by modern apartment buildings and is part of the regeneration plan for the 1992 Barcelona Olympics.
Although the beach has modern facilities, it still maintains a distinctly local atmosphere. The beach proudly displays a Blue Flag, which demonstrates the water quality of the Mediterranean.
Located at the northern end of the city, Nova Mar Bella beach is quieter than its neighboring beaches.
There are many facilities at Nova Mar Bella Beach in Barcelona. The beach offers public restrooms, a shower for disabled people, and an accessible playground.
There are also lifeguards and a police station on the beach. You can hire lounge chairs and umbrellas at the beach. This beach is also popular with Barcelona's LGBT community.
You can access this beach via public transport. There is WiFi, as well as snack and beverage vendors.
If you're looking for a beach in Barcelona with plenty of activities, Nova Mar Bella Beach may be the perfect place. The beach is close to the city center and has a secluded atmosphere perfect for families and groups of friends.
There are many options for water sports, and there are also saltwater outdoor pools. During the summer, it is open from 11 am to 2 pm.
6. San Sebastia Beach, Barcelona
If you are planning a trip to Barcelona, Catalonia (Ciutat Vella district) you may want to consider visiting San Sebastia Beach.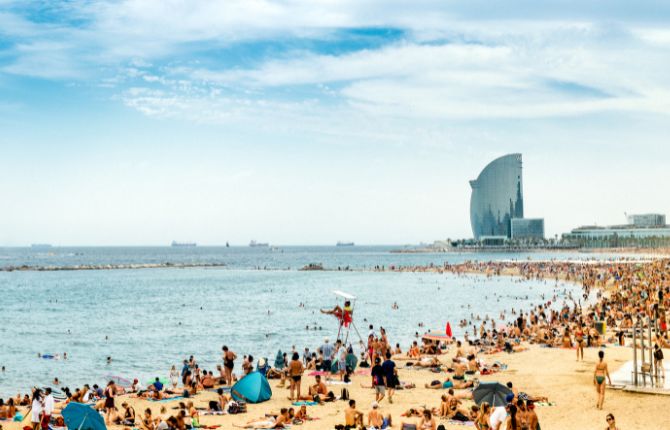 This 1,100-meter-long beach considers the longest beach in Barcelona. It is the ideal spot for a family outing or a romantic getaway.
While you're there, make sure you check out the surrounding neighborhoods as well. This article will help you plan a trip to Barcelona's most popular beaches.
There is one thing to remember: the best restaurants are often the ones right on the beach.
Other amenities include restrooms and accessible showers. In addition to this, there is a lifeguard and a police station. There are also vendors of ice cream, beverages, and umbrellas for rent.
San Sebastian Beach is also popular with surfers and has a variety of restaurants. Its beachside location is ideal for families. Guests can even enjoy a delicious meal at the Pescadors restaurant on Placa Prim.
Recommended hotel near San Sebastia Beach: Sea Hostel Barcelona
7. Beaches in Barcelona: Ocata Beach
Ocata Beach is a wonderful place for swimming and water sports. Located just outside the city, it's ideal for families and couples alike. (12 miles north of Barcelona)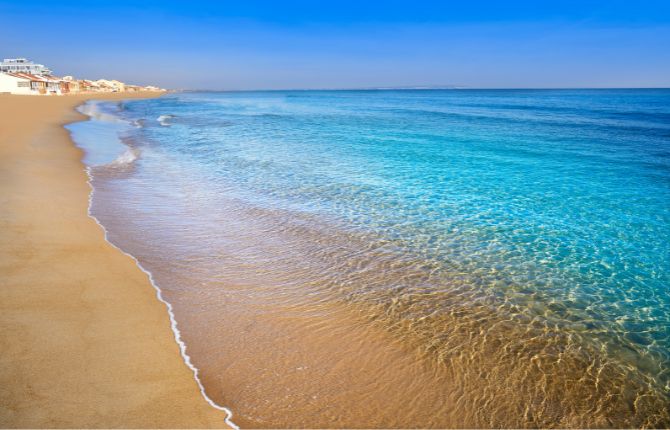 Whether you're looking to relax on the beach or have a romantic dinner, you can find the perfect location in this part of Barcelona.
Ocata Beach features sun loungers and beach umbrellas for rent, public toilets, and children's play areas. A nearby bar serves fresh fish and monkfish stew.
The beach is also home to one of the most spectacular sculptures in the world, the 33-foot La Estrella Herida.
On the other hand, the beach has plenty of room to spread out and relax. Located a few miles outside of the city center, Ocata Beach has ample room for a family vacation.
This quiet, picturesque beach is also much cleaner and calmer than many other beaches in the area. It's also home to the oldest Parish church in the city, Iglesia de Sant Pere.
It's also worth visiting the park that's home to an elegant Neoclassical fountain. Here, you can relax and unwind after a long day of sunbathing.
The Museum of Contemporary Art is another good choice for a day out (4km away from the beach). A huge collection of contemporary art and sculptures will fascinate you. The museum also features a unique gallery that showcases local and international artists. You'll be able to browse the permanent and temporary exhibitions. You'll also be able to see the works of some of the city's most famous artists. And don't forget to visit the Picasso Museum!
8. Somorrostro Beach
One of the best beaches in Barcelona is Somorrostro. This 520-meter long beach is convenient to reach by public transport.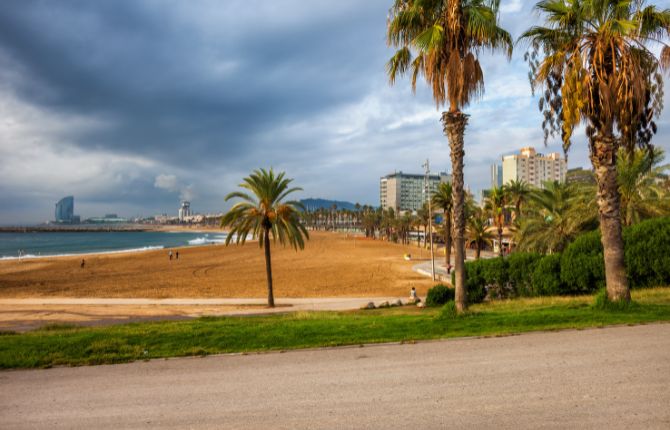 Once a shanty town, Somorrostro is a new and improved version of Barcelona's famous Barceloneta beach. Its former location is now a popular tourist destination with excellent public transport links.
In the early 1990s, this beach was home to approximately 15,000 people, but it has since been cleaned and transformed into one of the prettiest beaches in Barcelona.
The slums along the coastline were once a no-go area. Before the Olympic Games in 1992, the streets spilled onto the beach, enclosing thousands of impoverished homes. Today, a plaque honors the slum's memory. However, many of these stories have been lost in the encroaching waves.
This area is now a popular spot for sports enthusiasts.
The beach offers lifeguards and showers for disabled visitors, and there are changing rooms and sun loungers available for those with limited mobility.
Also, there is a playground, concessions, and restrooms on-site.
Named for an ancient settlement, Somorrostro Beach is popular with a younger crowd. The area is also home to Barcelona's Casino, Centre de la Platja, and Complex Esportiu Municipal Maritim. Other nearby attractions include Playa de Llevant, a semi-urban private beach.
9. Sant Pol de Mar Beach
The beach at Sant Pol de Mar in Barcelona is a popular destination for summer holidays in Spain.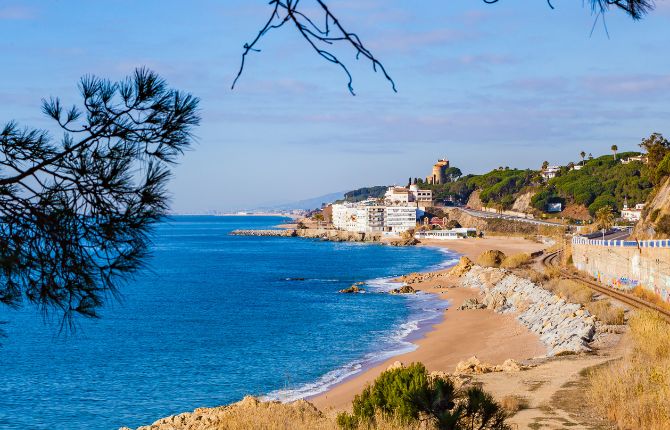 It is a scenic half-hour train ride north of the city. The main beach is quite large and bustling, but if you'd prefer to be on a quieter beach, you can choose from one of the smaller beaches nearby.
If you're looking for a quiet beach, you may want to book a hotel at the beachfront.
There are several hotels at Sant Pol de Mar. Most of them offer beach services. You can hire a car or use public transport to get to the beach. Or you can also take the train from Barcelona or Girona.
There are numerous bus and train stations near the beach. You can also opt to rent a bicycle at Sant Pol de Mar. After deciding where to stay, you can enjoy a day at the beach.
Sant Pol de Mar Beach is an attractive beach that has a rich history. The town was initially founded as a Benedictine monastery. Throughout the centuries, its economic activity has evolved from agriculture and wine to tourism and industry.
So, there are plenty of restaurants along the beach. If you're looking for something more active to do, you can also check out the nearby water parks and wine tasting.
10. Llevant Beach
Llevant Beach is one of Barcelona's most scenic beaches. It is Barcelona's easternmost beach and opened to the public in 2006.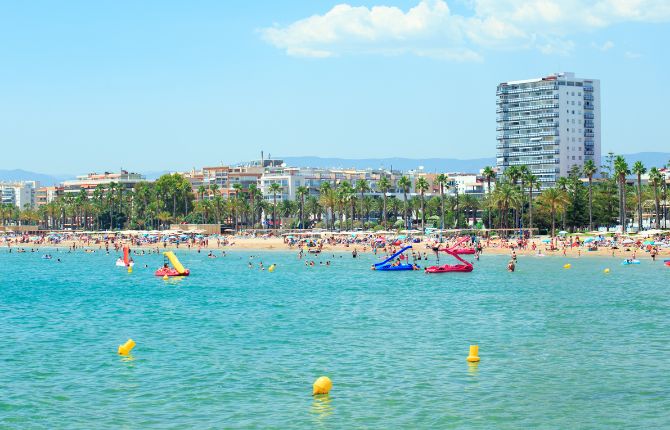 Until relatively recently, the shoreline of this area was almost inaccessible due to factories and office buildings.
Today, the beach has become a popular seafront recreational area with lifeguards, adapted public restrooms, volleyball courts, bicycle parking, Wi-Fi, and sun lounger rentals.
While Llevant Beach doesn't have any restaurants or waterfront shacks, it does offer the essentials. There are lifeguards on duty and wooden walkways leading to the beach.
And there are even Bicing stations close by.
The beach itself is 600 meters long. Llevant has been awarded Blue Flag status for its cleanliness and accessibility.
It is also dog-friendly and has beach volleyball courts for children. Llevant is one of the few beaches in Barcelona with lifeguards, so you won't have to worry about safety.
Llevant Beach is located near Mar Bella and offers great weather for swimming. It is close to the city's famous Boqueria market, which is a popular tourist destination.
You can also enjoy the city's authentic food while relaxing on the beach. In addition to beaches, Llevant also has many attractions in the area. If you'd like to go shopping, head over to the El Born neighborhood and check out the famous market.
This beach in Barcelona offers something for everyone. There's no shortage of water sports to try in Barcelona, and the beach is open for swimming from 11 am to 2 pm daily. There's also a chiringuit that serves fresh seafood.
11. Castelldefels Beach
If you are looking for a beach in Barcelona that is beautiful and relaxing, look no further than Castelldefels Beach.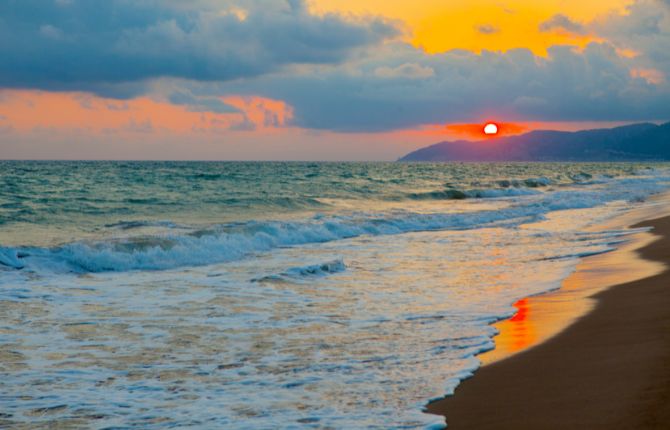 Located only 20 minutes from the city center, this golden sand beach is popular with surfers and kiteboarders. Located in the region of Catalunya, Castelldefels is home to some of the best hotels and real estate in the city.
The beach also boasts a wide variety of restaurants.
There are many amenities at Castelldefels Beach. You will find wheelchair-accessible restrooms and showers, a lifeguard, a water fountain, a volleyball court, a playground, and free WiFi.
If you're looking for an affordable way to enjoy the beach in Barcelona, rent a beach umbrella and lounge chair.
If you're looking for a relaxed day out with your friends, this is the place for you. The sandy beach is full of people, so you're likely to see some locals and other tourists.
Finally, do not miss the incredible sunset at Castelldefels Beach.
If you're traveling with kids, surely head to the nearby family beach, Nova Icaria, a Blue Flag beach spanning 415 meters. This quiet, family-friendly beach in Barcelona has plenty to offer.
12. Beaches in Barcelona: Sant Miguel (Platja de Sant Miquel)
If you love Spanish beer, then you must visit Sant Miguel in Barcelona. There are so many different kinds, and Sant Miguel is one of them.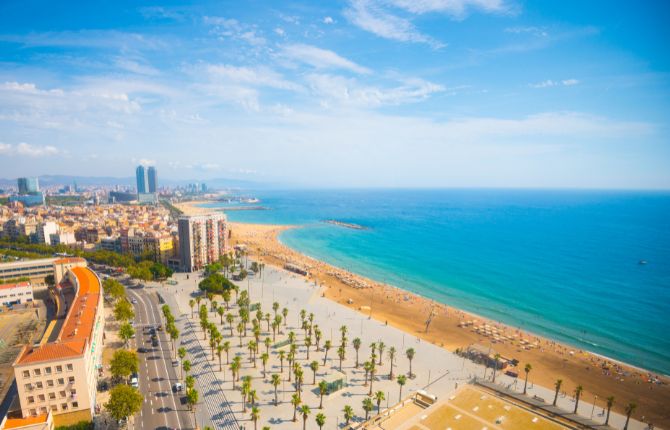 You can find it in any neighborhood of Barcelona, but if you want to drink one from a traditional tapas bar, you must head to Sant Miguel. You can visit the renowned brewery and enjoy a taste of Spanish beer.
Another important fact about Sant Miguel is that it has two beaches. Sant Miquel beach is the nearest to the city center and is very busy.
It is the smallest beach in Barcelona but is also the most popular. Moreover, it is close to Sant Sebastia beach, and many nudists enjoy going to this beach.
It also has a lifeguard on duty, making it a popular destination for surfers.
The first thing that you need to know about Sant Miguel is that it is an important historic site. The Romanesque monastery is built in the 13th century and offers stunning views of the city.
The church itself is surrounded by a garden and includes a chapel. The cloister has a separate entrance. The Romanesque church is one of the oldest examples of its kind in Spain. You must also visit the hermitage attributed to Gabriel Guardia.
13. Beaches in Barcelona: Garraf Beach
If you're looking for a nice beach to unwind on during your visit to Barcelona, you must go to Garraf Beach.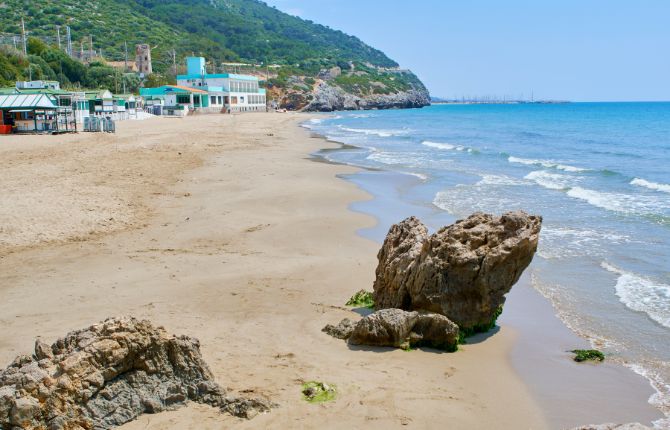 Known locally as El Garraf, this beach is located in Catalonia, a region in northern Spain. The beach is popular with locals and tourists alike.
You can find a great selection of hotels and other accommodations in the area, and the Garraf region is no exception.
The area around Garraf is home to the country's astronomical observatory, which offers guided tours twice a month.
It's also the perfect location for a special event such as a wedding or anniversary. If you have a car, it's easy to get around. The Garraf coast road is very well connected to Barcelona by train and car. You can easily take the R2 train from the airport towards Sitges. This journey takes about 30 minutes and costs around two Euros.
Garraf is a sleepy town located in the province of Catalonia. The town of Garraf sits above the rocks and has a lovely skyline.
The water is usually clean and warm, and there are plenty of old beach huts to rent. Garraf also has a small modern marina.
However, you should be aware that the train station does not have vending machines and no staff. The train is only in zone one, so you should avoid crossing the railway.
This beach is popular for rock climbing. Garraf Platja is about 30 minutes away from Sants Central Station. It has three sectors to choose from: El Coti (5.5-6c), La matare (6a+), and Nocilla Experience (6a+). Depending on your level of expertise, you can choose from the easiest sector – the El Coti – or take on a challenging route, such as the Nocilla Experience.
14. Beaches in Barcelona: Zona de Banys Fòrum
If you're planning a trip to Barcelona, you will want to check out the Zona de Banys Frum, the oldest beach in the city.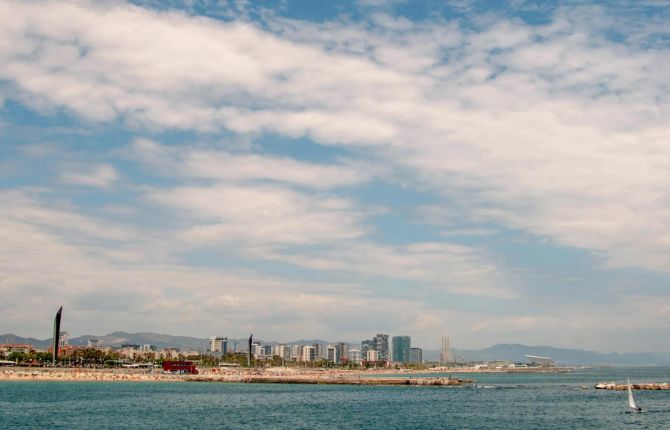 It is located just off Placa del Mar and features a 420-meter promenade with palm trees originally from Hawaii.
This beach is popular with tourists but is also a local favorite. You can enjoy the beach's lifeguards and restaurants, as well as a skate park and water sports.
This sandless beach is one of the most popular beaches in the city. The 375-meter-long, 30-meter-wide Forum Beach is a great place to swim in the sea.
During the summer months, the beach is open to the public seven days a week and is bounded by large rocks and floats.
There are lifeguards on duty during the summer months, and facilities include changing rooms and restrooms. There are even water skis available if you feel like a little more exercise.
The Forum Bathing Area is also suitable for people with disabilities. There are special sections of the beach that are designed to accommodate wheelchairs and other forms of mobility.
Other amenities include a lifeguard, restrooms, and showers. Despite being isolated, the Zona de Banys Frum is still easily accessible by public transportation, which is a great thing. You can even take a tram or bus to get here if you prefer that.
Beaches in Barcelona
Barceloneta Beach

Bogatell Beach

Nova Icària Beach (Platja de la Nova Icària)

Mar Bella Beach

Nova Mar Bella Beach (Platja de la Nova Mar Bella)

San Sebastia Beach

Ocata Beach

Somorrostro Beach

Sant Pol de Mar Beach

Llevant Beach

Castelldefels Beach

Sant Miguel (Platja de Sant Miquel)

Garraf Beach

Zona de Banys Fòrum
Beaches in Barcelona