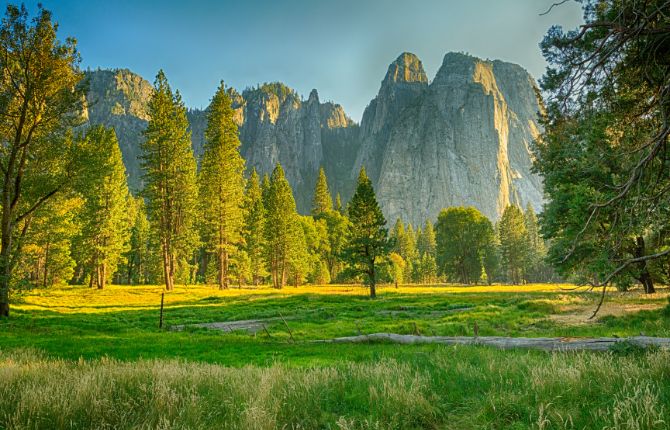 You're not alone if you've wondered, "Where is Yosemite National Park?". Yosemite is located in California's Sierra Nevada mountains, USA.
Located in eastern central California, Yosemite is famous for its giant sequoia trees, Tunnel View, the granite cliffs of El Capitan, and Half Dome. Visitors to Yosemite also can hike and bike along 750 miles of trails.
And the highest waterfall in North America, Yosemite Falls, can be found at this park. While it can be crowded in some areas, the park's unique wildlife can help you appreciate your surroundings.
A day trip to Yosemite is not enough to fully explore the park. Three nights and two days are necessary for thoroughly exploring the park's highlights.
However, if you're looking for backcountry hiking and exploring beyond the highlights, you should plan at least a two-day trip.
Here is some helpful information about the location of Yosemite National Park. 
Where is Yosemite National Park Located? 
John Muir, the famous mountaineer, discovered Yosemite National Park, located on the western slope of the Sierra Nevada mountain range in eastern central California. And the park is truly spectacular. 
This park was established in 1890 and is America's third national park. The park is home to over 750,000 acres of protected land and is rich in history. Its name comes from the common name of the native tribe that lived there.
It spreads over 1,200 square miles in the Sierra Nevada Mountains. And it is surrounded by San Francisco and Sacramento, while Las Vegas and Nevada are located southeast of the park. And Los Angeles is on the south side of the park.   
The park is open year-round; it is not accessible by car from November through May due to snow.
Map of Yosemite National Park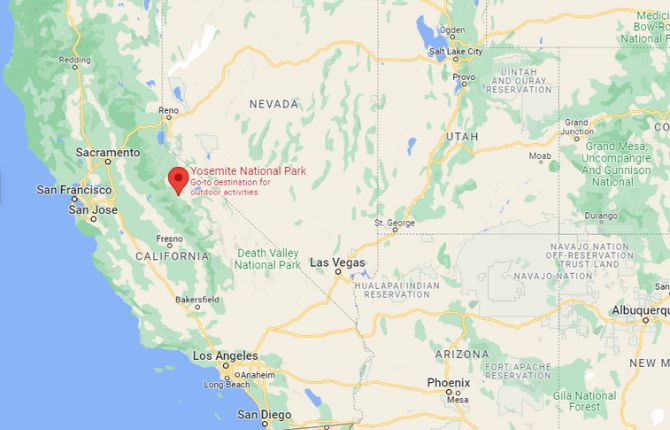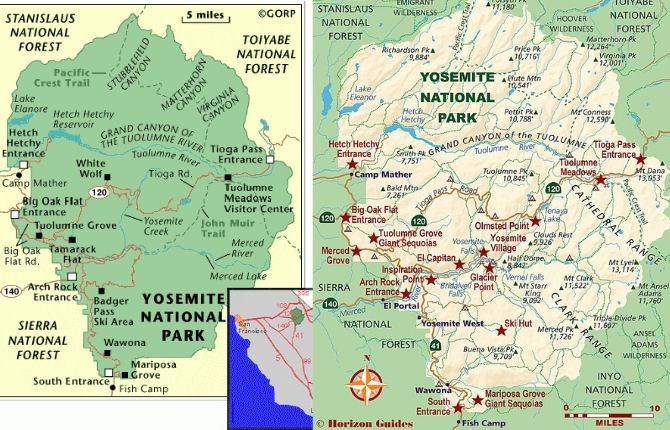 You can see five entrances to the park. Four (Hetch Hetchy Entrance, Big Oak Flat Entrance, Arch Rock Entrance, and South Entrance) are located on the park's western side.
And the other one is located on the eastern side of the park. It is called Tioga Pass Entrance.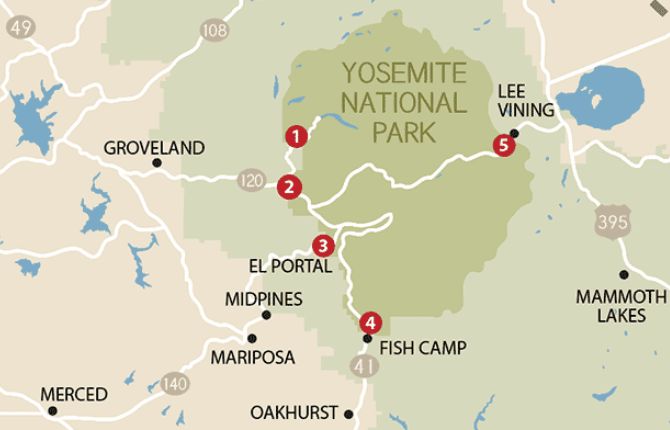 Visit Yosemite National Park From San Jose
Traveling from San Jose to Yosemite National Park can be a rewarding experience, but planning your trip can be a challenge.
There are 165 miles, so it will take around four hours to get there (if only without heavy traffic).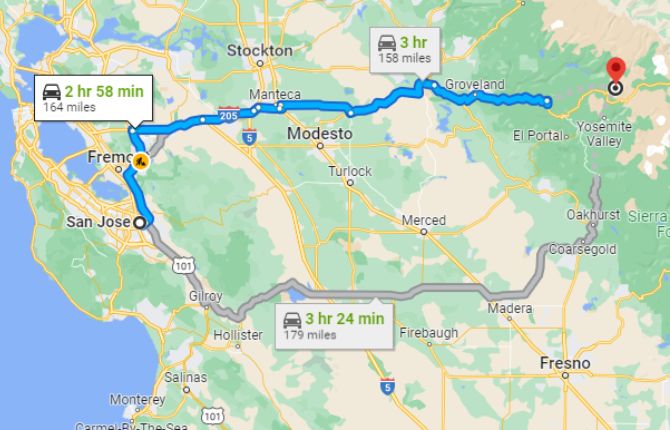 Luckily, there are many ways to enjoy the park while avoiding the hassle of navigating through the park.
Plan ahead. Booking lodging at Yosemite is best done at least three months before your trip. Yosemite is one of the few national parks that have Airbnb rentals within the park.
Consider booking accommodations in nearby towns to avoid paying top dollar for expensive hotels. But keep in mind that most accommodations are full during peak travel times.
If you're visiting during this time, traffic can cause significant delays. Additionally, parking lots at trailheads fill up quickly. So, consider a shuttle if you can!
Planning an organized tour will help you to explore many attractions easily. It is indeed easier than driving yourself or renting a car. Since most organized tour packages include hotel pickup and knowledgeable guides, you can get a great experience at the park.  
If you are renting a car, indeed plan to spend three nights to get the best experience.
The park's best seasons are May and September. It is generally busiest during July and August when over 700 thousand people visit.
If you're traveling in winter, the park is closed, so plan your trip around this time. During summer, the weather in Yosemite can be unreliable, so it's recommended to make your plans accordingly.
Visit Yosemite National Park From San Francisco
If you live in San Francisco, you should read this article to learn how to Visit Yosemite National Park from the Bay Area.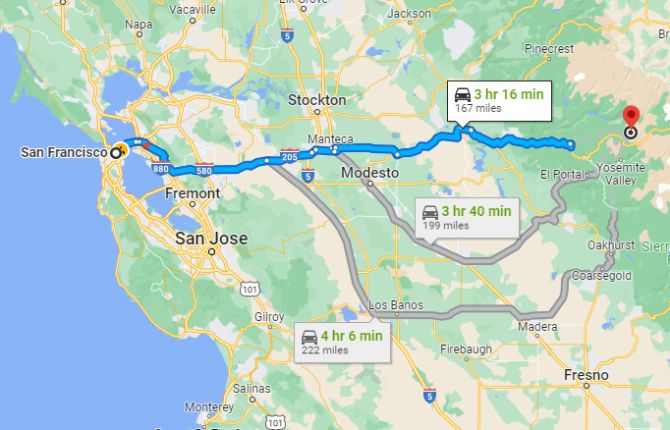 Visitors typically take organized tours, rent cars, drive themselves, or use a train or bus to get there. However, there are 167 miles to Yosemite National Park from San Francisco. So, it will take a minimum of four hours to get there. 
Just rent a car and enjoy all the natural beauty it has to offer. It is the most convenient way. The fastest route is via Highway 120. (Highway I-580 east → I-205 east → Highway 120 → Yosemite National Park)
Regardless of how you get there, you can count on the park's shuttle services to get you where you need to go.
If you have a day to spare, visit the El Capitan waterfall, which rises 620 ft above the valley floor. Visitors are often moved to tears by its beauty.
You should also check out Mirror Lake, a large swimming pool in Tenaya Creek that reflects the Half Dome's base. You can swim in the lake without much climbing, making it perfect for a family vacation or novice hikers.
You'll want to arrive at the Big Oak Flat Entrance Station around 9 AM to enjoy the best views of the park's interior. You can see Half Dome, El Capitan, and Bridalveil Falls from this location.
You can also hike among the sequoia trees and view the waterfalls. You can also take several hours on your own to explore the park.
Visit Yosemite National Park From Sacramento
Visiting Yosemite National Park is a great day trip from Sacramento. The park is more accessible than it might first appear.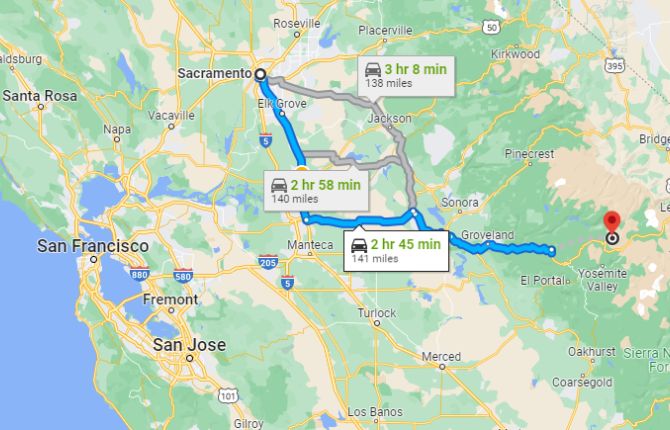 It's less than three hours from Sacramento (140 miles) and around one hour from Fresno (60 miles). You can get there by car, train, and bus.  
If you rent a car, start the journey by heading south on Highway 99 from Sacramento (Highway 99 → Highway 120 → Yosemite National Park). Then, it will take you to the Big Oak Flat Entrance of the park. 
There are many things to do in Yosemite National Park, including hiking and sightseeing. You can also rent bicycles to explore the park on your own.
To get to Yosemite from Sacramento, you can take the train too. It is one of the most popular ways. So, there are several scheduled trains to the park every day.
Start the train ride with San Joaquins Train, a passenger train service. Once you reach the park, you can take the train back to Sacramento.
Or, if you are trying to travel by bus, use the Amtrak station or Greyhound station.
To see the park at its most breathtaking, you'll want to take a hike. Choose a pair of hiking boots with good traction and break them in before you go.
If you're going to spend a lot of time hiking, consider adding an afternoon hike to your itinerary. During sunset, you'll have a spectacular view of the surrounding landscape.
While there are many hiking trails in the park, you'll likely want to go up a bit in elevation to get a view of the valley. You'll see thick fog in the early morning, but this will disperse by mid-morning.
You can even visit the Tunnel View lookout point, one of Yosemite's most iconic views.
Visit Yosemite National Park From Los Angeles
If you've ever wanted to visit Yosemite National Park from Los Angles, you've come to the right place.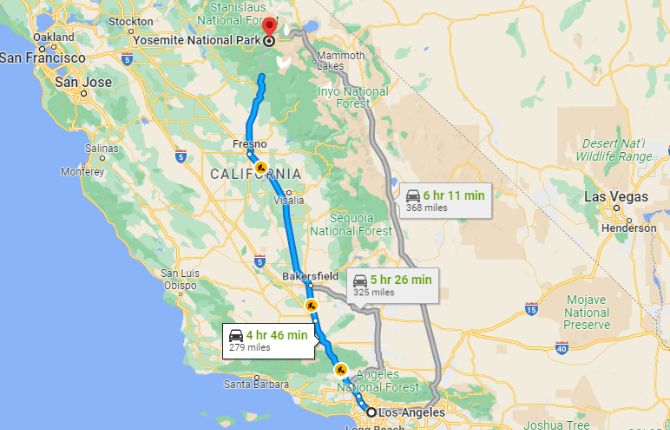 If you're traveling on a budget, there are several other ways to get to Yosemite. You can drive to the park from Los Angeles or rent a car and drive out to the park.
There are 280 miles, so that it will take a little more than 5 hours. (I-5 freeway north → CA-99 north → CA-99 CA-41 → Yosemite National Park)
Or you can take a flight or bus to get there. You are obviously, flying the fastest and easiest way. If not, just take a bus from the Greyhound terminal in downtown Los Angeles. But, the bus will take more than 10 hours. 
Taking the train is also easy, and you'll find some exciting places to see along the way. While there are many shuttles from Los Angeles to the park, the eastern route is a more scenic way to go.
You'll see Giant Sequoias, some of the tallest in the world. From Mariposa Grove, you'll continue to the Glacier Point Road, which winds through coniferous trees to an impressive vista of Half Dome.
You'll probably have to spend a night in a motel near the park. Mono Lake is an excellent spot to stay in between. It has crystal blue water and views of snowcapped mountains in the distance.
A visit to Mono Lake is a must for anyone visiting Yosemite from Los Angeles. The Tioga Pass Entrance is one of the most scenic ways to enter Yosemite and is a great place to start your trip.
While there are many ways to get to Yosemite National Park from Los Angeles, make sure you check the weather forecast and any safety measures that may be in effect.
Yosemite National Park
While it can be crowded, you can also explore the lesser-known trails in the park. Also, near the park's entrance, you can explore the Yosemite Museum and visit the Ansel Adams Gallery, which features prints of famous landscapes.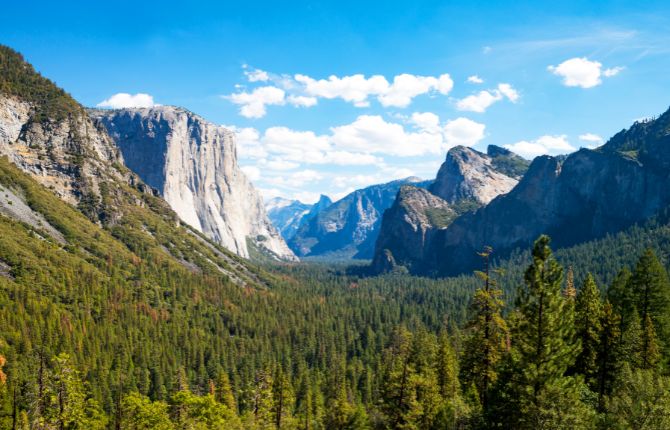 And if you're in the mood for shopping, don't miss Yosemite Village, where you can buy souvenirs.
Whether you're looking for roaring waterfalls and cool temperatures, Yosemite has four seasons to suit every vacation style. The park's early spring opens the Merced River, and you can hike to alpine lakes.
You'll find many accommodations throughout the park, from tent cabins to luxury national park lodges. The Wawona Hotel, for example, has changed names over the years, but its original name remains the same.
The park is home to the tallest tree on earth, the famous Half Dome. Its height is 279 feet, and its diameter is 30 feet. Sequoias are the third oldest tree species in the world, and only a small portion of them survive in the area.
The oldest one is believed to be over three thousand years old. But if you're not a climber, you can still explore the nearby trails, which are just as beautiful and scenic.
Where is Yosemite National Park