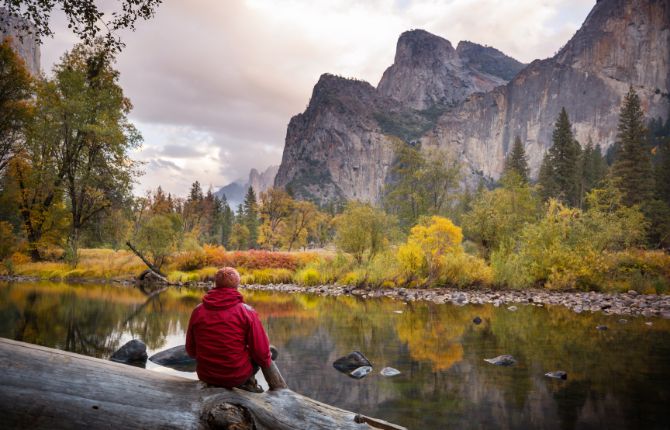 If you are planning a trip to Yosemite National Park, you will want to know what to expect from the park's weather. Read on for tips on the best time of year to visit Yosemite, as well as the worst time to visit.
May, July, and September have the perfect weather in Yosemite NP for visitors. So, let's plan a tour.
Weather in Yosemite National Park
The weather in Yosemite National Park varies widely. The month of September is usually warmer than the drier months of July and August. The daytime highs vary widely by month.
In October, temperatures are in the mid-60s, while in November, the high country is closed for snowfall. However, temperatures can still be quite pleasant even during these months.
The average temperature in May in Yosemite is 72 degrees Fahrenheit. There's a slight chance of rain, but the daytime highs are high. Rainfall is very minimal – around five days in May.
Snow generally melts during late March or early April. During the latter half of May, the Tioga Road opens, allowing visitors to travel from Las Vegas.
While summer weather is generally pleasant, temperatures can vary by up to sixty degrees. And it is the peak visiting season.
You'll want to check the forecast each day to avoid any surprises on your trip. You can also check webcams to see whether any road or trail closures are scheduled for the day.
During your stay in the Valley, the temperatures will be pleasant – ranging from low 70s to low 90s. A few days can be extremely cold, but they're still bearable.
July is the peak summer season, so you'll find plenty of wildlife. In July, all the hiking trails in the park are open. Hundreds of miles of trails will allow you to explore the area.
July is also the perfect time for backpacking, especially since snow is melted. With temperatures so mild in July, you'll be able to enjoy your vacation in Yosemite. So, go ahead and book that Yosemite trip.
Best Time to Visit Yosemite National Park
There are many reasons to visit Yosemite National Park, but the best season is not necessarily summer or winter. The best time to visit Yosemite National Park depends on whether you want to experience the waterfalls in May or enjoy the peaceful atmosphere of mid-summer.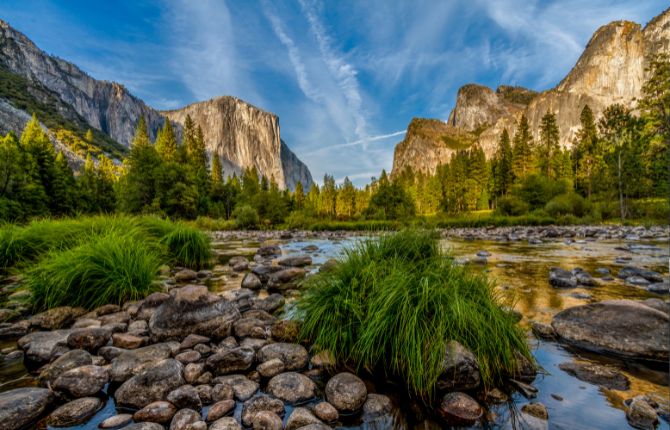 Here are three reasons to visit Yosemite National Park during these seasons:
The summer season is usually the most popular time to visit Yosemite. June through August is considered the peak travel months, with Memorial Day through Labor Day being the busiest time.
However, the attendance of the park fluctuates every ten years, and peak season can change from year to year.
If you want to avoid the crowds, go in September or October. The winter months are generally colder, but they still offer plenty of outdoor activities.
The spring months are ideal for spotting waterfalls, and you can catch a few of them during this time. Snowmelt in the mountains thaws and flows down into Yosemite Valley.
Hiking at moderate elevations is a popular spring activity and spring temperatures are pleasant enough to make the trip.
As long as you're not rushing into July, you'll have a chance to see the park and waterfalls without crowds.
If you're visiting Yosemite during the winter months, you can enjoy the snowy landscape during the early winter.
In mid-late February, the sun is at the right angle and the horsetail falls are lit up in a fiery orange glow. Visitors should bring snow tires or chains to access the snowy trails.
If you plan on spending the winter months in Yosemite National Park, plan ahead and book your accommodations.
Best Season to Visit Yosemite
When is the Best Time to Visit Yosemite National Park?
May through June is one of the best times to visit. The temperatures are near 70 degrees, though there is still snow at the higher elevations.
In mid-to-late May, waterfalls are at their most spectacular. However, it's important to note that some roads are closed in May and June.
To find the best time to visit Yosemite, check the weather forecast for the area you'll be visiting.
The best time to visit Yosemite National Park depends on your preferences. For those who love waterfalls, spring is the time to visit. The snowmelt in the mountains is at its heaviest during this time.
Spring is a great time to see the waterfalls without the hassle of driving through snow. Moreover, until June, Tioga Road isn't plowed.
During the summer months, it's best to visit Yosemite in the early morning to avoid the crowds. Early mornings are also ideal for wildlife spotting too.
Alternatively, you can choose to explore the park's east side, which is less crowded than the Valley. If you are visiting in the summer, you can enjoy the tranquility of the park's outlying areas.
If you're traveling with children, lower Yosemite Falls is a popular hiking spot. It's a one-mile loop, mostly stroller-accessible.
You can also hike up the Upper Yosemite Falls trail, which climbs 2,700 feet. The trail also takes you through Mirror Lake, where the water recedes and turns into Mirror Meadow. The trail is mostly flat, but you'll want to allow plenty of time.
Best Month to Visit Yosemite
The best time to visit Yosemite National Park is mid-May to early June, as temperatures will be comfortably warm.
Precipitation will also be low, although higher elevations will still have snow. May is also peak waterfall season, and visitors will find the falls awe-inspiring. But be sure to bring plenty of water, as temperatures in the park can drop below freezing at night.
May and September are the best months to visit. However, September and October are also great months to visit, as temperatures are generally mild and pleasant.
However, it's important to know that roads are closed during these months, which will make your trip a bit more difficult. Visiting during these months will allow you to take advantage of the park's amenities and activities.
October isn't the best time to visit Yosemite. While you can see the first leaves of fall in November, the fall foliage won't be nearly as spectacular.
You won't see many fall colors in October, and the majority of the trees in the park are Evergreen. However, if you're a fan of waterfall hikes, April and May are ideal months to visit.
The most pleasant time to visit Yosemite is between September and October. This season brings crisp, cool air, and plenty of opportunities for hiking, rock climbing, and more.
After mid-September, temperatures will start to drop and services will close on Tioga Road. Winter is the least popular time to visit Yosemite National Park, and chilly conditions will be more common.
However, October and November are still good times to visit, with mild temperatures.
Summer and winter are peak tourist months, but visitors can still visit Yosemite throughout the year. However, the 4th of July weekend is the busiest month for the park, and large thunderstorms are common during these months.
Check the weather and plan your trip accordingly. If the weather looks bad, go for a more remote and scenic time. The park is crowded in July and August, so go early in the morning.
Worst Time to Visit Yosemite
Despite what you've heard, there's no bad time to visit Yosemite National Park. It's generally very pleasant all year round, with breathtaking views and activities.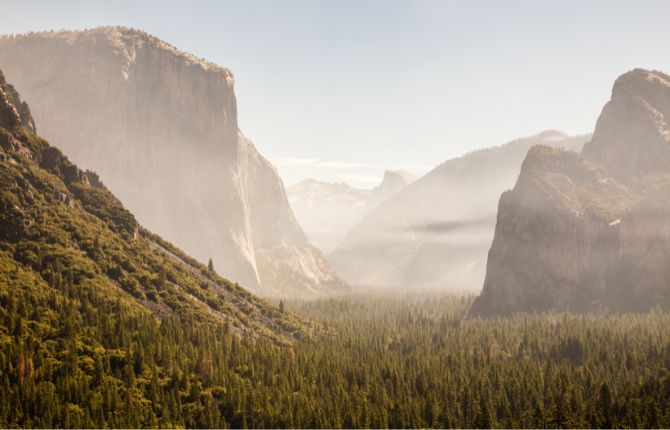 However, you should keep a few factors in mind before you decide when to visit. For example, when is the best time to visit? Also, what are the most popular activities in the park? Which months are the busiest?
The peak tourist season is mid-summer, with crowds in the valley and vantage points. You may also find that the park is overcrowded, particularly on weekends.
Besides crowds, it can also be very hot. Temperatures can reach a high of 90 degrees during this time, and the falls are often dry. That is why it's best to visit in the early morning during summer. 
Spring: It's a great time to visit Yosemite in the spring when wildflowers bloom and waterfalls are at their most beautiful. While the park is very popular in the summer, springtime visitors are likely to find it less crowded.
However, you should still plan ahead, since springtime doesn't guarantee a sunny, warm day. In addition to this, it's important to take into account road closures.
The summer is the busiest time to visit Yosemite, so if you're looking for solitude, this is not the best time to visit.
However, summer is the best time to enjoy the Merced River. It's also ideal for hiking and camping, and the temperature is perfect for outdoor activities like camping.
If you want to experience the park with minimal crowds, try visiting the east end of the valley. Those areas are less popular and are the best place to avoid traffic. Also, if you're looking for something quiet and secluded, try visiting outlying areas.
Fall is another great time to visit Yosemite. The temperatures are cool and pleasant in the valley, but you'll also have fewer people on the roads.
However, it's best to avoid visiting the park during the summer months.
In addition to fall colors, fall also has fewer crowds and lower lodging prices. You'll have fewer crowds in the park, which is a plus for those who want to go rock climbing.
Yosemite National Park Weather