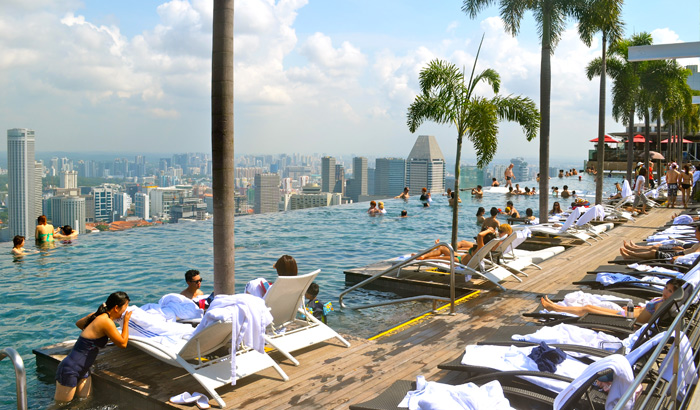 Marina Bay Sands started to get famous since it was announced in 2000. Everyone was expected that this would be an iconic landmark in Singapore. Especially Marina Bay Sands Pool. After opening it in 2010, it proved all the expectations by becoming one of the best Singapore skyline icons. Here is some important information about Marina Bay Sands Pool.
Marina Bay Sands Pool
About Marina Bay Sands
About Infinity Pools
Get access to Marina Bay Sands Infinity Pool.
Is it worth booking a room in Marina Bay Sands?
Things to in Marina Bay Sands
About Marina Bay Sands
As the symbol of Singapore, Marina Bay Sands Luxury hotel produces 1% of Singapore's GDP. When you visit there and look at this enormous building, you can get an amazing view through the bay. This building includes 3 towers with 58 stories in height and a massive Skypark on the top to connect each of the three towers amazingly.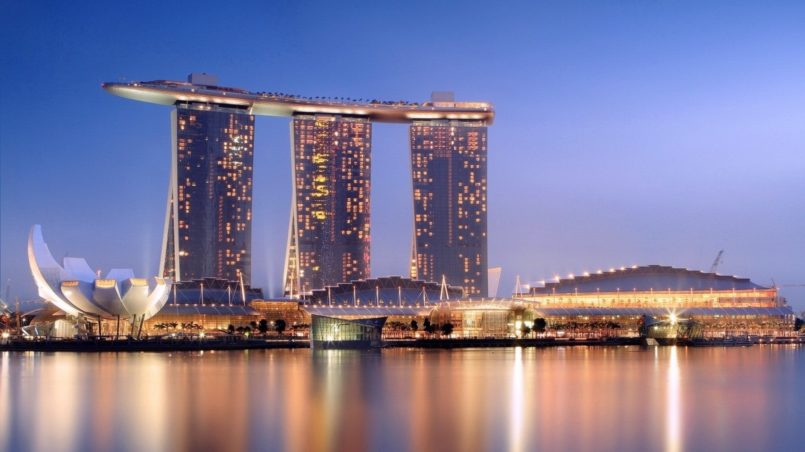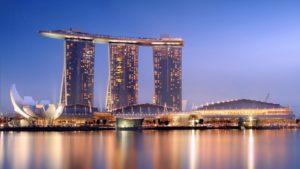 The hotel Marina Bay Sands has an impressive number of 2561 rooms. And also, the massive Skypark is longer than the height of the Eifel Tower. On the two edges of the Skypark includes restaurants, bars, and many enjoyable things. It can accommodate around 4000 people.
Planning to visit Thailand?? Do not miss the Floating Markets in Thailand
The middle is filled with the legendary Marina Bay Sands Infinity Pool. It is called an engineering miracle of the century. And the pool is 150m long and has 376,000 gallons of water. Can you imagine how many employees are working in this miracle building? It is around 10,000 employees. 
The total height of the building is around 200m and having 57 floors. And the construction cost was more than 8 billion SGD. The most incredible thing is that it is earning more than 1 billion SGD per year. And the owner of this huge project is the well-known casino company Las Vegas Sands Corporation. So, obviously, Marina Bay Sands also has casino tables and slot machines.
Personally, I mostly love the Marina Bay Sands infinity pool. So, I thought you share some general information about infinity pools.
About Infinity Pools
Infinity pools or zero-edge pools are creations to feel no separation between water and the surrounding landscapes. And it really creates a visual trick on your eyes to feel like disappearing into the horizon.
The creator of this design is the US architect John Lautner. Actually, he has started to do these vanishing edge swimming pools in Southern California in the middle of the 20th century. And then it spread throughout the world. Therefore, this design is called the "Lautner Knife-edge design."
The mechanism of these infinity pools is almost like a natural waterfall. That means you can see the water go over the edge and disappear in the air. Actually, what happens is the water goes down to a lower level and is captured in a lower pool, and then overflows again as more volume cascades down from the top.
This kind of pool has a single lower level. So, that lower pool edge is working like a dam that overflows into a lower catch basin. And from that lower basin, water is pumped back into the upper pool to create a continuous flow.
The world's best-known infinity pool is Marina Bay Sands Infinity Pool. Creating this kind of infinity pool definitely takes a huge cost. To avoid water flow in the wrong direction, it is needed to create a vacuum basin and a unique water filtration system from bugs, leaves, and all.

And some people think that these infinity pools are not safe. That's not true. Because the disappearing edge is totally a visual trick and not actually disappearing at that edge. Even the Marina Bay Sands Pool is completely safe even it exists 57 stories above the sky.
How to get access to Marina Bay Sands Pool
If anyone visits Singapore, they should feel like swimming in Marina Bay Sands Pool for sure. But the thing is, you have access to the pool only if you are a guest of the hotel. Otherwise, you cannot just get access to the pool to swim.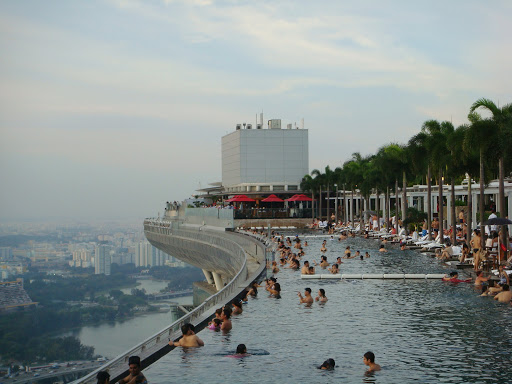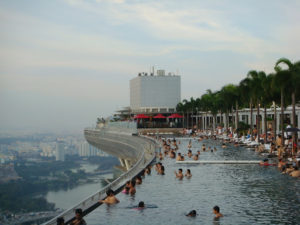 I know now you worry about the luxury prices of Marina Bay. Yes, you should. Because to get access to the pool, you must check in to the hotel at least for one night. But when you are booking a room, keep in mind to select a room with a good view. Some rooms do not have any view. For example, the rooms on lower floors do not have any view. On the other hand, rooms on the upper floors have spectacular views.
So, when you are booking the room through any hotel booking website, do not forget to check whether the room has a view or not. If the website is not specifically mentioning a view, that means there's no view at all. You can select either city view or harbor view. Both are amazing. I personally prefer the city view.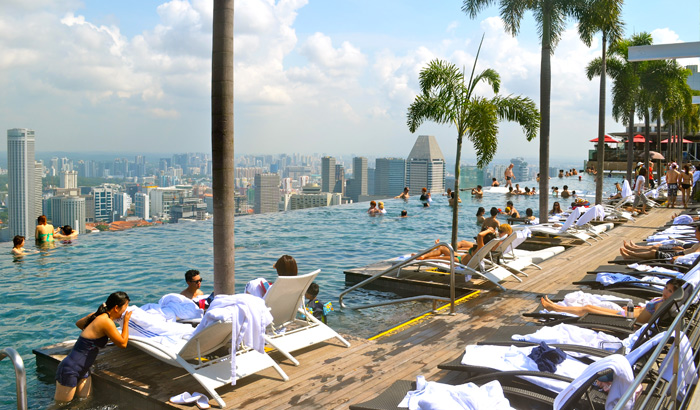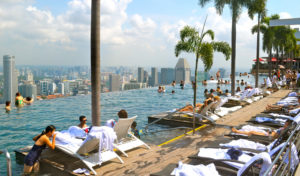 Is it worth booking a hotel room at Marina Bay

Sands?
Of course. It is more worth book a room and stays in Marina Bay Sands. Most of the review websites and even social media real comments highlight that visiting this amazing hotel is an unforgettable experience of their lives. And also most people recommend the others to visit and get the experience.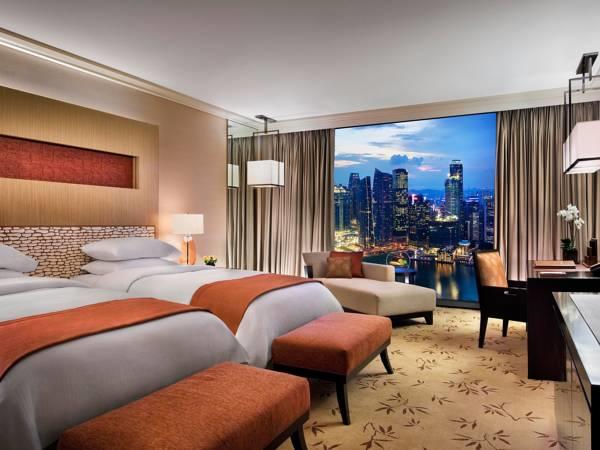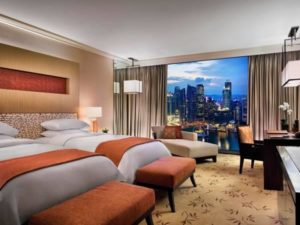 More visitors like us check in to the hotel for one night to get the swimming experience in the infinity pool. If you are also booking a hotel room only to get that pool experience, try to avoid crowded times and get the best experience.
Especially in the late afternoons, there are many visitors to the pool. So, try to visit in the early mornings, early afternoons, and at lunchtime. When you book the room, you will get a wrist band as an access material to the Marina Bay Sands Pool.
Book your room at Marina Bay Sands from this link. 
Best Things to do in Marina Bay Sands
Apart from swimming in the Marina Bay Sands infinity pool and viewing outside through a luxury hotel room, there are many things to do. The following things can be highlighted as the best things to do.
Visit Marina Sands Sky Park Observation Deck
The first thing on the list for the people who cannot afford to check into a room in Marina Bay. There are some options for you to reach the Sky Park or the hotel's roof and get a magnificent view of the whole city. Here are the ways.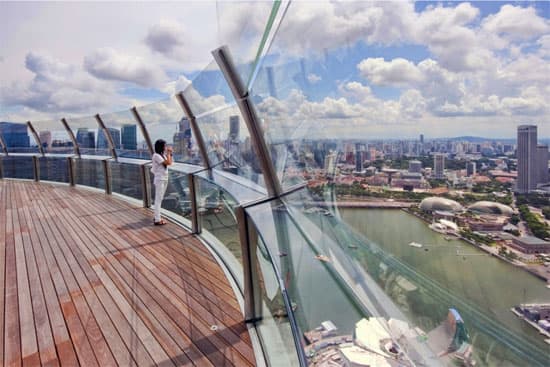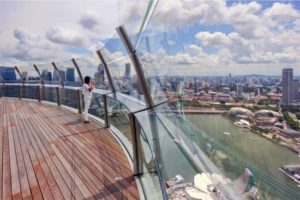 You can visit the Marina Sands SkyPark Public Observation Deck, located on the top of the 3rd tower. Anyone can get access to this deck (even you are a hotel guest or not). The ticket charge per person is around $17. Yes, it is far less than the amount of a hotel room price. So, I think this is the best way to visit Marina Bay for a budget traveler.
On the other hand, as a tip, I recommend you book a ticket online to avoid the long queue and not miss the sunset and the night views of the Singapore sky. When you book an online ticket, no need to take printouts of the tickets. You need to show it from your smartphone. And also, the tickets are valid until 6 months from the booked date. So, visit definitely and take some amazing pictures.
Visit Rooftop Restaurants and Bars
This option is for travelers who do not like to share the top views of Marina SkyPark with many people in the public observation deck. You can visit any of the rooftops restaurants or bars. If you are not a hotel guest, you may have to pay $15 as an admission fee. Then the food is also somewhat high priced and prepare for that before going there.
And one more important thing is that you should wear a smart casual dress code for those restaurants, especially after 6 pm. Therefore, do not wear typical day-to-day clothes.
Planning to visit Dubai?? Just read these facts about Visiting Burj Khalifa in Dubai
Participate in the music and concerts in Marina Bay Sands
There are a lot of entertaining items happening inside Marina Bay. Movies, musical concerts, circus shows, and many more things.
Join Casino in Marina Bay Sands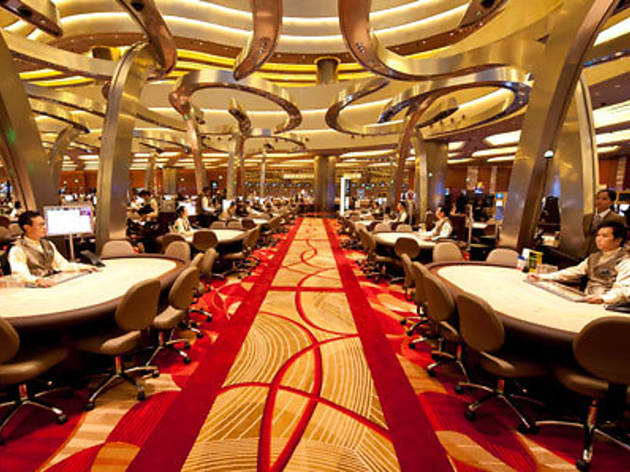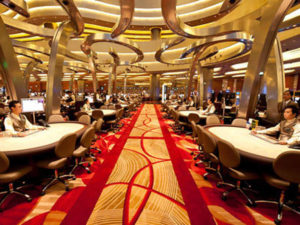 If you have more money and want to check your luck, then try Casino in Marina Bay. This is the biggest freestanding casino, with over 20 different casino games on 600 tables. If you are a tourist, then you are freely allowed to enter the fantasy. And if you are a Singapore resident, then you have to pay 100 SGD as admission. So, bring your identity or passport with you to enter freely.
Visit the Art Science Museum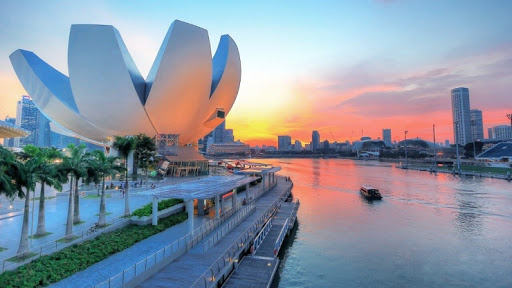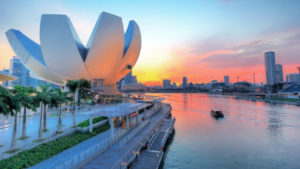 This one is located in front of the hotel, which is also a part of Marina Bay Sands. This museum structure looks like a lotus, and it contains many arts, technology, lifestyle, fashion, culture and science exhibitions, and displays.
Watch spectra light and water show.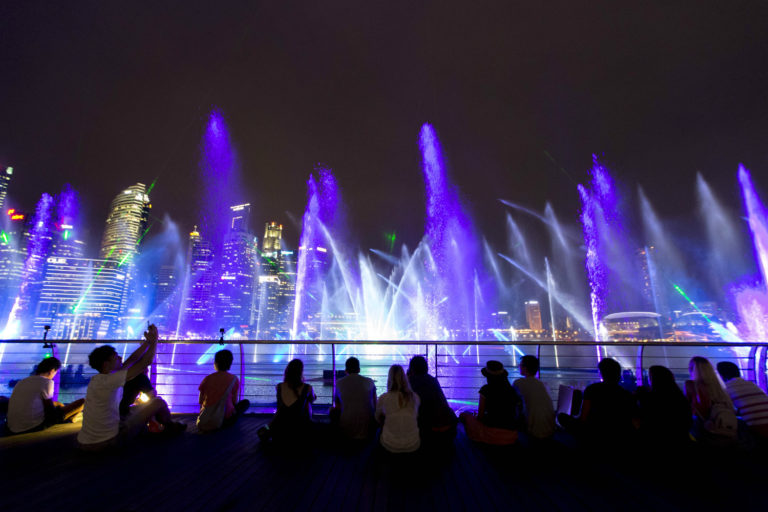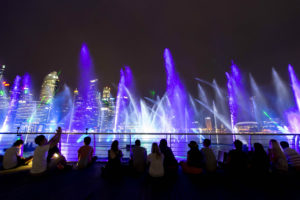 If you visit in front of the Esplanade theater or opposite side of the Bay in the evening, you can see this spectacular spectra light and water show of Marina Bay Sands free of charge. Normally the show exists at 8 pm and 9 pm on weekdays, and on Fridays and Saturdays, there's an additional show at 10 pm. So, do not miss this 15 minutes elegant show.
Do Shopping in Marina Bay Shopping Mall
If you want to shop for the world's best brands in Marina Bay, then here's the chance for that. You can shop on a grand scale while hiring a personal shopper for around 250 SGD for 3 hours.
Enjoy your tour in Marina Bay Sands, Singapore.
Did you enjoy the article?? Just pin it for later.