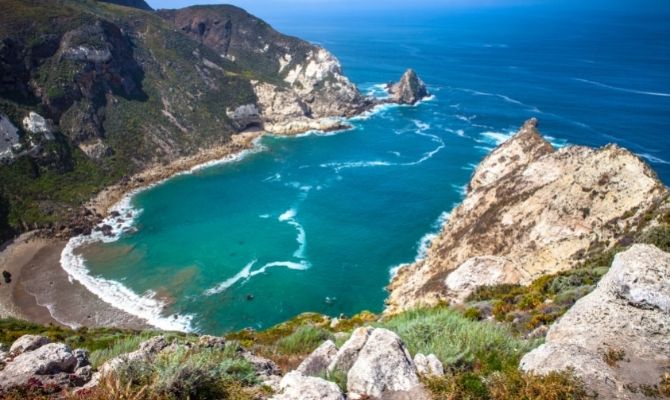 Santa Cruz Island in Channel Islands National Park in California is one of the best islands to watch blue whales in the world. Not only that, this island is filled with various wildlife like brown pelicans and small foxes. Therefore, it is called Galapagos Island in North America. The Channel Islands is a volcanic archipelago with 5 islands, and Santa Cruz is the largest one.
Apart from ocean activities like ferrying, kayaking, diving, and snorkeling, there are many adventures like hiking and camping. I hope you are curious to know more about Santa Cruz Island. So, here's the complete travel guide.

Santa Cruz Island
Where's Santa Cruz Island located?
Channel Islands National Park (an archipelago with 8 islands including Santa Cruz) is located off the coast of Santa Barbara in California in the USA. I think it is one of the most natural and well-preserved places in California. Santa Cruz or Isla Santa Cruz has around 250km² land area.
Only one-quarter of the island belongs to the national park. The other major islands in the archipelago are Anacapa Island, Santa Rosa Island, San Miguel Island, and Santa Barbara Island, while Santa Cruz is the largest. (Santa Cruz Island) 
Suggested Reading: Waiheke Island in New Zealand
How to get to Santa Cruz Island?
Reaching Santa Cruz Island is just an amazing cruise journey of one hour through the Pacific Ocean's turquoise water. And Anacapa Island is the closest island, while the others are 3-4 hours away from the mainland.    Well, there are three ways to get to Santa Cruz Island. They are: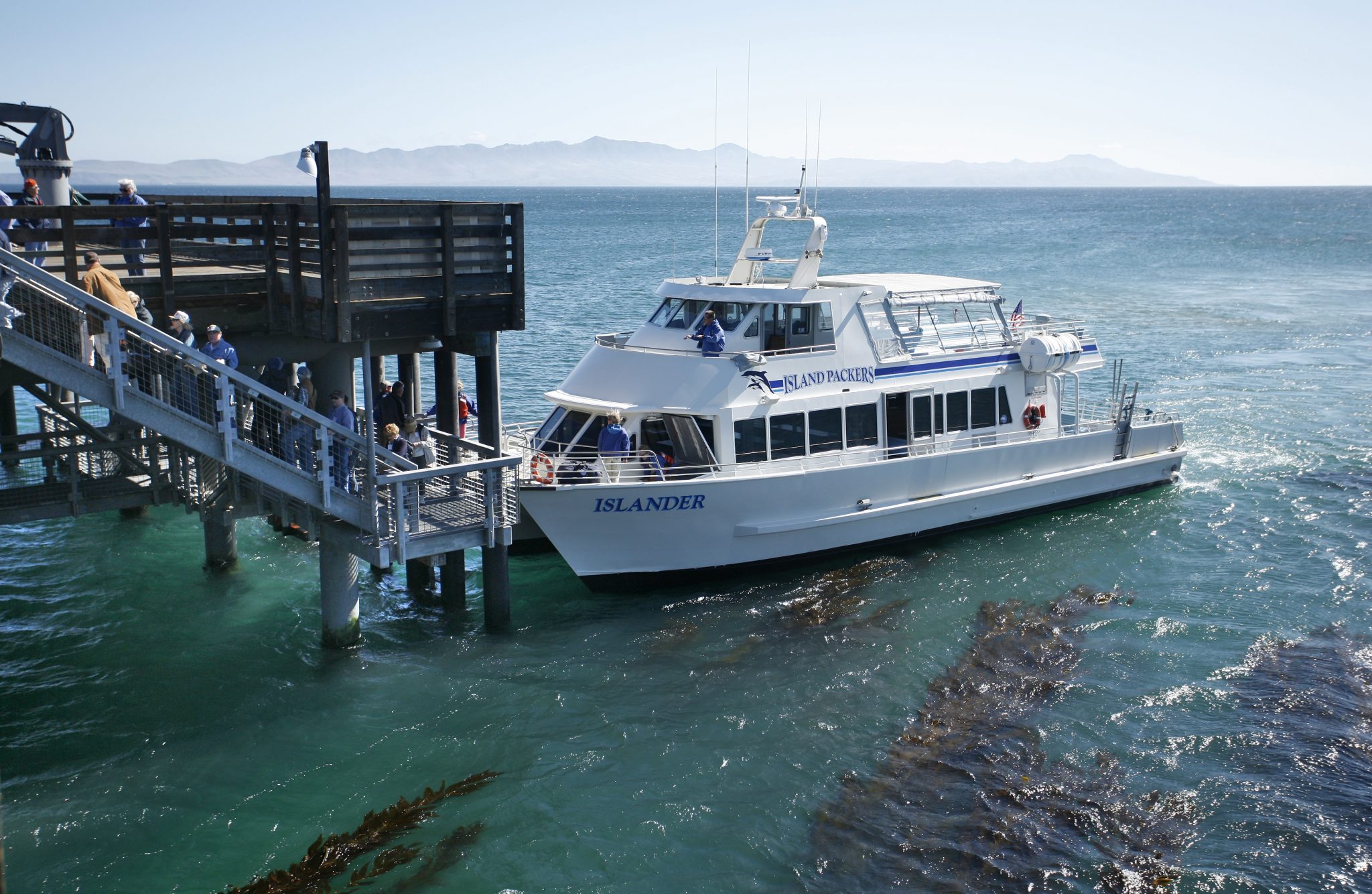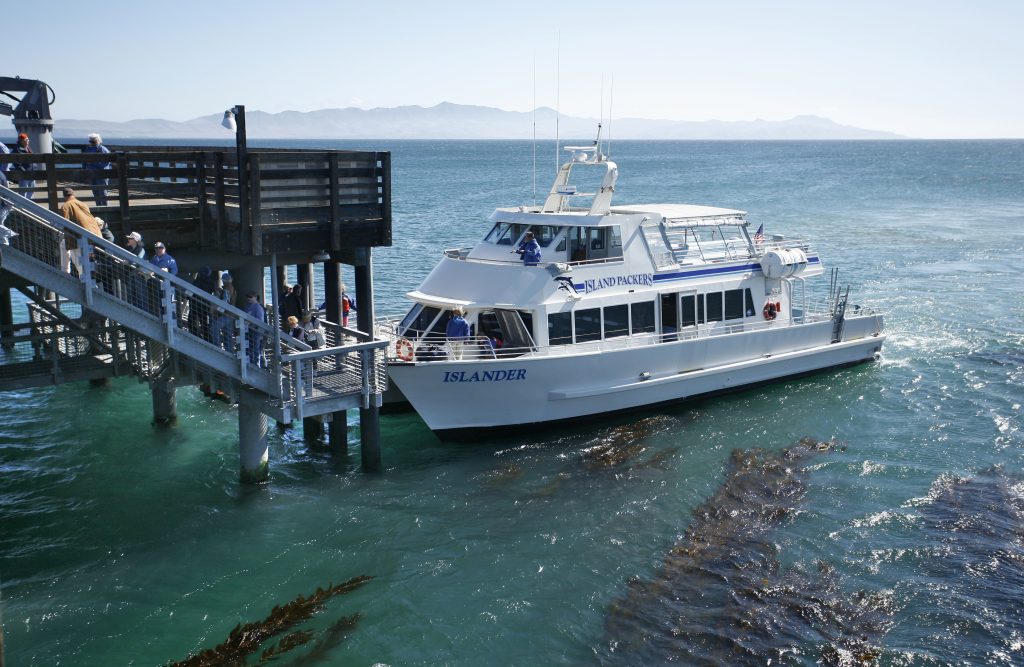 So, I suggest you cruise with Island Packers Cruise in California. They offer cruises 5-7 days per week throughout the year. And the cost is also affordable ($60 per person for a roundtrip to cruise Santa Cruz). Normally Island Packers leave from Venture Harbor in California between 8.00 am to 9.00 am, and within one hour, they reach the island.
And they stop at a few stops on the island with hiking, snorkeling, diving, kayaking, swimming, and sightseeing opportunities. Then, return between 4.00 pm to 4.30 pm. 
That means, for a day tour, there are around 6 hours. But, keep in mind to book your seats on the cruise earlier as there's a high demand for day tours to Santa Cruz (visit their website and book). And also, they always recommend you reach the harbor at least 45 minutes before the leaving time.
And my tip is that you will get the best seat to get the best views if you arrive earlier. (Santa Cruz Island)  
Santa Cruz Island weather
The islands in Channel Park mostly have a kind of Mediterranean sunny climate. But, there are 4 different seasons. They are spring, summer, fall, and winter. And each season has its own unique characteristics and gives different colors to the islands.
So, it is encouraged to travel the Channel Islands throughout the year. (But, do not forget to check the weather forecast before you plan the tour)
Suggested Reading: Tahiti Island in French Polynesia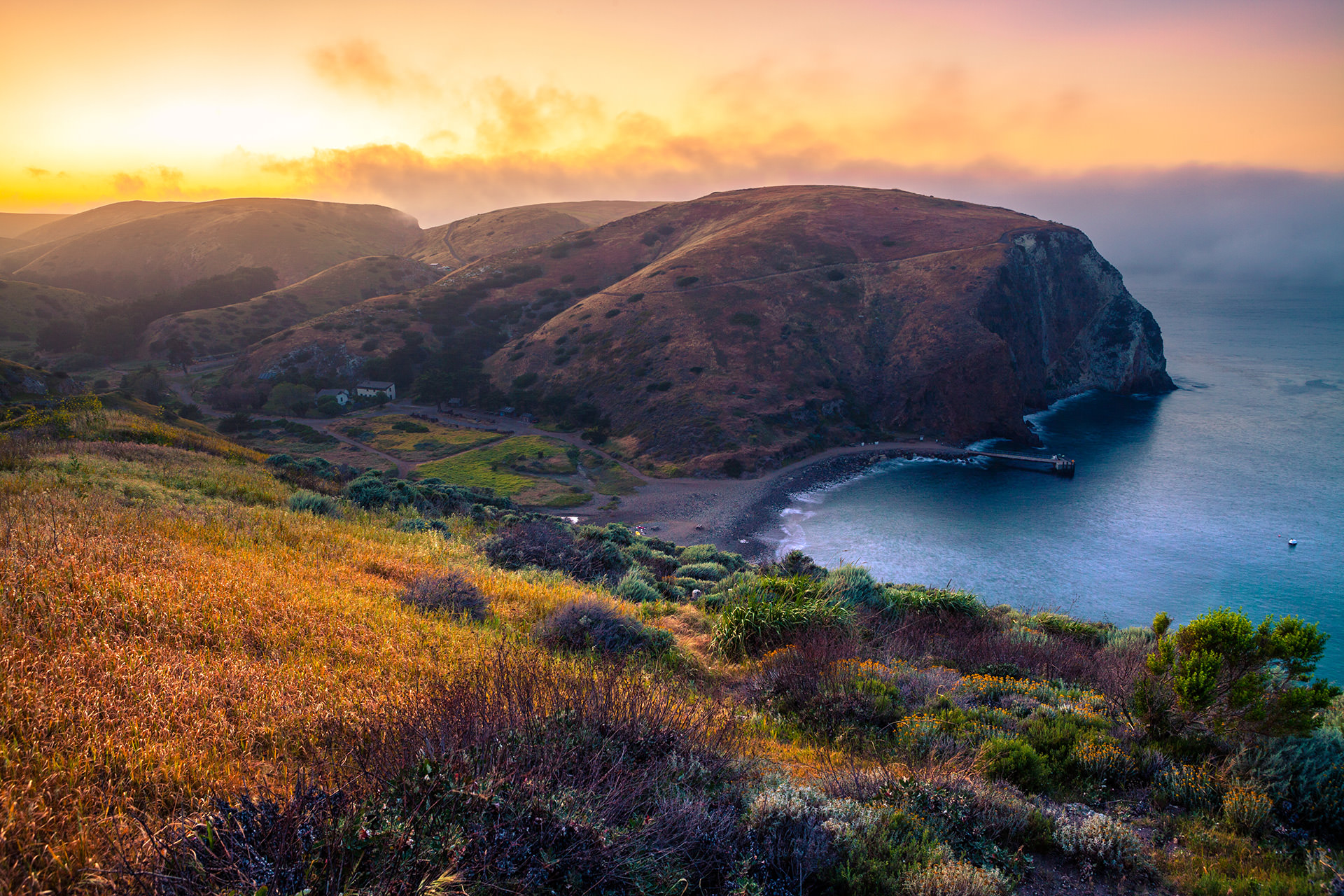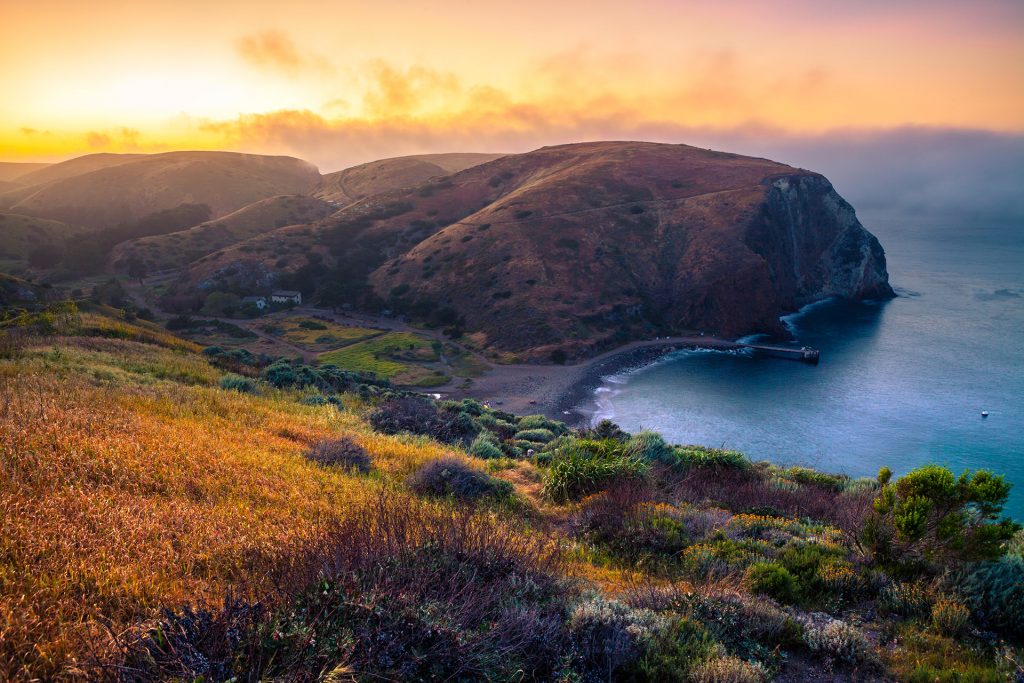 Best time to visit Santa Cruz Island
The Channel Islands National Park is open year-round. Especially, Anacapa Island and Santa Cruz are accessible year-round. However, San Miguel, Santa Barbara, and Santa Rosa are accessible by boats only from April to November.
The best time to visit Santa Cruz is summer (from June to September) and spring (from late March to May). But, summer attracts a huge number of tourists compared with spring. Hence there are limited transportation opportunities.
And also, in the summer, most of the plants dried up due to hot temperatures. If you like to see more plants and green views of the island, then visit in spring. (Santa Cruz Island) 
Things to know before you visit there
This park was established in 1980, and it is not so crowded park compared with other parks in the USA. 
Just like Galapagos, there are so many endemic species on Santa Cruz Island.
The ocean around this park has a high concentration of blue whales. 
Bring all the things like water and food as there are no such things available on this island. That means you are completely entering a very secluded place on this planet.
Do not expect hotels. If you need to spend a night here, get ready for camping because it is the only option. 
This is almost heaven for water sports.
Sunscreen is a must as the island is so sunny. And if you have seasickness, do not forget those medicines. (Santa Cruz Island) 
Bring some cash. (there's no ATM and place to spend money)
Things to do in Santa Cruz Island
There is a lot of things to do in Santa Cruz Island in Channel Islands National Park. I recommend the following things not to miss on your tour. 
Santa Cruz Island camping
I personally believe that a tour of Santa Cruz Island is not complete without camping. There are 2 campgrounds here. They are Scorpion Ranch Campground and Backcountry campsite. Scorpion Ranch is more family-friendly and has some facilities as well. Under the island's oak trees, you can have fun with your family on your weekend tour. (Santa Cruz Island)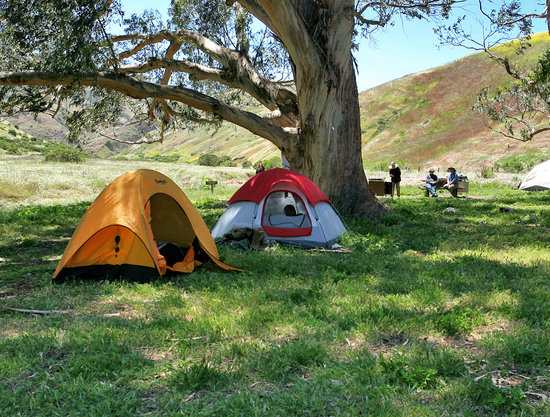 But if you want to feel more the nature, ocean, clear skies with stars, try Backcountry camping.
Whatever the place, you must book it online or via phone (877-444-6777) at least five months in advance. Normally the cost is around $15 to $20 per night.
Suggested Reading: Best Florida Springs Camping
Santa Cruz Island hiking
There are plenty of trails on Santa Cruz Island. I think there are over 15 various kinds of hikes with various distances. Cavern Point/Potato Harbor hike and Scorpion Canyon hike are more highlighted.
If you are on a day tour, then it is better to choose a short hike. 
If I share the experience of hiking the Cavern Point, you can start the trail within 5 minutes after the walk-up from the pier. When you come near the museum, you will see a small sign for Cavern Point Loop Trail (2 miles).
You will be surprised by blue ocean views, sea caves, large cliffs, Anacapa Island, and many more throughout this trial. And once you made it to the top, that means Potato Harbor Overlook; you can get a very calm, crystal blue water of the Pacific Ocean down.
Once you photograph all the scenic views, I suggest you get back via Potato Harbor Road. Because the way is so stunning with coastal views and adventurous with some island-specific animals like foxes, then you can reach the campground and rest for a while. If you have more time, I suggest you continue Scorpion Canyon Loop Trail.  (Santa Cruz Island)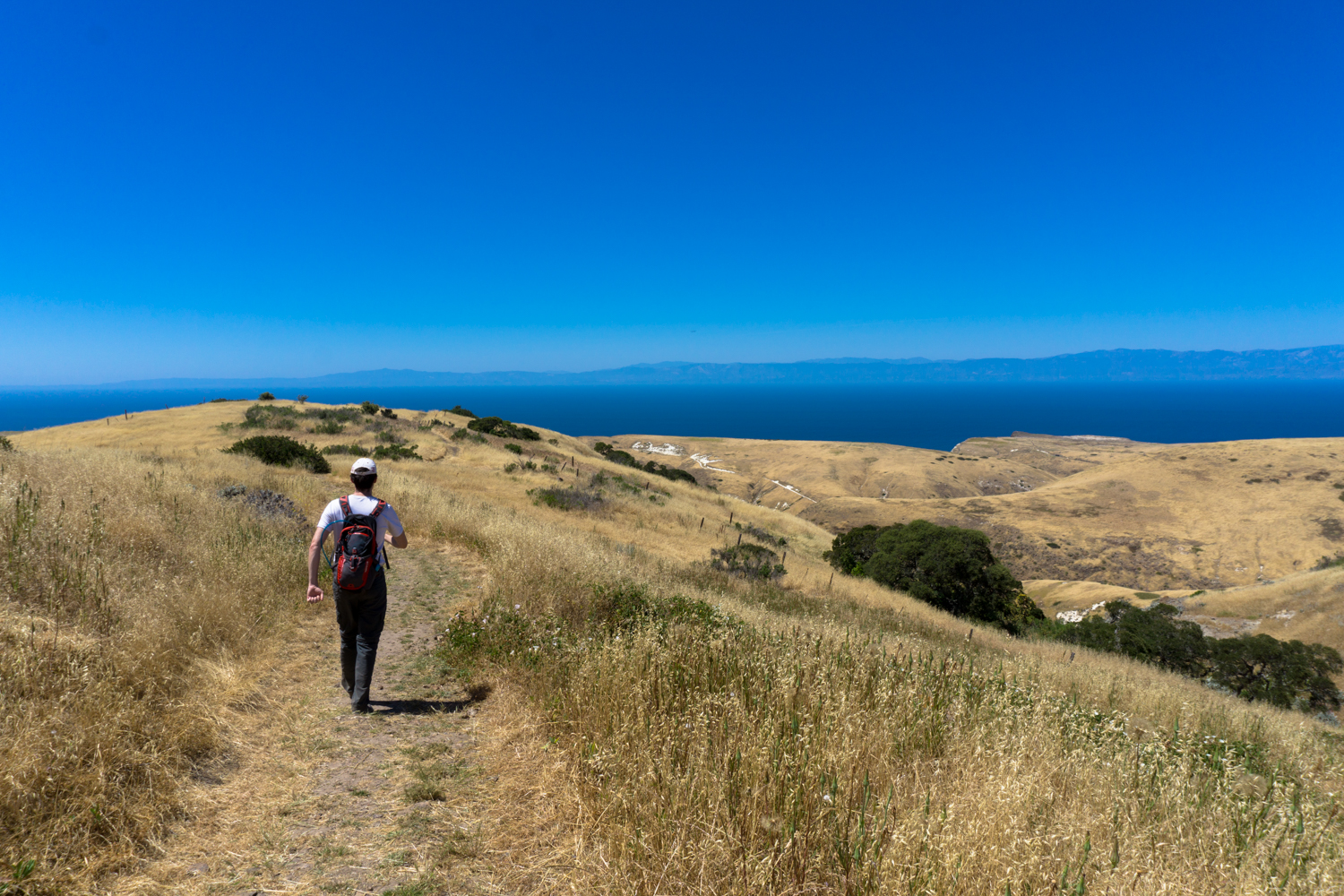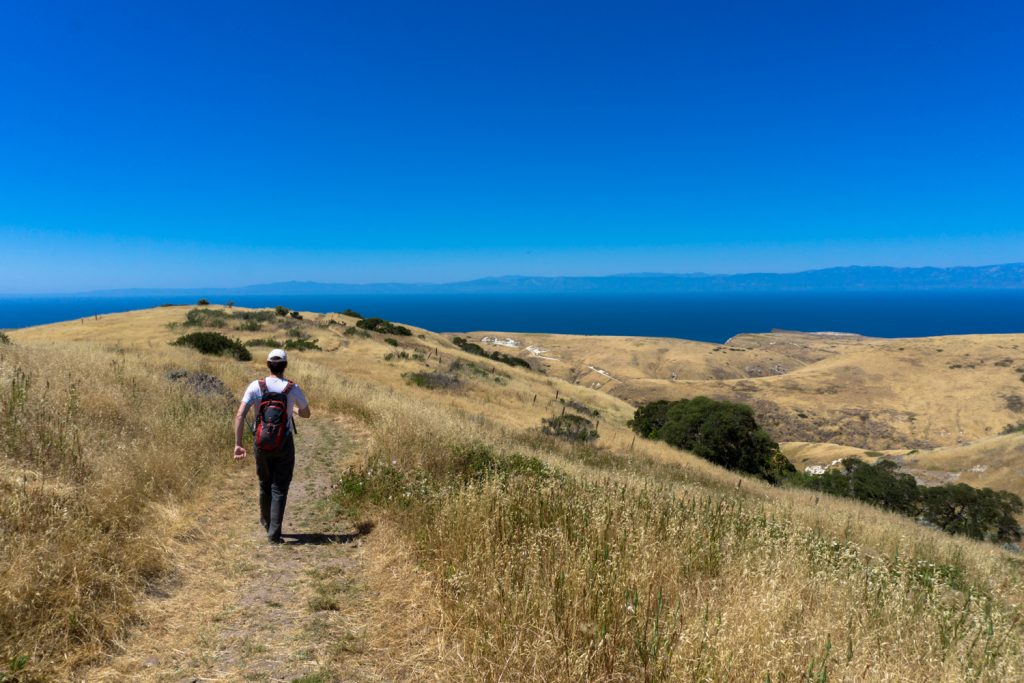 Actually, if you have the entire day for Santa Cruz Island hikes, this one cannot be missed. Starting from the southwest corner of the campground, this trail is significantly steep. So, water and sunscreen are the essential things for this hike.
As I said to you above, if you want to get more green views of this trail, visit the island in the spring. Otherwise, the surrounding would be very dry and brown. Once you make it to the top, you will feel like you in another world—such a specular view.
Suggested Reading: Best Hikes in Utah
Santa Cruz Island Kayaking
Kayaking around Santa Cruz and exploring sea caves is a unique experience. Especially near Scorpion Anchorage, there are dozens of unique sea caves. You can kayak through them. Unfortunately, there are few options to get kayak tours in Santa Cruz.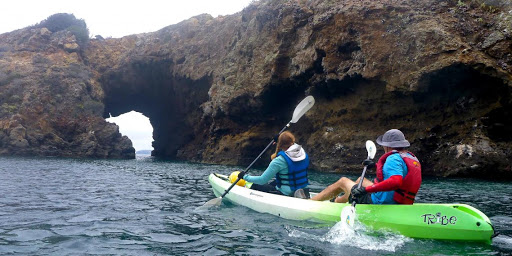 You can join with Channel Islands Adventure Company that offers different kayaking tours according to your preference. The next option is you can rent kayaks from Channel Islands Kayak Center. Or bring your private kayak. But, for that, you need to discuss with your cruise or boat whether they have extra space or not.
Kayak tours are open year-round. But, generally, the best conditions for cave tours exist from June to October. They are just awesome. And even the names are so different from each other. For example, Elephant's Belly, Green Room, Margie Simpson, and Limbo are some. They got those names based on their unique features. (Santa Cruz Island) 
Snorkeling and Diving
Below the surface of the ocean around the Channel Islands is just mesmerizing. Because the underwater world is filled with sea lions, Garibaldi fish, nice seaweed forests, and plenty of other marine lives. Off the beach at Scorpion Anchorage, there're great snorkeling opportunities. And no need for guided snorkeling tours. You can guide yourself.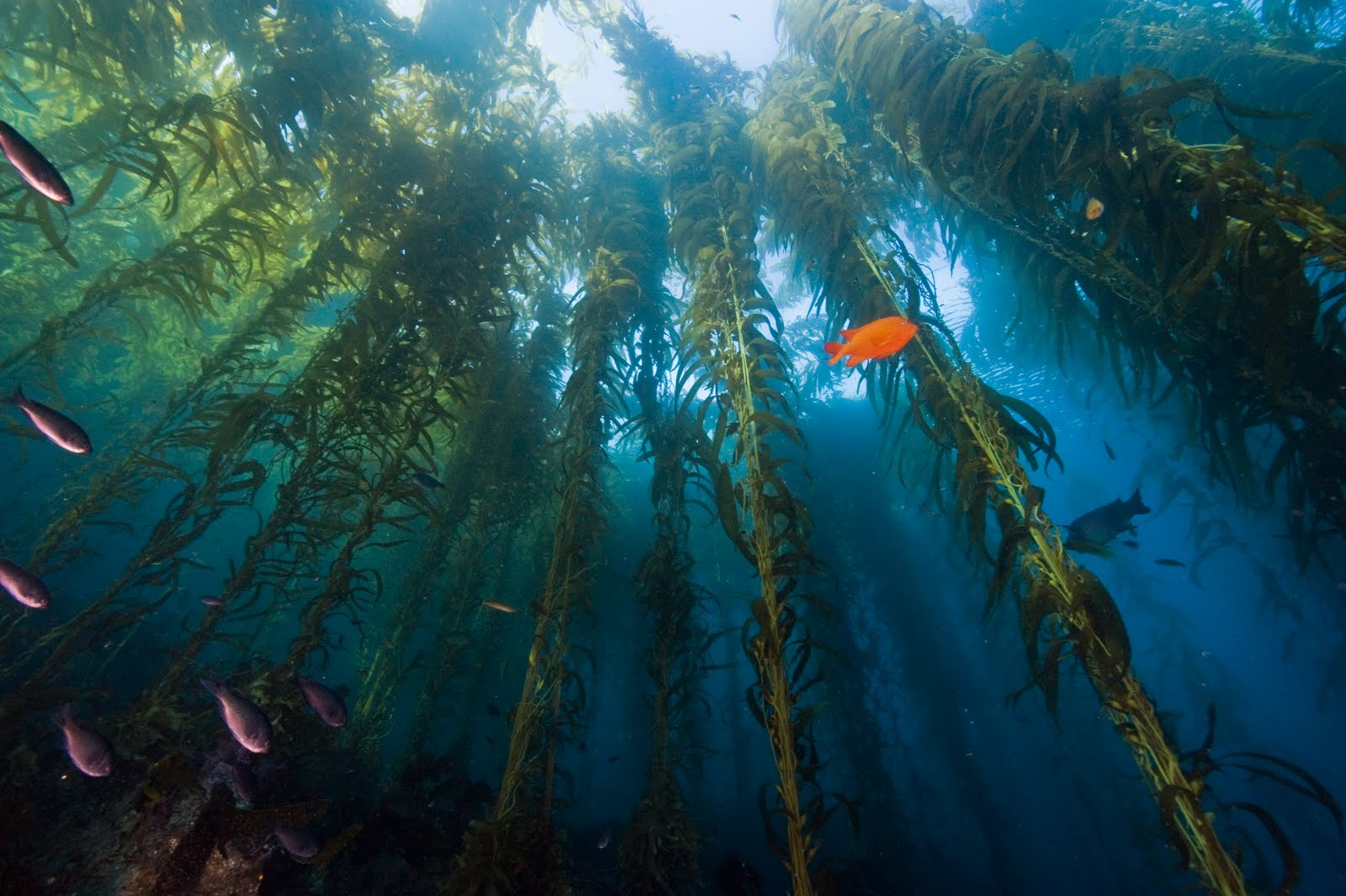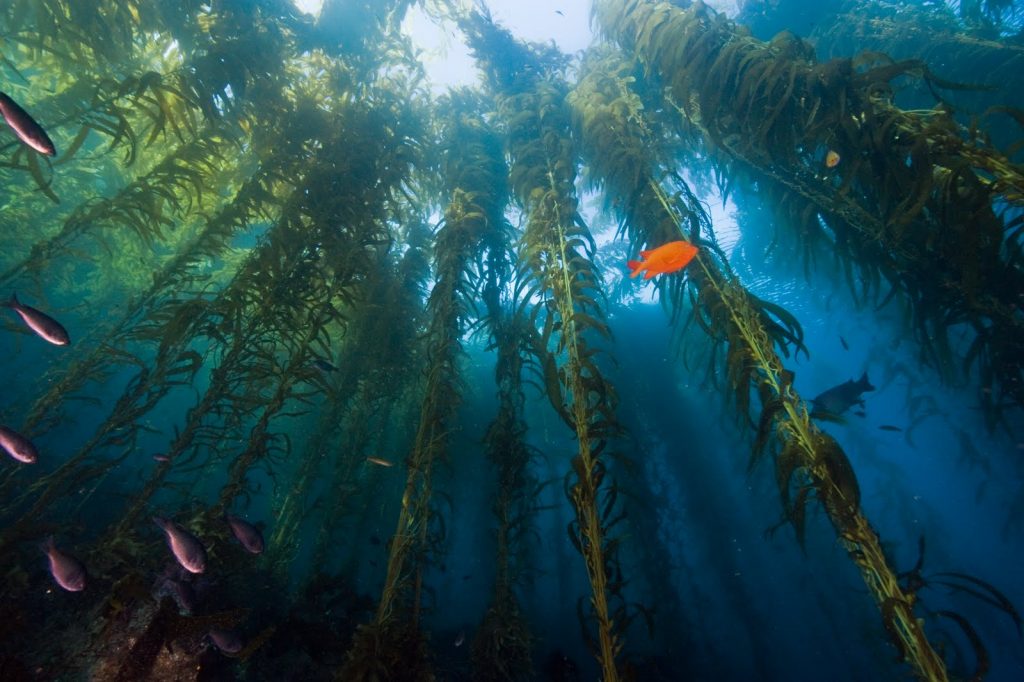 Channel Islands Adventure Company's snorkeling hut in Santa Cruz offers you all the snorkeling items for rent. And the rent will be around $25 for the whole snorkeling bundle. And also, they offer guided snorkeling tours on weekends from June to September.
Suppose you need to see something beyond snorkeling. Then, connect with Santa Barbara Divers as they offer diving opportunities around Santa Cruz. You can rent all the diving equipment from them as well. 
Whale Watching
I always keep telling you that Santa Cruz is the island of blue whales. Having over 30 species of whales, sea seals, dolphins, and sea lions like marine lives, this island truly offers you a Galapagos experience.
Especially from May to November, you can see the largest mammals on this planet, blue whales, along with killer whales, finback whales, and humpback whales frequently.
Not only that, but plenty of Californian Grey Whales also attract here for breeding purposes from December through April.
I hope you will be lucky to catch them on your camera. 
Suggested Reading: Best Humpback whale watching places
Santa Cruz Island:

Surfing
Some of the surfers are also attracted to Channel Islands Park for surfing. Normally the winter and spring offer the surfers the best waves on the north shore. And in the summer and fall seasons, the waves are good on the south shore. So, they need to check the weather before the visit.
View unique fauna and flora on the island
Santa Cruz Island is the most natural and well-preserved place in the whole of California. So, there is a lot of birds, wildflowers, and animals. Now, we know that the ocean around the island is also vibrant with various marines. And of course, the land area is also very rich with various fauna and flora.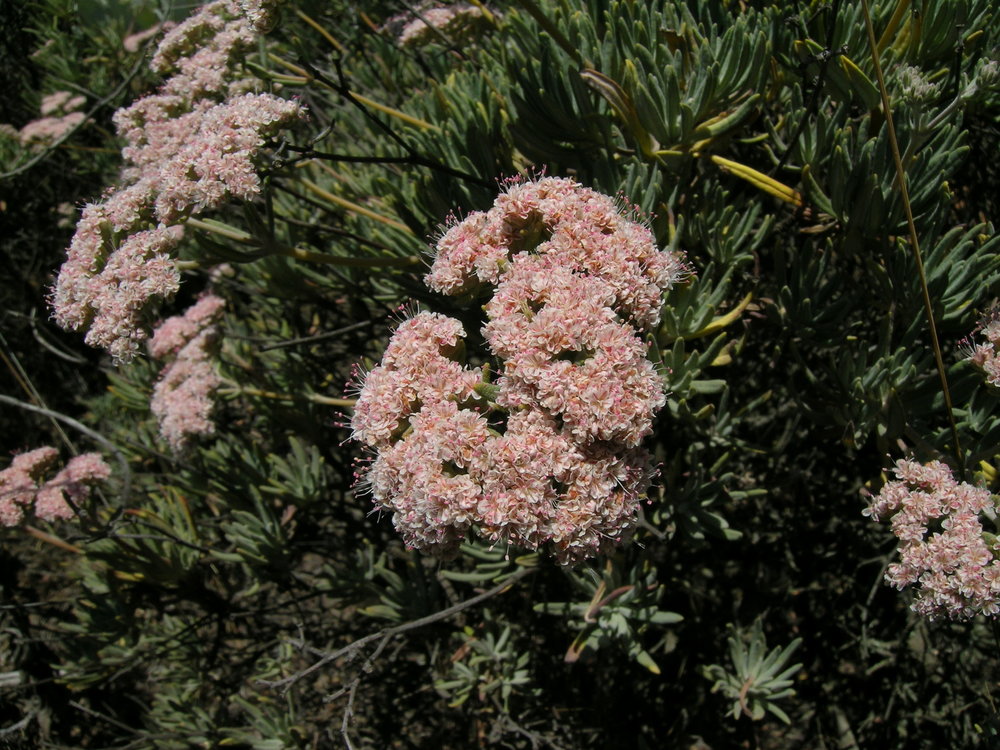 The wildflowers like buckwheat, poppies, gum plant, and verbena bloom in the early summer.
And some endemic bird species like Island Scrub-Jay also can be seen in the spring. (Santa Cruz Island)