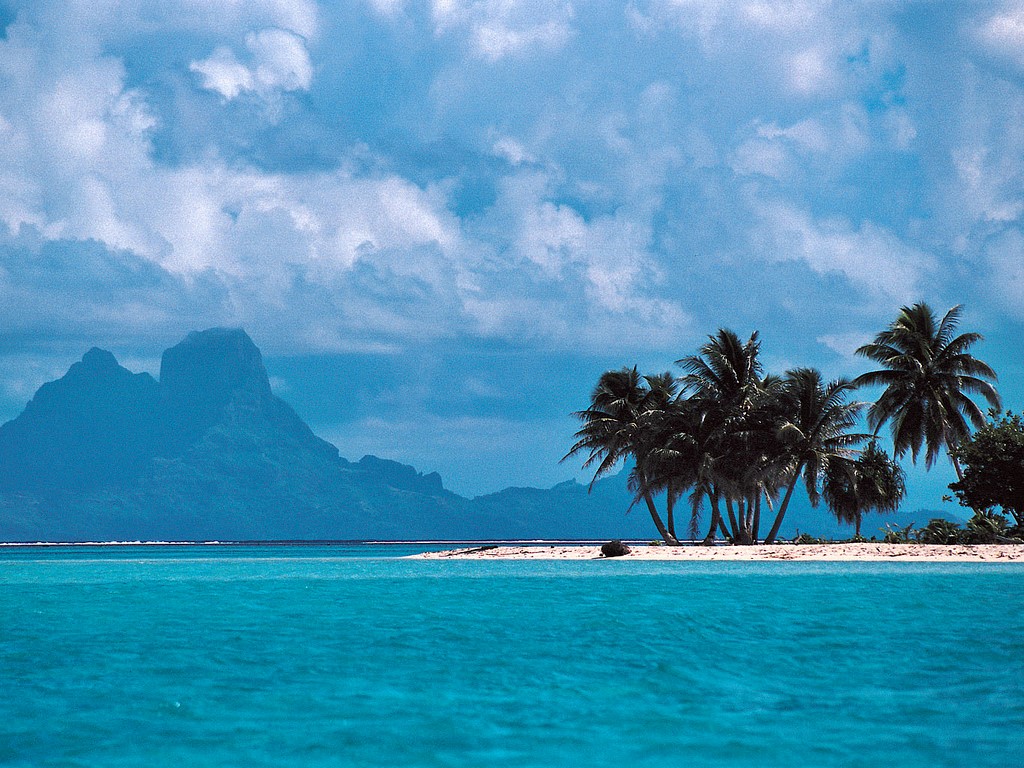 In the Society Islands of French Polynesia, Tahiti Island is a fantasy land for every romantic couple in the world. Locating in the middle of the South Pacific Ocean, Tahiti is one of the most popular islands of French Polynesia due to its pristine beauty. Also, since the other popular destinations like Moorea and Bora Bora are close to Tahiti Island, you can plan a tour, including all of them.
But, I suggest you start it from Tahiti since it has more soft sandy beaches, tranquil lagoons, snorkeling opportunities, forest hikes, spa treatments, and many more. So, here's the complete travel guide for you about Tahiti Island.
Tahiti Island
Where is Tahiti Island located?
As the highest and the largest island in the Society Islands of French Polynesia, Tahiti or the Islands of Tahiti are located very close to Moorea Island. And it is 4400km away from the south side of Hawaii while 2545km away from Auckland, New Zealand. On the other hand, Australia and California are having around the same distance to this island.
That means around 8 hours direct flight from California. It is actually located where anyone can make it easily accessible within a few hours through direct flights. The following figure will show you with exact hours.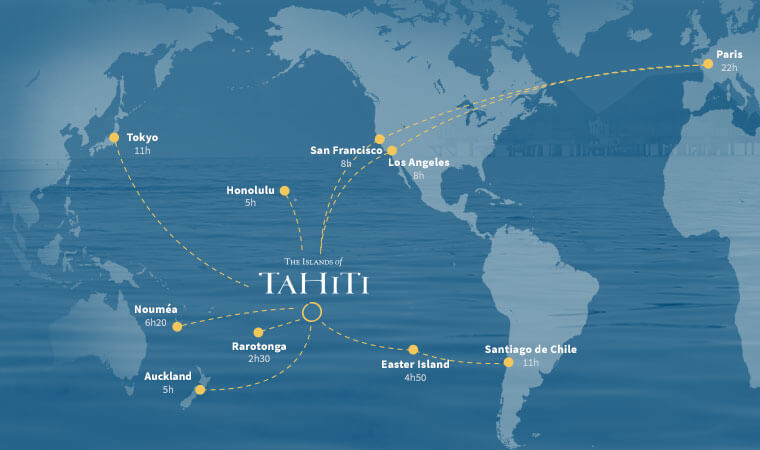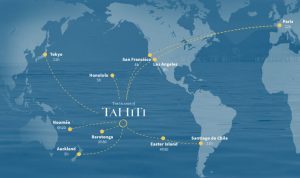 Having around 45km width, the island spreads for 1045km². The portions on the different sides of the island are called in different names. The southeastern portion of the island calls "Tahiti Iti" (Big Tahiti), while the Northwestern portion is called "Tahiti Nui" (small Tahiti). Big Tahiti is the most populated (68.7% out of all) since its capital, Papeete is also located in it.
The crystal blue water-containing beaches with various marine life and the unique landscapes of this island offer you different experiences since there are mountains, volcanoes, lush rainforests, waterfalls, rivers, and many more.
Suggested Reading: Where's Bora Bora Located?
What country does the island of Tahiti belong to?
It belongs to the beautiful country of French Polynesia. And obviously, since French Polynesia is an overseas collectivity of the French Republic, Tahiti also belongs. Most importantly, this island is the country's commercial hub since the capital, Papeete is located on the northwest coast of here.
Faa'a International Airport and an important port are located by making easy transportation. When I wrote an article about Bora Bora, I also mentioned that this is the only international airport. So, wherever you want to travel, you should reach Tahiti first.
Tahiti Island Capital
Not only the capital city of Tahiti, but it is also the capital of the whole French Polynesia. And this is the commercial and administrative capital even the French High Commissioner resides. Well, the city presents to the travelers the French lifestyle with Polynesian warm hospitality. It is the greatest combination in the world ever. Papeete also contains historically important places, great shopping opportunities, culture, art galleries, and full of natural things.
If you are planning to travel to French Polynesian island, you have to land on Papeete since it has the only international airport in the country. Also, the world-famous cruise ships stop at Papeete's port. As I mentioned earlier, this is the jumping-off point for the rest of the French Polynesia islands. (Tahiti Island)
How expensive is Tahiti Island?
It is a little bit expensive to travel around Tahiti. They are using Pacific Franc or CFP Franc. But, I will tell you the costs of traveling around Tahiti in US dollars.
It would be best if you got ready to spend around $160 per person per day. Around $50 for food, $20 for local transportation, and accommodation, it will be around $80 per day per person. These are average costs based on the average costs of travelers.
But, as I always say, touring alone for one week will always have a higher per-day cost than touring a couple for one week. On the other hand, touring for a month rather than one week will also reduce your per-day cost in Tahiti Island.
Since couples more attract Tahiti, I must say that for one week, a couple must ready to spend around an average amount of $2200. (only including the essential requirements like transportation, food, and accommodation)
Suggested Reading: Travel Waiheke Island New Zealand
What is Tahiti famous for?
As we heard, the Tahiti Islands are famous for their pristine beaches and marine life. But, now I will give you some more interesting points about Tahiti. I'm sure, by reading these points, you will plan a tour of Tahiti.
Tahitian pearls always take the first place.  The black-lipped oysters are the creators of these stunning black pearls. And they are cultivated around the islands of French Polynesia. Since these oysters grow bigger, the black pearls can also be bigger than any other pearl in the world.
But, the real black pearl in Tahiti is very rare, and commonly you may see grey or brown colored pearls. These black pearls are one of the major reasons for the popularity of Tahiti among travelers. (Tahiti Island)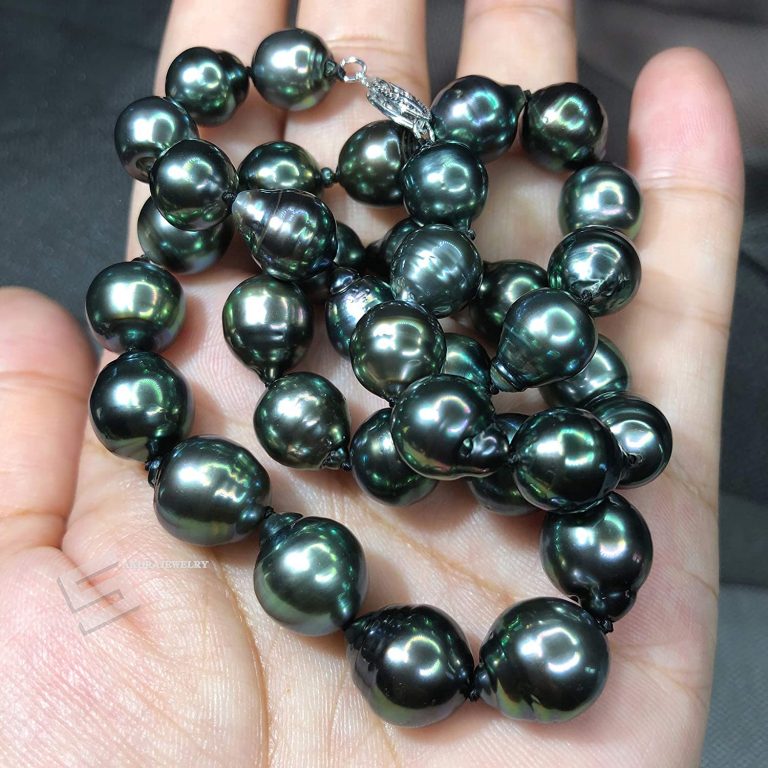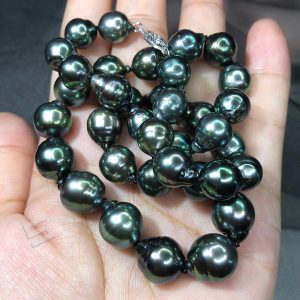 The next famous reason is my favorite one. That is whale watching. Tahiti Island is famous for whales since they attract this tropical ocean climate for their breeding purposes. Starting from June or July until October, humpback whales are unbelievably attractive to Polynesia. There are several services in Tahiti for you offering whale watching opportunities.
But, just keep in mind that there are very strict rules and regulations in this country, especially whale watching. You cannot disturb their natural behavior at all because Polynesia is a declared Marine Mammal Sanctuary since 2002.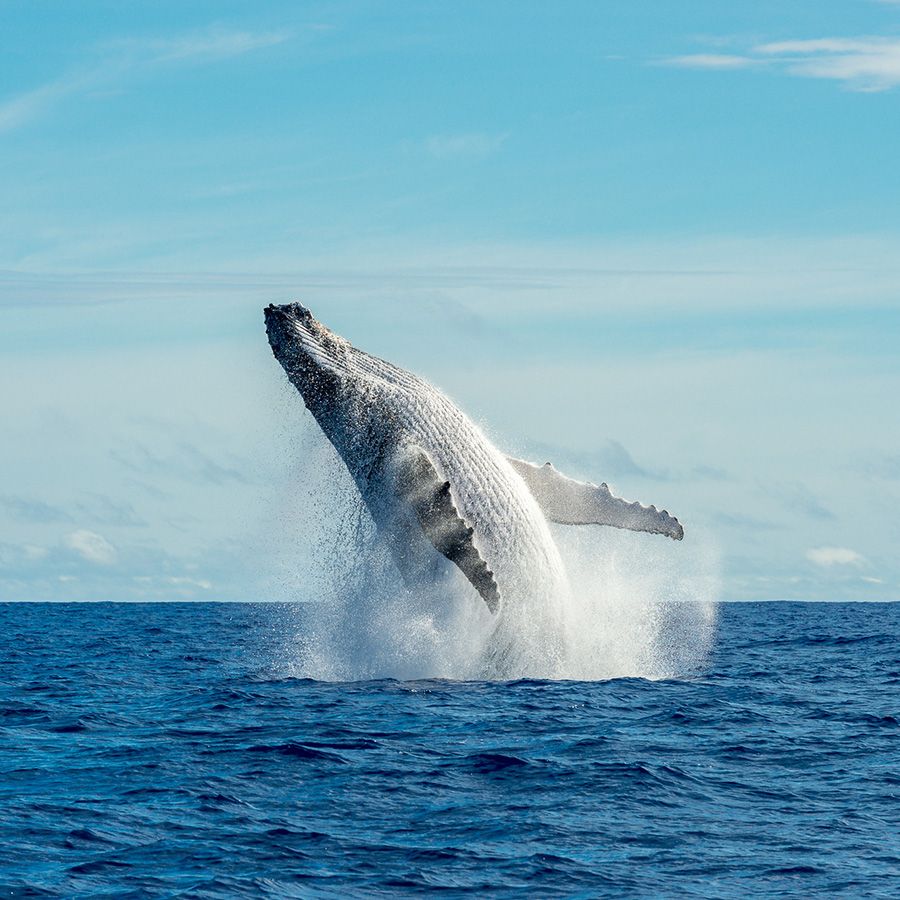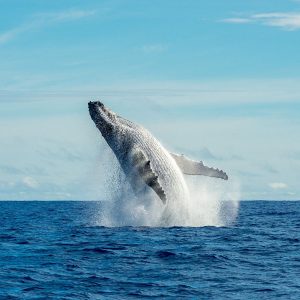 Suggested Reading: Best places for Humpback Whales watching in the world
The next delicious reason is the French food flavors in Tahitian cuisines. Of course, you may feel like you are in France when you try food in Tahiti. It's delicious and attractive. Even the food has French names as well. (Tahiti Island)
Tahiti Island also famous for
As I said in the introduction, snorkeling and diving are unique opportunities in the Tahiti Islands. It is a famous fact among snorkelers and divers in the world. The underwater world of Tahiti is just awesome and surreal. Sharks are the special and famous factor to attract more snorkelers here. There are plenty of lagoons that offer you Shark snorkeling chances. On the other hand, scuba diving is a little bit difficult here. It is an obvious reason that the Pacific is strong and deep. And 11 identified diving centers are impressive. So, try only if you are an expert.
The impressive landscapes due to the existence of volcanoes are the next reason for the popularity. Not only Tahiti, but the whole of French Polynesia also has dramatic mountain cliffs. (Tahiti Island)
Tahiti's lush jungles and hidden waterfalls are the next facts for the attraction of plenty of tourists. So, it is full of hiking, swimming-like adventures in a greeny surrounding.
Another famous thing in Tahiti is Arahoho Blowhole. This natural wonder is located on the Southeastern side of Tahiti Nui. Normally this kind of wonder is forming due to years of coastal erosion from the beating waves against the rock cliffs. There are several blowholes on the Tahiti coastline. But, Arahoho is more special.
Big Wave surfing is the next famous factor in Tahiti Island. Since there are too many surfing breaks and very sharp waves, most of the expert surfers attract this destination.
The last but the most popular factor about Tahiti is its lagoons and floating bungalows. Due to this feature, most of the honeymooners and romantic couples come here. (Tahiti Island)
Just have a look at this beautiful video on Tahiti and Bora Bora.
Things to do in Tahiti Island
Now you already know how worths it to travel to Tahiti at least once in your travel life. Here are the things that I like to suggest to you, like the best things to do when you are on tour on Tahiti Island.
Spend time on Tahiti Floating Bungalows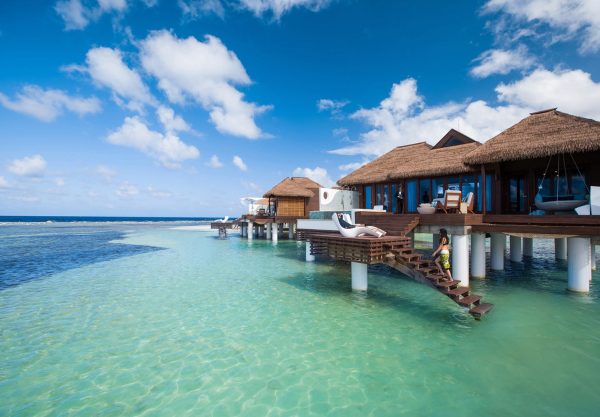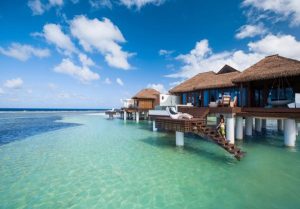 There are amazing overwater floating bungalows in Tahiti, just like in Bora Bora. I highly suggest you collect some money and book one at least for one night. Because sleeping on an overwater bungalow will be an unforgettable experience, not only sleeping, but you can also swim or snorkel whenever you want since the water is shallow and calm. On the other hand, there's a sun deck and a glass floor to see colorful fish under the water. (Tahiti Island)  
Looking for the best hotels in Tahiti Island?? Just check here. 


Sharks and Stingray snorkeling on Tahiti Island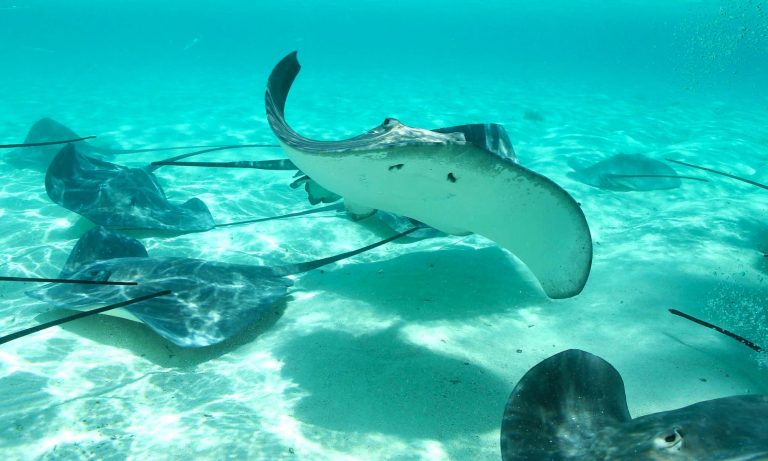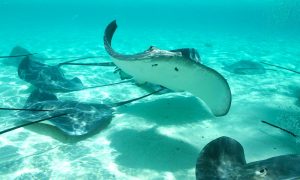 We know that Bora Bora is the most popular place to watch sharks and stingrays. But, Tahiti also attracts sharks and stingrays to its numerous lagoons. Black-tipped reef sharks, pre-historic-looking southern stingrays, are frequent in Tahitian lagoons. There you can touch them, feed them, and swim with them under the instructions of the guides. But, always try not to disturb these marine lives.
Swim in the Blue Lagoon
As I said in the introduction, Tahiti is full of natural lagoons everywhere. They have crystal blue water, and the bottom of these lagoons are sensational with many things. Especially the Blue Lagoon in Tahiti attracts more tourists annually. There are sea turtles, corals, marines like starfish, eels, and many more. (Tahiti Island)
Taste Tahitian Street Food
I suggest you not miss street food in Tahiti when you tour there. After 6 pm in Papeete Main Square, you can see a full sensational street food fiesta with plenty of food stalls and trucks. And there you may find not only Tahitian food but also Chinese, Indian, Italian, Japanese, Thai dishes are available. (Tahiti Island)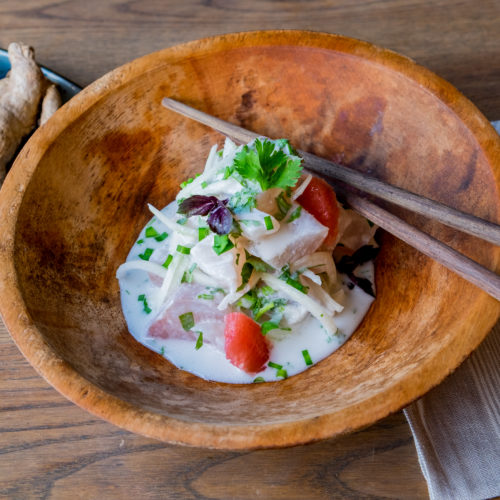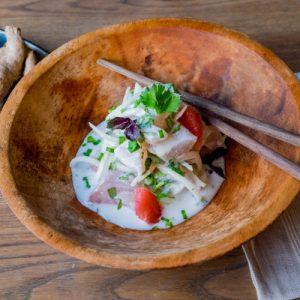 But, since you are in Tahiti, just try Poisson Cru's dish, the national dish. It is a light appetizer with a lot of flavors and tastes. If I tell you something about this dish's content, it has raw chunks of fresh tuna in coconut milk and added many traditional flavors.
Suggested Reading: Best Morocco Food that you should try
Visit Museums in Tahiti
Several museums in Tahiti specialized in different things. Let's discover them one by one.
The Museum of Tahiti and Her Islands offers you the chance to have an idea about the unique history of Tahiti and the islands. It especially explains the Polynesian Heritage. Therefore, the museum has been divided into different sections based on its content. They are habitations/artifacts, anthropology, general history, and social/religion.
Musee Gauguin is another one in Tahiti, which was established as a tribute to the French artist Paul Gauguin. But the building has a traditional Japanese influence.
Black Pearl Museum in Tahiti or Robert Wan Pearl Museum is the most famous one out of all the others. Because it is rare and unique with having the largest collection of pearl items globally, this museum explains to you all the traditional stories of black pearls and the significance of different precious gems. (Tahiti Island)
Join with a Polynesian Dance show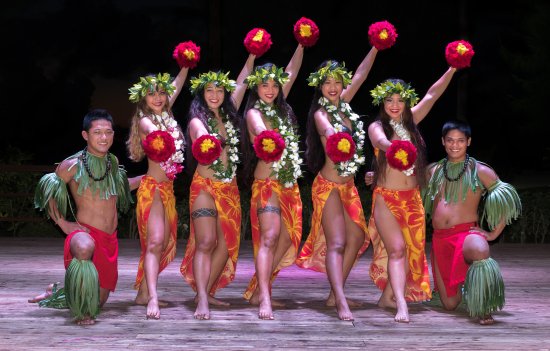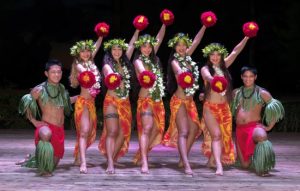 Tahitian evening dancing shows are like bonus events for travelers. This full of Tahitian cultural dance shows take you to another level. It is full of colorful, energetic, and authentic. And the thunderstorm drum beats always keep you more alive and energetic. BTW the dancing teams are always containing pretty girls and handsome boys. (Tahiti Island)
Get a Tahiti Tatoo
Tahiti is the birthplace of tattoos. That means Tahitians are the people who introduced the therm "Tattoo" to the world. So, do not forget to get a traditional tattoo from the place where it has born. Some tattoo lovers come to Tahiti to get the best authentic tattoos from native artists. (Tahiti Island)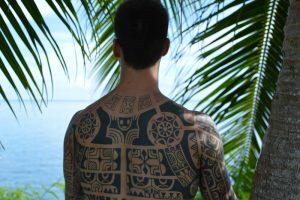 Although you are not a tattoo person and yet, If you feel like getting a tattoo when you travel around Tahiti, do not think too much as it is natural and obvious. Because when you see all the men and women on every street have different tattoo designs, it is natural to feel it to have one. So, just try it. You won't regret it at all. (Tahiti Island)
Visit the Waterfalls in Tahiti Island
Beautiful waterfalls surround Tahiti. Just hire a 4×4 and reach Papenoo Valley in Tahiti to see waterfalls. You will have to drive along the Papenoo River by crossing streams and hiking cliffs to reach there. Finally, you will find stunning waterfalls (Topari, Vaiharuru, Puraha Falls)  surrounded by a lush climate.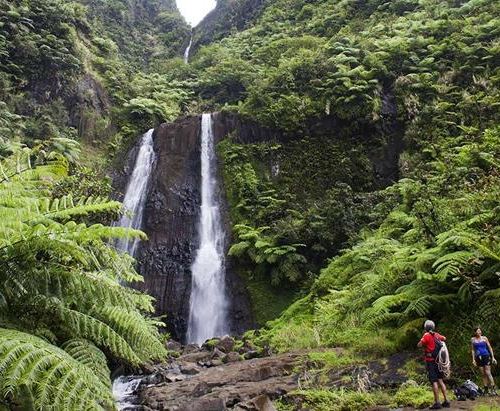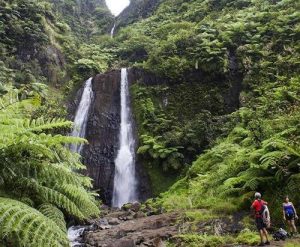 In the Northeastern part of the Tahiti Nui, The Three Waterfalls are located. And locals call it Les Trois Cascades/ Faarumai waterfalls. This is one of the easiest ones to visit on Tahiti Island. So, do not miss it.
Go for a beach walk black sand beach
I'm always a fan of black sand beaches. Since they only exist on the lands where volcanoes available, they are not frequent as white sand beaches. Well, Tahiti offers that rare chance through Papara Beach/Taharuu Beach on the South Coast. You cannot walk for hours along this beach as the black particles get hot with the sun. But, this is ideal for swimming.
Suggested Reading: Black Sand Beaches on the Big Island/Hawaii
Surf in Teahupo'o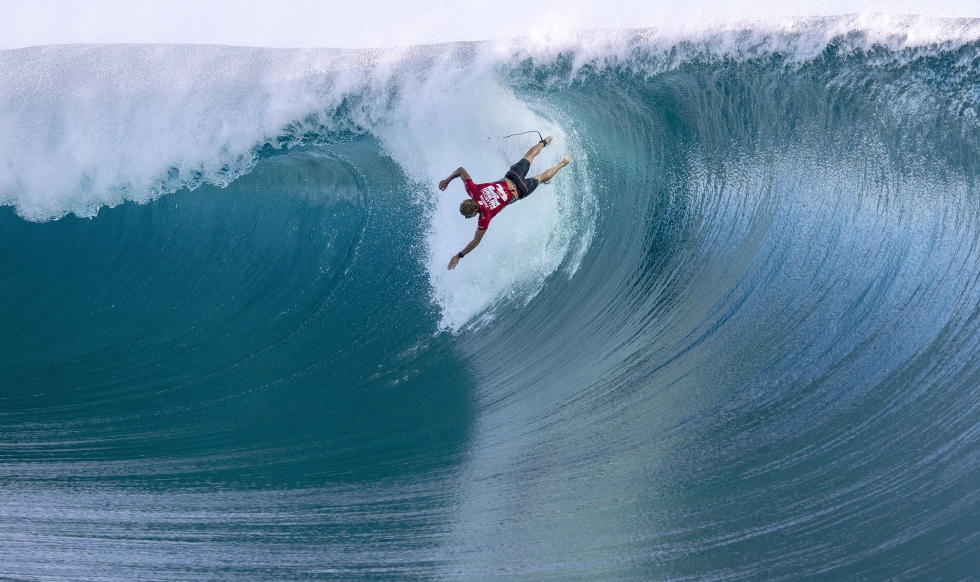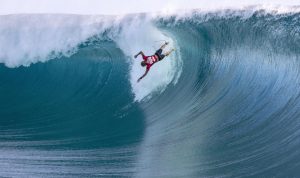 As I explained to you earlier, Tahiti has one of the most dangerous surf breaks in the world with very sharp waves. The exact location of this surfing spot is Teahupo'o. The surfers say that its waves are sharp and powerful, like razors.
From May to October (during the winter season), Teahupo'o offers you the best surf waves. Surf experts get the chance to surf while others can watch their surfing beauty while on a boat ride. (Tahiti Island)
Do shopping at Papeete Market
Tahiti's Papeete is one of the best places for shopping in the whole Pacific Islands. There are tons of authentic fashion items, woodcarvings, black pearled jewelry, simple and elegant clothes, and different food items. (Tahiti Island)  
Suggested Reading: Things to do in Osaka, Japan
Visit Arohoho Blowhole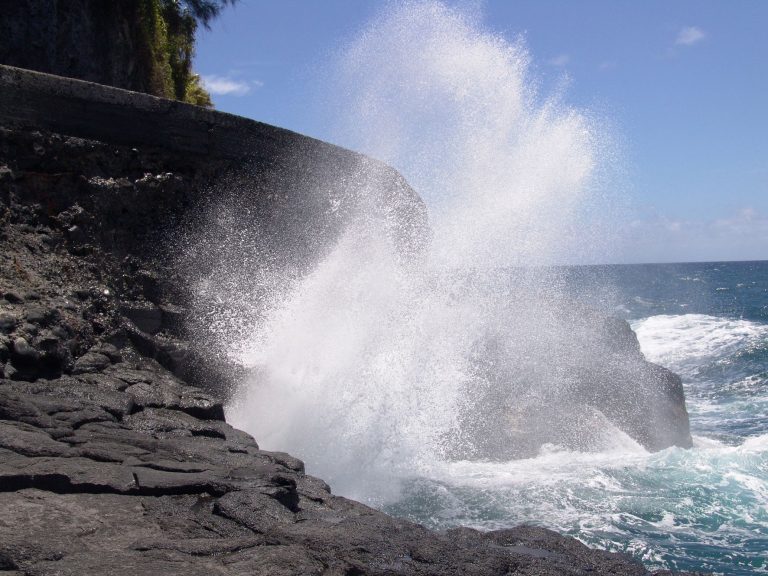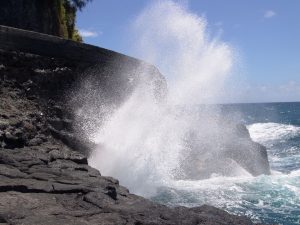 I have already mentioned above this natural wonder Arohoho Blowhole. It sprays water from a hole in the rock with a lot of power and energy. Actually, it is very nice to see and capture a photo at the moment when the water blows. (Tahiti Island)
Hikes in Tahiti
Mount Aorai is one of the best hiking experiences in French Polynesia. Locating in the middle of Tahiti Island, its elevation is around 2066m. And it is the second tallest peak in Tahiti. You can reach there easily from Papeete, and the best months to hike there are from June to September.
Another exciting place to hike in Tahiti is Fautaua Valley. Fautauna is famous for providing drinking water (natural spring water) to the capital Papeete. So, it is located near Papeete. Since Fautauna River goes through and falls, you can see a stunning cascade called Fautauna Falls as well. It has 300m in height. And the trail is a little bit slippery and steep. So, get ready with appropriate shoes. (Tahiti Island)
Visit the Botanical Gardens in Tahiti Island
Locating just next to Gauguin Museum, Botanical Gardens in Tahiti are one of the Harry Potter film locations as well. And they offer you the chance to explore the unique Polynesian fauna and flora. After Harrison Smith, the American botanist came here and bought 137 acres of this land; these gardens were named Harrison W. Smith Botanical Garden.
Tahiti Island