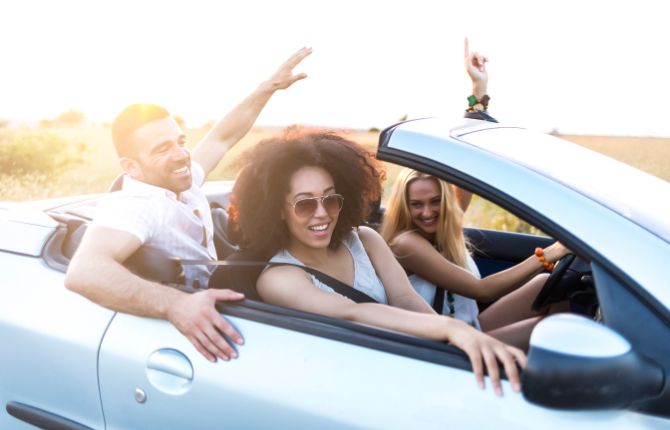 Are you looking for the best parks in Seattle? Here's the list with all the travel information you need to plan a family tour.
If you're a fan of the outdoors, Seattle is a city that's rich in nature. Especially, there are beautiful parks. Discovery Park, Kerry Park, Olympic Sculpture Park, Alki Beach Park, and Golden Gardens Park are some of the most popular parks in the city.
You'll find a variety of outdoor activities in each park, including hiking, biking, and birding. The city's parks also offer great views of the city and nearby mountains, so you can get a breath of fresh air while you're here.
Just check the complete list and add them to your bucket list.
1. Parks in Seattle: Discovery Park
Are you looking for a park to take the family to? Well, you've come to the right place. Discovery Park is located downtown, about fifteen minutes from the Space Needle.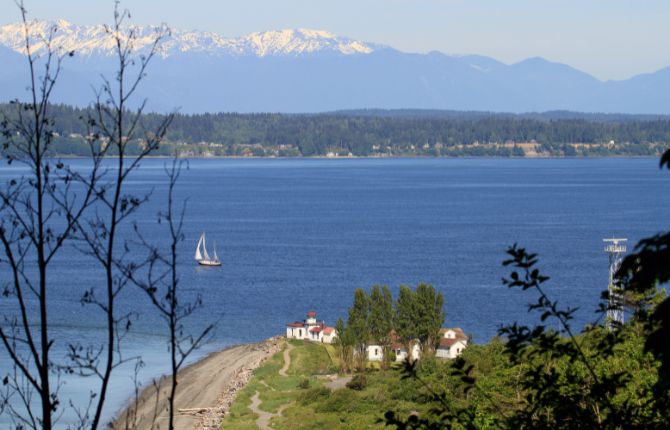 With over 500 acres of land, Discovery Park is a beautiful park in Seattle. And it is the largest city park in Seattle. Its location gives you stunning views of the Olympic and Cascade mountain ranges.
There are also several trails to choose from, and you can spend a day hiking or simply relax in the sun. For those with children, you can take them on a brisk walk around the park's forested areas.
Discovery Park features the iconic West Point Lighthouse (or the Discovery Park Lighthouse). It is still active and marks the northern extent of Elliott Bay.
The Loop Trail and the Beach Trail are the most famous trails to try with your family. This park is an excellent destination if you're visiting Seattle with out-of-town guests.
Ample parking is available at the East and South lots, and free admission. The park is open from 4:00 AM to 11:30 PM, so there's no reason not to check it out. You'll need to keep an eye out for restrictions if you have pets.
In addition, Discovery Park has forests, wetlands, meadows, and sand dunes. And you'll love taking in the stunning views of Puget Sound and the Olympic Mountains. If you want to take a break from the city, you can visit Discovery Park's many beaches.
This park is located in the area of former Fort Lawton.
Originally, Fort Lawton occupied much of Magnolia Bluff. While conducting the U.S. Coastal Survey in 1857, Lt. George Davidson mistakenly identified the red-barked madrone trees as magnolias.
In the 1890s, civic leaders in Seattle hoped to build a major military installation in Magnolia. The site was developed and opened in the early 1900s. Fort Lawton went through periods of underuse after each world war, but it was turned over to the city in the 1970s.
Address: 3801 Discovery Park Blvd, Seattle, WA 98199, United States     Phone: +1 206-386-4236
2. Parks in Seattle: Olympic Sculpture Park
Located on the waterfront, the Olympic Sculpture Park is a new public art installation in downtown waterfront Seattle.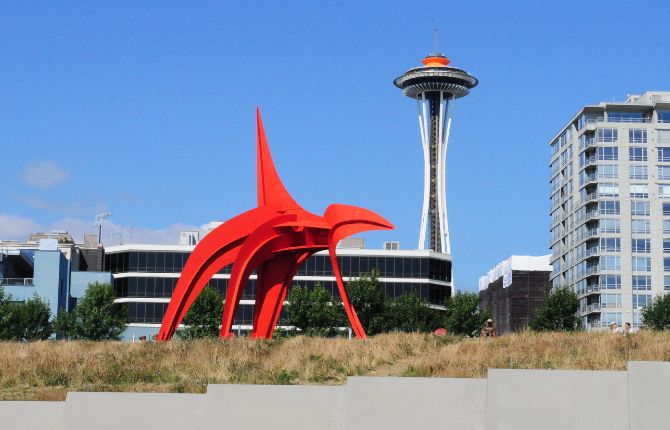 Designed by Weiss/Manfredi Architects, the park features over 20 artworks by renowned artists. This park's modern architecture includes a sleek pavilion, grassy terraces, and wave-like steel plates.
The park is an excellent place to view artwork while walking along the waterfront. After exploring the park, be sure to stop by the nearby Seattle Art Museum, which has a permanent exhibition of works by local and international artists.
Olympic Sculpture Park has over 20 sculptures that range in scale from simple objects to huge ones. The pieces use reflective materials to create an optical illusion.
Some, such as the 39-foot-tall Eagle, are designed to be seen from all angles. If you can get there early enough, you might even catch a glimpse of the famous Space Needle.
Once you're done admiring the artwork, head back to the park's parking garage to find a spot for a picnic or a relaxing drink.
The Olympic Sculpture Park is free to enter and open to the public. You can reach the park by car in about an hour or take public transportation to get to the park. It's a unique experience, and you'll have a great time admiring these works in a unique setting.
You can even take your family here for a day of outdoor fun. While there, you can also enjoy a picnic while admiring the beautiful views of Elliot Bay and downtown.
Address: 2901 Western Ave, Seattle, WA 98121, United States       Phone: +1 206-654-3100
Looking for more fun things to do in Seattle?? Just check this link. 
3. Parks in Seattle: Alki Beach Park
If you're looking for an ideal place to spend a beautiful day with your family and friends, check out Alki Beach Park in Seattle, Washington.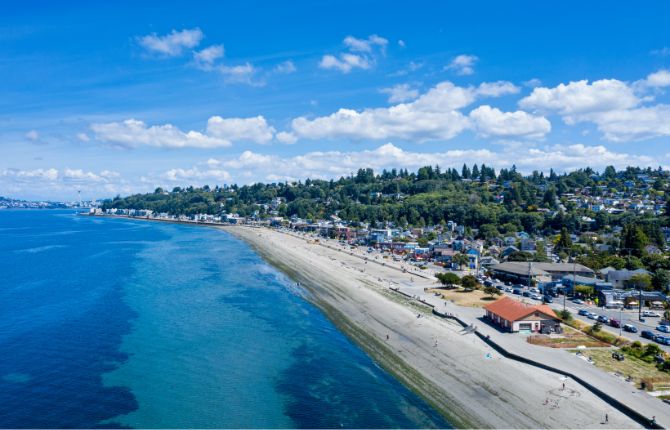 This park has flat ground, romantic sunsets, and sweeping views of Elliott Bay and the Seattle skyline. And it features 0.5 miles of stunning Puget Sound shoreline. The beach stretches out for about 2.5 miles when the tides are low.
So, there's enough space for doing beach activities with family.
Especially the sand on Alki Beach Park is soft and comfortable for your feet. Therefore, a lot of people visit the park on weekends. Parking can be challenging, though.
Alki Beach Park is located just south of downtown Seattle. It has a 1913 lighthouse at Alki Point, accessible by binoculars during summer.
Since the early 1900s, Alki Beach has hosted summer concerts in the park. Still, the park is famous for concerts.
The Admiral Theater and Kenyon Hall are popular venues for local musicians, and the park hosts the Seattle Music Festival every August.
Aside from the beach, Alki Beach Park in Seattle is also home to a miniature Statue of Liberty. The statue stands six feet high, and the Boy Scouts installed it in 1952.
In 2007, a replica was installed. While at the park, don't miss out on visiting the MoPop Museum of Pop Culture, which features the Guitar Sculpture and Nirvana artifacts. The Science Fiction section of the museum is another fun place to visit, as is the Seattle Art Museum.
Just ensure you don't bring glass bottles or other open containers containing alcohol because it's prohibited. Also, remember that the Park is a police jurisdiction, so it's a good idea to follow all posted regulations and laws, including drinking alcohol.
Address: 2665 Alki Ave SW, Seattle, WA 98116, United States      Phone: +1 206-684-4075
Parks in Seattle
4. Green Lake Park
When visiting Seattle, be sure to visit the famous Green Lake Park. You can find hiking and biking trails (2.8-miles), a boathouse, and a baseball field.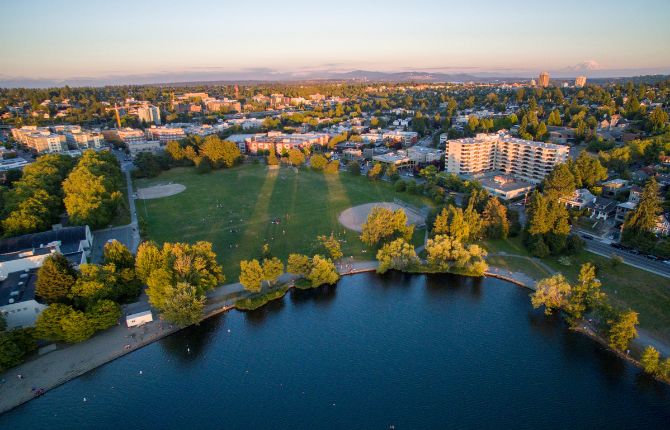 You can even find an indoor pool here. No matter what your interests are, you will find something to do at this park. Green Lake Park is worth a visit if you are looking for outdoor activity.
Another popular attraction is the small, natural lake (260-acre) surrounded by green hills and trees. This is a perfect place to relax or spend some time in the sun.
Located north of the downtown district, Green Lake is perfect for swimming. There are even on-duty lifeguards throughout the summer. On the other hand, there are boat rentals too.
Several paved trails wind around the lake, and you can also enjoy the lake lying on the grass or a park bench. The surrounding neighborhood has beautiful houses and is home to many shops and restaurants.
After swimming and boating, you can visit Woodland Park and the Woodland Park Zoo, located on Green Lake's south.
Since the park opened in 1855, the area around the lake has been home to several homeless encampments. The most notorious of these circled Green Lake, making it a popular scuba diving spot.
The park has also experienced foul odors, verdant algae blooms, and swimmer's itch. The smelly green stuff is also one of the issues that have plagued the lake and made it closed to the public. In 1921, the Seattle health department closed the beach and diverted water from other reservoirs.
Address: Seattle, WA 98115, United States      
5. Golden Gardens Park
There's no shortage of reasons to visit Golden Gardens Park in Seattle. Whether visiting from out of town or just looking to relax, the park is an incredible place to see and enjoy.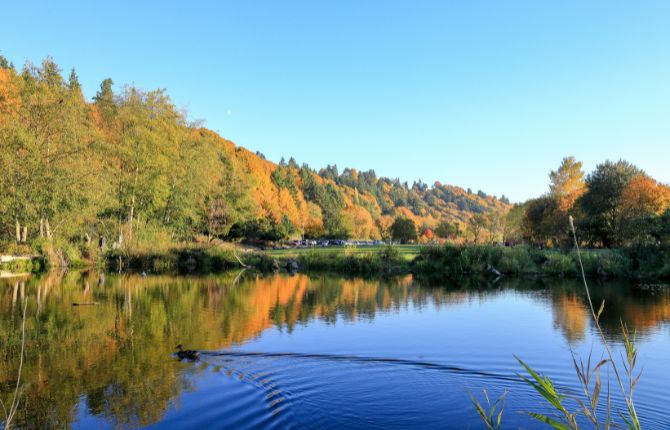 Whether you enjoy hiking, biking, or just lounging around on the grass, there's a park for you.
Golden Gardens Park is accessible by bus at 8498 Seaview Pl. The park offers an easy bus ride in Seattle's Ballard neighborhood.
A walk along the shoreline is another excellent option for getting to Golden Gardens Park (300 feet of sandy shoreline). The park has a sandy beach that's perfect for a relaxing afternoon.
You can get breathtaking views of the Olympic Mountains and Puget Sound from the beach.
There's also plenty of room to play beach volleyball, stand-up paddle boarding, sunbathing, and kayaking. Golden Gardens Park is one of Seattle's most popular parks and is 0.1 miles from Meadow Point King County.
If you're traveling with a dog, this park is an ideal location. Dogs are also welcome! This park has an off-leash area for your dog to enjoy.
It's also close to many hotels, including the Lotte Hotel Seattle and Shafer Baillie Mansion.
After exploring the park's trails, visitors can head to the Olympic Sculpture Park. This offshoot of the Seattle Art Museum has dozens of sculptures to enjoy and is a great place to begin your waterfront walk.
After the park, you can continue walking up Elliot Bay and check out Myrtle Edwards Park. You'll be glad you went here. And don't forget to grab a drink at the Pike Place Market.
Address: 8498 Seaview Pl NW, Seattle, WA 98117, United States      Phone: +1 206-684-4075
6. Carkeek Park
If you are looking for a great park for kids and adults, look no further than Carkeek Park in northwest Seattle. (spreads over 200 acres)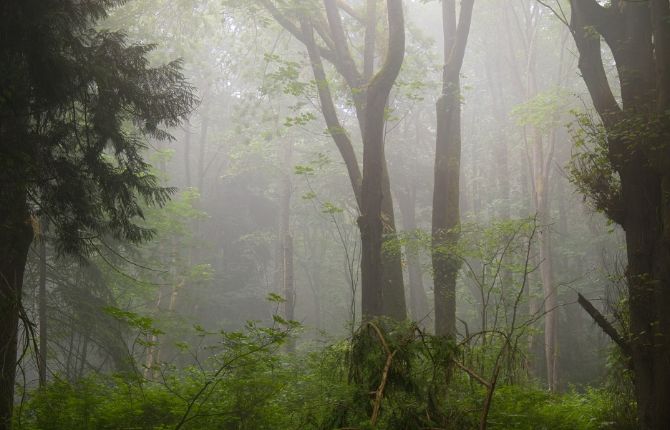 Its playground overlooks Puget Sound and is filled with fun activities for families to enjoy. The park features several play areas, including a giant salmon slide and kid-sized caves.
There are even benches overlooking train tracks if you want to watch the activity from a more relaxed angle.
Carkeek Park features a natural beach and is also home to the Center for Wooden Boats. The park offers boat rentals, classes, and a playground.
In addition to a beach, this park also offers hiking trails and ample lawn space. The Center for Wooden Boats is located in the Broadview neighborhood, and visitors can enjoy its many amenities.
You'll find hiking trails, BBQ grills, and plenty of grass to enjoy yourself in the park.
Another fun thing in Carkeek Park is exploring the area's restored fruit orchard. Piper's Orchard is located near the park's Pipers Creek Trail. It has become a hub of community activity and often hosts festivals and events.
Trees in the park include various species, including chestnuts and hawthorn. You can even learn more about the history of Seattle by taking a tour of the restored orchard.
A hike along the shore of Piper's Creek will allow you to witness the spectacular views. And while you're enjoying the scenery, you can take your family for a picnic or an afternoon at the park.
The salmon return to the creeks of Carkeek Park in November and January exhausted from their long journey upstream. They vigorously splash around in shallow areas. During the last year, 16 different Homewaters programs were held at the park, attracting 715 students from nine different schools.
Address: 950 NW Carkeek Park Rd, Seattle, WA 98177, United States      Phone: +1 206-386-4236
Parks in Seattle
7. Seward Park
If you want a little peace and quiet in the middle of the city, you might want to visit Seward Park. The park is full of beautiful natural scenery and wildlife, and many of the trees in the park are at least 250 years old.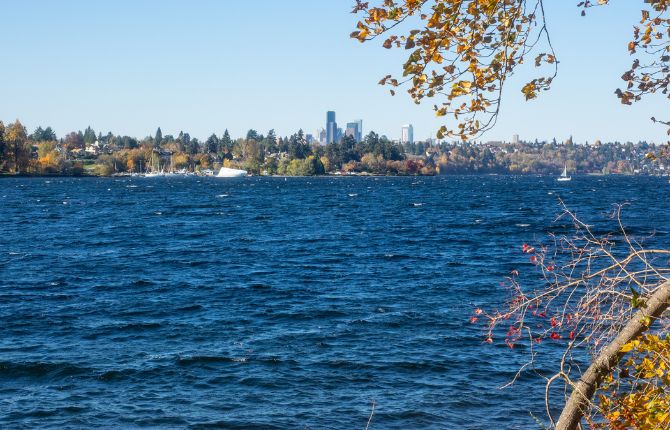 With tons of parking and private facilities, it's an excellent place to bring your family and get away from it all. In addition to enjoying the peaceful scenery, the park also offers several activities for kids.
The park is also home to an environmental center, a collaboration between the National Audubon Society and Seattle Parks & Recreation.
You can take a guided nature walk, participate in science workshops, or enjoy arts & crafts for the whole family. If you're feeling adventurous, you can also take part in an owl prowl, where you can learn more about the local nocturnal species.
Before the park's creation, it was known as the "Graham Peninsula" and was a wooded park. In 1863, the Peninsula was named for David Graham, the first teacher in Seattle.
Poison oak may have protected the area from logging. During this time, the park was still largely undeveloped. The area around the amphitheater is also thought to have once been a Frenchman's estate.
You can also enjoy a nice run in Seward Park. This park has several beaches and shady hills perfect for hiking. Its shoreline is ideal for swimming, suntanning, and boating.
It has bathrooms, a nature center, a playground, and a 2.4-mile-long loop. If you have little ones, you can take them on a bike ride. The park's website offers guided hikes and toddler storytime programs.
If you're looking for a place to run with kids, you can also try the Seward Park loop.
Address: 5900 Lake Washington Blvd S, Seattle, WA 98118, United States      
8. Washington Park Arboretum
If you're planning a trip to Seattle, consider taking a trip to the Washington Park Arboretum (230 acres).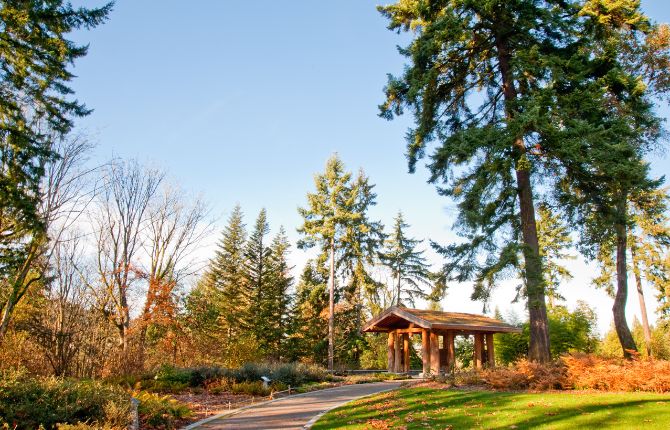 This garden is open from dawn until dusk and is free to visit.
The Washington Park Arboretum is home to a 4,000-foot (1,200-meter) long creek, Arboretum Creek. This creek feeds the Japanese Garden, as well as the Woodland Garden and Rhododendron Glen.
Its waterway also sources runoff from the park's other gardens, such as the fern glen. It also serves as a birdwatching site. More than 200 bird species have been sighted here.
The Arboretum is also home to Washington's largest collection of hollies. This arboretum will also find camellias, azaleas, rhododendrons, and oaks.
Start at the Graham Visitor Center and then take a nature trail. The visitor center offers park maps, restrooms, and other visitor requirements.
Walk past boardwalks and floating bridges to explore the forest's wildlife and plants. Then, head to the Museum of History and Industry. You can see a variety of exhibits that interest people of all ages.
Address: 2300 Arboretum Dr E, Seattle, WA 98112, United States       
9. Volunteer Park
When you visit Seattle, make sure to check out Volunteer Park. The park is located on Capitol Hill and has stunning city views.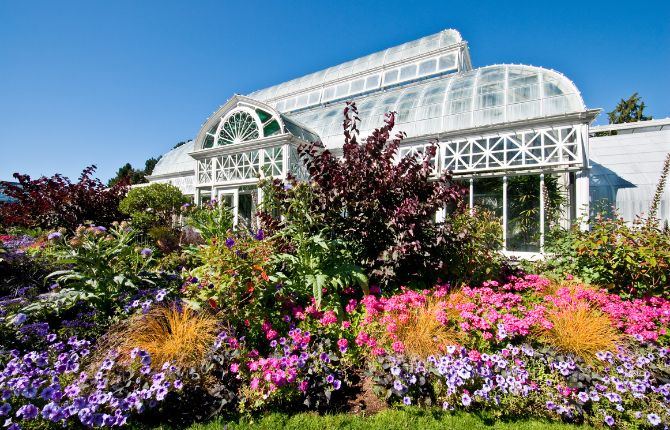 It is a short walk or drive from downtown. Several historic houses are in the park, and people often come here to take in the architecture. It also offers quiet residential areas for those who want to escape the city bustle.
Volunteer Park is an excellent location for family picnics and concerts.
The park's water tower is an iconic Seattle landmark. The park's tower hall is adorned with informational placards about the park's history.
Volunteer Park was designed by the famous Olmsted Brothers, who created Greenlake Park, the University of Washington, and numerous other parks and universities around the United States.
You can also visit the Volunteer Park Museum, which reopened its doors on February 8, 2014, after being closed for two years. The Fuller family owns the museum, which is maintained by the city of Seattle.
Volunteer Park is an excellent place to visit whether you are in the area for business or leisure. You can get there via several entrances, including E Galer St and 15th Ave.
Several neighborhood feeder trails will take you there. Volunteer Park is well-equipped with parking, and it is easy to find free parking near the water fountain and Asian Art Museum.
Address: 1247 15th Ave E, Seattle, WA 98112, United States      Phone: +1 206-684-4075
Parks in Seattle
10. Gas Works Park
The historic Gas Works Park was once a working gasification plant. It's now a park with a great view of Lake Union and the waterfront.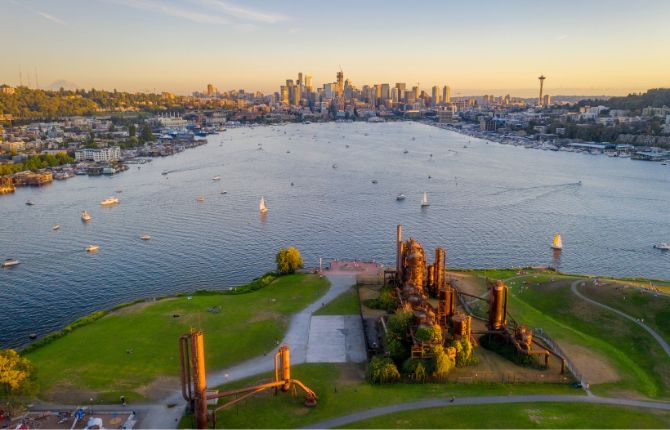 If you're looking for a great place to take the kids for a picnic, Gas Works Park is the place to go. The park also offers a playground area.
Families will enjoy the park's unique history and attractions. Don't miss a stop here for a fun day in Seattle.
Gasworks Park has a unique design and a scenic view and is often packed during the summer. However, if you can resist the crowds, the park is worth a visit, especially if you're looking for an area to relax and watch people.
You'll find several restaurants, cafes, and shops in the Fremont neighborhood. You can also take a break from the busy streets of Seattle by spending a day at Gas Works Park.
Washington Natural Gas originally built a plant here and later sold it to the city of Seattle. It wasn't the cleanest site when the town first bought it, but the company eventually cleaned it up.
Several old buildings, such as the boiler house, have been converted into picnic shelters and play areas. Besides the park's incredible scenery, visitors can learn about the city's history through the ruins.
In addition to the picnic shelter, the park has two giant sheds that once housed gasification equipment. The second shed, on the north side, served as a train trestle, offloading coal into giant hoppers.
The picnic shelter sits on the site of the former gasification plant, and a large concrete building houses the remnants of a boiler house. It is now a playground with a sculpted sundial.
And the picnic shelter overlooks a lake where the coal was originally offloaded. Visitors can watch spectacular sunsets from here.
Address: 2101 N Northlake Way, Seattle, WA 98103, United States      Phone: +1 206-684-4075
11. Kubota Garden
If you're interested in Japanese culture and landscapes, consider a trip to the Kubota Garden in Seattle.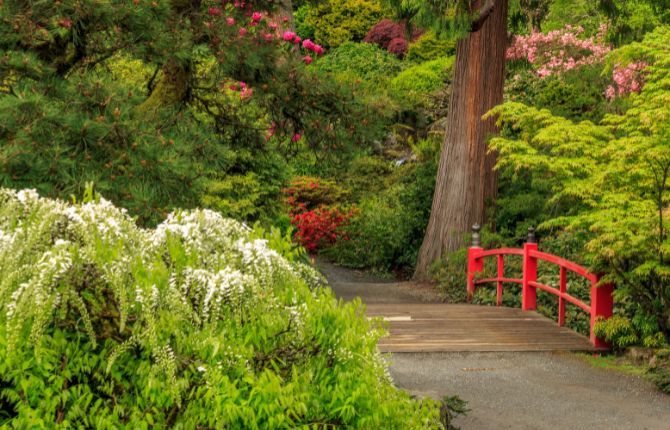 The gardens are home to Japanese maple trees and other beautiful plants. The Kubota Garden offers free tours on weekends.
You can even take Japanese art or gardening classes or sign up for a workshop if you're interested in Japanese culture. The Kubota Garden is also a popular place to participate in community service projects.
The Kubota Garden was built on land donated by Fujitaro Kubota, a Japanese immigrant who used his carpentry skills to create the Japanese gardens and structures. One of the most popular features of the Kubota Garden is "The Pagoda," a unique building.
The Kubota family explored the gardens with their children and later donated the land to the Seattle Parks Department.
Visitors to the Kubota Garden can enjoy the beautiful scenery all year long. Many visitors enjoy the garden throughout the year, though there are certain seasons when the flowers and trees are more attractive.
Springtime is one of the best times to visit the Kubota Garden, as it is filled with beautiful blooms. A visit to the Kubota Garden in Seattle will surely leave you feeling refreshed. This is a must-do if you are in the area.
You can combine a visit to the Kubota Garden with a trip to Seward Park for a family outing. The park is on Lake Washington and has several walking trails stretching along the shore and through the forest.
Visiting the garden is a beautiful experience for all ages, so don't miss it. Take the time to enjoy this beautiful garden and all its treasures. You'll be glad you did!
Address: 9817 55th Ave S, Seattle, WA 98118, United States      Phone: +1 206-725-5060
12. Parks in Seattle: Kerry Park
You may be wondering how to get to Kerry Park in Seattle. Here are a few tips to get there from your Seattle apartment or downtown hotel.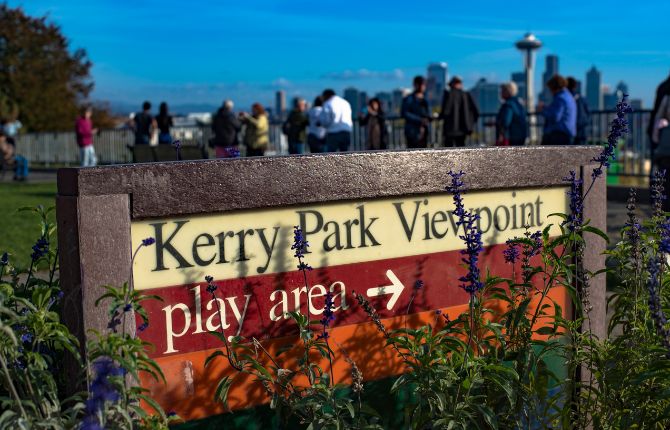 Kerry Park offers spectacular city views and is an excellent spot for a picnic or family outing. Take advantage of a free map and live directions from Moovit to get to Kerry Park.
You can also view timetables and locations of nearby transit stations to get to Kerry Park. Moovit also shows you the quickest route to and from Kerry Park.
Kerry Park offers killer city views at the top of Queen Anne Hill. Take a stroll on the grassy lawns for an Instagram-worthy shot.
When visiting Seattle, don't forget to check out the Pacific Science Center and its planetarium. These are two of the city's most popular attractions. You'll have a great time educating yourself about science while enjoying the park's entertainment facilities.
A planetarium space show is fun to learn about the science behind our world, and the theater will play blockbuster movies. And don't forget to visit the Washington University campus and Seattle Aquarium.
If you're looking for something to do with the kids, take them to the Woodland Park Zoo, a wildlife refuge where you can learn about different animals from the park's thousands of species. If you're interested in a specific animal, try your best to find a local zoo before traveling to Seattle.
Address: 211 W Highland Dr, Seattle, WA 98119, United States      Phone: +1 206-684-4075
Parks in Seattle
13. Parks in Seattle: Warren G. Magnuson Park
If you're looking for an exciting park in Seattle, check out Warren G. Magnuson Park. This park is part of the city's Sand Point peninsula, which is a peninsula that juts into Lake Washington between Wolf Bay and Pontiac Bay.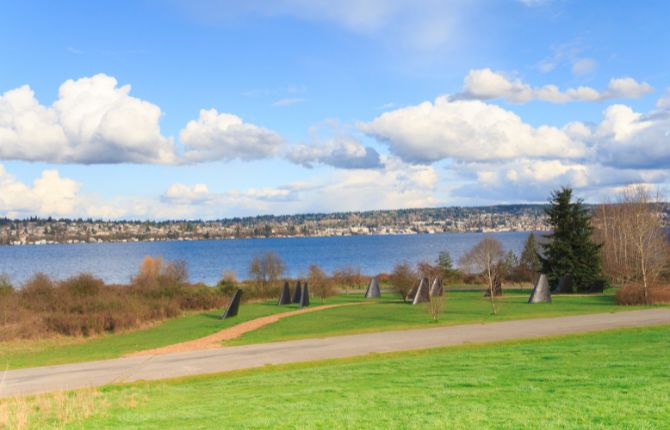 It also provides the neighborhood's name to the west, Sand Point. It was a naval air station at its easternmost point, but it's mostly public parkland today.
Other peninsula areas are home to the NOAA western regional center, city housing, and more.
If you like to play sports, you'll love Magnuson. There are seven sports centers, bowling alleys, and volleyball courts. The park is also home to the annual Seafair Summer Fourth, which takes place during the city's Independence Day.
Check out this event if you're looking for a fun family event. You'll be happy you did! Whether you're looking for an outdoor basketball game or an excellent spot for a picnic with friends, there's something for everyone at Magnuson.
Magnuson Park was once an airfield. It was later transferred to the City of Seattle and other federal and state agencies. Today, it's the second largest park in Seattle.
It's constantly changing and provides an incredible range of activities. You'll enjoy jogging and cycling through the park, hiking or biking, or soaking up the scenery in the flower garden.
Whether you're looking for a place to hang out and relax after a long day at work or a busy weekend, Magnuson Park is an excellent place to spend an afternoon.
Address: 7400 Sand Point Way NE, Seattle, WA 98115, United States      Phone: +1 206-684-4075
Parks in Seattle
14. Parks in Seattle: Myrtle Edwards Park
Myrtle Edwards Park in Seattle is your place if you are a cyclist or a pedestrian. Located on the waterfront, this park offers almost three miles of paved paths for walking, jogging, or bicycling. Bikes can be rented at the park for rent.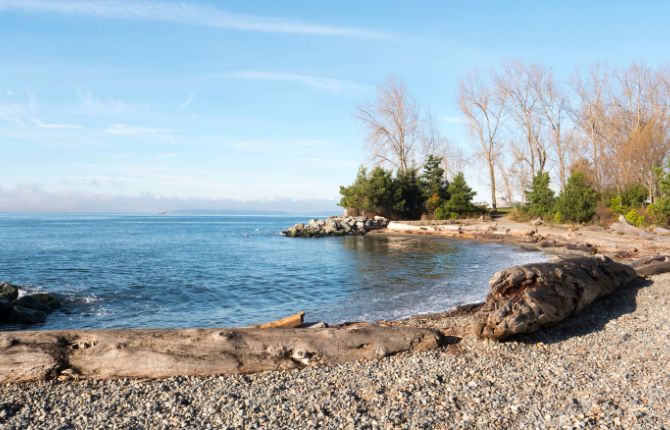 There are numerous places to rent a bike, too. This park is conveniently located near buses and light rail trains, so you can get around quickly. Bicycles can also be rented in the park, and you can easily reach the trails from the water.
Located on the waterfront, Myrtle Edwards Park is a 4.8-acre (19,000-square-foot) public park in Seattle. The park is open 24 hours a day and offers a bike and walking path.
You can also take in the scenery as you ride along the waterfront. Birdwatchers should also pay close attention to the wildlife at the park, as it is home to various gulls and eagles.
Aside from that, the park features over 200 plant species and wildlife, including whales, seals, and otters. The park also features spectacular views of Puget Sound and Mt. Rainier. For the ultimate Seattle experience, make your way to Myrtle Edwards Park.
It's worth the trip! There is no shortage of things to do and see at Myrtle Edwards Park. Take your time and enjoy it!
Address: 3130 Alaskan Way, Seattle, WA 98121, United States      Phone: +1 206-684-4075
Parks in Seattle
Discovery Park
Alki Beach Park
Green Lake Park
Carkeek Park
Seward Park
Volunteer Park
Gas Works Park
Kubota Garden
Kerry Park
Warren G. Magnuson Park
Myrtle Edwards Park
Parks in Seattle