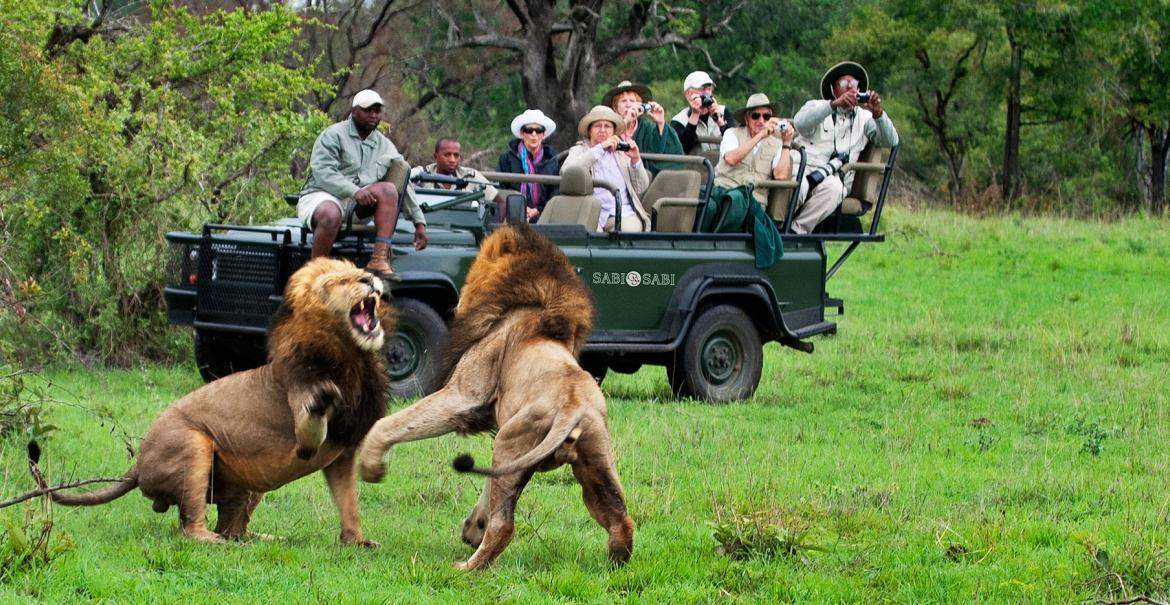 Which safari park in Africa is the best for your visit in this year?? TravelAdvo suggests you the following Africa's top 10 wild life safari parks. These are essentials for the travelers who love the beauty of wilderness and wild lives in Africa.
1.    Serengeti National Park, Tanzania
Serengeti NP, Tanzania is one of the oldest national parks in Africa. But still it is the best wild life viewing destination in Africa.  This is home for most of wild lives on earth. Specially, the migration of wildebeest gazelle and zebra is the inherent feature of Serengeti. Every year, millions of them migrate from Serengeti to Masai Mara Reserve Kenya. If you are on time of July to March, you may see magnificently large herds of wildebeests and others. Apart from that annual migration, the wildlife travelers may experience top wild life views, endless authentic African plains, spotting predators, hot air balloon safari and many more unforgettable experiences throughout the year.
2.    Mana Pools National Park, Zimbabwe
Mana Pools NP, Zimbabwe is the best place for adventure travellers. Elephants, big buffaloes, leopards, rhinos and lions like, five big safari animals are available there. You can explore the park by a canoeing through Zambezi river or by foot. In the case of guides, you can meet best guides some of the best guides in Africa in Mana Pools NP. This is also famous as a great birding destination with excellent river fishing experience. But you should keep in mind that the road network is limited and 4WD is essential to access.
3.    Mala Mala Game Reserve, South Africa
Mala Mala is a private Game Reserve bordered to Kruger National Park. If you visit in between May to September, you can easily get superb wildlife viewing with guaranteed sights full of elephants, buffaloes, leopards, lions and rhinos. Highly trained guides are ready to guide you for day and night safaris. Mala Mala is the largest and the most affordable Sabi Sands properties. Keep in mind, there's no budget or self- drive options.
4.    Okawango Delta, Botswana
Okawango Delta in Botswana is one of the most popular destinations in Africa. You can do walking safari and dugout canoe trips (Mokoro) in addition to the usual game drives. For an exclusive experience, you can reach to some lodges through a charter plane. Here also you can find big five wild lives easily because off road driving is also permitted. In the case of water birds, this is a great destination. Just keep in mind, Okawango is an expensive destination in Botswana.
5.    Lower Zambezi National Park, Zambia
Lower Zambezi NP, Zambia is situated on the northern banks of Zambezi River. It spreads throughout the Zambezi Valley and you can get mind blowing views through a canoeing safari in the river. Except rhinos, you may see elephants, leopards, buffaloes and lions abundantly. Little bit expensive, but it is worth of watching it. Best time to visit in between May to October.
6.    Moremi Game Reserve, Botswana
Moremi Game Reserve, Botswana is the most productive reserve for all wild life views in Okawango Delta. This dry peninsula is surrounded with wetlands and all the five big animals. Waterbirds as well as other types are available. And also excellent game drives with Mokoro trips are possible in here. There are some possible parts of Moremi for mobile safari camps which are more exciting. The most important thing you should keep in mind is most of the areas are covered with water in rainy season (December to march). July to October is the best time visit Moremi Game Reserve, Botswana.
7.    South Luangwa National Park, Zambia
If you love for a night drive to find wilders, then South Luangwa is the best place. Here you may have lots of budget accommodation options outside of park. All big five animals (elephants, leopards, lions and rhinos) are available in here. Remember, the park gets very hazy in dry season. So, give a try in between July to mid of November.
8.    Ngorongoro Crater, Tanzania
Black rhinos are a gift for you in Ngorngoro Crater, Tanzania. And also all big animals and predators can be easily seen throughout the year. Also you can visit Masai village as a cultural visit. But remember the area is getting crowded in July to March. So, avoid it and visit on another month in between June to September.
9.    Sabi Sand Game Reserve, South Africa
Sabi Sand Game Reserve famous for excellent wild life views with luxury lodges. Big five animals can be seen very closely. With a high-end luxury feeling, you can feel the wilderness of South Africa. There you may find best guides. And also off road driving is also allowed. Best timing for this wonderful experience is from May to September.
10.    Masai Mara National Reserve, Kenya
Lion, leopard and cheetah the three big cats are frequent in Masai Mara National Reserve. Because of the natural support of regular rainfall many hurbivarouse are there. So, it attracts predators. From September to October annual wildebeest migration can be seen to here. But the roads are terribe at rains So, fly with a hot air balloon can be recommended.