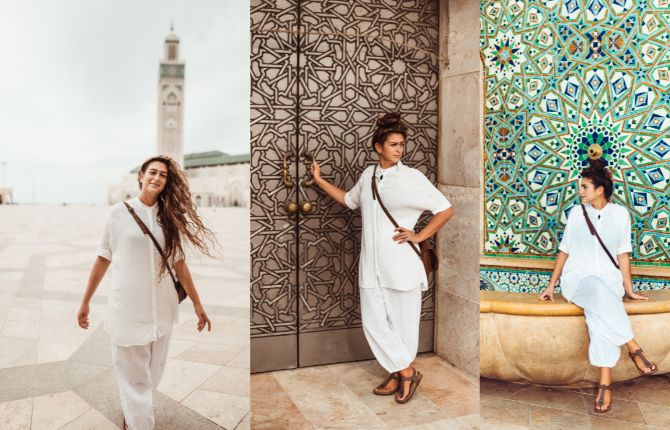 Looking for the best things to do in Morocco, North Africa?? Here's the list with all the travel information you need to plan a family tour.
The cities like Casablanca, Marrakesh, Fes, and Chefchaouen are some of the world-famous cities in Morocco. This exotic destination is perfect for history buffs, culture explorers, foodies, hikers, campers, and beach lovers.
Especially, Morocco is a terrific destination to observe buildings with impressive architecture and historical sites. Aside from that, there are incredible beaches, deserts, mountains with jaw-dropping viewpoints, and many other memorable places.
Let's discover the complete list.
1. Things to do in Morocco: Casablanca
If you're looking for a pampered beach holiday, Casablanca, Morocco is the city for you. The city offers a mix of history, culture, and outdoor activities. Located on the shores of the North Atlantic Ocean Casablanca is the best location to start your Morocco tour.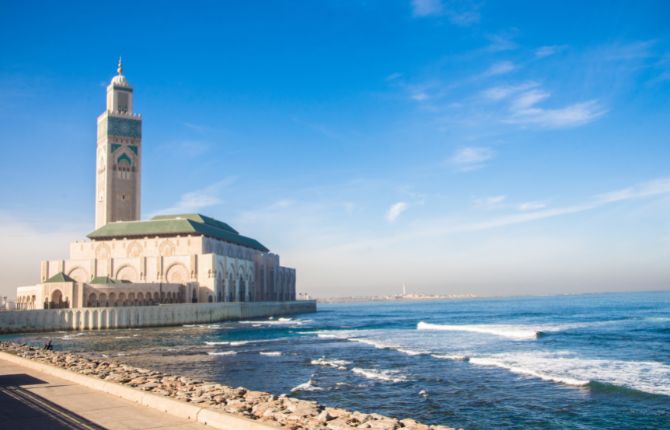 The friendly atmosphere and excellent shopping opportunities are worth a visit. Here are a few ideas for your next trip to Casablanca.
For a more luxurious experience, visit Ain Diab, an elegant neighborhood in the city's south. The sandy beaches of La Corniche are perfect for luxury travelers. Hundreds of restaurants and fine hotels can be found along this stretch of coast.
Ain Diab is home to the Morocco Mall, Africa's largest shopping mall, and Sindibad, a safari park and amusement park.
There's no shortage of things to do in Casablanca. It features waterparks, awe-inspiring museums, gorgeous beaches, bustling flea markets, breathtaking religious sites, delicious restaurants, and many more.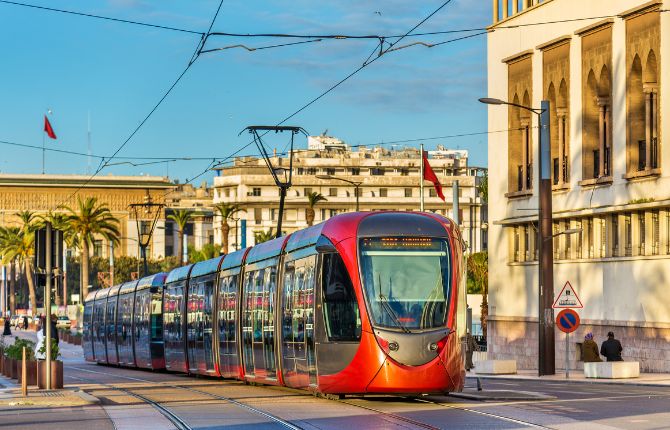 The city's main attractions include the Hasan II Mosque, a magnificent example of Art Deco architecture. The minaret of the mosque is the second highest in the world, rising 60 stories above the city's streets.
You can also tour the Palace Royal De Casablanca, one of four royal palaces in Morocco. You can even take a tour of the mosque on the oceanfront for a reasonable fee.
Taxi services are also available. If you're planning to take a taxi to Casablanca, it's best to hire a cab as it's cheaper and more convenient than public transportation.
Alternatively, you can flag down a red petit taxi and have it drop you at the desired location.
Address: Casablanca, MA 20250
2. Things to do in Morocco: Marrakesh
If you're planning a trip to Marrakesh in Morocco, you should take the time to experience the city's culture and history.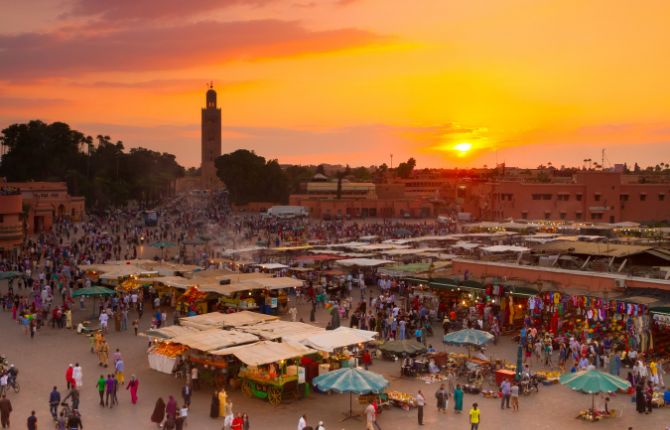 There are countless places to explore, but you must not miss the Jardin Majorelle, an incredible botanical garden. This beautiful garden was created by French artist Jacques Majorelle. He had taken over almost forty years from 1923.
While visiting Marrakesh, you should also visit the Musee Yves Saint Laurent, a museum that features fashion designer Yves Saint Laurent's creations. Photography enthusiasts will be fascinated by the Maison de la Photographie.
One of the best things to do in Marrakesh is to walk around the medina. This bustling square is a UNESCO World Heritage Site, and is a popular place for shopping, eating, and drinking.
There are souks in the medina, where locals dye clothes and sell them. Taking a walking tour through the medina is a must for travelers to get the most out of the city.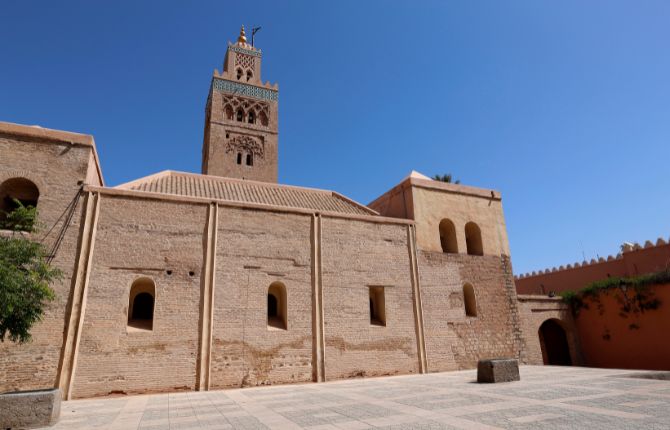 You can buy souvenirs and local crafts at the souks, which house more than 40,000 people. There are many different types of crafts, from rugs and carpets to babouches and sarongs.
El Badi Palace and the Musee des Confluences are two other sites worth visiting in Marrakesh. Many visitors come here to explore the local culture and learn more about the country's history.
3. Things to do in Morocco: Fes
If you're looking for an exciting cultural experience, head to Fes in Morocco. This historic city features vibrant music festivals that celebrate the culture of the Amazigh people, an ethnic group in North Africa.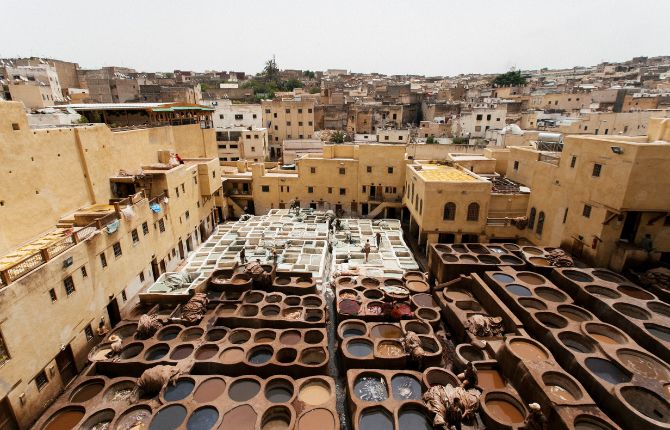 A day at Fes's Tissa Horse Festival can leave you inspired. This UNESCO-listed festival includes traditional dances, songs, and dishes.
In the medina, you'll find shade. The medina is the center of Fes, and you can see the city center from there. Your guide will help you find souvenirs and food, as well as show you the best places to eat and drink.
You can also see donkeys in action, as they are used for transporting goods around the medina. Make sure you try one of the delicious meals from Medina. Especially, don't forget to pick up a bag of Moroccan mint tea!
You can even go on a horse-riding adventure in Fes.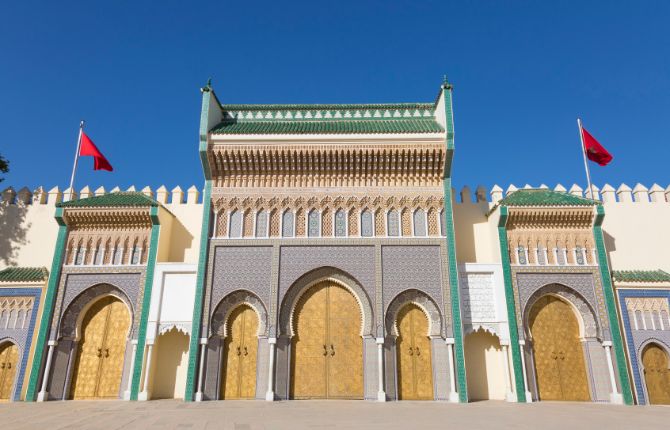 A visit to Fes in Morocco is sure to leave you inspired. As the oldest of Morocco's four imperial cities, it is one of the most complete and diverse cities in the ancient Arab world.
Fes was founded in 789, therefore it features a number of historical and cultural attractions.
In addition to the Fez Medina, the city has a number of world-renowned UNESCO World Heritage Sites that are worth exploring. And also there are eye-catching botanical gardens, amazing leather tanneries, and many more.
Travelers to Fes should also consider staying in a riad. These are typically cheap and offer a unique experience, so you can experience the Moroccan way of life while staying in a riad.
Located close to the Medina, souks, and food options, Fes' riads are perfect for cultural immersion. The city is so compact that it's easy to explore on foot without a taxi.
Address: Fez, MA 30000          Phone: +212 (0) 5 35 94 24 92
4. Chefchaouen
You may have already heard about the Blue Village in Morocco and have wondered what it is all about.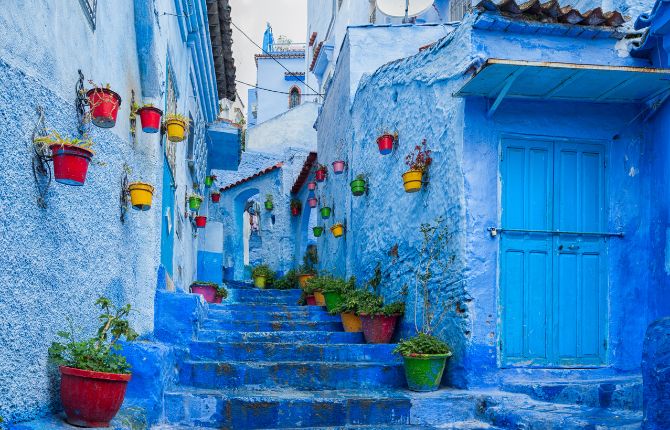 The town of Chefchaouen is located in the northern region of Morocco, at over 500 meters above sea level. It is a long drive from the nearest cities, but buses from Fez and Tangier run frequently to Chefchaouen.
You'll have to plan your travel accordingly and buy tickets in advance. The town is hilly and largely accessible on foot, so make sure you have the stamina to climb the steep paths.
This town is known for its narrow, blue streets and street artists. In the place known as Place Outa el Hammam, you can sip on a cup of hot mint tea.
Taking a break from the busy streets can be a relaxing experience on a rooftop. In fact, the rooftops are a key architectural feature of the city.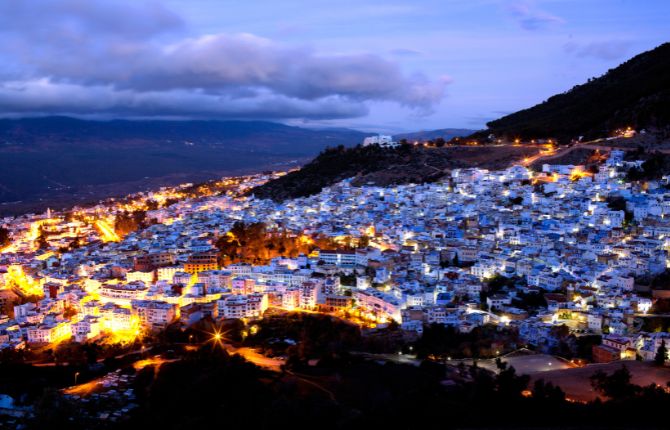 Despite its proximity to the continent of Europe, Chefchaouen in Morocco never had any European visitors until the 1920s. The town was once hostile towards Europeans, and it was also founded by Muslims and Jews who were expelled from Spain during the Inquisition.
Spanish colonization of the area was not a welcomed idea here, and the local chief fought the colonizers. It was only with French troops that he was finally captured.
If you want to experience the life of a local, you must visit Chefchaouen. The town has many beautiful corners, but you have to remember to be respectful of the locals.
In Morocco, taking photos of people means stealing their souls. It is difficult to walk around without tourists taking pictures of them.
Besides, they might find it hard to get to their shops without being photographed. You should also avoid capturing their daily rituals.
Address: Blue City, Chefchaouen, MA 91000
5. Aït Benhaddou –

Ksar of Aït Benhaddou
Ait Benhaddou is located in the center of Morocco, 32 kilometers from the city of Ouarzazate. This historic fortified village has been a UNESCO World Heritage Site since 1987.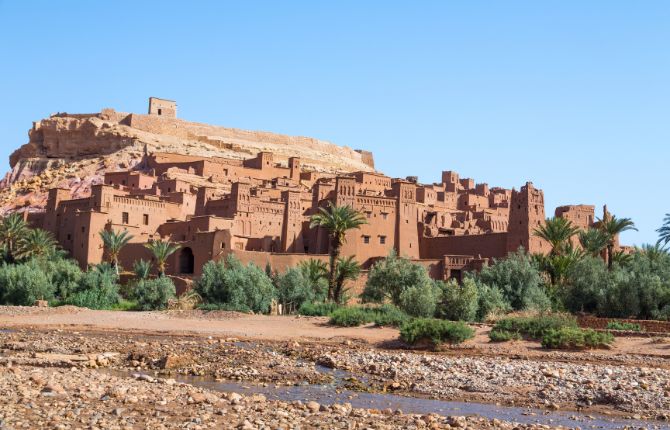 Benhaddou is one of the most photographed places in Morocco, with picturesque Kasbahs, palm trees, and decorative motifs. There is a labyrinth-like street with towers and sandstone-colored walls.
The view from the hills overlooking the village is especially beautiful at sunset. A visit to Ait Benhaddou should not be missed if you love ruins.
Its architecture is truly amazing, and you'll be amazed by the sheer number of details that are preserved on the walls. The walls are mainly constructed from clay bricks, adobe, rammed earth, and wood.
If you visit Ait Benhaddou at midday you can get spectacular golden views from your camera.
The site is home to two cemeteries and 138,000 palm trees. It's worth taking a trip here if you want to see a truly ancient Moroccan settlement.
Also, there are several interesting sights and historical facts to learn about in this ancient city. You'll find a medieval mosque, a Koranic school, and a collective arena. You can also see the Jewish cemetery.
The ancient city has been fortified since the Almoravids ruled in the 11th century, so there is no reason why you shouldn't check out this historic site.
The Atlas Film Museum is located nearby, and you can visit the studio where HBO filmed the popular television show Game of Thrones. The area has been used as a film set on several occasions and is well known for its beautiful architecture and handicrafts.
There are several souvenir shops and cool cafes to enjoy the town's attractions.
Address: Ksar of Aït Benhaddou, MA 45122
6. Erg Chebbi
Despite being the most visited desert in Morocco, Erg Chebbi is far from empty. You'll see that the desert isn't as desolate as it seems, and the people there are warm and welcoming.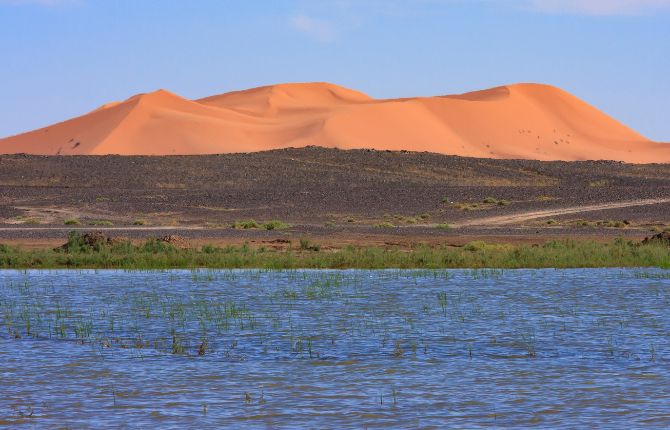 The desert is a vast expanse, and the sight of a sunrise over the dunes is enough to change your life. It's a two-day drive from Marrakech and is home to several famous movie sites.
You'll be greeted by starry skies as you cross over the dunes. You'll also have to grip the handlebars of the saddle for the ride, and it's essential to stay calm.
A visit to the dunes of Erg Chebbi in Morocco is not complete without a camel ride. The experience is as interesting as the name suggests, as you'll be bouncing and jostling across the sand dunes.
A camel ride along the dunes is a highlight of your stay, but the real excitement is in the experience of sleeping under the stars.
If you like desert camping, Erg Chebbi is perfect for that. Luxury tents are available for guests to stay in, complete with private bathrooms, WiFi, and shower essentials. You can also have a romantic dinner under the stars, or take part in guided walks and cultural activities. You can even visit an astronomer to learn more about the sky.
To reach the sand dunes of Erg Chebbi in Morocco, you can book a package or a day trip. There are many tour operators that offer several different packages and can take you to the desert from either Marrakech or Fes.
7. Things to do in Morocco: Merzouga Desert, Merzouga
Did you know you can take a camel ride through the desert in Morocco? Merzouga Desert, a part of the Sahara is the right place for you. It offers you tons of fun outdoor activities.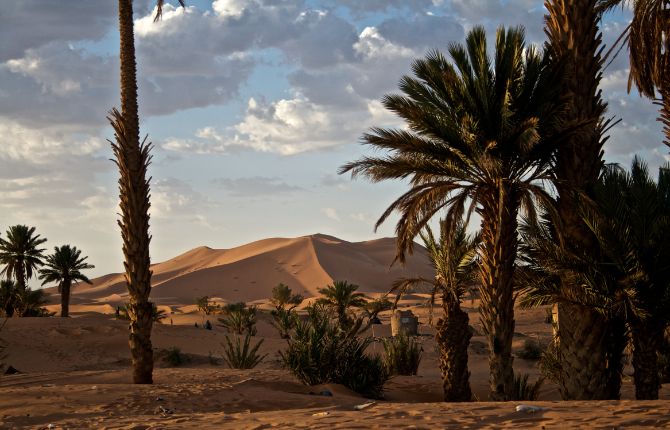 Sightseeing, hiking, camel riding, quad biking, driving 4×4 or buggy, picnicking, star gazing, and many more.
Merzouga Desert tours take you through some of the highest golden sand dunes in north Africa and end with a private tent.
These tents are equipped with mattresses, blankets, pillows, toilets, and Berber music. If you'd rather not spend the night in a tent, you can also rent a motorbike or go on a Jeep tour of the area and spend only the daytime.
You'll be able to explore the dune sea and try your hand at sandboarding, which is similar to snow skiing but with sand. If you're looking for an even more thrilling experience, you can arrange a hot air balloon ride over the dunes in the Merzouga Desert.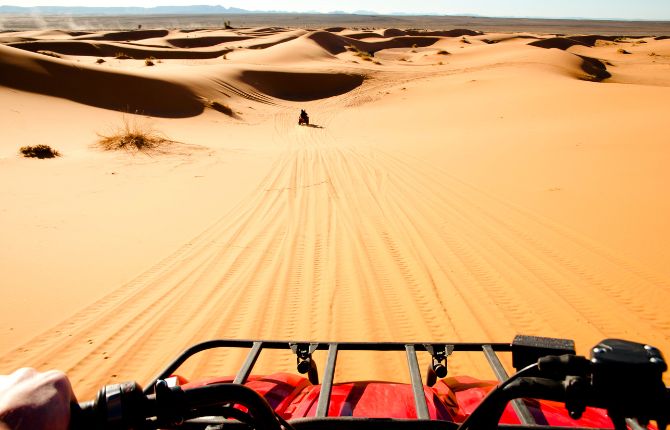 Getting to the desert can be difficult in Morocco, so renting a car is not recommended. A group tour will be the easiest and cheapest option. The tours usually include a guide, organized activities, and 4×4 transport through the desert.
If you'd rather take the bus, the Supratours company runs a daily bus to Merzouga that leaves at 8:30 am. Other bus options include switching buses along the way.
Address: Merzouga Desert, Merzouga, MA 52202
8. Jebel Toubkal
If you're looking for a real and scenic hike in the mountains, you should check out Jebel Toubkal in Morocco. It is a scenic mountain peak located in the Toubkal National Park in southwestern Morocco. (4,167 meters, the highest peak in the Atlas Mountains)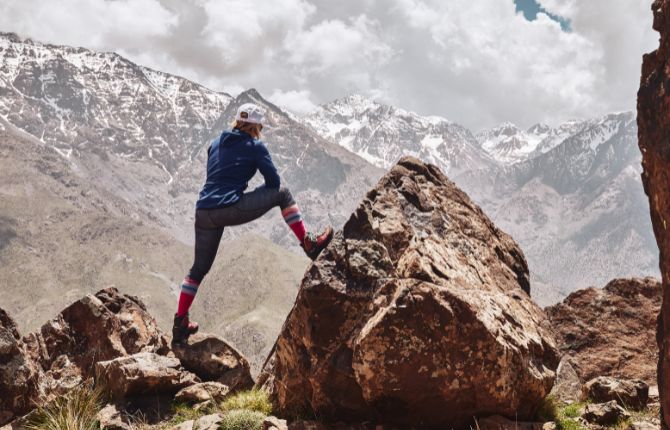 Although it's more difficult than other mountains in Morocco, it's still worth the effort, especially when you consider the incredible scenery that you'll be seeing along the way.
Generally, the hike requires two full days, and you can rent a mule to help you climb the mountain. You may also want to consider hiring a guide. There are more guides in English than in French or Spanish, but the majority of the locals still speak Arabic and Berber.
You can climb Mount Toubkal in two stages. The first stage is a 17-kilometer walk from Imlil to Asni. The paved road that connects the two towns follows the river. While it's technically easy to reach the peak from Imlil, it's best to avoid the hike during winter or spring rains as the water level rises.
In November, you can enjoy spectacular views of snow-capped mountains, the Anti Atlas, and the dusty Sahara. This is a great way to experience a true Moroccan winter adventure. Those looking for a more challenging climb can opt for a guided trek through the High Atlas. You can even book a car rental in the region.
9. Rabat
If you've ever wanted to see the city of Morocco up close, you've probably heard about Rabat. It's the capital city and the largest city in the country, and it's easily accessible via plane or train from nearby Rabat-Sale Airport.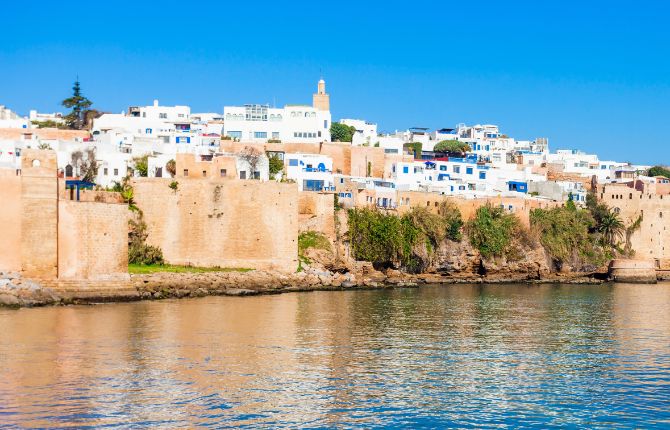 Rabat has even been rated second in CNN's list of "Top Travel Destinations"! If you've never been, here are a few things you should know about Rabat before you visit.
First, you'll want to visit the city's majestic cathedral. The interior is decorated with religious artifacts and statues and is full of fascinating details. It also has a tower reminiscent of a minaret.
The exterior of the building reflects a mixture of Arabic and French architectural styles, and the two towers resemble minarets. The towers are decorated with colorful mosaics, and the dazzling blue color of the interior and exterior will certainly turn heads!
While visiting Rabat, be sure to take a stroll along the city's beaches. The beach is popular with surfers, and the lagoon is home to rare birds. You can also visit Plage des Nations, a popular surf spot with sun loungers with sun shades and a cafe. Apart from surfing, Rabat beach is perfect for sunbathing.
Also, you can see the famous necropolis of Chellah. Once you've had your fill of ancient history, make sure to spend some time relaxing at the beach with the family.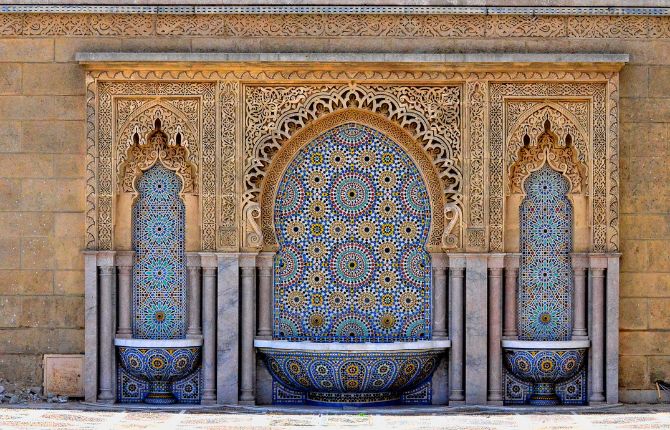 Aside from magnificent ancient ruins, Rabat has spectacular wildlife areas, incredible architectural landmarks, and charming gardens. For example, Rabat Zoo is home to a large number of lions.
On the other hand, Rabat is famous for live music shows. So, you may surely catch a live concert on your tour.
Another popular attraction in Rabat is the Mohammed VI Museum of Modern and Contemporary Art, which opened in October 2014. This $20 million museum is designed to preserve the past of Moroccan art.
The Mohammed VI Museum's first exhibition featured 400 pieces by 150 Moroccan artists, while the museum has many modern pieces as well. It is located on Angle Av Mohamed V and is open Monday through Saturday from 9:30 am to 7:30 pm. And it has a permanent exhibition of works of art, which is worth seeing.
10. Spa Treatments in Morocco
If you're looking for a luxury spa treatment in the middle of the desert, Morocco may be the place for you.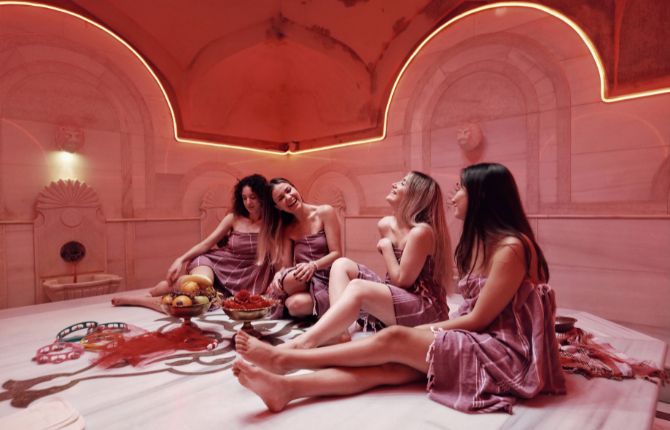 The country is full of spas, including the renowned hammam. The hammam, or bathhouse, is a social event in which Moroccan men and women chat, wash each other's backs, and drink mint tea while they soak in a hot steaming room.
Moroccan spa treatments combine ancestral rituals with delightful aromatherapy products. Moroccans are distinctly scented people, and their natural products are widely used in everyday life.
Orange blossom rose, and Argan is used in health and cosmetics. Similarly, Moroccans have a tradition of using herbs, spices, and plants to treat themselves and others.
Essential oriental rituals are scented products derived from Moroccan tradition. A typical Hammam ritual, for example, uses menthol flavors in order to encourage a sensory journey. The result is total relaxation.
Moroccan baths are an ancient tradition that rejuvenates the mind and body. The skin regulates the body's temperature and fluid balance and absorbs moisture. This cleansing ritual is an age-old conventional ritual that is spread all over the Middle East and is widely known as the Maghrebi.
In addition to the hammam bath, Moroccans also use a variety of traditional massage techniques. The Moroccan hammam, a traditional Turkish bath, involves a steam-heated room. The hot steam helps to soften the skin and open the pores.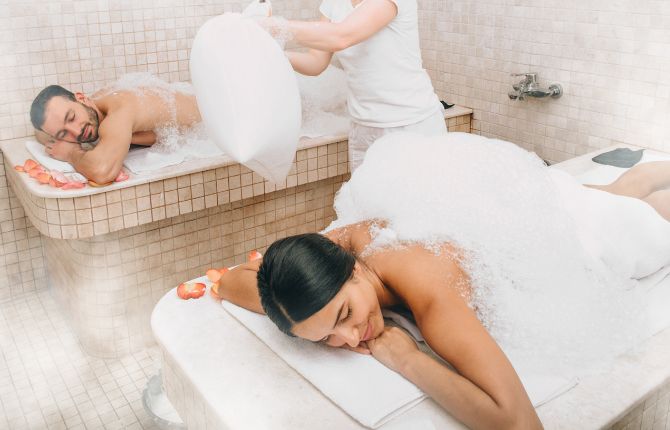 At the Marrakech Heritage Spa, you can have a traditional Moroccan hammam experience. In addition to the traditional massage, you can also enjoy a hammam experience.
The hammam is a steaming room, so expect some low-pitched chatter. Afterward, relax with Moroccan mint tea, which is often served with sandalwood aromatherapy. You'll also experience a royal massage, complete with argan oil massage.
Address: Road, 40 Arset Aouzal, Marrakesh 40000, Morocco     Phone: +212 5243-84333
11. Agadir
If you're looking for a relaxing getaway, then you must check out Agadir in Morocco. The city is large, but you'll likely only spend time on the coastal strip. Ex: Plage d'Agadir.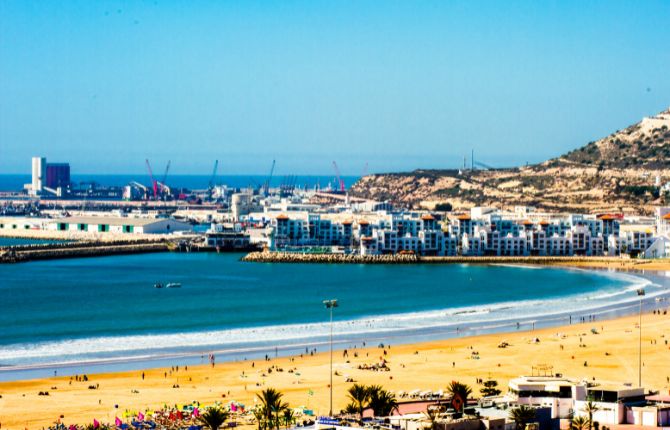 The rest of the city is made up of narrow streets and is centered around fishing and agricultural exportation. The city is home to some of the most beautiful coastlines in Morocco, including the Plage d'Agadir and the Bay of Taghazout.
You can enjoy the water at one of the many beaches that line the city's coast.
For example, Plage d'Agadir is a scenic 10-kilometer-long beach that features a powdery sand shoreline and many other facilities including restaurants, and bars. Beach lovers can enjoy beach games like beach volleyball, football, or any other.
While in Agadir, you should not miss the ruins. These were destroyed in the 1960s, but were reconstructed and are worth exploring. There are two museums to check out, including the Memoire d'Agadir, which tells the story of the devastating earthquake that hit the city in 1900.
In addition to the Souk El Had, an expansive market there are many museums and cultural sites worth visiting.
Musee du Patrimoine Amazigh is such a museum that focuses on Berber culture and people.
The Mohammed V Mosque, the Bethel Synagogue, and the Catholic Church of Sainte-Anne are all located in the old city. You can also buy leather goods and souvenirs from the Souk. The best time to visit Agadir depends on what you're looking for. However, the city is most popular from May to October.
In Agadir, do not miss the historic Kasbah, a 16th-century fortress built by the Berbers. Berbers and Arabs remodeled the fortress, which gave them excellent views of the city.
Now the museum is located in a municipal park, where visitors can learn about the Berber culture that lasted thousands of years before Islam came to the country. There is also a small mosque and unfinished memorial gardens.
12. Plage d'Agadir, Agadir
As mentioned above, when it comes to beaches in Morocco, Plage d'Agadir in the city of Agadir is a good option. The 10-kilometer-long stretch of golden sand and turquoise waters of this seaside resort is great for any type of vacationer.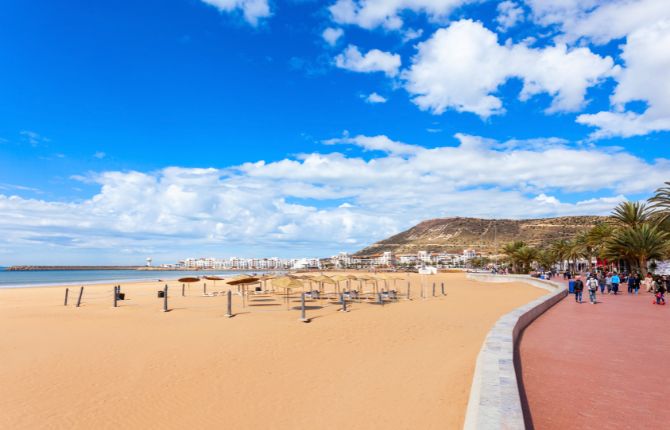 There are plenty of shops, restaurants, and bars located along the promenade. In addition to enjoying the sun and sand, you can also participate in several water sports. Some of these activities include surfing, jet skiing, boating, and even deep-sea fishing.
If you're planning a family holiday to Morocco, this beach resort offers plenty of fun for the whole family. There are numerous bars, cafes, and top seafood restaurants to satisfy any appetite.
While Agadir may not be an ideal destination for history buffs, it's close enough to many other places of interest that you'll never feel lost.
Plage d'Agadir is an idyllic place for a holiday with kids too.
In the 1970s, Agadir was the world's premier sardine port. The city has a ten-kilometer-long beach, fine seafront promenades, and 340 days of sunshine per year.
Its name refers to its location on the Mediterranean, making it an ideal place for families to spend the summer. The beach is also great for children. Agadir has a wide range of activities that will keep them happy and healthy.
During July, the average temperature at Plage d'Agadir is 31 degrees, compared to 29 deg the month before. In the following month, the temperature will drop to 25 degrees and go back to the previous month's average of 29 degrees. During January, the average minimum temperature will be 19 degrees.
You can also enjoy concerts of urban music at the Noiz Makerz festival in Plage d'Agadir.
13. Things to do in Morocco: Tangier
In Tangier (the Blue and White City), Morocco, you can experience the rich history of the country, beach activities, and shopping opportunities.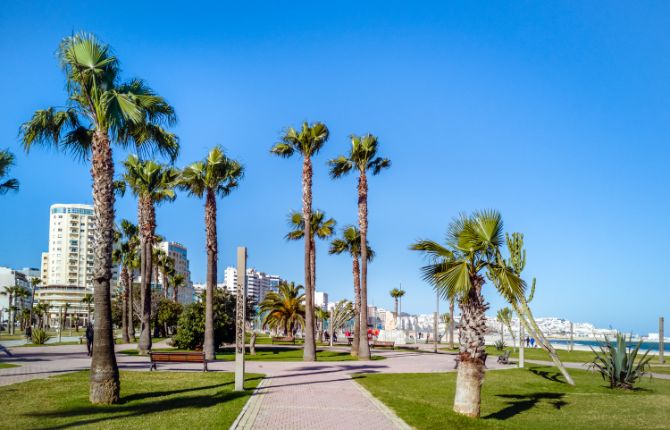 Tangier features pristine coastlines, unique museums, lively downtown spots, and archaeological places.
For example, Dalia Beach in Tangier features cerulean water and is perfect for swimming. On the other hand, the archaeological cave, Hercules Caves is perfect for cave explorers.
Kasbah Museum in Tangier is another tourist attraction that features an excellent collection of historical artifacts detailing the history of Tangier.
This museum is housed in the Kasbah and features a large collection of exhibits from the turbulent history of Morocco. And it features exhibits from the ancient Roman city of Volubilis, a mosaic from the ruins of the ancient Carthaginian city, and illustrations detailing the history of Tangier.
There is also a room dedicated to Moroccan arts, including centuries-old ceramics, silks, and illustrated manuscripts.
There are several places to eat in Tangier, and the city proper is divided into 14 districts based on Berber clans. There are approximately 1,424 people living in the city center, which includes a district called Sidi Lyamani.
The rest of the city is scattered throughout the countryside, where you will find cozy French tea shops and cafes. The city is a great place to experience both traditional and modern Moroccan culture.
When visiting Tangier, the best time to visit is from April to October. The beaches are very sandy, and most offer a convenient entrance into the water. You can also find camels for photos at many of the beaches.
The Anglican Church in Tangier was built by the British who lived in the city and later rebuilt to accommodate more people. The Archdiocese of Tangier was founded in 1882, and many famous people are buried there.
Address: Tangier, MA 90060
14. Erg Chigaga
For those who love deserts, Erg Chigaga is a must-see. Located in the Draa Valley, this desert oasis is a great way to unwind and take in the scenery. You can stay in a traditional Moroccan Kasbah, or stay in a guest house in Tamdaght. The entire area is worth a trip. You'll be rewarded with a memorable trip.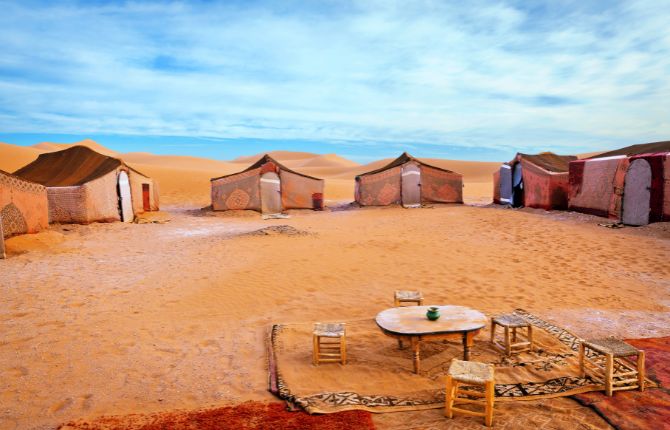 The Erg Chigaga dunes are home to some of the most amazing sights in Morocco. The dunes are one of the best places to stargaze, and despite the remote location, you won't find many people here.
You'll enjoy complete isolation, and even a few stars will sparkle in the desert sky. The area is part of the Iriqui National Park. Depending on the time of year, you can enjoy hiking through this part of Morocco, including Erg Chigaga.
During your trip, make sure to stay at Camp Al Koutban, where hot showers and real beds are provided.
This golden sand sea, located 56km southwest of M'Hamid, is unique because it seems to go on forever. It's also remote and cold at night. Travel by camel will take five to seven days, therefore you'll need a 4WD vehicle to make the trip.
As you travel further away from civilization, Erg Chebbi is a must-see for desert lovers. While visiting Marrakesh, be sure to leave time to hike through the dunes of Erg Chigaga, one of the world's largest hot deserts.
This is the perfect spot to unwind and experience the culture of the Amazigh people. You'll feel the energy and spirit of the desert and your visit to this remote area of Morocco will be worth it.
Address: Erg Chegaga, M'Hamid El Ghizlane 47402, Morocco
15. Dadès Gorges, Boumalne Dades
The Dades gorge is located in the Boumalne region of Morocco. It is a 45-kilometer trek through spectacular scenery and past cliffs that reach 200-500 meters.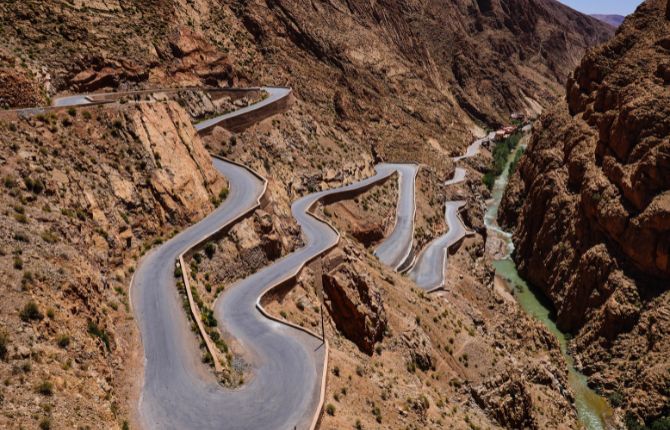 The route also takes you through small Berber villages and red Kasbahs. Photographers will find the region's rock formations and views very interesting. It's also a great place to take a picnic, eat some fresh local produce, and watch a beautiful sunset.
The Dades Valley offers breathtaking views of the surrounding Atlas foothills and orchards. The Dades gorge, a nine-kilometer trek from Boumalne, is home to a large number of ancient Kasbahs, but most of them are not accessible for touring.
The drive through the Dades valley is steep and has several hairpin turns. While it's paved, the road through the gorge is a thrilling journey, so be prepared for a challenging journey.
Getting there: You can also take a day trip to Boumalne Dades. Most tours to the region are organized and cover the area in one day. If you wish to spend more time exploring the region at your own pace, consider hiring a car.
Boumalne Dades is accessible via buses, but if you're going to be exploring the gorges on your own, hiring a car is the best option. If you don't have a car, you can also take a grand taxi to Boumalne Dades.
Address: R704 Atlas Mountains, Boumalne Dades, MA 45350
16. Moulay Idriss Zerhoun, Moulay Idriss
The region of Moulay Idriss is considered to be a religious hub, and its summer religious festival is an opportunity to see the area in its cultural heyday.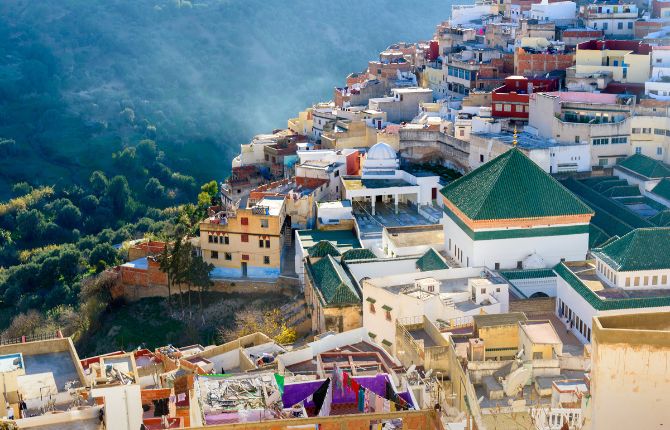 The name, Moulay Idriss Zerhoun came from the first Islamic ruler of Morocco. Therefore, his final resting place is located on the floor of Mount Zerhoun in the town.
There are so many scenic viewpoints in this town (ex: the Grande & Petite Terrasses). And also, there are charming olive shops, world-class restaurants, and many more.
The most notable building in the town is the Sentissi Mosque, built during the 18th century by a local man after completing the hajj in Mecca. It is said to be the only cylindrical minaret in Morocco and has marble columns with white Kufic Arabic letters.
Inside, you'll find several courtyards, and you'll find richly-decorated ceilings and mosaics.
This circular mosque is decorated in green zellige and white Kufi script, and its interiors are attractive. There's also a small circular swimming pool, and this makes for an excellent walking destination.
Another place not to miss in Moulay Idriss Zerhoun is the attractive Romanesque structure, the Haroune Aqueduct.
The Roman Baths in Moulay Idriss are often filled with young men, and a loop of these sites can be done in one day.
The area is full of small shops and galleries, and you can visit these on foot. While you're exploring Moulay Idriss Zerhoun, you should try to visit as many as you can in order to learn about the culture of the area.
To get to Moulay Idriss Zerouen, you can take a bus from Meknes to Volubilis. You can also walk 45 minutes to get there. Another option is to charter a grand taxi from Meknes. The trip costs 50dh, and you only pay the fare once you're picked up. If you're traveling with friends, you should charter a grand cab from Meknes.
Address: Moulay Idriss Zerhoun, Meknes, MA P7014
17. Ouzoud Falls, Ouzoud
The Ouzoud Waterfalls in Morocco are renowned for being some of the most spectacular waterfalls in the world. At 110 meters, the Ouzoud Waterfalls are the tallest waterfalls in North Africa.
Located in a craggy mountain range surrounded by a vast river valley, Ouzoud's roaring rate is impressive. The falls are even more beautiful in summer.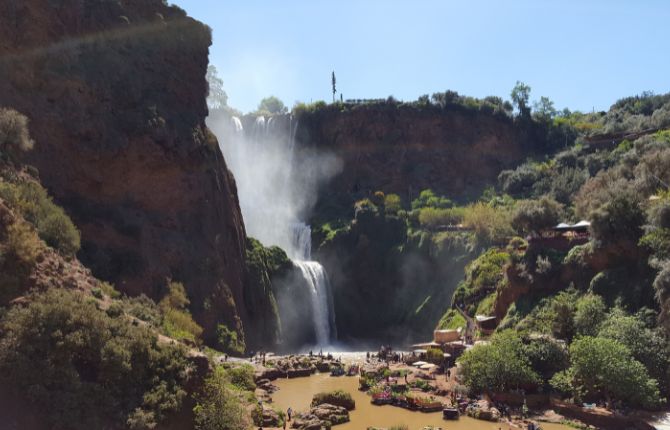 The imposing Ouzoud Falls in Ouzout, Morocco, is a must-see natural attraction. The falls are a three-step cascade with the upper cascade reaching a height of 75 meters.
It is the fourth-highest waterfall in the world, and the name "Ouzoud" has origins in Berber culture. It means "grain-grinder" and is believed to have been derived from its use in milling grain.
You can hike to the waterfalls to admire their beauty or rent a boat to get closer. Otherwise, you'll have to settle for a campsite – or even rent a tent and camp next to the waterfall!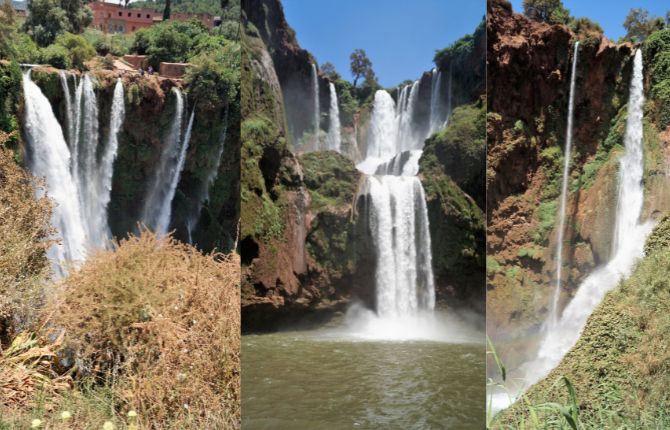 It's a unique experience to be surrounded by the roaring waters of Ouzoud Falls while basking in the sunshine.
The most common way to reach the Ouzoud Falls from Marrakesh is to take an organized tour. Prices vary widely between companies, but they start at around 275 MAD per person.
The cost of organized tours does not include food or a local guide. However, you can book these tours from one of the many restaurants near Jemaa el Fna. You'll get to see the Ouzoud waterfalls in all their glory.
Be warned: the Ouzoud Waterfalls are notoriously popular with tourists.
Address: Cascades d'Ouzoud, Ouzoud, MA 23400
18. Things to do in Morocco: Tizi-n-Test
If you're planning a trip to Morocco, a road trip to Tizi-n-Test is a must. This remote village is the spiritual center of the 12th-century Almohad Empire and the administrative center of the Goundafi caids during the first half of the 20th century.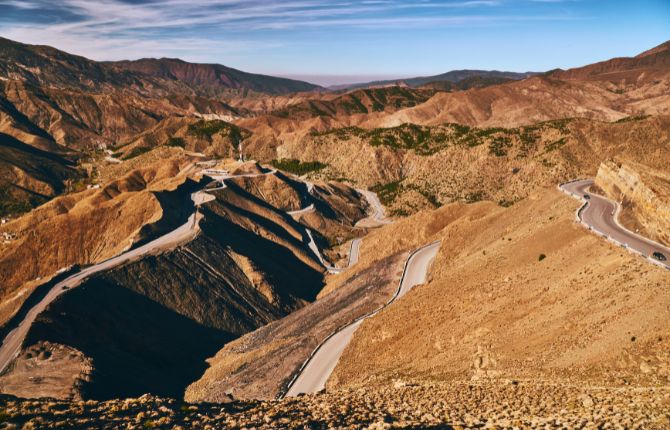 Located in the Souss-Massa-Draa province, Tizi-n-Test connects the cities of Marrakech and Taroudant. This road winds through the N'Fis Valley and crosses the 2092-meter-high Tizi-n-Test mountain pass.
It is a must-see location, and the journey is one of the most scenic drives in the country.
Hiking is possible throughout the year, but the road is most scenic and challenging during the summer months.
As you climb the pass, you will be rewarded with incredible views of the surrounding mountains and the Sous Valley. This scenic route is approximately 180km long and takes about 5 hours to complete.
The north side of the Tizi-n-Test Pass is the easier route and has more great-surfaced sections with good visibility. There are a few tight technical sections, a gravel diversion, and long sweepers.
There is a trail leading up to the top of the radio tower, but it's a dead-end. If you're interested in exploring the gorge, the road ends at the summit.
For more than a day's worth of sightseeing, try to spend the evening in Taroudant. In the evening, stay at the charming La Hotel Belle Vue just before the pass's summit.
Alternatively, you can continue on to Toubkal National Park, located in northern Morocco near Tizi-n-Test. The Toubkal Mountains are home to lush valleys and mountaintop villages that cling to the sides of the mountains.
19. Tafraoute
While you're in the Anti-Atlas region, consider spending a few days in Tafraoute, a Berber village in the north of Morocco.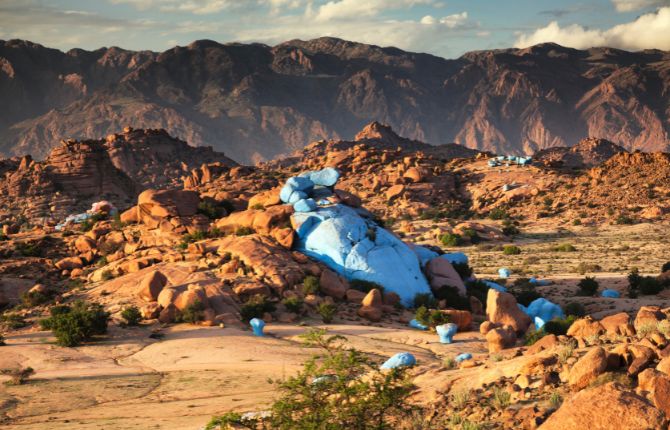 This town is dotted with colorful doors and restaurants that serve savory tagines. The town's natural beauty makes it a desirable destination for couples and families.
The climate in Tafraoute is semi-arid with cool temperatures. The yearly maximum temperature is 77degF and averages 68degF in January and 90degF in August. The city receives about 8.4in of rainfall per year, with the lowest amount falling in July and the highest in February.
Tafraoute has a very pleasant climate from January to March. In November, 0.9in of rain falls, with temperatures dipping into the low eighties.
While the city's main attraction is its bustling market, Tafraoute is the perfect base for mountaineers and hikers. Its low elevation makes it a good base for hiking and rock climbing, although the surrounding mountains can be daunting for light hikers.
The town is also a hub for excursions, including half-day tours of the town's picturesque mountains, as well as a visit to the local Kasbah Tizourgane, where you'll be able to view a traditional Berber village.
For a good lunch, head to Chez Sabir, the ancestral home of Abdel-Latif Bakrim, a culinary genius, and gentleman. The restaurant features three tables in a sitting area with a small kitchen behind it.
Moroccan food is best enjoyed at home, where a familiar, hospitable host can serve a delicious meal. While it doesn't boast a Michelin star, it is worth a visit if you are in the mood for some Moroccan food.
20. Jardin Majorelle-Yves Saint Laurent Mansion
A visit to the Jardin Majorelle Yves Saint Laurent Mansion in Morocco is an excellent choice.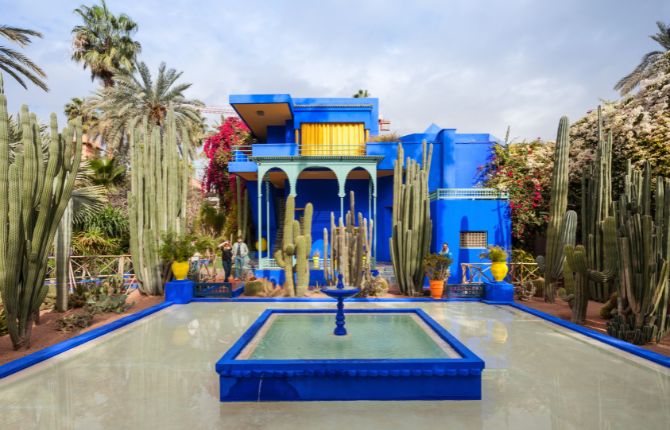 The Yves Saint Laurent Mansion and Gardens in Marrakech are two of the most popular places to visit in the city. You can stroll through the beautiful gardens and admire the famous designer's work.
It also has a small museum inside the mansion, which features a traditional color palette and an Arabian inner garden. Visiting the museum is a great way to gain insight into his work and life.
The designer bought the house in Marrakech, Morocco in 1966, and fell in love with the country. Later, he used it as inspiration for his designs.
The former home of the French fashion designer was designed by Jacques Majorelle and later purchased by Saint Laurent. The mansion is tucked away in labyrinthine courtyards and holds several living rooms and four en-suite bedrooms.
There are also several pavilion houses adjacent to the main house, which is located next to a swimming pool and deck area.
The garden is a famous sight in Marrakech. It was created by Jacques Majorelle, who spent years trekking through northern Africa painting beautiful village scenes.
The mansion is also home to the famous Berber Museum, where you can see a curated collection of the indigenous North African people and their history. This garden is worth visiting, even if you aren't interested in fashion.
Its garden is a beautiful place to spend an afternoon. Yves Saint Laurent and Pierre Berge both lived in the villa, which is connected to the gardens. The Majorelle Gardens are one of the most popular tourist attractions in Morocco, and they are located near both the villa and the Oasis.
The gardens were designed by Jacques Majorelle, a French painter who spent much of his life working on them. In fact, he kept the gardens open to the public, and many of his paintings are displayed here.
21. Mosquée Hassan II, Casablanca
When you travel to Casablanca, make sure you visit the iconic Mosque Hassan II. Built-in 1993, this mosque is the eastern symbol of Morocco.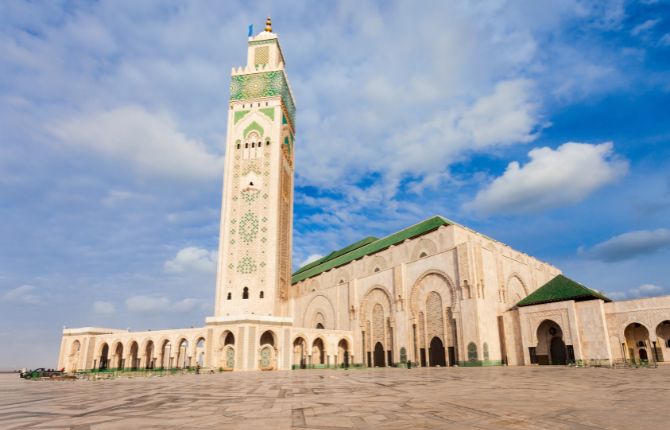 It is one of the largest mosques in the Arab world. Its intricate, mosaic-tiled floor allows for sweeping views of the city, ocean, and coastline. There are numerous mosques in the city, but none are as impressive as Hassan II.
While most Moroccan mosques are off-limits to non-Muslims, the Hassan II in Casablanca is a notable exception. Visitors can purchase tickets to enter the mosque, which costs 120 MAD.
Another interesting mosque in Morocco is the Mosque Ikalane, a crumbling mud-brick structure near the Todra gorges in the south of the country. The Mosque Ikalane is open to the public, but there is usually a friendly old guard who will tell you about the history and restoration projects.
Whether you are traveling for business or pleasure, the market is a photographer's paradise. Cynthia took a wide range of pictures of the vibrant atmosphere of the place. While Moroccans are generally friendly and talkative, this is not always the case, as they can become hostile when they realize that tourists are taking their pictures.
However, if you are prepared to deal with the crowds, the people will welcome you and give you the warmest welcome.
Another must-see attraction in Casablanca is the spice souk. The spice souks are a sensory delight, and each stall offers its own specialty. In addition to the spices, you can also enjoy the vibrant and lively market, a regular market, and a vendor selling live snails.
The terraces are decorated with elaborate tiling, which makes the experience all the more enjoyable.
22. Essaouira
You're on holiday in the sunny south of the country, so why not explore the coastal town of Essaouira?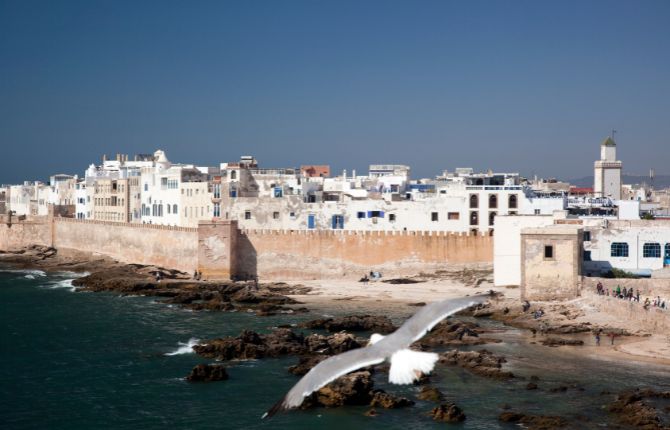 If you're a family with young children, you'll love the area's pristine beaches and less-crowded southern regions. If you're looking for a more authentic Moroccan holiday, Essaouira's quaint hotels and Airbnbs are a good option.
Essaouira offers a lot of off-the-beaten-path activities. Whether you want to experience the ancient city on foot or enjoy the scenic views from horseback or ATV, there's something for everyone.
There are many free activities to keep you occupied during your trip to Essaouira. The Essaouira Cultural Center hosts concerts by local musicians and art galleries. The town is also home to a Jewish quarter and a museum of Judaism.
If you don't want to venture into the waters, you can always enjoy a free concert in a local theater. You can even sit on a traditional Moroccan pouf and enjoy the show.
Or if you're feeling adventurous, you can try a dromedary ride. The ride itself is relaxing, with a knowledgeable guide taking you through the sand dunes. You can also stop and pose for pictures in a beautiful location. It's 100% recommended.
Travelers can arrive in Essaouira by bus from Marrakech. Buses run multiple times a day and cost around 80 MAD. The journey takes about three hours. Once you get to the city, you can take a shared taxi to the city center for around 10 MAD.
Taxis will pick you up along the road. You can negotiate the price with the driver if necessary.
23. Sidi Kaouki
You can spend your vacations in Sidi Kaouki, Morocco, just 26 km south of Essaouira. This semi-developed beach is surrounded by undisturbed sand dunes and argon shrubs.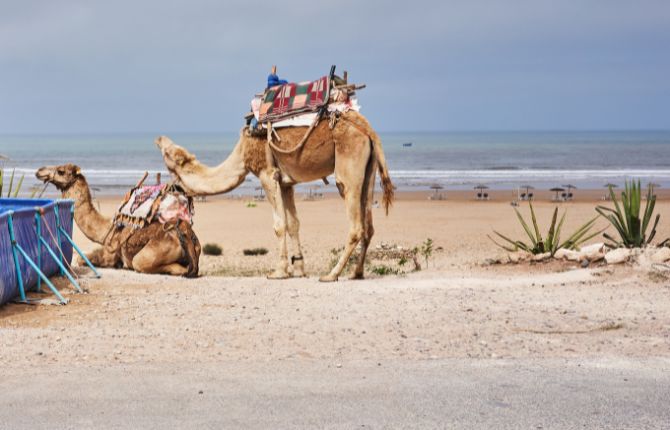 You can camp among the dunes or rent an open house and enjoy the views. You'll find plenty of great food and drink here, and also you can explore the local culture while you're there.
In Sidi Kaouki, the surf is especially exciting because of the stunning setting. The sand and dunes frame the surf point while dusty hills and camel caravans groan in the distance.
The town itself crowns the main surf point and is home to a haunting Sufi tomb. If you're looking for an off-the-beaten-path Moroccan surf vacation, you'll love this town.
The climate in Sidi Kaouki is mild and pleasant all year round. Temperatures in March may reach 70degF and the chance of rain is less than 5%.
In Sidi Kaouki, you can enjoy the winter season's best surf days. The summer winds die down around September, allowing for glassy waves. From October, the North Atlantic kicks into action, generating loads of swells.
The northern end of the shore is the most accessible, but the extreme southern section of the shore holds well despite its rocky floor.
If you're lucky, you'll be rewarded with long sets and good conditions.
24. Things to do in Morocco: Ounilla Valley Area
The Ounilla Valley Area in Morocco links the Tizi n'Tichka pass to Ait Ben Haddou and is a fascinating sight.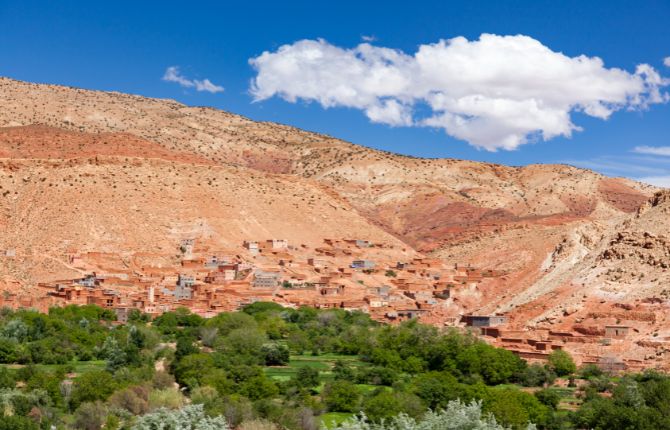 The Ounilla Valley Area has some of the most picturesque landscapes in Morocco. You'll find several ancient kasbahs in this area, including the Ait ben Haddou Kasbah and the Telouet Kasbah of Thami El Glaoui, who was once the Pasha of Marrakech.
The valley's lush vegetation provides an ideal setting for hiking and biking. And for a bit of culture, the valley has many ruins dating back to ancient times.
In its heyday, this valley was the main caravan route between the northern cities of Morocco. Today, the valley is home to crumbling kasbahs and a charming town.
It's a great place for filming and a must-see for any traveler to Morocco. While exploring the area, make sure to stop in a kasbah – one of the most beautiful and interesting buildings you'll see on your journey to the Ounila Valley Area.
Film production is also a big industry in the area. International film companies regularly shoot in this area. Some of the movies filmed there include Lawrence of Arabia, The Man Who Would Be King, The Living Daylights, The Mummy, Gladiator, Hanna, and Legionnaire.
After you've completed the drive to Ouarzazate, be sure to explore the village of Ounila.
25. Things to do in Morocco: Bab El Mansour laalej, Meknès
Meknes is a great city for exploring ancient architecture. The city is known for its impressive gates, including the majestic Bab El Mansour laalej.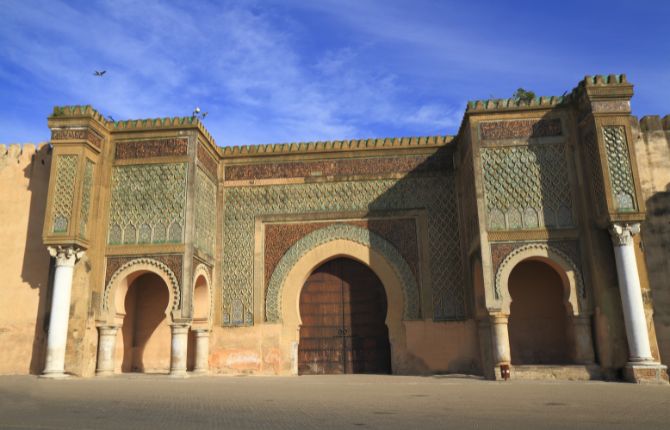 Sultan Moulay Ismail ordered the building as a tribute to himself and the enduring Muslim orthodoxy of his dynasty. The gate's architect, a Christian who converted to Islam, was named Mansour Laalej. This means "victorious renegade."
Another important attraction in Meknes is the Moulay Ismail mausoleum, built by the ruler of Meknes in the 18th century. Featuring ornate mosaic tile work, the mausoleum is a superb example of Islamic design.
The marble columns were reclaimed from Roman ruins and the ceilings are high. The entrance is free, though it is advisable to tip the men who watch your shoes.
Nearby the mausoleum is an underground prison that was built by Moulay Ismail. In the daytime, the prisoners were used to build palaces in Meknes. At night, they were forced to sleep standing up. The prison is open to visitors now.
At the same time, you can visit the Ambassador's Pavilion, which was used for diplomatic meetings. The palace is accessed through a narrow set of steps.
If you are looking for food, there's a restaurant called, Bab Mansour. You can enjoy a delicious breakfast every day. Guests will enjoy fresh fruit and bread, cheese, jam, and tea or coffee.
Moroccan specialties are also available at the restaurant. The ambiance is lovely and the Tagines are delicious. A visit to Bab Mansour is worth it if you want to experience true Moroccan food.
26. Things to do in Morocco: Volubilis, Meknes
One of the most spectacular archaeological sites in Morocco is Volubilis, located near Meknes. The ruins of this ancient city date back to the third century BC. The area was first inhabited by Phoenicians, then became part of the Mauritania kingdom and became a province of the Roman Empire.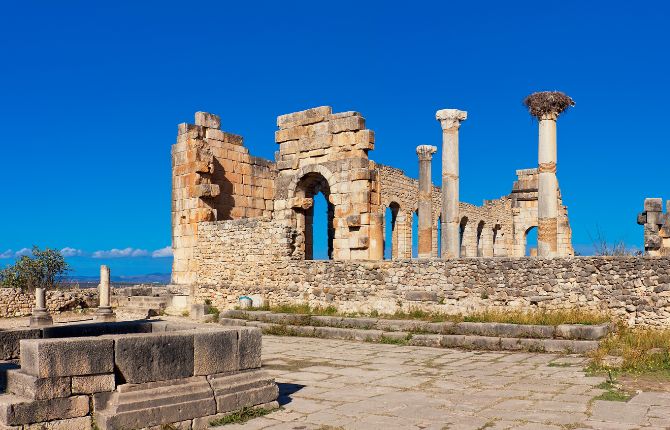 During the Roman era, Volubilis achieved significant economic development. Its population was likely 20,000 at its peak. Later, when the Romans arrived, the town grew into an imperial city.
The ruins of Volubilis are visible from kilometers away. The basilica and the Triumphal Arch are the most striking features of this ancient city.
These buildings were abandoned for centuries, but they have been preserved well enough to become a fascinating Meknes tourist attraction.
While other historical sites in the region lack exhibits, Volubilis has plenty of information and an informative museum. The ruins are part of their original cultural environment.
Therefore a visit to Volubilis is well worth the trip.
To reach Volubilis, there are a number of ways to get there. A shared taxi or public bus will take you to Moulay Idriss, about 5 km from Volubilis. Alternatively, you can rent a car or hitchhike.
If you choose to travel by train, the bus will drop you off near Gare Al Amir Abdul Kader train station. You can also visit Volubilis while on a Meknes city tour.
Things to do in Morocco
Casablanca

Marrakesh

Fes

Chefchaouen

Aït Benhaddou

Erg Chebbi

Merzouga Desert, Merzouga

Jebel Toubkal

Rabat

Spa Treatments in Morocco

Agadir

Plage d'Agadir, Agadir

Tangier

Erg Chigaga

Dadès Gorges, Boumalne Dades

Moulay Idriss Zerhoun, Moulay Idriss

Ouzoud Falls, Ouzoud

Tizi-n-Test

Tafraoute

Jardin Majorelle-Yves Saint Laurent Mansion

Mosquée Hassan II, Casablanca

Sidi Kaouki

Essaouira

Ounilla Valley Area

Bab El Mansour laalej, Meknès

Volubilis, Meknes