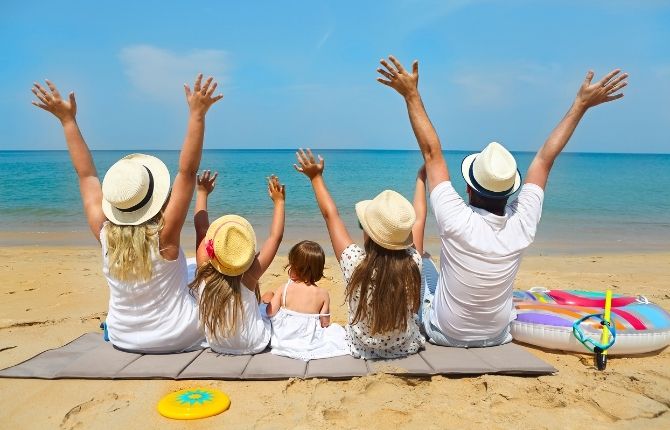 Are you looking for the best things to do in Malibu, California? This list and information will help you to plan a family tour.
This California town is an ideal combination of art and nature, offering many outdoor activities, fine dining experiences, and more.
Hiking is one of the best things to do in Malibu. You'll enjoy hiking trails that wind through the Santa Monica Mountains. The Backbone Trail is one of the best hiking trails in the area and runs for nearly seven miles. Whether you prefer to take a walk or hike, there's something for everyone in Malibu.
One of the best places to grab a tasty meal is the famous Malibu Country Mart, which is usually crowded with tourists. Grab some tasty treats from the grocery store while you're there, including some delicious gelato. And there are plenty of other dining options in Malibu.
The Getty Villa is the most famous attraction in Malibu, and it is a must-see in Malibu. Not only is the Getty Villa full of magnificent art, but it also has a museum with unique exhibitions.
You'll also find lovely cafes where you can enjoy a meal and view the Pacific Ocean. And also, Malibu Pier, El Matador State Beach, Zuma Beach, and Point Dume State Beach are popular beach destinations in Malibu.
Just read the following list and add them to your bucket list.
1. Things to Do in Malibu: The Getty Villa
The Getty Villa in Malibu is a beautiful family vacation destination, and there are many ways to make it a memorable experience for your entire family.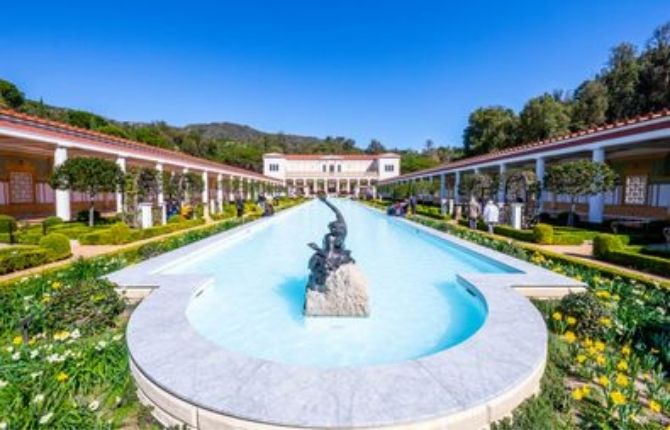 The grounds of The Getty Villa are beautiful, with frescoes and bronze statues. There is an amphitheater and reflecting pool, and the museum hosts regular events.
This place is ADA accessible, and the museum offers assisted listening devices and wheelchairs on a first-come, first-served basis. Visitors are not allowed to bring outside food or drinks into the Museum, and they are not allowed to bring tripods.
In addition, visitors are required to check in at the Tour Meeting Place outside the Museum Entrance.
This beautiful Roman country is located east of Malibu in the Pacific Palisades neighborhood. There are two places like Getty Villa, which the nonprofit Getty institution handles. They aim to admire and preserve the world's ancient architecture and artwork.
The Getty Villa is a unique museum with several formal gardens, special statues, a pool, peristyles or columned courtyards, and an attractive collection of ancient Roman and Greek artwork.
Aside from that, it also exhibits a Romano-Egyptian mummy, rare ancient coins, marble busts, unique glassware, and a large Hercules statue.
Although the Getty Villa offers free visits, you must make reservations in advance. If you prefer to take guided tours, please make reservations in advance.
Address: 17985 Pacific Coast Hwy, Pacific Palisades, CA 90272, United States      Phone: +1 310-440-7300
2. Things to Do in Malibu: Malibu Pier
For those who have never been to the Malibu Pier, this iconic landmark has a storied history dating back to 1905.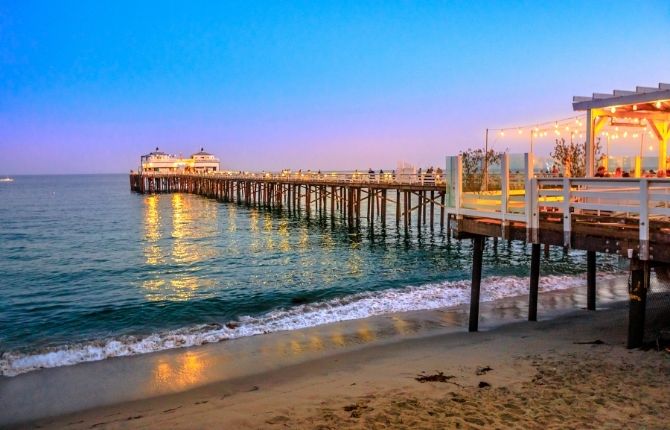 Along with its restaurants, shops, and bars, this popular destination is renowned for its breathtaking views of the Pacific Ocean and surfers.
Visitors can also dine at the famous Malibu Farm Restaurant, located at the beginning of the pier. Enjoy farm-to-table cuisine in an ocean view setting.
The Malibu Pier is a landmark in Southern California. The historic structure has dining options and is adjacent to Surfrider Beach, a three-point break ideal for surfing.
You can also learn about the surf culture of California and enjoy the peaceful environment of the area. Surfrider Beach has received an "A+" rating from Heal The Bay, a nonprofit organization that monitors the ocean for bacterial pollution.
And you will meet Malibu Lagoon State Beach on the pier's west side. Also, you will see the place Malibu Creek meets the ocean. It has unique environmental features.
Huber once owned this 780 feet long pier in Eastern Malibu, but it was sold to the State of California in 1980. This was because the pier had fallen into disrepair.
Fortunately, the Los Angeles County Board of Supervisors voted unanimously to save the pier from demolition. Afterward, the California Historical Resources Commission recommended the pier be designated as a Point of Historical Interest.
The decision to save the Malibu Pier is an important step for the community and its residents.
If you're visiting the pier for the first time, you should know that parking is free.
Southern California has exceptional weather year-round, but June and May can be foggy and overcast.
Address: 23000 CA-1, Malibu, CA 90265, United States    Phone: +1 888-310-7437
3. El Matador State Beach
If you haven't been to El Matador State Beach in Malibu yet, you are in for a treat. This secluded beach is just one of the most scenic locations on the Malibu coastline.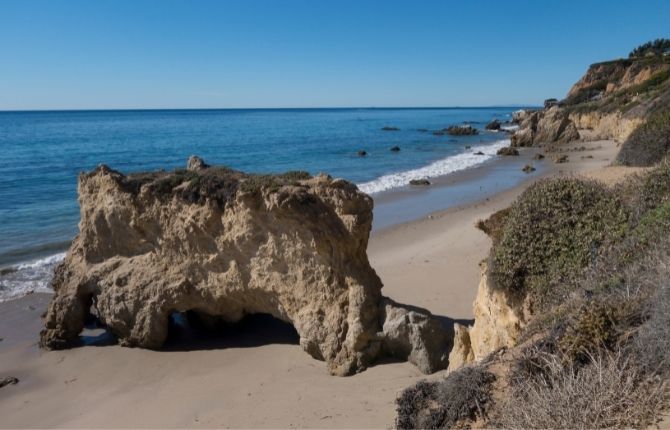 The state beach is less advertised than the rest of the Malibu area, but its remote location and lack of signage are the perfect backdrops for great photos.
The rocky shoreline and nearby cliffs provide the perfect backdrop for oceanscape photographs. If you're visiting Malibu from a far-off location, you'll likely find a sign for El Matador than a sign for it.
Parking at El Matador is free, but the beach is often busy on weekends, so plan accordingly. There is a small parking lot above the beach, but it is not easy to find parking.
A dirt path or staircase leads to the beach and is not accessible to people with disabilities or limited mobility. There are also no restrooms or concessions at El Matador, so plan to bring your supplies. Despite its lack of amenities, this Malibu beach is worth visiting.
This beach is worth the effort and will reward you with gorgeous sea stacks and a spectacular sunset. Be sure to check out the signage for the beach to avoid any problems.
Catching spectacular sunsets, taking photographs, and enjoying scenic views are the things to do on El Matador Beach.
El Matador State Beach is one of three beaches under Robert H. Meyer Memorial State Beach. Therefore, you will find Point Dume a few miles west of El Matador. And El Pescador and La Piedra are also located nearby.
Address: 32350 Pacific Coast Hwy, Malibu, CA 90265, United States  Phone: +1 818-880-0363
4. Things to Do in Malibu: Zuma Beach
Surfing enthusiasts will find plenty to do at Zuma Beach. The beach provides excellent conditions for right, left, and barrel waves during spring and fall.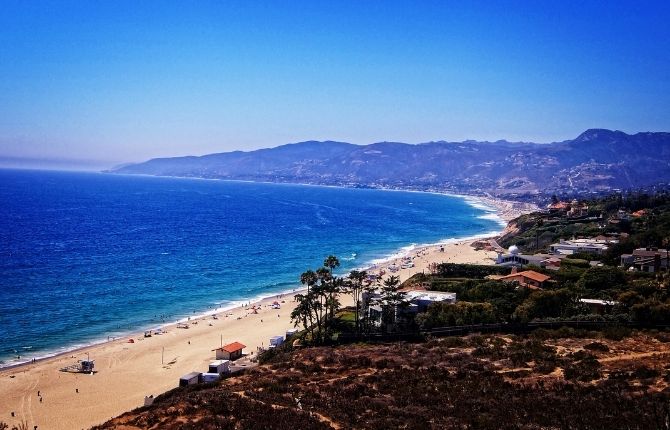 Known for its popular surfer events, Zuma Beach is one of the best surf spots in the state. Take advantage of Zuma's amenities to make your visit to Zuma even more enjoyable.
It features restrooms and changing rooms, showers, and tons of parking. The Zuma boardwalk has several local sit-down restaurants for dining and shopping.
Zuma Beach is a Los Angeles County park facility that offers free parking and ample parking. You can even park a car at Zuma to watch the Super Bowl from afar.
The beach is a massive two-mile stretch of sandy coastline with no houses between it and the Pacific Coast Highway. While you're on Zuma, be sure to bring your sunscreen, water shoes, and a towel to stay dry.
Located just north of Malibu, Zuma Beach is one of the best beaches in the region. The beach has a variety of sand and wave conditions, with beginner waves on the north end and more advanced waves on the south end.
Westward and Drainpipes breaks run the length of the beach and are popular with surfers of all levels. This beach is home to several sponsored surfers. You can spend the day surfing, swimming, suntanning, playing beach volleyball, and hanging out at Zuma Beach while watching famous surfers.
Don't worry. Lifeguards are on duty during day time.
Are you looking for more fun beaches in California?? Just check this link. 
5. Adamson House
You can learn a lot about the history of the Adamson House in Malibu, California, if you plan on going on a tour.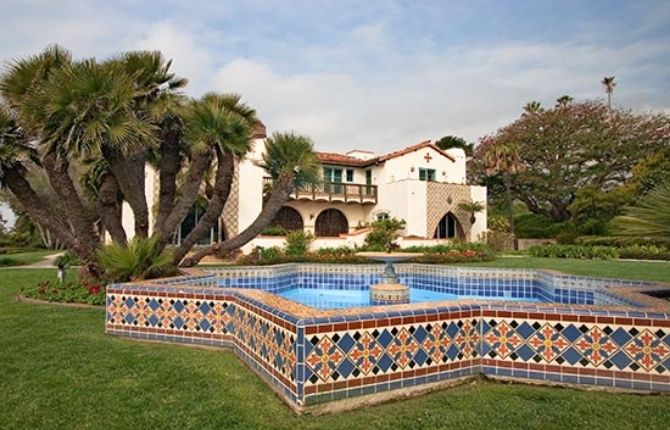 Tours last approximately an hour and feature original furnishings and tile artistry. Docents will tell you about the house's architecture and details, including the history of the Adamson family.
Admission to the Adamson House is $7 for adults, $2 for children ages 6 to 16, and free for kids five and younger.
The Adamson House was built in 1929 by the Rindge family for Merritt Huntley Adamson and Rhoda Rindge. And it became a California Historical Landmark in 1985.
The photographs in the Adamson House are courtesy of Pepperdine University, which retains the copyright. Images may be used only for educational and research purposes, but you must identify the copyright holders before using any images. Contact the University Archives if you wish to use any of the photos.
Historic Adamson House, also known as Vaquero Hill, is an exquisite home situated on a beachfront property in Malibu, California. The house is known as the Taj Mahal of Tile because of its lavish use of decorative ceramic tiles.
Malibu Potteries, a company that produced ceramic tiles, created these stunning tiles, and they were used to create the beautiful design of the Adamson House.
The house also features an elaborate mural of the Pacific Ocean. You'll find detailed ceramic tile accents throughout, from a Persian rug to the kitchen clock.
You'll feel like royalty while visiting this Malibu house. The property is also adjacent to the Malibu Lagoon Museum.
And if you're looking for a view of the ocean, don't miss the Malibu Lagoon.
Address: 23200 Pacific Coast Hwy, Malibu, CA 90265, United States    Phone: +1 310-456-8432
6. Point Dume State Beach
Located northwest of Zuma Beach, Point Dume is a long bluff on the coast of Malibu. It juts out into the Pacific Ocean and forms the northern end of Santa Monica Bay.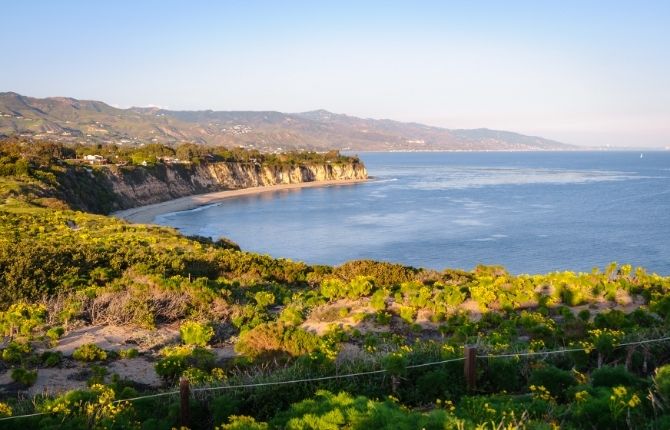 Its natural area provides views of the Palos Verdes Peninsula and Santa Catalina Island. Zuma is a nearby beach. While visiting the area, make sure to bring your camera.
The coastline of Malibu includes the Point Dume National Preserve. This preserve also features a wide, beautiful beach and sprawling cliffs.
Point Dume State Beach is famous for whale watching, surfing, hiking, catching excellent sunsets, and exploring the rugged environment.
It's a great spot to catch a glimpse of the whales as they migrate in the winter. While you're here, you may even get lucky and see a gray or blue whale! You'll be thrilled you made it out to this beautiful beach.
The natural preserve that surrounds Point Dume State Beach has many accessible hiking trails. Hiking in this preserve offers breathtaking views of the sea. Hikers can even spot dolphins and migrating whales.
You can also watch birds and lizards while strolling along the bluffs. Visiting the Preserve is a must on your Malibu tour.
The trail to Point Dume is an easy one. From the parking area, you'll need to climb about 100 feet. You'll find a viewing platform and an overlook at the top.
The trail takes you up and down, and it's a fun hike. Keep in mind fires are banned at Point Dume. And your dog must be on a leash all the time.
7. Malibu Country Mart
If you are in the mood for shopping, consider the large outdoor lifestyle center and boutique mall, Malibu Country Mart.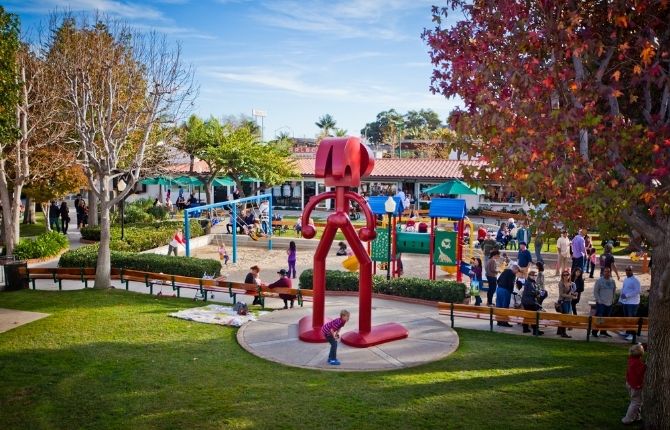 This mart is located in the Civic Center of Malibu, California. Situated on six acres of prime real estate in Malibu, the center offers upscale shopping and dining options.
Its unique architecture offers a mix of styles and is easily recognizable as a landmark. The center is also pet-friendly and features numerous cafes, restaurants, and art galleries.
Malibu Country Mart offers something for everyone, whether you want a relaxing lunch or an evening out with your family and friends.
Taverna Tony: Located inside the same building, this restaurant is popular with local celebrities. John Stamos, Rebecca Romijn-Stamos, and Tony Danza are fans of the restaurant. In fact, it is where Rod Steiger celebrated his 75th birthday. James Garner, Jonathan Winters, and Tom Berenger were the guests at the party.
Jude Law was also in attendance at the birthday celebration. And last but not least, many celebrities have been spotted here, including actresses Courteney Cox and Sharon Stone.
Burro: This cute store carries gifts for all ages, from baby clothes to cookbooks. Among the boutiques at Malibu Country Mart is Canvas Malibu, which features surf-inspired apparel.
The store frequently shows off art alongside its clothing. Double RL & Co.: This line of men's apparel purports to be vintage-inspired. The collection has been available for several years.
Address: 3835 Cross Creek Rd, Malibu, CA 90265, United States     Phone: +1 310-826-5636
8. Neptune's Net
Neptune's Net is one of the best seafood restaurants in Malibu. It has been serving fresh and delicious seafood, burgers, and beers for a long time.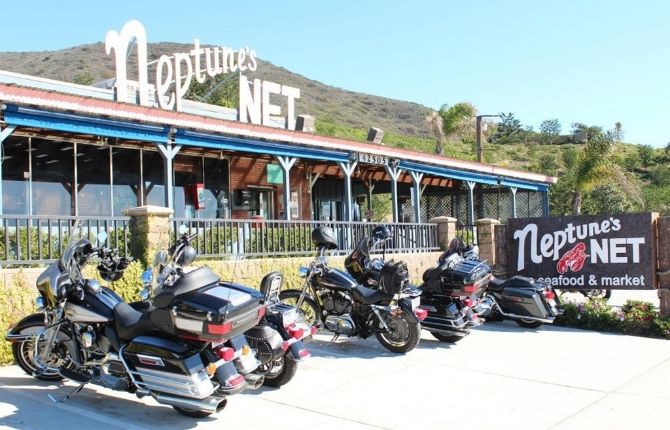 A Malibu icon, Neptune's Net serves fresh seafood with a casual atmosphere. It is located on Pacific Coast Highway, across from County Line Beach. So, this restaurant serves food at picnic tables overlooking the Pacific Ocean.
Neptune's Net restaurant was originally built in 1956 and was known as Jake's Diner. It was later renamed Neptune's Net after the owners changed the name in 1974.
The current owners purchased the restaurant in 1991. The current owners have been serving seafood on the same premises for many years.
Neptune's Net in Malibu is one of the most popular summer restaurants in the United States, though it is also open throughout the year.
Closed only on Thanksgiving Day. It attracts a wide variety of diners, from backpackers, and motorcycle riders to tourists, from college students on spring break to bikers. The casual vibe at Neptune's Net will make you want to return yearly.
Address: 42505 CA-1, Malibu, CA 90265, United States     Phone: +1 310-457-3095
9. Malibu Bluffs Park
If you're looking for a place to relax and unwind after a day at the beach, consider heading to Malibu Bluffs Park.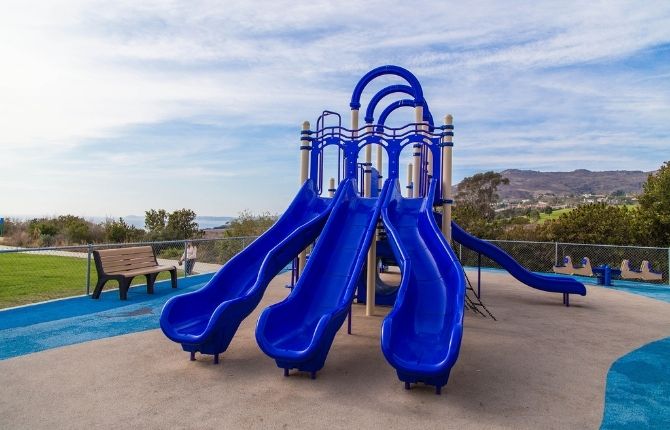 The park's 1.2-mile trail runs around the entire park, offering spectacular views of the Pacific Ocean.
You can play volleyball, basketball, or tennis on the park's courts if you're not into hiking. There are also playgrounds for children, a dog park, and additional trails for hiking.
You can enjoy a variety of sports and activities at this ten-acre park, which is right across the street from Pepperdine University.
There are also baseball diamonds and playground equipment, exercise stations, restrooms, picnic tables, and restrooms. Malibu Bluffs Park is also close to Malibu Road and Amarillo Beach.
There's plenty of parking and restrooms at this park, and the park is free and open to the public.
The Garden is home to the G3 Association, Paul Herzog, and Pamela Berstler. They propose and design the Malibu Bluffs Ocean Friendly Demonstration Garden, which is being constructed by volunteers.
As part of the project, participants will identify California native plants by their leaves. They will then learn how to grow and adapt to the dry climate.
Address: 24250 CA-1, Malibu, CA 90265, United States     Phone: +1 310-317-1364
10. Malibu Creek State Park
If you love the outdoors, you might want to check out Malibu Creek State Park in the Santa Monica Mountains.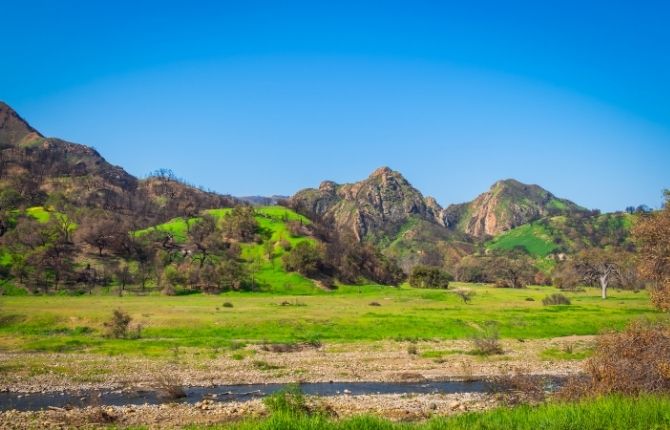 This state park was created in 1974 and opened to the public in 1976. It's a part of the Santa Monica Mountains National Recreation Area.
You can hike or bike along its pristine trails to explore the canyon. Malibu Creek State Park is the perfect place to relax after a day of shopping, surfing, or just hanging out at the beach.
You can visit Malibu Creek State Park for a great hiking or mountain biking trip (35 miles of hiking trails). This state park has plenty of trails for hiking, including a popular hike to a former MASH set.
This 7,000-acre park has coin-operated showers, flush toilets, and a dump station for RV travelers. RV and tent camping are also options in the park.
To get to the park, drive north on Malibu Canyon Road, Las Virgenes Rd. You'll see a sign for Malibu Creek State Park on the left.
The park entrance is six miles from the Pacific Coast Highway. You can also park at the park's parking lot. Just make sure to take the appropriate precautions.
The park has strict rules on wood collecting. It's best to leave no wood behind because it could bring invasive pests to the park.
A generator may be used sparingly from 8:00 AM to 10:00 PM. Dogs should be on a leash and remain in the vehicle during the night.
This 8,215-acre park was once home to the Chumash Indians. They lived in the northeast corner of the park, where Talepop village was located.
During the 1860s, Chumash people only inhabited a few homes. Today, you can see the remains of this historic community in the park. In addition to the park's natural beauty, Malibu Creek State Park was featured in over 100 movies and television shows.
Address: 1925 Las Virgenes Road, Calabasas, CA 91302, United States
11. Escondido Falls
If you're in the mood for some nature-inspired adventure, you should check out Escondido Falls in Malibu.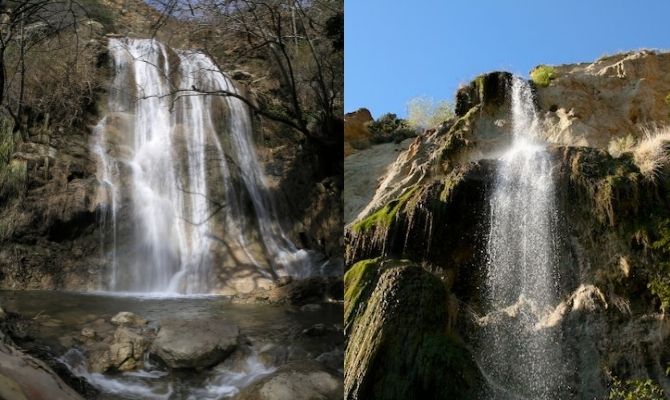 This waterfall can be reached via a popular hiking trail that crosses the creeks and connects to both the upper and lower sections of the waterfall.
There are two distinct sections of the waterfall, and each is unique in its own way. If you're not a big fan of heights, this waterfall is an excellent option for a family outing.
A hike to Escondido Falls is a fun activity you can do with your family or friends. The waterfall is gorgeous to view, and you can hike to it whenever you want.
When water flows in the creek in the spring, it's imposing. But during dry seasons, you can still hike to it and admire the beauty of nature. This hike is a fun way to get some exercise without having to worry about the weather.
Several trails lead to the waterfall, and you can choose to take a short or long trail. The lower falls are about 50 feet high so you can rest up for a while.
And the upper falls are about 150 feet high. Whether you're looking for a leisurely stroll through the canyon or an intense hike, this place is worth visiting. But be sure to check the weather forecast before you set off on your adventure.
Address: Escondido Canyon Trail, Malibu, CA 90265, United States
12. Malibu Lagoon State Beach
If you love surfing, you've probably visited Malibu Lagoon State Beach in California. Also known as Surfrider Beach, this 110-acre beach was recently designated the first World Surfing Reserve.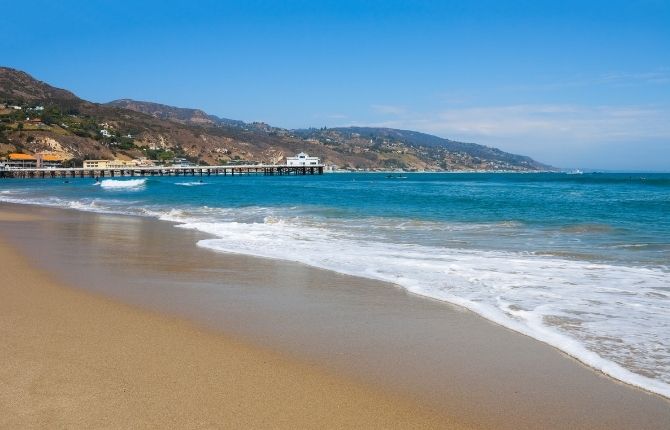 It is located in the Santa Monica Mountains National Recreation Area. You'll find many renowned surfers and amateur surfers out here. Here, you can also swim and have a picnic in the shade of a tree.
You can take advantage of picnic tables along the trail during the warmer months.
In addition to sand and surf, you can enjoy excellent coastal bird watching at Malibu Lagoon State Beach. Seasonal changes in the area affect species diversity.
Spring and fall migration season sees the most diversity of species, although vagrants can occur anytime. In fact, a recent report highlighted a rare bird at the beach.
You can visit Malibu Lagoon State Beach in Malibu, California, and experience the unique beauty of nature at its finest.
One of the unique attractions at Malibu Lagoon is the Bird Blind, a half-dome steel structure that's been grown over by sandbar willows.
The walkway leads past the picnic area and then curves right before the beach to the Watershed Overlook, a sandbar overlooking next to the Malibu Creek berm. You can watch the creek break through the berm and flow into the ocean.
The parking area at Malibu Lagoon State Beach is located just east of the beach and is easily accessible by car. You can find free parking at Cross Creek Road and Pacific Coast Highway.
Parking is free for state park guests, but you can find street parking nearby if you have a car. The beach is open from 8:00 AM until sunset.
A nearby county parking lot is located on the east side of the lagoon, next to the Malibu Pier.
Address: 
13. Malibu Wine Safaris
Malibu Wine Safaris offer you a tour of a 1,000-acre vineyard with incredible wine tastings and animal spotting. (E.g., bison, zebras, and giraffes)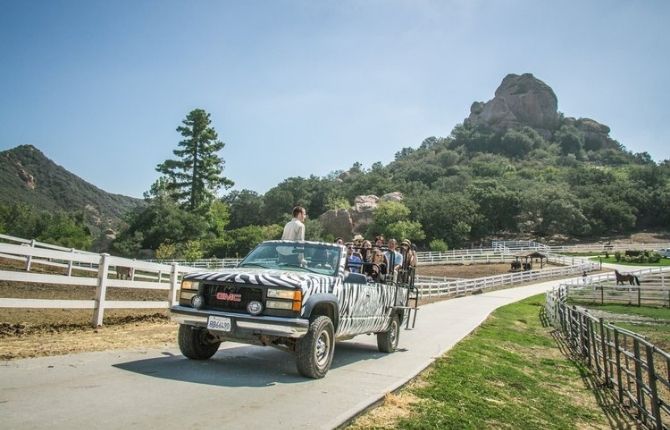 While the tour is popular with locals and tourists, it's also great for wine lovers! Malibu Wine Safaris feature safaris through the vineyards, and each tour includes six different wine and food pairings.
There are also four wedding venues onsite, and the wine is made from grapes that grow in the area.
Visitors can feed the animals and learn about their history while enjoying a wine tasting. The Saddlerock Wine Safari begins with a trip in an animal print safari vehicle, which takes you through rolling hills dotted with vines.
While driving through the vineyards, you'll stop to taste the wine and feed the resident animals. The safari includes approximately 20 species of animals, including a giraffe named Stanley.
Some customers have had trouble with refunds. Some people booked the wine-tasting-wildlife package and received a voucher for a bike or hike instead. The company claims they have "every intention" of processing refunds. However, there's no proof that they did. The company's cancellation policy makes it nearly impossible to get your money back. A review on Yelp shows that there have been many complaints about the wine safari.
Address:  32111 Mulholland Hwy, Malibu, CA 90265, United States
14. Leo Carrillo State Park
If you love the beach and don't mind driving a little bit farther, consider spending the day at Leo Carrillo State Park.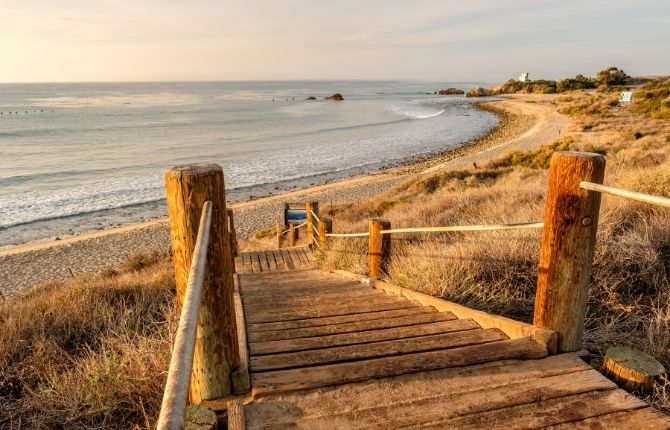 Located 35 miles northwest of Santa Monica, this beach area is popular with surfers, divers, and sunbathers.
You'll find excellent facilities and easy access to the beach. Leo Carrillo State Park offers riparian woodland, chaparral, sycamores, and black walnuts.
Leo Carrillo State Beach is an area perfect for kids and dogs. The sand here is black and reddish brown, with large rocks breaking the waves. The park's sandy shores are ideal for first dips in the ocean, and you'll find fewer people here than at nearby beaches.
The state park staff is also friendly and will provide assistance if needed. While at Leo Carrillo State Park, be sure to take the time to walk the trails, and enjoy the beach.
Leo Carrillo State Park is a famous campground. There are 130 camping sites. Campers can stay in tents or RVs; there's a fire pit, camp store, and picnic table for each campsite.
Unlike some beaches, Leo Carrillo is car and RV-accessible. Soon, it will also feature electrical and water hookups. A trip to the beach is not complete without spending some time relaxing on the beach.
Fortunately, the campground at Leo Carrillo State Park has escaped the worst of the storms. Though the surrounding brush was covered with mud and debris, most campsites were untouched.
Fortunately, no one was injured in the flooding at Leo Carrillo. However, keeping the area free of debris while you're here is essential. If you're planning a trip to the campground, consider bringing a small camper vehicle, as mud could be slippery and make it impossible to park your RV.
Address: 35000 Pacific Coast Hwy, Malibu, CA 90265, United States     Phone: +1 310-457-8143
15. The Grotto Trail
If you're planning to hike through Malibu, you should try The Grotto Trail. The Grotto area is a big rock with a circular cave around it. It is a 2.5-mile out-and-back trail. So, it will take around 1 hour and 30 minutes to complete the trail.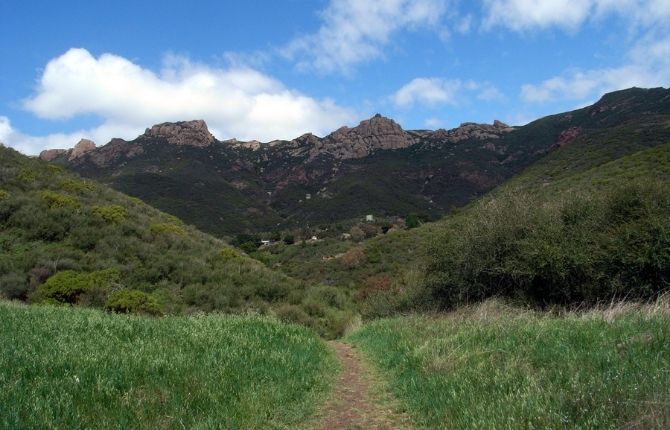 There's also a seasonal waterfall, so it's a great place to take a break from the sun. You can even see whales from up close if you want!
The Grotto Trail starts 0.1 miles past the group campsite. It follows a well-maintained footpath through low brush and chaparral, and the hike is relatively easy but requires some exercise.
It's a moderate hike and takes about an hour. If you're feeling adventurous, you can also choose to hike backward for a bit. If you have a dog, don't worry, the trail is dog-friendly, and there are no permit requirements.
This narrow canyon has small talus caves and is located in the Santa Monica Mountains National Recreation Area. The Grotto Trail has a four hundred and seventy-foot elevation loss.
The hike starts from the Circle X Ranch Visitors Center, located on Malibu's west side. From there, a single-track trail descends the mountain through a small creek. Wildflowers are abundant along the trail during spring.
To reach the trailhead, park at Circle X Ranch, which is adjacent to the group campground. There's plenty of parking, bathrooms, drinking fountains, and occasionally, a park ranger.
If you're visiting Malibu, check out the Grotto Trail. It's a classic hike in Southern California!
16. Solstice Canyon
You've probably heard about Solstice Canyon in Malibu. But what exactly is this canyon? And why is it a popular destination?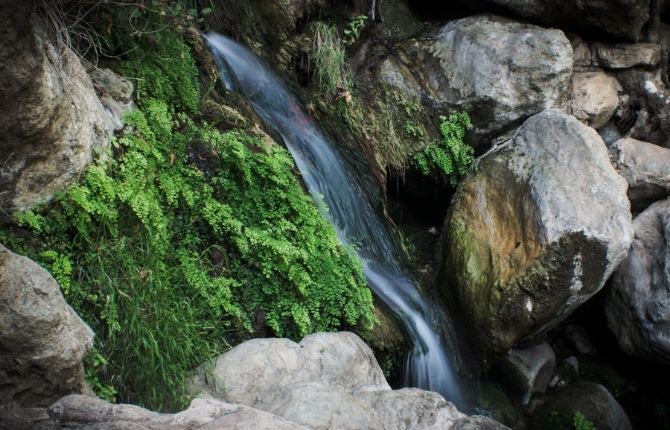 Read on to discover what to expect from your hike. This beautiful canyon lies within the Santa Monica Mountains National Recreation Area and is accessible off Pacific Coast Highway on Corral Canyon Road.
It runs north to south and east of Point Dume. In fact, it's one of the only canyons in California with a north-to-south route.
While hiking through the canyon, you'll discover a rockier beach and the ruins of a former Victorian mansion.
A short hiking trail leads to a scenic overlook spot, offering stunning views of Santa Monica Bay and Malibu's coastline.
This natural attraction also attracts grey whales during winter, making it a great place to spot these creatures. Plus, it's close to the ocean, so swimming, scuba diving, or surfing is a fun option, as long as you know where to look.
Hiking in Malibu's Solstice Canyon is an excellent family-friendly activity. There are plenty of exciting spots to stop and admire, and the canyon is accessible to people of all abilities. And unlike many other hiking trails, it's pet-friendly, so your dog can go along for the ride! You'll want to visit Solstice Canyon if you're a nature lover.
Address: 3455 Solstice Canyon Rd, Malibu, CA 90265, United States    Phone: +1 805-370-2301
17. Things to Do in Malibu: Horseback Riding in Malibu
When visiting Malibu, you may wonder where you can go horseback riding.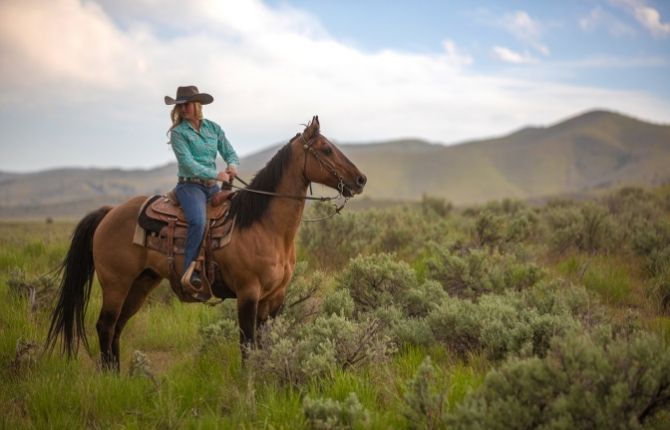 Malibu is a city known for its horseback riding, but it's also an excellent place to learn how to ride a horse. There are several options in the city, including several horseback riding stables.
High Horse Malibu offers a variety of horseback riding activities, including private guided rides and natural horsemanship lessons.
Trail rides on this beautiful property traverse rolling hills, wooded canyons, and striking rock formations. These rides are perfect for those looking to disconnect from the outside world and reconnect with nature. You may also want to book a therapeutic horseback riding session to work on your stress and anxiety.
The Santa Monica Mountains offer more than 500 miles of riding trails. You can ride along the 67-mile Backbone Trail or head onto other local trails.
Either way, there's something for every level of experience. Some trail rides are gentle and restful, while others are strenuous and challenging.
Whatever your experience level, you're sure to enjoy yourself in Malibu!
Address: 2142 Latigo Canyon Rd, Malibu, CA 90265, United States     Phone: +1 424-346-4590
18. Things to Do in Malibu: Malibu Hindu Temple
The Malibu Hindu Temple is one of the largest temples of Hinduism in the Western hemisphere.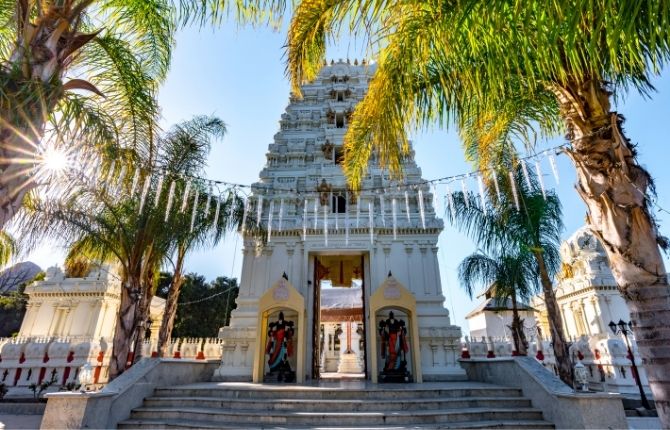 The temple is surrounded by beautiful yellow coneflowers, making the location very remote from the hustle and bustle of the city.
There are multiple gathering areas and separate meditation spaces. The temple is only 15 minutes away from the Malibu Beach Inn.
This temple is maintained by the Hindu Temple Society of Southern California, a nonprofit organization that promotes and teaches Hinduism.
In addition to the temple itself, it features a popular cafe that serves vegetarian fare and spiced chai. This is the perfect spot for a relaxed lunch, to take a class, or meet friends for a yoga session. Moovit also provides directions to nearby landmarks.
The temple is a popular destination for visitors of Hinduism, with many different services and ceremonies held there. In addition, the temple's main hall also features numerous rooms for meditation or picnics, as well as a large stage for Hindu programs.
There are two separate temple complexes, the upper and lower, and both feature presiding deities. Both have shrines for other Hindu gods.
In addition to the temple, the nearby Santa Monica Mountains National Recreation Area is another place to visit.
Address: 1600 Las Virgenes Canyon Rd, Calabasas, CA 91302, United States     Phone: +1 818-880-5552
Things to Do in Malibu
Malibu Pier

El Matador State Beach

Zuma Beach

Adamson House

Point Dume State Beach

Neptune's Net

Malibu Bluffs Park

Malibu Creek State Park

Escondido Falls

Malibu Lagoon State Beach

Malibu Wine Safaris

Leo Carrillo State Park

The Grotto Trail

Solstice Canyon

Malibu Hindu Temple
Things to Do in Malibu