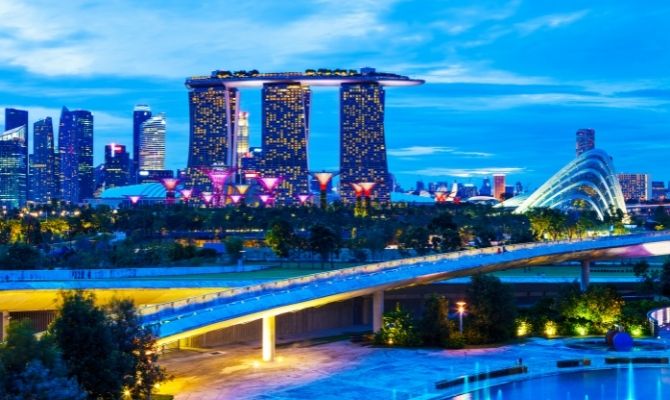 Welcome to Southeast Asia's Lion City, Singapore. If you are looking for things to do in Singapore, this article will help you with that. Although it is an island city-state with 728.3 km² of land area, it is filled with diverse and exciting things. Most of them are exclusively exist only in Singapore. For example, Marina Bay Sands, Gardens by the Bay, Sentosa Island, Universal Studios Singapore, Merlion Park, Pulau Ubin, Changi village, MacRitchie Treetop Walk, murals at Tiong Bahru, and more.     
So, whether you are looking for adventures, city exploring, shopping, Micheline star restaurants, world-class casino playgrounds, beautiful islands, cultural festivals, mindblowing urban construction, friendly locals, or whatever, Singapore has them all.  
So, here's the list of the best and fun things to do in Singapore to have a fantastic vacation. 
Things to Do in Singapore
1. Gardens by the Bay
Gardens by the Bay is undoubtedly the top tourist attraction in Singapore. And also, it is one of the most recognizable landmarks in the country as well. 
Spreading for 101 hectares, Gardens by the Bay is a green nature park located adjacent to the Marina Reservoir in the Central Region of Singapore. 
There are three major waterfront gardens in this park. They are Bay Central Garden, Bay South Garden, and Bay East Garden. Especially, Bay East Garden is more famous as it contains vibrant plant life and a calm surrounding.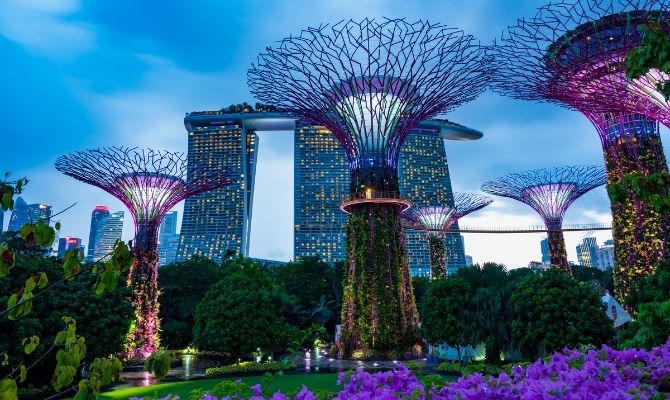 The most highlighted feature is its Supertree Grove (look at the picture), 18 lush verticle gardens that rise for 20 stories. People mostly visit these Supertrees at night to see the colorful lights. But, it doesn't matter the time; it always looks impressive. 
Another amazing place you should not miss is Cloud Forest Dome which contains the tallest indoor waterfall in the world. Also, you can learn more about biodiversity from this place. 
Gardens by the Bay offers you free entrance, and it is open to the public daily from 5 am to 2 am. So add it to the top of your list. 
Address: 18 Marina Gardens Dr, Singapore 018953  Phone: +65 6420 6848
Official website: https://www.gardensbythebay.com.sg/en.html
2. Things to Do in Singapore: Marina Bay Sands 
Marina Bay Sands is a luxury resort complex that contains a world-famous luxury hotel, ArtScience Museum, Marina Bay Sands Skypark Observation Deck, and a mall with a canal inside it. 
The ship-shaped sky park located on top of the hotel building is the most impressive thing in Singapore for sure. It contains the world-famous Marina Bay Sands infinity pool, the observation deck, and a rooftop restaurant.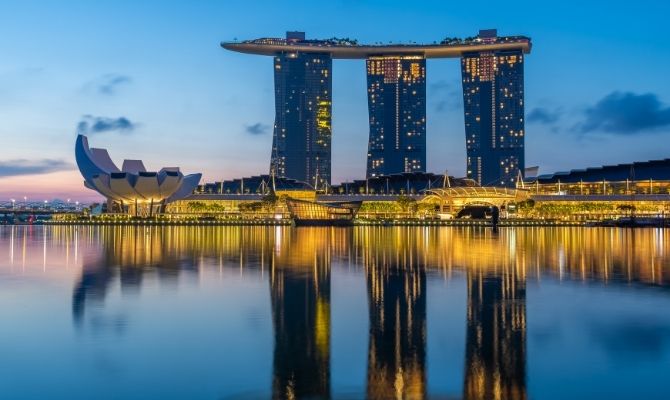 You have to be a hotel guest to use the infinity pool. If you are interested, book your Marina Bay Sands accommodation from here. 
But, its observation deck warmly welcomes any visitor. Mainly, you can observe the Gardens by the Bay, innovative double helix bridge, the port, and all the other attractive things from this observation deck. 
So, do not miss it at all because it offers the best skyline view of Singapore.
If you want to grab a snack, tea, coffee, or a souvenir, visit its rooftop restaurant. It has anything you are looking for.
Address: 10 Bayfront Ave, Singapore 018956  Phone: +65 6688 8868
Things to do in Singapore
3. Things to Do in Singapore: Open Air Cinema
After visiting touring around some top destinations, if you are looking for a small break, watching a classic movie on a huge outdoor screen with many film lovers is the best fun thing to do.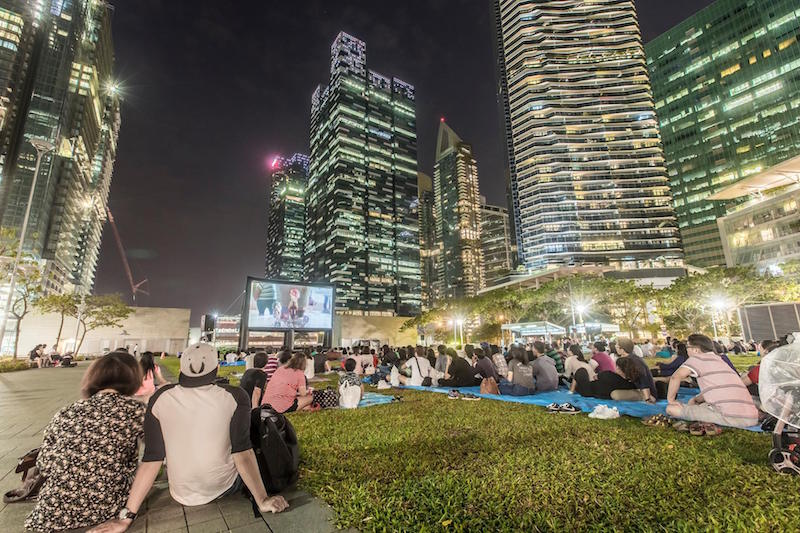 MovieMob by ApeWorks offers you the best open-air cinema experiences in Singapore for free of charge. Actually, you can turn it into a little picnic as well. 
Click here and visit their official website to know about upcoming events. https://ape.sg/moviemob
Address: 32 Eng Hoon St, Singapore 169780 
Things to do in Singapore
4. Things to Do in Singapore: Pulau Ubin
Pulau Ubin or Granite Island is a small, stunning island located northeast of Singapore's mainland.
This is the only place to have an idea about how Singapore was before the huge economic development. There are no glamour, skyscrapers, vehicles, huge restaurants, or any other fancy thing. Pulau Ubin is all about pure nature with less than 100 people. 
Actually, it has one of the last traditional villages of Singapore with its inhabitants as well. It is a small fishing village, and the people there have a simple lifestyle.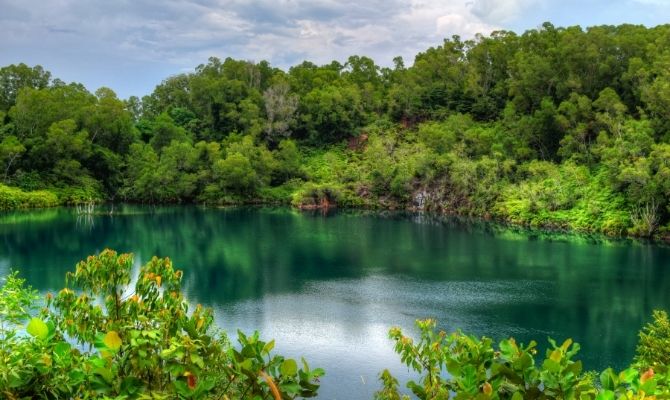 The island has unspoiled forests, diverse wildlife, and the unique  Chek Jawa Wetlands. This wetland offers you a chance to see a coral reef with a lot of sea creatures. 
Another place you visit on this island is the German Girl Shrine, located in Ketam Mountain Bike Park. It is a site of the burial of a German girl who died in 1914 while fleeing from British forces. (They had tried to detain German nationals who lived on this island at that time)
You have to get a small ferry ride (a 10 minutes ride) from Changi Point Terminal to get Pulau Ubin. And it is better to rent a bike to explore the whole island. 
Things to do in Singapore
5. Singapore Botanic Gardens
The Singapore Botanic Gardens is an old tropical garden located near Singapore's Orchard Road shopping district.
How old is it? Surprisingly it is 162 years old. Therefore, this garden was nominated as a UNESCO World Heritage Site in 2015. 
Actually, this is Singapore's first UNESCO World Heritage nomination. And, of course, it deserves it because this Botanic Garden preserves the country's wilder heritage and offers a chance to escape from the concrete world.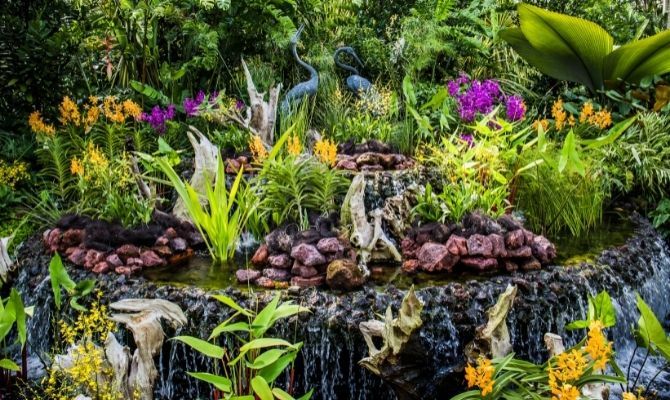 The Garden contains many old tree species, and a convenient walking trail will lead to all of them. 
Aside from that, the eco-garden, the wonderful National Orchid Garden, bonsai garden, eco-lake, many sculptures, and some other impressive gardens are available in Singapore Botanic Gardens. So, surely add it to your list. 
Address: 1 Cluny Rd, Singapore 259569 Phone: +65 6471 7138 
Official website: https://www.nparks.gov.sg/sbg
6. Esplanade – Theatres on the Bay, Singapore
Esplanade – Theatres on the Bay is a performing art center situated in Downtown Core, near the Singapore River. It has a concert hall with 1600 seats and a performing theater with a capacity for 2000 visitors.
So, obviously, it features live concerts, art performances, and many other entertaining events. And the surprising fact is, most of them are free of charge. So, this place is like heaven for entertainers.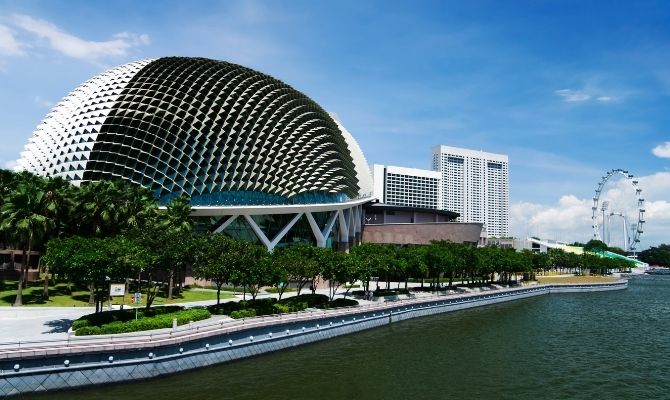 After enjoying the shows, do not forget to visit Music Library and Esplanade Roof Garden, which are also free.
Address: 1 Esplanade Dr, Singapore 038981 Phone: +65 6828 8377
Official website: https://www.esplanade.com/
7. Things to Do in Singapore: Singapore Zoo
The Singapore Zoo or Singapore Zoological Gardens, or Mandai Zoo, is located near the Upper Seletar Reservoir. That means the most forested area in Singapore. 
Stretching for 28 hectares, this zoo was built in 1973 with a grant of $9 million by the Singapore Government. Now it is home to over 300 animal species. 
Since it has an open and non-restricted environment, animals live happily. And on the other hand, its lush vegetation has created a real rainforest environment for the animals. So, you can observe their natural habitat.
Actually, those are the most admirable features of the Singapore Zoo.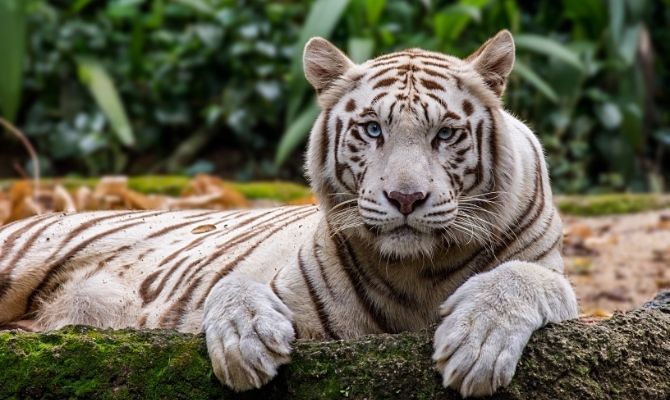 You can see orangutans, a large chimpanzee family, meerkats, zebras, mole rats, a komodo dragon, kangaroos, white tigers, and many other animals. And you can feed some of them with your kids. 
Also, as it is a huge land area, they provide various transportation ways like trams and boats.
Another unique feature of this zoo is, it offers special safari tours. 
Ex: Night safaris to observe the night behavior of animals, River Safaris to visit a giant panda forest, and Jurong Bird Park tours. 
That's why the Singapore Zoo is a must-visit place on your Singapore tour.  
Address: 80 Mandai Lake Rd, Singapore 729826  Phone: +65 6269 3411
8. Things to Do in Singapore: Orchard Road Area
We all know that Singapore is more famous for shopping. It's true; your tour is not completed without shopping.
The best place to start shopping is Singapore's retail heart, Orchard Road Area. It is filled with discount outlets, upscale boutiques, department stores, restaurants alongside luxury hotels.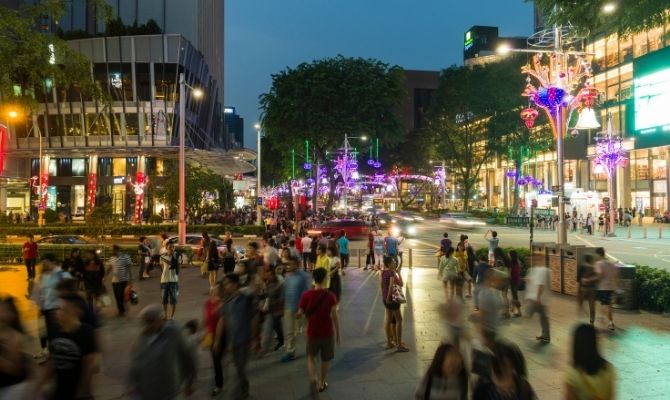 You may see high-end stores at every turn. And also contains six department stores, 22 malls, four movie theaters, and a KTV karaoke. 
After shopping for a lot of time, the Orchard Road Area offers you world-class eateries that serve delicious food if you feel hungry.
Especially, the Newton Food Centre is a famous food hub that serves traditional food, barbecued seafood, traditional desserts, roasted meats, or whatever you are looking for. 
Stretching for 2.2 km, Orchard Road Area's Emerald Hill Road contains colorful Chinese baroque houses and casual pubs. And Cuppage Terrace offers you various eateries and al fresco bars. 
So, are you ready to spend more money?
Things to do in Singapore
9. Things to Do in Singapore: Festivals of Singapore
Singapore is a place where the east meets west. Therefore this little country contains a mix of European and Asian cultures.
It has four official languages (English, Malay, Tamil, and Mandarin Chinese) and many religions. So, obviously, Singapore hosts festivals and carnivals that represent European, Asian, other cultures in the world.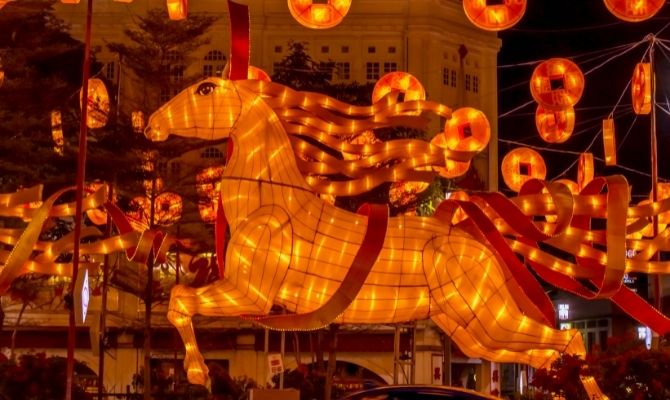 The most popular, vibrant, and colorful festivals in Singapore are Pongal, Deepavali, Lunar New Year, Mid-autumn festival, Hari Raya Puasa, Chinese New Year, Lantern Festival, Vesak Day, Singapore Art Festival, Singapore Food Festival, Singapore Grand Prix, and Singapore Night Festival. 
Actually, there are more. So, you may probably catch a festival whenever you visit Singapore. Have fun. 
Things to do in Singapore
10. Things to Do in Singapore: Little India
Are you a fan of Indian food?
Little India is a neighborhood in Singapore that features traditional Indian culture. Therefore, it contains traditional Indian restaurants, jewelry stores, textile shops, Sri Veeramakaliamman Temple, and many colorful Hindu statues. 
So, Little India considers one of the richest cultural heritages in Singapore.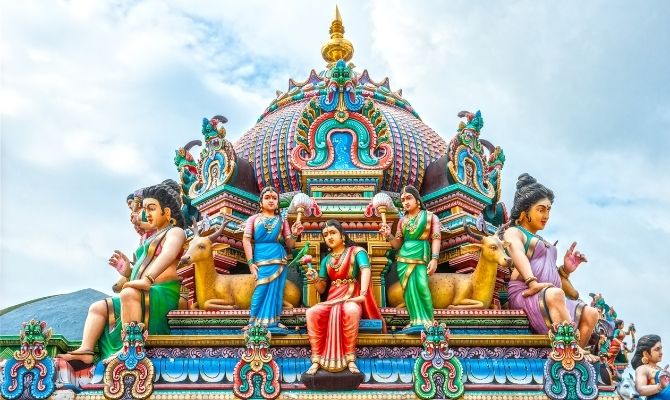 It attracts foodies because it serves delicious Biriyani, Dosai, and many other Indian dishes. Especially, there are plenty of traditional Indian restaurants modern cuisine areas along Race Course Road, Serangoon Road, and Jalan Besar Road. 
On the other hand, Little India hosts all the Indian festivals annually. Ex: Diwali, Pongal, New Year, etc. 
So, you'll definitely feel like you are really in India. 
Things to do in Singapore
11. Singapore Flyer
Singapore Flyer is a top tourist attraction located in Marina Bay Street Circuit. Opened in 2008, it is the second-largest Ferris wheel in the world that contains 28 air-conditioned capsules capable of accommodating 28 passengers in each.
If you are not satisfied with the Marina Bay Sands Skypark Observation Deck, Singapore Flyer is the next best option.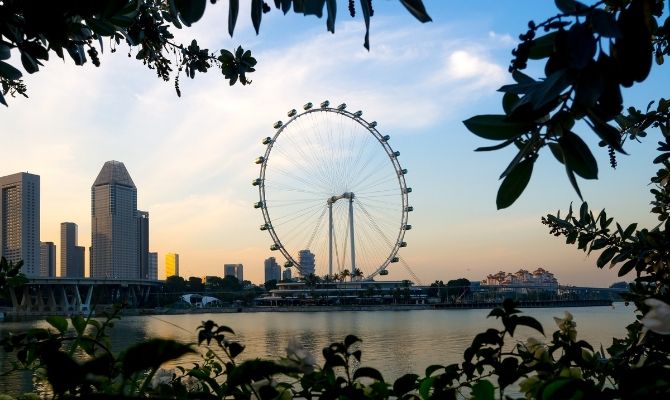 You can get spectacular sky views of the city, Indonesia's Spice Island, and Malaysia's Straits of Johor while having tea. Yeah, it covers a huge sky area. 
Singapore Flyer offers you several packages with different facilities. So, you can select the ideal one according to your choice and budget. Also, the flyer runs from early morning till late night. And one ride takes exactly 30 minutes. That means you have to choose whether you want to see the city's morning colors or night colors. 
Visit the following official website to know more about packages. 
Address: 30 Raffles Ave, Singapore 039803 
Official website: www.singaporeflyer.com
12. MacRitchie Treetop Walk
Hikers, are you ready? 
As mentioned in the introduction, there are diverse things to do in Singapore. For example, there are several exciting hiking trails. 
Macritchie Treetop Walk Trail is a suspension bridge through the forest treetops in MacRitchie Reservoir.
Spreading for 820ft, this treetop walk is located 82ft above the forest. So, definitely, it takes some hours to complete. Therefore do not forget to bring a water bottle and wear suitable shoes.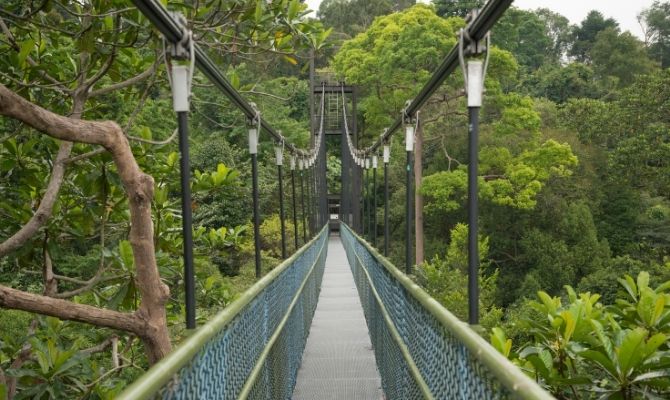 You can check the various treetops so closely while spot some giant monkey families live on the trees.
Also, you walk along the boardwalk of Singapore's oldest reservoir, MacRitchie Reservoir. 
Actually, this is one of the best free things to do in Singapore for sure. Try to visit early in the morning to avoid the heat. 
Address: Bishan, Singapore, Singapore  Phone: +6518004717300
Things to do in Singapore
13. Things to Do in Singapore: Changi Village Hawker Centre
When speaking about food in Singapore, it not all about world-class restaurants. Actually, eating street food is the best way to know the local taste. 
Since this country is a mix of various cultures, you may find various flavors from each street. Ex: Malay dishes, Chinese dishes, Indian dishes, Thai dishes, and more.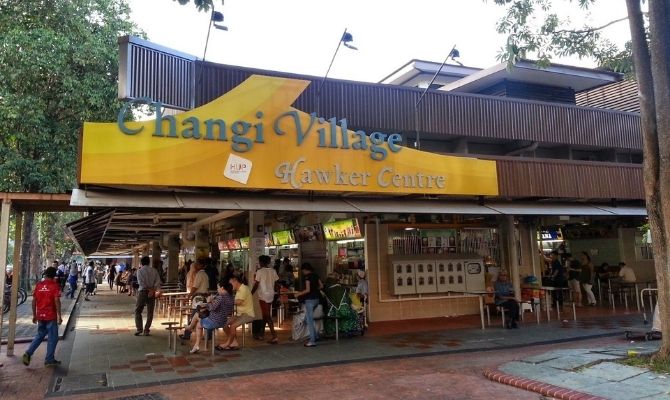 Changi Village Hawker Centre is such a street food court located on the Changi Village Road. There you can taste delicious chicken rice, Singapore chili crab, grilled fish, chicken dishes, and many other street food items. And all of them are under $10. 
Changi Village Hawker Centre is always ready to offer clean, delicious street food dishes for low prices. So, surely try it. 
Address: 2 Changi Village Rd, Singapore 500002  
Things to do in Singapore
14. Raffles Hotel Singapore
Raffles Singapore is one of the last grand 19th-century hotels in the world. Located in Colonial District in Singapore, Raffles has attractive colonial architecture. 
Actually, the classical architecture and impressive tropical gardens show Singapore's rich history.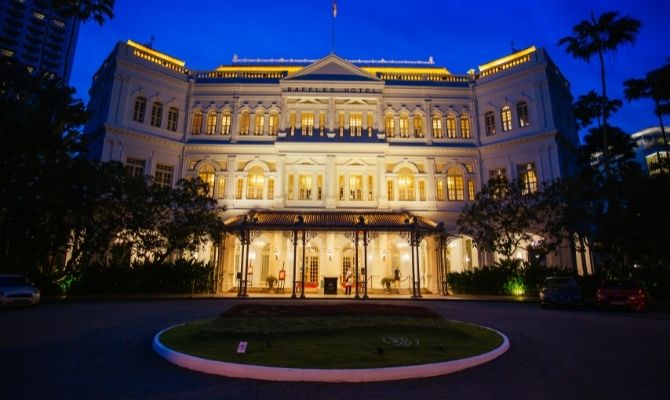 Built-in 1887, this hotel was visited by many iconic people in the world. Ex: movie star Charlie Chaplin, British writer Joseph Conrad, English journalist Rudyard Kipling, and many others. 
Still, it holds a reputation for excellent food and world-class service. And another famous place of this hotel is its Long Bar that serves Singapore's most famous drink, Singapore Sling.
If you are looking for a royal holiday in Singapore, book your accommodation at Raffles Singapore from here. 
Address: 1 Beach Rd, Singapore 189673  Phone: +65 6337 1886
Who's Raffles?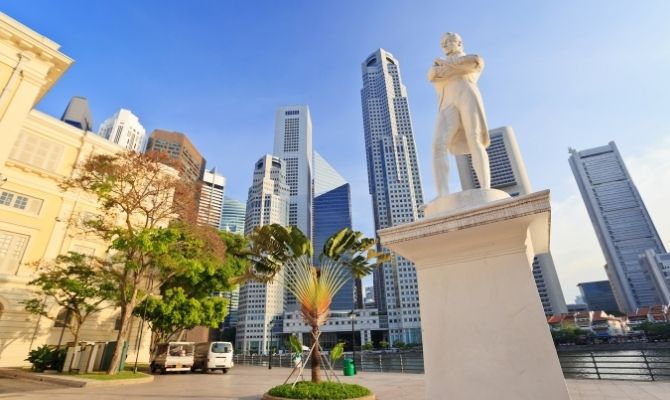 Sir Stamford Raffles was the founder of Singapore. He saw a small fishing village and recognized its potential of converting into a port in 1819. Then, he purchased the land from the Sultan of Johor and asked Indian, Chinese, and Malay immigrants to live here.
That's how this wonderful multicultural country was born. You can see his Marble statue in the middle of the city. 
Address: North Bank, Singapore 179555
Things to do in Singapore
15. Things to Do in Singapore: Southern Ridges
Obviously, Singapore has some of the most beautiful parks in the world. Southern Ridges helps you to reach such three fantastic national parks via an exciting walking trail. 
The Southern Ridges Walking Trail (10 kilometers of trails) connects Telok Blangah Park, Mount Faber Park, and Kent Ridge Park.
It is an innovative walking trail that allows you to see these parks even before you reach there.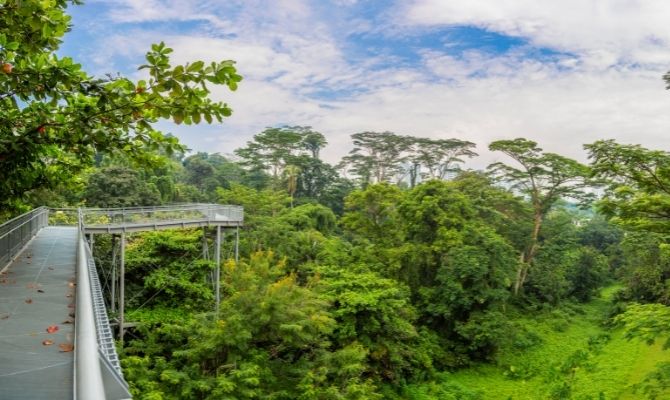 Since this trail runs through lush landscapes and treetops, it offers you a chance to spend some quality time close to nature. You'll meet several trails along this 10 kilometers. 
The highest point of The Southern Ridges Walking Trail is Henderson Waves Timber Deck, located 256 feet above the land. 
And the Forest Walk offers you a chance to walk through the treetops, while Marang and Faber trails allow you to walk through oriental architecture bridges, steps, and canopies. 
However, the whole Southern Ridges is scenic, nature friendly, and exciting. So, surely add it to your list. 
Address: Address: 9 Preston Road, Singapore 109347  Phone: +65 1800 471 7300
Things to do in Singapore
16.

Things to Do in Singapore: Sentosa Island
Although Singapore is not famous as a beach travel destination, it still offers an entertaining island resort called Sentosa on Singapore's southern coast.
Its Siloso Beach is ideal for those who are craving to have beach fun. You can play beach volleyball, kayak, skimboard, swim, or do any other beach activity on this beach. 
Sentosa's elegant resorts, soft, white sandy beaches, fine dining, spas, entertaining nightlife, and fun beach activities attract thousands of visitors throughout the year. 
Especially this is heaven for water sports lovers.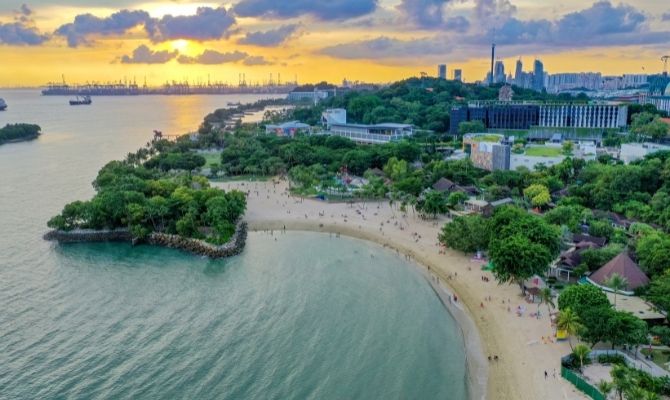 The Adventure Cove Waterpark is waiting to offer you snorkeling adventures, exciting water slides, and many other things.
On the other hand, Dolphin Island offers you a chance to interact with bottlenose dolphins. You can literary touch and swim with them. 
Apart from water activities, Sentosa Island hosts many cultural activities as well. 
The Butterfly Park & Insect Kingdom, the Palawan Theater-like places, also offer you exhibits of indigenous flora and fauna on the island. 
Another highlighted thing to do in Sentosa Island is to walk along the Fort Siloso Skywalk to get a bird's-eye view of the island. (It was constructed by the British to protect the island from invasion)
By considering all the above features, detouring Sentosa Island is surely one of the most popular things to do in Singapore. 
Looking for accommodation in Sentosa Island, Singapore? Check here for the best hotels that suit your budget. 


17. Things to Do in Singapore: Chinatown
Chinatown District is one of the unique and densely populated neighborhoods in Singapore. Representing the authentic Chinese culture Chinatown is one of the oldest residential enclaves in the country as well. 
Therefore, thousands of tourists visit this neighborhood to see its cultural and historical attractions.
However, it is better to visit the Chinatown Heritage Center first to get more information about the region's history, culture, and streets. 
The most famous street in Chinatown is Pagoda Street which features the colorful history of the region. And the streets of Imperial China feature a lot of impressive Chinese souvenir shops.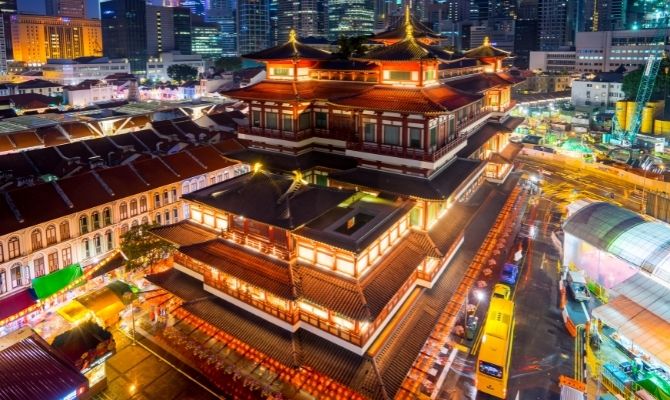 On the other hand, the South Bridge Road is more highlighted as it contains the Sri Mariamman Temple that features Buddhist and Hindu spirits from its interior and exterior.
Actually, it is one of the top tourist attractions in Chinatown. However, its Gopuram, ceiling, roof, and mandala diagram are more attractive.  
Another highlighted attraction of Chinatown's South Bridge Rd is Buddha Tooth Relic Temple and Museum. It is an opulent temple that features the style of China's Tang Dynasty. (an imperial dynasty of China that ruled from 618 to 907, pre-medieval era)
Also, the temple's fourth floor displays a replica of the sacred Buddha's tooth relic. 
Chinatown in Singapore is a colorful and attractive neighborhood whether you visit in the daytime or nighttime.
It is a separated little, unique world in between modern skyscrapers. So, do not miss this experience.   
Address: Address (Chinatown Heritage Center): 48 Pagoda Street, Singapore 059207
Things to do in Singapore
18. Kite Flying in Marina Barrage
Marina Barrage is a dam built across the Marina Channel. And the green space near the dam is ideal for kite flying. So, this is one of the best places to have fun with your friends. So, get a kite and fly in on the huge grassy land in Marina Barrage for free of charge.
Since this place is so windy, there's a huge probability to reach higher to the Singapore Skylines. Then, you can compare your kite with Marina Bay Sands and other skyscrapers in Singapore. So, your kids will love it. 
That's why it is an unusual kite-flying experience for anyone. Just try it.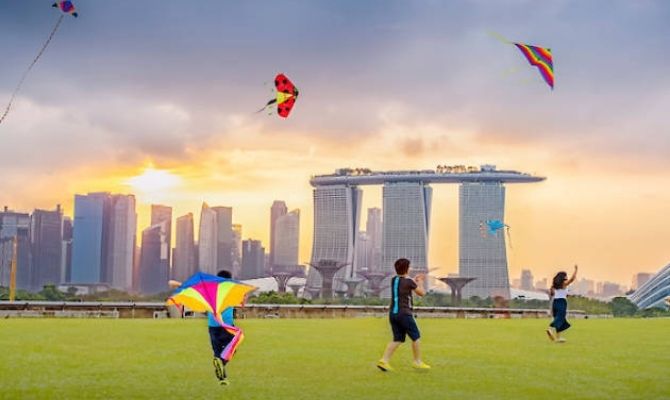 19. Tiong Bahru Street Art
Tiong Bahru is one of the oldest and interesting neighborhoods in Singapore. If you take a closer look at the walls and corners in this area, you will notice some artistic wonders.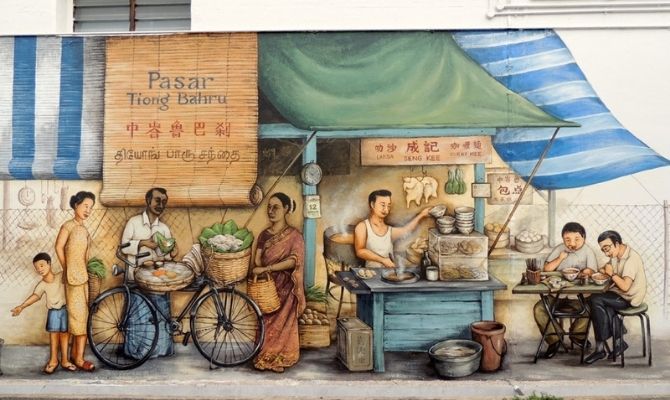 Yip Yew Chong, a local artist who grew up in Tiong Bahru, started creating street murals. Actually, he started with three wonderful murals based on his childhood memories, and now you can see plenty of attractive murals in many places done by various artists from all over the world.
For example, Ernest Goh: an animal photographer, Makatron: an Australian artist. There are very impressive and artistic. So, surely add to your bucket list. 
Things to do in Singapore
20. ArtScience Museum Marina Bay Sands
Established in 2011, ArtScience Museum Marina Bay Sands is one of the top tourist attractions in the country. As mentioned in the beginning, this museum is integrated with the resort of Marina Bay Sands. 
Having an impressive architectural design, it is one of the iconic landmarks in the country as well. The world-famous architect Moshe Safdie was the designer of this great half-unfurled white lotus flower-like building.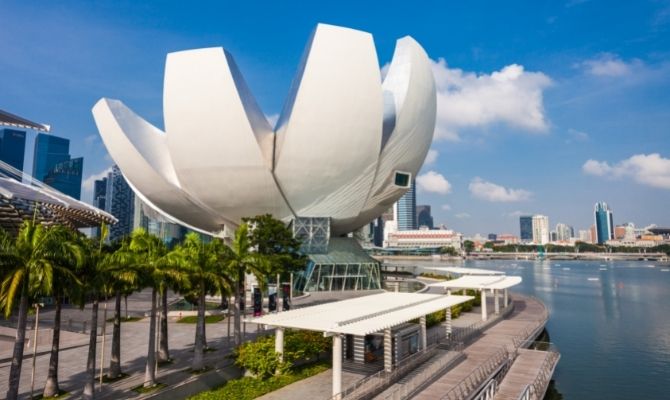 ArtScience Museum contains a famous permanent art collection called Future World. It represents the intersection of science and technology, art and culture, and some other subjects through its mind-blowing exhibits.  
If you are not interested in art, it is totally worth observing the breathtaking architecture of the ArtScience Museum. So, please put it on the top of your Singapore itinerary whether you are an art lover or not. 
Address: 6 Bayfront Avenue, Downtown Core, Singapore, 18974, Singapore  Phone: +65 6688 8888
Official website: https://www.marinabaysands.com/museum.html
Things to do in Singapore