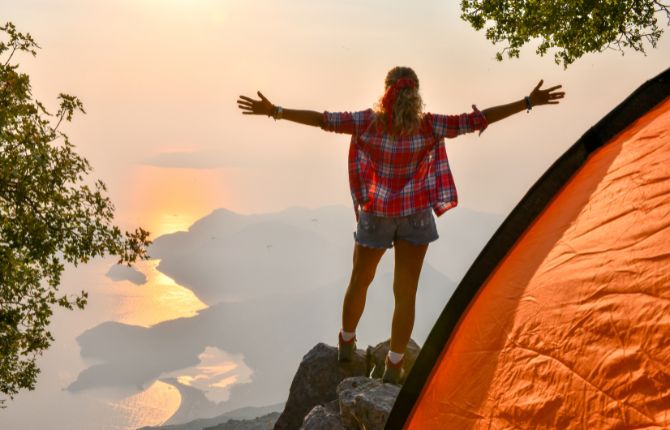 If you're thinking about the next family base camp adventure, a 10-person tent will be the best option.
Setting up a 10-person tent is not easy, but how to fold it? You may think it's a mischievous task you should do after having a good camping time.
Remove all the stakes and disconnect the S-hooks first. Put all the roof poles in a pole bag after they are disassembled. Then fold your tent lengthwise until it fits the same length as the storage bag. Now put all the bags in a carry bag, and you're done.
But if you incorrectly fold the tent up, it can cause endless frustration while packing them.
No more suffering; in this guideline, you'll know how to fold a 10-person tent with some easy steps in detail.
How to Fold a 10-Person Tent?
You should follow several instructions while taking down or folding your 10-person tent. Let's check them out.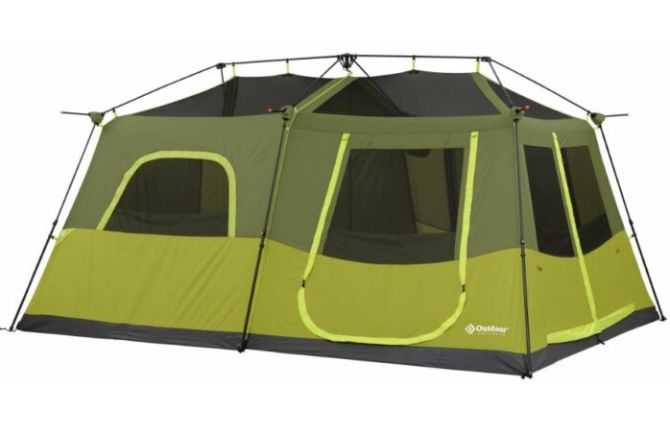 ● Before you fold your 10-person tents, ensure they are clean enough to store. You can use a soft sponge with mild soap and tepid water to clean your tent.
● Make sure you scrub the tent gently and be careful; there's no soapy water on the tent. Then for a natural cleanse, dry your tent in sunlight.
● There will be some stakes on the guy lines and ground vent. Please remove them and store them in the stake bag first.
● S-hooks will be available at the tent's base, and you must disconnect them. Try to remove them from the pin-and-ring system.
● Release the rain fly's hook-and-loop fasteners from that same pole. Take off the rain fly and fold in thirds along the length. We'll roll this up, including the tent.
● Remove the leg poles from the pin-and-ring system's metal pin and lay the tent flat.
● Gently insert the roof poles through the sleeves to remove them. Take apart each pole and put it in a poly bag.
● Remove the last of the stakes. In a stake bag, then store them.
● Fold the tent four or five times lengthwise to make it the same width as the carry bag. Lay the folded rain fly on the tent's top.
● Place the poles' bag and rain fly on the edge of the tent, then roll it around. Put it in a carry bag along with the stakes bag.
Types of 10-Person Tents
You can choose from various tent types, like Cabin tents, Canvas tents, dome-shaped tents, and tunnel tents. But here, we've collected some more options.
Canvas Tent
A Canvas tent is a portable shelter that is made of thick cotton. The material used in this tent is heavier and larger than the synthetic tents. They are waterproof and have durability.
Instant Set-Up
These tents are special because they take less than 15 minutes to fold together. People love to take these tents for camping as many people can gather together in one instant set-up tent.
Multi-Room
Many people can share several tents, but you can find some tenets that have multiple rooms. A multi-room tent has room dividers, and a screen room doubles as an additional room.
Tent care Tips: That You Should Follow
There are some care tips for your tent that can help you to maximize the lifespan of your tent. Here is the essential information.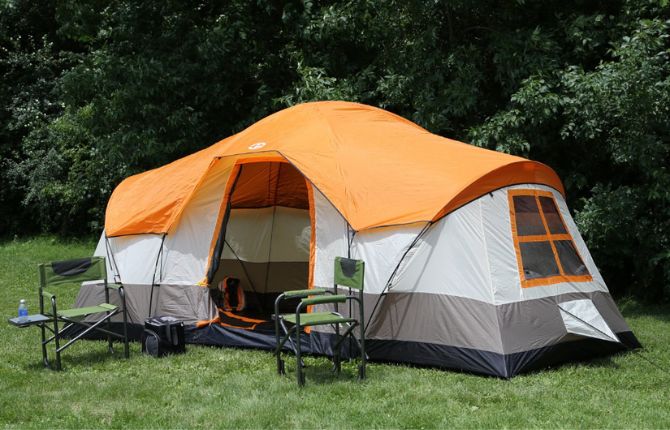 ● Though most of the tents are similar, it's essential to check the manufacturer's instructions while dealing with the tent for the first time.
● Zippers and poles are the most sensitive parts of a tent. If they break or are lost, it can be hard for you to repair them.
● While doing the poles, break them down from the middle. It'll help you to distribute pressure evenly on the cords.
● While storing the tent in the bag, ensure it's clean and has no dirt.
● After finishing the camping, you must dry the tent thoroughly.
● When going on a trip, it's easy to carry when your tent is in its bag. After returning home, make sure you store it in a larger container.
● It must be cleaned, but not in the washing machine; instead, use a sponge and mild soap. This will cause the material's significant coatings to dissolve.
● Don't leave your tent set up in direct sunlight since UV rays will deteriorate the fabric and cause damage.
● Keep boots outside the tent because they may contain foreign things. They could pierce it or dirt that could cause the tent to deteriorate over time. Only wear socks or bare feet before entering your tent.
Looking for the best camping food ideas?? Check this link. 
How Long Does It Take To Set Up A 10-Person Tent?
In five minutes or less, tents can be folded with rapid set-up. However, several tents take more than an hour. As 10-person tents are so heavy, like 20 pounds to 175 pounds, they will take more time than the regular ones.
Wrapping Up
Some tent makers roll their tents up just because it's easier than any other process. But when you complete your campaign, it's better to fold your tent. It will be simple to store them when you fold them correctly.
Now you have all the knowledge of a 10-person tent folding system in this write-up. Enjoy your camping and finish your hour-end struggle with the tent within a few minutes.