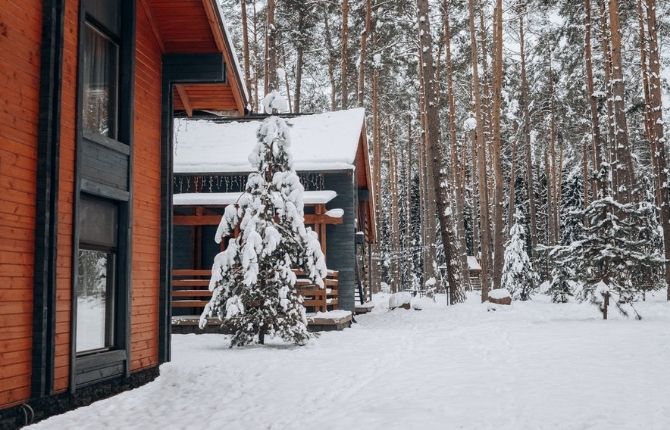 Pigeon Forge is a small town with dozens of activities, luxurious lodging, and palatable food outlets. While these activities are enjoyable in any season, the charm of winter is unsurpassed. There are some things one can only enjoy during the winter. Let's see what they are.
1. Visit Winterfest To See The Lights
Sevier County transforms into a winter wonderland every winter, with more than 5 million lights shining in the night sky. The Smoky Mountains Winter Festival, now in its 32nd year, has become one of the most anticipated festivities in the area. There are many stunning light displays throughout the county, no matter where you go. Even businesses get in on the action. Several amazing arrangements are on display at places like The Old Mill, The Island, and Dolly Parton's Stampede!
2. A Wintertime Shopping Spree
It's the perfect time of the year to shop during the winter with holiday sales and after-Christmas sales! Stay out of the cold while enjoying a fun distraction from the weather. With fewer people hiking in the winter, your shopping experience will be more relaxed. The Smoky Mountains offer many shopping areas where you can find many stores at once.
3. Relax In Your Cabin By The Fire
Maybe an indoor adventure isn't for you. Perhaps you would rather spend a relaxing evening in front of the fire. An overnight stay in Pigeon Forge cabin rentals can help you disconnect from daily life's hustle and bustle and reconnect with nature. Renting a cabin in the area is one of the most pleasant things to do in winter. With the trees adorned in snow and icicles gleaming in the sun, you can enjoy the breathtaking views. Your winter vacation would not be complete without relaxing by the fire with your family. Our cabins section of our website is a convenient place to look for a cozy cabin for your winter getaway.
4. Hiking In The Smoky Mountains During The Winter
In the winter, hiking in the National Park is truly magical. Some people may think hiking in the winter is too cold, but there are certain things you can only see in this weather!
Throughout the winter, many hidden details become apparent. You can see a lot farther into the woods in the winter because the trees are bare. You will notice wildlife more easily without leaves obscuring your vision.
Also, you'll have the chance to view some artifacts you missed during the summer and spring. The park has a substantial number of human artifacts, but the foliage covers many of them most of the year.
In addition to all the amazing sights, you'll see on a winter hike, hiking this season has other benefits. As people turn away from the cold, you won't have to deal with the large crowds during the busier spring and summer months. There is a sense of peace on the trails, offering an opportunity for reflection.
Make sure you have everything you need if you decide to go on a winter hike. Park elevations can experience snow and ice conditions and sudden temperature drops. Winter hiking is magical when properly planned, but preparation is key!
5. Attractions At An Amazing Museum
While the weather is cold, you can burn some time by visiting one of Pigeon Forge's or Gatlinburg's incredible museums. The museums in the Smokies are known for their interactive, educational, and unique exhibits. The variety of options available makes it easy for everyone to find what they need.
6. Trampoline Jumps And Extreme Arena From Topjump
How about flipping into an airbag, flying high, or dunking like Jordan? Located at the foothills of Smoky Mountain National Park, Sevier County's first trampoline park offers a safe and extreme experience for people of all ages. Open jump, airbag, ninja course, basketball, dodgeball, and a toddler area are all included at TopJump as traditional trampoline park attractions. Apart from climbing walls, there are arcades and candy stores!
Besides kids, parents can join in on the fun. Parents can enjoy their time as the kids play with massage chairs, concessions, and viewing areas!
7. Explore Ober Gatlinburg's Winter Adventures
Winter adventures in the Smokies are most enjoyable in Ober Gatlinburg. In the Smokies, winter is synonymous with skiing and snowboarding at Ober Gatlinburg. The ski slopes are tentatively open over the holidays and throughout the winter. The park offers ten trails with varying degrees of difficulty. Anyone can enjoy them.
The folks at Ober also offer lessons from experts in the field if you're new to skiing or snowboarding. Rather not ski, but still want to enjoy the snow? You can't beat zipping down a huge hill on an innertube while snow tubing – there's nothing like it! You still have a lot to do when you come off the slopes. Inside, you will find a variety of shops, a food court, an ice skating rink, and ice bumper cars!
8. Visit Cades Cove During The Winter For A Scenic Drive
Those who have driven through Cades Cove know that it is one of the most scenic parts of the Great Smoky Mountains National Park. However, Cades Cove's unique beauty can only be experienced in the winter.
Winter driving is one of the most popular activities. The 11-mile one-way loop road in Cades Cove allows you to take in the scenery at your own pace. There are plenty of pull-offs along the way for those who wish to stop and take in the scenery. This is undoubtedly a route worth exploring at your own pace. Winter is a great time to see some of the wildlife that calls the cove home since the trees are bare. In addition to black bears and deer, you may see coyotes, turkeys, and more!
The history of Cades Cove is one of the fascinating things about it, whatever time of year it is. Caverns Cove has many historic sites from the early settlers in the area and evidence of the original hunters: the Cherokees. In addition to three churches, a working grist mill, a barn, log houses, and other restored buildings, many historical sites are nearby. You can pick up a booklet discussing the area's history at the beginning of the cove.
9. Moonshine And Wine To Warm You Up
Moonshine is well known in the Great Smoky Mountains. Founded before the United States, these mountains produce moonshine and whiskey. This tradition continues with our many wineries and distilleries. You can't go wrong with a sip of shine whenever it's cold outside to get you through the day. Pigeon Forge distilleries offer a 100% free sampling of their products. Check out some of these distilleries and wineries if you're interested in trying a new flavor or even trying moonshine for the first time.
10. Take A Spin On The Great Smoky Mountain Wheel
It is a must to ride the Great Smoky Mountain Wheel whenever you visit. Riding the wheel at The Island is fun all year. However, snow-covered mountains are a sight to behold when traveling in the winter. Snow showers in the area make for an unforgettable experience in the air. Despite the cold, you'll have an incredible time. You can enjoy a comfortable ride any time of year since each pod on the wheel is climate-controlled.
11. Enjoy The Night Helicopter Tours 
Now you can experience the magic of Winterfest from a unique perspective! On your way to see the twinkling lights of Dollywood and The Island, guided tours in the area will fly you over Sevierville and Pigeon Forge. Pilots provide a unique perspective of the cities and lights below, providing a memorable helicopter adventure experience.
12. Create Your Own Masterpiece At Art Studio Of The Smokies
Did your outdoor adventure get canceled, or are you looking for something different to do on your date night? One of the most popular winter activities in our area is to visit the Smokies Art Studio. On an as-needed basis, they offer painting parties where you can make your own art! A state-of-the-art graphic design lab and art lessons are also available at the studio. Many customers have written reviews of their experiences at the studio. Even if you don't consider yourself an artist, you'll be impressed by your work after leaving the studio.
13. Relax At The Spa
At the spa, you can relax and let the day's worries fade away. A full range of day spa services is available at RiverStone Resort and Spa at Dollywood Lane. If you come here for treatment, you will emerge rested and revitalized no matter what you choose. You can get the highest quality products during any treatment, such as massage therapy, facials, nail treatments, waxing, and make-up.
Conclusion
Winter brings some memorable moments, and you can make them even more memorable in Pigeon Forge. The place has so much to offer, from viewing Winterfest lights from the sky to scenic drives amidst snow top mountains; experiencing snow tub rides to taking a spin on the large wheel. Your winter trip cannot end wrong with Pigeon Forge!