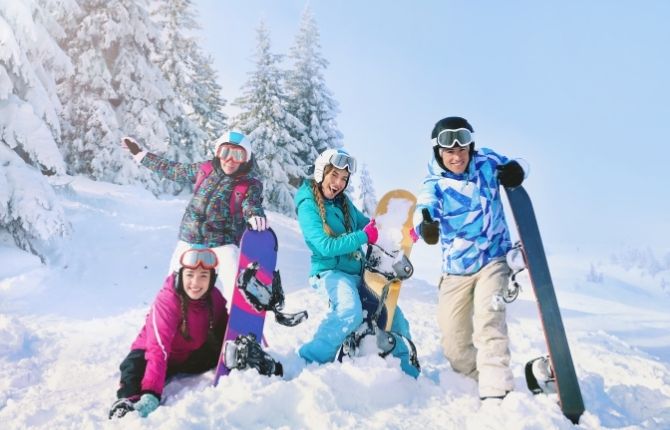 Looking for the best ski resorts in Colorado?? Here's the list with all the travel information you need to plan a family tour.
There are various reasons to ski in Colorado, including the state's diversified landscape. Rocky Mountain National Park protects the state's majestic mountains, while Mesa Verde National Park contains cliff dwellings from the Ancestral Puebloan tribe.
Denver is the capital city of Colorado and its largest city. The state's many resorts offer different kinds of skiing, including downhill, cross-country, and snowboarding.
When is the best time to ski in Colorado?
February is the wettest time, with deep base depths and plenty of fresh snow. The mountains are fully open by this time, but the days around Presidents' Day are the busiest. The rest of the month sees fewer crowds and less traffic. Whether you choose to ski in the Rockies, the Pacific Northwest, or the Rocky Mountains, Colorado has the perfect weather for you to enjoy a day on the slopes.
If you're coming from afar, consider ski resorts near the Front Range, such as Breckenridge or Vail. The state's weather can change dramatically during the early and late seasons, so check ahead of time to ensure snow conditions.
No matter what time of year, skiing in Colorado is always fun! You'll be amazed at the variety of resorts in this beautiful state. There's something for everyone!
So, let's discover the complete list of the best ski resorts in Colorado. Just check and add them to your bucket list.
Ski Resorts in Colorado
1. Ski Resorts in Colorado: Breckenridge Ski Resort
The Breckenridge Ski Resort is an alpine ski resort in Breckenridge, Colorado, just west of the Continental Divide in Summit County.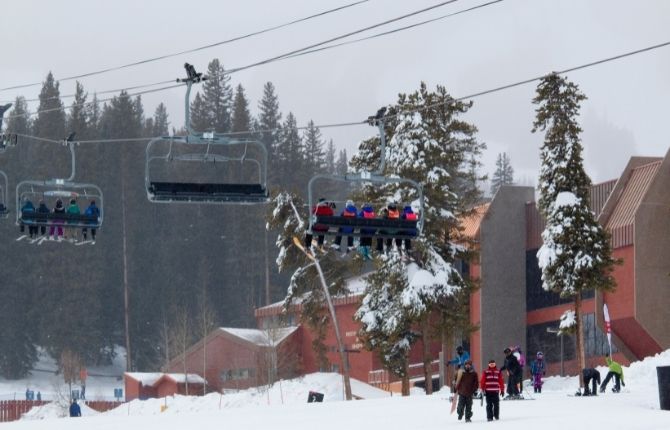 It is the most popular ski area in the western hemisphere and is one of the most popular ski resorts in the world. And it is owned by Vail and operates year-round.
Now, guests can enjoy the resort's renowned après-ski.
Breckenridge Ski Resort is home to 32 lifts and one gondola for eight passengers. There are also six high-speed quads, six double chair lifts, and one fixed-grip quad.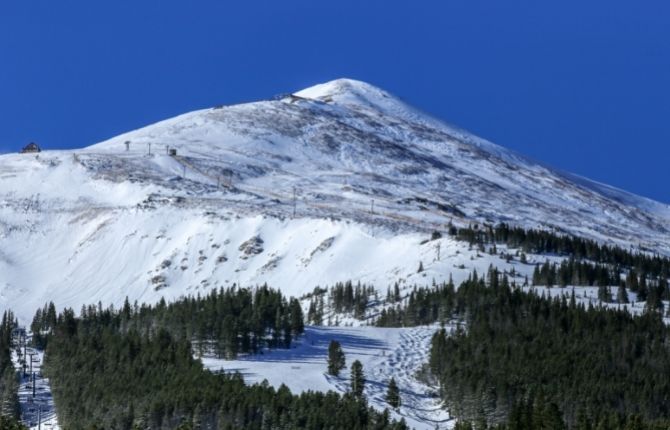 This ski area has more than 4,700 feet of vertical terrain and 13 surface lifts. During peak ski seasons, Breckenridge has nearly 46800 people per hour. The lifts are equipped with a wide variety of safety equipment and are staffed by professional skiers and snowboarders.
While skiing at the Breckenridge Ski Resort, there are many things to do. For starters, the resort has four terrain parks and a 22-ft superpipe so that you can test your skill level at different slopes.
The terrain parks are designed to be challenging for skiers of all levels, and there are trails for every level of ability. The godfather of the terrain park at Breckenridge is Freeway, which is for the more experienced snowboarders and freestylers.
There are also Highway 9, Powerline, and Freeride for new entrants.
Address: 1599 Ski Hill Rd, Breckenridge, CO 80424, United States   Phone: +1 970-453-5000
Ski Resorts in Colorado
2. Ski Resorts in Colorado: Vail Mountain Resort
The Vail Mountain Resort in Colorado is one of the most popular ski resorts in the world.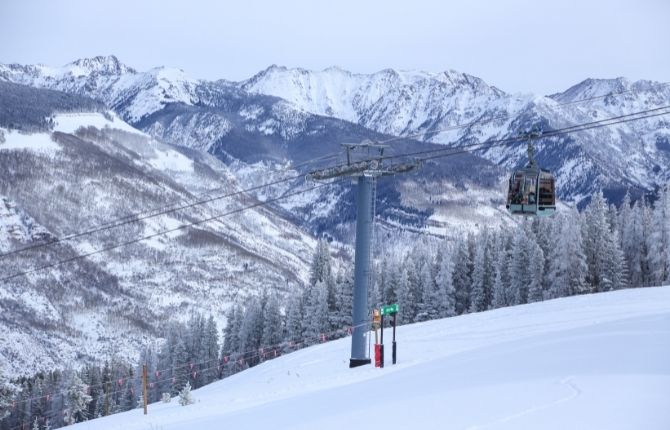 It is the largest mountain ski resort with five ski areas and 2,140 acres in North America. It features many off-piste runs, a gondola, and 17 high-speed quad chairs.
Vail's four distinct ski areas include Beaver Creek, Park City, and Buttermilk. Depending on your ability level, you may prefer one of the more challenging areas.
With over 5,000 acres of legendary terrain, Vail is the world's largest ski resort. It offers beginner and advanced runs and a ski school and features several family-friendly adventure zones.
The mountain also offers a racecourse and a terrain park. While skiing or snowboarding, you may want to check out the Blue Sky Basin, which opened in 1999.
And the area is home to two gondolas, Pete's Bowl and Earl's Bowl. The gondolas are very expansive and offer a thrilling powder skiing experience.
The two largest bowls, Sun Up and Sun Down, are located in Lionshead and feature groomed beginner runs and a children's area.
In summer 2007, Vail completed a major lift upgrade on the East Front Side. Leitner-Poma installed two new high-speed quads. A third high-speed quad was built to replace an outdated double chairlift.
This lift improved the capacity on the east front side, and the Highline Express served the Patrol Headquarters.
Another new lift, the Sourdough Express, replaced an aging triple chairlift and increased the speed of the west Front Side.
Address: 715 W Lionshead Cir, Vail, CO 81657, United States    Phone: +1 970-476-4444
Ski Resorts in Colorado
Looking for the best things to do in Denver, Colorado?? Here's the list with all the essential travel information. 
3. Ski Resorts in Colorado: Aspen Snowmass Ski Resort
Located in Snowmass Village near Aspen, Colorado, Snowmass Village is part of the Aspen/Snowmass Ski Resort.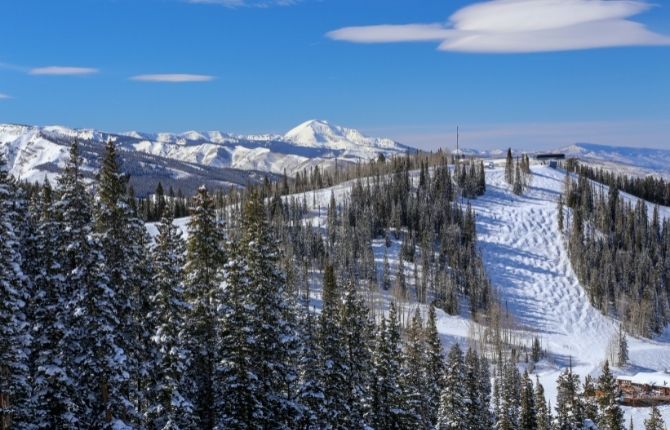 It opened its doors on December 17, 1967. And it is owned by the Aspen Skiing Company.
The area was named after a local Native American village.
Several resorts make up the Aspen/Snowmass complex. This is one of the most popular areas to ski in the entire state.
Aspen Snowmass Ski Resort is also home to many events and activities, including the Golden Leaf Marathon and Ragnar Race. There are also free concerts, cultural events, and ski competitions held throughout the year.
The region also has several outdoor recreation activities such as hiking and river activities.
Visitors are encouraged to join the Movies Under the Stars series. The screenings are free and open to the public.
For beginners in skiing, the Tom Blake Trail is a great option. It winds through beautiful Aspen groves and crosses the Snowmass ski area.
Also, it is a popular hike and bike trail in summer and includes short uphill and downhill sections.
The Government Trail leads to the Buttermilk Mountain and is a good option for families. And for those who are more adventurous, the Ski & Snowboard School offers an excellent program for kids.
Whether you are a novice or an expert skier, you'll have an unforgettable experience at Aspen Snowmass Ski Resort.
With four mountains and five miles of terrain, this resort is home to many activities and attractions.
It features 3,362 acres of ski area with 91 trails.
This resort offers a wide range of activities to suit your needs, from guided tours to lessons. Once you've been here, you'll never want to leave. It's a fun and unique destination!
Address: 120 Lower, Carriage Way, Snowmass Village, CO 81615, United States  Phone: +1 970-923-1227
Ski Resorts in Colorado
4. Winter Park Resort, Colorado
If you're looking for a great ski resort in Colorado, look no further than Winter Park Resort.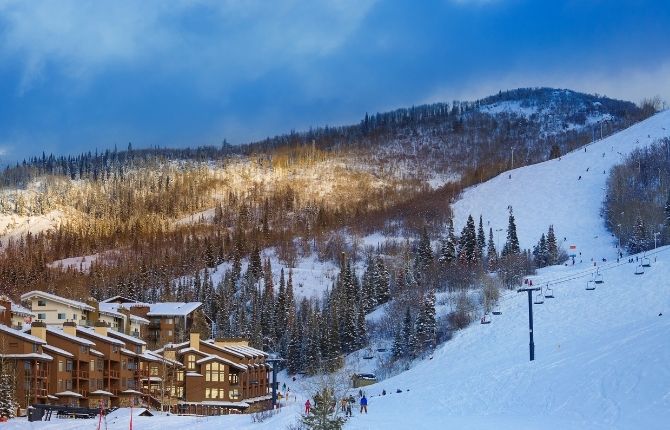 With three hundred and thirty acres of snowmaking across 27 trails, this destination is one of the easiest to access from Denver (only 2 hours from Denver).
It also offers free ice skating lessons for kids. The snowmaking here is extensive, and the mountain can open on Thanksgiving Day and stay open well into the spring.
Here are the best things to do in Winter Park:
If you're looking for a family-friendly ski resort, Winter Park is a great choice. With an average snowfall of 320 inches, this ski resort is ideal for families, couples, and solo travelers.
Its ski area is split into seven territories suitable for any kind of ski level. Tree skiing, snowshoeing, and other kid-friendly activities like ice bumper cars and snowmobiling.
Take a train ride from Denver to Winter Park Resort. The ride is approximately two hours long and winds through mountains and foothills.
You'll enjoy the view of the city, mountains, and valley from your window as the conductor provides informative history and geography information.
Also, you can spend a day relaxing in a luxury suite or choose to book a luxury room with floor-to-ceiling windows.
For an evening out, you can head to one of the fine restaurants in the village.
Address: 85 Parsenn Rd, Winter Park, CO 80482, United States    Phone: +1 970-726-5514
Ski Resorts in Colorado
5. Telluride Ski Resort
Telluride Ski Resort is located next to the Town of Telluride in Mountain Village, Colorado.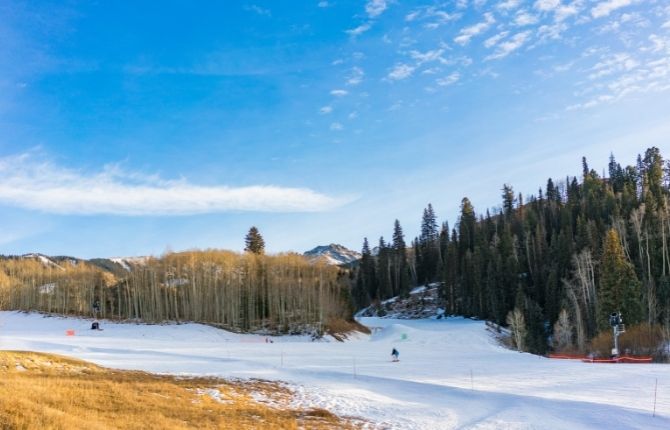 The location is excellent, and the skiing is fantastic! The mountain village is lovely, and you can find plenty of great restaurants and shops, as well.
Telluride is located in the midst of an incredibly picturesque area. And if you're looking for the perfect place for your wedding or special event, the Telluride Ski Resort in Colorado is definitely perfect.
If you're not into skiing, you can still enjoy the town's many other activities. The Telluride area is home to ten Gold Hill Chutes, with some of the steepest chutes accessible only by hiking the ridge.
The town also has a day spa and a great selection of eclectic shops and restaurants. You can get a great deal of authentic mountain food at Telluride's Giuseppe's, located at the top of the Plunge Lift. The menu includes a black bean saute, so be sure to get the most out of your meal.
The weather is usually favorable for skiing in Telluride, with an average of eight years of snowfall per season.
It is a great place to learn how to ski, and the ski school program is fantastic. The runs at Telluride naturally progress from blue to black and offer big features.
New high-alpine terrain, Revelation Bowl, opened in 2008, adding 400 acres to the ski area. And if you want to get really advanced, you can even take the gondola up to the ridge, where you can practice your new skills.
Address: 565 Mountain Village Blvd, Telluride, CO 81435, United States   Phone: +1 800-778-8581 
Ski Resorts in Colorado
Here's the list of the best ski resorts in Utah. Just check and add them to your bucket list. 
6. Ski Resorts in Colorado: Beaver Creek Resort
Beaver Creek Resort is a major ski resort in the western United States.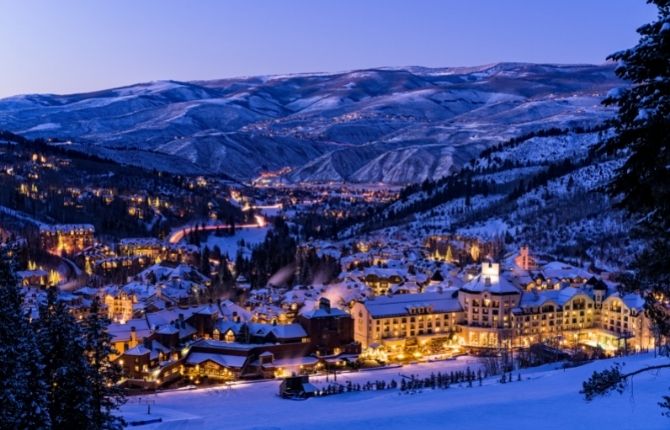 It is located near Avon, Colorado. The Beaver Valley ski area comprises three villages, including Beavers Creek Village, Bachelor Gulch, and Arrowhead.
And the resort is operated by Vail, which also owns several other popular Colorado ski resorts. The Villages are open all year, while the surrounding areas are perfect for winter fun.
This area is home to numerous family activities.
Beaver Creek Resort has 149 ski runs spanning over 1,815 acres of skiable terrain. The resort's ski terrain is divided into beginner, intermediate, and advanced levels.
And the longest run in Centennial, which is 2.75 miles long. If you're looking for something more challenging, check out nearby Arapahoe Mountain or a luxury resort in the Vail Valley. The Vail Valley is the most luxurious and exclusive of all.
In Beaver Creek Village, ten different restaurants offer a range of menus. Blue Moon Pizza, a family favorite, has bright colored drawings on the walls and cheerful decorations.
The restaurant serves New York-style food. Mirabelle, a Belgian-inspired restaurant, is ideal for a romantic dinner. The Trappers Lodge is a cozy log cabin accessible by snowcat. It features custom-designed meals that are made to suit your needs.
Address: 210 Beaver Creek Plaza, Beaver Creek, CO 81620, United States    Phone: +1 970-754-4636
Ski Resorts in Colorado
7. Ski Resorts in Colorado: Keystone Resort
If you want a ski vacation without spending a fortune, Keystone Resort in Colorado is a perfect choice.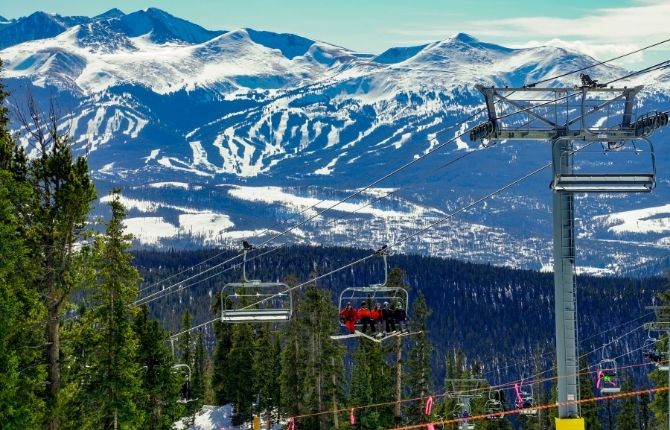 Vail's Keystone Mountain has three mountains and five bowls for every level of skier. If you're new to the area or you just love to try out new skiing spots, this resort is sure to be a great choice.
The ski slopes at Keystone are great for families, and the beginner-to-expert slopes are great for the entire family.
Those with children may find ski vacations intimidating, but Keystone offers a hassle-free mountain experience for the whole family.
Its Reception Center offers on-site concierge and ski rental assistance. The two-level house is ideal for kids and provides an excellent place for them to hang out with friends. They can also enjoy the many activities and attractions on the property.
The entire resort is accessible by public transportation, making a Keystone vacation an easy and affordable option.
While you're staying at Keystone, make sure you check out the other amenities.
They include a complimentary red wagon for kids up to 42 inches, a skating pond, and hockey sticks.
You can also enjoy ice skating and Nordic skiing. Also, you can even book a family snowcat tour. The options are endless!
There are even more things to do at Keystone than just skiing. The resort is an excellent place for a family to spend the holidays.
Address: 100 Dercum Square, Keystone, CO 80435, United States    Phone: +1 855-603-0049
Ski Resorts in Colorado
8. Purgatory Resort
If you're looking for a new place to ski, consider the San Juan Mountains of Southwest Colorado, home to Purgatory Resort.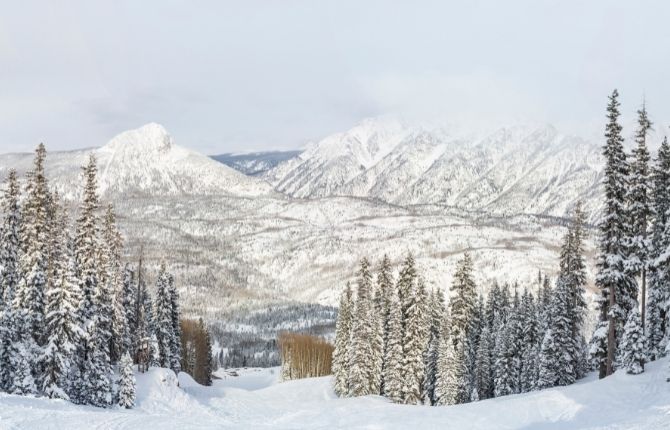 With over 1,600 acres of skiable terrain, this resort is a perfect getaway for families. Guests staying at the resort's Lodge will have access to 105 trails and five terrain parks, as well as restaurants and shops.
The lodge also has a spa and pool, concierge, and game room. The mountain is covered with snow for the majority of the year, and the vertical drop is two thousand feet.
In addition to enjoying the best ski slopes in the United States, Purgatory Resort offers some of the best dining options and activities in the area.
The mountainside town of Durango offers a unique mix of Victorian and Wild West history.
And the area is home to numerous historic buildings and artifacts too.
In addition to skiing and snowboarding, the Purgatory Nordic Center is a great place to experience a little bit of backcountry skiing. Whether you want to go for a relaxing hike or a thrilling adventure, the ski area is sure to satisfy you.
For skiers and snowboarders, the ski area offers a diverse range of terrain, and there are few crowds. With 11 lifts, the resort boasts the second-least-crowded ski area in the country.
In the summer, you can enjoy hiking and mountain biking trails. Even if you're not interested in taking the lift, the mountain's trails are still open.
Kids can enjoy tubing, an affordable and fun way to explore the mountain.
Address: 1 Skier Pl, Durango, CO 81301, United States    Phone: +1 970-247-9000
Ski Resorts in Colorado
9. Copper Mountain Ski Resort
Copper Mountain in Colorado may be the perfect location if you're looking for a ski vacation.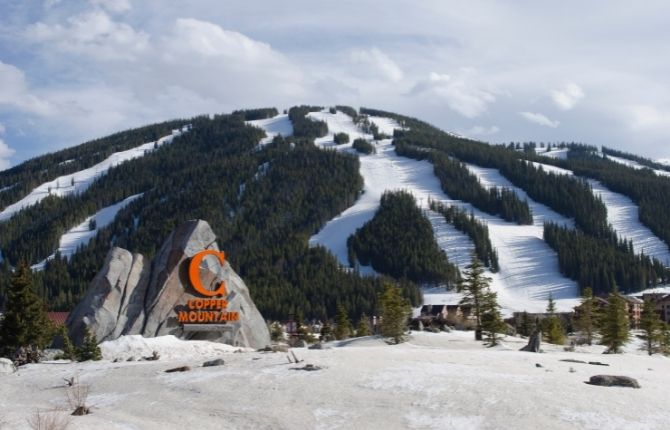 Located just 75 miles west of Denver, Copper Mountain resort is on Interstate 70 and features 2,465 acres of in-bounds terrain.
The resort has two main lifts, and you can ride both on the top and bottom of the mountain. It's open year-round.
While Copper Mountain is most famous for its winter activities, it welcomes visitors in the summer.
It's an excellent place for hiking, with trails designed for kids of all ages and abilities.
And the ski area is just one hour and thirty minutes away from downtown Denver, and it offers shuttle services from downtown.
There's also a variety of shopping and dining options. And if you're traveling with your family, there are many things to do around town.
For a family-friendly ski vacation, visit Copper Mountain in Colorado.
It has 2,465 acres of terrain. The resort is located on three mountains with an extended front face and progressively more challenging skiing. Its small village is an excellent option for families.
The community-like atmosphere helps visitors feel like they're a part of the community. Whether you're traveling alone or with a group, there's always something happening at Copper Mountain.
Address: 209 Ten Mile Cir, Frisco, CO 80443, United States    Phone: +1 866-841-2481
Ski Resorts in Colorado
10. Steamboat Ski Resort
Steamboat Ski Resort in Colorado is one of the largest ski resorts in the western United States.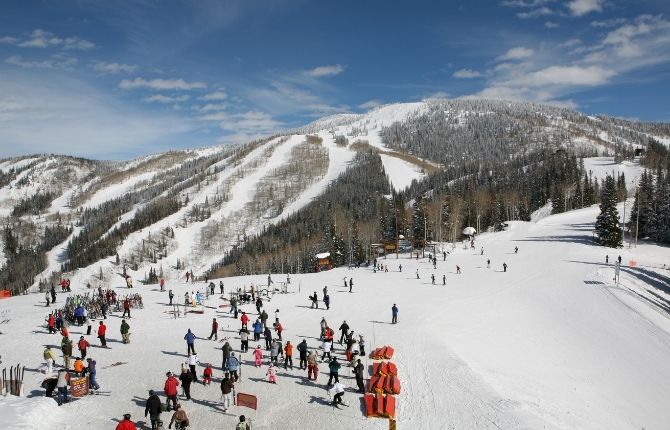 It is situated in northwestern Colorado in the town of Steamboat Springs. The resort is operated by Steamboat Sport & Recreation Corporation.
And the mountains of the Park Range and Routt National Forest are the perfect backdrops for a winter vacation.
The ski area is a great place to learn to snowboard, but the terrain is also challenging enough for intermediate and advanced snowboarders.
The Steamboat ski resort has 169 named trails and a vertical drop of 3,668 feet.
It is an ideal place to learn to ski or snowboard. There's also a terrain park, a superpipe, and a gondola. And there's something for everyone at Steamboat!
You'll find something for everyone at this beautiful, scenic, family-friendly mountain. While it is an older resort, it is still an excellent place to take a ski vacation with your family.
The Howelsen Ice Complex in downtown Steamboat has different public skate times and hockey play. Make sure to book a slot at a public rink if you're planning to attend the event.
Another rink located in the city is Oak Creek Ice Rink. It is open all the time, with special Stick N Puck hours every day.
And if you're not a skier, you can always try out the two 230-foot water slides at Oak Creek.
Address: 2305 Mt Werner Cir, Steamboat Springs, CO 80487, United States    Phone: +1 970-879-6111
Ski Resorts in Colorado
11. Ski Resorts in Colorado: Wolf Creek Ski Area
If you're a snowboarder looking for some new trails, you're in luck because Wolf Creek Ski Area in Colorado has several trails that are perfect for snowboarding.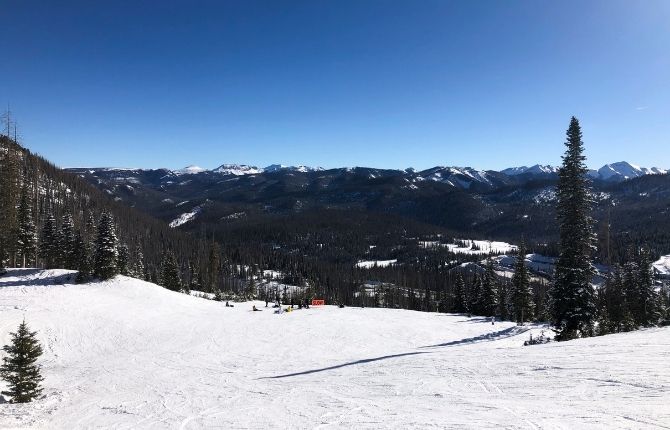 Powder Mountain is the local favorite for families who want to enjoy the snow while being in the middle of a family vacation.
The ski area has many trails for all levels and is particularly good for beginners. The resort's location makes it easy to access the area without driving to nearby resorts.
You can enjoy the mountain's many trails by varying their difficulty. The longest ski run is Navajo Trail, which is 2 miles long.
Other slopes include Exhibition Bowl, Bonanza Bowl, North Woods, and the Grand Junction.
If you're a beginner, you'll want to stick to the less challenging areas. But if you're looking for a more challenging slope, there are many trails to choose from at Wolf Creek Ski Area.
For an early-season skiing experience, try Wolf Creek, CO. The area is popular with snowboarders and skiers.
While it can get crowded, Wolf Creek doesn't seem to get nearly as much snow as other resorts. There's no on-mountain lodging at this ski resort, and you'll need a car to make the drive.
Address: E Hwy 160 E, Pagosa Springs, CO 81147, United States    Phone: +1 970-264-5639
Ski Resorts in Colorado
12. Ski Resorts in Colorado: Arapahoe Basin Ski Area
If you want to spend your next winter vacation skiing, you should consider visiting Arapahoe Basin Ski Area.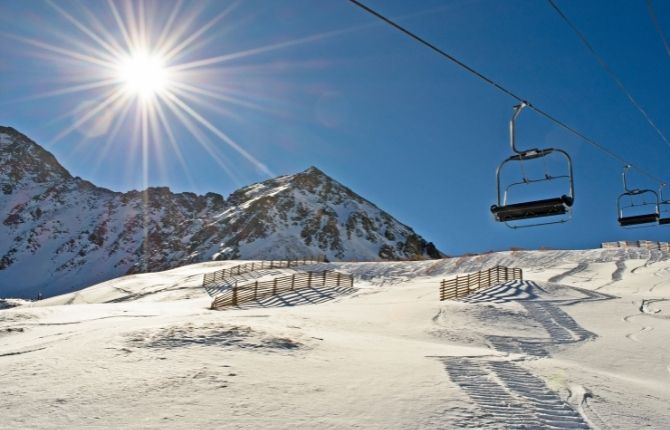 This alpine ski resort is situated in the Arapaho National Forest of Colorado. It is known for its extended season, which usually lasts until early June and even into early July.
During this time, it's hard to find an alpine ski resort open this late in the year. Most northern ski areas close in early April.
The slopes at Arapahoe Basin are not for beginners. But, there are plenty of beginners- and intermediate-level runs too.
You can also try your hand at snowboarding and sledding. If you are unsure of your skiing abilities, A-Basin offers terrain for all levels.
You can also bring your family with you, as this ski area is ideal for various skill levels.
If you're new to skiing, you should consider a mountain that offers full service. Arapahoe Basin Ski Area is one of the most family-friendly resorts in Colorado.
The staff is highly trained so that you can trust them with your child's safety. There are several on-mountain lodgings in the area, as well.
Address: 28194 US-6, Dillon, CO 80435, United States      Phone:  +1 970-468-0718
Ski Resorts in Colorado
13. Ski Resorts in Colorado: Silverton Mountain Ski Area
The Silverton Mountain Ski Area is located in the city of Longmont in the state of Colorado.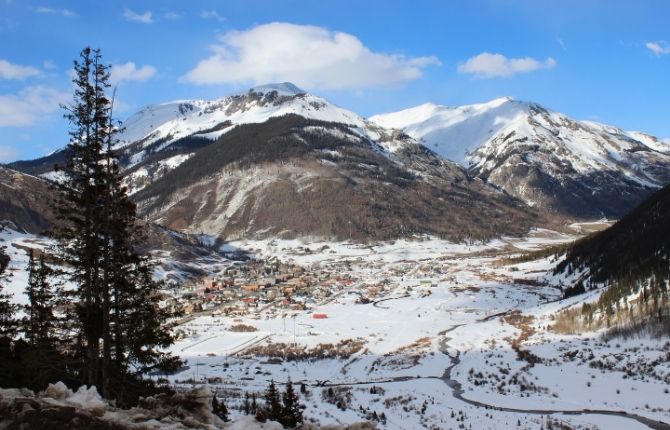 It is a popular place to ski and snowboard. It has a single chairlift and terrain suited to intermediate and expert skiers.
A small community is a good place for families and groups of friends.
The lift ticket is around $13 for adults and $5 for children. The resort offers ski and snowboard lessons too.
You can also grab a beer at the yurt, five feet wide, and it costs $3.50. The slopes at Silverton Mountain Ski Area are incredibly steep and offer some of the best skiing in the state.
The beer is served at the height of 50 feet and is available for purchase. You can buy beer at the yurt for just $5. Whether you are looking for a fun day on the mountain or a quick fix to a hangover, Silverton Mountain has it all.
The resort offers both guided and unguided skiing, but you will need avalanche training to join the guided tours.
However, guided tours are a great option if you are a beginner. A guide will take you to terrain not open to the general public, giving you a more authentic experience.
In addition, guided rides can also be booked for six-run days, for a price that includes a lift ticket.
Address:  6226 State Hwy 110, Silverton, CO 81433, United States     Phone: +1 970-387-5706   
Ski Resorts in Colorado
Vail Mountain Resort
Winter Park Resort
Telluride Ski Resort
Beaver Creek Resort
Keystone Resort
Purgatory Resort
Copper Mountain
Steamboat Ski Resort
Wolf Creek Ski Area
Arapahoe Basin Ski Area
Silverton Mountain Ski Area
Ski Resorts in Colorado