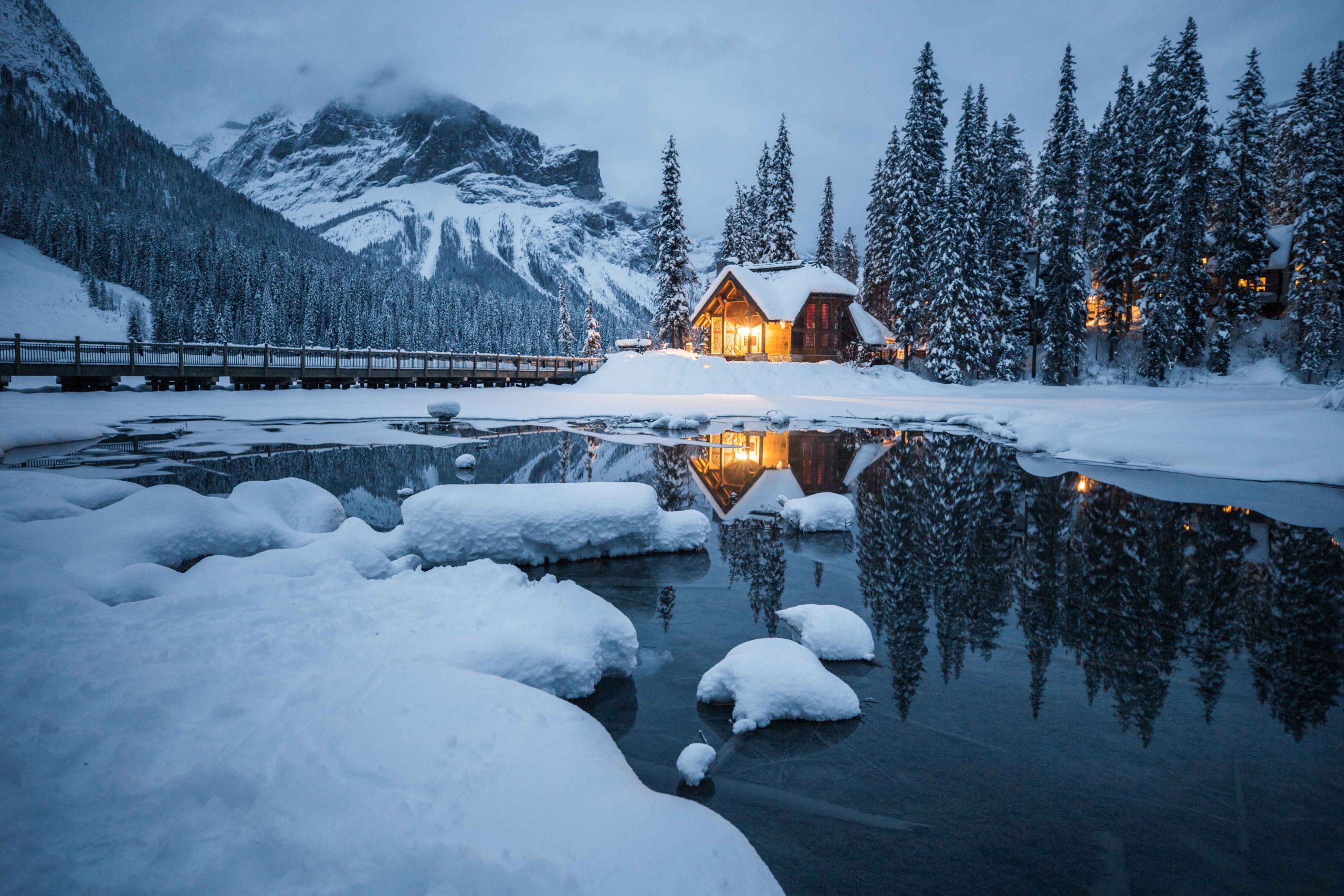 Winter + snow + a train journey + a great book must equal heaven. Of course, this is about snow train in the winter for winter lovers and train lovers. Winter is a magical time of the year. So, you definitely should not spend the time at home or waiting in a queue for a bus or a flight. You must catch a train and experience winter beauty through the windows. It will definitely feel like in heaven when you travel a long journey on one of the scenic snow train routes while reading your favorite book.
Is summer the only best time to travel? The answer should be "No," because you always travel in summer and feel the warmness of it. Now, give it a try to travel in the winter through the snow. You will definitely love to travel and discover it.
Snow Train
What is the snow train?
I strickly believe that trains offer a lot of things than airplanes. Because trains offer you more space, relaxation, and a variety of beautiful scenery than airplanes. Especially, riding a snow train or a winter train is extra unique since it offers you the pure white version of nature.
There are several scenic snow trains in the world. The most highlighted ones are obviously in European countries like Norway and Switzerland. But Canada, the USA, and Japan also offer such scenic snow routes. (Snow Train)
Do trains travel in the snow?
Of course, trains plow from trees and snow even after a snowstorm. Just take a look at this video.
Snow Train in the Winter: Best routes in the world
Aurora Snow Train: Anchorage, Alaska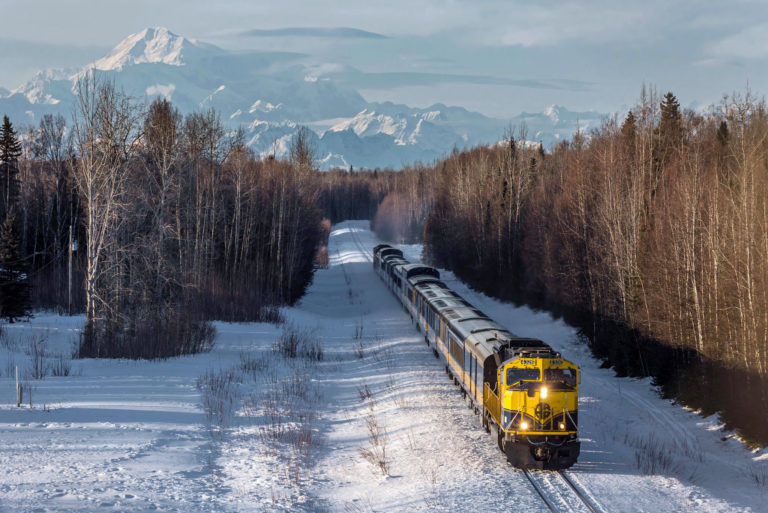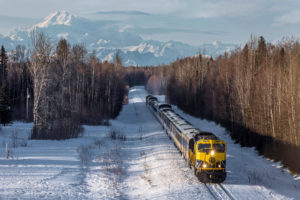 Anchorage is the largest city in Alaska. And this snow train is starting from Anchorage to Fairbanks. This journey is trendy as it takes stunning and scenic 12 hours to complete the journey. Also, it holds the top position as the most scenic snow train route in the world. The route offers you unforgettable views of Alaskan forests, snowcapped mountains, and pristine lakes. And those mountains are the homes for Alaskan indigenous moose, caribou, and bears. (Snow Train)
Suggested Reading: Prince of Wales Island Alaska
Basically, there are two quick breaks in the journey. They are Wasilla and Talkeetna. Now you have a chance to plan a tour of this amazing snow train. And the trips are open from November to March in any year. Click here to book online.
Glacier Express, Switzerland Snow Train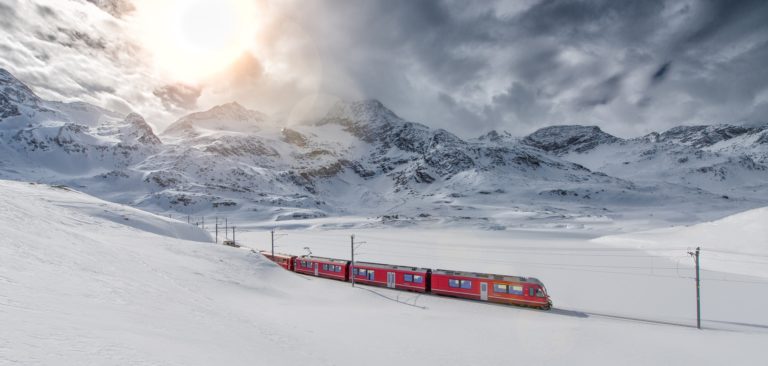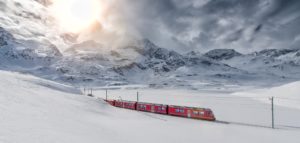 Since 1930, the Glacier Express is running from Zermatt to Chur. It made the first run from Zermatt and St. Moritz when the Visp-Brig line opened. Although the train has got many changes, it still offers you golden opportunities of watching the snow-covered Swiss Alps with its best views.
The travelers can also experience the views of the Solis and Landwasser Viaducts and spiral tunnels, Rhine Gorge, and Oberalp Pass. Seeing all of them covered with snow will be a strange and unforgettable feeling. So take your camera and a lovely book with you for this amazing eight hours tour.
Suggested Reading: Emergency numbers you should know in Switzerland
Tadami Line Snow Train, Japan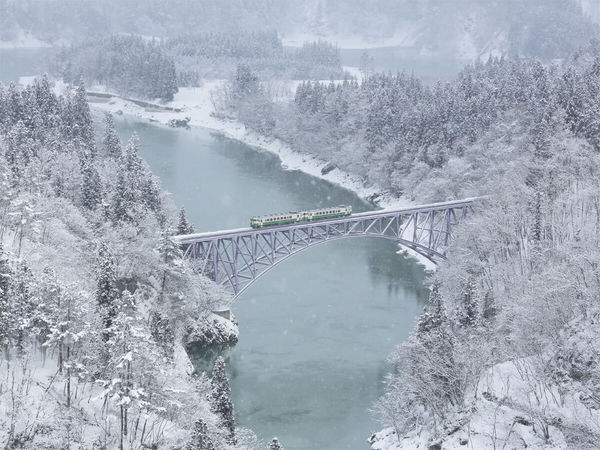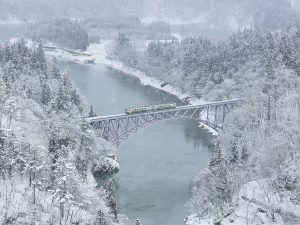 Tadami Line is a spectacular snow train that runs through very remote areas of Japan. It handles by JR East Japan Railway Company. The route runs along the Tadami River through 37 stations by connecting Aizuwakamatsu with Unonuma. For me, this is one of the best snow train routes in the world. While traveling, you are getting a chance to plan some other adventurous things in Japan too. Like: snowboarding, skiing, and visiting hot springs. 
West Highland Line, Scotland Snow Train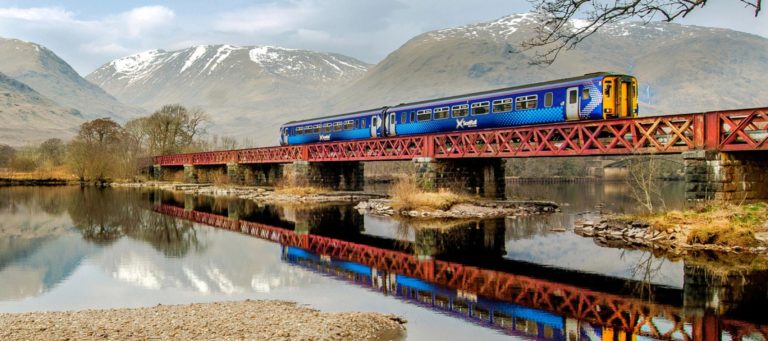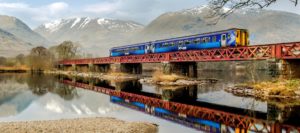 This amazing journey offers you the same experience as "The Hogwarts Express." Because in the world-famous movie Harry Potter appears this West Highland Line as their train Journey. It starts from Glasgow to Mallaig daily. You can see Erskine Bridge, Dumbarton Castle, and a glimpse of the Arrochar Alps. Click for more details. (Snow Train)
Algoma Snow Train, Canada



Snow train in Algoma is a truly unique opportunity to see the brilliantly white colored nature. Sault Ste Marie Algoma, Ontario, the snow train passes the industrial area quickly and enters the forest area.
When you reach the 102nd mile, you will begin to descend around 500 feet for the next 12 miles to reach the floor of the world-famous Agawa Canyon.
The Flam Railway, Norway Scenic Snow Train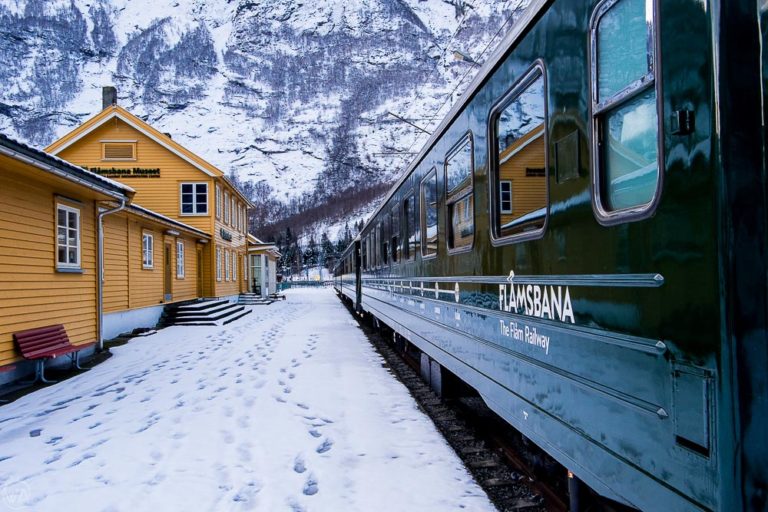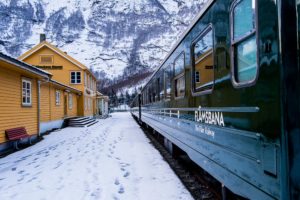 This snow train is a 12 miles train ride from Myrdal high mountain station on the Bergan Line down to the Flam station. The Flam is located in Norway's innermost Aurlandsfjord. So, you're coming all the way by covering most of the parts of Norway.
Through the pristine views of Flam Valley, you can see amazing waterfalls, deep gorges, and snow-covered mountain peaks. Also, you may see all of these wonderful scenes within 2 hours of a quick journey. So, don't wait; book for your unforgettable winter journey now. (Snow Train)
Suggested Reading: How to travel the world for free?
Semmering, Austria Snow Train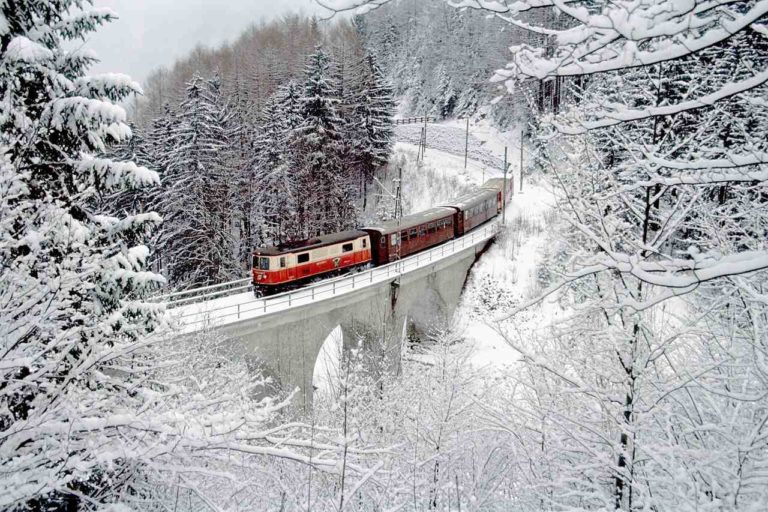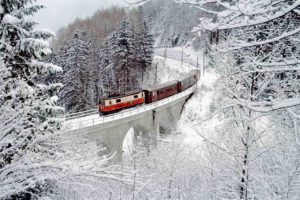 Semmering is the world's first UNESCO World Heritage-listed railway. The journey runs from Gloggnitz and Semmering and crosses over 16 Viaducts and passes through 15 tunnels. The train includes many facilities, even entertaining items for children. And also, for Ski lovers, this is the journey for you to catch the best slopes. So, do not wait, book it now.
Rocky Mountaineer, Snow Train Canada
Rocky Mountaineer is a Canadian rail tour company, which offers three train tours through British Columbia and Alberta. Starting from Seattle, the travelers can view 300 foot Pyramid Falls, Mount Robson in Canadian Rockies, and Hell's Gate.
Suggested Reading: Best places to see northern lights in Canada
Bernina Express, Switzerland
Bernina Express runs from Chur/St Moritz, Switzerland, to Tirano, Italy. That means it connects Northern and Southern Europe. So, this is an amazing journey, which runs through 55 tunnels and 185 bridges.
And also, it climbs 7391 feet, and you will find the Ospizio Bernina station. It will also stop at Poschiavo and Le Press. However, throughout the journey, you will surely get more panoramic views covered with snow.
Suggested Reading: Monaco France Travel Guide
Great Smoky Mountains Railroad
Great Smoky Mountain Railroad offers a whole family journey with a lot of experiences. It starts from Bryson city and ends in North Carolina. This one and half hour journey provide you tremendous views of snow terrains spread to the North Pole.
Especially, children may love to join this journey. Because, at the North Pole, Santa joins the train and offers Christmas gifts to all the children on the train. Apart from that, you can experience the amazing snowy views while hearing the story of "The Polar Express." Book online now.

Golden Pass, Switzerland
The Golden Pass journey starts from the small Swiss city of Lucerne to the resort town of Montreux. This is the most suitable journey for all photographers to discover the whole landscapes of Switzerland. And winter is the best time to go on this snow train journey with your favorite ones. Also, it offers you views of high alpine mountains, vineyards, lakes, and all snowy lands within an amazing 5 hours.
Suggested Reading: Crime safety and legal system in Switzerland
Ethan Ellen Express, New York



Ethan Ellen Express is not only ideal for the winter but also at any time of the year. As it offers daily turns from New York, Rutland, Vermont to Albany. You can take a break from your working life and travel on a calm and quiet journey with Ethan Ellen Express. Within 5 hours, you can feel very nature-friendly views through the Hudson River Valley rather than skyscrapers. Also, you can take your pet with you as this train allows for pets. (Snow Train)
Empire Builder, Chicago, Illinois
This snow train journey starts from Chicago, Illinois, and travels through Minneapolis/St Paul, Minnesota, and finally ends in Spokane, Washington. Although it's quite a long journey with 46 hours, it offers you amazing views. It includes wintry terrain, fresh snow-covered landscapes, beautiful plains, mountains, rivers, and lakes. (Snow Train)
Winter Escape to the Grand Canyon, Chicago, Illinois
This route will take you through the colorful American Southwest. Starting from Chicago till the Flagstaff, you will view numerous snow-covered scenes. After reaching to Grand Canyon, you can see the magnificent views of Grand Canyon in winter. You can get this train anytime from November to March. So, plan it today. (Snow Train)
Did you enjoy the post?? Then, just pint it for later