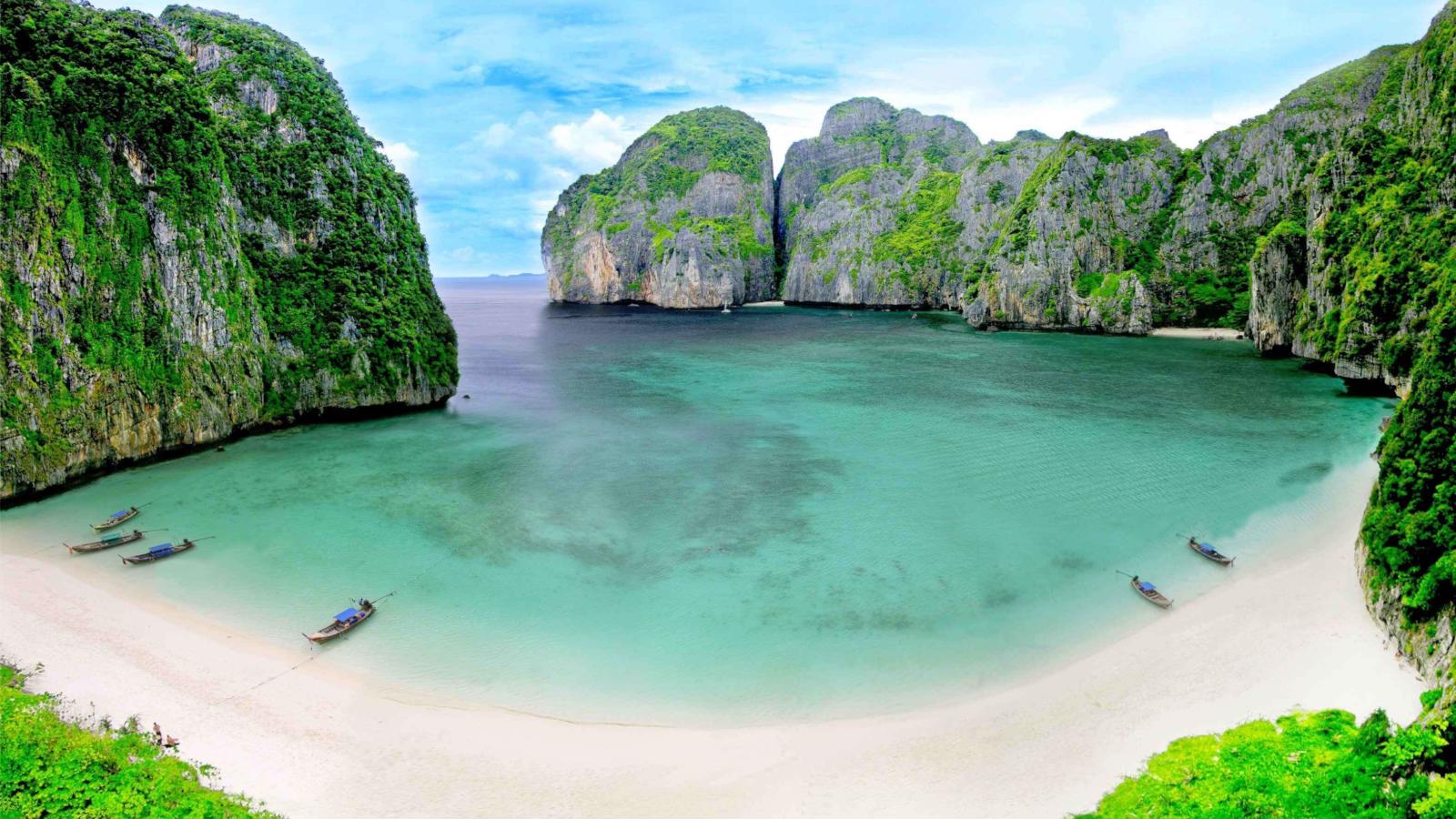 Maya Bay Beach in Thailand is one of the most tourists' attracted cove in the world. This was the location for the movie "

The Beach

" starring Leonardo Dicaprio in 2000 which made this cove world famous. Millions of tourists visited here and experienced the beauty of this silky beach and watched the amazing coral reefs.

The stunningly beautiful bay is sheltered by 100m cliffs on three sides. The beaches inside the bay are very small and mostly disappear at high tide. And the whole bay is one big reef while the main beach exists around 200m. The

Phi Phi Island in Thailand

is very famous all over the world because of this beach.  
Best Time to Visit: Maya Bay – The Most Famous Beach in Thailand
The best time to visit Maya Bay is

between November to April

. As the sea is very calm and the high season is there, access to the beach is very easy.

May to October is a little bit rough

to access and deny access by the authority. Since there are a lot of crowds in the high season, try to avoid it by visiting early in the morning or after 5 pm in the evening. And also keep in mind to pay for the national park entry fee of 400 Thai baht which is included the beach visiting as well. 
Visiting Maya Bay
From Phi Phi Don you can rent a long longtail for about 32 USD for a 3 hours journey. And for a whole day journey, it would be 64 USD for a maximum of 4 people. While speedboats are a little bit expensive and carry more people at a higher price. It would be around 110 USD for a half-day and 190 USD for a full day for max 6 people.
By the way, there are plenty of other boat packages as well. Prices vary from 20-60 USD which is depended on the time duration, places of visit, and a number of people. Ferry boat rides, longtails, and speedboats are more popular. And if you visit Phuket or Krabi first, then you can take a speedboat from there to reach Maya Bay, as they depart daily.      
Things to do in Maya Bay
Snorkeling and diving are excellent throughout the bay. Large underwater boulders are encrusted with coral and brightly colored fish. As mentioned earlier, many tourists from Phuket, Krabi, and Phi Phi Don are coming daily to Maya Bay for snorkeling, diving, and other water activities. Kayaking is also a different and popular experience here. If you are liking to an experience of a night camping, you should take permission from the authority. 
Current Situation of Maya Bay – The Most Famous Beach in Thailand
But, the visiting of a huge number of tourists made a big disturbance to the natural resources of the Bay. Especially for the stunning coral reefs and the bay's shores. So, Thailand's National Park Department had decided to allow this nature gifted cove to recover again. So, Maya Bay was banned for tourists by Thailand authority for 2 years of a long period to regenerate its beauty by itself. It means, they have planned to reopen it in the mid of 2021. 
Further, they have mentioned that they will inspect the improvement of the area for once in three months and replant corals around Maya Bay. Since the growth of coral needs more time, the opening date is not exact. The officers have mentioned that they expect to attract sharks to Maya Bay, which were disappeared with the tourist crowd.
Swimming, snorkeling, boating, and visiting into the Bay is totally prohibited. But, you can get a boat ride near to the Bay and watch the beauty by staying outside of it. As nature lovers, we should protect these naturally gifted destinations and obey the rules by the authority. 
   Maya Bay – The Most Famous Beach in Thailand