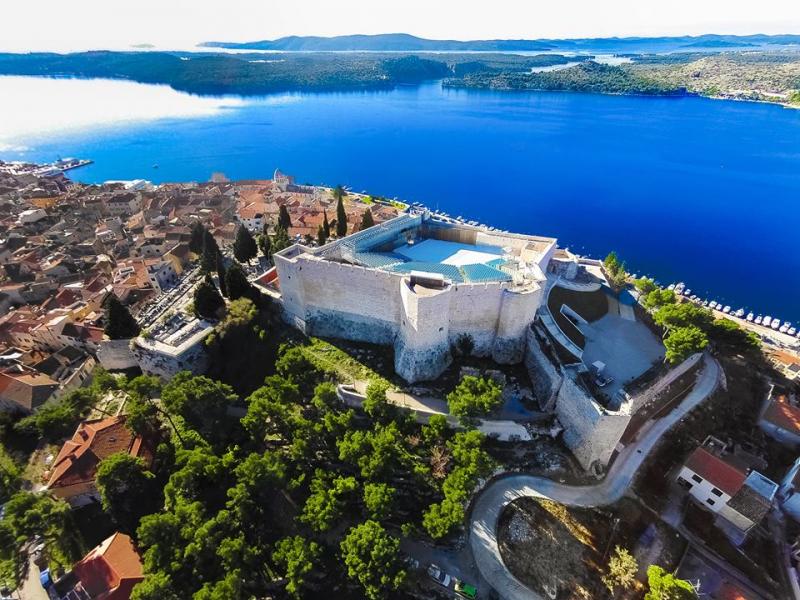 Šibenik Croatia, or the city of fortresses, is an amazing destination on the country's Adriatic coast. It is known as a gateway to the Krka National Park and Kornati Archipelago. And if we go to the history of Šibenik, it runs to the 14th and 15th centuries. The Cathedral of St. James, Šibenik Museum, The white stone St. Michael's Fortress, and Prince's Palace, like highlighted landmarks, will tell about that history.
Besides the historical things, there is a sparkling sea, pristine islands, national parks, and tasty food. So, Let's discover the ultimate travel guide about this beautiful city before travel there.
Is

Š

ibenik a good holiday destination?
Of course, no doubt about that. If you have any doubts, please read the following 6 facts that prove, Šibenik is one of the best holiday destinations in Europe.
The historical value of Šibenik always comes first. Because Šibenik is the oldest coastal town located on the Adriatic in Croatia, you can see many rich historical and cultural heritage. For 100 years old gothic architectured cathedrals and fortresses.
In the 16th century, this city was the biggest in Dalmatia in terms of population. And also, this city has 2 UNESCO monuments. There are 5 cities like that in the world. Šibenik is one of them. The others are Berlin in Germany, London in the UK, Beijing in China, and New Delhi in India.
The stunning natural location of Šibenik becomes the next reason for you to visit Šibenik, Croatia. It is really a phenomenal location. The world-famous natural national parks like Krka and Kornati, also a true paradise for sailors, prove that. Šibenik is an archipelago with around 250 picturesque islands surrounded by the surreal Adriatic Sea. So, yes. Sibenik is a good holiday destination.
Some more reasons
The next reason to prove to you why you must visit at least once in your travel life is festivals in this city. Šibenik is called a city of festivals. Plenty of musical festivals and cultural events are held here. For example, in July, the Salsa Beach Splash Festival, Supertoon Animated Film Festival, the OFF Jazz and Blue Festival, and traditional Klape choir evenings are some of them. Read further to get to know more. 
Food in Šibenik is another fact that attracts tourists. Especially in the Old Town of Šibenik, plenty of restaurants offer you authentic Šibenik food. And you can have them by looking at the historical views of history.
Beaches in Šibenik are my favorite reasons to visit there. They are untouched, hidden, beautiful, and secluded. Just scroll down to know what are the best beaches in Šibenik.
Šibenik is filled with adventurous activities like deep-sea diving, sailing, snorkeling, water skiing, cycling, and Bunge jumping.
Planning to visit Sintra? Just read this: Sintra Portugal Travel Guide.
Things to do in Šibenik Croatia
Šibenik is the city of fortresses and old cathedrals. It also has museums, natural parks, surreal beaches, and many more things to see and do. Here's the best list of them. Just add to your bucket list.
Š

ibenik Old Town
Since Šibenik has 2 UNESCO listed heritage sites, this is the best place to discover Croatia's history. So, you should not miss a walk around Šibenik's Old Town. There you will see cathedrals and fortresses that are old for more than 100 years.
The Cathedral of St. James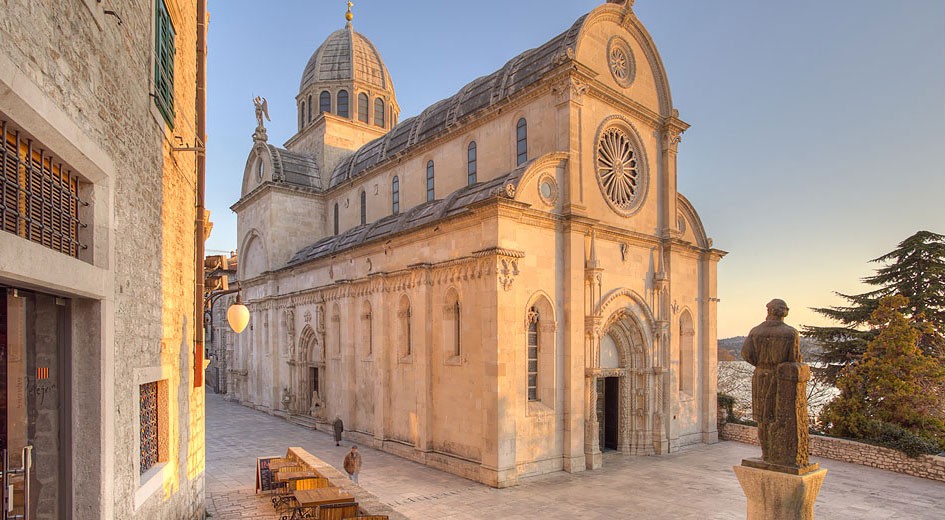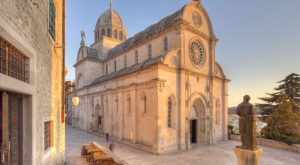 This is one of the most highlighted landmarks in the Old Town of Šibenik. The three architects, Francesco di Giacomo, Georgius Mathe Dalmaticus, and Niccolo di Giovanni Fiorentino, have developed this cathedral's structure. And the most important fact is that the entire structure was included stones and used unique construction techniques for the vaulting the dome of the Cathedral.
And Šibenik's nearby islands of Brac, Korcula, Rab, and Krk supplied the required stones for constructing this beautiful Venetian art in the 15th century. To protect and appraise its historical value, it was recognized as a UNESCO World Heritage Site.
The constructions started in 1431 and were completed in 1536. It has taken a huge time period because of changing various Venetian builders. And, this cathedral has some unusual features as well. One of them is the frieze of 71 heads on the exterior walls at the building's rear. Like, that there are some more special things to see there.
And a tip from me is to pick up a brochure from the entrance. Then, it will provide a self-guided circuit of the many artworks and architectural features inside.
St. Francis's Church and Monastery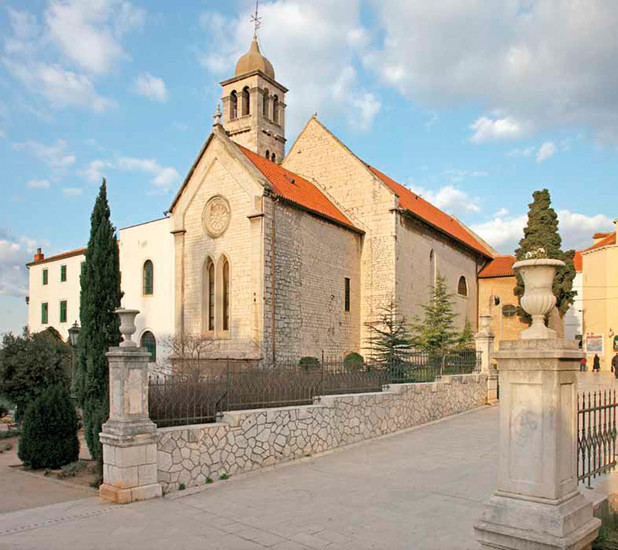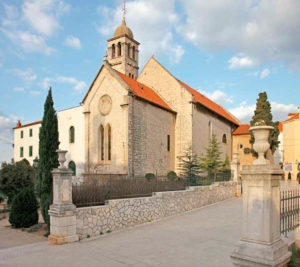 Locating in the Old Town of Šibenik, this mammoth church's history runs until the end of the 14th century. And it belongs to Šibenik's main Franciscan Monastery, which represents Gothic origins. But it has a full Baroque makeover, created by 17th-century painter Matej Ponton. The series of dramatically turbulent altar paintings are worth watching. And also, the painted wooden ceiling is marvelous and historical.
The landscape of this church is made up as follows. A doorway from the square just outside the church's main entrance leads to the monastery courtyard. And it has a row of stone buildings containing a range of displays dealing with church holidays.
Planning to visit Cancun? Just read this: Mayan Ruins of Cancun: The Travel Guide
Now let's talk about the symbol of Šibenik Croatia. They are its fortresses.
St. Michael's Fortress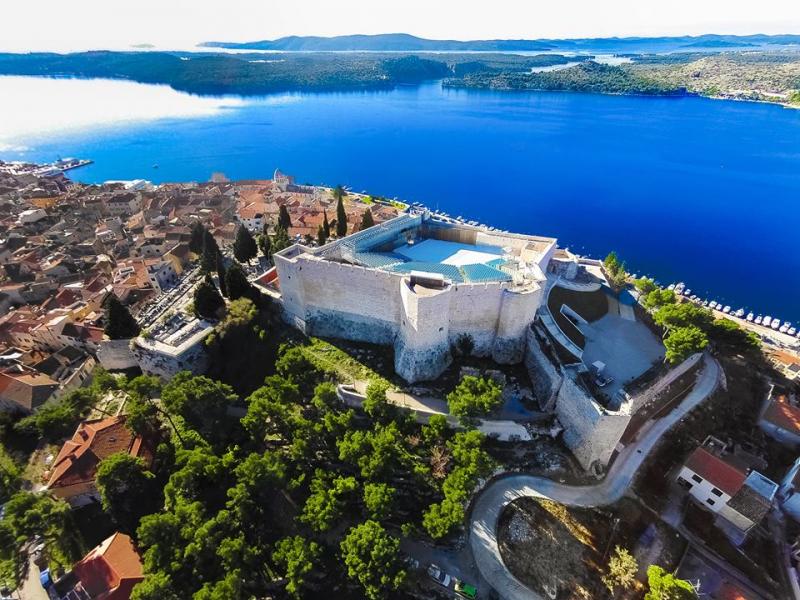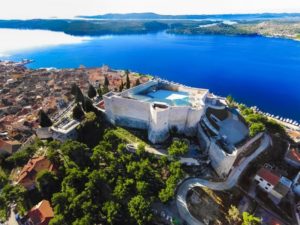 St. Michael's Fortress is a magnificent medieval fort in the Old Town. And, it is the oldest and the most famous that offers you Croatia's scenic views. On the other hand, it actually provides impressive sunset views over the Šibenik's Krka River and the Adriatic Islands. And this is the first impression for the tourists who are coming to Šibenik. So, it can be considered the symbol of Šibenik.
When it comes to the fortress structure, its floor plan has the shape of an irregular rectangle. And there are two square towers on its eastern side, whereas two polygonal towers sit along its northern front.
This fortress had been repeatedly destroyed and rebuilt many times. Archeological investigations inside the fortress have found numerous remains of old material culture. And, an amazing feature of this fortress is secretly providing access to the sea. When you go down through the downhill from the fortress towards the seafront, a crenelated set of double walls provides access to the sea.
Therefore, St. Michael's Fortress stands proud as a true landmark of the city. And this is an unavoidable cultural destination while traveling to Šibenik, Croatia.
St. John's Fortress or Tanaja and Fortress Barone
Both St. John's and Barone fortresses were built-in 1646. The main target of constructing St John's Fortress was to defense from the Turkish attacks in 1647. And it was a success. Currently, the fortress is running with a reconstruction process. So, the authority is expecting to reopen it in 2021.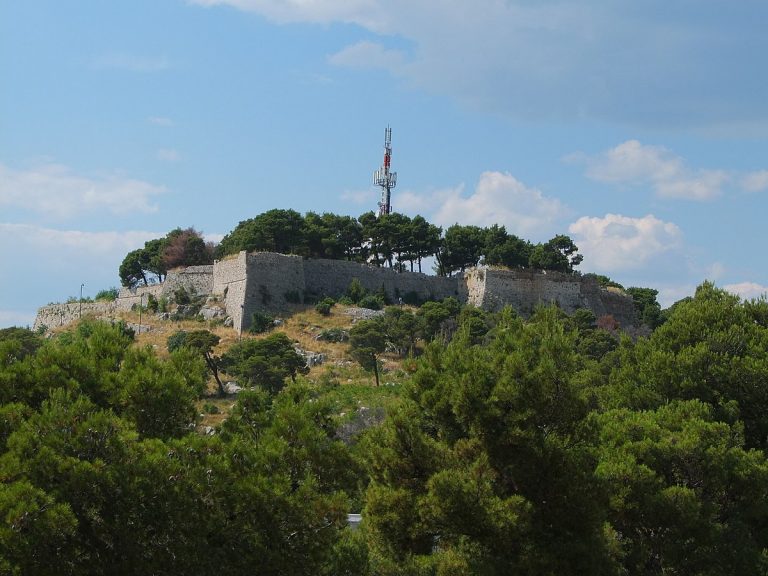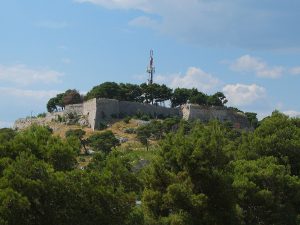 On the other hand, Fortress Barone is located very close to St. John's. The special attraction of Barone is its high tech museum. Actually, it includes the items that were used in the Battle for Šibenik in 1647. Other than the museum, the views offered by this fortress is priceless. Also, there's a coffee shop and a children's park as well. The entrance fee is around $8 and valid for other fortresses as well.

St. Nicholas Fortress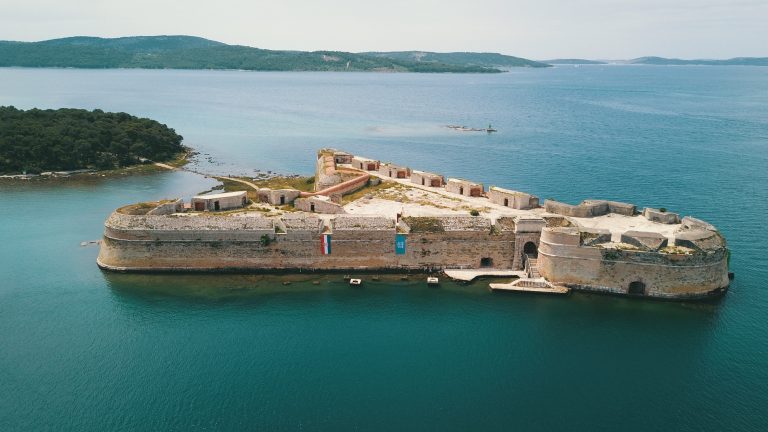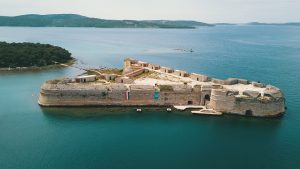 St. Nicholas Fortress is also another Venetian masterpiece of art located in The Old Town of Šibenik. Its history also runs till the 16th century. The aim of building this fortress was to defend the city from the seaside. So, it is located at the entrance to St. Anthony's Channel. But, the fortress was never attacked in history.
So, it never got a chance to check the ability for defensive. Actually, the outer appearance of this fortress is so frightening. If your mind says to visit this St. Nicholas, join with a 2 hours boat ride from Riva. The ride goes through St. Anthony's Channel by offering amazing views. Also, it offers you guided sightseeing of the fortress for $20. 
St. Anthony's Channel
St. Anthony's Channel is one of the most beautiful places to visit in Šibenik, Croatia. There are several ways to enjoy this channel. You can walk along the channel and see the views near the Adriatic Sea. That promenade is long more than 4km, and somewhere in the middle of this walking trail, you will see the Cave of St. Anthony.
Or you can get a bike ride along the channel trail. Also, as I explained to you earlier, getting a boat ride to the Fortress of St. Nicholas is another way to discover St. Anthony's Channel.
Š

ibenik Croatia National Parks
Here are the most impressive national parks in and near Šibenik, Croatia.
Krka National Park
Covering 100 square kilometers, Krka is the best natural wonder in Šibenik. Especially, the park's stunning waterfalls made it more popular around the world. The most attractive waterfall is Skrandinski Buk Waterfall, since anyone can swim in this refreshing natural water pool under the falls. On the other hand, the tallest waterfall in the park, Manojlovac slap waterfall, is surrounded by super scenic views.
Another highlighted place in Krka National Park is Visovac Island. It is a tiny island and home to a monastery since 1445. And it is very eye-catching due to the beautiful natural surrounding. However, if you want to see everything in Krka properly, try to visit there as early as possible. You can then swim in the waterfall pools without any overcrowded effect because so much of the crowds are attracted here daily.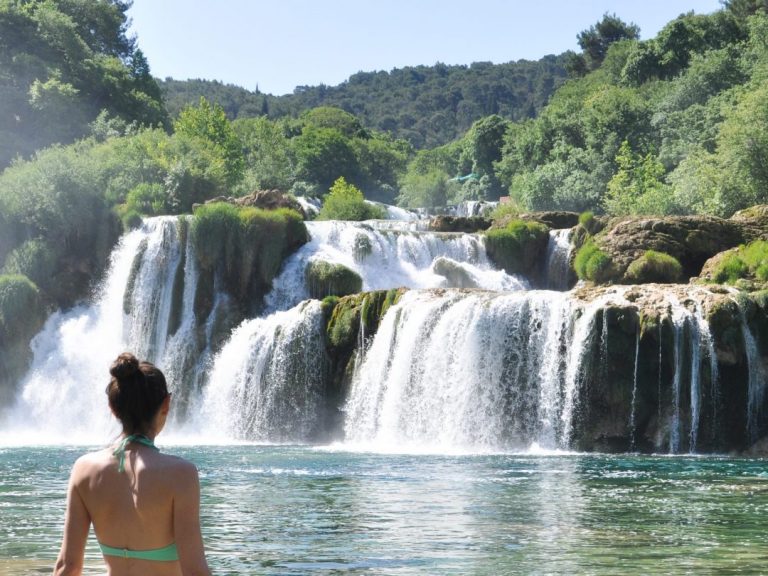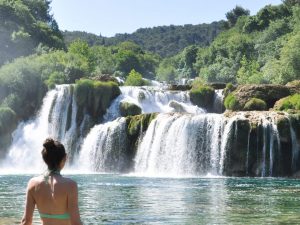 There is an entrance fee, and it depends on which time of the year you visit. However, it varies between $5 and $30. 
Looking for the best hotels to stay in Šibenik, Croatia? Just check here. 


Plitvice Lakes National Park
Well, this one has located 200km away from Šibenik. But, since you can reach this natural wonder within 2 hours, I thought to mention it as well. Plitvice Lakes National Park considers as the most beautiful natural spot in Croatia. And this is the home for the world-famous 16 interconnected lakes and over 90 waterfalls.
Everyone who walks through this park's trails may feel like in a fairy tale because the water of these cascades is crystal clear and turquoise colored. 
Here also, the entrance fee varies with time. It fluctuates between $12 and $45.
Š

ibenik City Museum
The City Museum is one of the best ways to discover old Šibenik. And now it has opened after 22 years of renovation break. The exhibits are divided into four periods. They are Prehistory, Antiquity, Late Antiquity, and Middle Ages. And this museum is located in the palace of the 14th century's Rector. Most importantly, there are English translations and videos to understand historical stories.

Medieval Monastery Mediterranean Garden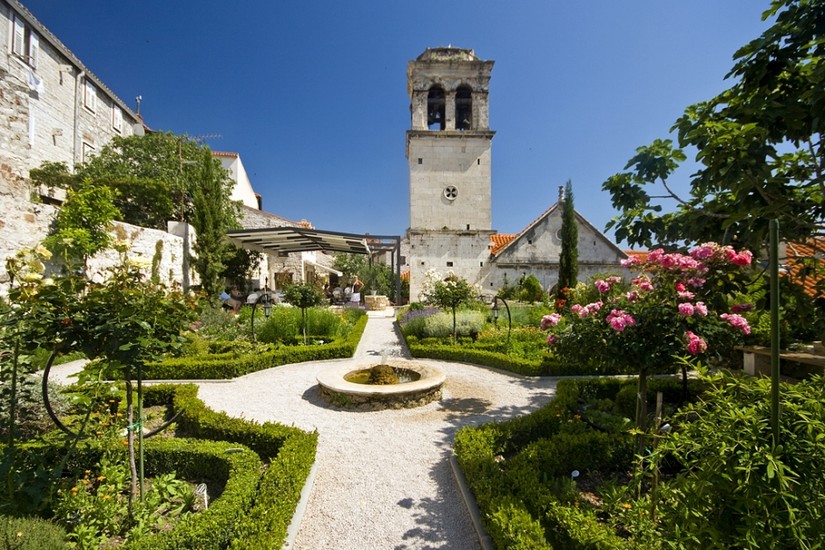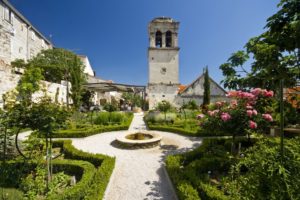 Medieval Monastery Mediterranean Garden is designed and completed by award-winning landscape artist Dragutin Kis. And it is a small medieval garden with herbs and medicinal plants in neat borders between pathways in the shape of a cross. Also, there's a cafe attached to the garden, and it is a pleasant place to stop to eat some snacks.

As one of Šibenik's most popular attractions since opening its gates in 2007, it is a soothing spot to enjoy a few moments of retreat. And the garden contains the real medieval look. It is there because of occupying an oblong terrace just above St Lawrence's church's belfry and surrounded by stone walls.
Suggested Reading: Things to do in St. Lucia
Š

ibenik Croatia Beaches
Frankly speaking, you cannot see many beaches near the town area of Šibenik. There are only a few of them within walking distance. They are also more crowded with locals and tourists. And some of the beautiful ones are owned by hotels. So, here I have mentioned both close to the town and nearby beaches. 
Banj or Crnical Beach is the closest beach to Šibenik Town. Less than 1km away from the city center. Since it is very close and offers you spectacular views, plenty of people are attracted to this beach. So, when you see it at once, you won't like it because there are too many people in every inch. But, just ignore that, and feel the collective beauty of the old fortresses and ocean.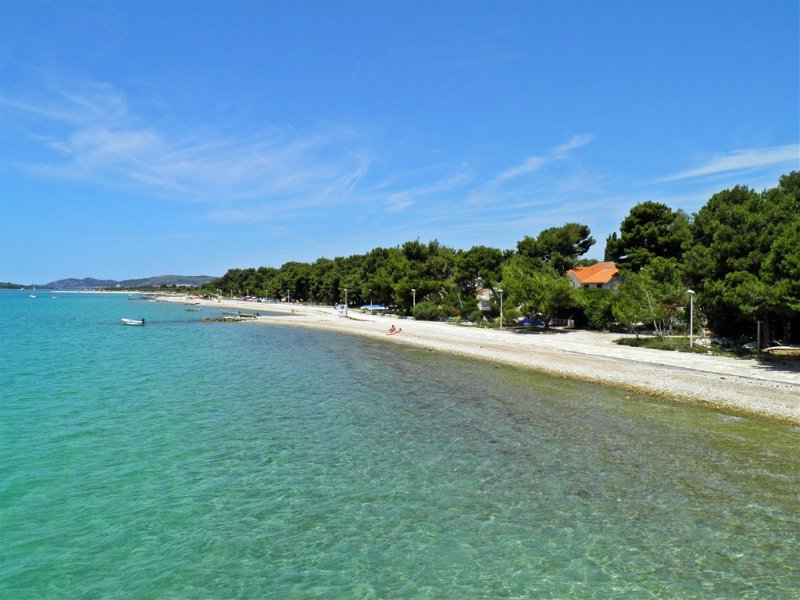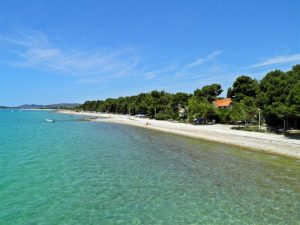 Jadrija City Beach is the best beach for swimming in Šibenik. And it is trendy among locals and tourists since 1921. Locating in the nearby suburb of Jadrija, you can travel there by local transport services. Hence it is so beautiful; I suggest you not miss it.
Along the St. Anthony's Channel, there are two stunning beaches. Skar Cove is one of them. It is such a pebble beach that it can even access by car. And it offers you scenic views of the St. Nicholas Fortress with the Adriatic Sea. The other one is Minerska Bay Beach. It is a calm and quiet beach located on the promenade of St. Anthony's Channel. But, in the peak seasons, it might get crowded. 
Rezaliste Beach is located 6km away from Šibenik. And it is near to Brodarica Settlement. This small pebble beach is ideal for families. So, it is hugely populated by locals and tourists.
Suggested Reading: Things to do in Birmingham
Aquarium Terrarium

Š

ibenik
This is a useful rainy-day diversion for the kids. This is a little aquarium. Also, it has a display of local and tropical fish, along with crabs, lobsters, rays, small sharks, and the octopus.
Victory Museum
This is also known as the Museum of Victory and Liberation of Dalmatia. This well-presented archive documents the antifascist struggle in Dalmatia. As it opened in 2016 and the first museum of its kind in Croatia, its focus is on WWII. With multimedia and photographic exhibits in Croatian and English and some interesting historical footage.
St John's Church
This 14th-century lump of stone is famous for the balustrade staircase on the street-facing side. And it is said to be the work of prolific stonemason Nikola Firentinac. Inside lies a trio of Baroque altars; the side altar to the left bears a jolly relief of trumpeting cherubs and skulls.
Sprouting from the upper part of the balustrades is series of angels' heads in relief form, while a severely eroded lion stands guard at the bottom. And the church is closed for visitors. And church's four-story belfry boasts the town's oldest mechanical clock. It has made by Ottoman craftsmen and used in Drniš before being brought to Šibenik.
Where's

Š

ibenik Croatia?
Šibenik is a city in Croatia located on the Adriatic Sea coast or in Central Dalmatia, where the world-famous Krka River falls into the sea. And the importance of this city's location is that it is considered one of the most naturally protected harbors on the Adriatic Coast. But, Šibenik is not as famous as the cities in Croatia like Split and Dubrovnik. So, you may not see a lot of tourists.
As I mentioned earlier, there are 250 islands to Šibenik Archipelago, and it stretches for about 160 km². But, only six of them are actually inhabited. That amount is also around 8000 people. That means this is so remote and untouched. So, you can experience the beauty of this city without any overcrowding effect.
How do you get to

Š

ibenik, Croatia?
You can select one option out of flight and bus. If you select to reach Šibenik via a flight, you should know that Šibenik doesn't have an airport. You have to land at the Split Airport and reach Šibenik via bus, taxi, or rented vehicle since Split is the closest one.
Šibenik is just 80km away to the north of the city, Split. But, there is only 60km from Split Airport to Šibenik. Split is more famous among tourists than Sibenik. So, the Split Airport is a little busy and pricy at the peak seasons. Don't worry; I can give you another option for that. Just catch a flight to Zadar Airport, which is 80km away from Šibenik, Croatia. It is not as pricy and busy as Split Airport.
However, once you reach Split or Zadar, just rent a car and drive to Šibenik. You can click here and book safe rent cars online at low prices. And the next option is to catch a bus. It will be the most budget-friendly option for you.
Travel By Bus
First, catch a bus from Sukoisanska Bus hub near Split City Center to Trogir, a town on the Central Adriatic coast. (I have mentioned Sukoisanska on the above map). And there's a bus every 20 to 30 minutes to travel this 30km journey just for $2. So, don't worry about bus schedules.
And if your mind says to sail on the Adriatic Sea, then there are ferry services as well.
Finally, once you reach Trogir, then catch the bus to Šibenik. That journey has around 47km, and the bus charge is $6. Trust me; the journey is more scenic.
BTW, Croatia's transport system is perfect. You can find a bus to Šibenik from anywhere in the country.
Well, travel around the city of Šibenik is easy, as it is a tiny city. And I think walking is the best way to discover most of the highlighted places. But, if you want, you can rent a car as well. And my tip is to travel early in the morning, especially to the national parks, to avoid the overcrowding effect.
Planning to visit New Zealand? Just read this:  Great Barrier Island in New Zealand
Š

ibenik to Dubrovnik
Dubrovnik attracts numerous tourists annually. And it is more famous than Šibenik. So, if I tell you how to reach from Šibenik to Dubrovnik, well, there is 280km. It means quite a long journey.
There are several ways to travel this long distance. There are buses, trains, ferries, get an Uber, or you can drive yourself. If you decide to travel by direct bus, it will take around 6 hours and 15 minutes. And the charge will be around $25 to $30. Since the journey is too long and you need a change, then travel via Split. It will also take nearly 7 hours.
If you decided to travel via train, well first you should take a train at Mandalina, Šibenik to Split. And it will take around one and a half hours. There are trains every 4 hours. You can manage the whole train journey within $6. Once you reach Split, you can easily catch a bus to reach Dubrovnik within 4 hours for $20.
Suppose you decided to travel by ferry. Here's your way. Just take a bus from Šibenik to Split (1 hour and 30 minutes) and catch a ferry there. Keep in mind that the ferry rides are traveling from Split to Dubrovnik only one time a day. And the journey will take around 5 hours with scenic Adriatic views for $35. So, check for the ferry schedule.
Š

ibenik Croatia Weather
Here are the major seasons in Šibenik Croatia.
Spring comes from March to May. The temperature fluctuates between 13ºC to 25ºC. May is hotter than March. In this season, you will experience a significant amount of rainfall as well. But, this is the second busiest tourism period in the city.
Summer starts in June and exists until August. Well, this is the busiest season or the peak season of tourism in Šibenik, Croatia. Because the climate is just awesome with high temperatures. Precipitation is also very less and ideal for any kind of activity in the city. Therefore, you can experience high prices for everything as well. But, this is the best time to visit Šibenik.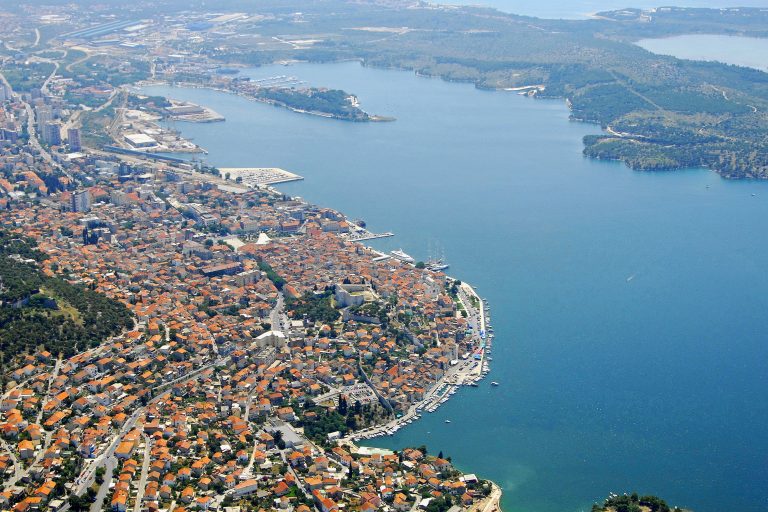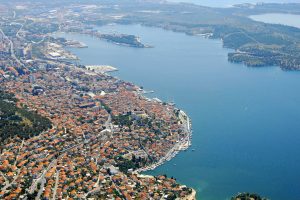 Fall Season comes in September, and it lasts until November. Here you will experience a significant amount of wind, snow, and rain. So, due to bad weather, tourists are not more attracted to Šibenik Croatia in this season. So, the prices are less for accommodation and other activities.
Winter starts in December and runs till February. Since low temperatures and snow, tourists are not traveling Šibenik in this winter season. So, for budget travelers, here's the chance for you.
Did you enjoy this post?? Then, just pin it for later.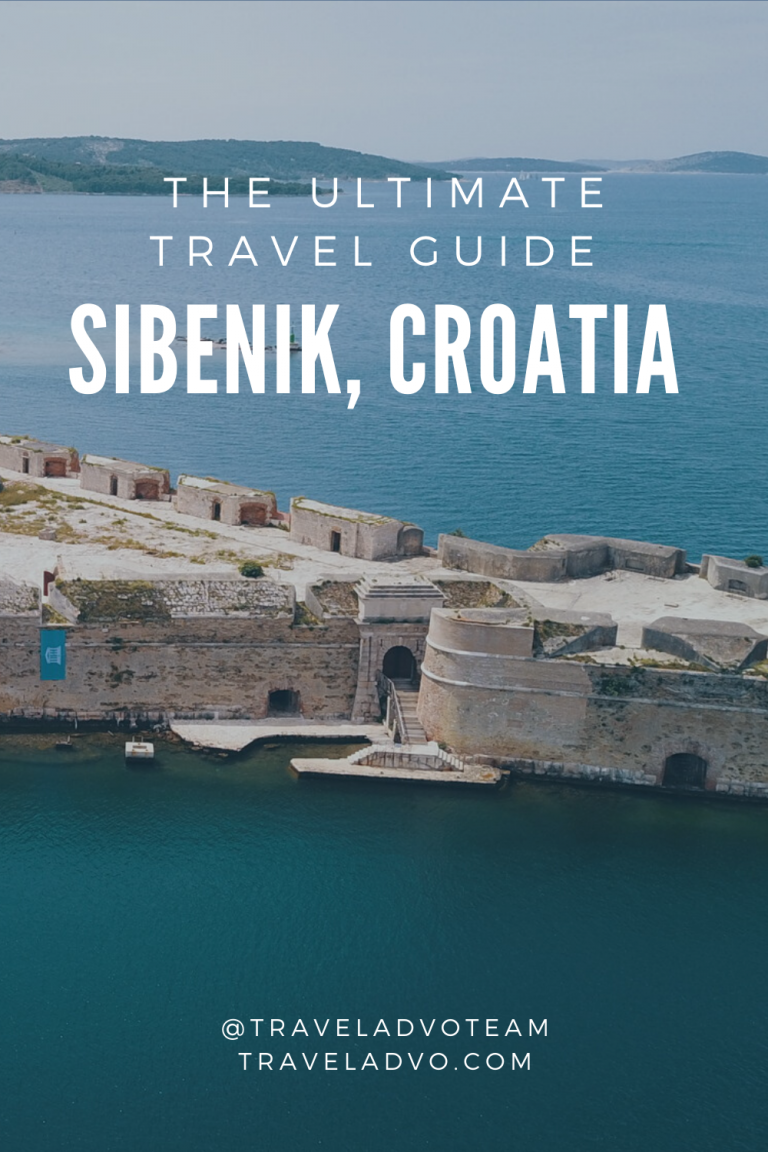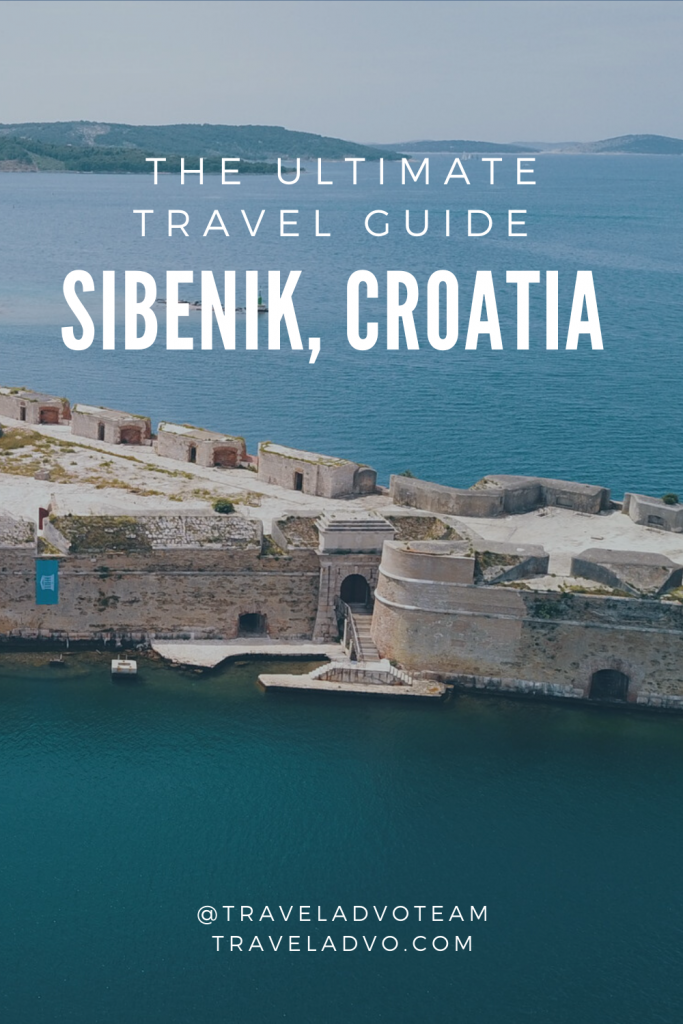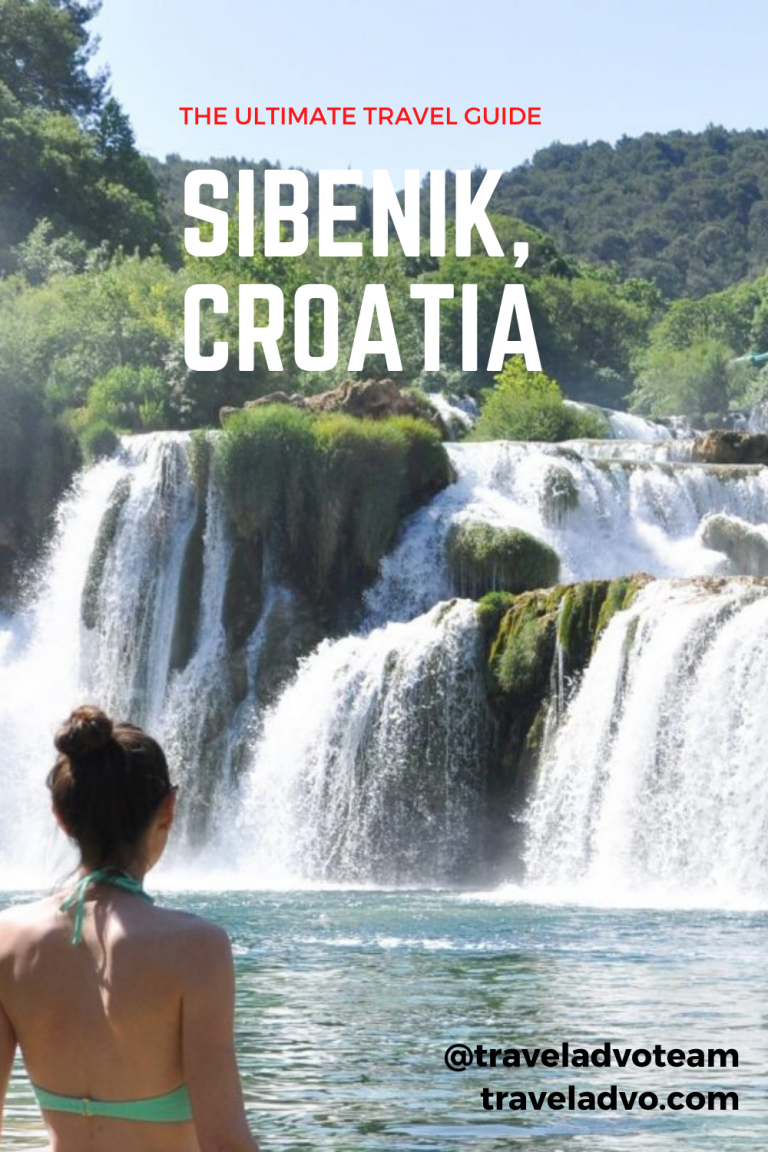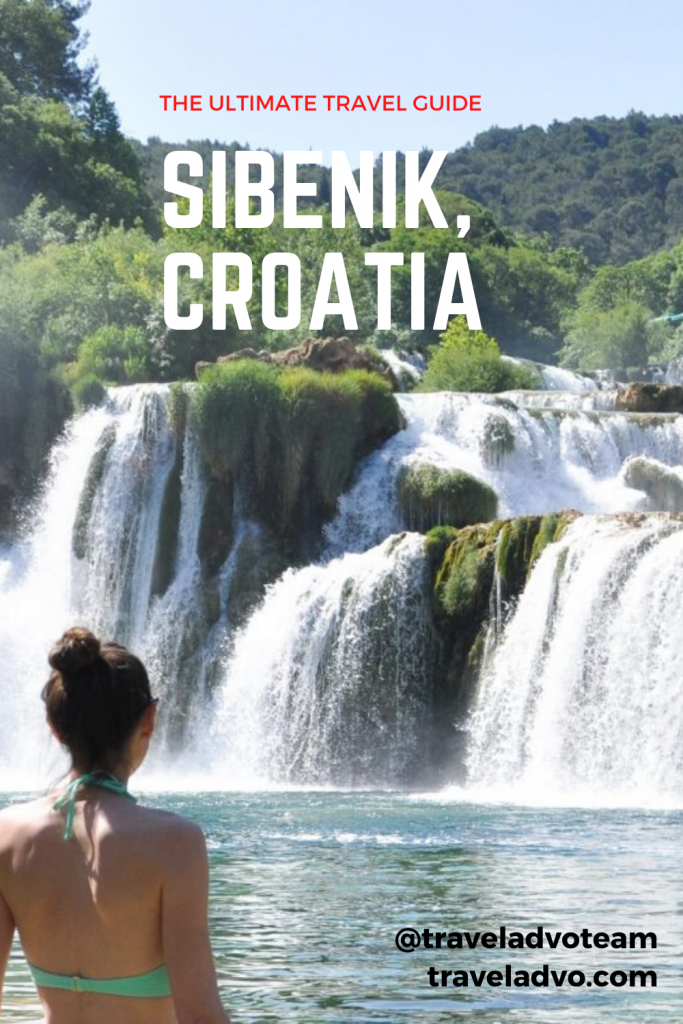 Watch this video
Šibenik Croatia