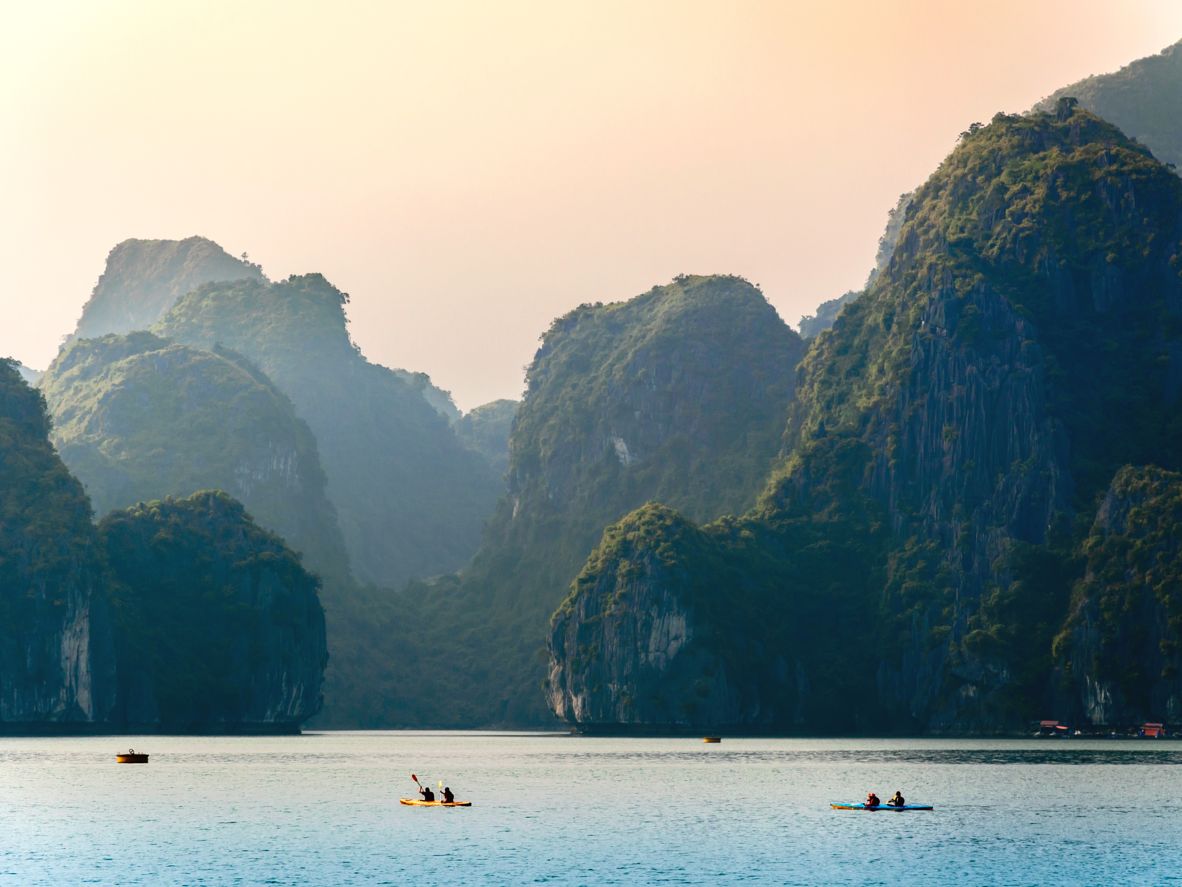 Cat Ba Island Vietnam is one of my favorite places to visit again and again. It is the largest island of Halong Bay which contains many famous hotels, restaurants, and bars. The Cat Ba archipelago has around 367 islands, and Cat Ba is the biggest out of all.
Also, it the biggest island in the whole of Halong Bay. There are so many awesome things to do on this lovely island. So, scroll down for more travel information about Cat Ba Island in Northern Vietnam.
Cat Ba Island Vietnam
What does Cat Ba mean?
Actually, the historical story behind Cat Ba Island is quite sad. Earlier, the island was called Cac Ba Island. Cac means "all" or "every." And Ba means "women." Together, it was called "Women's Island." The story runs to the ruling period of the Tran Dynasty who lead Vietnam to a golden era.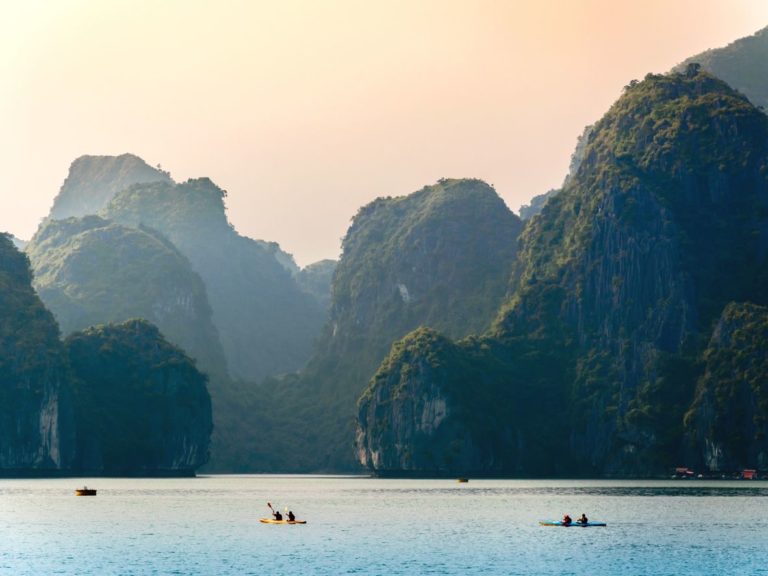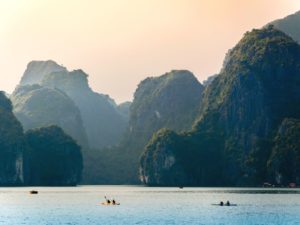 Three women of the Tran Dynasty were killed and put to water. The bodies had floated come to this Island. Local fishers identified each woman from three different beaches. People who lived in those areas had made three temples to remind those dead women. And finally, the island was named "Cat Ba."
Most of the archaeologists have proved that Cat Ba has a long history of civilization. There is evidence to prove that people have lived on this island even before 6000 years.
In recent history, Vietnam-Chinese was inhabited more. And on the other hand, this island's location is a strategic look point which was very important in the war era (French and American wars). And also, the caves of this island were used by the locals to hide from enemies. Currently, you can see some landmarks of those two wars on this island. Please keep reading. (Cat Ba Island Vietnam)
Is Cat Ba Worth Visiting?
Of course. I believe that anyone should visit Cat Ba on their journey to Vietnam. According to my personal experience, I mostly liked the fresh air, and quiet atmosphere, swimming and walking along beaches or even you can hire a boat and sail to small islets, and visiting the national park. And also, here I have explained the best things to do in Cat Ba Vietnam.
Things to do in Cat Ba Island, Vietnam
The World Heritage-listed Halong Bay's spectacular island Cat Ba offers you so many things to do. Having beach fun in Cat Ba is more famous. But apart from that, there are a lot of activities to do in Cat Ba. So, I thought to share them with you.
Cat Ba Beach Fun
Once you get there, hire a motorbike from Cat Ba town's center or walk towards the beaches (Cat Co 1, Cat Co 2, and Cat Co 3 are three major beached in Cat Ba). Even you can hire an electric van to get there. (The parking fee is around $0.50)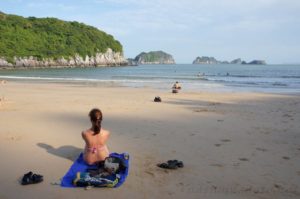 These three Cat Co beaches are connected with small paths near mountains. So, wake up early in the morning and pack your beach kinds of stuff and visit there. Personally, I mostly prefer Cat Co 3. But, unfortunately, each beach is owned by different resorts. Cat Co 1: Flamingo Cat Ba Beach Resort, Cat Co 2: Cat Ba Beach Resort, and Cat Co 3: Cat Ba Sunrise Resort.
When you enter the beach, you may feel like entering a jungle beach surrounded by mountains. These beaches are not too large, but they contain crystal clear water with scenic surroundings. So, do not forget to have a sunbath and watch the sunrise through the sea and mountains. I even had a nap on the beach in the afternoon. (Cat Ba Island Vietnam)
Always keep in mind to visit the beaches in the morning and early evenings since, after 6.30 pm, the high tide effect is there. And also, if you feel so crowded on these beaches, then try for other places in Cat Ba like Monkey island (explained below). 
Visit and Hike Cat Ba National Park
This green jungle, Cat Ba National Park, covers more than half of the island. And this is the home for endangered white-headed langurs. Not only for them but also it provides a home for a lot of wild lives. Therefore, it was recognized as a UNESCO World Biosphere Reserve since 2004.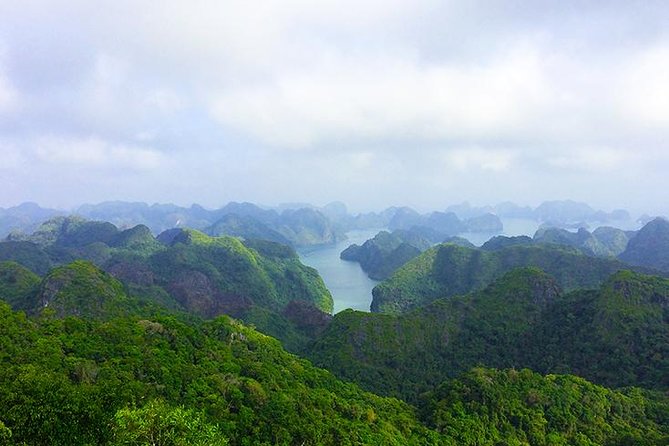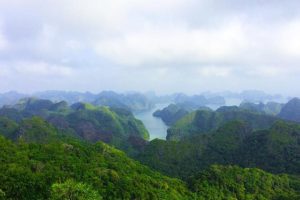 Cat Ba Langurs are more famous here. It is a small monkey with golden hair and a really long tail (like Marsupilami without dots throughout the body). But, it would help if you were fortunate to see one of them since there is only 50-60 langurs remain.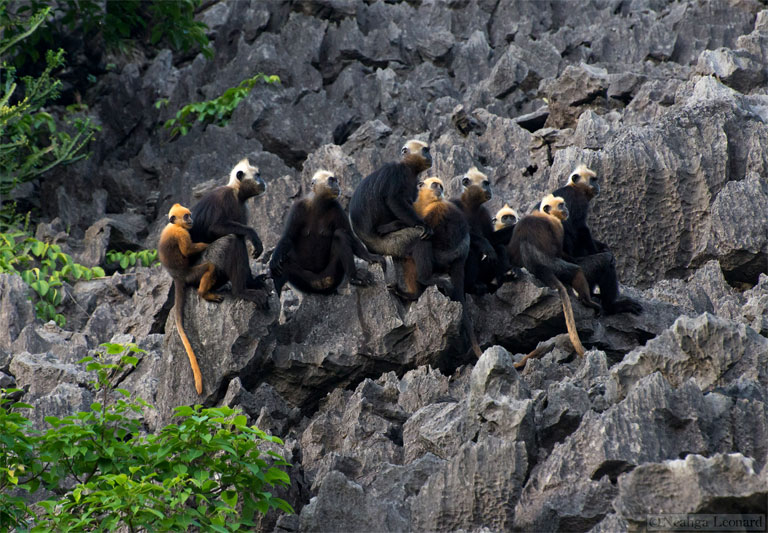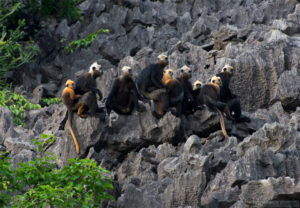 So, yes, you can call this place one of the best wildlife destinations as well. The entrance fee to the National Park will be around $2. And try to go as early as possible (opens at 8 am) to avoid the crowd and the afternoon heat.
To see the whole beauty, you should take a hike. You can hike independently to Ngu Lam Peak since the direction boards are clearly available. The total hike is around 3.6 Km long and will take around one hour to climb. Or, if you need to discover more about this national park, hire a guide from a tour agency or ranger station. However, do not forget to take more water with you. (Cat Ba Island Vietnam)
Cat Ba Snorkeling and Visiting Monkey Island
The underwater world beauty in Cat Ba, Vietnam, is undoubtedly amazing. If you visit there between May and September, you may see the clearest underwater views. Coral reefs, as well as colorful marine lives, are there for you to swim with.
On the other hand, you can plan to visit Monkey Island (Cat Dua) after finishing snorkeling. The name came to this island due to having a large number of monkeys. You can see them, feed them, and even play with them. But be careful; sometimes, they may get aggressive for food. (Lan Ha Bay cruises offer you the chance to visit this island in their cruise packages).
Apart from monkeys, there's one more important thing to discover on Monkey Island. It is hiking to the peak of the island. Once you made it to the top,  you will see a spectacular view over Lan Ha Bay. I suggest ready for the hike as you should not miss your journey to Cat Ba Island Vietnam.
And also, you can do snorkeling, swimming, and scuba diving on Monkey Island. The limestones and karsts surrounding the beaches give unique views to your eyes.
Visiting the Floating Villages in Cat Ba Island Vietnam
Cai Beo
The most famous floating fishing village in Cat Ba is Cai Beo (also called Vung o fishing village). And this is one of the oldest villages in the country, with around 300 households. Their major income source is related to fishing and aquaculture things.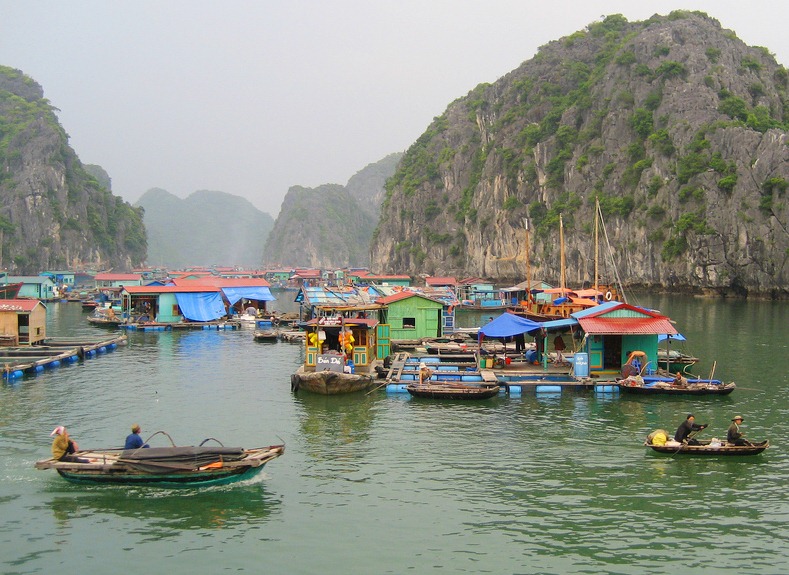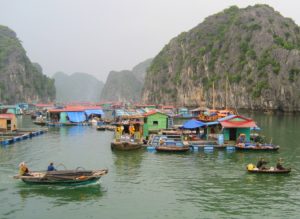 Observing the way their living is just amazing. There are many boat houses that you can visit. They treat you very well, and you'll see fish cages nearby the floating houses, and all of them are connected with small bridges that you can reach easily. For me, visiting Cai Beo is a kind of dramatic feeling. Just rent a boat from Beo port and visit Cai Beo to feel the same. (Even Lan Ha Bay cruises also offer this chance). (Cat Ba Island Vietnam)
Looking for the best hotels to stay in Cat Ba Island? Just check here.



Viet Hai
Another fishing village you can visit is Viet Hai. The journey to this village is just amazing. When you visit Cat Ba National Park, just trek through the jungle, and it will take around 3-4 hours (8 Km). The road is clearly mentioned in Maps.me. Or even you can hire a boat and arrive at Viet Hai.
Observing this traditional and simple lifestyle of these fishing communities is just amazing. And one important fact for nature lovers is this is an ecofriendly tourism zone. So, keep no carbon footprint on your journey.
Suggested reading: Floating Markets in Thailand
Lan Ha Bay Cruise
Touring Lang Ha Bay should also contain in your list of things to do in Cat Ba Island Vietnam. As a less crowd and budget travel alternative to Halong Bay, Lan Ha Bay has its own natural beauty to discover.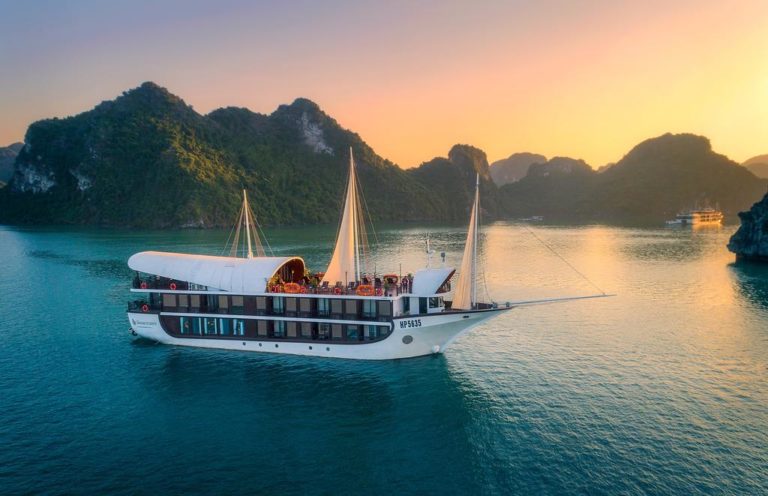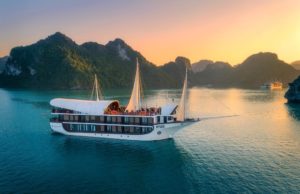 Just rent a boat from Ben Beo port and cruise around the bay. While cruising through the limestones and karst, you can also swim, snorkel, visit monkey land and fish villages. I went kayaking with my Travelmate. It was an amazing experience. (Cat Ba Island Vietnam)
Exploring Caves in Cat Ba
Trung Trang Cave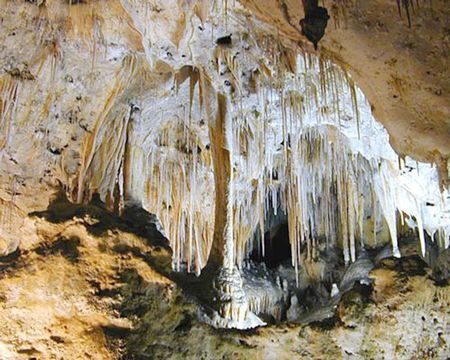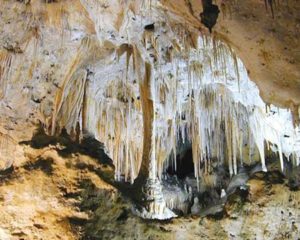 Trung Trang Cave is one of the most visited caves in Cat Ba. Vietnamese call this cave the "Gold Treasure." It is in the size of 300m and 15km long. Plenty of natural stalactites are the most amazing sight to see inside the cave. Inside it is very dark and black in color. So, take a well-charged torch with you. You can enter this cave with the same entrance ticket as Cat Ba National Park.
Cat ba Cave Hospital
As mentioned earlier, Cat Ba Cave shows you a picture of the Vietnam War era. This hospital functioned until 1975. The cave is opening at 7 am, and the entrance fee is around $1.75. Since there's no much information mentioned in the cave, hiring a local guide will be better if you want to learn more.
And the cave is situated near to the Cat Ba town and will take around 30 minutes. But, as I said earlier, there's nothing much to see or enjoy here since this is a hospital. (Cat Ba Island Vietnam)
Visit Butterfly Valley and Rock climbing in Cat Ba Island
Butterfly Valley is an uncommon place in Cat Ba. There are some more butterflies to see around. Apart from that, Butterfly Valley is a kind of adventurous playground for adventure travelers. There are some adventurous rocks to climb. If you have experience in rock climbing, then just rent some gear and climb. The viewpoints on the top should be awesome for sure.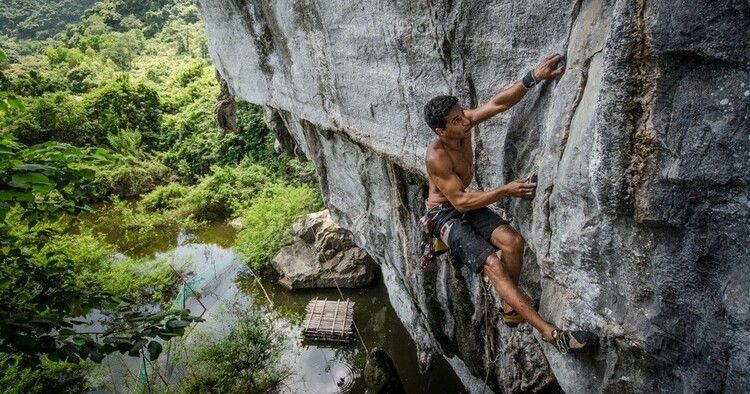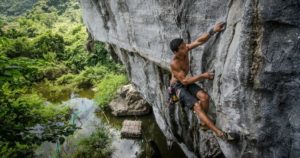 Apart from that, Dau Be Island, Ben Beo Mountain, and Ba Trai Dao Island some other places where you can experience rock climbing adventures in Cat Ba Island Vietnam.
Watch the sunset at Cannon Fort Cat Ba
This was the most awaited thing in Cat Ba. Watching the sunset while on the Cannon Fort was an unforgettable feeling for my life. This fort was built-in 1942 and used by the Japanese for World War 2. The climax is 177m above sea level; you can see the whole Lan Ha Bay from there.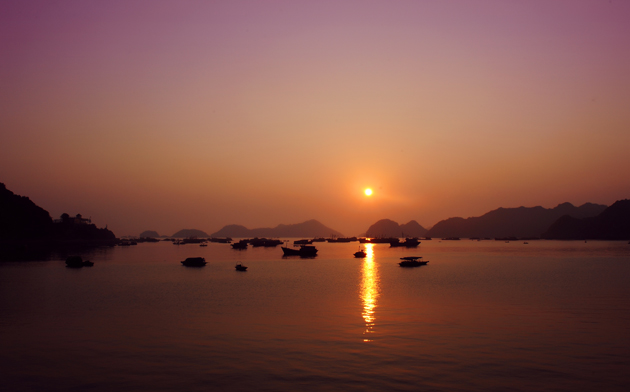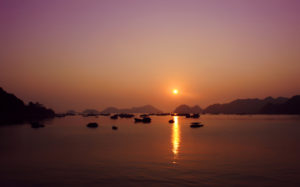 The entrance fee is around $1.75. Take some drinks with and select a good place and feel the sunset's beauty through the limestones and sea waves. (Cat Ba Island Vietnam)
Things to at Night in Cat Ba
The nightlife in Cat Ba is just wonderful. Observing the show of Bioluminescent plankton takes the top in the list. It is a naturally glowing creature in the water and creates a naturally glowing beach at night called bioluminescent beaches. Seeing this scene is very rare, and you need to stay in a boat camp with minimum lights.
Eating tasty food and participate in Floating Barge Karaoke. You cannot miss these lovely and musical evenings in Cat Ba.
How to reach Cat Ba island Vietnam?
Cat Ba is also called the pearl island of Hai Phong. It is located 25 km away from Ha Long city and 30 km away from Hai Phong Port city center.
If you are coming from Hanoi, then just take a bus ride, and the whole journey will take around 3 hours for $15 (including the boat ride in the middle of the journey). On the other hand, if you are coming from Halong Bay or Hai Phong to Cat Ba, just hire a boat. It will be awesome. (Cat Ba Island Vietnam)
Cat Ba Island weather and the Best time to visit Cat Ba
Vietnam is one of the best tropical destinations. Although there are two seasons of rainy and dry, there are possibilities to rain at any time during the year. The summer runs from June to August, which is a hot climate. Many foreign and local travelers are there, and you may see a heavy crowd.
The spring is there, from March to May. The climate is cooler, and you can visit there without any tourists rush. On the other hand, autumn is from September to November, while winter is from December to February with a very cool climate.
I suggest you visit there in Spring and autumn times to avoid the crowd and hot climate. But if you feel like seeing the cool and grey environment, then visit in the winter. Traveling in winter will also get some budget tour packages as well. But, Vietnam is not a high-cost destination. That means it is a well-suited destination for budget travelers as well. (Cat Ba Island Vietnam)