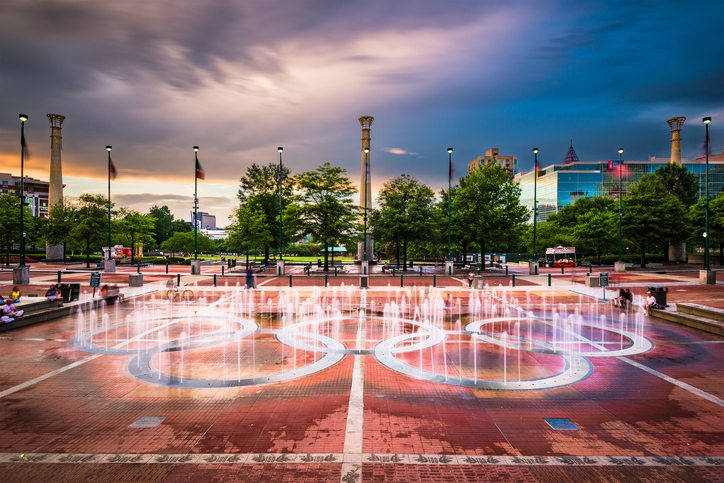 Atlanta in Georgia is always filled with a lot of fun things to do. This city was born as a railroad town in the 19th century, and it was burnt down in the Civil War. After that, this city was rebuilt as a hub of tourism. This is Dr. Martin Luther King Jr's home city., World of Coca-Cola, Atlanta BeltLine, and Georgia Aquarium, like tourist attractions. So, it is no doubt that there are plenty of enjoyable things to do in Atlanta. 
Let's discover them through the following sections.
Things to do in Atlanta, Georgia
Things to do in Atlanta:

Visit Atlanta Botanical Garden 
Atlanta Botanical Garden is one of the most eye-catching places in the USA as it is filled with roses, orchids, camellias, magnolias, and azaleas like stunning flowers everywhere. Not only flowers, but this botanical garden also has some other special features like canopy walks in the treetops and edible gardens. 
When you enter the garden, you will first meet the Fuqua Orchid Center with many orchid varieties. Within that center, you can check into the Tropical Display House and Tropical Elevation House.
Tropical Display House is always rich with the scent of orchids from all over the world. At the same time, Tropical Elevation House has the orchid varieties grown at 1,800 to 3,000 meters elevations. 
After that, you will see Dorothy Chapman Fuqua Conservatory. There you can find both rainforest and desert habitats. On the other hand, you can see the fauna that lives in those ecosystems. Like frogs, turtles, birds, reptiles, and many more. 
Aside from them, you can see peaceful woodlands like Storza woods. It contains a Canopy Walk with a 180 m long walkway through the top oak and hickory trees. 
You can also see an authentic Japanese Garden, a rose garden, and a children's garden as well. 
So, visiting the Atlanta Botanical Garden should always on the top of the list as nature lovers. (top things to do in Atlanta) 
Planning to visit New Zealand?? Just read this: Great Barrier Island in New Zealand: The Complete Travel Guide.
Things to do in Atlanta:

Visit Atlanta BeltLine
Atlanta BeltLine will not be eye-catching. But still this one of the most attractive places among tourists. Having 33 miles of unused railroad tracks that have turned into bike trails and walking tracks connects all the town neighborhoods. 
It is a long series of parks with greenery views, and it was one of the largest reconstruction projects of the state after the historical burn. Actually, it is an insanely successful one because it has converted the city's unused space into beautiful parks, sights, fun activities, and profitable events. 
Kids can play, ride a bike, or join with other playful activities. Adults can join with fitness programs, art exhibitions, and other enjoyable things that happen on the Atlanta BeltLine. 
For example, BeltLine Jewels is another development of this project that adds some more parks. 
Things to do in Atlanta: Take a Food Tour in Atlanta
When I explain the introduction, I mentioned Atlanta is heaven for food lovers. So, taking a food tour in this city is a must. 
Ok, let's start with tea rooms. There were plenty of tea rooms in this city. But, now there are only a few. For example, Mary Mac's Tea Room. It offers you authentic good old southern style foods. I'm sure you cannot find this style and food flavors anywhere else in the country. 
Here you can have piping hot cornbread with collard greens and okra, crispy fried chicken, smothered biscuits, lemonade and sweet tea, banana pudding, peach cobbler, and pecan pie like foods. And the most special feature of these delicious foods is all are purely home-made. 
Besides tea rooms, Atlanta has unique street markets, pure farmers' markets, pubs, and BBQ huts. (fun things to do in Atlanta) 
Things to do in Atlanta: Visit Centennial Olympic Park
Centennial Olympic Park in Atlanta is one of the top tourist attractions. And it was built as a result of the Atlanta Olympic Games in 1996. At the end of the games, this place was redeveloped for everyday use. As this park surrounds by many of the top attractions and the city's avenues, it considers the heart of the Downtown.
Like: CNN Center, Georgia World Congress Center, World of Coco-Cola, Georgia Aquarium, plenty of shops, restaurants, Mercedes Benz Stadium, and Sky View Atlanta Ferris Wheel. 
Having around 21 acres, this place always celebrates special events all year. Like Wednesday WindDown, Independence Day Concert, fireworks Displays, weekly summer festivals, winter holiday lights and shows, musical concerts, and sports games. 
You can see the Fountain of Rings that represent the five Olympic Rings shoot water for 10m height near the park visitor center. And it is totally a computer-controlled one with a nice musical background. 
Therefore, Centennial Olympic Park is one of the best things to do in Atlanta. 
Visit North Island in New Zealand: The Complete Travel Guide
Things to do in Atlanta: Visit Georgia Aquarium
Being the third largest aquarium in the world and the largest one in the USA, Georgia Aquarium is a place that you cannot miss in Atlanta. And having 10 million gallons of water in the tunnels, it the home for thousands of creatures. 
Those shocking creatures are as follows: 
dolphins, fire eels, manta rays, whale sharks, jellyfish, California sea lions, penguins, puffins, otters, sea dragons, and green sea turtles, big-bellied seahorses, garibaldis, discuses, king angelfish, surgeonfish, sailfin tangs, and silver moonies. 
Actually, this considers as the only collection of whale sharks outside of Asia. The giant two whale sharks and beluga whale are more highlighted. 
You will surely be surprised by every inch of amazing seven galleries, including 4D theater shows in Georgia Aquarium. Click the link and book your tickets online. (fun things to do in Atlanta with kids)  
Visit the World of Coca-Cola
Here we go to the birthplace of Coca-Cola. Yes, Atlanta is the birthplace of Coca-Cola. Dr. John S. Pemberton, a pharmacist in Atlanta, was the person who invented this unique drink to the world in 1886. And the story behind him is very strange and strong.
Actually, he was morphine-addicted and wanting to get rid of that bad habit. As a result, by trying thousands of experiments, finally, he could discover this unique, non-toxic, non-addictive, fun, and fizzy drink to the world. 
Now, the World of Coca-Cola or the Coke Museum is one of the biggest tourist attractions and unavoidable things to do in Atlanta. Once you take a factory tour in this place, you are getting a chance to make your own Coca-Cola bottle. Also, getting the chance to see how this drink is made and bottled. 
On the other hand, it offers you a 3D theater, the secret recipe of Coca-Cola ("Vault of the Secret Formula"), to taste different Coca-Cola flavors all over the world, and a pop culture gallery. 
And finally, you are getting the chance to take a selfie with the Coca-Cola polar bear photo. Click the above link to know more and book your tickets. (fun things to do in Atlanta)   
Things to do in Atlanta: Visit Piedmont Park
Atlanta is a bustling city with busy streets, skyscrapers, and shopping malls. Well, Piedmont Park is a place that has a lot of green space in the middle of this busy city. So, it must be a beautiful, unique, and relaxing place for sure. 
And the designers of this park are the person who landscaped New York's Central Park and the sons of Frederick Law Olmsted. 
There you can see plenty of green lands, planned playgrounds for kids, and a lot of space to enjoy the time. And most importantly, it is connected to Atlanta BeltLine's Eastside Trail as well.
Therefore, you can join with summer and weekend events like Atlanta Jazz Festival, Music Midtown, weekly Green Market, and Atlanta Food and Wine Festival.
On the other hand, joggers can use the park trails, ride rented bikes, and join with yoga classes and camps hosting on the green grass.
So, Piedmont Park is not just sunshine and fresh air; it has many things to entertain. Check the above link to know about special events in the park.
Visit the Center for Puppetry Arts
Puppets? Is it sound weird? Maybe. But, I promise you, not in this place, because the Center for Puppetry Arts is one of the world's largest ones to celebrate puppetry arts.
You cannot find this kind of place anywhere else in the world. Once you visit this place, you can see famous things in the puppet world like Mystery Science Theater 3000 and Sesame Street. And also, there's a gallery of puppets that contain around 350 well-known puppets and puppeteers.
Most importantly, you can join with training on making puppets and take your one home. So, I highly recommend you visit this place with your kids and family. Do not ever think to miss this place on your Atlanta Tour. (fun things to do in Atlanta) 
Looking for the best hotels to stay in Atlanta?? Just check here. 


Visit Martin Luther King Jr. National Historical Park
We all know that Atlanta is famous for its Civil Rights Movement. And we cannot forget Martin Luther King Jr. at all as he played a major role in achieving Civil Rights. This park is there to celebrate his great life.
It displays all the information about his life through museums, monuments, archives, and resource centers. And also, in the middle of the pool, you can see a large tomb of Dr. King and his wife. Besides the information about African American history and Martin Luther, this park has roses everywhere in the 35 acres of land.
So, I highly suggest you visit this place.
After visiting the National Historical Park, you can take a free tour to Martin Luther King's birth home as well. But, only 15 people can enter the house at a time. And since you cannot book tickets, you have to come as early as possible.
Planning to visit California?? Just read this: 60 Best Things to do in California.
Things to do in Atlanta: Visit Zoo Atlanta
Zoo Atlanta is the home for around 100 species of animals. And it offers sufficient space for these animals as well. Since these animals are divided into their geographical regions, everyone can easily study different features of them. 
Aside from that, Atlanta Zoo offers you animal demonstrations, shows, feeding methods, yoga classes, summer camps like experiences to enjoy. If your kids love animals and nature, this is an ideal place to visit. On the other hand, there are cocktail events for adults as well. 
As I said to you earlier, zoo animals are divided according to their geographical origins. For example:
Pandas, Komodo dragons, tanukis from Asian Forests. (Actually, giant pandas are the biggest attraction in this zoo)
Lions, elephants, rhinos, rats from African Savanna.
Kangaroos from Australia.
Gorillas, birds, reptiles from rainforests all over the world. 
Do not try to neglect this place at all. Only 4 states in the USA have this kind of zoos. Georgia has Atlanta Zoo. So, how can you miss this?
Best Museums & Memorials in Atlanta
High Museum of Art
Visiting the High Museum of Art is one of the best things to do in Atlanta, Georgia. First of all, I must say about this building. It is made with white concrete wrapping architecture and cutaway cubes. 
Inside the museum, you can see attractive paintings, sculptures, and many artworks. Whether you are an art person or not, it is worth trying this place for sure. 
Once you arrive at this place, you will see Rodin's sculpture, "The Shade on the Lawn." Actually, this was a gift from the French government. And the story behind this gift is quite sad. 
In 1962, 106 people who visited Paris from Atlanta had faced an air disaster at Orly Airport in France and lost their lives. Actually, this tour was a sponsored tour by the High Museum of Art, Atlanta. That means all of them were Atlanta art patrons. 
The High Museum of Art shows the amazing artworks done by Monet, Giovanni Battista, Martin Johnson, Tiepolo, and Chuck Close, like world-famous artists. So, do not miss this place. (things to do in Atlanta or art lovers)  
Things to do in Atlanta: Margaret Mitchell House
This is the home to "Gone with the wind," author Margaret Mitchell. Actually, this enduring classic is a big claim to the fame of the state as well. She had lived in this house (located on Peachtree Street) until the end of her life. So, this place is there to celebrate her life and her famous writings. 
And the house contains everything about the author, her books, and knowledge about history and literature in the Southern part of the country. So, if you are a literature lover, you cannot miss this place in Atlanta. 
Things to do in Atlanta: CDC Museum
CDC, a top name of medicine, stands for the Center for Disease Control and Prevention. And they offer you a chance to visit the museum and get more knowledge on disease controlling, germ theory, global health issues, water sanitation, virus, and bacteria like things. 
For example, it shows very informative videos about HIV, COVID, and the Ebola Virus. I think this is a kind of museum that should be visited by everyone in the world. They really do a social service by exhibiting this valuable knowledge to the visitors free of charge (no charges even for parking).
So, just visit and get some knowledge. 
Things to do in Atlanta: Fox Theater
Fox Theater in Atlanta is not totally for watching movies. It is for sightseeing its architecture because you will fall in love once you see the Fox building. Actually, there's no such a theater in the country. 
It was built in 1929 during the golden era of movie palaces. And the exterior of this building looks like a Moorish palace, while the interior design alternates between Egyptian and Islamic. Its auditorium has a capacity of 4,665 with a unique style of the Arabian night sky. 
After watching the astonishing architecture of this building, you can participate in the shows by world-famous artists. Actually, Elvis Presley, James Brown, and Ray Charles like artists have performed in this theater. And, Prince's last ever performance also happened in this Fox Theater. So, isn't it so special? 
Suggested Reading: Laos Travel Guide 
Atlanta History Center/Swan House
Atlanta has a huge history for Civil Wars, Civil Rights Movement, migrations, cultural shifts, battles, and campaigns like things. Here, in Atlanta History Center shows all of those special incidents very attractively. 
Starting from Georgia's original inhabitants till the Civil War and World War II, every incident about Georgia's state is lined up well. Actually, you can see old civilizations, folklore, music, pottery, and art. On the other hand, interesting modern photos and artifacts of battles and campaigns will impress you more. 
So, this place is definitely an important one to visit when you are in Atlanta. 
And another huge tourist attraction in the center is Swan House Mansion. It is an old, expensive mansion built-in 1928. Since it is so beautiful and located in a beautiful place a huge amount of tourists attract here. The mansion's Renaissance-style white walls, terraced Boxwood Gardens, gardens, fountains, and hedge walls are really unique. 
So many movies and tv shows used this beautiful place. (Like The Hunger Games, The Amazing Race). So, you may definitely feel familiar.
Click the above link to know more about Atlanta History Center. (things to do in Atlanta) 
National Center of Civil and Human Rights
If you are more interested in the Civil Movement struggle and achievement in the 1950s, here's the place for you. Actually, this was inaugurated in 2014, and it quickly became one of the most popular places in Atlanta. 
It has exhibits of the Jim Crow era, Martin Luther King, and many more.    
Fernbank Museum of National History
Visiting Fernbank Museum of National History is one of the best things to do in Atlanta with your kids because it contains dinosaur skeletons, fossils, large whale replicas, a big 3D theater, and a huge forest with 65 acres. 
Actually, visiting this place is just like going back to the dinosaur era. It has 15 galleries to show fossils, Georgia's natural history, geological information, and many more. 
Also, you can see live animals in the "WildWoods" as well. 
That means this is a refreshing and educational place to visit with your kids.  
Things to do in Atlanta:

Michael C. Carlos Museum
Michael C. Carlos Museum has the largest collection of ancient arts in the Southeast. That means the ancient arts from Ancient Egypt, Rome, pre-Colombian arts, Greece, Namibia, and Africa. Even mummies urns.
Isn't it sound crazy? Yes, you must visit this place to see all of those artworks.
Jimmy Carter Library and Museum
Jimmy Carter is the 39th president of the United States. And he won the Nobel Prize in 2002. That is the known story. But, this museum and library display everything about him that you do not know. 
He won the Nobel prize as he fought against poverty and diseases. On the other hand, he worked hard to promote worldwide democracy as well. 
So, it is worth knowing about such an inspiring leader. Actually, his life is a perfect example of hardworking humanity.
Jimmy Carter Library and Museum is located in 30 acres landscaped garden with nice scenery as well. So, just visit to celebrate his life and get some knowledge. (best things to do in Atlanta) 
Delta Flight Museum
Delta Flight Museum was opened in 2014, and it is located in the airline world headquarters near the Heartsfield-Jackson Atlanta International Airport. But, the things inside the museum was maintaining since the 1940s. 
Monroe Cafe, Delta Ship 41, The Spirit of Delta Boeing (Delta's first-ever Boeing 767-200), and Delta Ship 6301 like giant things are there to see. Especially, the Delta Ship 6301, the first production 747-400, offers you the chance to go inside and check out the cockpit. (exciting  things to do in Atlanta) 
So, isn't this museum is an ideal place to visit with your kids?
Things to do in Atlanta:

Museum of Design Atlanta
MODA or the Museum of Design Atlanta is totally dedicated to the designs and exhibitions of architecture, graphics, interiors, furniture, fashion, industrial, and product design. Actually, this is the only museum in the southeast in this category. 
So, if you like to see modern architectural designs, interiors, furniture, just take a visit to this museum. Before that, do not forget to check for the special events through the above link.  
Suggested Reading: The Best Thai Food You should Try
Best Parks in Atlanta
Stone Mountain Park
Just take a break from the busy city and drive for a few miles to Atlanta's north side. Then you will meet this park filled with breathtaking views of lakes, mountains, cliffs, canyons, and forests. Actually, this place can be defined as "every experience of Georgia in one place." 
Because visitors can hike, ride boats, biking, fish, camp, play golf, watch movies. And also there are cable car tours to the top of the mountains. 
Another highlighted thing in the park is the laser show. They are projected to an old rock in the park and create modern colorful designs on it. 
So, Stone Mountain Park is an ideal day trip destination in Atlanta to visit with your family. 
Chattahoochee River National Recreation Area
When you drive around half an hour from Atlanta, you will find Chattahoochee River National Recreation Area. For me, it was the best scenery in the whole of Georgia. 
Chattahoochee River is not dangerous. It flows very slowly. So, you can swim, ride boats, fish, raft, or tube on it. On the other hand, this area offers you interesting hiking and biking chances. The bird watchers especially attract to this place so often as you can see different species of birds around the area. 
And you can find some ruins that were burnt in the Civil War era in this area. 
I highly recommend this destination as a day trip from Atlanta. (relaxing things to do in Atlanta) 
Things to do in Atlanta:

Georgia State Capitol
The golden dome of the Georgia State Capitol is very famous and a landmark of the city. And, of course, it is impressive inside and out. Actually, it doesn't look like a place where politicians work. 
There's a display that explains everything about the state of Georgia. Like state bird, flag. Apart from that, its garden is also so natural and well planned. 
So, I can recommend this place to increase your historical knowledge. 
Chastain Park
This is one of the most famous parks in the city. Actually, Chastain Park's awesome amphitheater is the reason behind that because it brings many world-famous actors, singers, musicians, comedians, and performers to perform. 
Aside from the amphitheater, there are many things to see in this park, like awesome walking trails, swimming pools, visiting horse stables, ball fields, an art center, golf course, and a gymnasium.  
But, you should keep in mind that there are some charges for most of Chastain Park activities. So, get ready with it. 
Click the above link to know upcoming shows and events. 
Things to do in Atlanta:

Historic Fourth Ward Park
Historic Fourth Ward Park is a kind of less visiting park by tourists. Who cares about the reason?. If you like to avoid the crowd and stay in calm and beautiful surroundings, here's the ideal place for you. 
The park has flowers, nice landscapes, an attractive pond, and an outdoor theater. So, you may probably catch a musical show in this park. 
Locals normally attract this place for picnics, walks, musical shows, and relaxing gatherings. And most importantly, there's a skate park as well. So, you can play. (unique  things to do in Atlanta)  
Isn't this park sound awesome and enjoyable?
Cator Woolford Garden
Locating Downtown, visiting Cator Woolford Garden is one of the best things to do in Atalanta. Yes, it is beautifully filled with nice flowers like roses,   dogwoods, daffodils, and many more. Also, it has stone staircases to climb up the garden to get scenic views. 
The large trees offer you a cool shade with a relaxing environment. And on the other hand, it obviously offers you stunning photo locations for your special events like weddings, birthday parties, and anniversary celebrations. 
People gather in this place for big as well as little celebrations. 
And most importantly, this garden's earnings are donated to a local community with disabled children in Atlanta. Entrance is free to this garden, but you can donate anything. The charges of the pavilion events are also donated to the beautiful children who need help. 
So, I suggest you visit this stunning garden and make a small donation. 
Sweetwater Creek State Park
Having around 2500 acres, Sweetwater Creek State Park is filled with rugged bluffs, hardwood forest, lush surroundings, and the Sweetwater Creek. 
You can also see some ruins of a mill that was burnt by the Union Army in 1864. And there's a visitor center that provides you enough information about the park. 
Kayaking, paddleboarding, boating, fishing, picnicking, and swimming are the most highlighted things to do in this state park. (exciting  things to do in Atlanta)  
Things to do in Atlanta:

Oakland Cemetry
Having around 48 acres, Oakland Cemetry is located in Downtown Atlanta. Well, you may think I should visit a cemetery. Of course, because this one is not a usual one. 
From the beginning, you can see tombs, headstones, statues, sculptures, gardens, fountains, and plaques. Well, I don't know if it is ok to say this. But, it offers wonderful sceneries for photos. And in Atlanta is a famous place for gatherings as well. That's why I mentioned at the beginning that it is not a usual zombie graveyard. This is a relaxing place in the city. 
In Oakland Cemetry, children play, colorful flowers bloom, couples meet, and friends get together. Does it still sound like a cemetery? I hope not. Actually, it is a place to celebrate lives. (unique  things to do in Atlanta) 
Georgia's most famous and respected people are buried in this cemetery along with the normal people. (Famous authors, athletes, politicians, scientists like people)
SunTrust Park
SunTrust Park is a baseball park located in Atlanta. Its stadium can hold 41,000 people and The Braves are the rapidly operating franchise at the MLB. If you are here for baseball matches, you can enjoy them while having tasty food. 
After the game, just visit the park that contains nice restaurants and other fun activities. 
Suggested Reading: Visit Lake Atitlan in Guatemala
Things to do in Atlanta:

Inman Park
Inman Park is the first planned suburb in Atlanta. And it contains nice Victorian architecture and a lot of green space. So, you can just walk on the streets of Inman for sightseeing those old beautiful houses. 
On the other hand, Inman has a festival called the "Inman Park Festival" in April that is full of entertainment. If you are around Atlanta in April, do not miss those live music, street parades, and other enjoyable activities. 
And also, Inman is a great place for food lovers as well.        
Fun Things to do in Atlanta, Georgia
Visit Tiny Doors ATL
Tiny Door ATL is one of the strangest things in Atlanta. It has tiny doors, just like in a fairy tale. But, I must say that this is not a result of a huge art project. It is an effort by artists all around the city. 
You can see them on fences, gardens, mailboxes with simple paintings designs and arts. And they are scattered around the various places in the city. So, it is difficult to find them all. And the funniest thing is, some travelers leave some gifts at the doors as well. 
Yes, it has such a reputation among tourists, artists, painters all over the world. I suggest you rent a bike to hunt all of these tiny doors. (fun things to do in Atlanta)  
Take a Tour in CNN Center Studio
Do you like to take a tour to see how the news is made and recorded? Well, your Atlanta tour has that chance. CNN Center Studio, one of the largest news corporations in the world, offers you to visit them and see how they perform. 
You can take the longest freestanding escalator in the world to view the cameras, anchors, teleprompters, newsrooms, and wall to wall TV screens. Also, you may see how they cast breaking news to the world. 
Visit Krog Street Tunnel
Krog Street Tunnel is known for its constantly changing awesome street arts. So, visiting Krog Street Tunnel is one of the best things to do in Atlanta for art lovers. 
Play at Andretti Indoor Karting and Games
Since Georgia gets more rain than other states, there's a probability of getting some rain on your tour. At such a time, I suggest you visit this enjoyable place. 
Andretti Indoor Karting and Games offers any kind of game for every age (realistic and virtual games). Like rope courses, flight simulators, bowling,  go-karts, arcades, and watch zombie movies. 
So, both kids and adults have a lot to enjoy in this indoor entertainment house. 
Visit Porsche Experience Center
I don't think I should explain about this place. Porche Experience Center definitely contains gleaming luxury cars that show elegant Porsches throughout history. 
And you can take a test drive of those cars for 30=90 minutes on a mile-long track. Before reach there, click the above link to book online. 
So, if you are a car lover, this is one of the best places to visit in Atlanta, Georgia. 
Enjoy at a Night Club in Atlanta
Well, Atlanta has a lot of entertaining neon-colored clubs. That means Atlanta's nightlife is just awesome.
For example, The Basement that contains all the fun and refreshing experience for both locals and tourists. And the most important feature of this place is it has very plain and bearable decors and lights (there is unbearable no strobe lights). 
Live bands, DJs, dancers, and many fun activities are there in The Basement. So, this is a good playground for adults. (entertaining things to do in Atlanta)   
Do Shopping at Buckhead or at Ponce City Market
Locating in downtown Atlanta, Buckhead is a swanky neighborhood. It has high-rise hotels, skyscrapers, art galleries, museums, and shopping malls with luxury brands. 
Ponce City Market is a huge commercial playground with film events, golf courts, restaurants, delicious food, and plenty of fun events. 
When you feel hungry after touring around the city, Ponce City Market is a good place to grab some tasty food. You can find the Central Food Hall inside the market that contains world-famous bars, cafes, restaurants, street food stalls. 
And in the evenings, you can entertain with the mini-golf matches and beer garden on the rooftop of the market. Also, it offers nice views of the city as well. 
Watch a Show at Atlanta Symphony Hall
Are you a fan of orchestras? Then, Atlanta Symphony Hall is the best place for you because it has an award-winning group. 
Especially when they host classic concerts with amazing instruments and harmonies, many visitors attract to watch their shows. On the other hand, their "Movie Concept" also very famous and unique. 
So, I suggest you visit this place to get a classy musical and filmy experience. (entertaining things to do in Atlanta)  
Do You Need a Passport to Cruise? Know More
Visit College Football Hall of Fame
College Football Hall of Fame is a great place to know all the special things that happened in college football history. It shows all the information about the football stars with documents, photos, jerseys, and memorabilia. 
If you are a sports fan or a casual fan of your alma mater, this is a definite thing to do in Atlanta.     
Things to do in Atlanta: Visit the Tabernacle
Music lovers, here we go. Tabernacle is a place that many world-famous artists host. For example, Adele, Prince, Eminem, Guns N Roses, Kendrick Lamar like artists. 
On the other hand, it hosts comedy shows (with world-famous comedians like Bob Saget, Lisa Lampanelli) and concerts. 
But, before visit Tabernacle, do not forget to check their schedules. 
Things to do in Atlanta