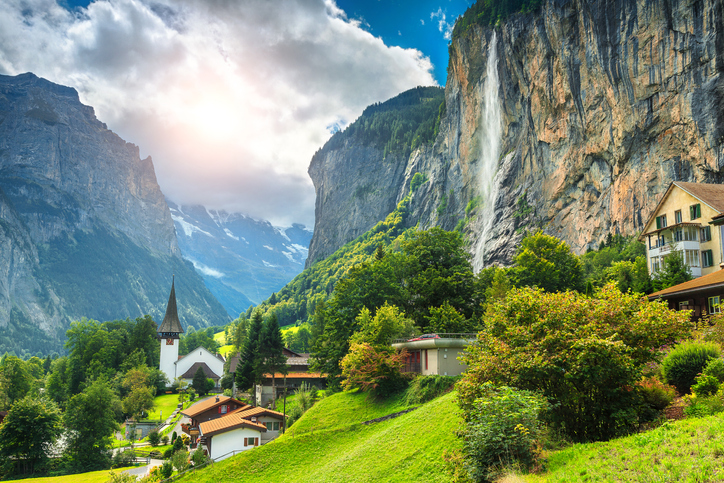 Interlaken in Switzerland is a colorful traditional town located on the valley between stunning Lake Thun and Lake Brienz. It is the heart of the Bernese Oberland region in Central Switzerland. As the city is surrounded by stunning lush mountains, forests, glaciers, and alpine meadows, it offers you great travel experiences.
On the south side, you can see the top of Europe, the famous Jungfrau summit. Also, there's Swiss architecture, pretty windows, small shops, and restaurants are there. You can surely find the excellent Swiss crafts of Swiss chocolates, Swiss food, Swiss watches, and Swiss fashion. But, get ready to spend more money as Switzerland is not a budget destination.
Now, let's get to know more about Interlaken in Switzerland.  
Interlaken in Switzerland
Is Interlaken worth visiting?
There are so many famous points that Interlaken is known for. I will give you the following points to prove why you should add Interlaken in Switzerland to your bucket list.

This stunning town is sandwiched between the wonderful two lakes in central Switzerland. So, the amazing views in the surrounding are the top reason to visit Interlaken in Switzerland. Sightseers are mostly attracted to see the natural fairytale beauty of the town.
If you like to enjoy the lakes, this is the place for you. Lake Brienz and Lake Thun are great places to dip, cruise, canoe, sail, and have fun in summer.

The next point is, Interlaken is a famous adventure spot in Switzerland. Actually, it is the adventure capital in the country. Whatever the adventure you like, it is available in its best form. Water rafting, canoeing, paragliding, bungee jumping, and skydiving like adventures are waiting for you there. (Interlaken in Switzerland)
Of Course, It is amazing…………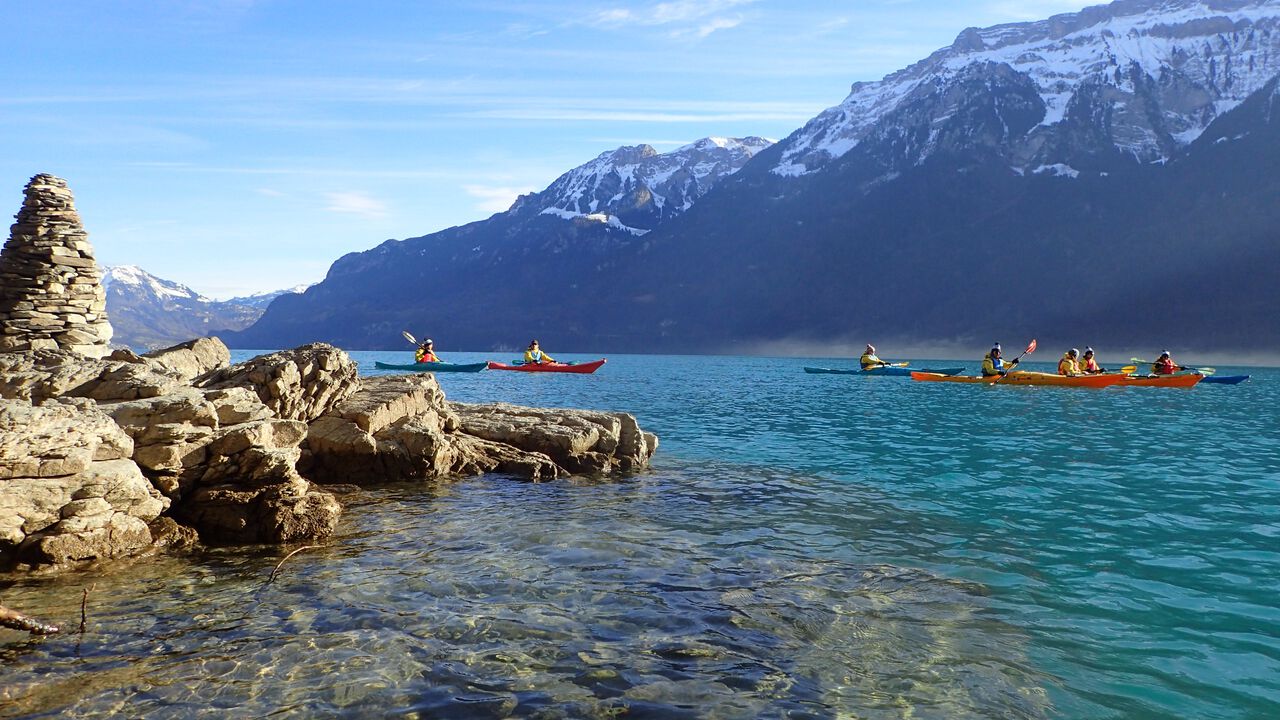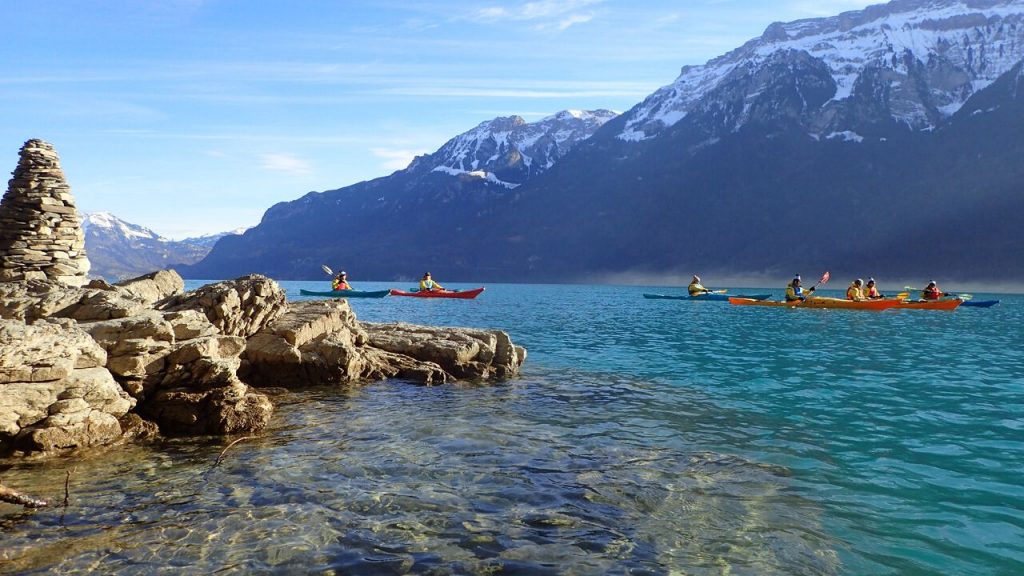 On the other hand, Interlaken is one of the best hiking spots in Europe. As prime hiking spots like Jungfrau surround it, most of the hikers attract this town quite often. And this is the best base to explore the Jungfrau region. Harder Kulm and Pizole 5-Lake like hikes are ideal for any level of hiker.
The next point is the legendary Saint Beatus caves in Interlaken. Actually, Saint Beatus is a popular cave system in Switzerland with tunnels, chambers, and museums.
The train rides in Switzerland are famous throughout the world due to the scenic views. If you visit Interlaken in Switzerland, you can join with such a scenic train journey called Jungfraujoch. It starts at Interlaken and takes you through Grindelwald and Eiger Mountain to Jungfraujoch, "The Top of Europe." (Interlaken in Switzerland)
Now, it is clear that Interlaken is truly worth visiting.
How do you get to Interlaken in Switzerland?
You can get to Interlaken by air, bus, train, or road drive.
By Air
If you choose to travel by air, the closest airport is Bern Airport. It is located around one and a half hours away from Interlaken by train. So, after landing at Bern Airport, you have caught a train from Bern Train Station to Interlaken (48 minutes).
By Train
If you can reach the Zurich HB Main Station, it offers scenic trains to Interlaken within 2 hours. Not only to Interlaken, but Zurich HB trains are also connected to all the international flight times. Because it is the largest train station in Switzerland.  (Interlaken in Switzerland)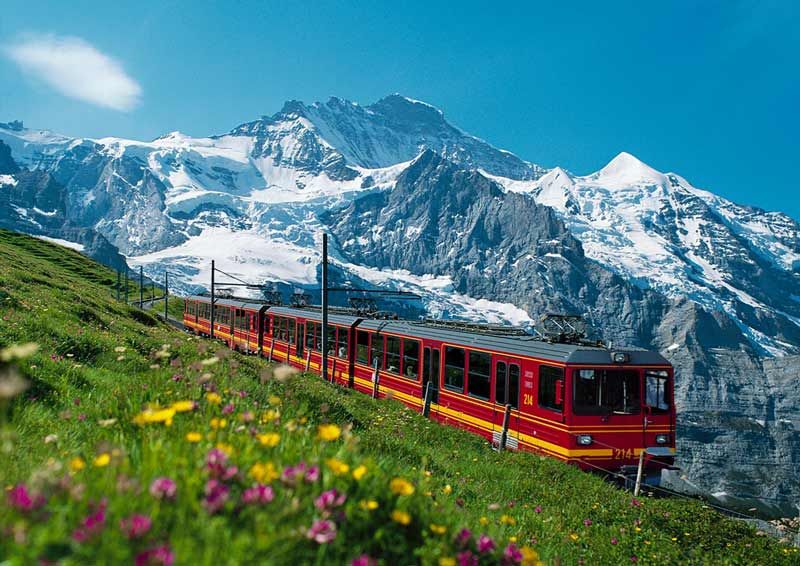 And Interlaken has two train stations. They are Interlaken West and Interlaken OST (east). West one more famous as it is connected to most of the other stations in Switzerland. Actually, it is connected to cities in other countries in Europe as well. For example, Berlin, Paris, Salzburg, and Milan. You must try these scenic train journeys at least once in your life.
(And, I must say that Switzerland has the best and fastest rail system in the world)
Suggested Reading: Scenic Winter Trains in the World
By Bus
If you like to take a bus ride, you can catch a private bus from other countries like Rome, Paris, Munich, Florence, and Interlaken. Actually, reaching Interlaken is not difficult at all. The way also offers you stunning views.
Do you like to drive yourself to Interlaken by exploring Switzerland?. Then, you need some more additional money. Because renting a car and overnight parking charges are expensive in Switzerland. So, again I'm suggesting you use train journeys. (Interlaken in Switzerland)
(However, there is 120 km to drive from Zurich to Interlaken)
Interlaken Airport
Interlaken has an airport. But it is not functioning for the scheduled commercial flights. Actually, this airport was constructed in World War II as a military airbase in Interlaken in Switzerland.
Although it is not functioning for commercial flights, it was used as the airbase for the 6th round of the Red Bull Air Race in 2007. (Interlaken in Switzerland)
Interlaken in Switzerland Weather
When we talk about the overall weather in Interlaken, the temperature varies greatly from 14ºC to 25ºC. On the other hand, it has some extremely humid months, like December (82.1%). But, in the case of wind, Interlaken usually has a calm environment with the wind. And generally, there are no travel warnings for this small town.
The busiest months for tourists are January, May, and June. And the least crowded month is November due to a very cold climate.
Well, here are the major 4 seasons in Interlaken in Switzerland.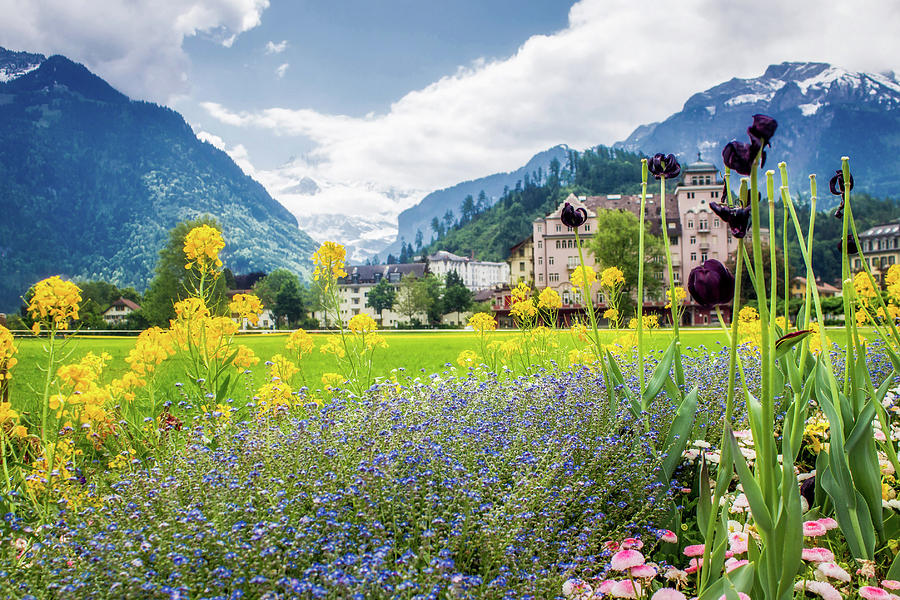 Interlaken Summer
Interlaken summer runs from June to August, and it offers you cool weather with high, comfortable temperatures. Also, these months have the most precipitation (9 to 12 days of precipitation per month). However, these months are the second busiest months for tourism. So, accommodation, food, and other charges are very high. (Interlaken in Switzerland)
Interlaken Fall



Interlaken falls runs from September to November. And the temperature ranges from 21ºC to 4ºC. That means, Fall brings a chill climate with the wind, precipitation, and snow. Therefore, tourists are not much attracted to Interlaken in the fall season. So, you can find affordable prices in hotels and restaurants.
Interlaken Winter
Winter in Interlaken is too cold. It starts in December and runs through February. And the temperature varies between 2ºC to 8ºC. Therefore, you cannot see many tourists in the winter season as well.
Interlaken Spring
Starting from March, Interlaken spring runs through May. This is the busiest tourism season in Interlaken. The beginning of the season is quite cold. But, in the end, it offers you the ideal climate to view the town and experience adventures. Temperature varies from 21ºC to 8ºC.
Suggested Reading: North Island in New Zealand Travel Guide
20 Things to do in Interlaken Switzerland
Before getting to know about plenty of things to do in Interlaken in Switzerland, keep in mind, the town is not so big. So, if you are heading to Interlaken just for sightseeing, you can complete it within one day. But, if you are planning for a hike and other adventure activities., then plan for more than one day.
Here are the things to do in Interlaken in Switzerland.
Best Adventures in Interlaken in Switzerland



Interlaken in Switzerland Paragliding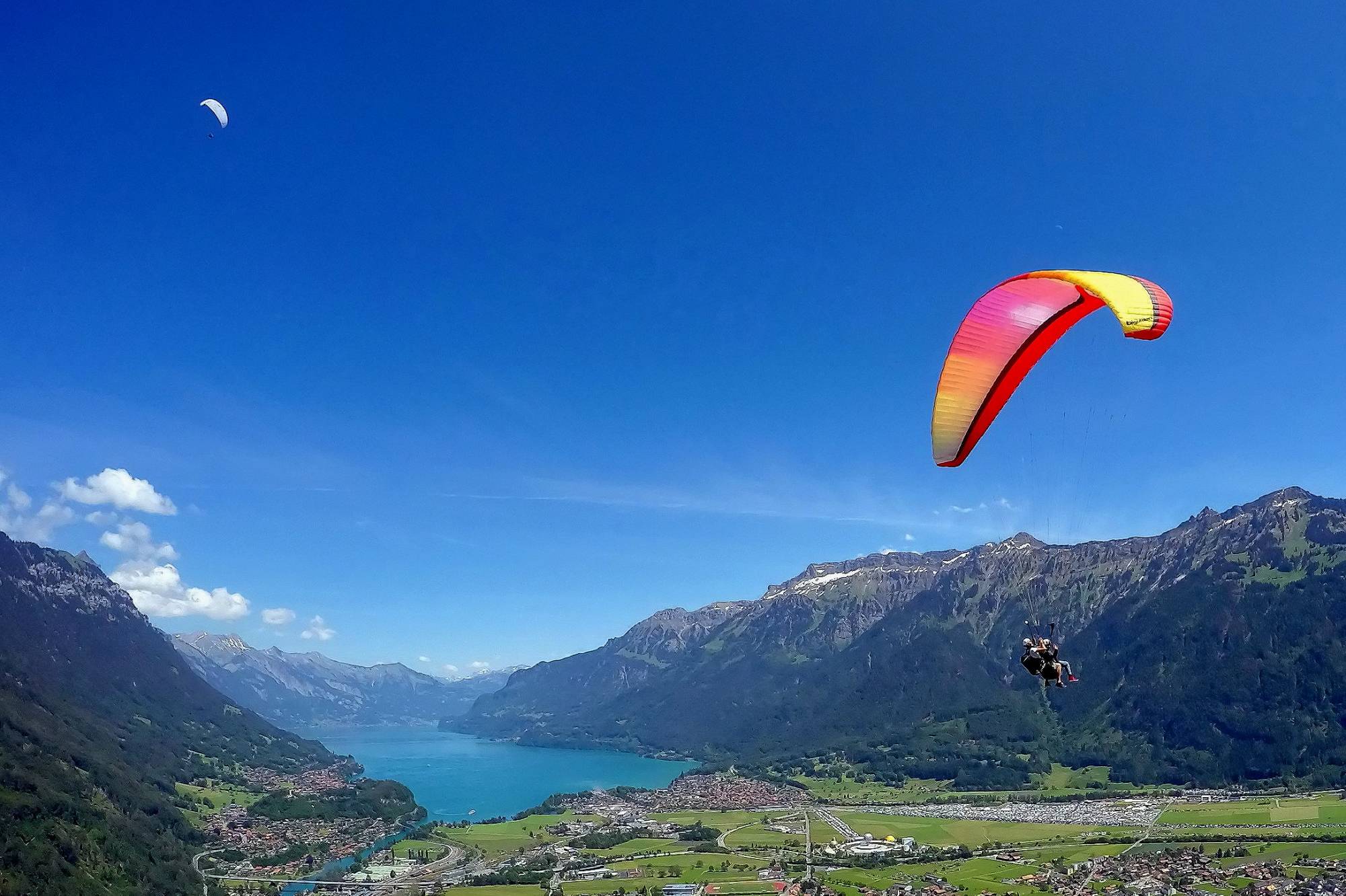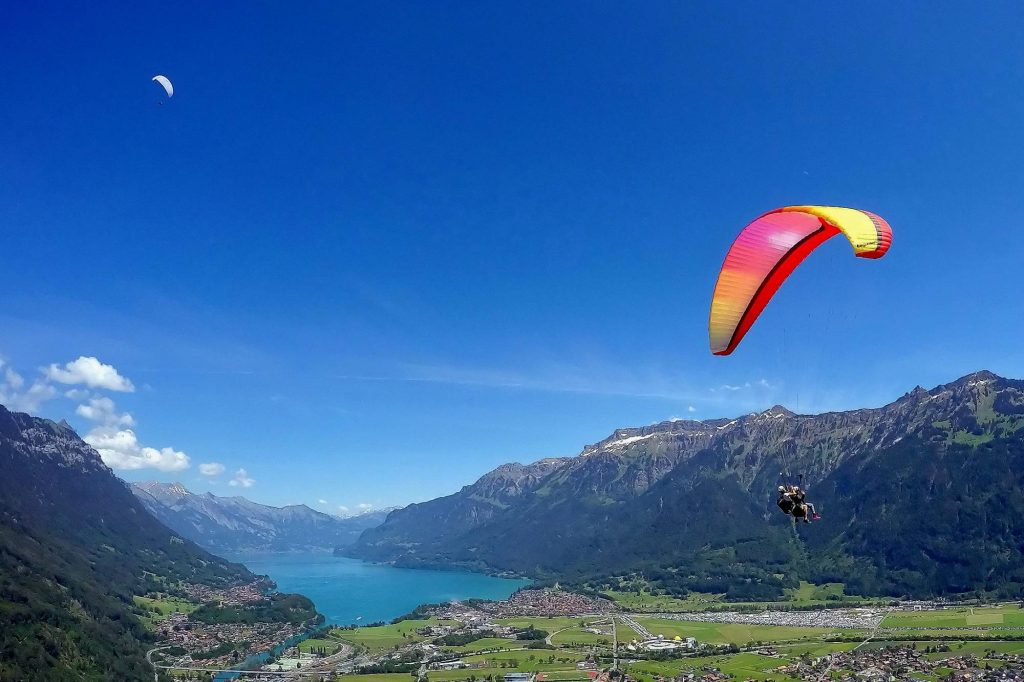 If you try paragliding in Interlaken, you can get a bird's eye view of enchanting Swiss Alpine. You can fly yourself over snowcapped mountain peaks, rolling green hills, stunning parks, and unique villages in the Interlaken sky. A variety of companies provide this adventurous opportunity for you. I suggest you join with Paragliding Interlaken. Book in advance.
Interlaken in Switzerland Sky diving
Sky diving in Interlaken is the best adrenaline-pumping activity in New Zealand. If you are lucky to have optimum climate conditions for sky diving, Skydive Switzerland offers you the best training sessions and the best experience. After the training, if you are highly confident, then you can drive yourself. Otherwise, you can accompany a guide with you. They are well-trained guides. (Interlaken in Switzerland)
Interlaken in Switzerland Canoeing
As I explained to you earlier, Interlaken in Switzerland is located between the stunning rivers. So, definitely, you can experience canoeing and cruising like water activities while sightseeing.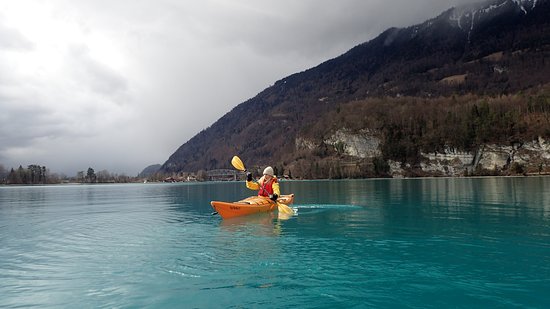 First, let's talk about Lake Brienz.
Lake Brienz
It is located on the eastern side of Interlaken city. And it lies between the limestone ridges of the Brienzer Grat and Faulhorn Mountains. Lake Brienz is ideal for kayaking, canoeing, and steamboating. Just rent a kayak, boat, or canoe to explore the lake in the best way.
On the western side of Interlaken in Switzerland, you will meet Lake Thun.
Lake Thun
It is a long and narrow lake surrounded by gorgeous Swiss mountains. Especially in the summer, you can get boat cruises on the deep blue water containing Lake Thun. With mountainous views, you can see medieval Old Town views. If you want, you can stop there to see Old Town and lakeside castle.
Locating on the edge of Lake Thun, this castle's name is Oberhofen Castle. And it was built in the 13th century. So, you can see a very old but unique architecture in this castle. The neo-Gothic dining hall, summer hall, Knight's hall, English style garden by the lake banks, and historic museum-like things are highlighted in the castle.
Lake Thun is usually blessed with a cool breeze. So, windsurfers attract to this lake. (Interlaken in Switzerland)
Suggested Reading: Emerald Bay in Lake Tahoe
White Water Rafting on LÜtschine River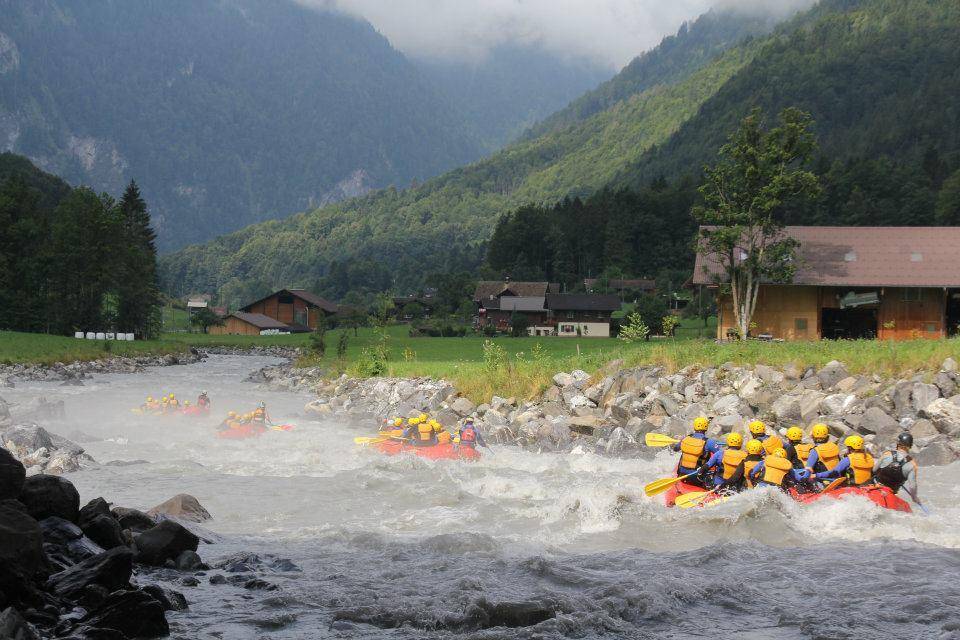 One of the best water-related adrenaline-packed adventures in Interlaken is white water rafting. Especially, Lutschine river's III-IV, located in the Grindelwald Valley, offers you great white water rafting opportunities. I suggest you join Alpine Raft to get the best adventure. They offer you a van to get into the correct starting point and guide you to a safe and thrilling white water rafting.
After that thrilling journey, you are reaching the calm and stunning Lake Brienz. In the end, you can enjoy the amazing photos that you have taken during your thrilling journey.
Best hikes in Interlaken in Switzerland
More than 70 amazing hiking trails are starting near Interlaken as it is close to Jungfrau Region. And most of them do not need any fluent hiking skills or special equipment. So, anyone can try the following hikes when you are around Interlaken in Switzerland. (Interlaken in Switzerland)
The Rugen Hike



The Rugen is a very easy trail located very close to Interlaken. Locating around 10 minutes away from the city, this stunning hike will take around 40 minutes to make to the top. If your fitness level is not so good for a big hike but still needs to get 360º stunning views of Interlaken, then The Rugen is ideal for you. (Interlaken in Switzerland)
Interlaken in Switzerland:

Harder Kulm Hike
Next on the list is Interlaken's famous Harder Kulm. It is a little harder than The Rugen as there aren't any flat sections on Harder Kulm. People who do not like a hike can use the funicular (it takes only 10 minutes to reach the top). If you have a Swiss visitor card, then you will get discounts for tickets.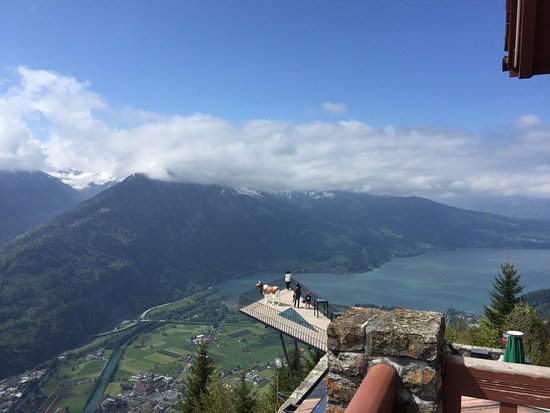 It will take around 2 hours to complete the hike. Once you reach the top, you can get spectacular views of Jungfrau by standing on a glass-bottomed viewpoint. And there's a restaurant on the top as well. Actually, this restaurant was an old monastery. But, now it offers tasty food for Harder Kulm hikers.
Lauterbrunnen Hike: The valley of waterfalls
Are you a waterfall lover?. I'm a huge fan of waterfalls because it offers you a chance to get free and natural sound therapy.
Lauterbrunnen hiking trail starts from the bottom of the valley of Lauterbrunnen and runs to the top of it. Since this trail is so long, it is split into several sections. You can select one of them if you do not like to hike all the trail. Actually, some sections are really steep and difficult. (Interlaken in Switzerland)
Lauterbrunnen to Stechelberg
One of the easiest sections is Lauterbrunnen to Stechelberg. Actually, it is the flat section of the valley, and it will take around 1.5 hours to complete. On the way, you can see the spectacular waterfalls. Lauterbrunnen is really a waterfall hiking trail. So, it is called one of the most magical places in Switzerland.
There are so many waterfalls in this area. For example, Staubbach Waterfall (look at the cover photo). This small village town under Staubbach Waterfall is like a real Swiss fairy tale location.
Like that, there are so many water springs flowing through rock mountains on this trail.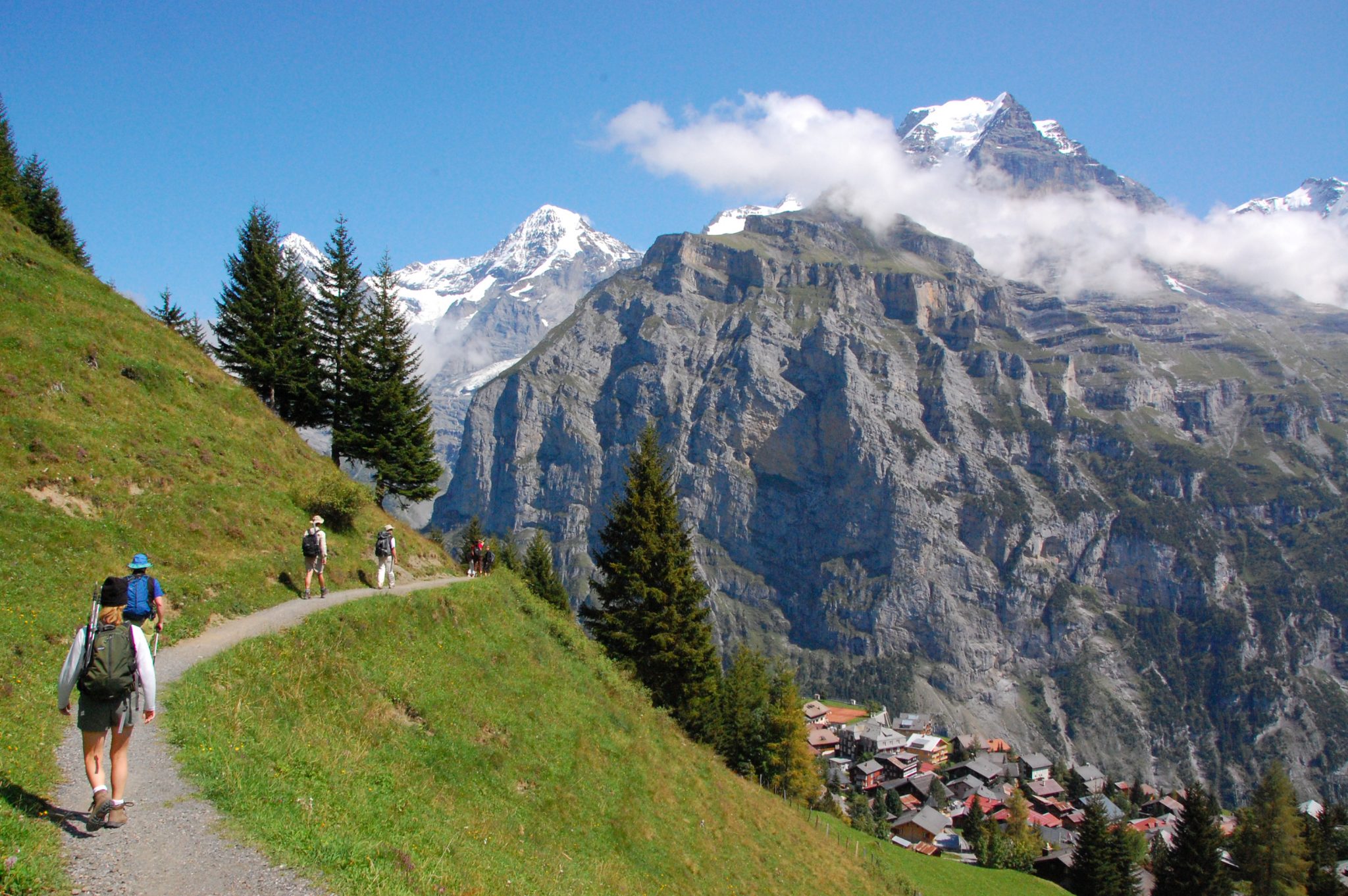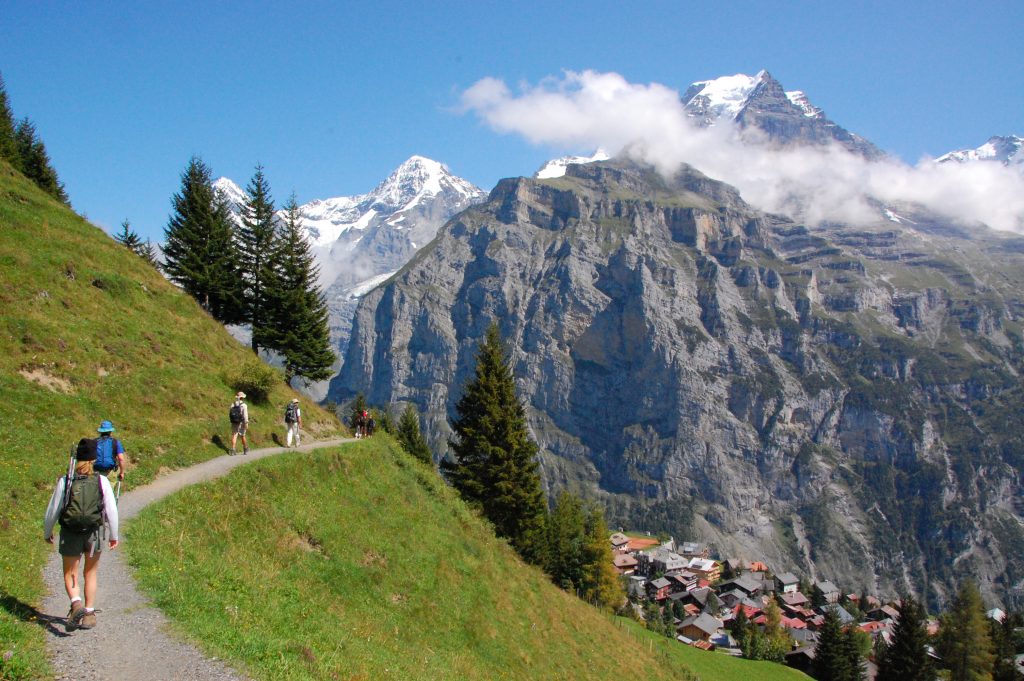 Stechelberg to Gimmelwald and to Murren
This hike takes around 1-2 hours. And it is really steep with an 823m elevation. So, many thrilling hikers attract to this trail for an adventure hike.
Murren to Grutschalp
This trail is an easy one with flat and relaxing landscapes. And it will take around one hour to complete. Locating at the height of 900m, it offers you spectacular glacier mountain views. (Interlaken in Switzerland)
Grutschalp to Lauterbrunnen
Well, this trail suitable for fluent mountain bikers. If you are mad at adventure mountain biking, this is the best trail for you in Interlaken in Switzerland.
Grindelwald Hike



Grindelwald is located a little bit away from Interlaken. You just need to take a 30 min train ride to reach Grindelwald. Then you can experience the best climate in Switzerland with sun and wind. This is an open valley, and it is the base area of the world-famous Eger North Face.
You can climb to the minor summit First from Grindelwald within 4 hours. And this trail is not difficult. Once you reach the top, view the surrounding, take photos, and continue to the next trail.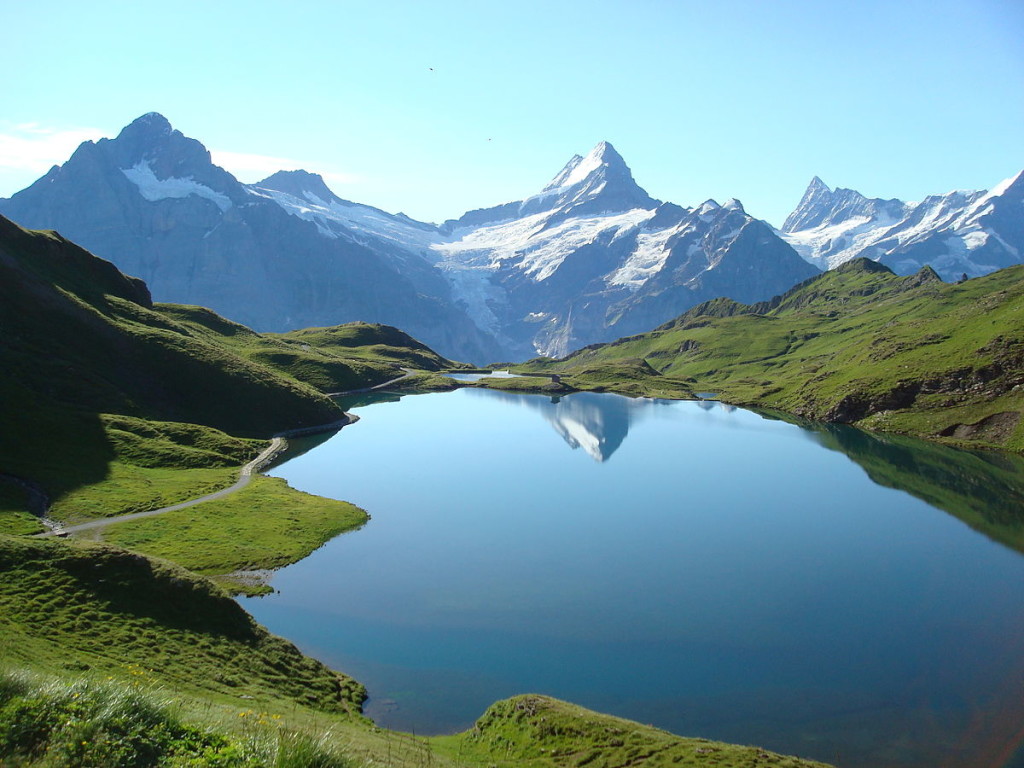 When you continue for another hour, you will reach Bachalpsee. It is a stunning glacial lake located 2000m above sea level. Yes, it is the best natural infinity pool in the world. You will be impressed with its unique beauty surrounded by wildflowers, cows with large bells, huge glaciers, and green and snow-capped mountains. You should visit this place once in your travel life.
Suggested Reading: Tasmania, Australia: Travel Guide
Schynige Plate Hike



Schynige Plate hike is one of the longest trails in Interlaken in Switzerland. Having around 33km within 1918m and 2378m elevations. Starting from Wilderswill (5 min away from Interlaken), the Schynige Plate trail offers you a chance to reach The Summit First within 16km. (That means the same summit you reached on the above trail)
Then, if you want, you can continue on the Grindelwald trail or climb to the top of the Schynige Plate on the Schwarzhorn mountain.

Schynige Plate railway is one of the highest and oldest railways in the country. (Interlaken in Switzerland)
Sightseeing in Interlaken in Switzerland
Visit St. Beatus Caves and waterfalls
When you cruise in Lake Thun, you are getting a chance to visit the famous St. Beatus Caves in Interlaken. It is located right above the northeastern of Lake Thun. This cave system is a karst cave system with a one-kilometer long walkaway.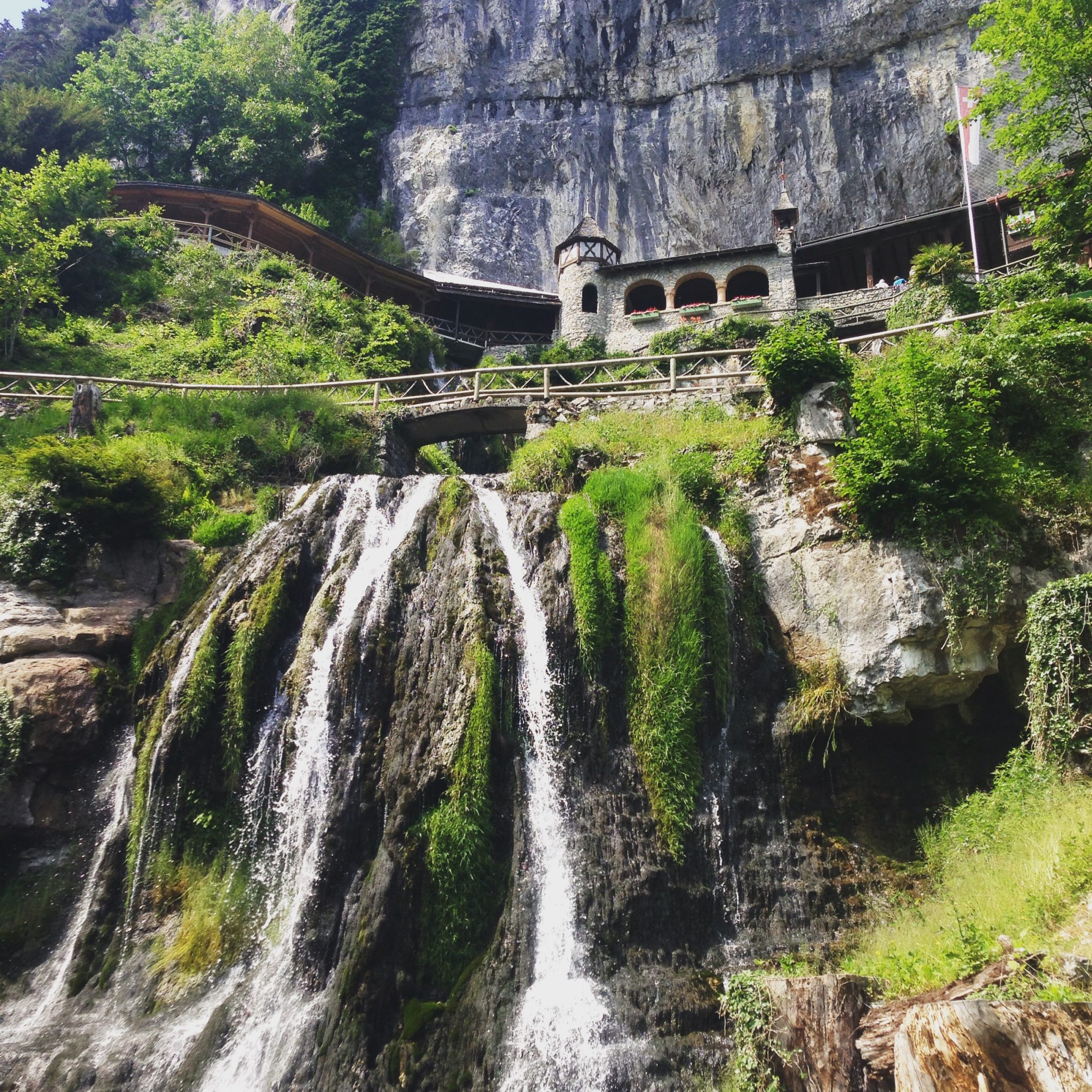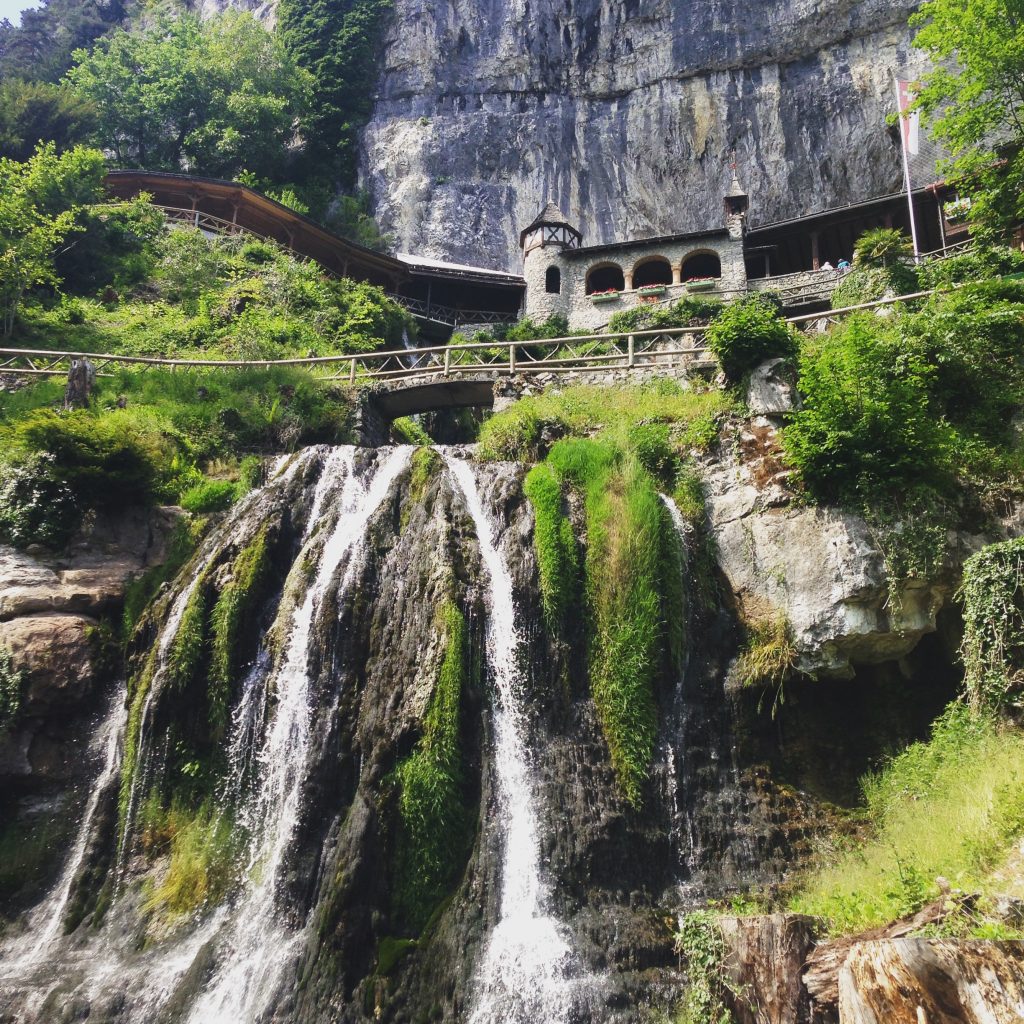 Inside the cave is so strange and wonderful. It has impressive chambers, dark chasms, strange concretions, and underground waterfalls. Isn't it crazy?
Actually, the name St. Beatus had come from an Irish monk who lived in this cave in the 6th century. You can all this information from the historical documents in the Cave Museum. (Interlaken in Switzerland)
Visit Funky Chocolate Club
A Swiss tour never completes without eating chocolate. Don't worry; you can find the best chocolate in Interlaken too. Funky Chocolate Club is the place that offers you the best chocolate in Interlaken. And, it has hot chocolate, chocolate fondue, and many chocolate items. This club handles by two sweet friends, Michaela and Tatiana, since 2014. (Interlaken in Switzerland)
So, do not miss this unique, sweet place while touring in Interlaken.
Visit HÖhematte Park
Hohematte Park is a 14 hectares stunning garden locating in the middle of Interlaken city. This recreational garden offers you magnificent views of Jungfrau through plenty of flower beds. Also, since there's a huge space in the garden, many adventure travelers (like hang gliders, skydivers) land on here after their journey.
Visit Unterseen
Unterseen is a pretty medieval town that has a lesser tourist attraction. It is located on the western side of Interlaken and the shore of Lake Thun. Since there are not many visitors, this unique town is so calm and quiet.
There, you can see Marktbrunnen (a renaissance fountain), 13th-century church, rustic tower, town hall, museum, and restaurants with tasty foods. (Interlaken in Switzerland)
Panoramabrücke Sigiriswil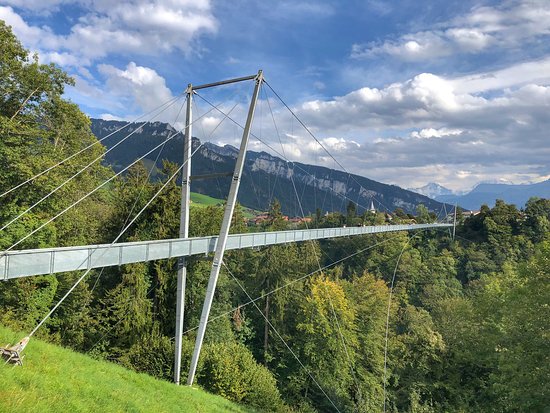 Panoramabrucke Sigiriswil is a panaromic footbridge over the Lake Thun. This is a new one.
And this footbridge offers you spectacular views of the Bernese Alps over Lake Thun. For me, looking at this stunning view is like a meditation. So, just visit there.
Suggested Reading: Summer Bucket List for Travelers
Weissenau Nature Reserve
Weissenau Nature Reserve is located just outside of Unterseen and on the eastern shore of Lake Thun. Actually, this wetland offers you a lush experience with stunning views of Eiger, Jungfrau, and Monch.
Actually, many travelers skip visiting this corner of the lake. But, you must visit this small jungle area with birdlife, wildflowers, and many more. On the other hand, there're ruins old of Weissanau Castle.
So, do not miss this nature reserve in Interlaken in Switzerland.
One Day Itinerary in Interlaken in Switzerland
Well, now you know there are so many things to do around this small town. But, suppose you have only one day to spend here. Then, you cannot do all these things for sure. You have to focus on one specific area. That means focusing on visiting the lake areas or hiking to the top of Europe (Jungfraujoch).
So, here's the one-day itinerary in Interlaken focusing on its stunning lakes and town sightseeing. 
1: Hike Harder Kulm: The top of Interlaken
Use the funicular to save your time. Within 10 minutes you can reach the top. Otherwise, it will take around 3 hours to hike. And if you are here in the summer, visit as early as possible. Because the glass-bottomed viewpoint starts to fill with visitors at around 10 am in the summer months.
However, it takes most of the day. But, it is worth seeing the great views of Interlaken in Switzerland. 
2: Take a boat ride on Lake Brienz
Getting the scenic mountainous views in the lake surrounding will rock your Instagram. Take a historic paddler steamer. They even dress old clothes with the style of Belle Epoque-style.
There are some destinations that you can reach via this boat ride. Take a look at below.
3: Take a boat ride to reach Giessbach Waterfall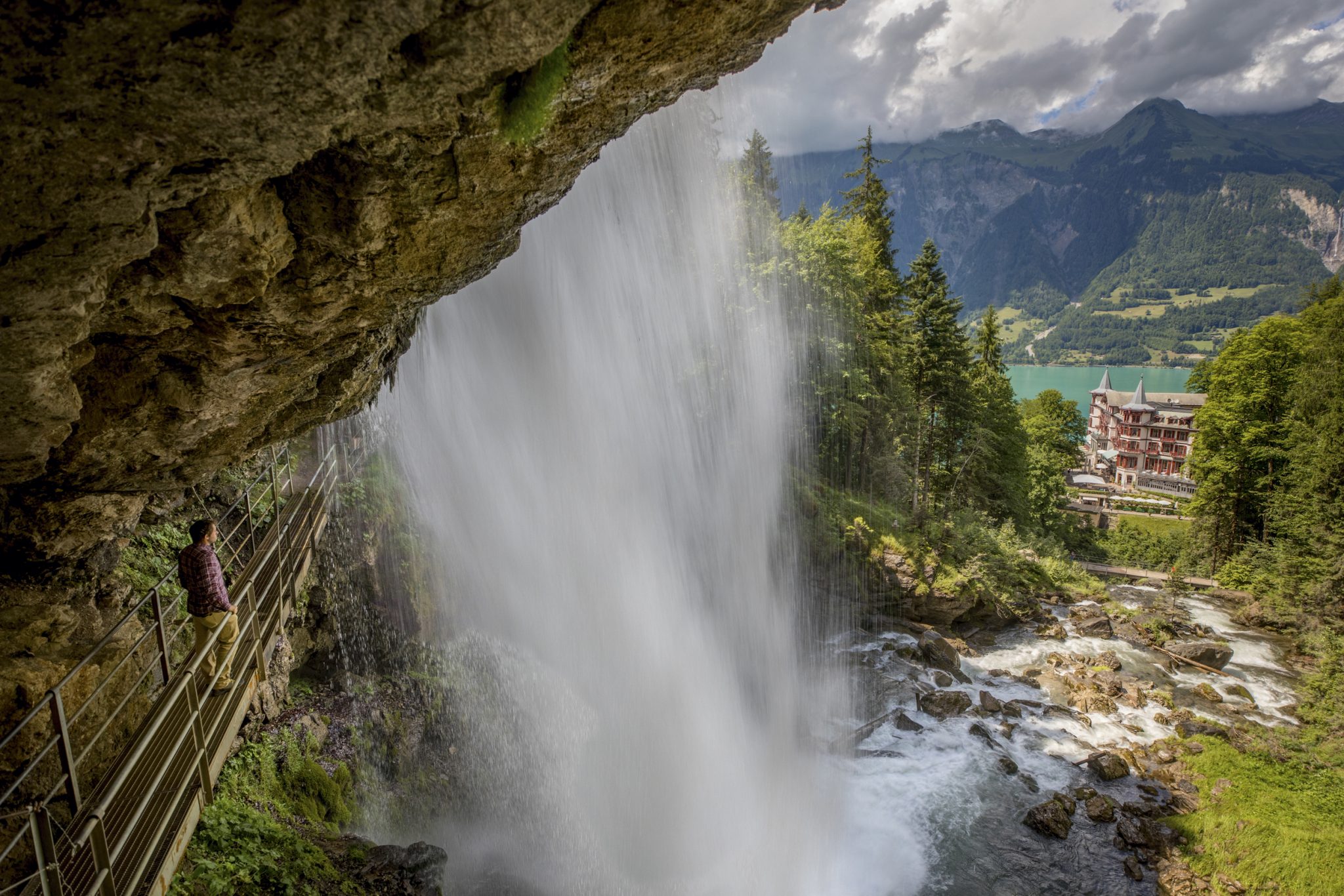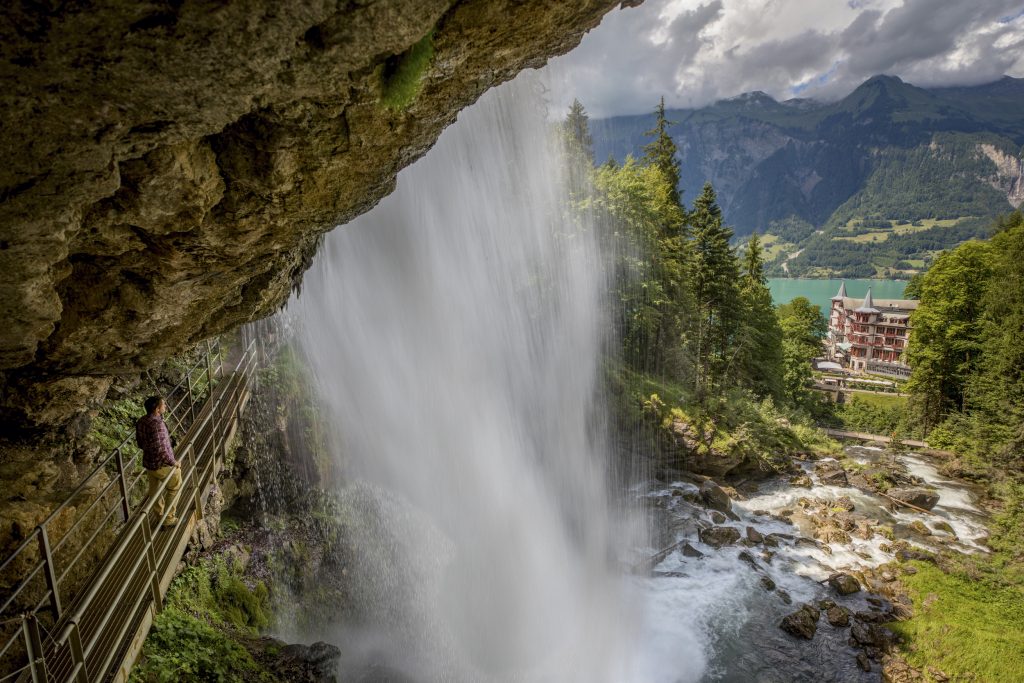 This visit takes around one hour from Interlaken. After the ride, you have to get a funicular. Actually, Giessbach's funicular is very old and historic. Once you reach the top, you can visit the impressive waterfall. The specialty of that waterfall is, you can go behind the waterfall, watch how it falls and touch it. It is an amazing experience. Then you can have lunch at the Giessbach restaurant near the waterfall. (Interlaken in Switzerland)
4: Continue to Iseltwald village and spend some time there
The trail to Iseltwald village is so stunning as it exists along Lake Brienz. Therefore it calls Lakeshore Trail, and it takes around one hour to reach the village. Impressive rock formations and stunning coastline views make the trail unforgettable.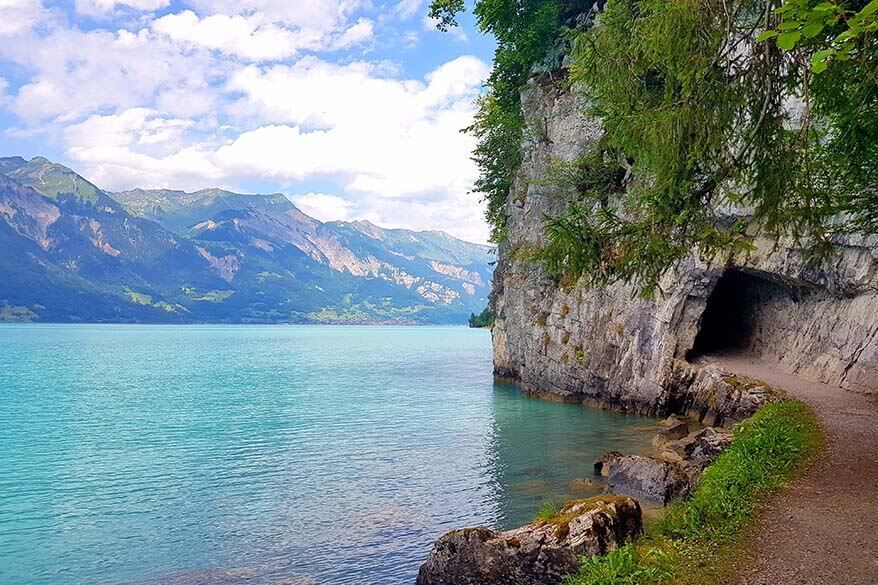 Once you reach the impressive Iseltwald village, you can experience the simple way of living Swiss people. They are so blessed to have such a fairy environment.
And you can swim in the lake, visit around the village to see houses, have some food (Swiss chocolates, ice cream, or coffee).
Then return to Interlaken in the evening. (it will take around 45 minutes)
5: Get a ride back to Interlaken and walk around Interlaken town
After reaching Interlaken, you can walk around and explore the city. Or you can hire a horse ride to tour around. It will be a different experience for you. While touring, do not forget to try tasty swiss foods. 
Suggested Reading: Best Swiss Foods
Interlaken in Switzerland Best Hotels
Just check here to book your hotel.
Did you enjoy the article?? Just pin it for later.