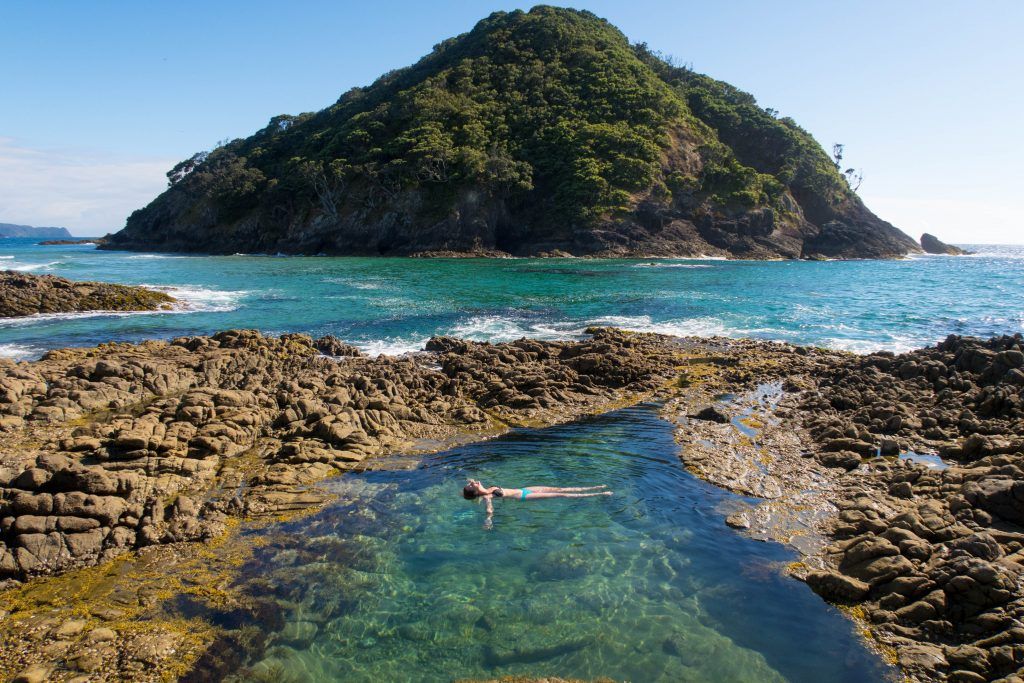 Great Barrier Island or Aotea is one of the largest, wildest, and seaward islands in the Auckland Region. This island gives a unique chance to experience life in New Zealand many decades back because this island is one of the least populated islands in New Zealand with plenty of untouched and secluded natural places.
On the other hand, it swells to the Pacific Ocean and creates a great boating paradise. The island's western coast has calm sandy bays and harbors, while the eastern coast of the island offers a blue ocean with long white surf beaches.
However, amazing walking trails, mermaid pools to swim, natural hot pools, fantastic star gazing chances, kayaking/snorkeling/diving chance, unique fauna/flora, and special island events are the highlighted things in Great Barrier Island. So, let's get to know more about it before travel.
Great Barrier Island
Where's Great Barrier Island located?
Great Barrier Island is located 90km to the northeastern side of Auckland city, New Zealand. Since the island has around 285km², it is the sixth-largest island in New Zealand. And as it is located at the edge of the outer Hauraki Gulf, it acts as a protector of the inner gulf and the mainland from most ocean disasters like storms.
In the past, this island was only famous for its rich mineral sources and Kauri forests' existence. And after some people were inherited there, cultivations were also spread. Still, more than 60% of the island's land area is considered a nature reserve under the government's rules.
The smaller islands close to the Great Barrier Island are Dragon Island, Kaikoura Island, Rakitu Island, and Aiguilles Island. These are also mostly uninhabited and containing 100% natural things. And also, there are several islands in the Great Barrier Bay as well. (Great Barrier Island)
Suggested Reading: Waiheke Island in New Zealand
How do you get to Great Barrier Island?
As I mentioned earlier, there is more than 90km from Auckland to this island. You can select the way of reaching there out of flights or ferries. Well, whatever the way, there's a regular travel schedule.
I can highly recommend you Sea Link and Barrier Express ferry services when it comes to the ferry rides. Whatever the service, the duration of the ferry will be around 4 hours and 30 minutes. Sea Link is starting from Wynyard Warf (part of Waitemata Harbor in Auckland) and drops you at Tryphena (harbor town in Great Barrier Island). Click the above link for bookings of one way and return. And, Barrier Express is departing from both Sandspit in North Island and Auckland harbors.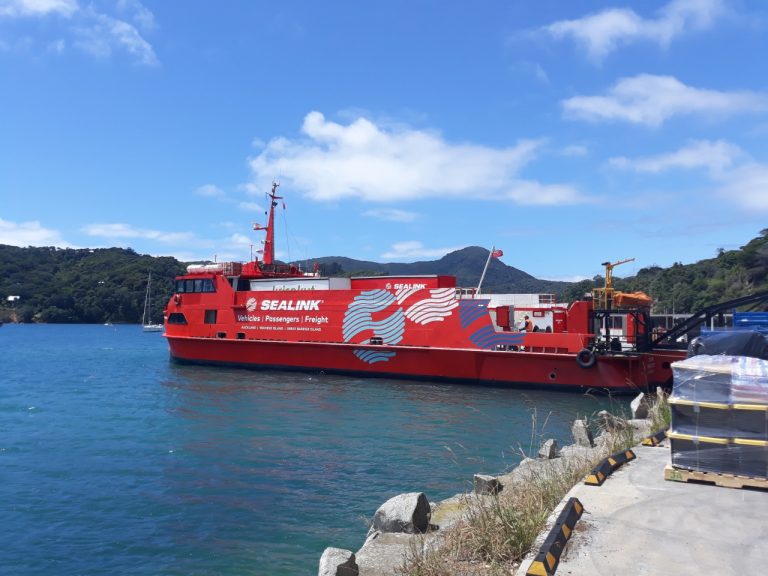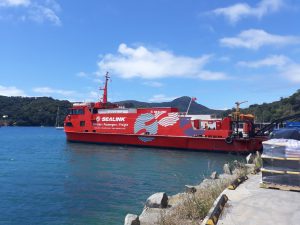 If you want to fly by getting an aerial view of the island, there are some flight services. Normally there are 10 passengers (max) seated planes with a regular schedule. And the flight duration is around 30 minutes. The departures are taking from Auckland International Airport, and the terminal is Claris, the major airfield of Great Barrier Island.
I can highly recommend the flight services of Fly Shark and Flight Hauraki. These services provide scheduled flights and scenic charter flights to the Great Barrier, Waiheke, and other islands. So, book through the above links.
Once you reach the island, regular bus services run between Tryphena and Port Fitzroy once a day. But don't worry. There are taxis, shuttles, rental cars, vans, electric bikes, scooters, tour buses, and 4×4 vehicles. (Great Barrier Island)
Great Barrier Island Weather
This island has a great enjoyable temperate climate throughout the year. Because there are very low chances for rain and snow. And the temperature is great and varies in tiny amounts. Therefore weather forecasts are always accurate.
The hottest months on the island are January, February, and March. Out of these 3, the mid of February is the hottest time with a temperature of 23ºC. In this time period, even the night temperature doesn't fall less than 20ºC. That means the probability of snowing and precipitating is very low in this period. We can also call this period the dry season in Great Barrier Island, New Zealand.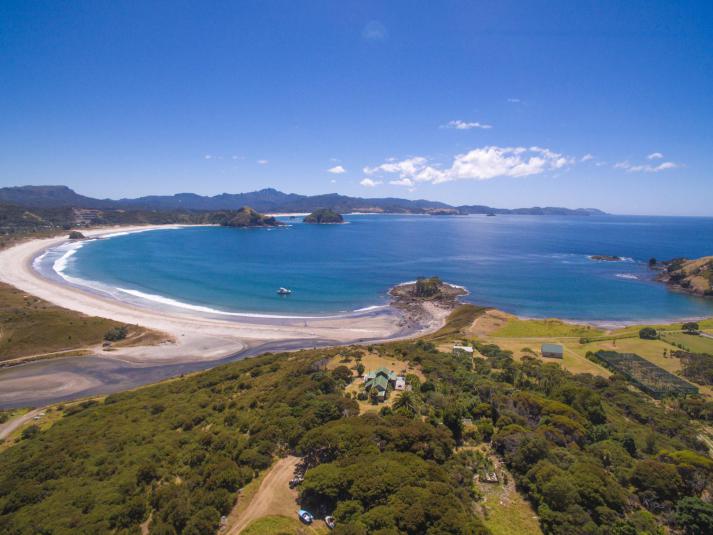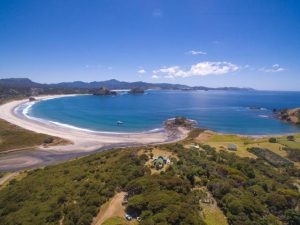 From April to December, the temperature falls, and the lowest temperature normally reports in July, August, and September months. It will fall around 14ºC in the mid of July. The nights are also colder than any other month in the year. Actually, in September, you can expect significant precipitation on this island. Further, the weather reports say that there's no considerable annual snow on this island (there is a very little amount).
When we discuss the humidity on this island, some months have really high humidity. For December, the humidity is around 75% (highest), while the least humidity month is April with 67%. And in the case of wind, most of the places on the island are windy. The windiest months are July, August, And September. (Great Barrier Island)
Suggested Reading: Bay of Islands in New Zealand
Best time to visit Great Barrier Island
If I summarize all the above explanation about this island's weather in New Zealand, there are 4 seasons. They are as follows,
Fall Season starts in March and runs through May. Since there's a cold and windy climate, this is like the off-season for tourists. But, the doors are open for budget travelers with low packages.
Winter Season runs from June to August. Although the temperature is so cold and rainy, travelers visit the island in this period by making it the second busiest tourism season in the year. Therefore, even the accommodation prices are also high.
Spring Season starts in September and exists until November. Due to rainy or rarely snowy weather, very lack of tourists is attracting in this time period. So, you can have very low prices for everything.
Summer runs through December to February. The weather is warm and perfect for traveling the Great Barrier island. So, this is the peak tourist season of the island.
So, the best months to travel the island are January, February, and June. But, as I said earlier, they are very busy and have very high prices. On the other hand, the least busy month is April. (Great Barrier Island)
Great Barrier Island Population
For many people in New Zealand, Aotea or Great Barrier Island is a place that travels to reduce their stress. There were no permanent residents on this island. But, in 2013, 939 were inhabited for the cultivation and tourism industry purposes. But, when it comes to 2018, it has reduced to 930.
Most of them are settled in Tryphena and Okupu like areas. Since there's no power, the residents have to generate their own power from the wind or solar. On the other hand, roads are also narrow and do not drive over 50km per hour. I think this remoteness is the major reason behind the disimprovement of the tourism industry of this island.
As I said earlier, nearly 60% of the land is owned by the Department of Conservation, while the private owners own only 40% of the land. Most of them are holiday homes and resorts. (Great Barrier Island)
Things to do on Great Barrier Island
Although there is a lack of facilities, Great Barrier Island does not lack natural beauty. I personally believe that we must take a break from our busy lives at least once a year and travel to a remote place to breathe fresh air. Great Barrier Island is such an ideal place to breathe free, feel wild, and live simple. Here are the best things you can do on this paradise island in New Zealand.
Camping in Great Barrier Island
Camping on the Great Barrier Island always comes as the top thing to do. Because you are coming to this island to experience very authentic island life. So, camping is the best thing. There are several affordable campsites, especially in the coastal area of the island.
And also no need to worry about the facilities around the campsites. There are tap water, toilets, showers, recycling bins, cooking benches, and picnic tables. But you cannot get electricity since people on this island get power from the wind and solar power generators.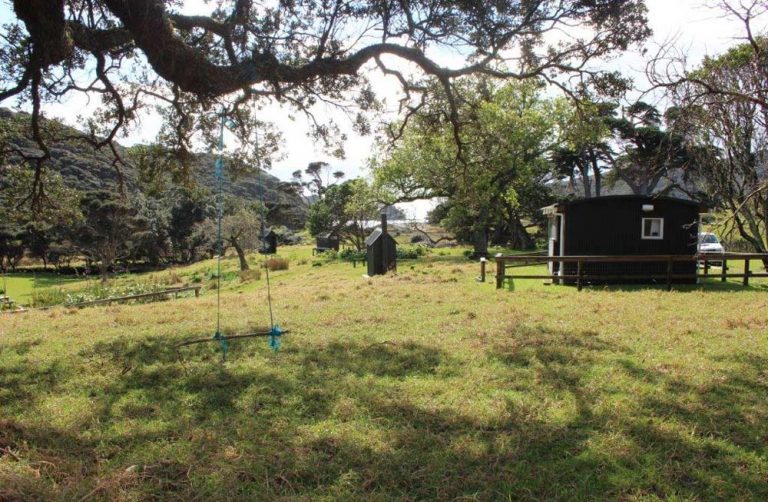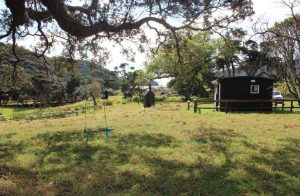 Here are the best campsites.
Awana Beach Campsite: This site is majorly for the surf experts. Because this beach area offers you sharp waves for the expert surfers.
Haratanonga Campsite: This one offers you the chance to snorkel and swim and stay surrounded by a supernatural environment. You can access this beach by paddling across a small estuary or walking along the Harataonga Walkway coast. It directly connects to the Harataogna campsite with Aotea Road. And the whole walk will take around 4-5 hours.
Whangapoua Campsite: When you continue on the Aotea Road further by passing Harataonga campsite, you will find the access road to the Whangapoua site. There you will find a popular surf break as well. And the surrounding is just awesome with surreal ocean views. Click the link to book a site online. Actually, this link has all the booking links for the other campsites because the Department of Conservation handles all of these sites.
Medlands Beach Campsite: This campsite is a little bit crowded in the peak season since it is one of the most popular beaches on the island. Actually, this one is majorly famous as a surfing hotspot.
Suggested Reading: Florida Springs Camping
Great Barrier Island Star Gazing
Whether you are camping or in a hotel, do not forget star gazing when you are on the Great Barrier Island in New Zealand. Because there's no such an ideal place for stargazing in the whole country. Lack of inhabitants, absence of electricity, and lack of lights provide the ideal climate for stargazing. For me, it was like meditating while watching the stars. (Great Barrier Island)
Hikes in Great Barrier Island
There are plenty of adventurous and scenic hiking trails on Great Barrier Island. The followings are the most highlighted ones.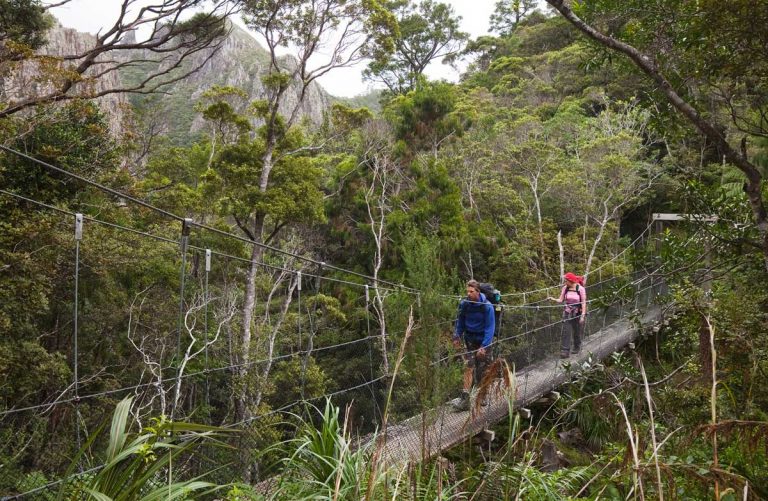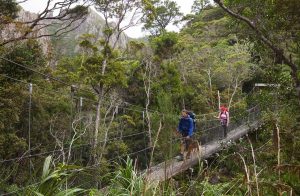 Aotea track/trail
This is a 25km long loop track that takes you through lush jungles to the mountain tops. You can even plan for a camp on the top overnight and get the best views across the island. And this trail considers as the only multi-day hike on the island. Since Aotea Track is a combination of steep climbs and flat trails, you will have more fun. (Great Barrier Island)
Kaitoke Hot Springs Track
Kaitoke is just a 45 minutes flat and easy track that finally reaches you to the island's natural wonder, hot springs. Due to the underground volcanic activities, the water of Kaitoke springs gets heat. This is not a crystal blue pool, but this is an awesome green hot water pool.
Mount Hobson Track
Mount Hobson or Hirakimata is the highest mountain on the island, and it has a 2057 feet height. Don't worry; the track has wooden steps to make your journey easier. On the way, you may find some other hot springs. It will take around one hour to the roundtrip.
Whangaparapara Peak Trail
This trail runs to the summit of Mount Whangaparapara. The mountain is 1013 feet high, and the trail is steep. Since the trail exists through regenerating forest, you can get good long views. For example, you can see Whangaparapara Harbor in the distance. If I tell you about the return time, it will take around 2 hours.
Some other highlighted hiking trails are Windy Canyon Lookout, Palmer's Track, Te Ahumata Track, Old Lady Trail, and Bridle Trail. At least try the above four trials. (Great Barrier Island)
Suggested Reading: Best Hikes in Greece
Great Barrier Island Ferry
There are so many ultimate ferry island tours on Great Barrier Island. They offer you the chance to fish, dolphin watching, watching the sunset, and scenic sightseeings around the island. Some are providing onboard great meals as well. Just click the link to book online.
Swimming, Snorkeling, kayaking, paddleboarding, and Diving
There are so many chances of swimming on the Great Barrier Island in New Zealand. Especially on the eastern coast, beaches like Kaitoke Beach are ideal for swimming and enjoying the view. It offers you natural rock pools with fishing and diving chances as well.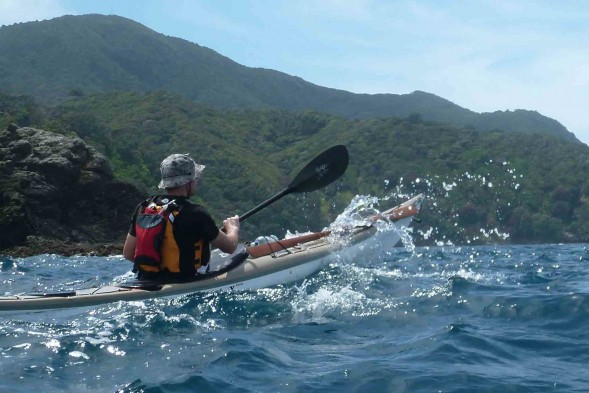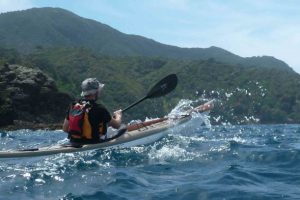 Since Island's coral resource is rich and colorful, snorkeling will be an unforgettable experience for you. Also, these corals are untouched and undisturbed. Therefore the natural beauty is there as it is. Deep-sea diving is also a great opportunity for you to discover more marine lives nearby this island. Kayaking and paddleboarding are also some other ways to discover the island's ocean. Click here for kayak and paddleboard rentals. (Great Barrier Island)
Looking for the best hotels near Great Barrier Island, New Zealand?? Just check here. 


Great Barrier Island:

Bath in natural hot springs
I have already mentioned one of the most popular hot springs on the island. They are Kaitoke hot springs. Since the entrance is combined with a hike, you can have an adventurous experience.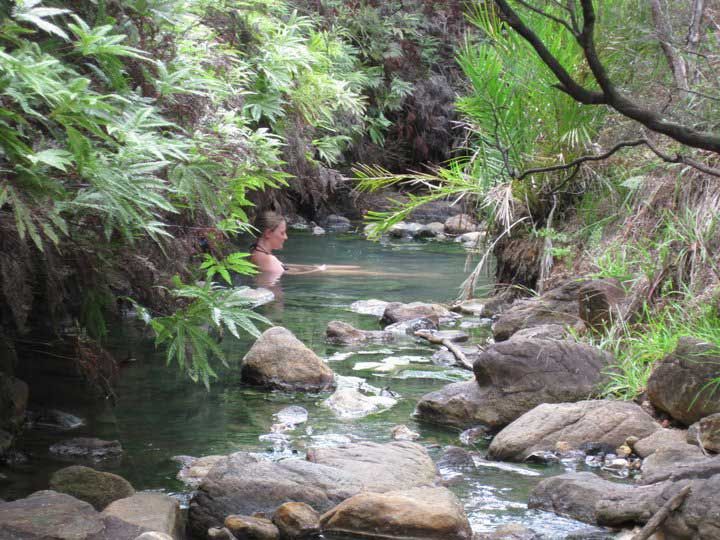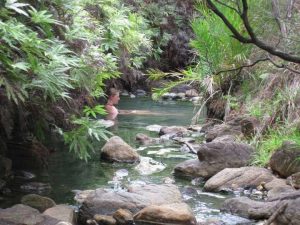 Great Barrier Island:

Visit Kauri Falls
This waterfall was named after the historical kauri felling on the island. As I mentioned earlier, huge kauri tree forests are the unique feature of Great Barrier Island. However, this waterfall is surrounded by kauri trees, and it is pretty. You have to start the journey via Warren's Creek Track (just 1km away from Port Fitzroy), and it will take around one hour for the journey. (Great Barrier Island)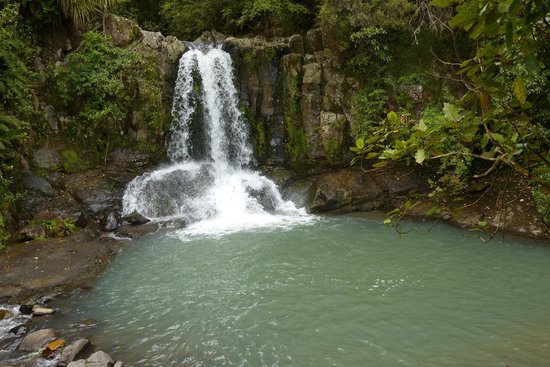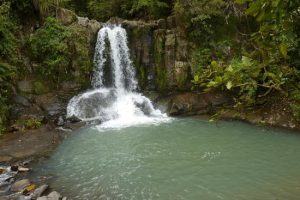 Join with a Honey and Bee Tour
If you like to see how bees produce honey, collect them, and produce different products, here's the chance. I actually wanted to buy real honey to apply to my facemasks. And I could learn how to nurture bees and collect honey as bonus information. Great Barrier Active Honey and Bee Tours are always ready to offer you this chance. Within 2 hours, they show you everything about their products and provide us to buy real honey. (Great Barrier Island)
Great Barrier Island Horse Trikes
To tour around Great Barrier Island, I highly recommend you Crazyhorse Trikes Tours. They offer a safe and secure service delightfully. You can travel with a maximum of two people by carrying your bags as well. Since it is safe and comfortable, and fully open to the surrounding, you view the island's natural beauty without any barrier. Click the link to book online and get more details. (Great Barrier Island)
Suggested Reading: Victoria Falls in Zambia
Visit Milk Grain and Honey Museum
Claris Museum or Milk Grain and Honey Museum is an old farm owned by David Watson. Now there's a museum to show the island's history containing the island's old photographs, old artifacts, old ways of farming, milling, mining, and many more. If you are curious about the island's old cultivation patterns, then here's the chance in Claris. (Great Barrier Island)
Join with a Yoga Program
As this island is a very remote, calm, and less crowded destination, I think this is the best place to escape for a yoga holiday. There are so many workshops, classes, and training offering services. If you are a beginner, then join with one of them. Or do it on your own. I can highly recommend Ebb and Flow Yoga Classes on Great Barrier Island, New Zealand.
Did you enjoy this post?? Then, just pin it for later.