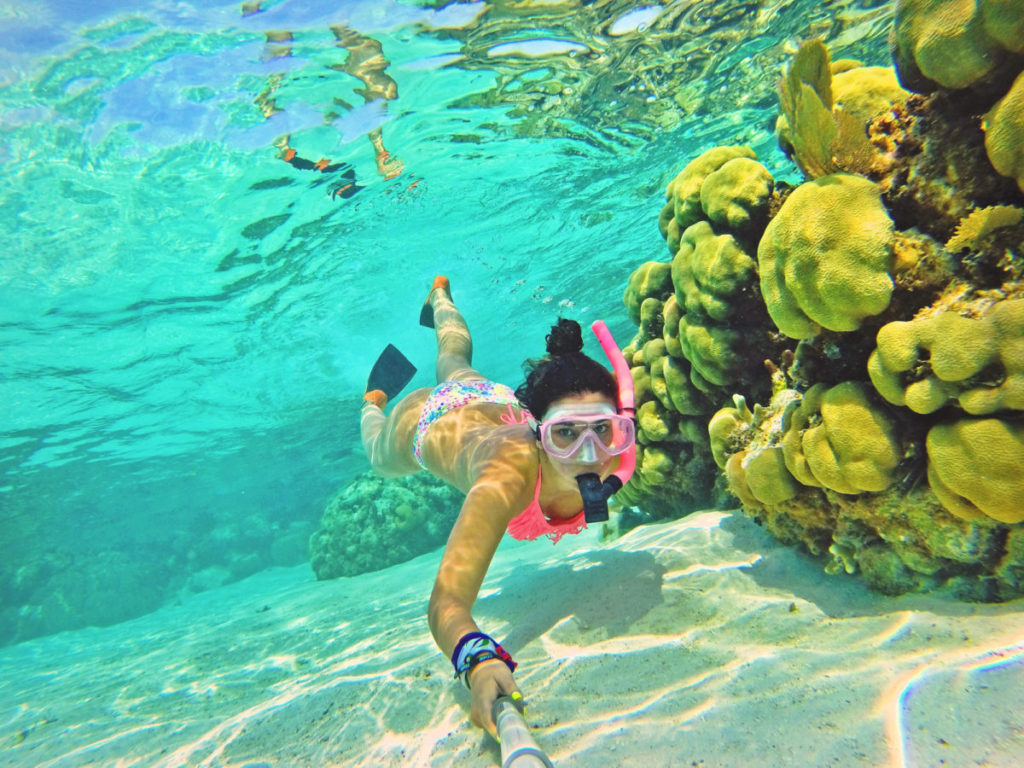 If anybody experienced the beauty of underwater wonderland, nobody can protect from addicting to it. Friendly sharks, corals, reefs, seaweeds, sea turtles and colorful fish would offer you an unforgettable memory. All the following destinations are surely incredible, but sadly, these wonderlands are disappearing due to global warming and human works. So, as nature lovers, we should protect them while experiencing its beauty. Here are the Top 5 Snorkeling Destinations in the World by TravelAdvo.

Big Island, Hawaii
The whole Hawaii archipelago is an amazing destination for snorkeling. But, Big Island is special. Because of colorful fish in Kealakekua Bay, dolphins and turtles in Captain Cook Monument and more underwater adventures like coral gardens in Honaunau Bay.
Kahalu'u Bay is a great place for snorkeling in Big Island. Actually it is an easily accessible, sheltered and shallow bay with the highest concentrations of fishes and sea turtles on Hawaii. Also Kealakekua Bay and Honaunau Bay are also famous among tourists.  
Maldives
The Maldives is one of the most wanted destinations to visit by all travelers in the world. If you want to see more than 700 fish species including Tuna Wahoos, Butterflyfish, octopus and sharks, Maldives offer you crystal clear water to see them. And also magnificent corals and anemones are there as a total package for snorkelers.
Galapagos Islands, Ecuador
The various Islands of Galapagos provide a home for diverse sea creatures like turtles, dolphins, orcas, humpback whales, penguins, fur seals, and sea lions.  Penguins, fur seals, and sea lions are uncommon in other destinations.  If you are brave enough to swim through the Devil's Crown which is in Floreana Island, you might see magnificently colored fish, moray eels, etc.
Ambergris Caye, Belize
Belize in the Caribbean coastal is famous between snorkelers because, they can get more close-ups with eels, rays and more brightly colored fish. Not only that hundreds of Cayes, atolls and colorful corals sunken are there for you.
Komodo Island, Indonesia
To watch live giant lizards, Komodo Island is the most famous one. But on the other hand, this natural package includes some underwater magic too. Pink Beach with turtles and undersea gardens, Komodo National park includes 260 types of corals, dolphins, and sharks. You must feel this tropical snorkeling experience in your life.