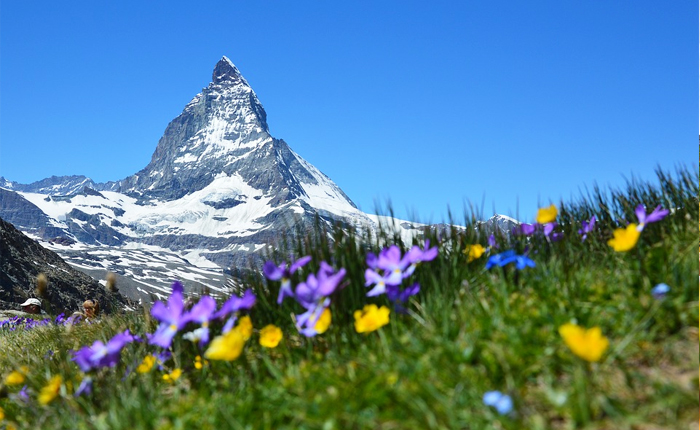 We all know that Swiss cheese, chocolates, and clocks play a huge role in your mind when you hear "Switzerland." But as a traveler, you may have much more to discover there. However, it is a landlocked country, many picturesque natural places to visit, including the Alps. Whether you are just visiting or moving to Switzerland, do not miss the following places to visit first. So, here are the top 6 places to visit in Switzerland Europe.

Places to Visit in Switzerland
Switzerland is a small country with rich natural variations. Alps, glaciers, and beautiful mountain peaks are more attractive. Actually, there are more than 200 peaks higher than 3000m. Apart from mountains, this country includes ancient castles, clear lakes, ancient European rural areas, and breathtaking train journeys.
A well-known fact about Switzerland is that a crime-free and more comfortable country for anyone. Of course, you can travel anywhere, even as a solo female traveler, without any fear. And the Swiss transportation system is one of the best in the world. The country's security is also high, and Swiss emergency numbers are always there for you anytime.   
Another reason why you should visit Switzerland is Swiss delicious food. It will surely make you plan another tour of Switzerland. You can also participate in Swiss festivals and Swiss carnivals to celebrate their special holidays and cultural events.
Places to Visit in Switzerland: Zermatt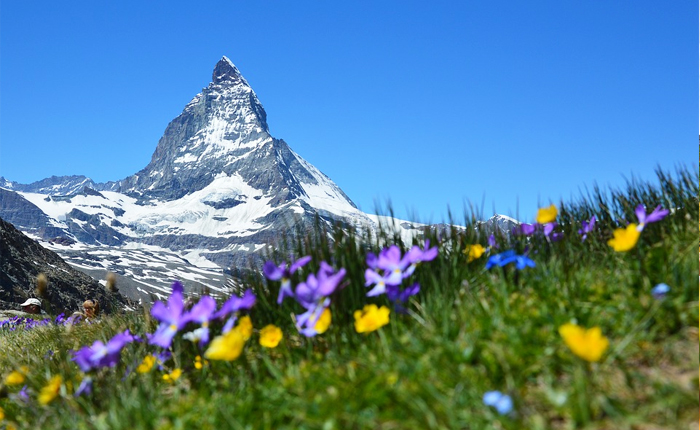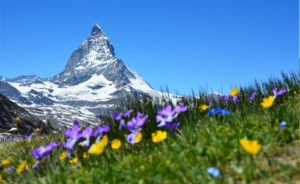 Zermatt is a small town in Switzerland which is very famous for skiing and mountaineering. Especially, Matterhorn is the most photographed and one of the highest mountains in Switzerland. As Switzerland's most popular Alpine peak, it has a height of 4478m. Some adventure hikers reach the top. And the others can join with the cable cars which are frequently zipping through the mountain station in Zermatt and the highest station in the Alps. Also, cable cars take skiers and snowboarders to the surrounding mountains in winter, while hikers take them in summer.
One of the most admired features of Zermatt is the prohibition of gasoline-driven vehicles. It makes the travelers make a walk around the town and discover the countryside as well. So, this is a very nature-friendly destination, and it will reduce your journey's carbon footprint. But in any case, you are totally allowed to use battery-operated vehicles. And the train routes are also connected.    
Places to Visit in Switzerland: Bern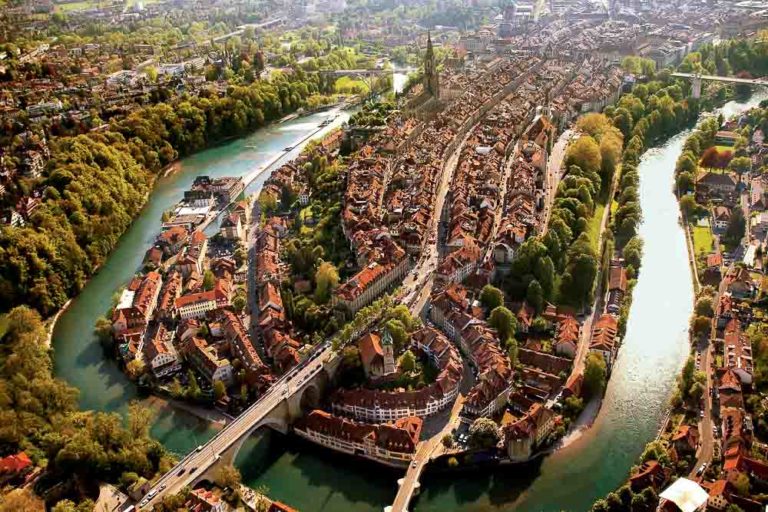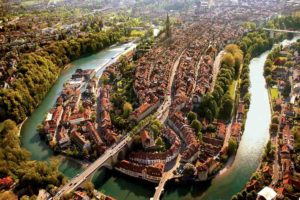 The history of Bern runs to the 12th century. From the past until the present, this medieval city is being the capital of Switzerland. The most highlighted one in Bern is the ancient clock tower with its moving puppets called Zytglogge.
And yes, Bern is filled with its ancient features and ancient items. Munster, the gothic cathedral in the old town, and the town hall are a few. Further, this ancient old town is filled with numerous fountains, ancient boutiques, bars, cafes, and cabaret stages. Due to these valuable ancient features, this old town is considered a UNESCO World Heritage Site.    
The bear is the symbol of Bern. So, Bear Park is very popular where the family of bears resides. And also, the beautiful botanical garden and the River Aare are some other places highlighted here. Actually, Bern is a well-preserved ancient version of Switzerland where you must visit on your journey.
Places to Visit in Switzerland: Lake Geneva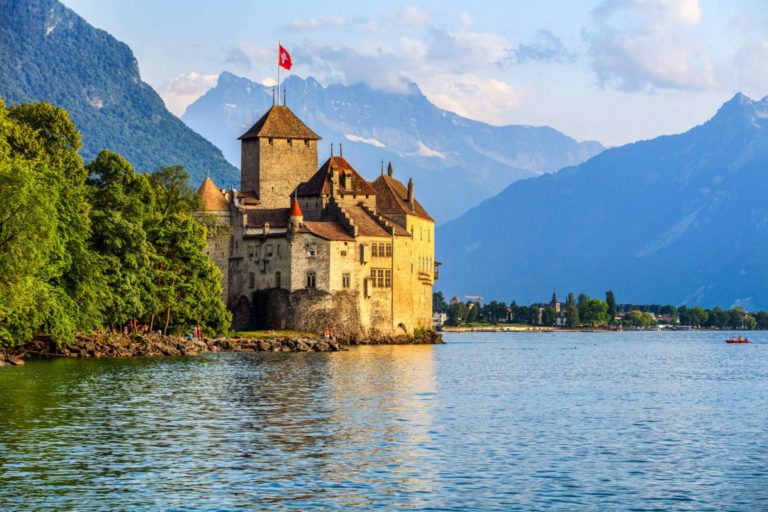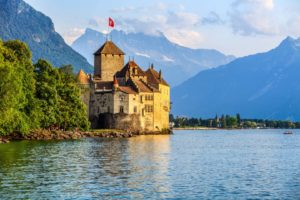 Geneva is the largest and famous lake in Europe. And this is hugged by Geneva on the west and Lausanne on the East. This 585 square kilometer lake is surrounded by beautiful hillside vineyards and fairytale chateaus on its shores. So, that means you have access to Swiss Wines as well. And also, ferries, paddle steamers, and boats paddle daily through this lake.
This lake exactly lies on the course of the Rhine River on the frontier between France and Switzerland. So, the surrounded cities and the area of this lake are more attractive.
Exploring Canton Vaud's wineries, Jura Mountains, and Vaud Alps are top on the list. And on the other hand, Geneva is the center for nearly 200 international organizations and the United Nations. Although the town is more sophisticated, its green beauty is not disturbed at all.
Enchanting museums, restaurants, art zones, and the city's icon, the tallest fountain in the world, Jet d'Eau are the other attractive places you must visit.
Places to Visit in Switzerland: The Jungfrau Region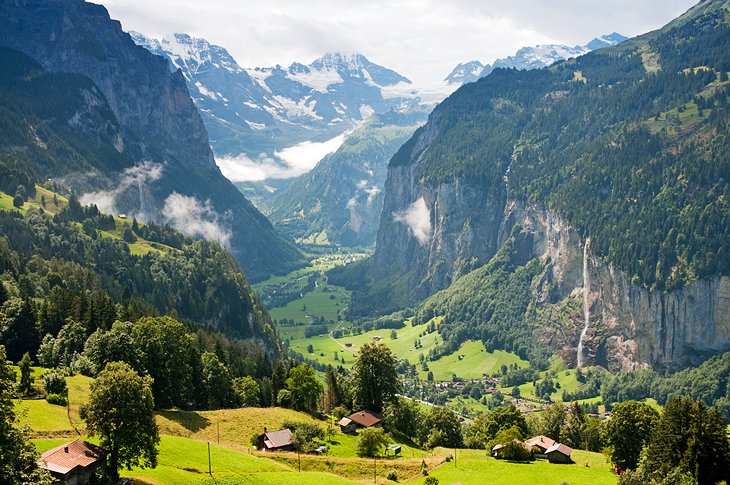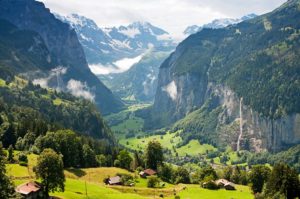 This place is a miracle in both summer and winter. And this can be called the Alpine wonderland, which offers more adventures. In earlier days (nearly 200 years ago), nobody could reach this place except the adventurers like hikers. But now, the extensive railway network offers easy access to this area for all travelers. Here, the most scenic three mountains Eiger, Monch, and Jungfrau, with the rolling green meadows at the bottom, create amazing photos.
You can start your journey of discovering the Jungfrau Region from the town Interlaken. Then, follow the cities of Grindelwald, Murren, Wengen, and Lauterbrunnen. Next, you should take a rail trip to Kleine, Scheidegg, and some other peaks to get panoramic views that exclusively exist in Switzerland.
Places to Visit in Switzerland: Lugano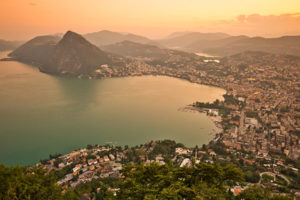 Lugano shows a different aspect of Switzerland for travelers. As a deviation from the typical Swiss views, Lugano is situated in the Ticino Region and was bordering Italy in the South. There you can experience local languages, museums, romantic villas, rich Swiss cuisines, and warm Mediterranean air in the summer. And Lake Lugano is situated beside the city by adding glamour to the city.
A large number of Swiss heritage sites and three famous cathedrals are also there. And the warm weather in the summer attracts more tourists to this city. In summer, there are festivals like Lugano Festival and the Annual Classical Festival.
Places to Visit in Switzerland: The Rhine Falls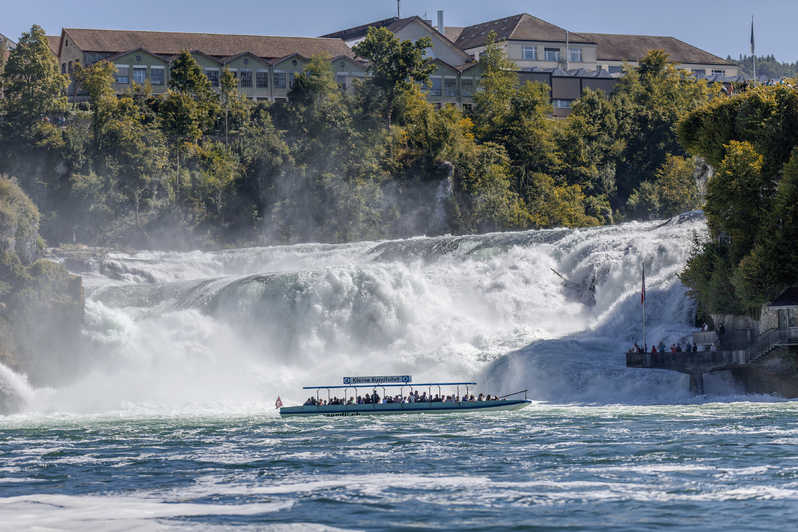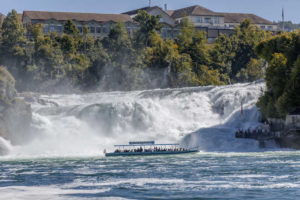 Rhine Falls is the largest waterfall in Europe. This natural wonder attracts numerous tourists annually to Switzerland. Having a width of more than 150 meters, this mighty falls is situated near the town of Schaffhausen. You can see a sensational firework display, especially if you visit there on August 1st (Swiss National Day).
Places to Visit in Switzerland