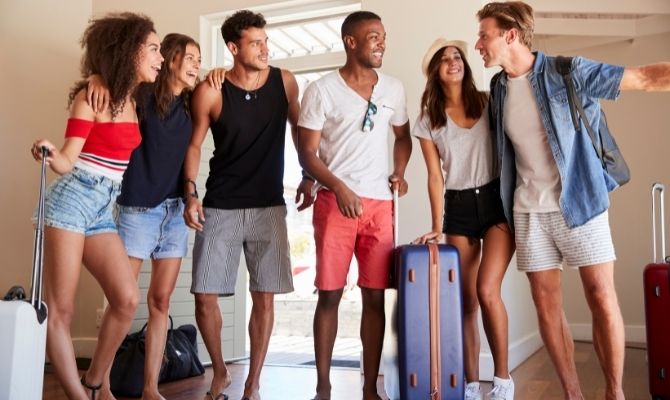 Looking for tips for welcoming guests to your vacation rental or rental home?? Here are the best ten tips for you.
The first impression may or may not be the last impression, but it should be the best impression.
The vacation rental, rental home, and serviced apartments industry is witnessing unprecedented growth, mainly because of the increased awareness around the benefits of choosing these stay options over traditional ones like hotel rooms. While this presents a lucrative opportunity from a business perspective, there is also a greater need to focus on offering a world-class hospitality experience.
Welcoming Guests To Your Vacation Rental or Rental Home
1. When making a reservation at your short-term vacation rental or rental home, consider having visitors fill out a special requests form that includes allergies, medical concerns, dietary preferences, special assistance needs, etc.
2. Before guest arrival, confirm the booking of the guest.
You can send a personal thank you email for the booking instead of using automatic welcome emails.
You can send a map, an estimate of how long it will take them to collect their bags, advice on hiring a car, and directions to your home a month before their arrival.
You can also give a schedule of events that will take place during their stay.
3. Use a welcome checklist for yourself before the arrival of the guest.
When welcoming guests, have a checklist that you can use to set up your property before arrival. You can turn on the AC, check electronic equipment, stock the refrigerator, and basic toiletries, blow off porches and decks, and leave a welcome note and treat.
Make yourself available for their call and if you couldn't take the call, reply promptly. Never ignore your phone.
4. Send a driver to the airport or station for arrival at your rental.
Finally, while welcoming guests upon arrival, help with luggage and property access.
On arrival, a refreshing beverage, as well as a wet hand towel( hot or cold depending upon weather ), is a pleasant gift.
5. Personalize the welcome for your guest on arrival.
Greet your visitor by name. It can provide a personal touch.
When visitors come, describe the basic home rules and guide them through all they need to know. Keep the introduction brief and friendly, and be sure to remain in touch with visitors if a question arises. Effective communication is the key.
6. Provide a personalized handcrafted welcome bag, containing a welcome letter or instructional booklet that is easily accessible to your home rental.
7. Give a local gift at arrival and help them feel like a local.
You can provide a delicious gift for guests related to the local culture where the rental is situated.
You can provide helpful local recommendations to your guests.
The best thing about a short-term rental home is the opportunity to connect with local culture that hotels cannot provide.
8. Let the guests know what additional hygiene measures are taken for their health and safety (as per COVID safe guidelines). You can also reflect it in your price.
9. Set clear expectations for yourself and your guests.
Establish limits, communicate expectations and explain how you want visitors to behave and treat your property.
Prepare a visitor guide including prominent landmarks, attractions, restaurants, entertainment venues, nearby pharmacies, petrol stations, and grocery stores.
You can have a relaxing chat to understand their needs and demands.
10. Be thoughtful of the guest's privacy.
Interact with the visitors only if they ask to see you or give the appearance that they desire companionship.
You can message, email, or provide a video introduction on the rental room TV, whenever required without hindering their right to privacy.
Guest welcome is an art and an integral component of offering world-class hospitality. Every rental property owner or manager should grasp this to improve referrals and revenue.
Welcoming Guests To Your Vacation Rental